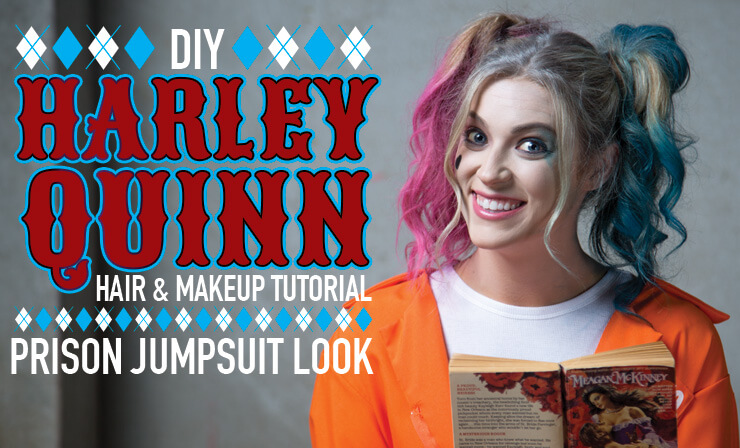 October 2016 may be dubbed Harleyween, but that doesn't make us want to dress as her any less this year! It's no wonder she's so popular among cosplayers and costume fans – Margot Robbie's portrayal of the supervillain was the best part of Suicide Squad this August, and the character has been a fan favorite since her first appearance in Batman: The Animated Series in 1992. However, while we think there is nothing wrong with being another Harley at your Halloween party (the more the merrier, puddin'!), we do suggest putting your own twist on it. That's why for this year, we've created an alternate Suicide Squad costume featuring her look from inside the prison: orange jumpsuit, romance novel, and tea cup all included. See below for our full DIY tutorial!
DIY Harley Quinn Costume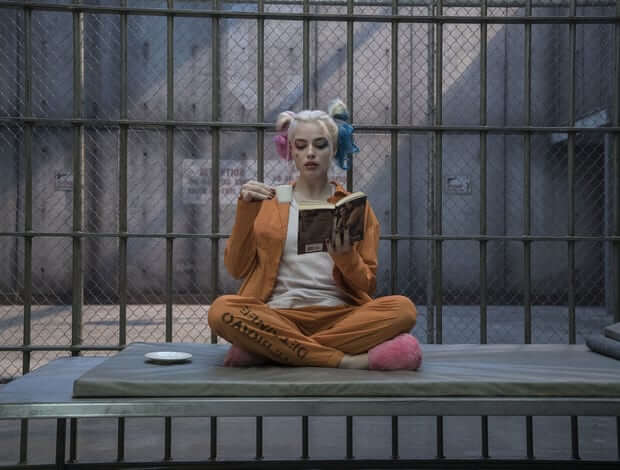 [source]
There's just something so cute about Harley daintily sipping tea on her prison cot. Maybe it's the little pigtail half-buns or maybe it's the pink fuzzy slippers. Either way, we knew at first glance that this was the costume we wanted to recreate. Last year, we created a DIY cosplay inspired by the first images released from the Suicide Squad set. This look is a little more subdued (less fishnet, less studs, less lethal baseball bats), but just as memorable. As always, the magic is in the details.
The Finished Look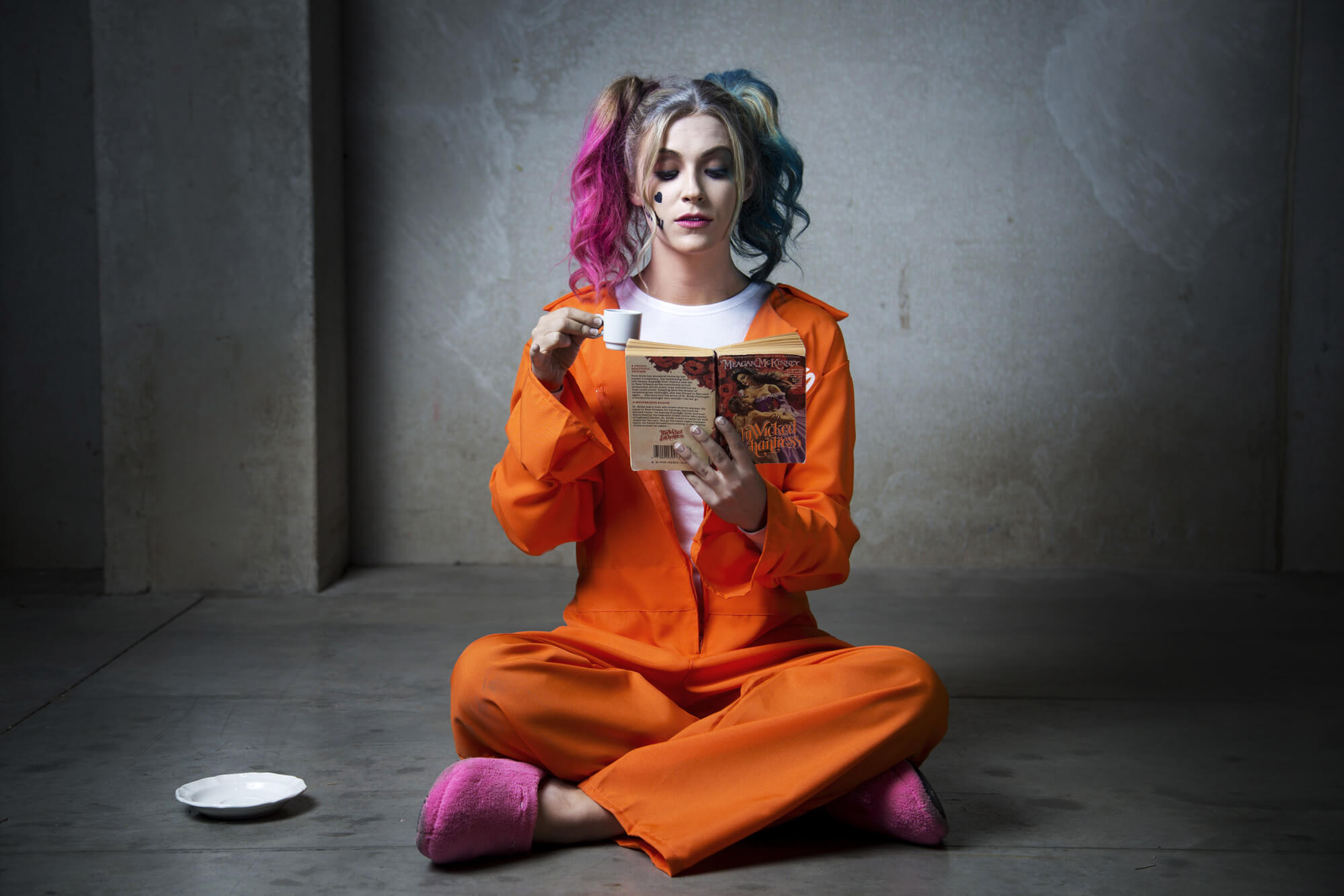 "I'm known for being quite vexing. I'm just forewarning you."
Products Used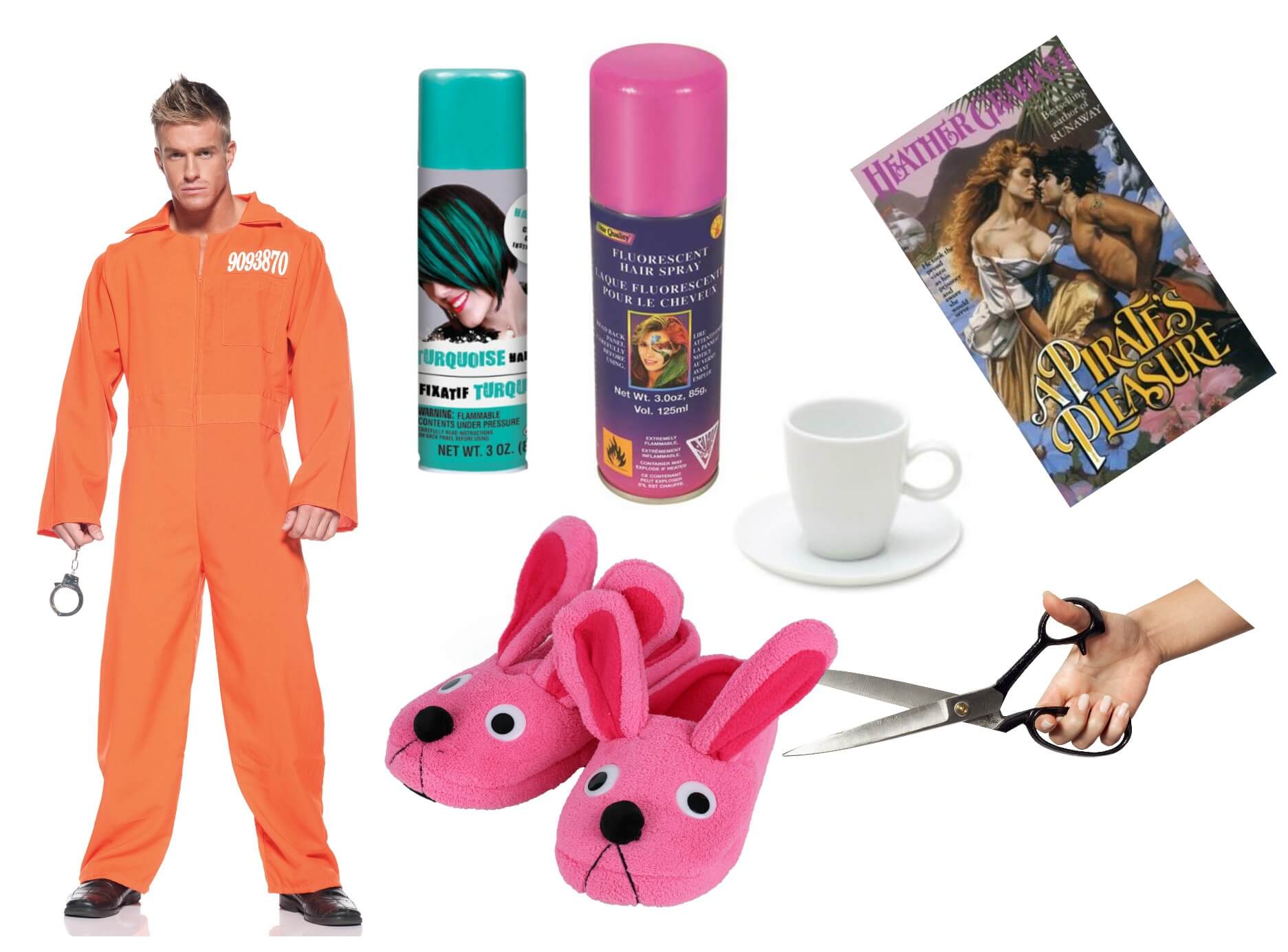 Prison Jumpsuit Blue Hairspray Pink Hairspray
The costume part of this tutorial is super simple! We went with this oversized, orange prison jumpsuit for our model – we just zipped it down halfway and wore a white t-shirt underneath. Next, we needed plain, pink slippers. We found these cute little bunny slippers! We chopped the ears off, pulled the nose and whiskers out, and popped off the plastic eyes. Voila! PLAIN, pink, fuzzy slippers. Grab a few props – like a white, ceramic cup and saucer, along with a tawdry romance novel – and you're set, outfit-wise! The next part is the most fun…
"We're bad guys. It's what we do."
Suicide Squad Harley Quinn Hair and Makeup Tutorial Video
The pink and blue pigtails, the powdery, white face, the little black heart on the cheek – all of these details make the Suicide Squad Harley stand out from her other appearances. In this video, our artist takes you step by step on how to recreate this look.
Suicide Squad Harley Quinn Hair and Makeup Tutorial Video
Hey puddin'! Stick around for our Harley Quinn makeup tutorial, or else. [laughter]
The first step is, I highlighted Kylie's face with a hydrating mist, just prepping the skin for the first base. So then, I took the lightest shade in my cream Revolution palette and blended it all over her face, and down to her neck.
So the next thing I wanted to do was I wanted to correct her skin using the Stila correcting palette to neutralize any redness or discoloration in her skin. Then, I went through with the same pale shade in the Revolution palette, and added a second layer using a sponge to push the product into the skin.
I then went through with a matte pro paint stick in white to highlight her face, and make it brighter and more pale. I then went through with the Anastasia brow powder in taupe and filled in her eyebrows.
So next, we're going to move on to the eyes. The first step I'm going to do is I'm going to add a primer to both eyes, and then set it with a white shadow base. Then, I'm going to apply a medium-toned brown color in the crease, just to add definition, to get their eyes prepped and ready for the color that's going to be added.
Alright, so starting with the left eye, I took a low-pigmented eyeshadow from a Shany palette and applied it to the upper brow bone, and blended it in a "v" shape down to the lash line, blending it out. I then went in with a pigmented cream eyeshadow, and placed it in the places where I wanted more definition, which was mostly in the crease and the lash line. I then trickled it down the lower lash line like it was having a bleeding effect.
On the right eye, I applied a cheek and lip tint in the color pink, and it gave me a perfect wash of color, and I applied that on the outer crease of the eye, and blended it down the lower lash line. I then took a very pigmented pink eyeshadow, and blended it into the crease, the upper lash line, and down the lower lash line.
Alright, so I was really happy with the color payoff, so then I moved on to the eyeliner. I took the black coal eyeliner and smudged it on the upper lash line, and then moved on to the waterline. Smudge that as well to add definition and bring out the color.
Alright, so we're moving back onto her face. I wanted to put some color back into her skin, so then I took the same cheek tint that I used on the right eye and applied it to her cheekbones. Next, I went in with a black face paint, and I stenciled "rotten" and a heart onto her face.
Alright, moving onto her hair! We placed it into two pigtails, and then I took pink hair chalk and blue hair chalk, and I blended them on both sides. I wrapped the hair around the ponytail so that you couldn't see the ponytails. And voila! We're done!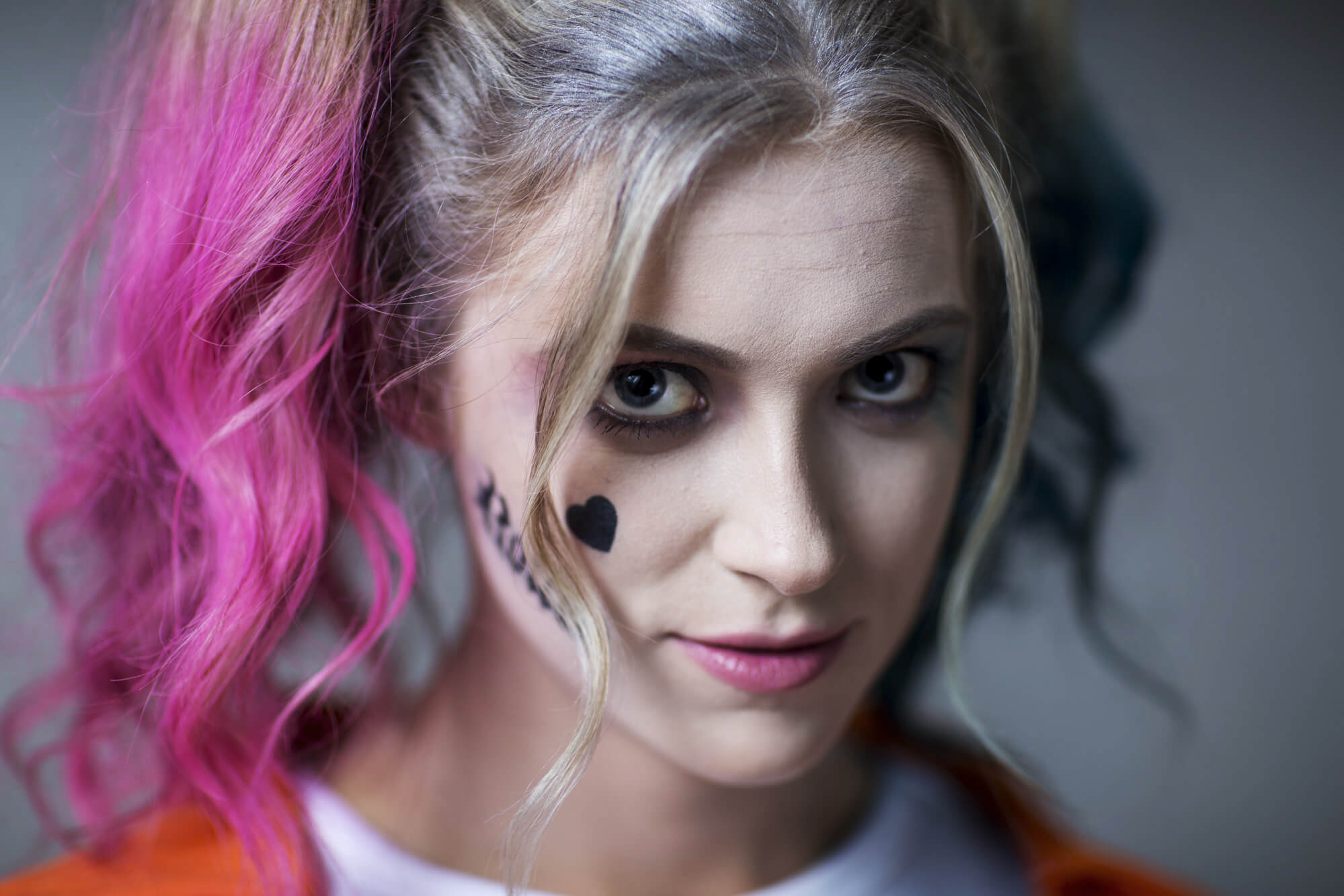 "C'mon, puddin'!"
Harley Quinn Halloween Costumes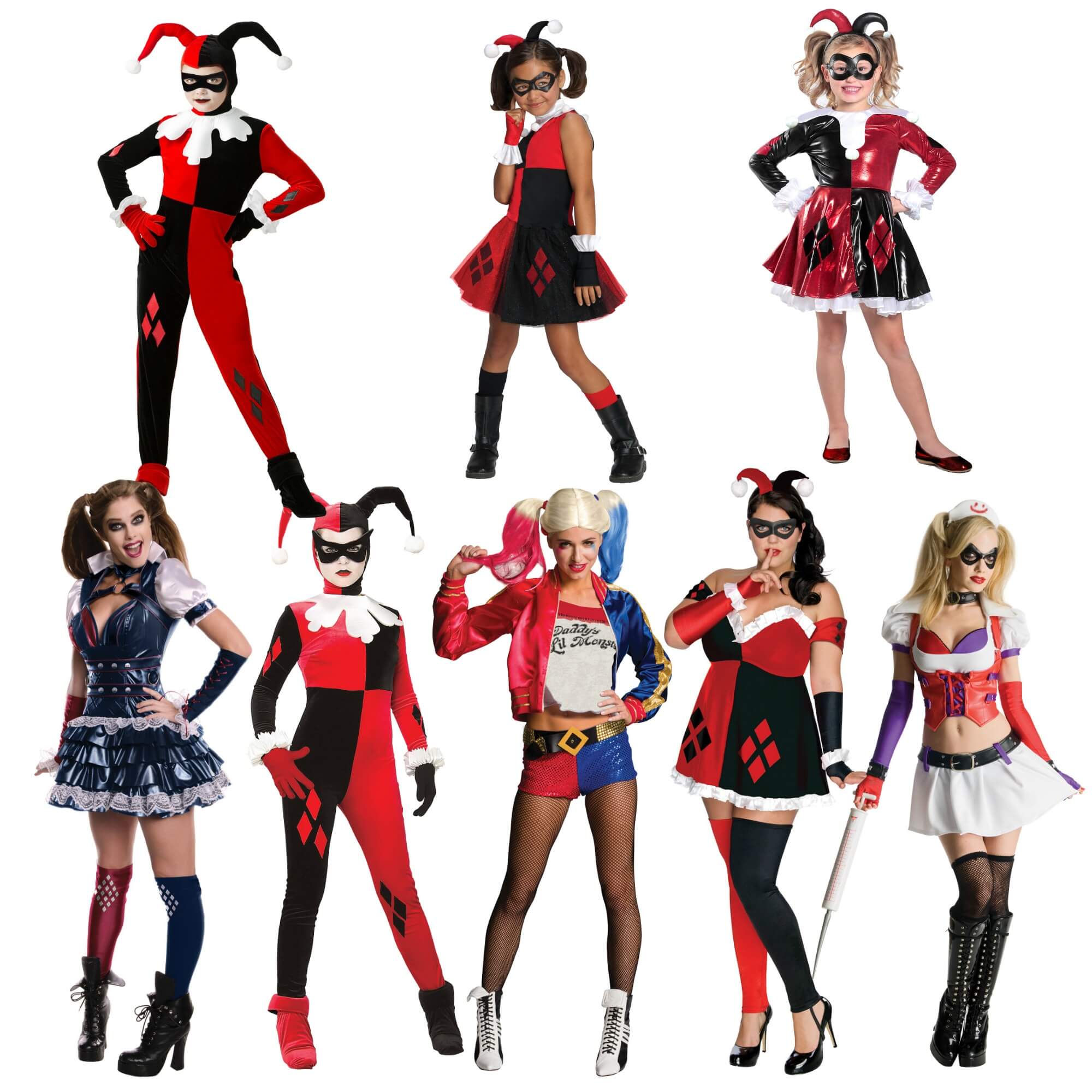 Exclusive Child Harley Quinn Jumpsuit Girls Harley Quinn Tutu Costume
Child Harley Quinn Secret Wishes Arkham Knight Harley Quinn Costume
Adult Harley Quinn Costume Deluxe Suicide Squad Harley Quinn Costume
Plus Size Harley Quinn Arkham Asylum Nurse Harley Quinn Costume
And if you aren't in the mood (or don't have the time) to craft your own Harley costume this year, you're in luck. We have plenty of Harley Quin, jester, and Harley Quinn costumes for kids through adults, including plus-size. Whichever version you want to be of your favorite, kooky supervillain from the DC universe, make sure you show up with a great big grin, crazy eyes, and a "pleased to meetcha!" for everyone you see.
We hope you enjoyed your costume DIY and makeup tutorial! If you dress as Harley this year (and we're guessing some of you will!), please show us in the comments! We also have a huge variety of superhero costumes for the off chance that you want to be *gasp* a superhero. (But that's not fun!)