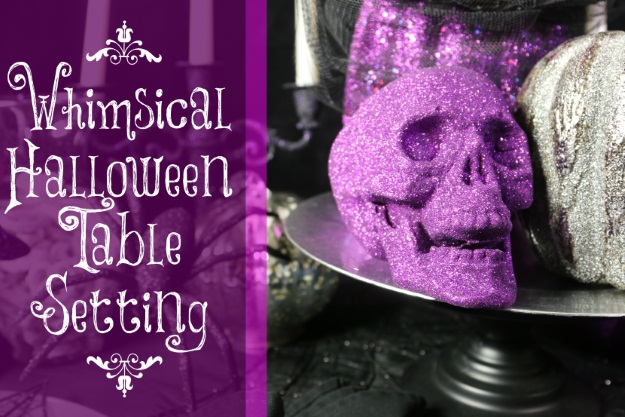 Not all Halloween decorations need to be scary or gory. Purple black and silver are beautiful colors alone, but when you use them together and add some glitter, the results are a hauntingly beautiful decor scene! Here are some simple steps which will help you easily create a spooky Halloween table setting like this for your next dinner party or Halloween soiree! Lots of pretty pictures included for inspiration :)
How to Create a Whimsical Halloween Table Setting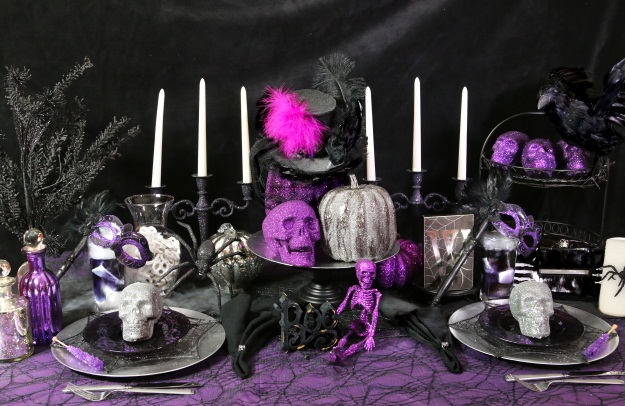 Various textures like chunky glitter, delicate lace, and soft feathers, bring this scene to life.
Step 1: Cover the Table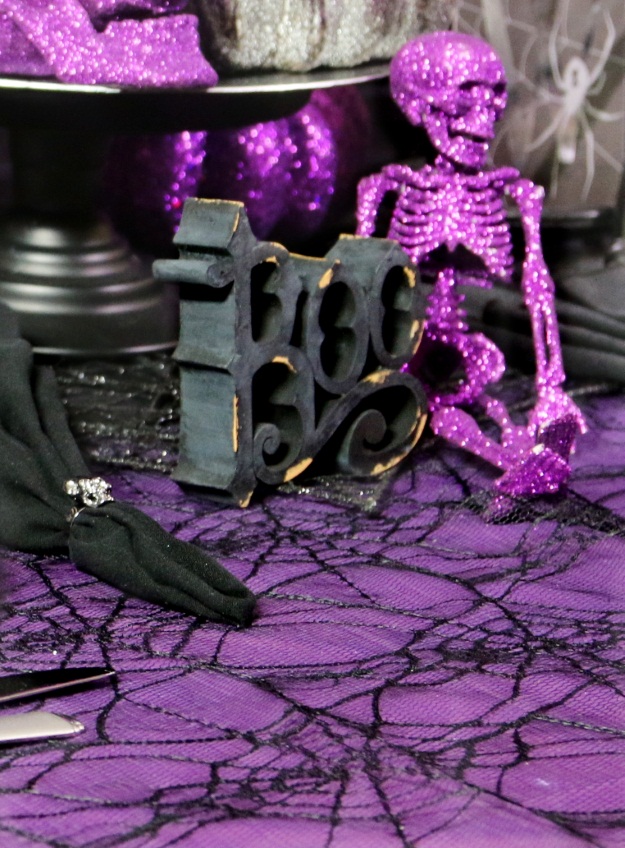 Start with a bright purple table linen (fabric or vinyl ones work well).
Cover your solid linen with the black spider web table cloth. This allows the purple to show through beneath the webbing.
Step 2. Create Height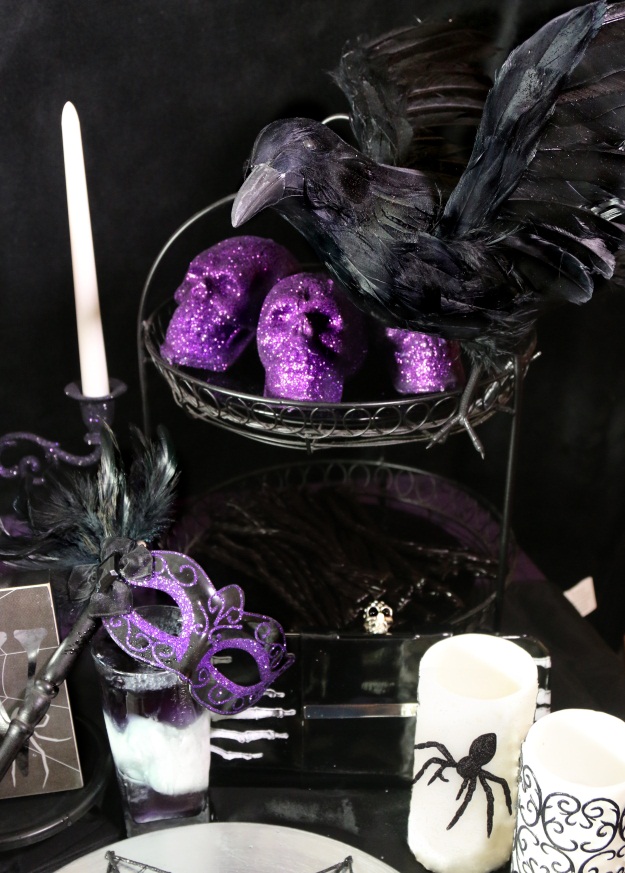 Raven Prop Halloween Candles Halloween Skulls
Use items that are practical and that match the tone of the setting.
A black tiered plate stand gave us the height we were looking for, and offered a fun way to hold some extra decorations.
Consider creating warmth with candles. For a look that is both spooky and SAFE, we used LED candles like the spider one above.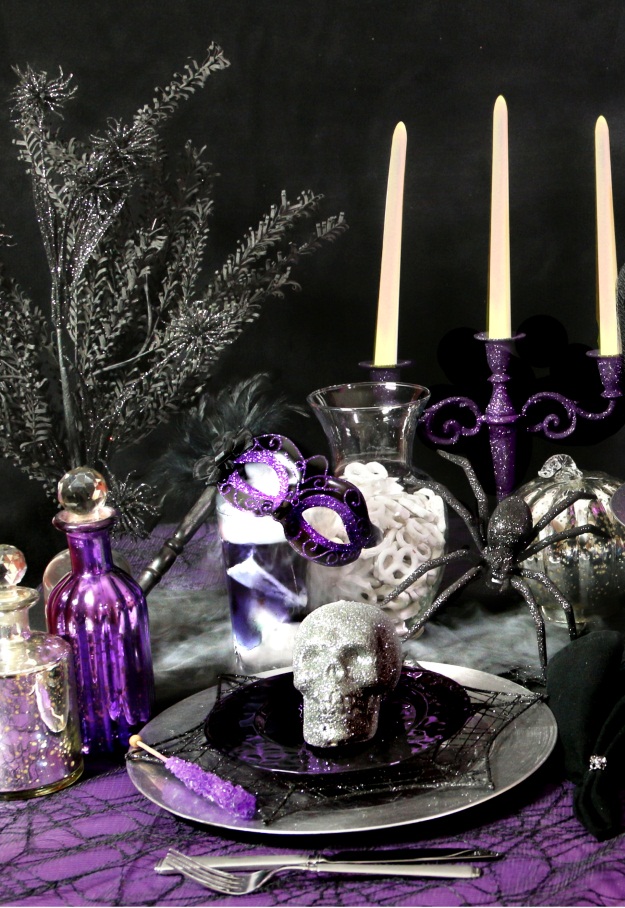 14" LED Candelabra Black LED Bottles
We paired a matte decorative grass spray and a glitter thistle spray to create fullness and height.
Here again, the candles on the candelabra are LED and create a hazard-free glow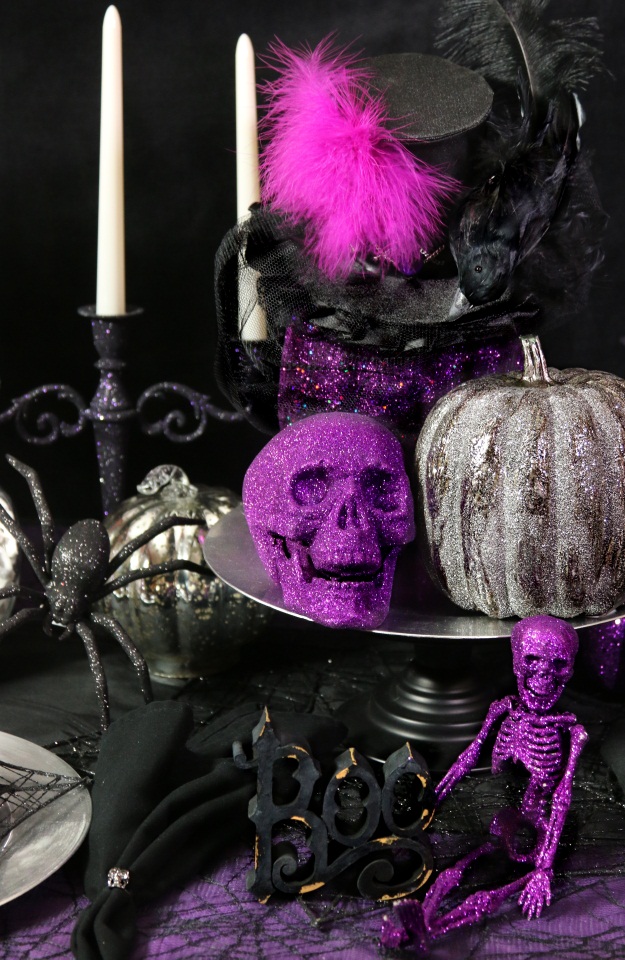 Spider Props Halloween Pumpkins
We placed a silver platter on top of a cake stand with a silver platter for additional surface space.
Three different colors creates a visually interesting centerpiece.
Placing a complex hat on the tallest pumpkin introduced a sense of whimsy.
Small details like the boo sign and mini skeleton are useful for filling any empty spaces in your arrangement.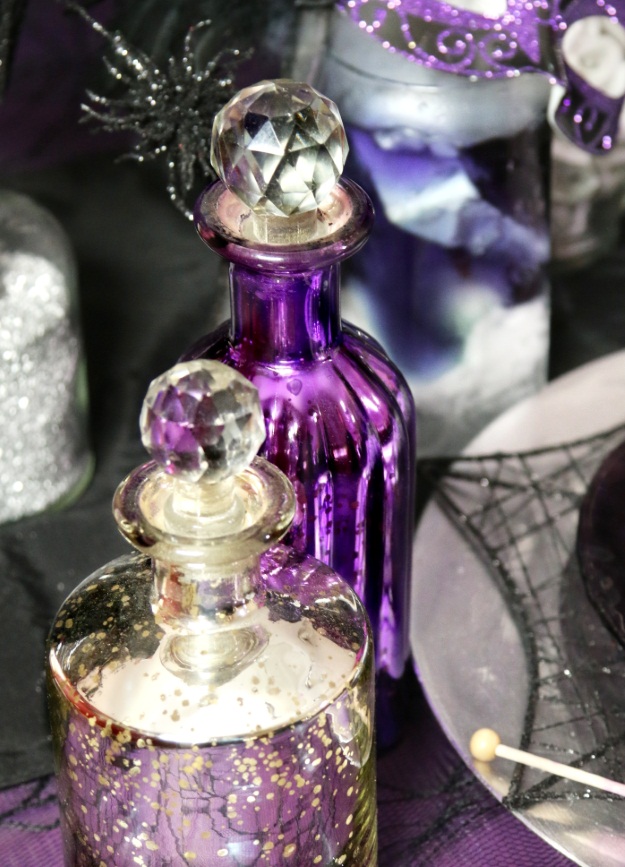 These mercury glass bottles fit the decor scene perfectly! You don't even have to fill them with anything.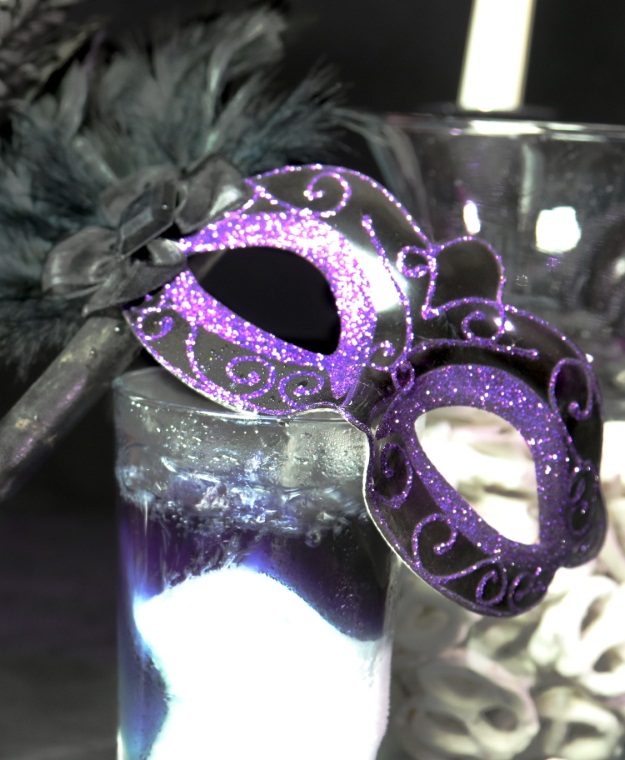 Take-home party favors will always be appreciated by your guests. These fun masquerade masks fit the color scheme, and provide a great ice breaker!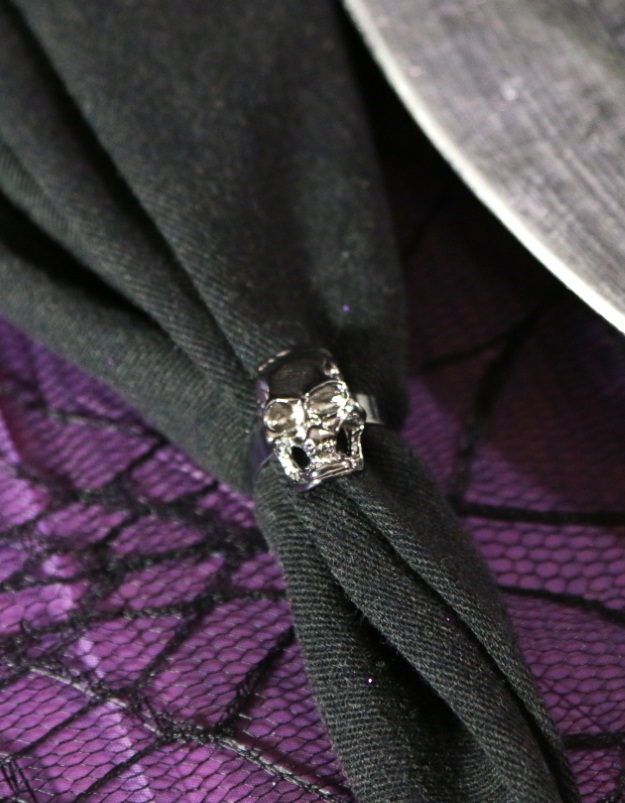 Here we employed a simple silver skull ring as a napkin ring. The bright silver contrasts nicely with the black linens. This can also be a take-home party favor since it's an adjustable finger ring!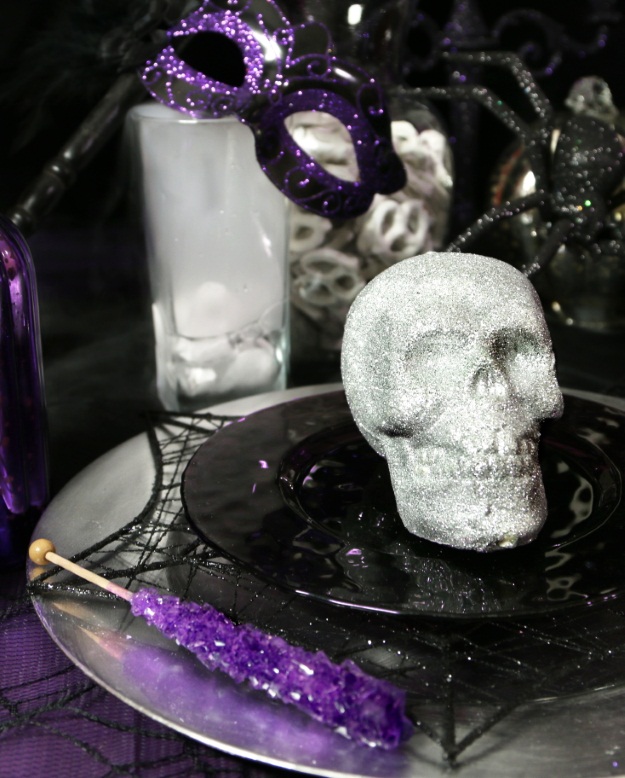 We enhanced each place setting with a glitter, metal spider web, placing it between the charger and the plate.
We used plum glass plates with a small silver skull, and gave everyone a purple rock candy to sweetly pull it all together.
TIP: Use a clear gloss spray laquer to control glitter shedding.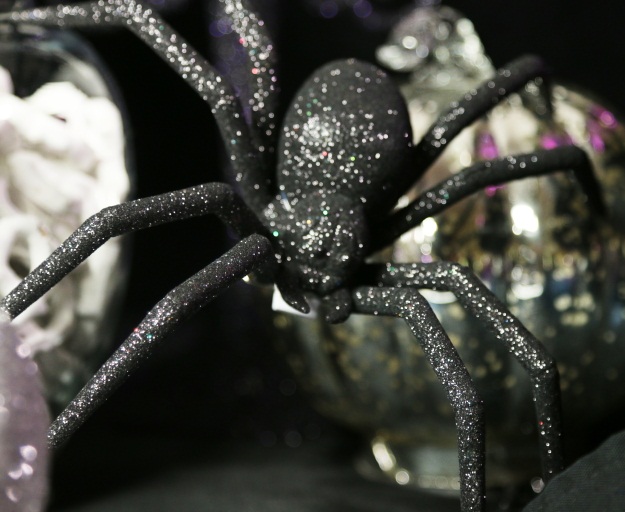 Check your table design for any holes, and fill any negative space with glitter or glass props.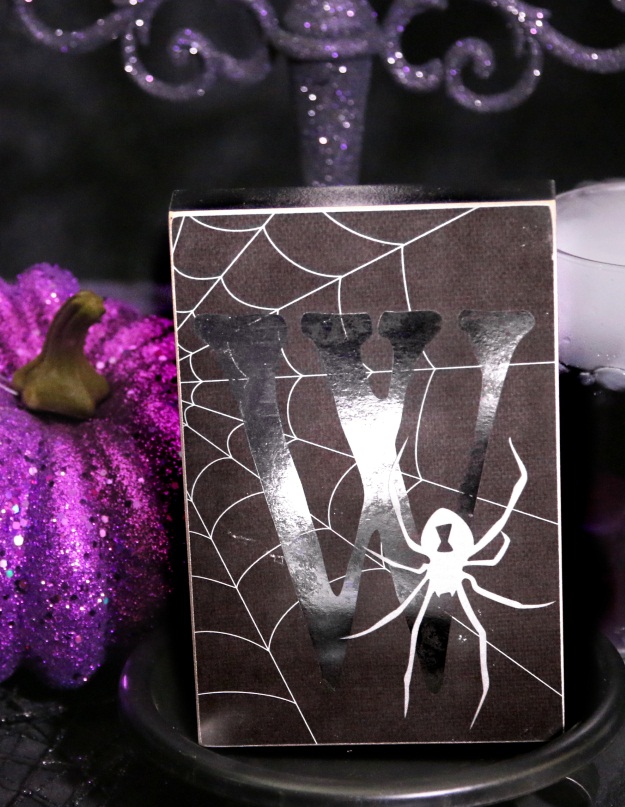 Wall and Window Decor Halloween Signs Candy Bowls
Any items you feel are too small for the space can be placed on pedestals or risers.
This wooden 'W' sign is one piece of a full set that spells the word "WICKED." Feel free to break up the elements or use just one piece for your Halloween decor - have fun and make the scene your own!

We hope you enjoyed our fun glam and gore decor ideas! (You never can have too much glitter, right?) Are you ready to pull some ideas together for your own Halloween decorations? What's your favorite theme? Let us know what you think! As always, you're more than welcome to check out our other Halloween decor blogs, from decor tips to decoration DIYs.