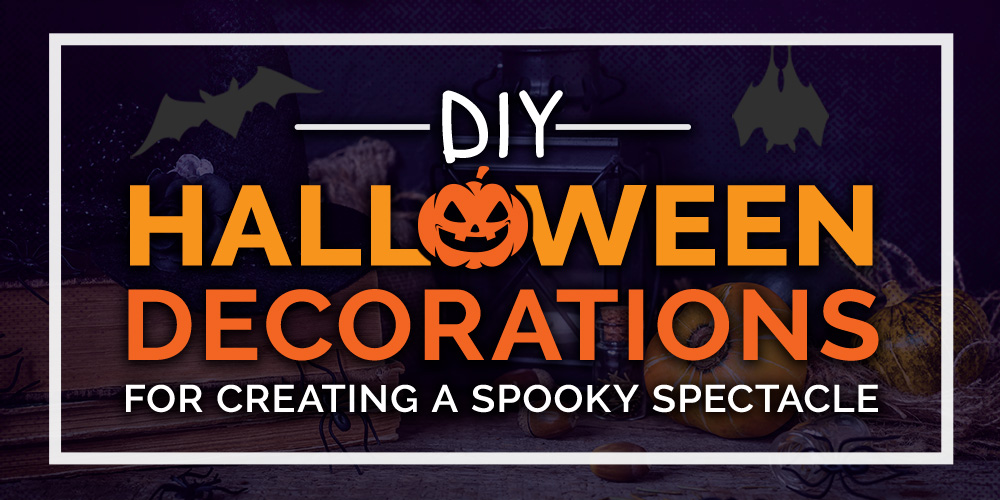 Many holidays encourage decorating, but we'd like to argue that nothing is quite as much fun as decorating for Halloween! Halloween decoration ideas can take on many forms—you can stock up on cute Halloween decorations for a farmhouse-style display or go all-out spooky by turning your yard into a graveyard or your house into a witch's hut. Whether you need ideas for decorating and arranging the perfect Halloween display or you want to break out the glue gun and spray paint, we compiled a list of Halloween home decor ideas that are simply boo-tiful!
DIY Skeleton Charcuterie Board

Add a Halloween vibe to your kitchen table by making your own spooky charcuterie board! It's super easy, too! Simply arrange this Bag o' Bones decoration in and around your food to create the most Halloween-est of snack displays. Add pumpkins around the display to amp up the Halloween themes! We do recommend thoroughly washing all of your décor before (and after) it comes in contact with any food. Safety first!
DIY Klutzy Witch Decoration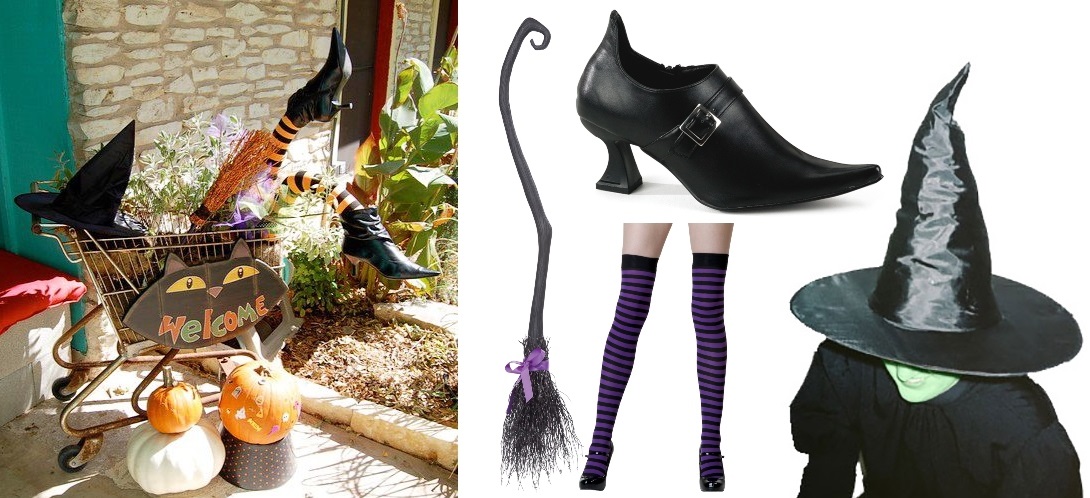 Looking to turn your old witch costume into an upcycled Halloween decoration? You'll only need a few basic witch accessories and some pool noodles, along with your imagination! Slip the stockings over the pool noodles and glue the "legs" into a pair of black, pointy-toed witch shoes. Then pose them inside of a hay bale, bush or wherever you want! Have a broom and hat strewn about to add to the silly chaos of your clumsy witch Halloween decor.
DIY Halloween Wreath Ideas

Everyone is familiar with Christmas wreaths, but Halloween wreaths are a great way to make your home entryway spooky. While there are options for buying a Halloween wreath, they're also tons of fun to create and customize. You can start with a basic foam base, a twisted twig wreath or even pool noodles! Once you have your wreath base, break out your glue gun and attach Halloween items like miniature skulls, spiderwebs, creepy flowers, ribbons or whatever else strikes your fancy. You can even put an old plastic mask in the center if it works with your Halloween wreath's aesthetic!
Scary Spiderweb Halloween Door Decoration Ideas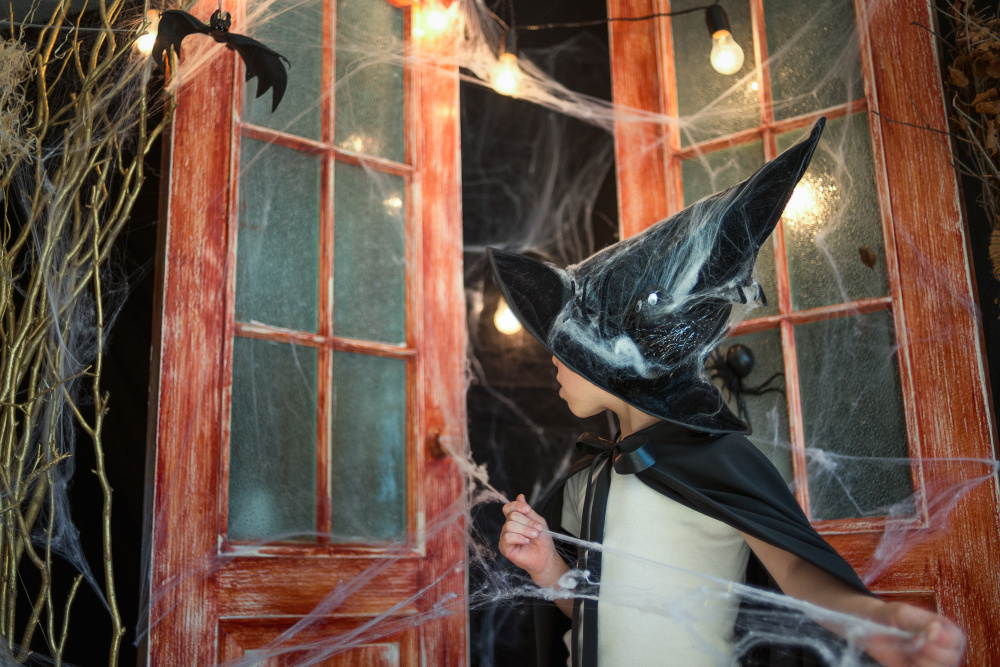 Maybe a Halloween wreath on your door isn't scary enough for you, and that's okay! There are tons of other ways to make your home entryway fit in with the rest of your scary Halloween decorations. Big, spooky cobwebs are a great way to start, as they're some of the best and most versatile cheap Halloween decorations. (If you're not sold on cobwebs being scary, think back to the last time you took a cobweb to the face venturing into your attic or basement!) Once your entrance has been thoroughly cobwebbed, bring out the spiders, bats, birds and other creepy-crawly critters that could be stuck in a large web. You can even get more creative by taking old dolls or skeleton decorations, wrapping them in webs, and hanging them from the top of your porch or gutters. Top it all off by making or buying a giant spider prop to let everyone know you have a giant people-eating arachnid!
DIY Posed Skeleton Ideas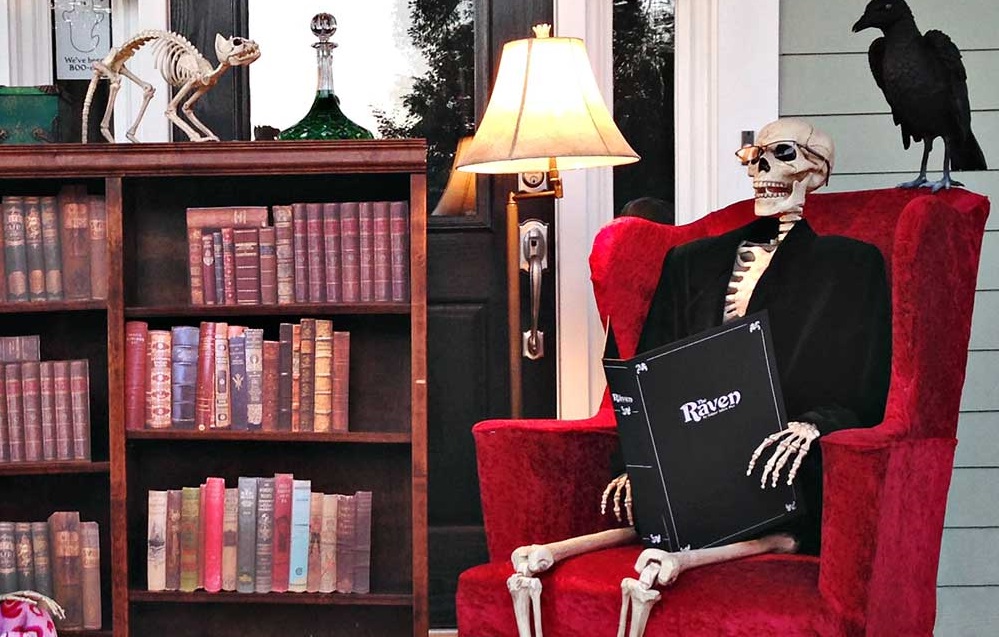 The Elf on the Shelf phenomenon has become a Christmas staple for many, so why not take that idea and have some fun with a life-sized skeleton prop? You can go as complicated or as simple as you like, from having a skeleton hanging from the roof with a fallen ladder to a full-blown scene in your yard or front porch. However, this Halloween decoration idea doesn't have to be outdoors either. Surprise party guests who walk past your kitchen when they see a skeleton chef, or pose a skeleton taking a shower in the bathroom. These Halloween party decorations are sure to be a hoot! The possibilities are endless, and you know that people will love posing with the skeleton decorations to take their own silly photos.
DIY Scarecrow Ideas

Are you looking for ways to reuse old Halloween costumes and accessories? If so, we highly suggest making a scarecrow! (Or stuffing a scary costume for an eerie figure to display on your porch.) You can also use old clothes if you don't have any leftover costumes, too. Use string to tie off your costume's arms and legs, and stuff it with old plastic bags, newspapers, raffia, or whatever else you might have on hand. (If the costume has a separate top and bottom, you may need to pin or sew them together first.) Finish it off with a mask, fake skull or a plastic pumpkin for a head.
DIY Candy Corn Candle Holders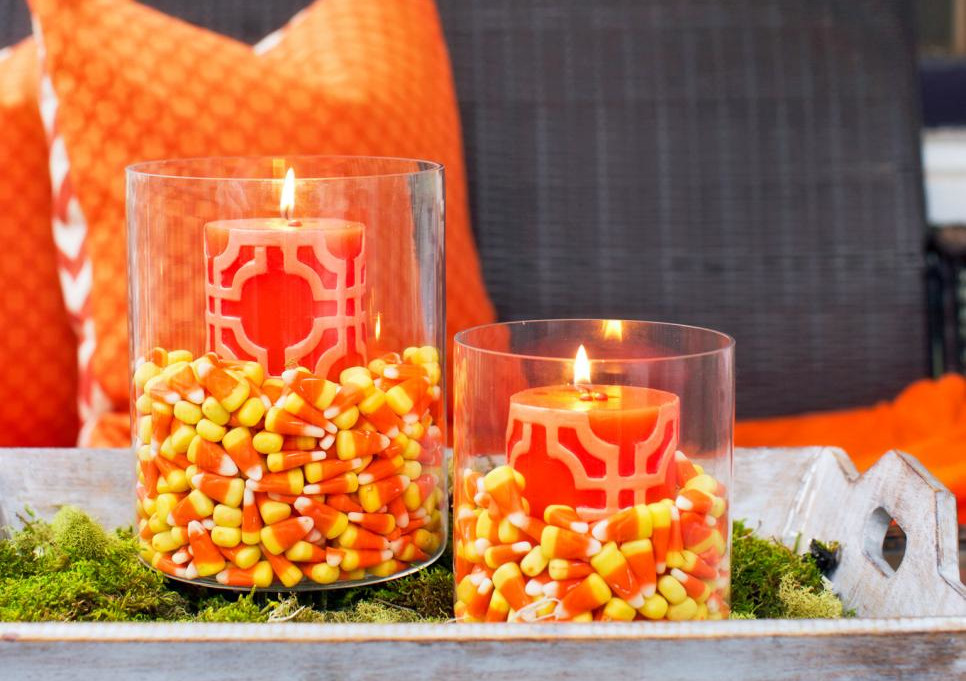 We're not looking to start a debate about best and worst Halloween candies, but whether or not you like candy corn, you can't deny that it's great for Halloween decorations! These easy Halloween decorations only take 3 items: candles, tall glass jars and candy corn. We highly suggest using LED candles so you don't have to worry about your candle melting down into your candy corn during a Halloween party. However, if you want to try something a little different, you can get other candy corn flavors for a variety of candy and candle color schemes. We love how these candles are displayed on a weathered serving tray covered in moss, but you can try other display ideas with spider webs, raffia and more! Your guests will wish they had thought to make these cute Halloween party decorations.
Printable Halloween Wall Decor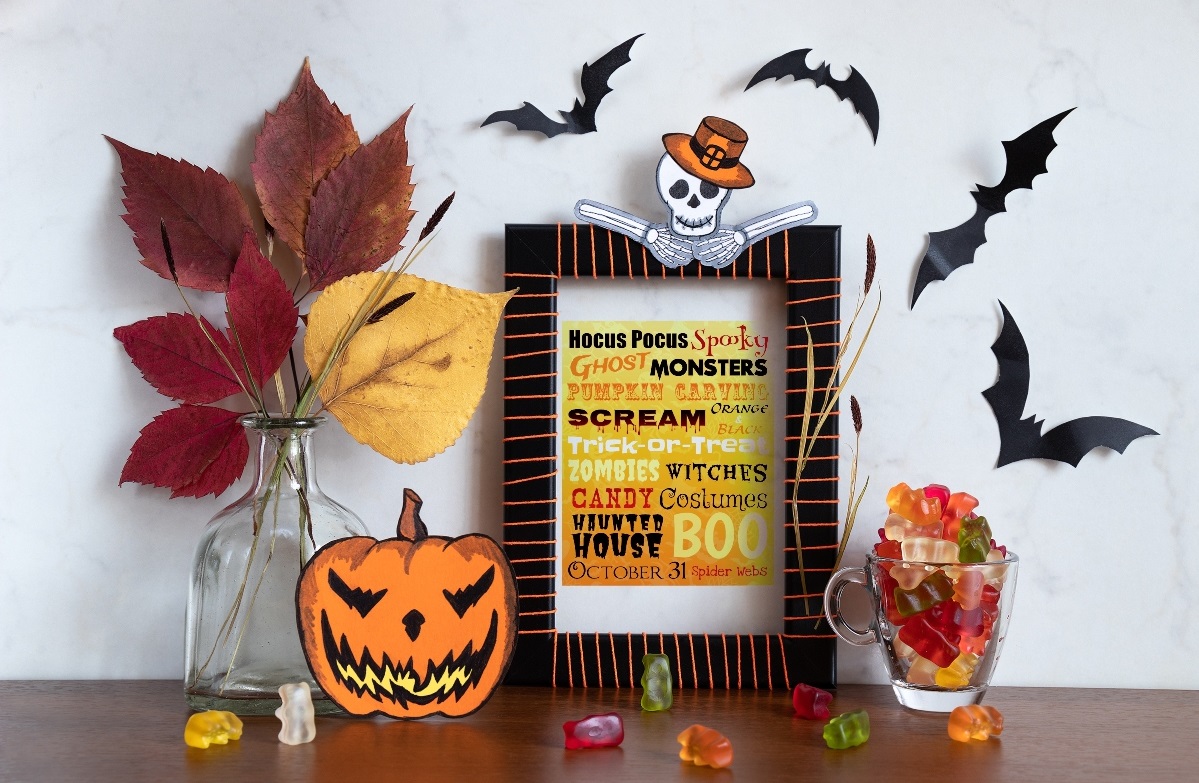 Free Holiday Subway Art Printables
Anyone looking to save money on Halloween decor will love making use of free holiday art printables. Find your favorite Halloween subway art for a typographical touch, or look for cute vintage art prints. All that's left is to find a cheap photo frame at your local craft store, and then you can spook it up! Wrap your frame in colored string or ribbon, paint it or leave it as-is if you find a picture frame with a wonderfully weathered look. Then simply hang it on the wall, or lean it on a table to create a small Halloween display for guests. They'll be very impressed with your spooky style!
Hanging Halloween Basket Ideas

If you're looking to add some outdoor Halloween decoration pizzazz to your porch, hanging wire planter baskets go from cute to creepy when you fill them with items like bones, skulls, flowers and pumpkins. These eerie hanging displays can reflect whatever aesthetic you need, too! If your decorations are witchy, try some dried herbs, flowers and a fake crow or two perching on top. Use cobwebs and spiders for a haunted abandoned house feel, or add pumpkins, ribbons and raffia to have a friendlier farmhouse look. It's good to add variety to your Halloween porch decor!
DIY Halloween Table Setting Ideas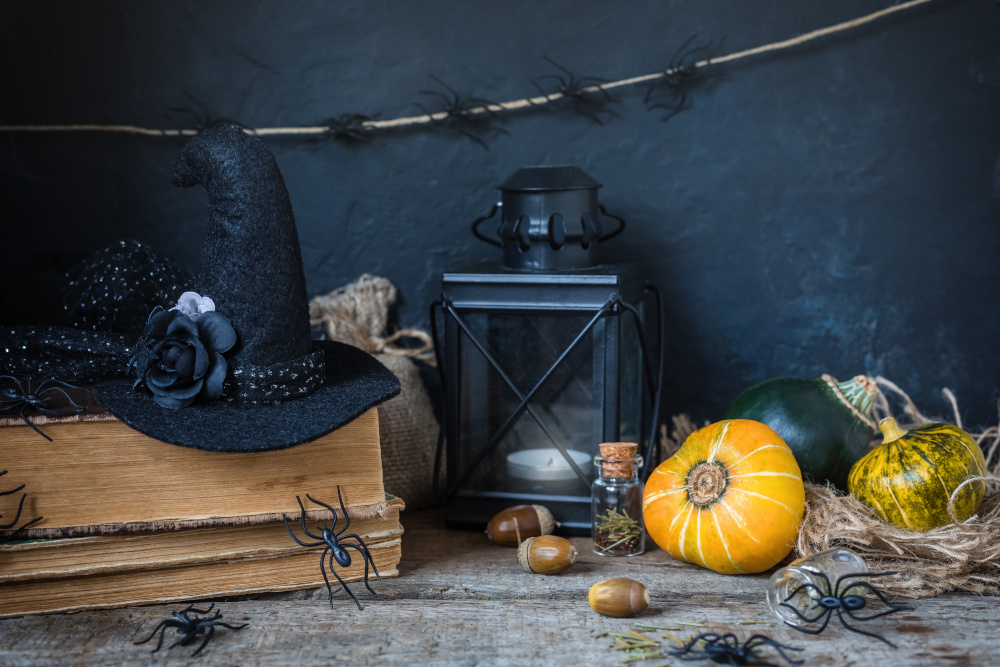 Whether you're hoping for a cute farmhouse style Halloween display or a table full of gore and glitter, it's best to choose a theme before arranging your Halloween table display. Were you hoping to have your coffee table or buffet display your favorite witchy aesthetic? Perhaps you turned your indoor Halloween decorations into a mad scientist's lab. Maybe your house is a mausoleum! Whatever the case may be, you'll want to have a mixture of small decorations like the spiders, acorns and little bottles you see here. Then add some medium-sized objects such as the gourds and pouch, or perhaps some candles. You can even layer objects on top of twine, raffia, spider webs and creepy doilies. Then you'll want to have a taller object to two for the main focus of your display, like the lantern, witch hat and stack of books seen here. Whether you're creating a gothic vampire display or a spooky pumpkin harvest, you can find some simple display items here at HalloweenCostumes.com!
DIY Jumbo Halloween Candy Decorations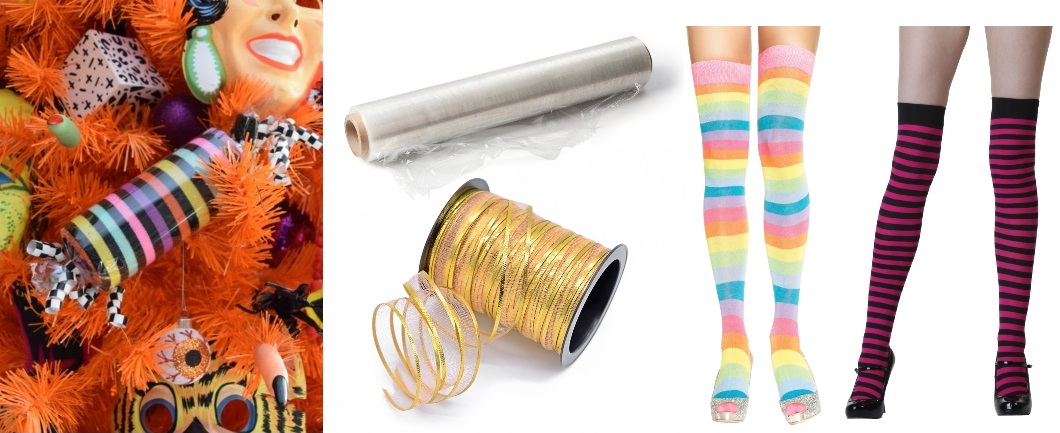 Is there anything more Halloween-themed than candy? Whether you want some gaudy decorations for your Halloween tree or you're sprucing up your indoor or outdoor holiday decor, these giant treats will look great anywhere! Once again you'll be using a dollar store favorite: pool noodles! The length of your striped socks and cellophane wrap will help dictate how long you can make your candy. (Adult and child socks will work, but candy made with child socks will be shorter in length. Also, be careful about socks with color block heels, because they will take away from the overall candy length.) Cut a length of pool noodle and then cut the sock to be longer than the noodle on both ends. Slide the sock over the noodle and tuck the extra length inside the hollow of the pool noodle. Then wrap your pool noodle sock tube in the cellophane wrap like a candy wrapper, leaving enough on either side to make the wrapper twists. Use twist ties around either end of the pool noodle and cut off the excess, covering in decorative curling ribbon. Take a pair of scissors and curl the ribbons, and you're done!
Painted Halloween Pumpkin Ideas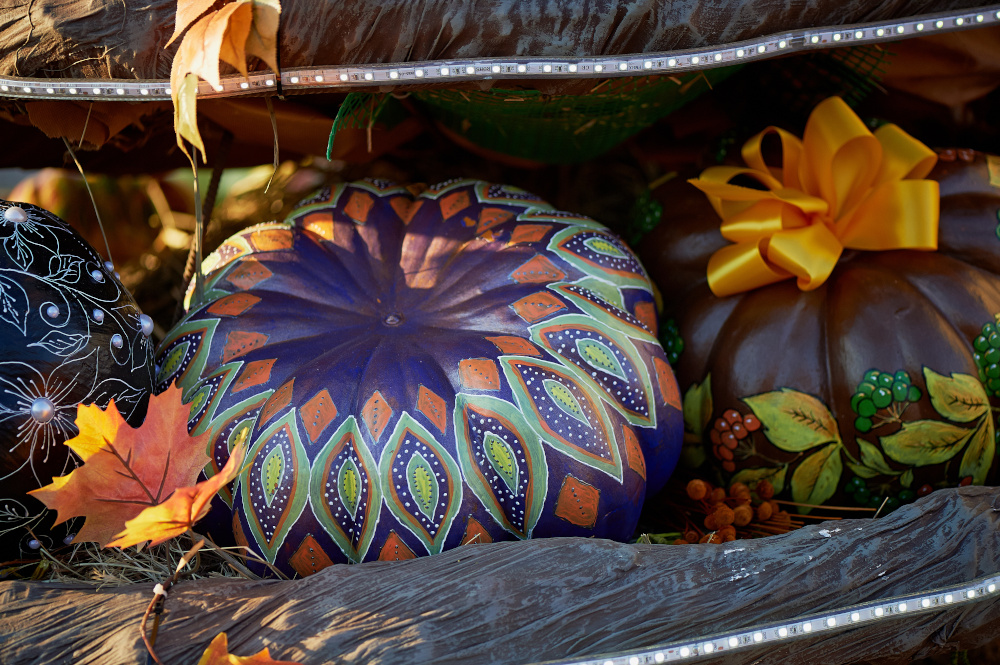 If you're looking to show off your artistic skills but you're not a fan of digging into slimy pumpkin guts, you might enjoy painting your pumpkins instead! (Yes, we know that having an aversion to pumpkin guts might seem strange, but it happens.) You can paint real pumpkins, or you have the choice to paint fake pumpkins that you can keep and display year after year. There is a variety of spray paints and acrylics that you can use, as well as specialty paints like chalkboard paint and chalk paint. Add fun extras by gluing on rhinestones and colorful beads, or even glitter!
DIY Hanging Spider Egg Sacks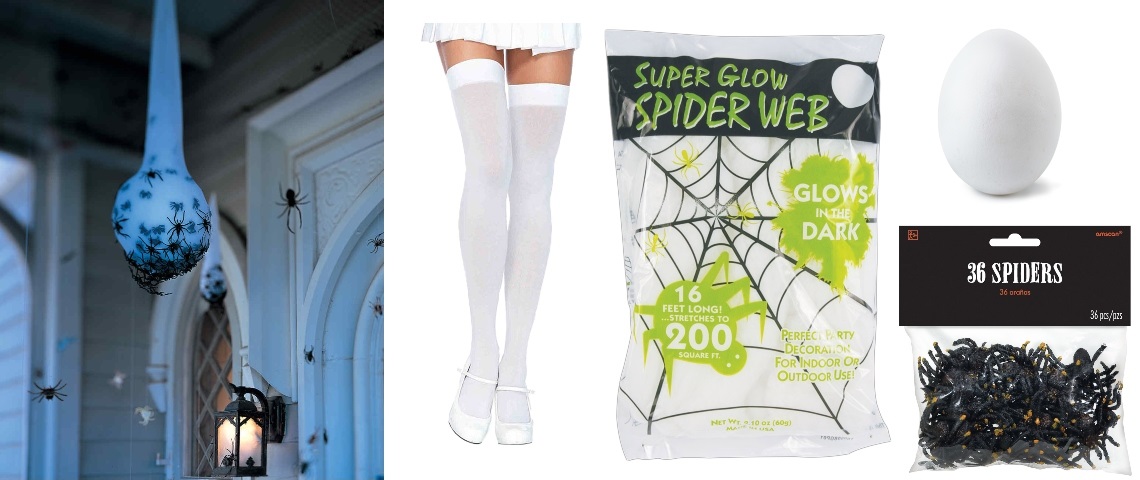 These hanging spider egg sacks will make your home feel like a haunted house in no time! This easy Halloween decoration only needs a few items: white stockings, batting or spider-web (we chose a glow in the dark one for some extra fun), a foam egg, plastic spiders and some spider confetti. Take a foam egg and wrap it up in batting or spider web and slip it into one of the stockings. Then toss in a few small spider confetti pieces. Hot glue a couple of larger spiders to the outside and voila, you're done! Use hooks, tape or push pins to attach the spider sacks to the roof of your porch or inside your home. You can always take pieces of string and some leftover spiders and hang those as well. (Just make sure to ask permission before decking out public spaces like your apartment hallway or office!)
We hope you have tons of ideas for decorating your home for Halloween! What decorating aesthetic are you aiming for this year? Do you want to have family-friendly and cute Halloween decorations? Are you hoping to have the most haunted house on the block? Have you made some of your own Halloween decorations that you're excited about? Let us know in the comments below. If we love your Halloween decor ideas, we might be able to include them, too!
And if you're still looking for Halloween ideas, our page on "How to Halloween 2020" has plenty of tips and tricks!