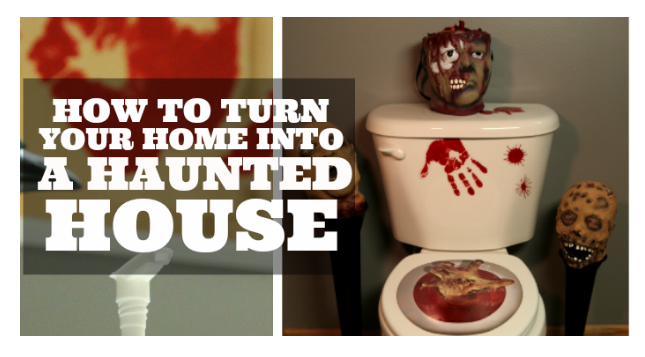 There are plenty of ways to turn your home into a haunted house this October that don't include cooked spaghetti, peeled grapes, and that old "Spooky Sounds" cassette tape that you bought decades ago. We've researched the best Halloween décor inspiration, creepy DIY projects, and truly terrifying gory products for you to use to turn your lovely house into something very scary.
For The Exterior
Put your friends at un-ease the second that they walk up to your house. You can give them a hint of what's in store inside before they even set foot in your home.
Window Silhouettes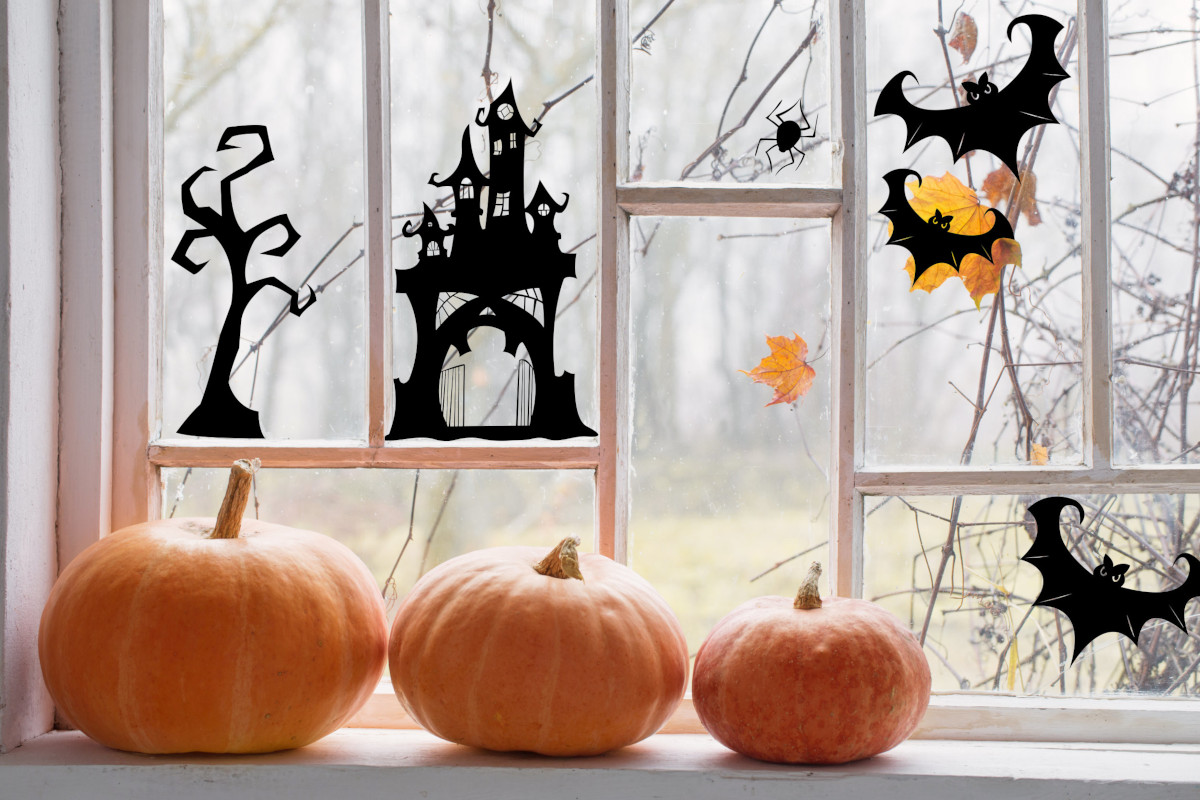 This simple craft can go a long way. You'll need black construction paper, a pencil, scissors, and clear tape. Just trace out the shapes you want to appear in your window as spooky shadows, cut them out, and tape them up. Want your shadows to be larger than one sheet of construction paper? No problem – tape as many pieces together to create a larger canvas for you to trace on and tape the whole thing up together. There's a lot of free Halloween clip art out there if you don't want to draw your window decorations by hand too!
Yard Decorations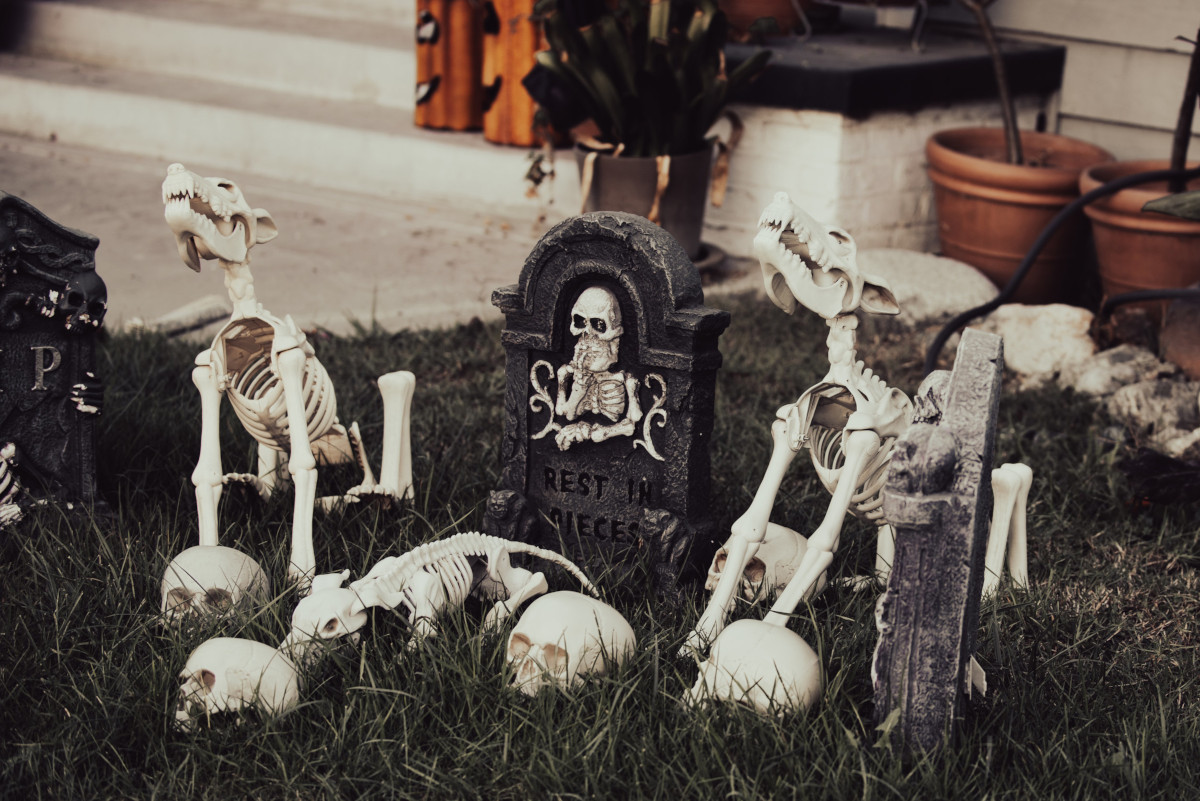 In our opinion, there isn't much scarier than having something catch your eye or jump out at you outside in the dark. There are tons of different types of decorations and animatronics that you can put on your front lawn to scare your guests that are walking up to your house.
TIP: Consider hanging some decorations from trees – your guests might be looking at eye level, but when something starts moving above them, they'll definitely be surprised.
TIP: The same goes for on the ground. We know we wouldn't want something popping out by our feet, trying to trip or grab us as we walk through a yard.
TIP: You can add as much as you like to your scary outdoor scenes, but make sure to keep it all in the same feel or theme. If you have too many mismatched items, your yard might look like a junkyard. We recommend graveyards, witchy vibes or spiders and other creepy crawlies!
TIP: Don't forget the fog machine! You can check ours out here.
See our Halloween animatronics here. You can also see the rest of our scary yard decorations here.
For The Living Room
First things first—decide on a theme. Some ideas: gory, medical/laboratory, ghostly, witch's den, spiderwebs, catacombs, etc. Pick one or two focal points, such as a bay windowsill, fireplace mantle, or coffee table, and play those areas up.
Haunted Family Portraits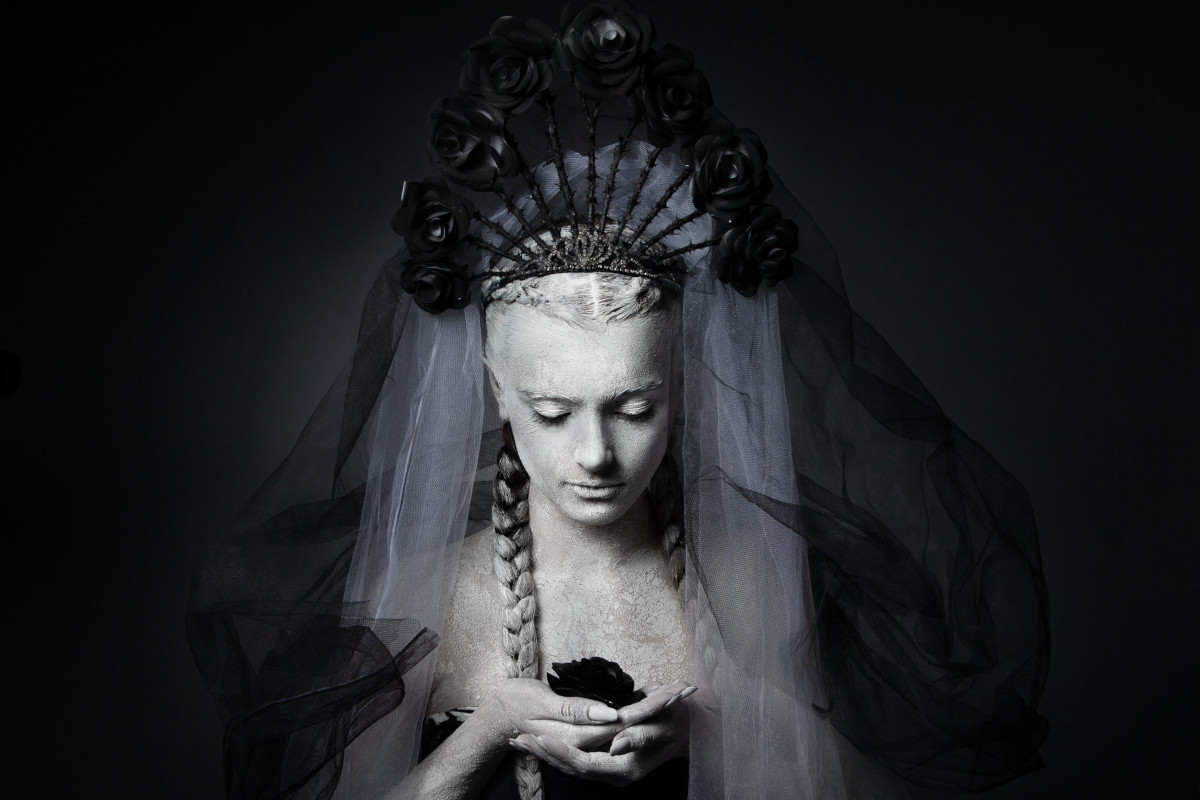 When it comes to outstanding décor, it's the details that make a difference. A fun (and easy!) craft is to replace all the framed photos in your living room with spooky versions. Either use an image editing website to add in blood, spiders, or other creepy things to family photos you have already, or find old-fashioned and creepy-looking photos online and print them off.
TIP: Print the photos on brown paper for an aged effect.
TIP: If you Google "vintage Halloween costumes," you will find some terrifying images from decades ago. Like, basically, the scariest things you will ever see.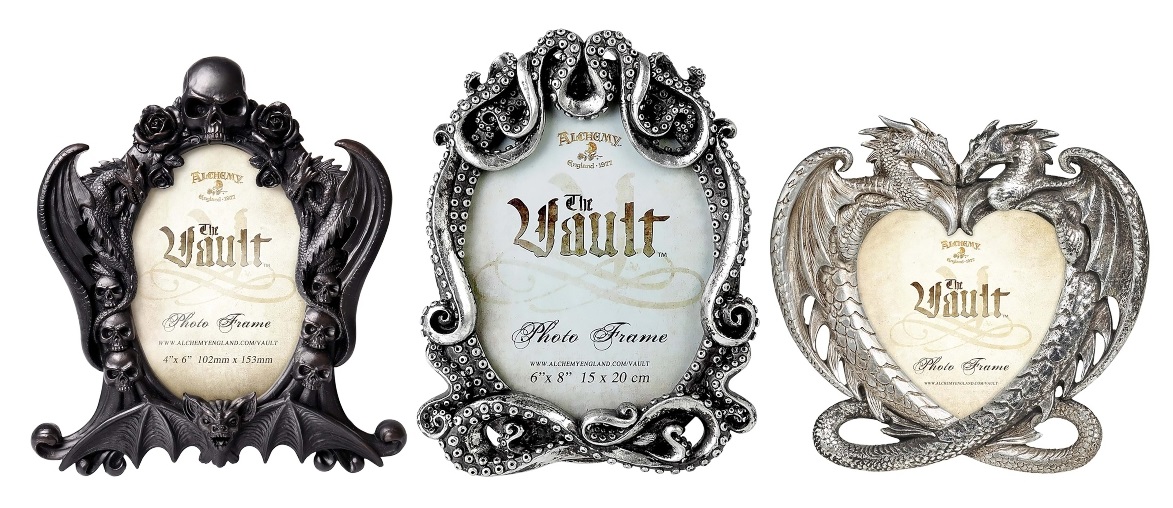 You can also decorate using our Halloween photo frames. They feature cool themes like dragons, vampires and even the kraken! Add a spooky photo and you're well on your way to creating a haunted hallway or mantel.
Skeleton Party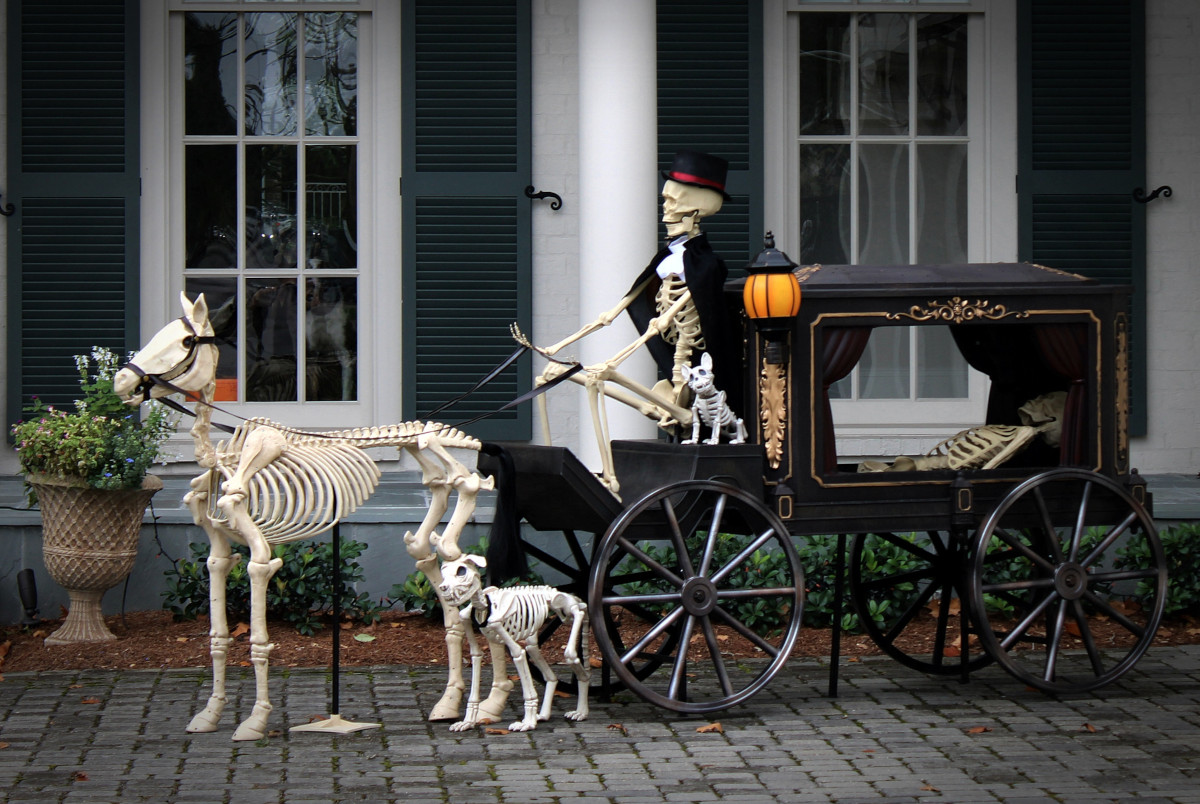 When you have friends over, don't be afraid to – ahem – let your skeletons out of the closet. Pad that guest list with some bone-y attendees. It never hurts to greet your guests as they arrive with some skeletons outside, but don't let the fun stop once they set foot in your house! Set the scene with your skeletons by putting them in commonplace situations and poses: watching TV, playing cards, reading a book, even lounging on the couch scrolling through Facebook on a phone! All you need are a few skeletons and some patience for posing them. Check out the rest of our indoor and home décor Halloween decorations here.
For The Bathroom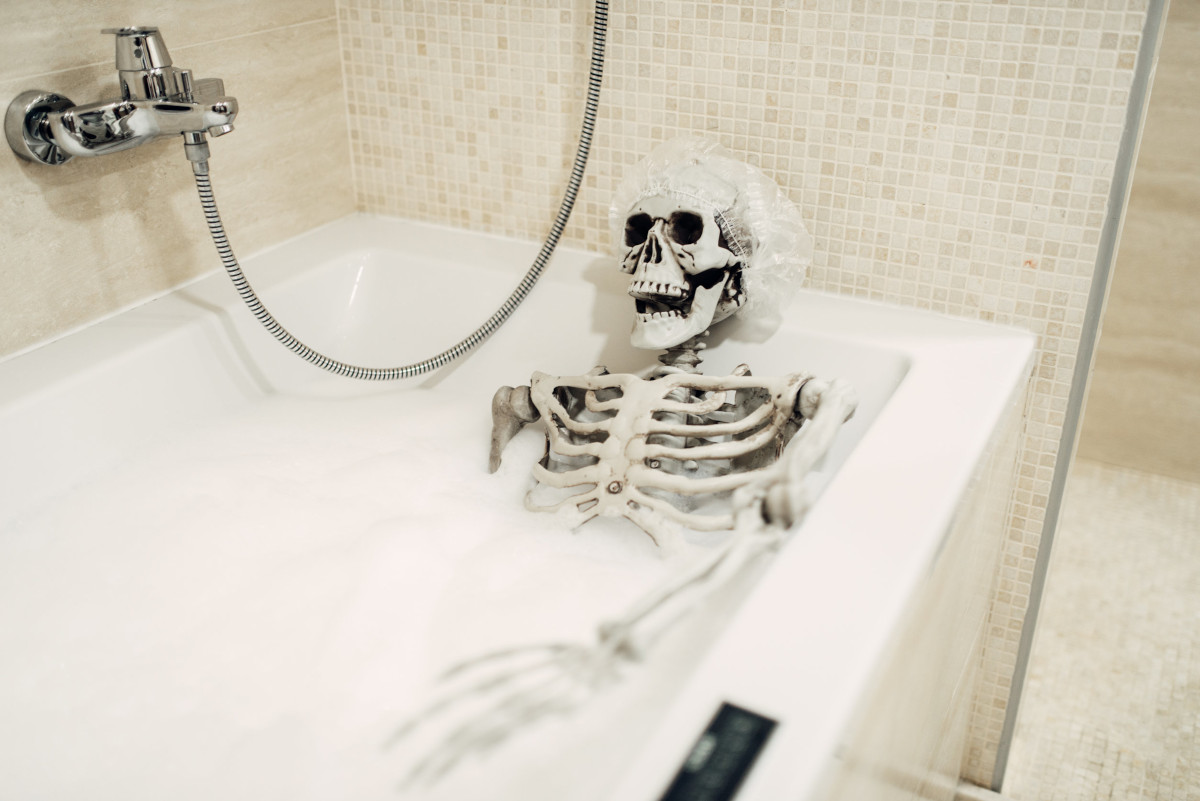 In many households, the bathroom can be the most terrifying room in the whole place. (It all depends on how many boys live there.) Why not give a creepy makeover to a room in your home that your guests might not expect? Pick a gory theme, or keep the silly skeletons rolling. (They're just so cute we couldn't resist another!) Use splattered blood window clings on your mirror, and you can find creepy shower curtains and toilet covers too. Add severed heads on top of tall vases (never thought we'd say that!) and use that to fill in corners. Don't be afraid to think outside the box and put some nice smelling potpourri in a zombie head bowl. You know, the usual.
Scary Soap Dispenser DIY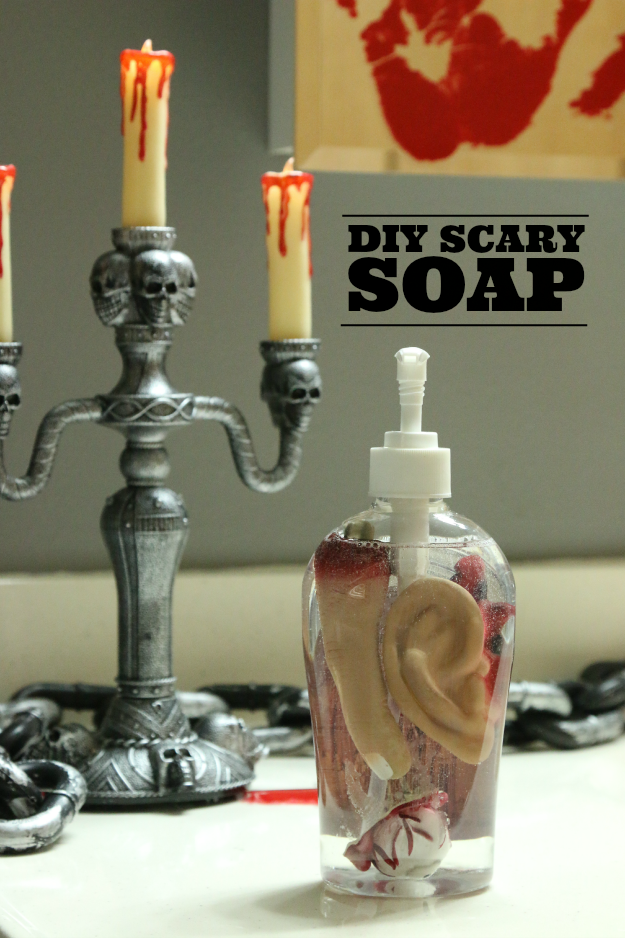 This dispenser of not-so-sanitary soap in the bathroom is an easy craft that is definitely an attention grabber. And it takes less than five minutes to do! Here's what you need:
Step 1: Take off the label from the soap, so the nastiness can be seen from all angles.
Step 2: Remove about 1/5th of the soap from the dispenser to make room for the fingers and stuff.
Step 3: If you're like us and want to keep the soap actually functional, give the body parts a quick wash.
Step 4: Shove 'em in there! Fit as many of the fingers and ears and eyes as you want in your soap dispenser without it getting too full. We managed to squeeze two fingers, one eyeball, and one ear in there.
We hope that you liked our suggestions for turning your cozy home into a haunted house of horrors. Don't forget to take a look at our complete selection of Halloween Decorations.