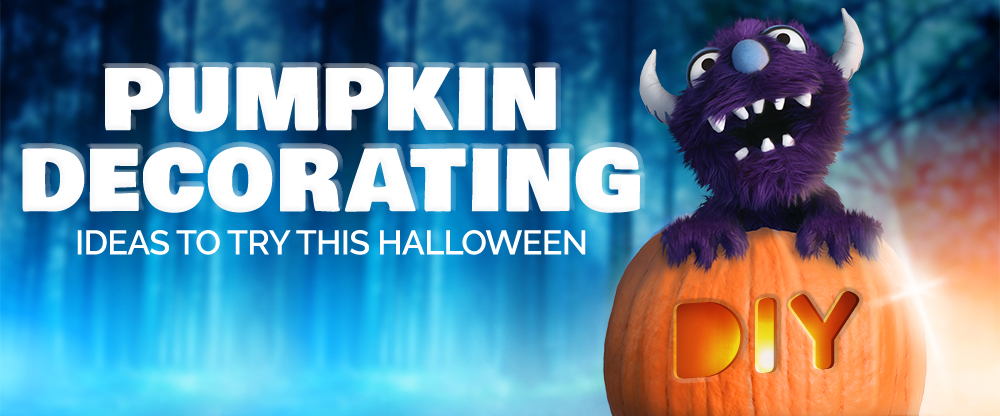 There are many reasons that you might want to decorate a fake pumpkin as opposed to a real one. They're less messy, easier to paint and glue, and they're perfect for a variety of no-carve pumpkin decorations. Plus, you can store them and bring out your Halloween pumpkin decorations year after year! (Any time you can reuse holiday decor is a win in our books.) Keep reading to see how you can carve a foam pumpkin, as well as a plethora of other no-carve pumpkin decorating ideas from paint to push pins.
1. Jack-o-Lantern Faces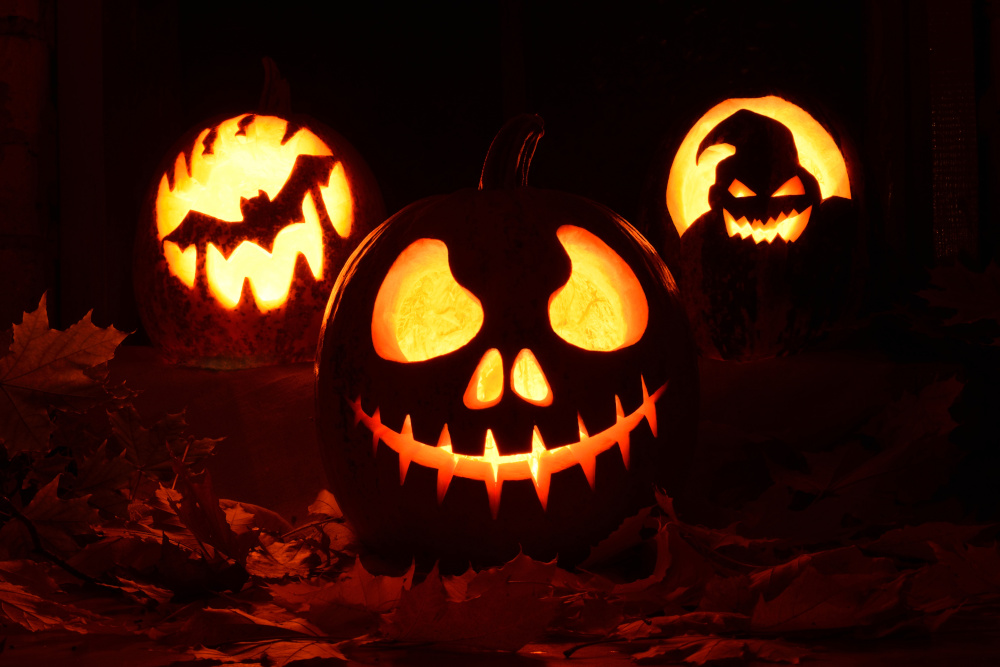 Maybe you're not fond of getting pumpkin guts all over your hands. Or perhaps it's upsetting to watch your carved pumpkin slowly waste away until it looks like a shriveled mess on Halloween. Whatever the case may be, the good news is that you can find carvable foam pumpkins! When carving foam pumpkins, you'll have to remember that many intermediate and advanced pumpkin designs call for scraped areas, which may require specialized tools on a faux pumpkin. You can usually carve fake pumpkins with kitchen knives and Xacto knives, but if you do want to tackle a design with scraped areas, you may need to use a Dremel tool. Happy carving!
2. Painted Pumpkin Faces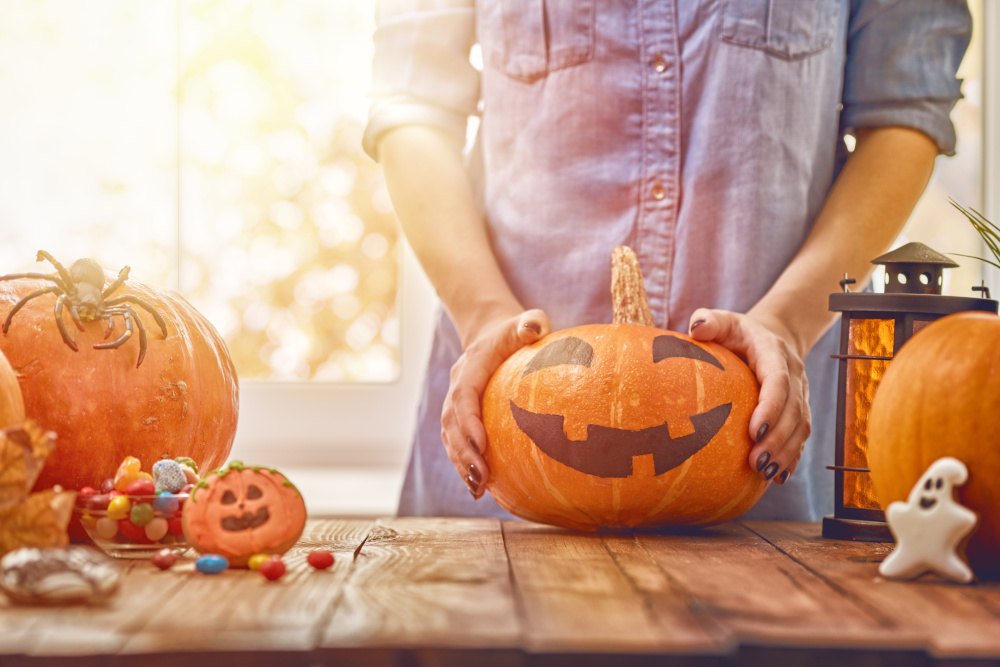 Whether you're decorating a fake pumpkin or not, painted on jack-o-lantern faces are so cute! Regular acrylics work well on large plastic pumpkins, but you can also use permanent markers. (Especially when drawing the outlines for your design!) You may want to use matte paint to keep your artwork from looking glossy, but if that's what you want, go for it! Painting faces on pumpkins is also an easy pumpkin craft for kids if you don't want them using carving tools yet.
3. Unicorn Pumpkin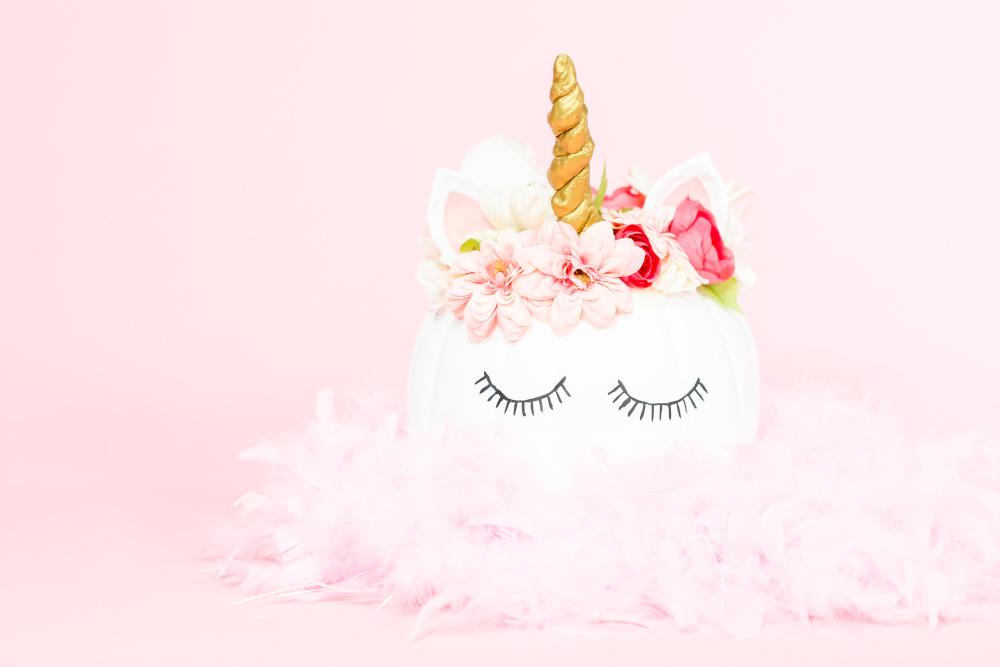 If you found yourself fawning over the famous unicorn cake, you'll be happy to know that you can easily take the same aesthetic and apply it to a foam pumpkin! Use air-dry clay to form a unicorn horn and ears, and allow them to dry. (We highly recommend Crayola's Model Magic clay.) Coat the dried clay horn and ears in craft glue before painting them to help prevent them from cracking when drying. When dry, glue your ears and horns to your fake pumpkin and get painting! Once your paint is dry, use a permanent marker to draw on the eyes and lashes, and finish it off with some flowers glued on top.
4. Painted Pumpkin Ideas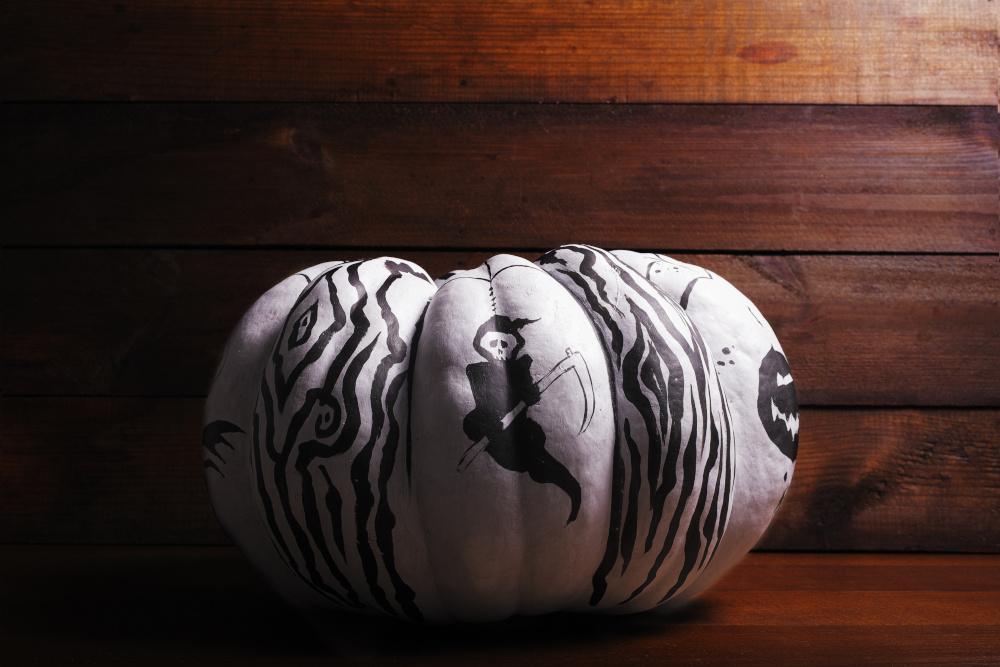 There are tons of great pumpkin painting ideas for faux pumpkins! Whether you want to go with a solid color or make some spooky Halloween designs, painted pumpkin decorating ideas are endless! (We'll elaborate on a few of our favorite painted pumpkin ideas later.) Matte acrylic paints are a great place to start, but you can also use a primer in order to use special paints like spray paints, metallics and more. Don't forget to use a sealant once your paint is dry so that your paint stays in place for years to come.
5. Donut Mini Pumpkins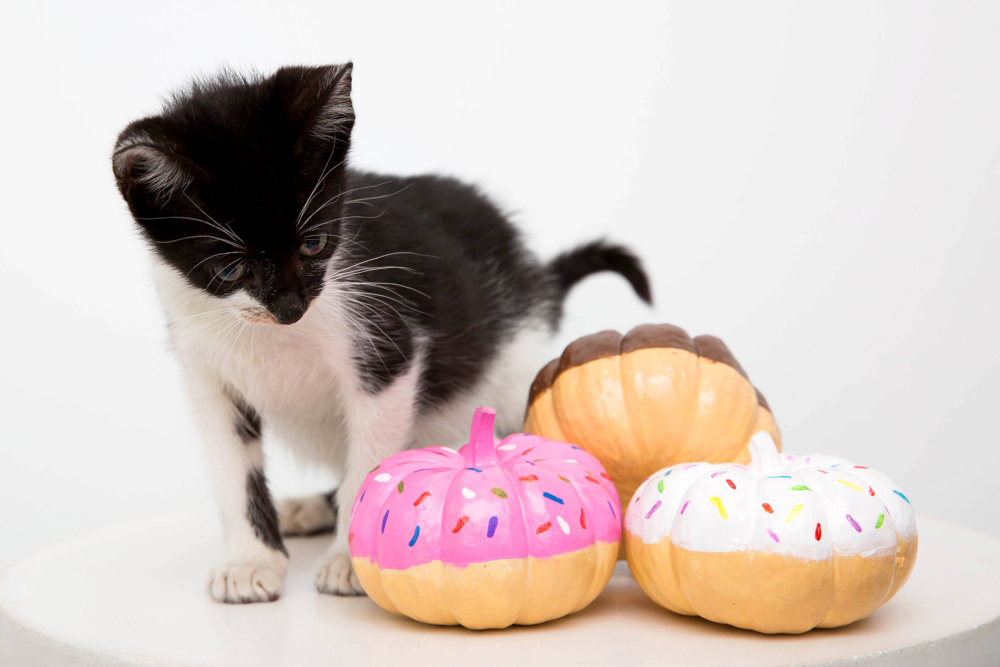 [Source: Kathleen Kamphausen/Cosmopolitan]
How cute are these? (If you're wondering if we're referring to the pumpkins or the kitten, that would be a yes.) Donut pumpkins are some of the cutest mini pumpkin decorating ideas ever! You'll want to pick a peachy color paint for the donut bottom, and then your favorite frosting color to paint on top. Use matte or satin paints to keep the shine to a minimum, and allow your mini donuts to dry. Then use a rainbow of paints for the colored sprinkles on top! These donut pumpkins are going to be some of your cutest Halloween decorations ever.
6. Awareness Pumpkins for Halloween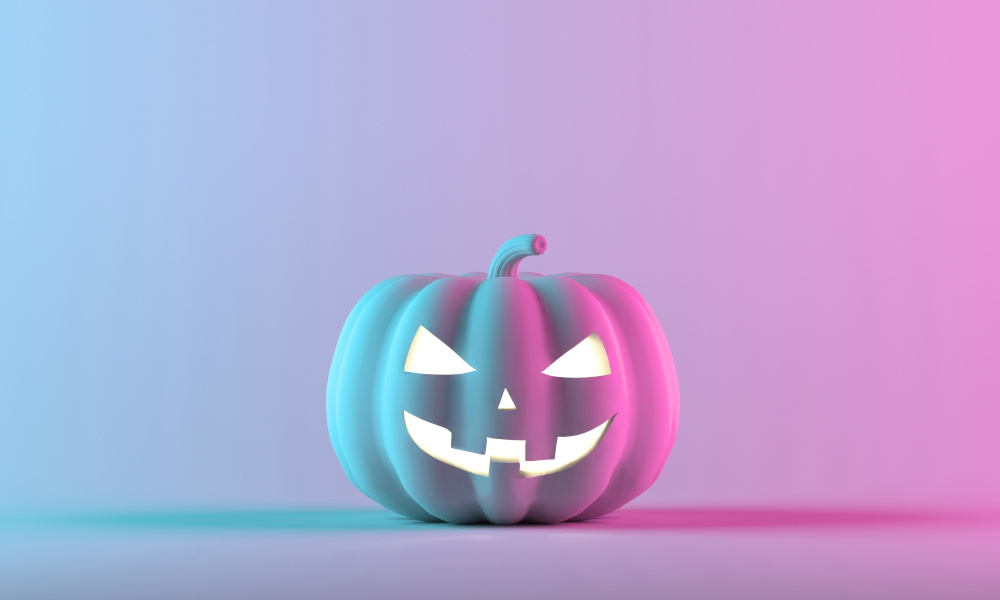 As people strive to make holidays more inclusive, there are initiatives to increase awareness with special pumpkin colors. The teal pumpkin was the original special pumpkin, raising awareness for kids with food allergies. When you display a teal pumpkin on your porch, it is a symbol to trick-or-treaters that you have non-food treats available for children with food allergies and other special conditions. You can hand out small toys and party favors like bubbles, glow sticks, stickers and crayons! But did you realize that there are two other special pumpkin colors for Halloween?
Although still unofficial, people carrying blue candy buckets may be on the autism spectrum. Autistic children and young adults may not feel comfortable making eye contact, say thank you after receiving candy and may seem too "old" to trick-or-treat to some, but the blue bucket lets people know not to turn any of these trick-or-treaters away. (Maybe just don't turn anyone away, period?) Autistic children love trick-or-treating just as much as everyone else, but may not show it in the same way! Including a blue pumpkin on your porch can help let others know that you are aware of the blue pumpkin bucket for autism.
Last but not least, you also have the purple pumpkin project from the Epilepsy Foundation. When you paint your pumpkins purple for epilepsy, you can register and receive a fundraising page to allow you to raise awareness and funds. The purple pumpkin project appears to mostly be for families with epilepsy, but you can always check out the Epilepsy Foundation to see how you can help in other ways!
7. Black and White Pumpkin Ideas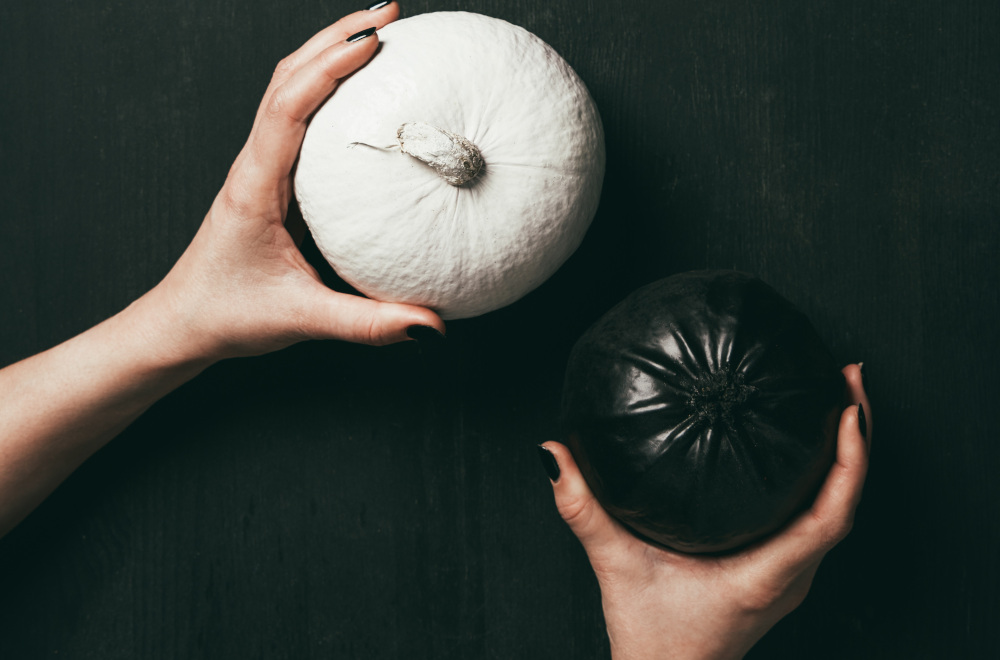 Are you looking for ways to make your Halloween decorations more sophisticated for an adult Halloween party? Farmhouse Halloween decorations are cute, but sometimes you want your decor to match a more modern aesthetic. Why not try painting some fake pumpkins black and white? Black and white pumpkins will give off a chic touch to your Halloween decor, not to mention that they'll match with practically everything! If you ask us, that's a win-win.
8. Lace Pumpkins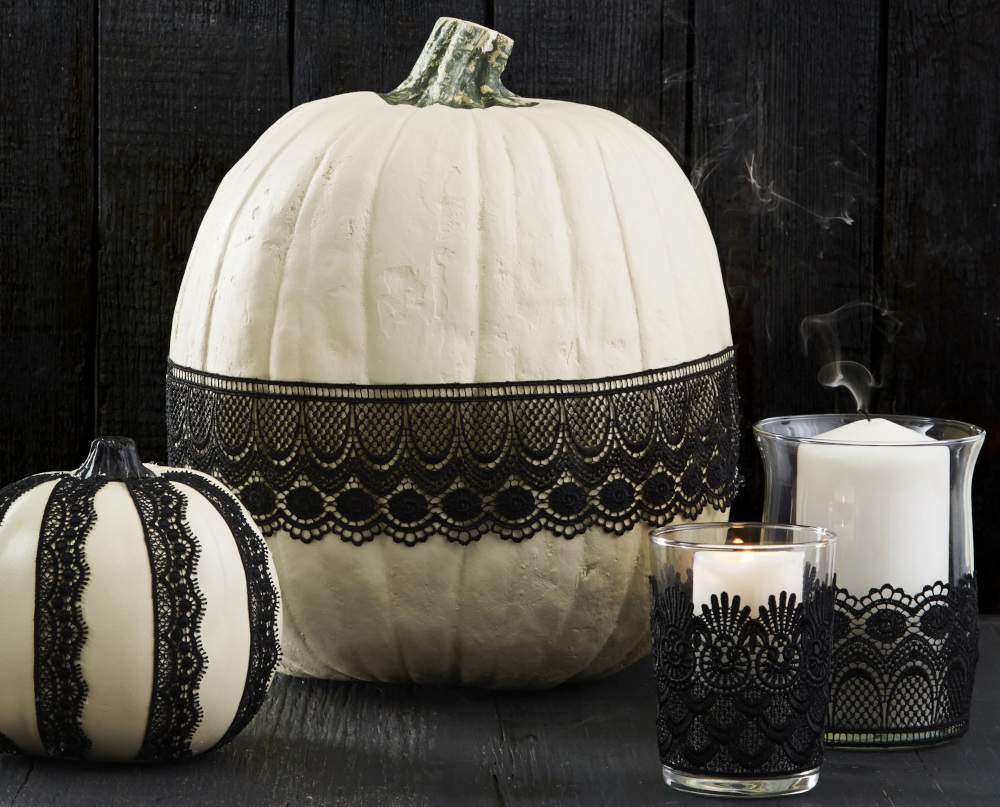 [Source: Mike Garten/Good Housekeeping]
Take your white pumpkin decor one step further by adding beautiful black lace! With a brush and some Mod Podge, you can add beautiful black lace trim to your pumpkins. Or you can always try the opposite with white lace on black pumpkins! It's going to be hard to put away these beautiful lace pumpkin decorations after Halloween.
9. Mustache Pumpkins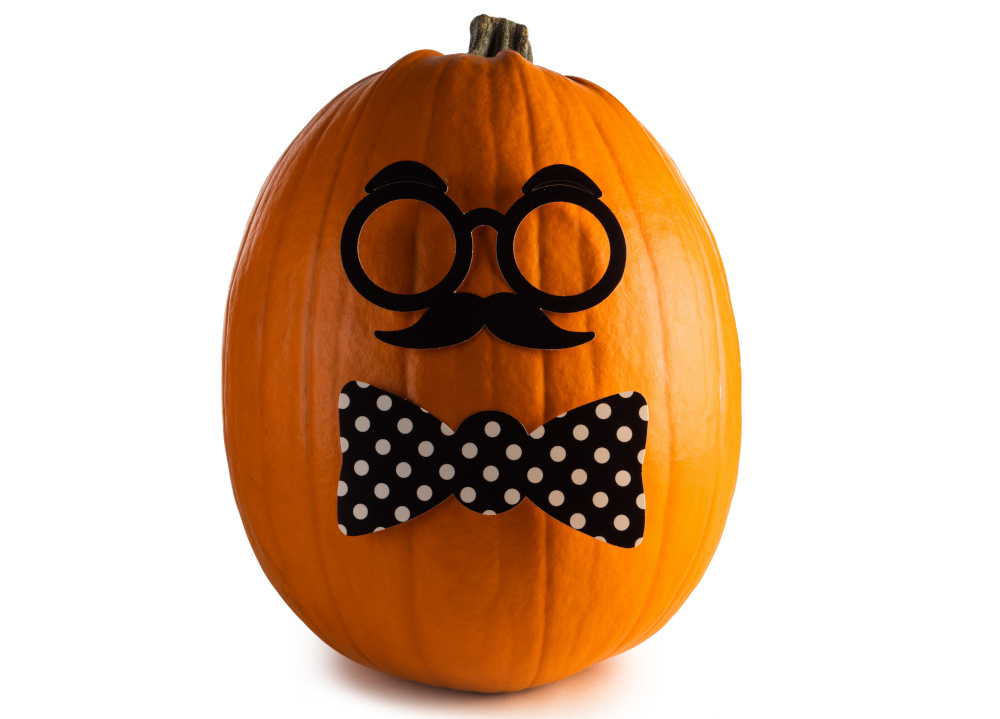 We mustache you a question. Are you looking for fun pumpkin decorating ideas for kids that won't make a mess? Give your Halloween pumpkins the Mr. Potato Head treatment! Buy a cheap pack of fake mustaches and stick them to your pumpkins. Then use some plain or patterned paper and double-stick tape to make faces and other accessories for your Mr. Potato Head pumpkin. Don't forget to include a Mrs.!
10. Pumpkin Centerpiece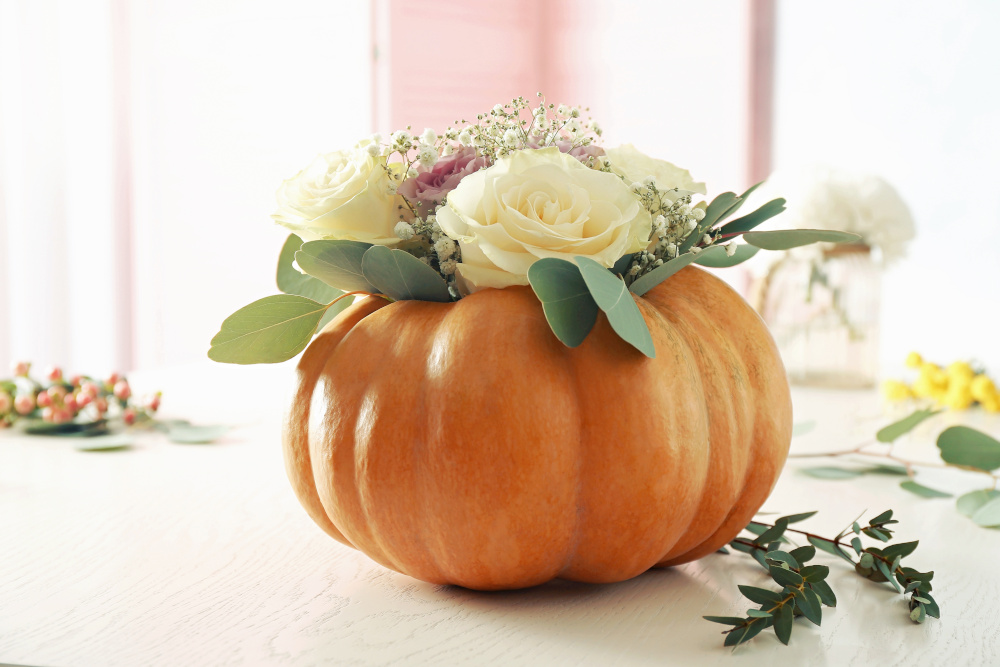 Bouquets or vases of flowers are often used as centerpieces on dining tables, so why not some floral pumpkins? Take a carvable fake pumpkin and cut the top off like you would if you were going to turn it into a jack-o-lantern. Then, simply fill it with fake flowers, leaves and branches! This easy Halloween pumpkin decoration is oh-so-cute, and you can get away with keeping it on your table for Thanksgiving, too.
11. Pin Cushion Pumpkin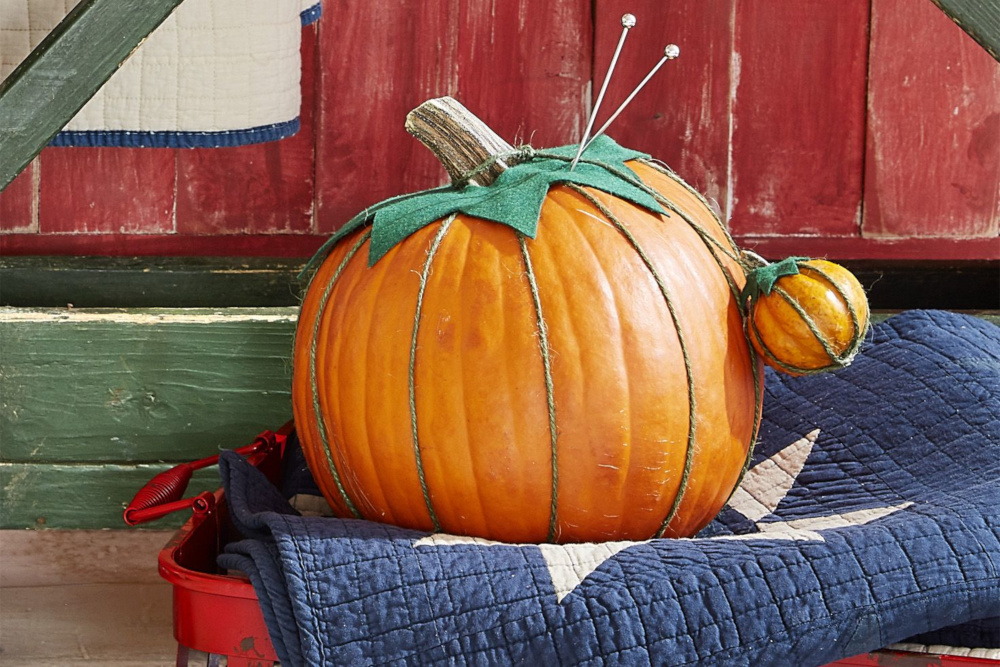 [Source: Brian Woodcock/Country Living]
Can we just say that this pumpkin craft idea is simply adorable? If you're an avid seamstress or you appreciate fabric crafts, you're undoubtedly familiar with the tomato pin cushion. Sure a pumpkin isn't a tomato, but it makes for a great substitute! Glue lines of green twine evenly around your fake pumpkin. Then, cut out a few tomato leaves from green felt and glue them on the top of your pumpkin around the stem. Do the same to a mini pumpkin decoration and tie it to the stem of the big pumpkin with the green twine. For an added touch, take a couple of large knitting needles, drill holes into your fake pumpkin and stick the knitting needles into the holes so that they look like a giant pair of pins. Your Halloween guests are going to want to steal this Halloween decoration idea for themselves!
12. Metallic Pumpkin Ideas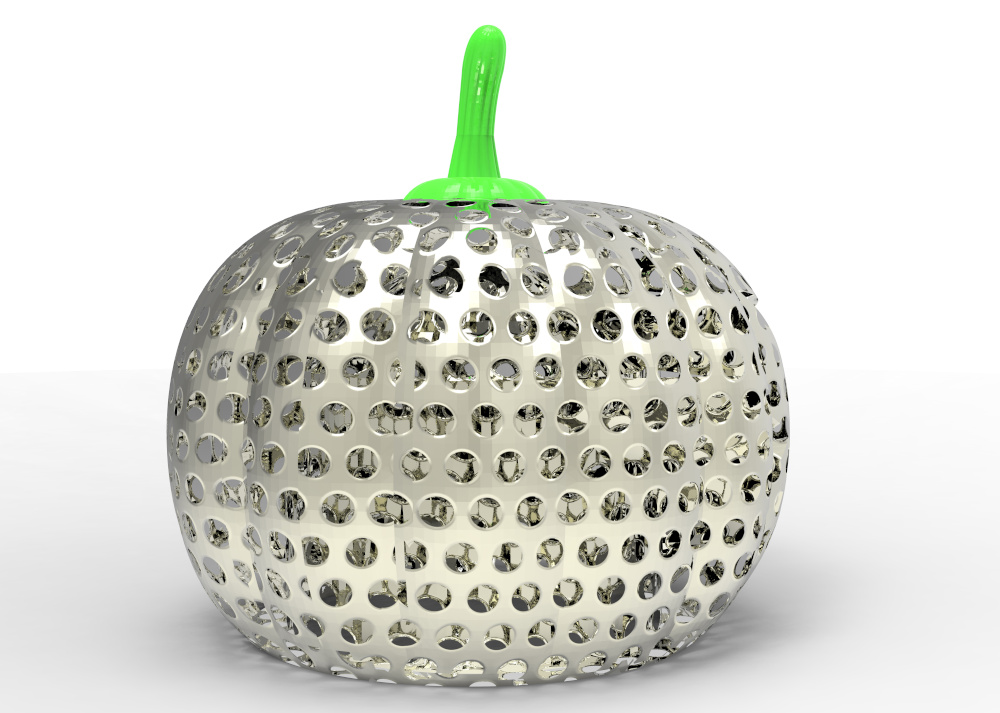 We have shown you how to paint a colorful variety of pumpkins, but it's time to let your pumpkins shine with metallic paint! You'll probably want to use a coat or two of white primer first, to give your metallic paint a good surface to stick to. While you can find metallic acrylic paints, you'll get the best shine from metallic spray paint. You can also add more bling to your glam pumpkins with decorative thumb tacks, furniture tacks or rhinestone gems. We hope you're excited to make your own silver, gold, copper or perhaps even a rose gold pumpkin!
13. Pumpkin Candy Bowl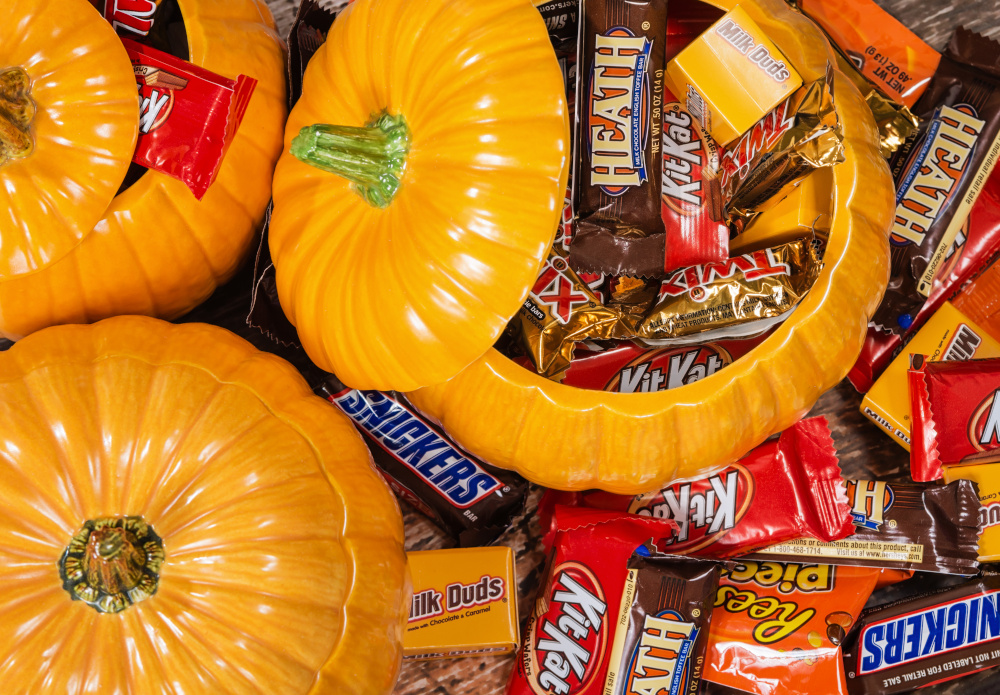 If you have a few carvable foam pumpkins lying around looking for something to do, why not turn them into Halloween candy bowls? (It's certainly better than tossing Halloween candy into a real jack-o-lantern! That's just asking for a sticky mess.) Cut the tops off, fill them with candy and BAM! You're done! As an added bonus, full-sized foam pumpkins have more candy space than kitschy little ceramic pumpkin dishes.
14. Dripping Paint Pumpkins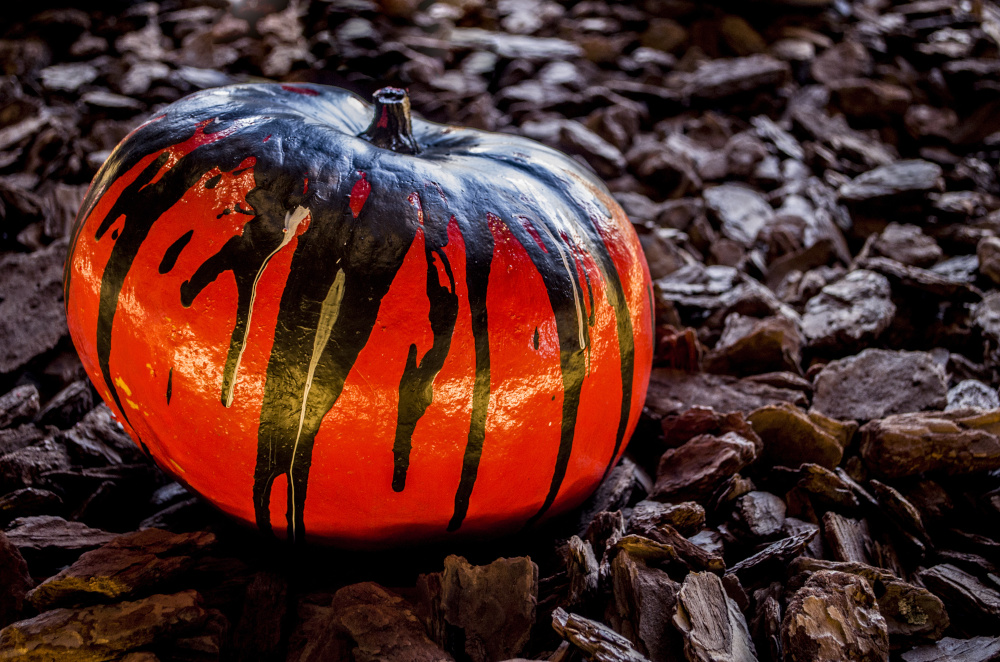 Anyone looking for a compromise between an easy craft and one that's also a little bit messy will love poured-paint pumpkins! You'll probably want to do this on a disposable plastic tablecloth as opposed to a bed of newspapers, because the paint will soak through the paper and also stick to the bottom of your pumpkins. Once you have your fake pumpkins set out on your plastic drop cloth, simply pour acrylic paint on top and down the sides a little. (You may need to water it down if your paint is a little old and thick.) We encourage you to try combining 2-3 different paints for a splash of color!
15. Marbled Nail Polish Pumpkins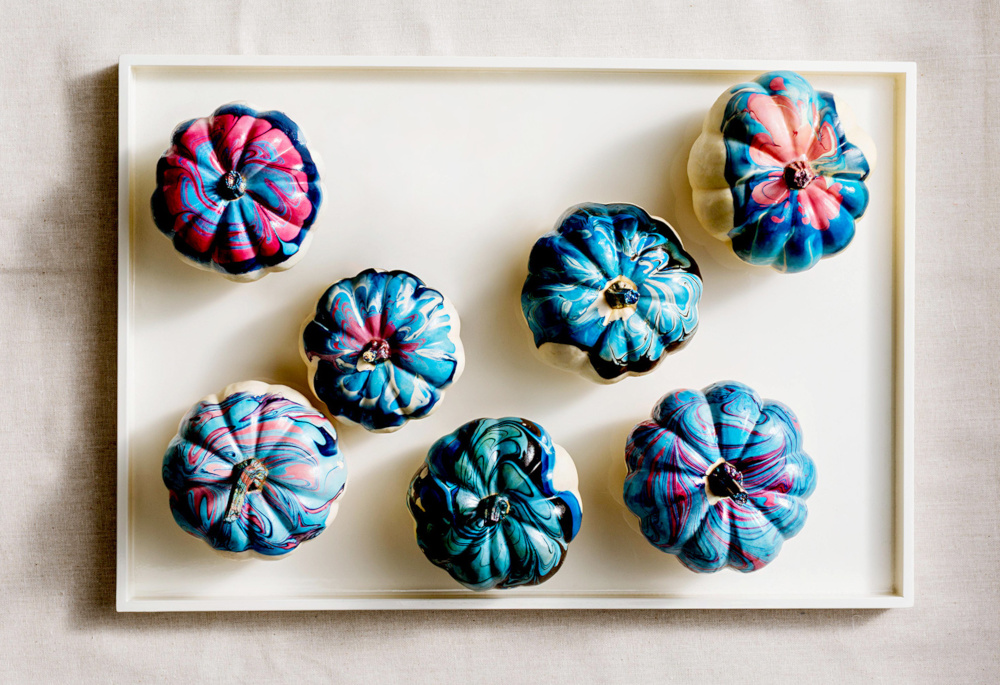 [Source: Michael Piazza/Better Homes & Gardens]
Do you find yourself wondering why you even bought some of your nail polish colors? (Confession time: only all the time!) Find a use for old or unwanted nail polish and color some faux pumpkins! Just take a plastic tub and fill it with room-temperature water, pour in a few nail polish colors and swirl them around with a toothpick or some plastic silverware. Once your floating nail polish is marbled to taste, simply dip your pumpkin in it and then set it aside to dry. (Just remember that nail polish is very slow-drying, so resist that urge to test the paint!) These cute no-carve pumpkins couldn't get any easier.
You're probably itching to try a few of these faux pumpkin decorating ideas, so we won't keep you much longer! Which pumpkin decorations do you want to make? Have you tried any of these pumpkin ideas already? What are some of your favorite Halloween crafts? Let us know what you think, and you're more than welcome to share your favorite crafts with us! There are so many great DIY Halloween decorating ideas out there just waiting to be discovered.