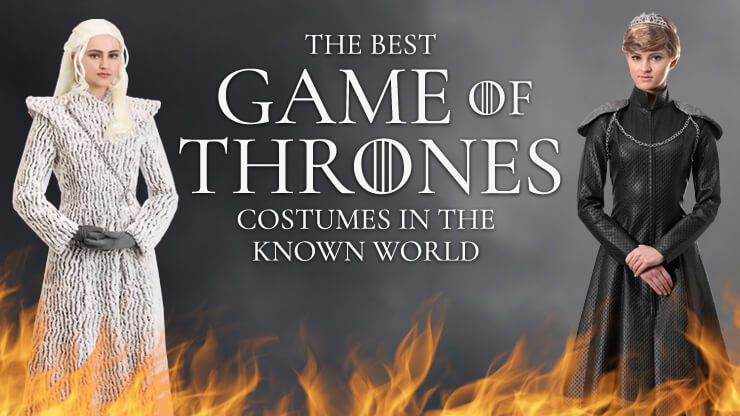 Game of Thrones carved a legacy unseen in most other television series. The show handled the immense cast of characters well, and it ran for a full eight seasons. Great care was taken in the filming locations, and the costuming was absolutely gorgeous! (Costumes are kind of a big deal here.) Many have looked up to Game of Thrones for costume and cosplay ideas. If you also happen to be looking for Game of Thrones costume ideas or perhaps a large group costume idea, you're certainly in the right place! You're going to want to check out these Game of Thrones costumes whether it's for Halloween or a convention.
Daenerys Targaryen Costumes for Dragon Queens
Daenerys Targaryen is the most popular woman from Game of Thrones, and it's not too hard to see why. She's beautiful, resilient, she has great hair and she has dragons. Well, had dragons. Anyways, her outfits also changed drastically from the first season to the last, so there's a lot of wiggle room when choosing your Daenerys costume. Flowy dresses with slits and halters or straps work well if you're aiming for a Khaleesi costume to pair with Khal Drogo. (GOT fans know that Khaleesi and Khal make a great couples costume!) If you're aiming for a Daenerys Targaryen costume that reflects her look in later seasons, try some dresses paired with capes or even the winter dragon queen costume. Don't forget to bring some dragons with you!
Dragon Costumes for Babies to Adults
Speaking of dragons, there are quite a few dragon costume ideas! Pair a Daenerys costume with the kids dressed up as dragons, and you will quite literally be the Mother of Dragons. Even groups of adults can dress like Dany and her dragons! A dragon costume for toddlers or kids will also probably be fun for them to play dress-up with outside of Halloween. If you're more of a DIYer, you can still pick up a dragon head mask or some other dragon accessories to get you started on your dragon Halloween costume.
Jon Snow Costumes for Nice Guys
Jon Snow is one of the few genuinely nice characters in Game of Thrones, so if you plan on wearing a Jon Snow costume for Halloween, don't be surprised when you're expected to act chivalrously all night. You may need to assemble your Jon Snow cosplay as some tunics and capes do run separately, but once you get your ensemble together, people will know which character you are. Pair your Jon Snow outfit with either a Daenerys, Ygritte or a wolf and you'll have the perfect group or family costume!
Wolf Costumes so You Can Be a Direwolf
Wearing a wolf costume is a great option to pair with a Stark Game of Thrones costume. Jon Snow, Arya, Sansa, Bran, Rickon and Robb were all given direwolf pups as pets, so if you're planning on cosplaying a Stark, it won't hurt to have someone in a wolf outfit along with you! One of the great things about wolf costumes is that you have them for infants to toddlers, kids and adults. Wolf costumes for kids are also a great addition to your child's dress-up trunk.
Cersei Lannister Costumes for Lion Queens
Cersei may be a ruthless queen that wants nothing more than to have the iron throne all to herself, but it's difficult not to admire her for her determination. (Or the amount of wine she consumes.) If you enjoy sipping wine while plotting world domination, perhaps a Cersei costume is right for you. Throughout the Game of Thrones series, it feels like she wears her crown 24/7, so you will probably want to get a Cersei crown to go with your Halloween costume. Just don't attempt to start any trials by combat if you want to make friends at the party.
Khal Drogo Costumes for Long-Haired Dudes
Khal Drogo is undoubtedly the king of #hairgoals. Even if your luscious locks don't come close to the great Khal, there are Khal Drogo wigs to back you up. (Dudes with beards will also benefit from a Khal Drogo Halloween costume too!) Make sure to have a Daenerys along with your Khal Drogo cosplay, because these two characters make the perfect couples costume. If you're looking to add even more accessories, you can get a foam Arakh weapon prop.
Other Game of Thrones Costumes for Large Groups
Game of Thrones has a massive cast of characters, so if you're looking for costume ideas for large groups, this is certainly one way to go. You could easily have a group of five or more people, or even a group of ten! Should you happen to be looking for other Game of Thrones costume ideas, many of them can be pieced together by checking out some Renaissance costumes or Viking costumes. (There's a potential for you to even have a Game of Thrones group costume for 100 people, but good luck getting that organized!)
Game of Thrones Helmets and Masks
Game of Thrones takes place in a world full of knights, sorcery and fantasy creatures, so inevitably, there are going to be a lot of costume masks and helmets. Creature masks like the Night King, White Walker and undead dragon are an excellent choice if you're not keen on special effects makeup. Characters like The Hound and The Mountain both have iconic helmets that you will want to pair with your Game of Thrones Halloween costumes for a complete look.
We hope you gained some insight on Game of Thrones costumes that you may want to try. Are you planning on wearing a Game of Thrones cosplay or costume for Halloween? Have you dressed like a Game of Thrones character before? Share your experiences with us in the comments! You can always try looking at the rest of our Game of Thrones costumes and accessories if you're still looking for ideas. Make sure to have fun, no matter the event you plan to attend!