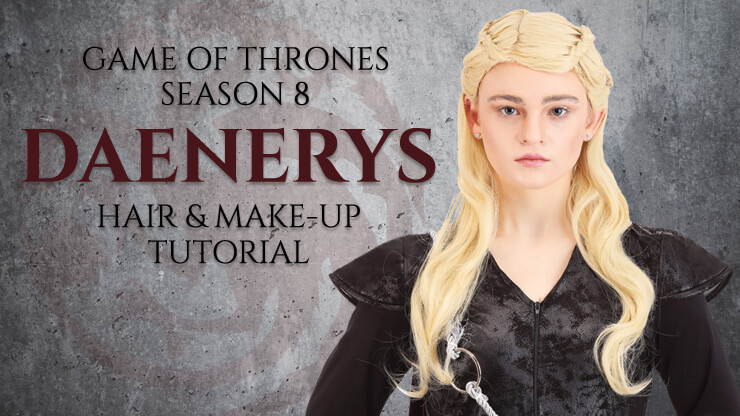 The final season of Game of Thrones is coming, and we're here for it. Many characters have come and gone, people have supported and betrayed one another and characters that are still alive have undergone some pretty immense character growth. One such character is Daenerys Targaryen. Married off against her will by her brother in exchange for an army, she went from an outcast to the confident Mother of Dragons that we know and love, with her own army (and dragons) at her beck and call. It should be no surprise to anyone that many girls and women want to dress like Daenerys for conventions and Halloween. Daenerys's hair keeps changing a little (sometimes a lot) every season, so we're going to show you how to style a wig and do your makeup so that can look like the Breaker of Chains in Season 8 of Game of Thrones.
Daenerys Hair and Makeup Tutorial Video
Pro Tip: We have our wig head secured to a camera tripod so that it doesn't move around, and it also makes the height adjustable so it's easier to work with.
Daenerys Hair and Makeup Tutorial Video Transcript
Hello and welcome to our hair and makeup tutorial for Daenerys Targaryen.
To start out, I am attaching the wig to the mannequin head using pins. I will secure one on the top part and one on each side on the sideburn area of the head. Separate the hair into six sections, using clips to secure each portion. I used the Nicole Fever wig because it's heat-styleable, and the part was already there, which made it easier than creating my own.
Using a playable sticky pomade, I will put it in my hands and rub it on each section before I braid. This will prevent flyaways, and blend the bangs in with the longer hair. Next, I'm going to start braiding some hair. I will start by doing a reverse braid on one of the top sections. As you can see, I only grab a tiny bit of hair from the top to create this reverse French braid. This will ensure that the hair will stay long and thick in the back. Secure the braid with a band, but leave some room at the end of the braid to be used in a later step. Repeat this method on the other side of the head.
If you want to keep the hair binders in the braids, choose lighter colors or clear. I used black, as I intended to cut them out and backcomb to secure at the end.
The next four sections are basic braids. Secure each one the same way with the band, leaving some loose hair at the bottom. You may need to do some backcombing to make each section look thicker at the roots. To make the braids look thicker, lightly pull the braids apart evenly.
In order to start the next part of the hair, grab the braids and clip them to the top of the head. Then, secure a loose ponytail with the rest of the hair. Now, take the top French braids and make an opening for the one braid to loop through, making an "x". Please watch carefully as I arrange these braids to create Danerys's signature hairstyle.
After looping the braids together, secure them with a band in order to create another braid for these braids to blend into. I am making another braid from underneath, so I can blend the braids together and make it look longer.
Combine the center braids to the new braid from underneath. Then, add the side braids by wrapping them around the main braid. Continue to braid them all together through the entire length of the shorter braids. Secure with a clear ponytail.
Use hairspray as needed to help it stay together. Feel free to brush, twist and smooth out the hair to create the final look. And now, let's move on to the makeup!
Secure the hair and put on a wig cap. Make sure to moisturize and prime your face before applying foundation. Daenerys has a pale, flawless complexion. I used Mehron dancer's makeup kit to achieve this look.
Using a brush, I applied the lightest shade of foundation. I did some contouring on the forehead and cheekbones using foundation that's two shades darker. Using a light peach eyeshadow, apply to the eyelids. Next, take a light brown shadow and contour the inner eye and side of the nose, extending onto the crease of the eyelid. I used the same light brown eyeshadow to the sides of the nose, to make the nose appear longer.
Use a brown eyebrow pencil to first draw in bigger eyebrows. Then, use a brown eyeshadow to darken if you need to after. Now, apply some mascara.
I wanted to make my model's lips to look fuller, so I outlined the lips with a white eyeliner pencil. Next, I lined the lips with a light brown lip liner to add a hue of color, followed by a light gloss. Now, do any needed touch-ups, followed by applying a translucent setting powder.
Now, don't forget to remove the pins from the wig before putting it on. And now, with your hair and makeup done, put on your costume, and you are ready to be the mother of dragons!
The Inspiration Behind Our Season 8 Daenerys Targaryen Hair and Makeup Tutorial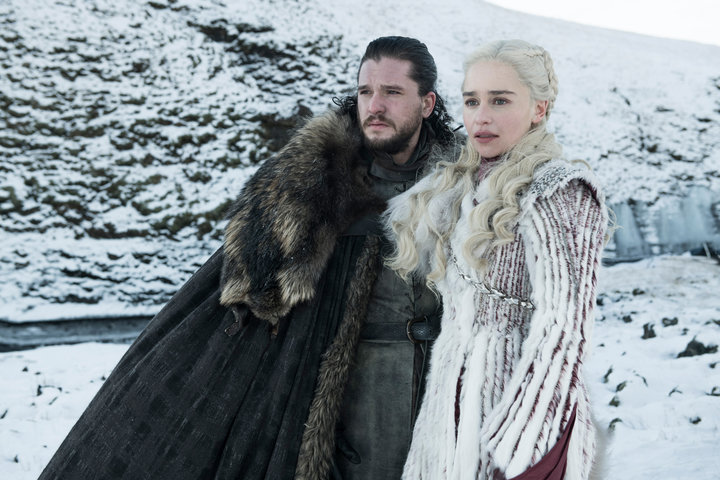 [Source: Helen Sloane/HBO/Huffington Post]
Their outfits look so warm and cozy!
The Best Reference for the Back of Her Hair We Could Find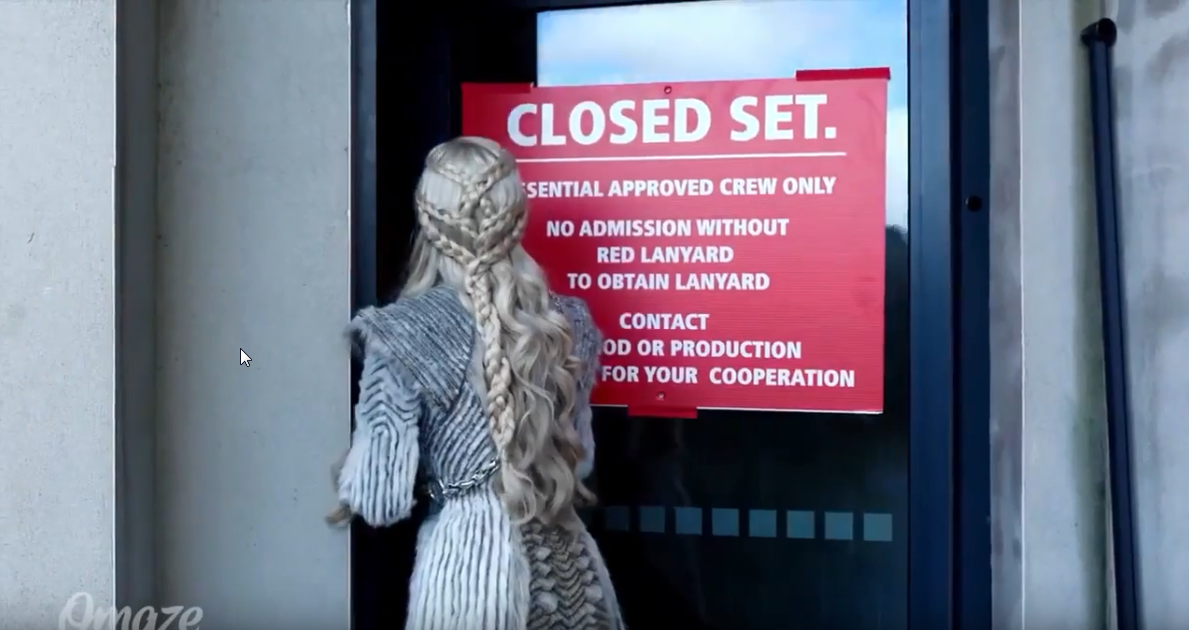 [Source: Omaze YouTube]
Apologies on the cursor, but we snagged a screenshot from a Season 8 behind the scenes video. We hope the next sneak peek is just a shot of the back of Daenerys's hair!
Here are the Products We Used for Our Daenerys' Hair, Makeup and Outfit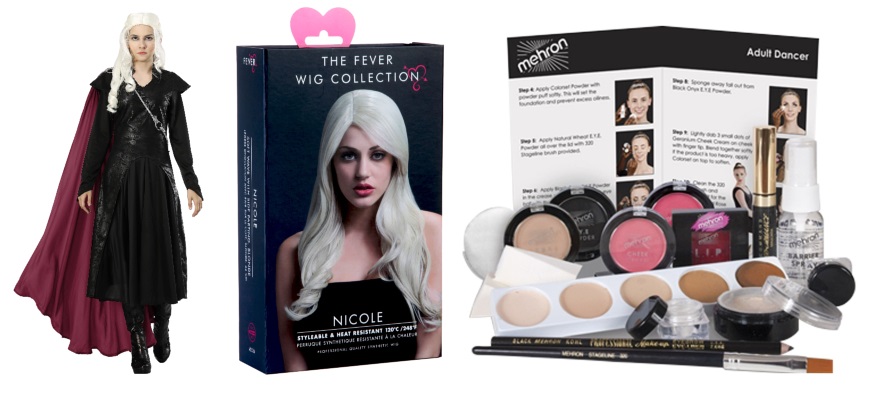 The Daenerys braids are famous by now, which means that your wig (or hair) needs to be nice and long. Curling and braiding will shorten the hair's length, so you need to make sure to have enough! We used the Smiffy's brand Nicole wig from the Fever Collection because it's long, heat-styleable and it's already slightly curly and wavy like Daenerys's hair, so you don't have to do as much manual curling. Once you have your wig selected, you'll want to make sure you have your makeup together. We used the Dancers makeup kit by Mehron because it's quality makeup with heavy coverage, it has a nicely varied palette for light to medium skin tones and it's great for contouring. Lastly, you'll want a Daenerys costume to go with your wig and makeup. She has several different costumes throughout the series, so we chose this women's dragon warrior costume, which was the closest costume we could find to one of her Season 8 costumes.
Completed Daenerys Makeup and Hair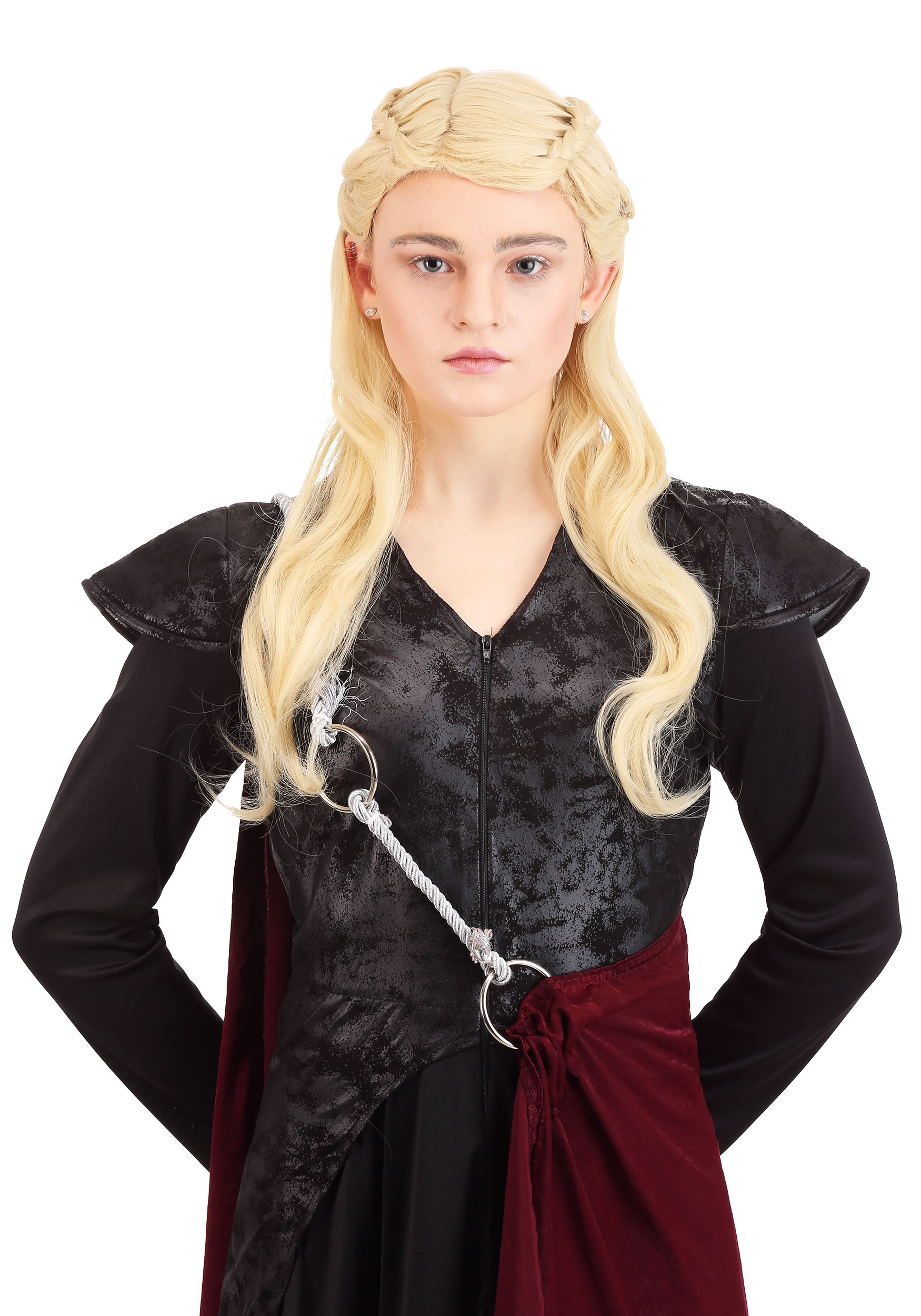 "Dracarys."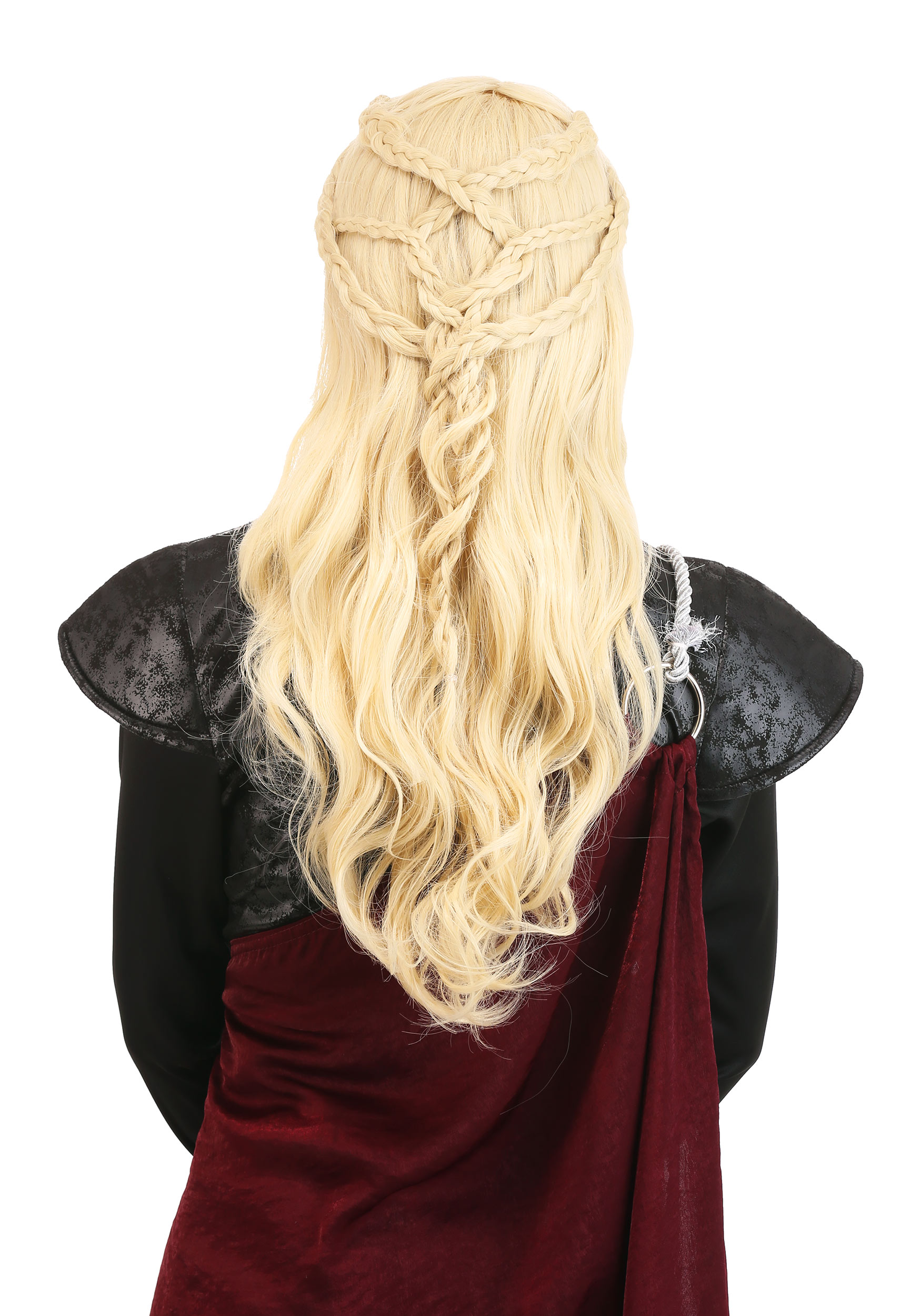 These braids are not for the faint of heart.
We hope you enjoyed our tutorial about how to do Daenerys's hair and makeup. Have you dressed in a Daenerys costume before? Do you prefer to use your own hair or do you like to style wigs? Feel free to share your experiences with us in the comments! Check out these other Game of Thrones costumes and accessories for costume ideas for Daenerys and other Game of Thrones characters.