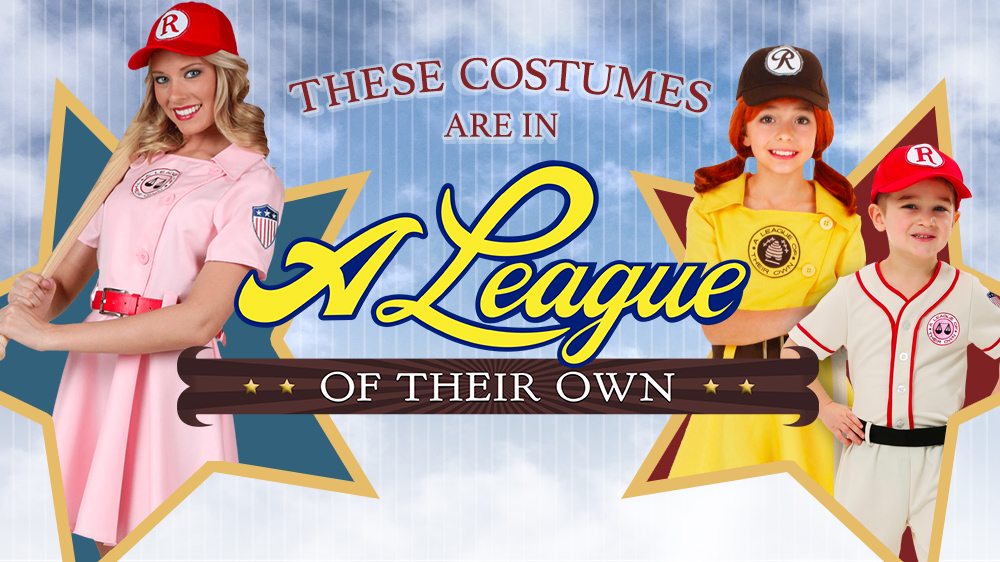 "Batter up! Hear that call! The time has come for one and all to play ball!" That's how the victory song of the All-American Girls Professional Baseball League (AAGPBL) begins. You know, the real-life baseball league that inspired the 1992 film, A League of Their Own—and now the hit series on Amazon. If the movie or series inspired you, then you might want to consider one of our exclusive licensed costumes! A League of Their Own costumes are perfect for Halloween, fan/movie conventions, or even a game with your friends. Think of who you might inspire! After all, a team rocking the Rockford Peaches costume is sure to win!
Dottie Costumes
Let's start with the exclusive A League of Their Own Dottie costume, also known as the Rockford Peaches Halloween costume. The Peaches uniform features a pink skirt dress with a red belt, socks, and cap, exactly like what Dottie wore in the movie. Everyone can be a Dottie, because you can find a Rockford Peaches costume for infants to plus-size adults. There are also deluxe and replica versions of many of these costumes, because "anything worth doing is worth doing right."
These Rockford Peaches Dottie costumes are also available:
Kit Costumes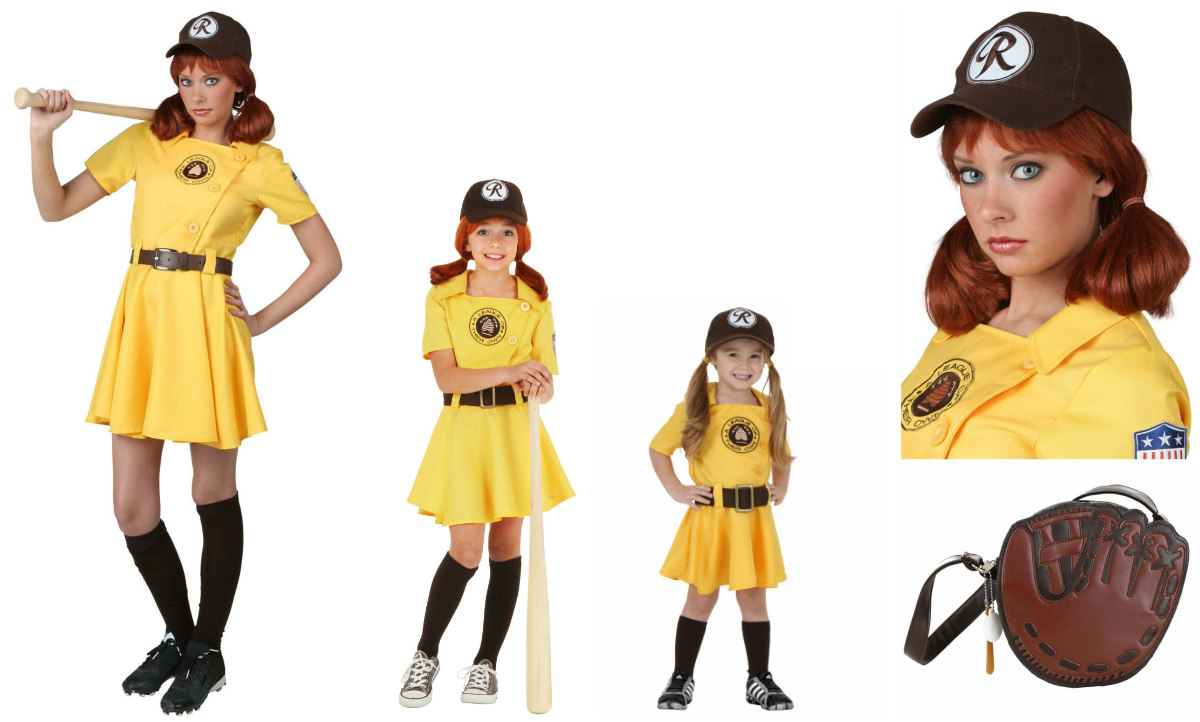 Maybe Dottie's not your style. Say you're the younger sibling and you've got something to prove, or you just march to the beat of your own drum. In that case, we recommend an exclusive A League of Their Own Kit costume. The Racine Belles costume comes in toddler, child, adult, and plus-size adult, and there's even a Kit Keller wig if you need it. It's all you need to be a real Belle, at least for Halloween. Some actual baseball-playing skill may be helpful in real life!
The Racine Belles Kit costume is also available.in plus-size adult size.
Coach Jimmy Costumes and Accessories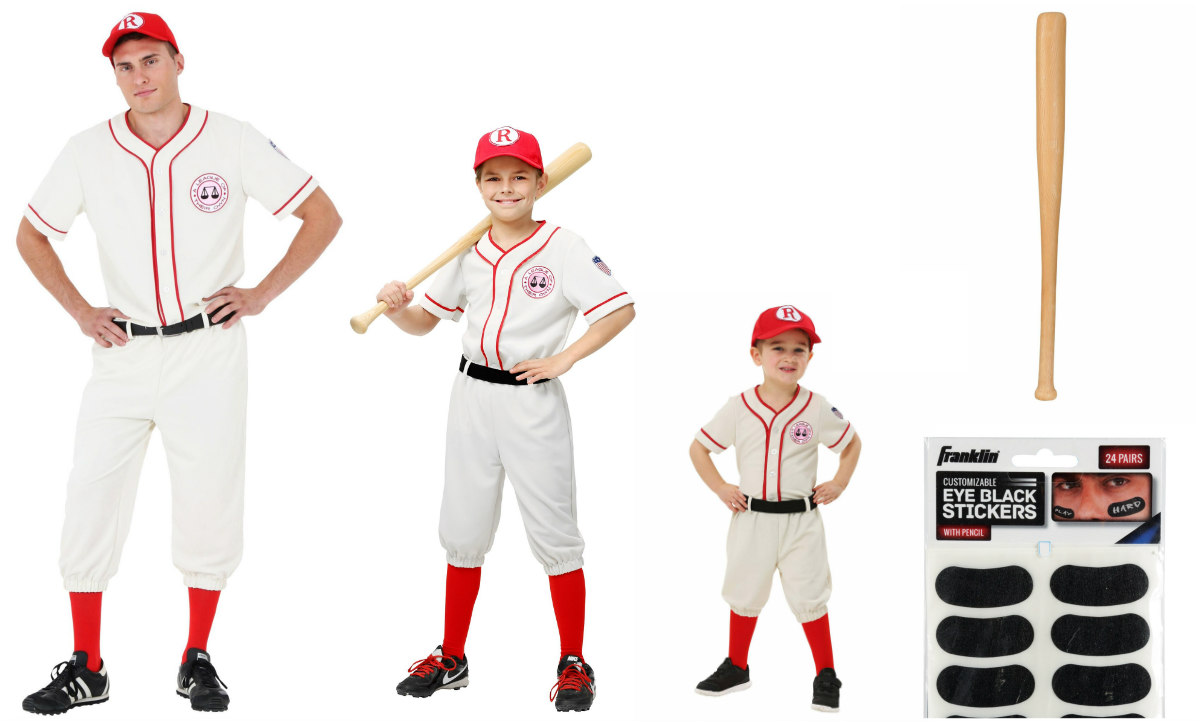 When you'd rather be the boss, consider a Coach Jimmy costume instead! His uniform is white with red edges and embroidered patches. As with the other costumes, the exclusive A League of Their Own Coach Jimmy costume comes in infant through plus-size adult. Don't forget accessories like a baseball bat and eye black stickers or a black stick. After all, the coach is expected to look after the team's equipment, so walking into the Halloween party with a bag of gear is totally in character. Just be sure to leave some room for candy!
The Coach Jimmy Costume is also available in plus-size adult and infant sizes.
Baseball Costumes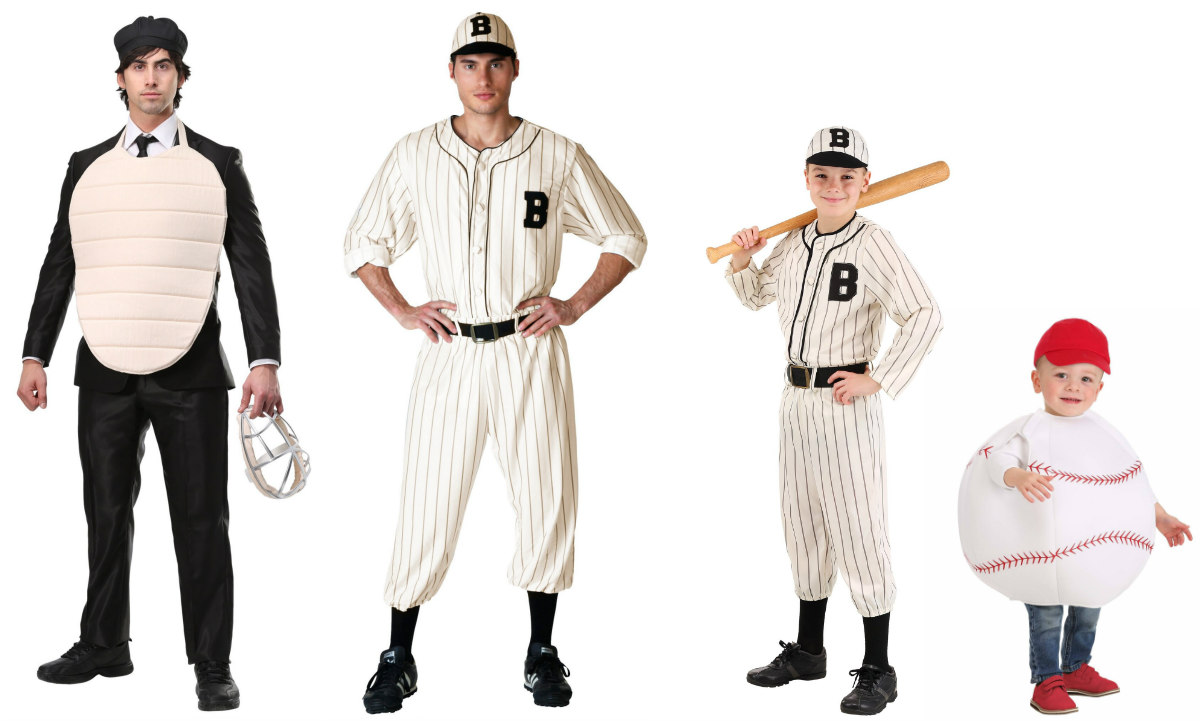 If you're looking to outfit a baseball costumes group, you might want to check out our general baseball costumes, too. We've got costumes that will match your A League of Their Own group costume theme, like vintage baseball costumes for men (including plus size) and kids. We also have vintage umpire costumes or a modern umpire costume, too. Hey, these are your costumes, you do what you want!
The Adults' Vintage Baseball Costume is also available in plus-size adult size.
Did you find the costume you were looking for? If you're not sure, take a look at all of our A League of Their Own Halloween costumes and other baseball costumes. If you're a fan of the movie, you may also like our mashup with the Justice League, A Justice League of Their Own. Let us know what you think in the comments below!