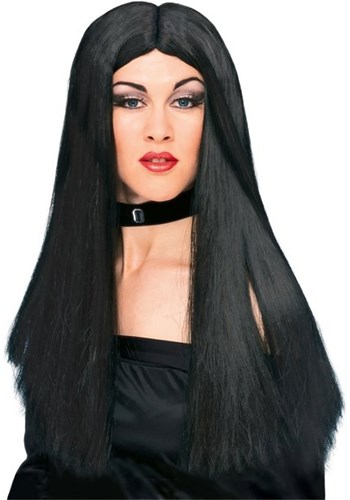 Product Information
Measures 22'' long.

Black Witch Wig
Long black synthetic hair falls past shoulders

Mesh netting interior
You know how everyone always says "______ is the new black?" You know why they say that? Because black is classic enough, versatile enough, and, well, awesome enough to basically be the benchmark for everything.
So raise the bar for your Halloween look by adding in a little more black. Black, after all, is the color most often associated with secrets, magic, death, and evil. Black is night and bats and caves and cloaks. Whether you plan to be wicked, sexy, or just plain sinister, you'll need a witchy 'do. You can become an iconic Family member or a broom- and brew-loving sorceress. You have enough to deal with with all that black magic you're mastering--without having to worry about your hair. We guess what we're trying to say is: this Black Witch Wig is the new, er...black.
By
The wig was just what I needed to complete my witch costume!

It is inexpensive but it doesn't LOOK cheap. Even when pictures were taken of me it didn't have that cheap glossy glare that happens when you buy cheap wigs.

All in all great quality for a wig this inexpensive!
 Write Review