Blow Up Costumes
It's time to get blown up! You know what we mean. Inflated! It's the newest trend in the costume industry, and at least in our minds, it's by far the coolest. Inflatable costumes have taken the world by storm with viral videos of the most popular inflatable characters raising ruckus. Well, the most popular manufacturers have responded with new styles and even more ways to get wacky with an inflatable costume.
No matter what kind of plans you have in mind, if you're eyeing an inflatable costume, you're in for a great time. But, that leaves you with an important decision. Just which costume should you pick!? It's not an easy decision, but we're here to help. We're not just costume retailers, after all, we're bona fide costume experts, and we have the know-how and the expertise to guide you towards making the right selection. So, browse the inflatable costume ideas we have listed below, and read on for even more tips, tricks, and ideas to get the most out of your costume experience!
Funny Inflatable Halloween Costumes
So, aside from Dinosaur Costumes, the top-selling Inflatable costumes are (drumroll, please…) funny inflatable costumes! And we can see why. Inflatable costumes use their super-sized style to provide a comical effect above and beyond the typical costume, so it's easy to see why funny themes are among the most popular selections. See if any of these funny costumes are the choice that's going to have you slipping into an inflatable suit!
Inflatable Ostrich Costume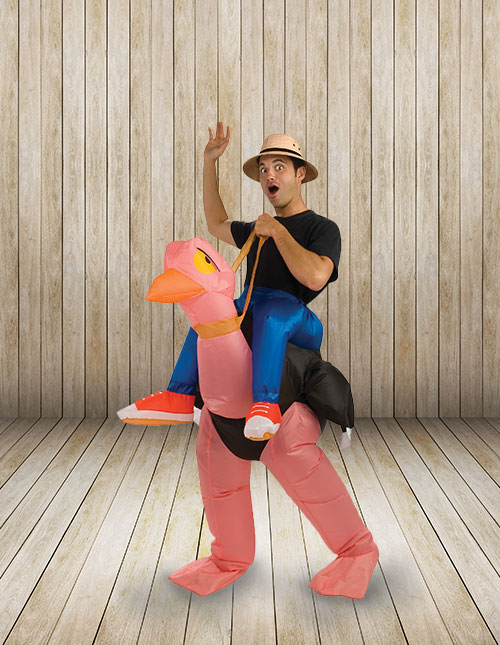 So Ostrich racing is pretty exciting (and wild!) but there's no reason it has to be dangerous. Skip all the practice needed to mount an ostrich to race around the track, and just get yourself into an inflatable ostrich costume! This clever costume cinches around the waist to create the effect of you sitting on top of a pink ostrich, since it leaves your upper half exposed to handle the reins. You can race around the back-yard at a summertime grill-out, or save it for Halloween to be the star of the costume party!
Inflatable Sumo Costume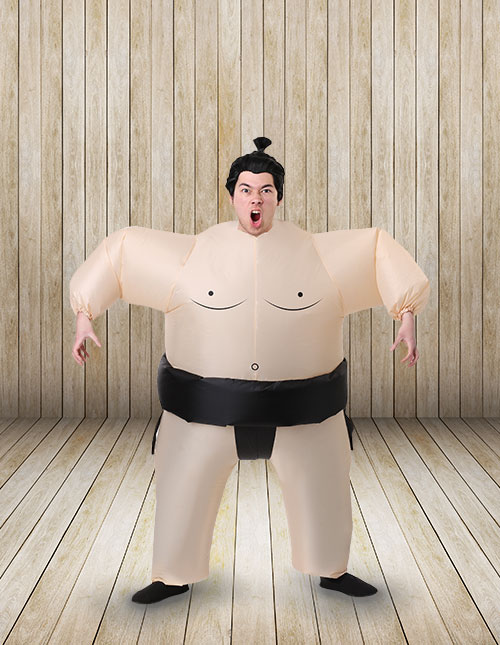 We think choosing a Sumo costume for Halloween is a fantastic idea, but we definitely don't recommend putting on a couple hundred pounds to make a Sumo's weight. Nope, not the best way to costume! But, we obviously have a simple solution to beef up your decidedly non-sumo build. Just get yourself into this adult inflatable sumo costume! In flesh tones with printed details to look like a real sumo, this suit even has an attached mawashi section. (The mawashi is a sumo's belt/loincloth in case you didn't know!)
Inflatable Cow Costume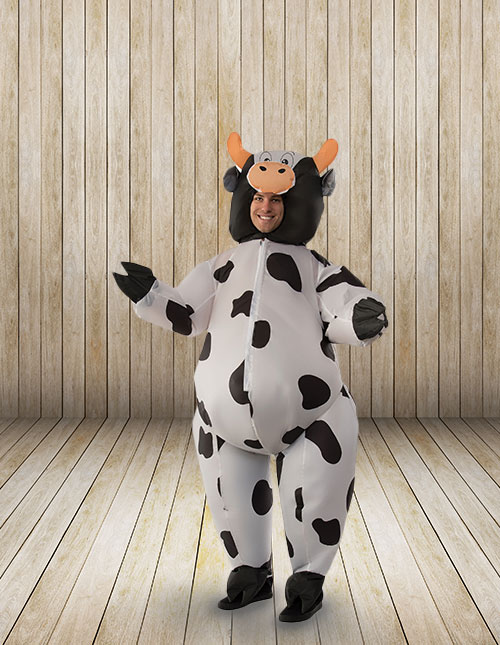 Moooo! Moooove on over to the pasture when you decide to go as an inflatable cow this Halloween. Of course, you're going to be itching for a lot more than just barnyard fun, but we're sure you'll fit in just fine at the big costume party when you choose this hilarious style. With an oversized head and white spots all-over, this inflatable costume features a hole for your face to fit through so everyone still gets to see your smile!
Inflatable Bull Rider Costume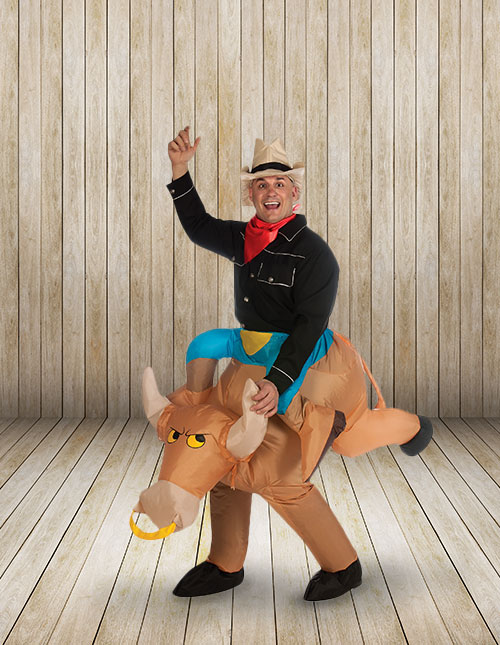 Are you joining the professional rodeo circuit? Yee-haw! Of course, there's no bull riding experience necessary when you decide to go in this inflatable bull rider costume. This costume fits around the waist (complete with false human legs) to complete the appearance of you riding a bucking bull. Complete the costume effect with a Western shirt and a cowboy hat, and you'll fit right in at the Wild West costume party!
Adult Pick Me Up Costumes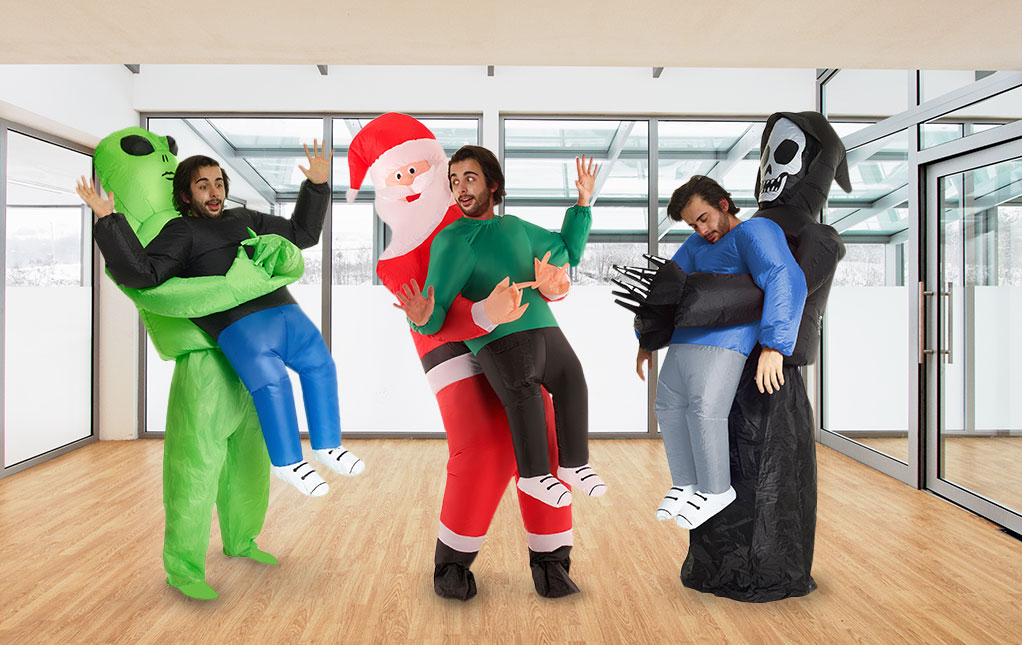 Pick-me-up costumes are a brand-new costume craze, and it's easy to see why. They're flat out hilarious! As inflatable costumes that just leave your head and hands exposed, they create the appearance of you being carried by a super-sized character. With lots of great choices, getting into a Pick Me Up inflatable costume is a great idea to express your personality. Are you a paranormal believer? Just try the pick me up alien costume to recreate a close encounter of the 3rd kind. A grim reaper pick me up costume would be a great choice for a classic Halloween theme. And when the other holidays roll around? Well, then it'd be time to dress up in a Santa pick me up costume. Ho ho ho!
Inflatable Animal Costumes
Animal lovers can dip right into our Inflatable Costume selection, too, because we've got great choice from the wide world of animals. These funny takes on zoo critters are always top choices for Halloween, and it's easy to see why. You get to be a large animal, and you get to have a ton of fun! See if any of these animal costumes are just what you're looking for this Halloween!
Inflatable Hippo Costume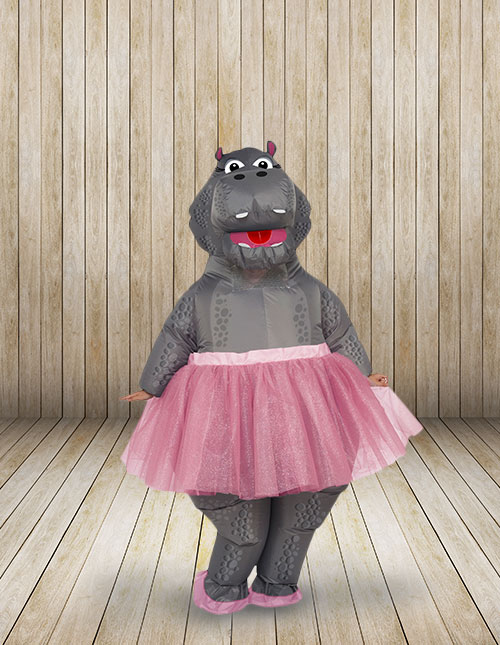 Why not be a hippo this Halloween? Especially, why not be a hippo in a tutu? A fantastic idea, if we may say so, a hippo ballerina is sure to be a welcome addition to any costume get-together. Hippo ballerinas are quite popular in pop culture, too, going as far back as Disney's Fantasia. So, choosing this costume is sure to be a cool choice!
Inflatable Unicorn Costume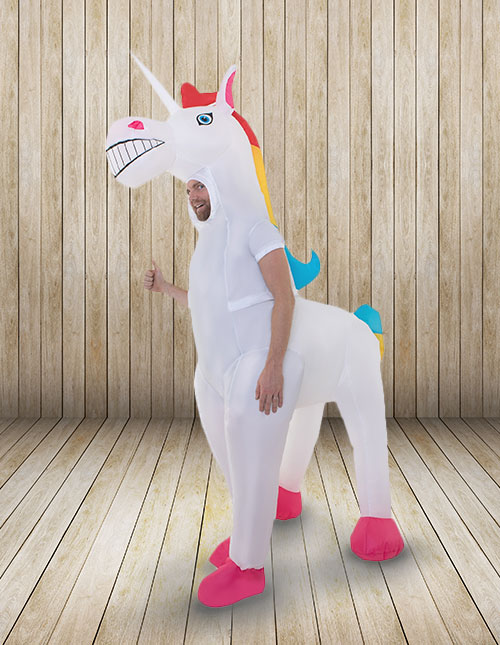 Okay, we fully acknowledge that unicorns are not a real animal. But when you have the chance to be unicorn? Be the unicorn! Of course, you can go above and beyond, and be a super-sized inflatable unicorn when you choose this unicorn costume It has colorful cartoon colors, and even a posterior section that follows behind you for the full horned-horse effect!
Kids Inflatable Horse Costume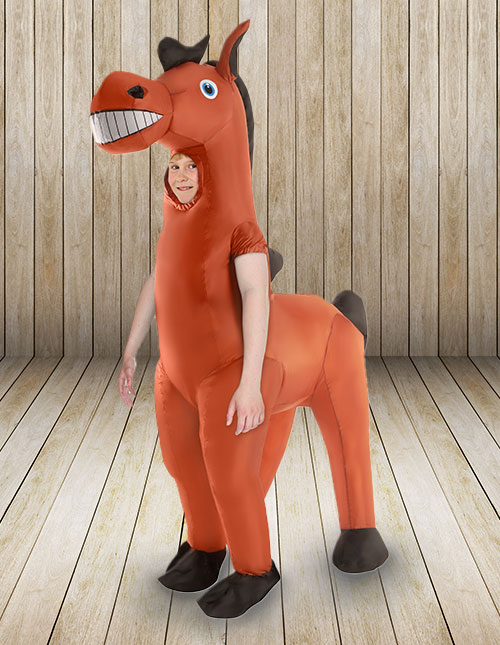 Being a horse is sure to be a ton of fun, so we're sure any kiddo would be happy to suit up as a classic of the stable, the friendly neighborhood horse! This inflatable horse costume features exaggerated details and the hind section that follows behind, too. We're pretty sure no one's going to mistake him or her for a real horse, so we don't expect them to be giving out any pony rides!
Inflatable Eagle Costume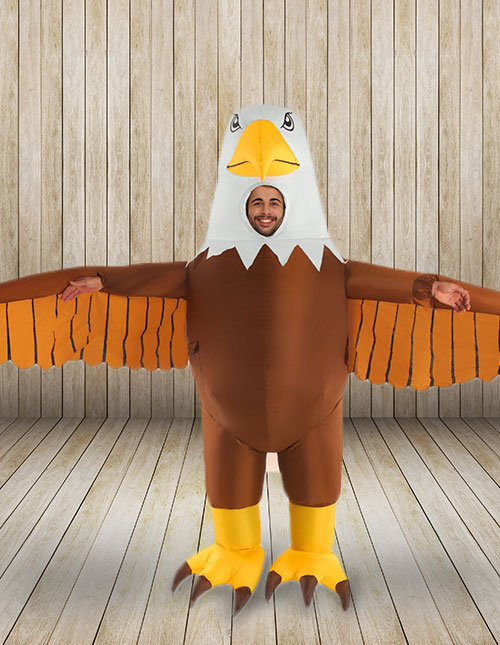 You can soar high into the sky as an Inflatable Bald Eagle when you choose this bald eagle costume. Be the patriotic mascot of your country, or just an Eagle who's looking to party when you choose this hilarious costume. You could even wear this costume to your annual 4th of July party to make a very big impression!