Gladiator Costumes
The ancient world was a much different place. Football might be the modern mass method of entertainment and competition, but during the time of the ancient Romans, entertainment consisted of two foes battling it out in an epic confrontation inside the arena. It's been suggested that Roman emperors, like Julius Caesar, encouraged people to attend gladiatorial events to keep the people's minds occupied so they wouldn't have time to complain about their ruler!
Of course, times have changed quite a bit and that kind of violence seems quite barbaric outside of the confines of video games, but you do have to admit that those ancient gladiators do have a pretty awesome fashion sense! All that armor and all those shiny weapons can make anyone feel strong enough to conquer the world! If you're looking to acquire that battle-wise sensibility, but you don't want to fully commit to the life of a gladiator, then perhaps it's about time that you outfitted yourself with one of our many gladiator costumes! We have sizes for men, women, and kids, so the choice might seem a little daunting. Don't worry. We'll show you some of our favorite costumes and you should be able to find something that's perfect for you and your family.
Men's Gladiator Costumes
Hold it! Before you book that plane ticket to Rome and head into the Colosseum for a scuffle, you'd better change out of your everyday clothes. After all, you can't become the champion while wearing jeans and sneakers! We carry plenty of Gladiator costumes for adults, so you should be able to get a look that suits your needs, whether you want a design that shows off your muscles, or just something that makes you look a little like a handsome gladiator from Game of Thrones. Don't worry, because we have plenty of styles that should help fit your perfect idea of what a skilled gladiator should look like.
Roman Gladiator Costume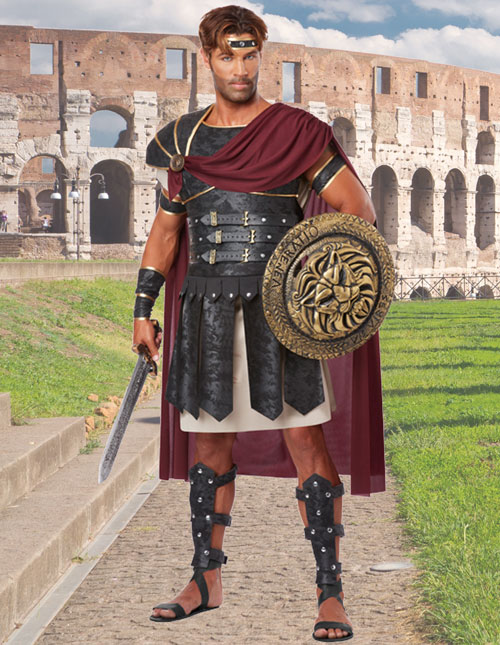 Let's start with something that evokes the classic look of a gladiator! This Roman Gladiator costume comes with a set of faux leather armor that looks completely combat ready. The good news is that it's made out of a light polyester material, so you can move freely in the ring, or at your next costume party, while wearing this outfit. It's quite the dashing look, as it even includes a crimson red cape with a shoulder guard. It also comes with plenty of accessories, which keep that faux leather style. The whole look might have you ready to turn your back yard into "the ring" so you can please Julius Caesar with your expert martial arts skills.
Men's Gladiator Costume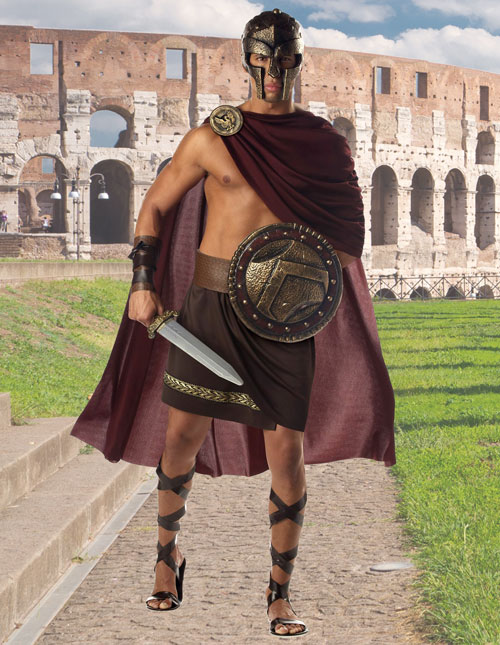 Did you know that many gladiators typically fought in the ring while wearing no shirt? It's true. The kind of equipment wielded by each gladiator often depended on what kind of "class" they were sorted into, but most of them didn't even wear body armor. If you're looking for a men's gladiator costume that holds true to that tradition, then perhaps you should give this one a try! It comes with a cape and a handful of accessories to help form a fierce look that lets you show off those impeccable pecs you've been working on. Just be sure to complement this look with a beefy toy axe weapon to help promote your manly fighting skills.
Adult Gladiator Costume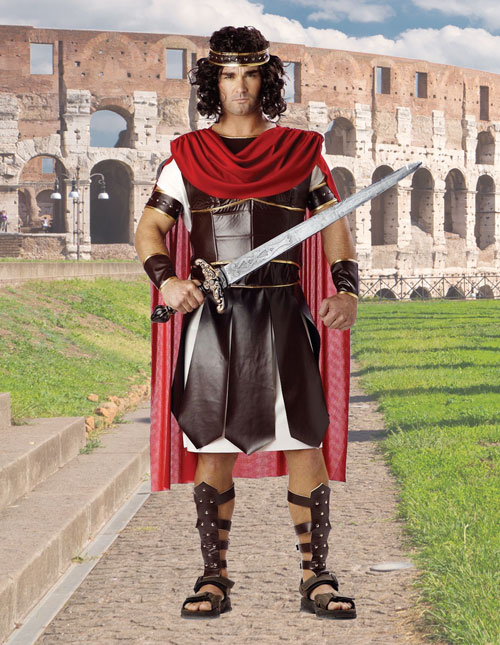 Perhaps you want to look like more than a mere mortal. Perhaps you want to evoke the image of a demigod like the one and only Hercules! Sorry, but you won't find a Kevin Sorbo costume here (we do have Xena, though). You can, however, find this adult gladiator costume which takes inspiration from the mighty Roman god. It comes with a faux leather armor set, so you'll look fit enough to fight a mythical lion, or maybe even a deadly hydra. Wear this and any challenger will know that they stand against a true warrior in the ring!
Men's Spartan Warrior Costume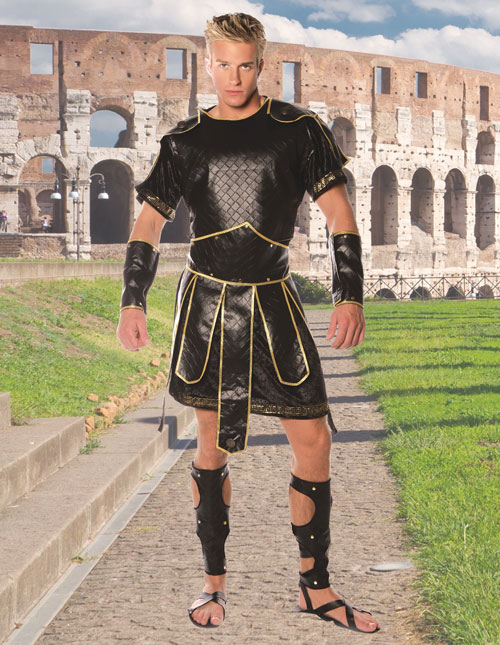 Although Spartans were really Greek warriors and not Roman gladiators, this Spartan Warrior costume still makes for a pretty great look for any fighter looking to show off their bravery in the ring. The costume mimics the look of leather armor, complete with some light pauldrons and a skirt. If you decide to battle in the ring wearing this outfit, we doubt anyone will bat an eye at the fact that it's actually a Greek costume and not a Roman costume. You'll certainly look ferocious enough to take on anyone who decides to challenge you.
Women's Gladiator Costumes
Women can be just as fierce as any man in the ring! Archaeologists have even found evidence suggesting that women stepped into the ring to prove their mettle. Put a sword in one of those women's hands and they'd send the competition packing in spectacular fashion. If you're looking to set food in the ring yourself, then you might be in the market for an arena-ready outfit. Just check out some of our gladiator costumes for women to find the look that fits your fighting style. From glamorous swordswoman to elegant combatant, we carry a women's gladiator costume for you.
Female Gladiator Costume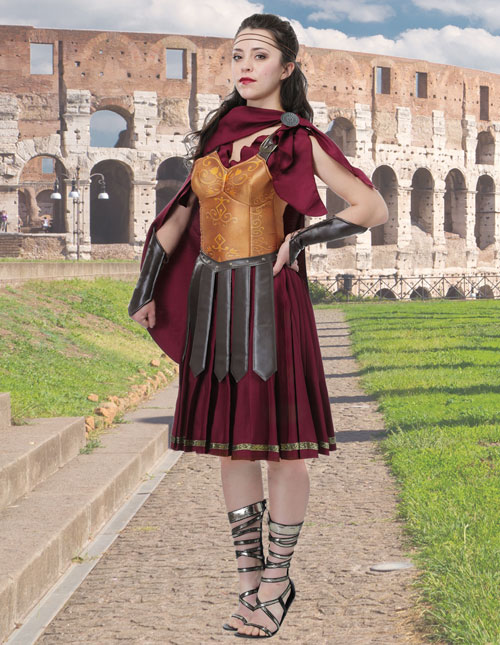 You're the type of warrior who uses her wits to subdue her foes, aren't you? You don't use brute strength. You create a cunning master strategy to outsmart foes much stronger than you! If you're looking to prove yourself as the elegant and gracious champion of the people, then you'll need an outfit that highlights your sophistication and that's exactly what this female gladiator costume does! It's one of our many exclusive costumes and it comes with faux armor that looks combat ready, despite being made out of light material. It'll keep you quick on your feet, so you can remain quick with your wits!
Sexy Gladiator Costume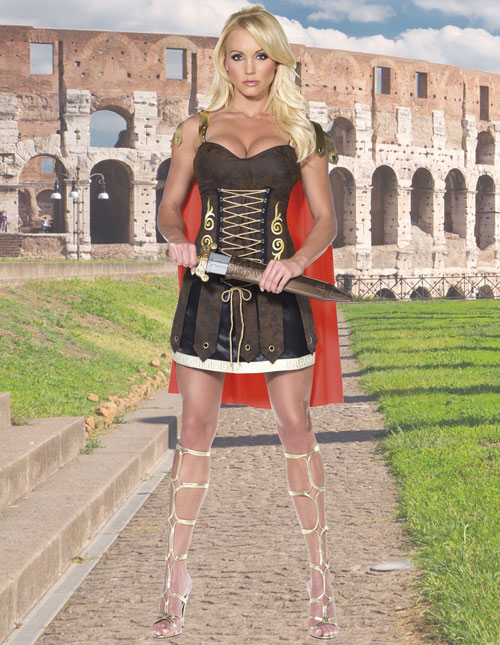 In a lot of ways, Roman gladiators were much like modern day wrestlers in the WWE. It wasn't just about how well you could fight in the ring, but also about how good of a show you could put on. Perhaps you want to make a name for yourself as the battling beauty, a warrior who's as alluring as she is adept in a skirmish. Well, then this women's sexy gladiator costume might just be the outfit for you. It helps you create a stunning look to complement your stunning victory during your next exhibition match in the Colosseum.
Gladiator Movie Costumes
You didn't think we were going to talk about gladiator costumes without mentioning Ridley Scott's epic 2000 film, did you? Who can forget it! It's a movie that has it all—action, romance, and a monstrous villain. Sure, it might have had a tenuous grasp on the actual historical events of the time, but it told a compelling story and that's what's truly important in film! Another important thing in films… costumes! Gladiator had some pretty spectacular costumes and it just so happens that we have a knack for making TV and movie costumes, and we have plenty of exclusive costumes based on Maximus. Here are some of our very best ones below.
Gladiator Movie Costume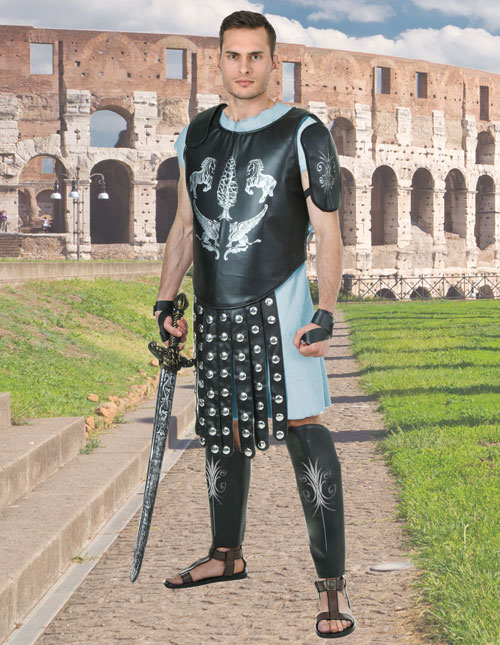 A lot of things went sideways for Maximus Decimus Meridius. Despite being a wise military commander, he was betrayed by his best friend's power-hungry son, he lost his family due to treachery and he was forced to fight in the ring for the amusement of the people. Of course, he was able to take his revenge in a most theatrical manner, wearing some glorious armor. You might not have quite the same tragic tale as Maximus, but you can at least look as grand as the iconic movie character when you wear this exclusive Maximus Arena Gladiator costume.
General Maximus Gladiator Costume
Everyone wants to talk about Maximus's black armor in the ring, but did you see him all gussied up in his war armor at the beginning of the movie? Yowza! That armor is fine! We bet he could battle against a million barbarians in that gear. We liked it so much that we had to go out a make a version that everyone can wear! This General Maximus Gladiator costume brings you a shiny, battle-ready look that will have you ready to cross swords with any enemy of the Roman Empire. Of course, just make sure you keep an eye on Commodus. He is NOT your friend!
Gladiator Costumes for Kids
If your child is one tough customer, then it might be time that they join you in your valorous battles in the ring… or maybe you should let them dress up like a gladiator! You could use their immense energy and proclivity for swinging toy swords to good use when you dress them up as a tried-and-true warrior in the ring. Check out a few of the gladiator costumes for kids that will help them jump into the role!
Girls Arena Gladiator Costume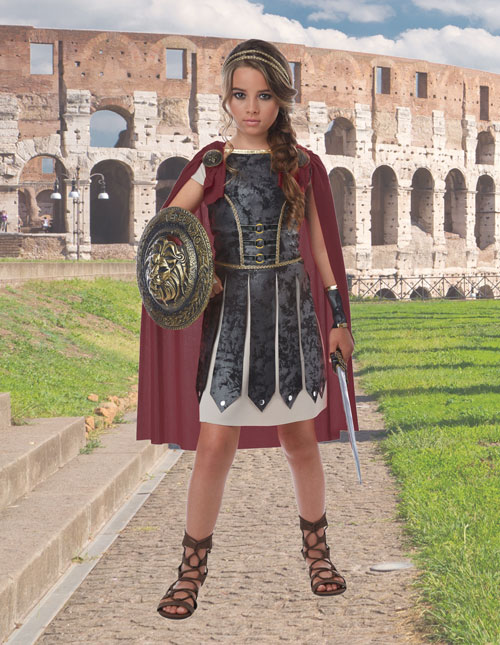 For girls who have a lot of fire in them, this girls' arena gladiator costume is perfect. It comes with faux armor that has a classic style reminiscent of ancient world battle gear. Just put a sword and shield in her hands and she'll be ready to take on any challenger!
Boys Gladiator Costume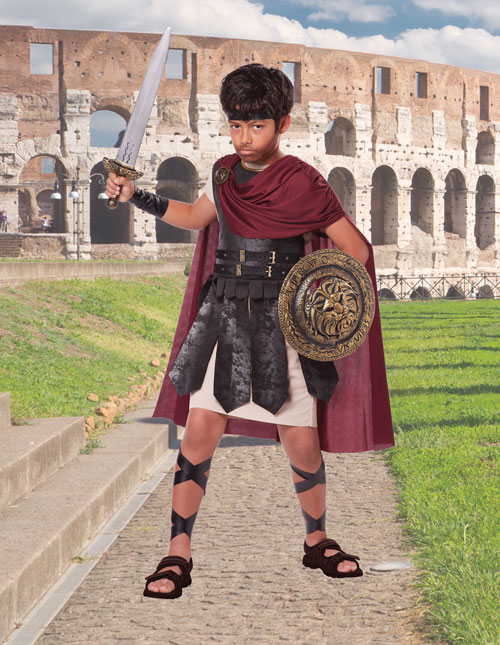 This boys' gladiator costume represents a classic, old-world look that's perfect for any young gladiator. It might be based on the Greek warriors, but it also bears a strong resemblance to Roman battle armor. It's the easiest and quickest way to get your child ready for the next rumble in the ring.
Girls Gladiator Costume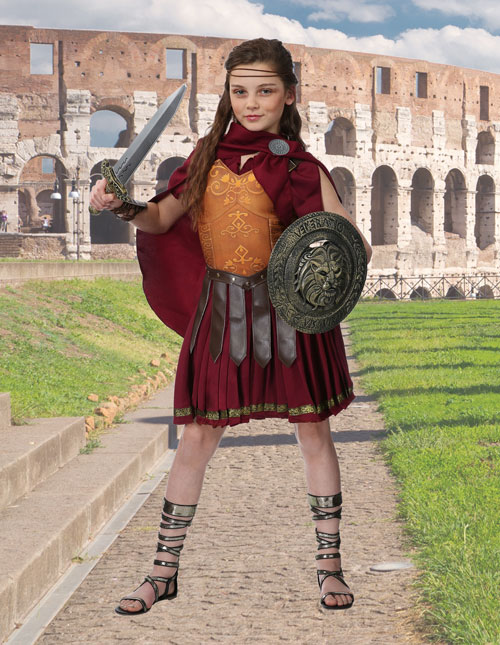 If your girl plans to be the best, she needs to look her best! This girls' gladiator costume is actually one of our exclusive costumes made by our own costume designers. You'll notice the difference in quality and the difference in looks. If you want her to look ready to conquer her enemies, this is the outfit you want.
Kids' Gladiator Costume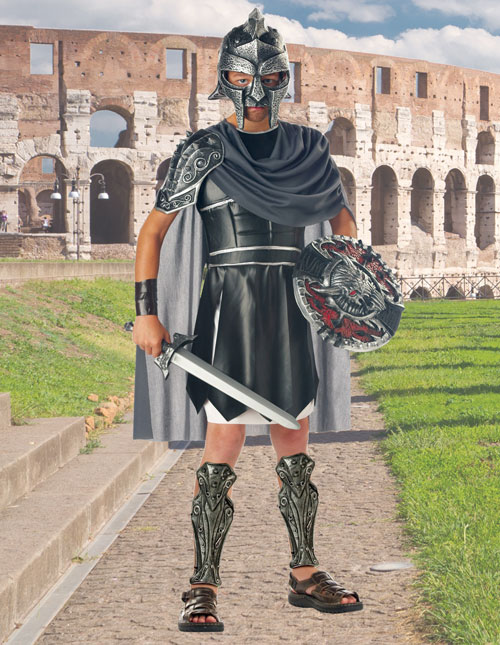 This little fighter looks ready for anything! This kids' gladiator costume does a great job of transforming your little one into a frightening warrior. It comes with a dark tunic along with plenty of molded armor pieces to help fill out the look.
Gladiator Accessories
Weapons are an important part of dressing up like a gladiator, but they're not everything! Don't overlook some of these easy gladiator accessories to add to your costume for a quick way to upgrade your outfit. From helmets to sandals, these accessories are the cream of the crop when it comes to polishing your ring-ready regalia.
Adult Roman Helmet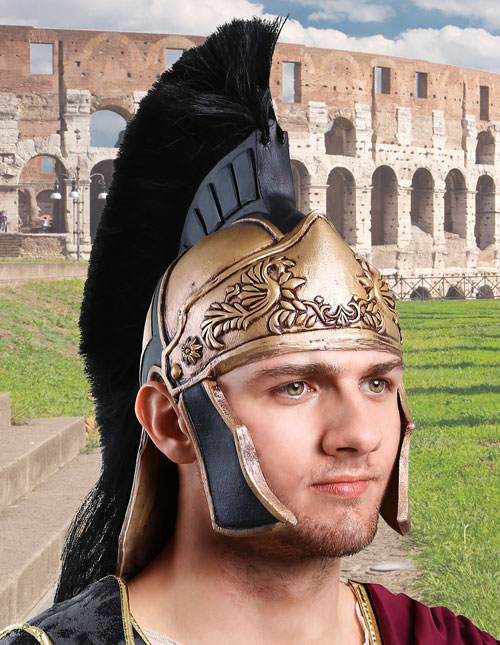 First up is your noggin. In gladiatorial combat, helmets kept your head safe, but it was also a way to add a bit of character to your battlefield attire. This classic adult Roman helmet is made out of molded vinyl and has a golden paint scheme. It also has a large crest on the top made of faux horse hair to help give you the flair you need to get the crowd roaring.
Gladiator Helmet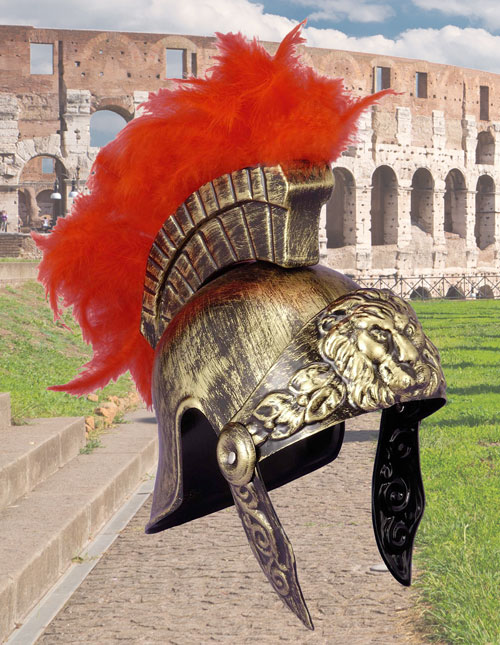 Perhaps you want something with even MORE flair! Well, then there's nothing quite as audacious as a row of bright red feathers, like the ones in this Gladiator helmet! It's made of a light molded plastic material, but it has the look of weathered bronze. It pairs well with any of our adult gladiator costume and it'll be sure to garner you some attention when fighting for the title of champion.
Women's Gladiator Boots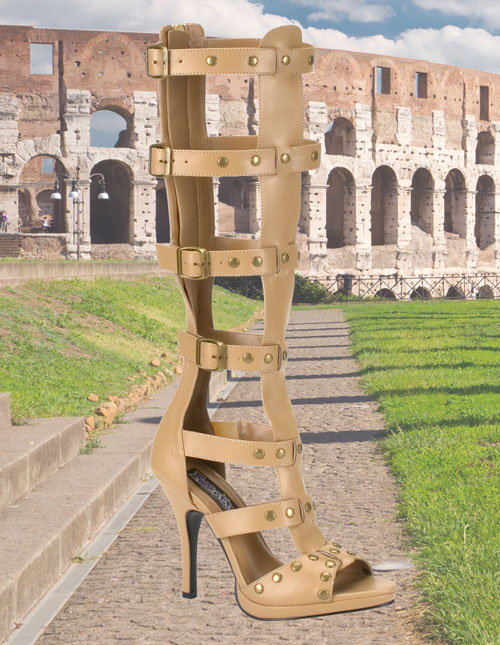 Footwear is important when it comes to any costume. One look at our costume shoes section and you'll notice that there's a boot or shoe for every kind of occasion. Gladiatorial combat is no exception! You can look like a bona fide champion when you add these women's gladiator boots to your costume. They add a modern spin to the classic Roman sandals of old.
General Maximus Helmet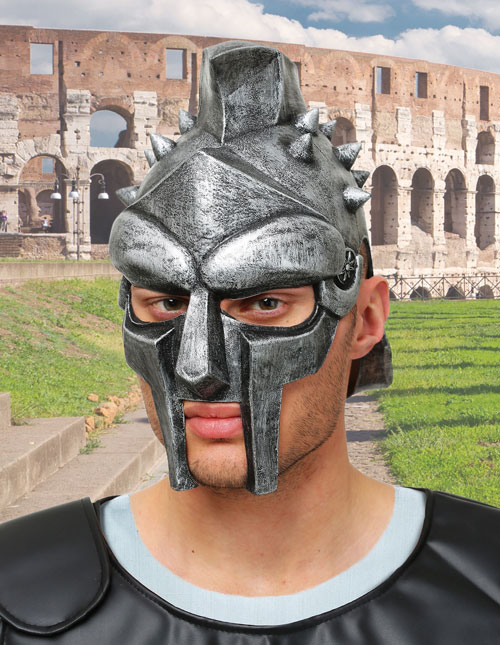 Finally, we have this General Maximus Helmet. Taking heavy cues from the Ridley Scott film, this helmet, which is one of our many masks, helps you conceal your identity from any evil emperors in the crowd that might ordinarily recognize you. It also makes for a pretty solid MF DOOM cosplay mask, but doubt many of you Gladiator fans out there will be using this great mask for that purpose.