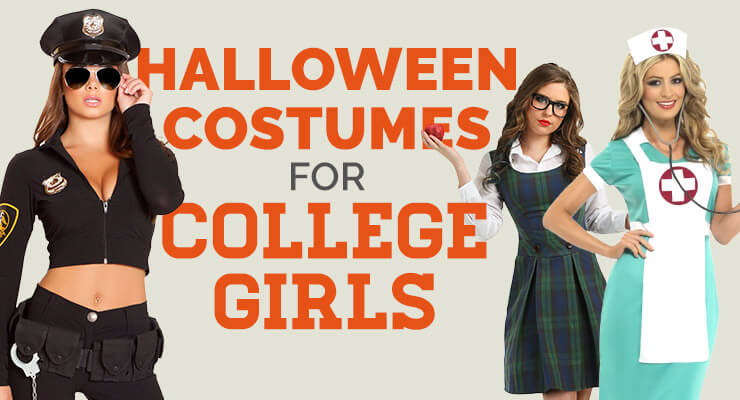 College is a time to study, learn. It should be taken very seriously... or maybe not. College is a place where you can be whoever you want to be. It's a time when people with all sorts of passions are together in one collective place. So this Halloween, stand out from everyone else, and show them what your passion is. Whether you study History, Science, Education, or just about anything else, there are great college Halloween costume ideas for you. Get it girl, and show off to the rest of your classmates and your professors, and prove that you are the best student in your major with some of these college Halloween costumes.
Educational Halloween Costumes for Education Majors
Take a break from the books and have some fun this Halloween with one of these great educational costume choices. (Okay, maybe they're not that educational, but these college girl costumes are fun!) Teach everyone a lesson about what happens when teachers venture outside their classroom. Remember to let loose, but don't forget to grab your ruler before you leave to keep everyone in line. By the end of the night, everyone will want to be the teacher's pet.
Historical Halloween Costumes for History Majors
Since the dawn of time History majors have been the life of all the college Halloween parties. Probably because they are always the best dressed. No matter what era is your favorite, there are so many options for great historical costumes out there. There are so many that we can't begin to list them all, but you can always find more college girl Halloween ideas on our site. So take your pick, and bring everyone on a ride through the ages.
Police Halloween Costumes for Law Enforcement Majors
Will you lay down the law this Halloween with a police costume or maybe let loose and get into a little trouble with a prisoner outfit? Law Enforcement majors walk a fine line between keeping it together and cutting loose. Halloween is the perfect time to experience either side of the job. Who knows, maybe you'll discover you like the rebellious life, at least for the night! Give it a chance, and whether you decide to keep the peace or disturb it, we have the perfect law enforcement costume for you.
Medical Halloween Costumes for Pre-Med Majors
The doctor is in this Halloween. Try on one of these great doctor and nurse costumes and see what your friends think of your future look. Okay, so maybe this isn't exactly what you'll wear on the job, but that's not to say that you can't have a little fun. These are some great, easy Halloween costumes for college girls. You get a little dress and headpiece set, add your own shoes and makeup, and voila! You're probably not going to find many willing patients before you get your internship, but there's sure to be plenty of zombies out there you can operate on without worry. Or find your own doctor for a medically great college couple costume!
Scientific Halloween Costumes for Science Majors
IT'S ALIVE!!!!! Okay, so maybe not quite what you're going for, but on Halloween, anything can happen. Slip into one of these fun, scientist costumes and let the experimenting begin. There is a wide variety of Halloween costumes for college girls, science nerds included! Halloween is the perfect time to test a new theory or try out a new experiment. Whether you are going into earth science or forensic science, chemistry or biology, we have the perfect college Halloween costume for you!
Book Character Costumes for English Majors
You probably recognize most of these characters as characters in movies and tv shows. However, you're a college English major and you know better— they're actually all book characters too. (Minus the Jane Austen costume, as she's an author!) You're probably the one person in your friend group that's the first to remind everyone that the newest tv show or movie is based on a book. (After all, you know the book is better.) For even more book character costumes, you can check out our selection of storybook costumes!
Well, ladies, what do you think of these major-specific costume ideas? Are you going to give one of them a try? We know that there are so many more majors out there, but we just couldn't list them all. Whether you saw your major listed above or not, we still have the perfect Halloween costume for you! Check out our women's costumes page for more great options, and find your perfect costume for this Halloween. Looking for a match for your guy friend for college couple costumes? We have a blog post just like this one with ideas for men's costumes! Check it out!