2019 Updated: We've updated to include new costumes.
Are you and a best friend literally attached at the hip? Okay, not literally, but you get what we mean! We've debated and deliberated and we decided that having a bestie in high school is actually more vital than owning a cell phone. Allow us to explain…. Who else are you going to pass notes to when you're sitting in Chemistry class bored out of your mind? Your BFF of course. Plus, it's not like you could eat a tub of chocolate frosting in your PJs while binge-watching The Vampire Diaries with just anyone! You need your ride-or-die sister-from-another-mister by your side to partake in all of your slightly awkward favorite activities. In fact, you need your other half with you to partake in everything you do, even Halloween! It's obvious your bestie is vital to your very existence (that might be a slight exaggeration, but you understand), so we've conjured up some of our cutest costumes for BFFs. We have tons of options to fit all kinds of bestie relationships so pick out your favorite, put it on, and start posing for some Instagram posts. Your "likes" are going to skyrocket!
Angel and Devil Halloween Costumes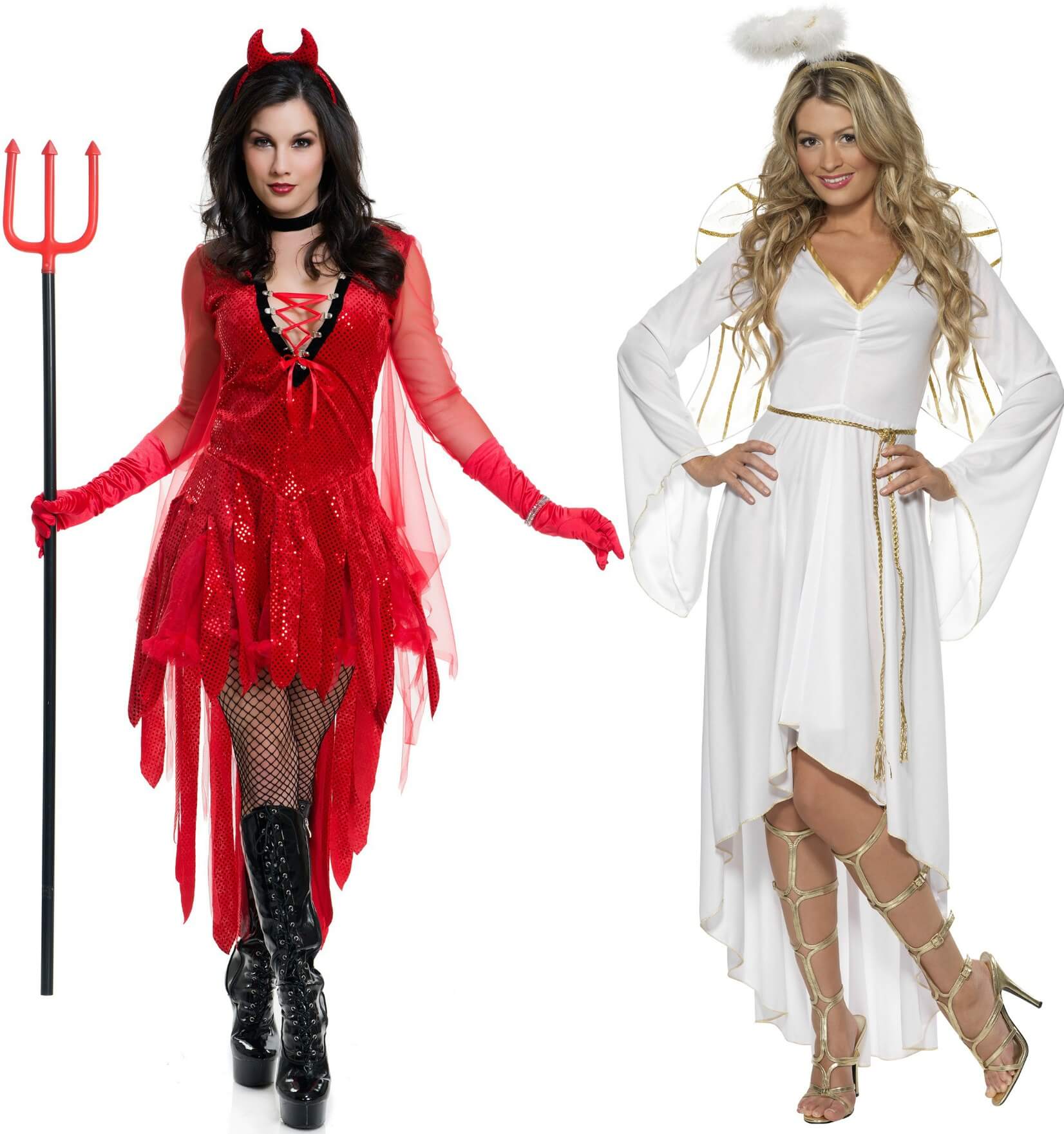 Is your best friend usually filling your head with tons of clever ways to get into trouble? Or maybe YOU'RE the one who's coming up with all the mischievous schemes and your bestie has to be the voice of reason. Either way, our angel and devil costumes will be a great way to give people some insight into your dramatically different personalities. Plus, this is a classic good/bad combo that never goes out of style!
Clueless Costumes: Cher, Dionne, and Tai
Thinking about wearing your Halloween costume from last year? AS IF, you must be buggin'! You and your BFFs are trendsetting fashionistas who should be maxing out daddy's credit card on Rodeo Drive, not recycling old frocks. Show off your love for the best coming-of-age comedy film from the 90s by wearing our exclusive Cher, Dionne, and Tai costumes. It's perfect for total Betty besties who look great in plaid and enjoy talking like Valley Girls from time to time. Like... totally!
Batman Costumes: Batman and Robin
C'mon all you superhero-obsessed girls, it's time to put down your comics and start perusing our costumes! If you and your twin-flame love to bury your noises inside of the brightly colored pages of DC comic books, then you two will love suiting up in Batman and Robin costumes. You'll have fun patrolling the school halls, pretending to protect Gotham streets. This BFF costume is perfect for those who love doing everything with their sidekick! (These are also some incredibly cute Halloween costumes for best friends!)
Poison Ivy and Harley Quinn Costumes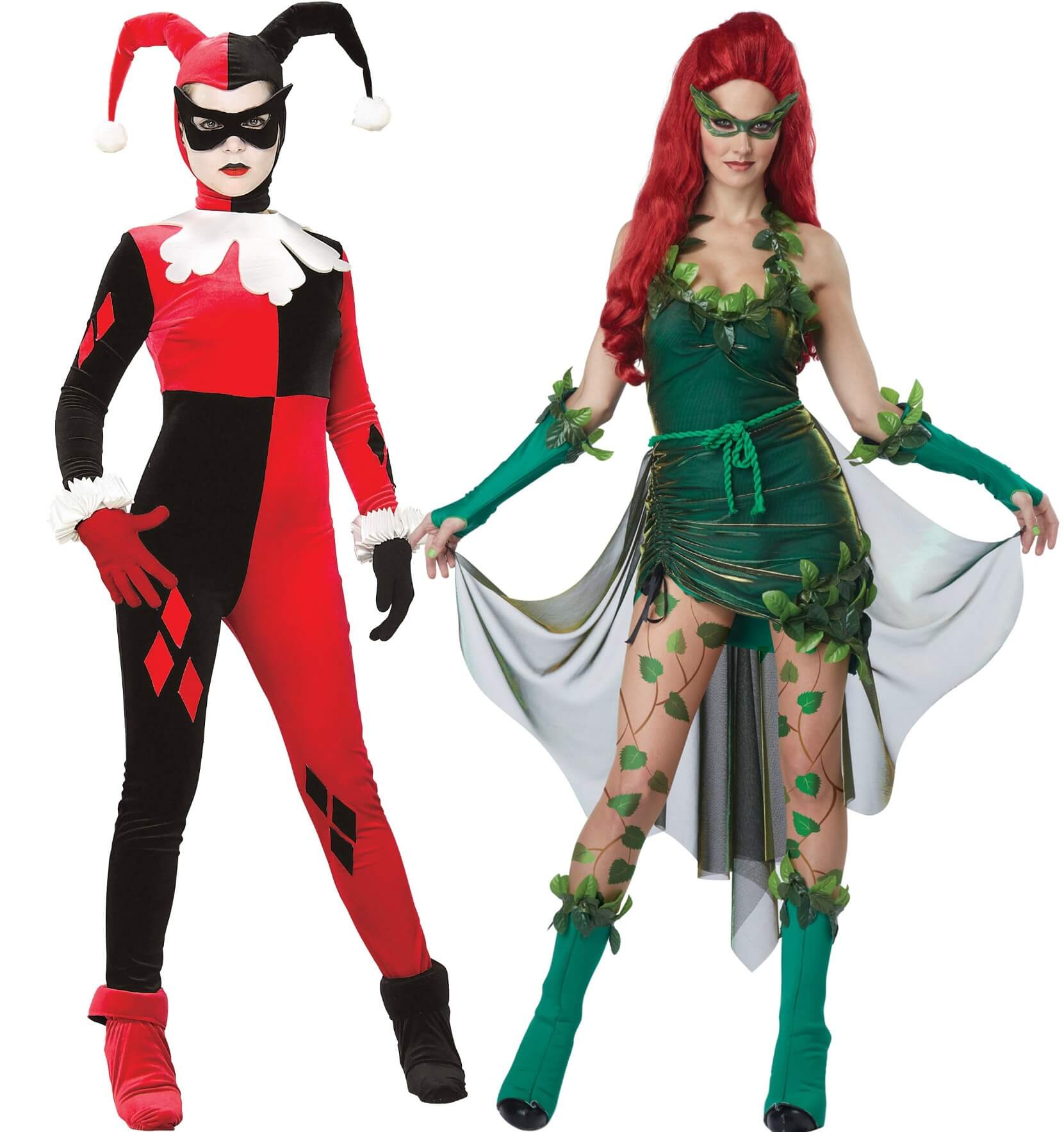 You and your bestie are undeniably tough cookies who have a pretty intricate relationship because you've been by each other's side for years! If you and your gal-pal like to play harmless pranks and get into a little bit of trouble every so often, then you'll love dressing as Poison Ivy and Harley Quinn. This costume idea is especially perfect for a brunette and a red-head!
Power Rangers Costumes: Yellow and Pink Rangers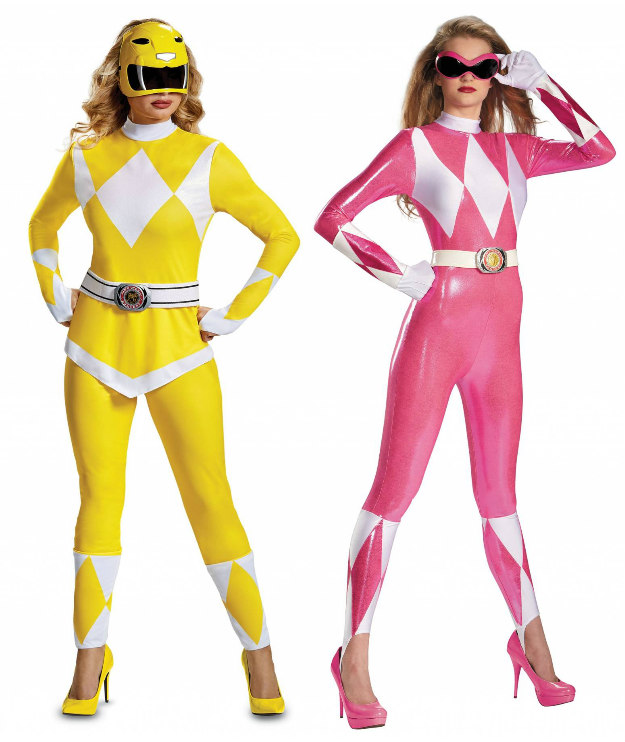 You two are never ones to play the damsels in distress. On the contrary, you guys have been kicking butt together since kindergarten! Needless to say, you and your homegirl have grown up to become "teenagers with attitude." You two will have fun morphing into the Yellow Ranger and Pink Ranger and then reliving your childhood days. Go ahead, pretend to hunt down Rita Repulsa. We won't judge!
Grease Costumes: Sandy and Rizzo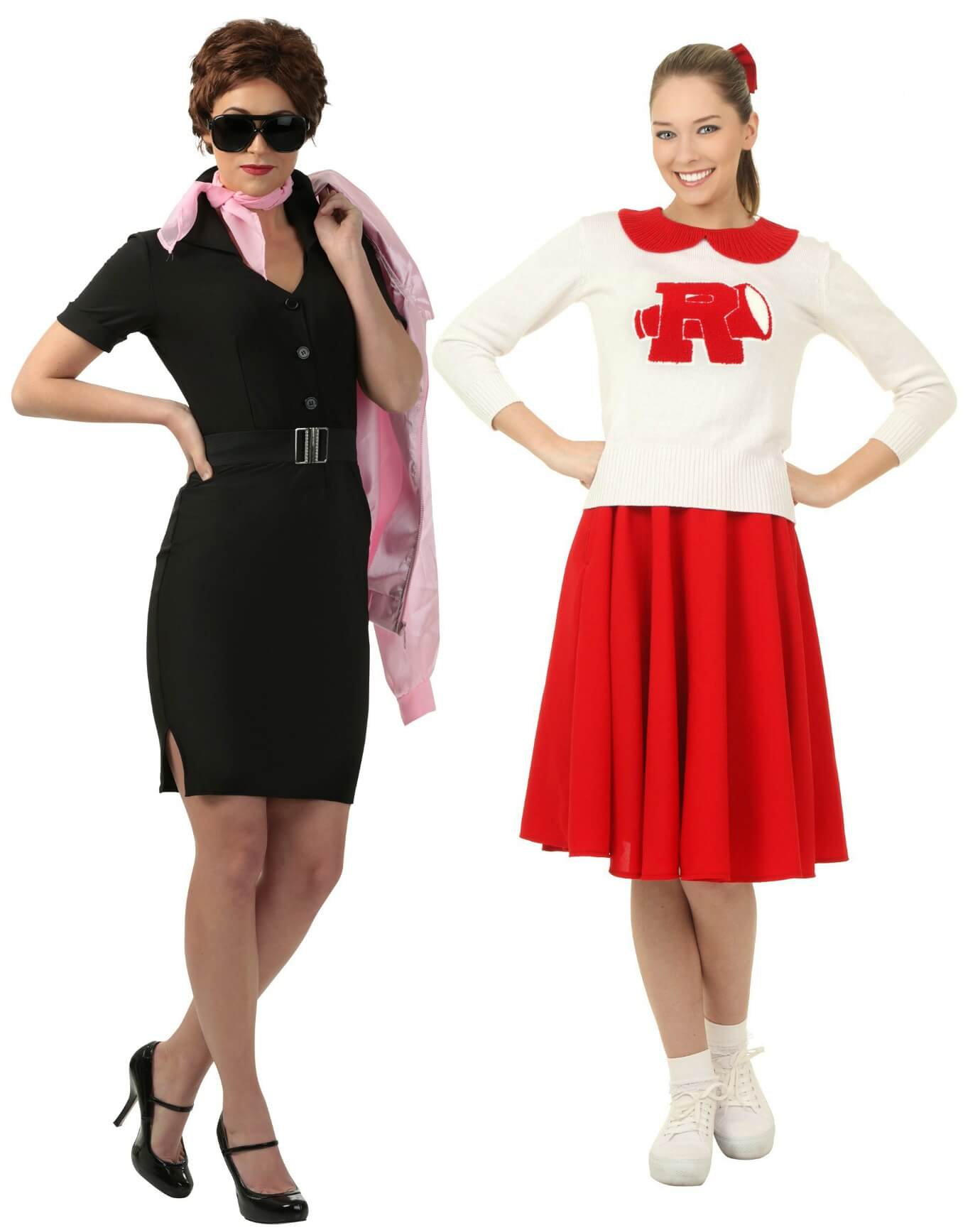 Okay, technically Sandy and Rizzo are frenemies. However, we'd like to think their friendship blossomed after the two graduated from Rydell High. If you two love to listen to the Grease soundtrack whenever you're on a road trip together, then you'll love getting into character by dressing up as Sandy and Rizzo! (We can help you find Grease costumes on HalloweenCostumes.com but you'll have to track down that classic car yourself!) After all, you guys go together like, "ramma lamma lamma ka dinga da dinga dong!"
Audrey Hepburn & Marilyn Monroe Costumes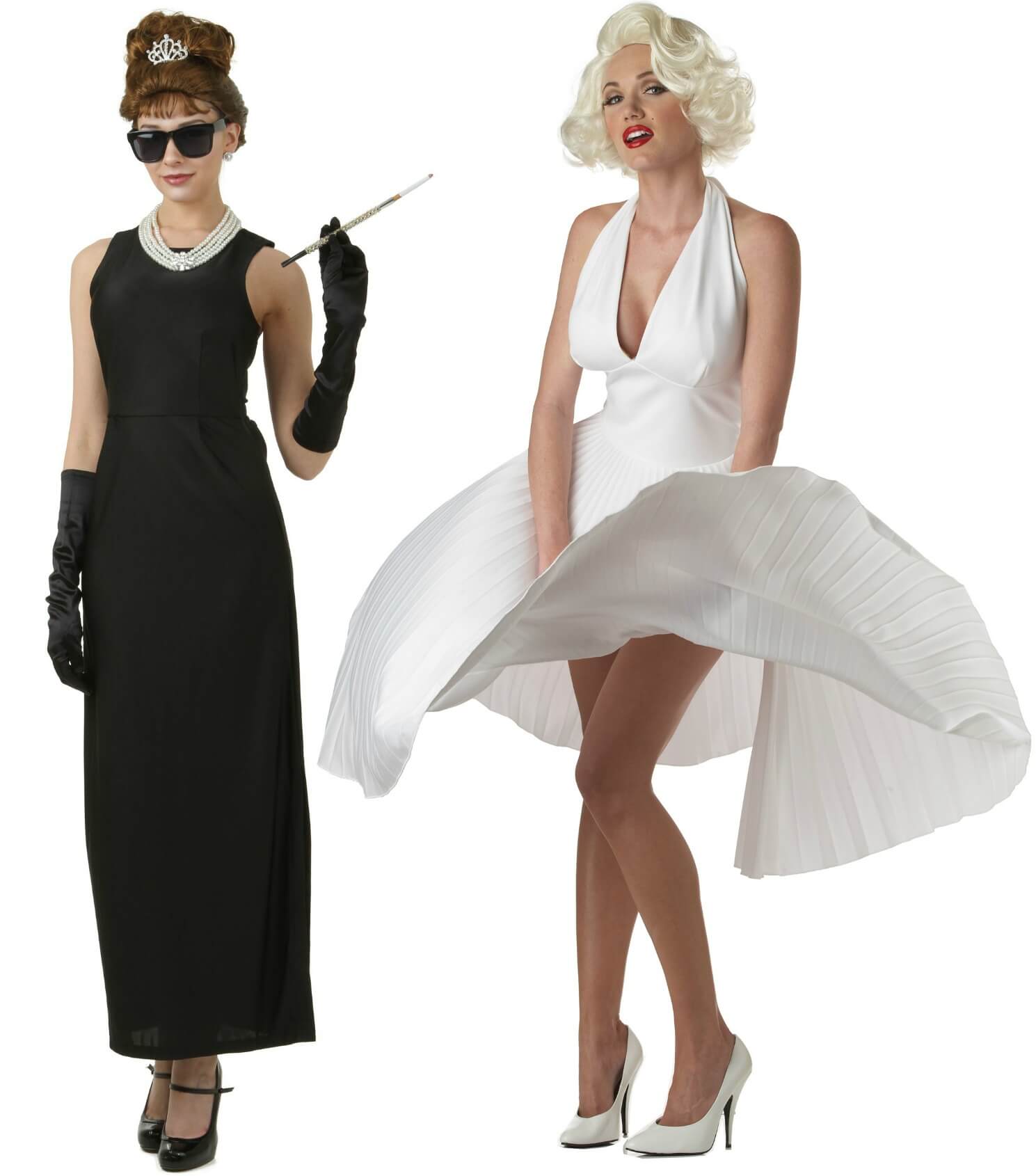 These two were unstoppable forces during their day and they continue to be style icons. There's no denying that both of these women ruled the Hollywood scene just like you and your bestie rule the halls of your high school. Don the classic white dress costume to become the blonde bombshell Marilyn Monroe and wear this all-black ensemble to transform into Audrey Hepburn in Breakfast at Tiffany's!
Frozen Costumes: Anna and Elsa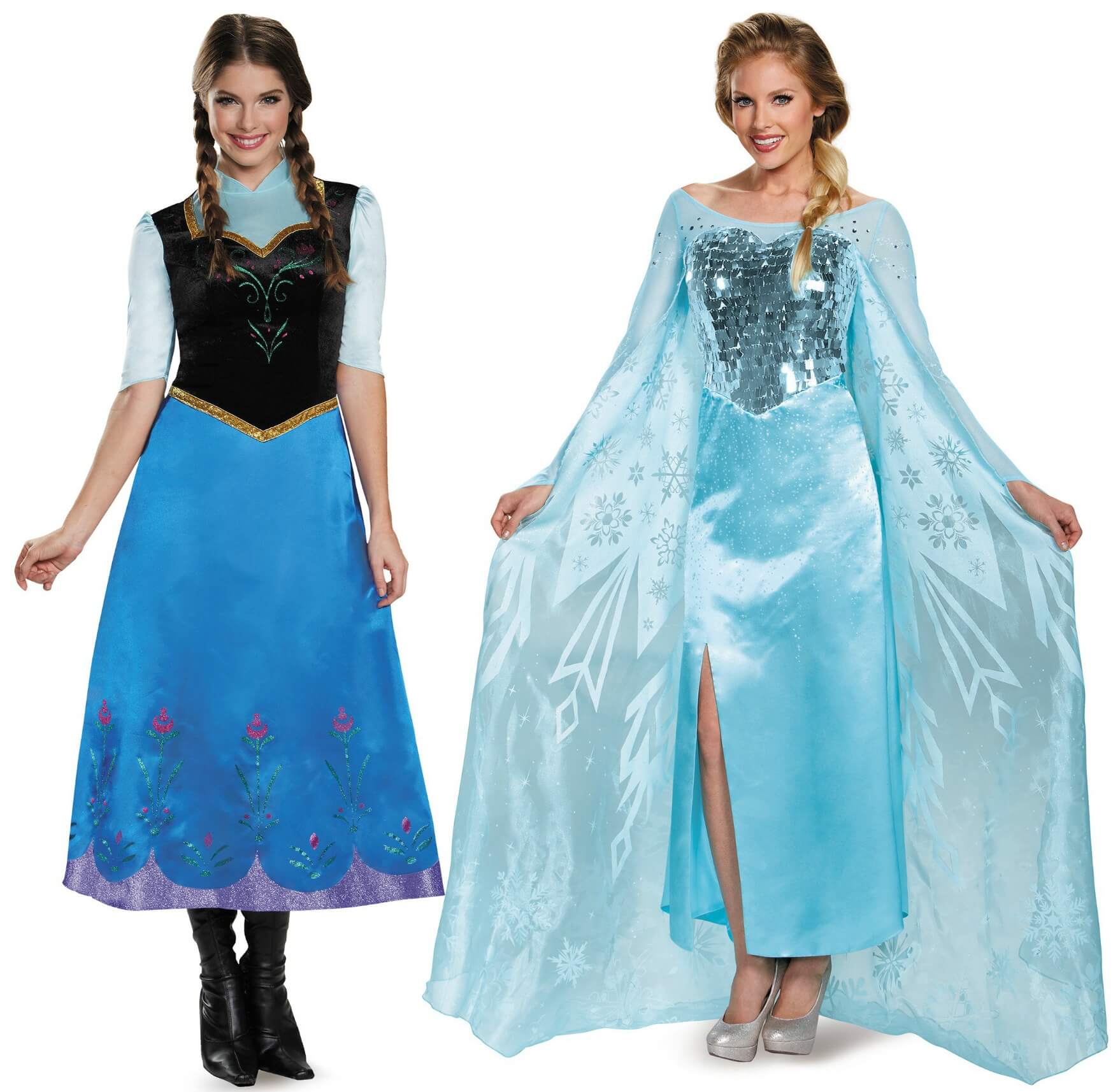 Do you think you and your best friend should rule over Arendelle? Um, of course you should, because you ladies are definitely princesses in the making! Plus, you'll get to spend the whole night screaming "let it go" at the top of your lungs, no matter where the night takes you. Doesn't that sound like a dream come true? Pick up Frozen costumes online with us and you can make those dreams come true!
Mermaid and Sailor Halloween Costumes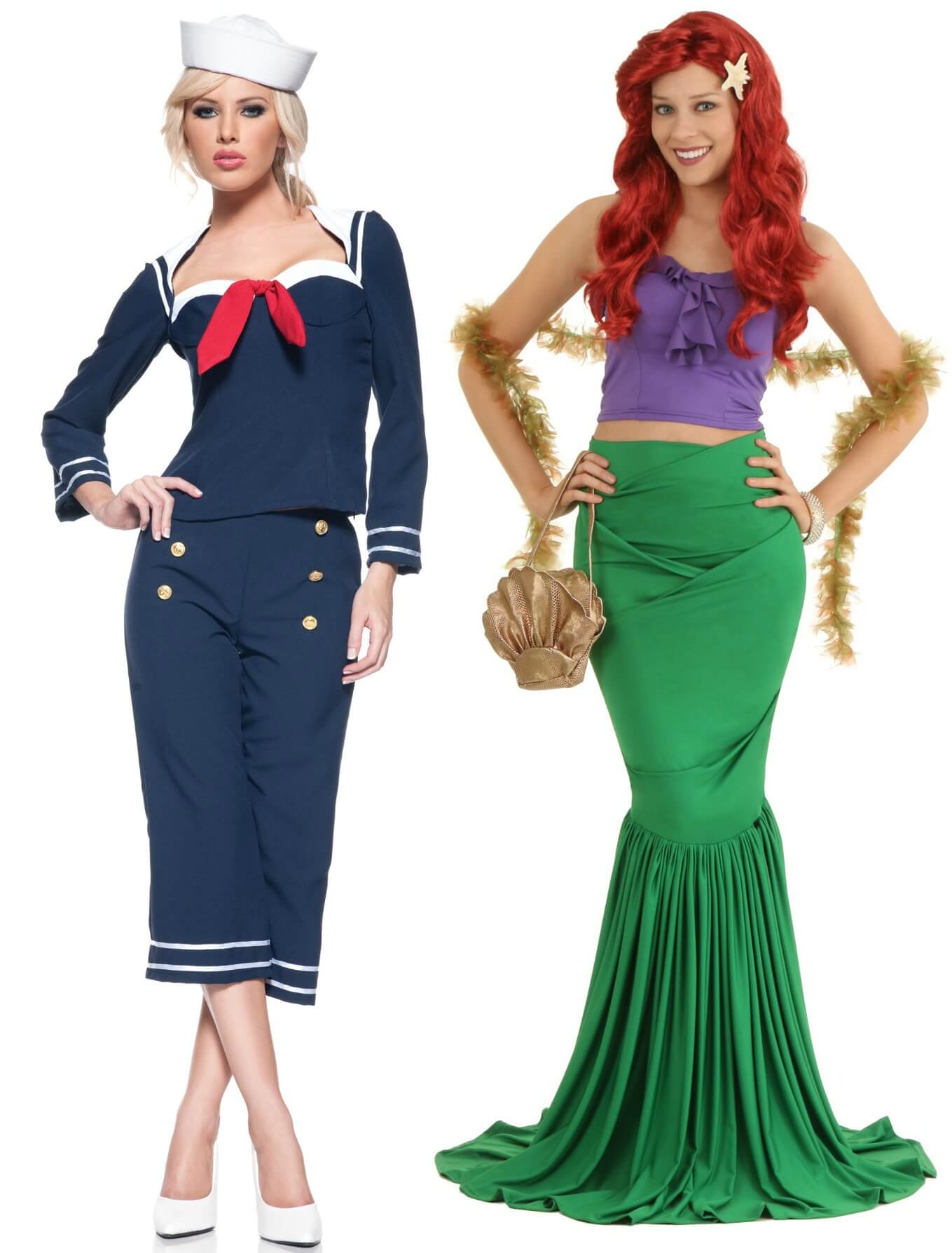 We are firm believers that mermaid and sailors are best friends forever, which is why they keep this very important secret: mermaids ACTUALLY do exist! They're down there lurking in the murky waters, and one day mermaids will be discovered. Until then, you'll just have to dress up as one. We have tons of adorable mermaid and sailor costumes so you and your best friend forever can both take the plunge this Halloween. Prepare to make a splash wherever you go!
Pokémon Costumes: Pikachu and Ash
It was shock at first sight for Ash and Pikachu. Sure, maybe their initial meet and greet didn't go as planned, but this popular pair has been pals ever since, which is why they would make a great BFF costume! Whether you're a fan of the original anime or you prefer the video game series, you know that Ash and Pikachu are absolutely inseparable. (You might need to have a Pokémon battle to determine who gets their pick of either the Ash costume or the Pikachu costume.)
Child's Play Costumes: Chucky and Tiffany
You have to admit: Chucky and Tiffany are totally relationship goals… well, that's if you can ignore the epic killing spree the pair go on! If you and your bestie are horror movie fans who love to be freaked out, then you'll like dressing up as the murderous doll duo who still randomly pop up in our nightmares. Get your hands on some fake weapons to amp up the scare factor. Everyone will think twice before agreeing to playtime with you two!
Alice in Wonderland Costumes
If it weren't for the Cheshire Cat and Mad Hatter, Alice would still be meandering around Wonderland trying to figure out what the heck to do! If you and your besties are on a mission to look enchanting, whimsical, and wonderful this Halloween, an Alice in Wonderland theme is your best bet. Outfit yourselves as Alice, the Cheshire Cat, and Mad Hatter and watch your fanciful evening unfurl right before your very eyes!
Finding Nemo Costumes: Dory and Nemo
You two will be twinning and finning when you dress as the two cutest fishies under the sea! If you two loved watching Disney/Pixar's Finding Nemo and Finding Dory then you'll love dressing up as the main characters. Make sure you really swish those fins while you're rocking these Nemo and Dory costumes. Oh, and if you happen to see a really big boat out in the distance, don't go and touch it. We would hate to see you two get separated!
Orange Is the New Black Costumes: Piper and Alex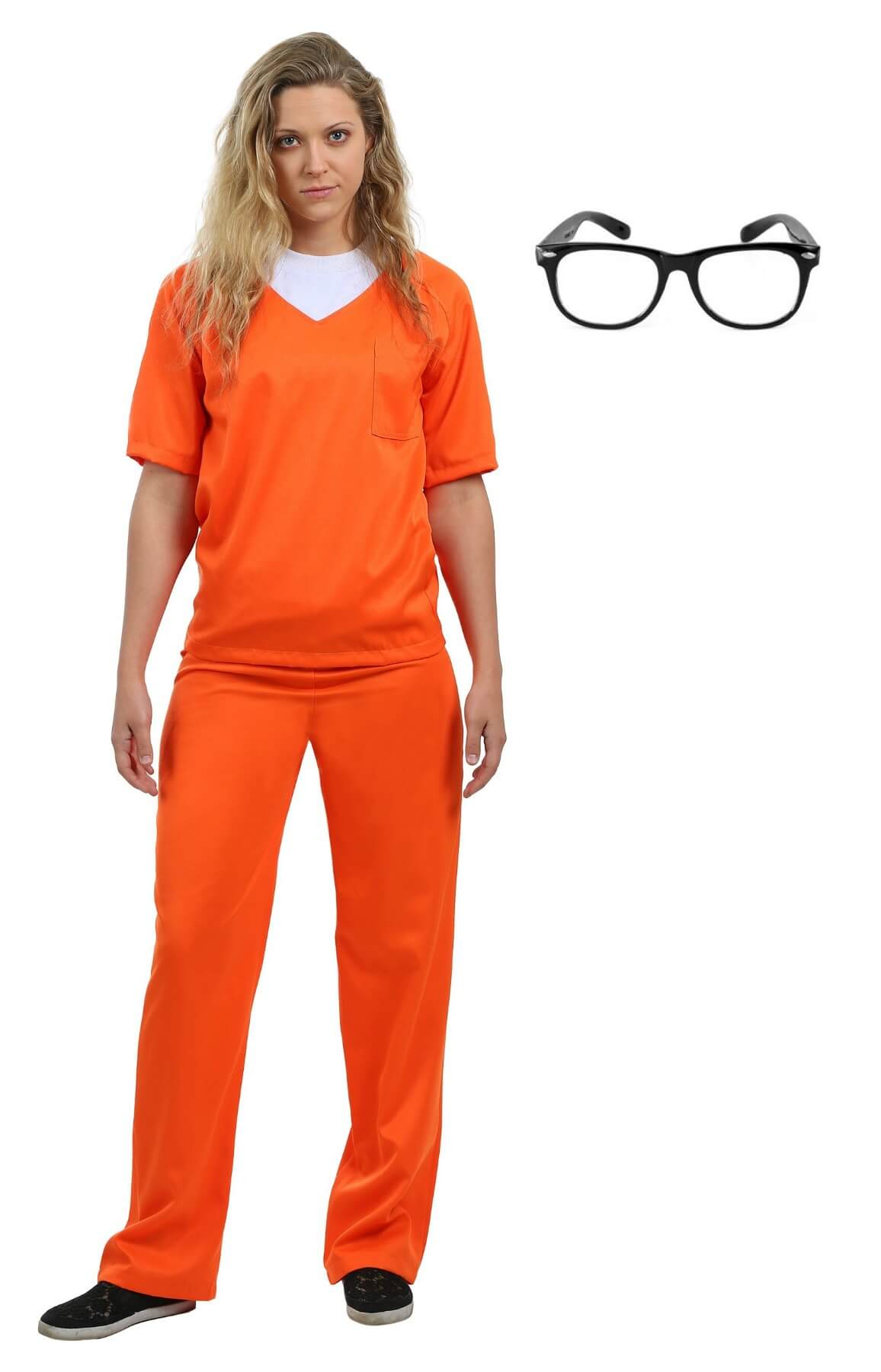 Piper and Alex have a pretty complicated relationship: sometimes they're enemies, sometimes they're besties, and sometimes well, they're much more than friends! Anyway, if you two are partners in crime who can't get enough of the juicy HBO series, Orange Is the New Black, then why not become Litchfield Penitentiary's most popular couple? Shackle yourselves up in orange jumpsuits, and be sure to add a pair of black frame glasses for the Alex costume!
We hope that this collection of BFF costumes will inspire you and your bestie. Or, dudes can check out our duo Halloween costumes for guys. Whether you want your last Halloween before college to be as memorable as possible or you two are looking to start a new Halloween tradition, all of these looks are sure to create long-lasting memories. You can also check out our couple costume selector to get more pair costume ideas for friends 'til the end!