Do you have a best bud? Maybe he's that guy who's right at your side at the bars, or maybe he's that dude always laying around on your couch mooching food. Maybe he's that guy who's always pulling you out of a tight situation, or perhaps he's the one who drags you into bad situations in the first place. Either way, he's got your back no matter what. If your looking to pair costumes, whether they be strange, quirky, funny and sometimes even dorky—this guide is dedicated to famous best bud costumes!
Spider-Man and Iron Man Costumes
Who didn't fall in love with the Iron Man–Spider-Man duo during Avengers: Infinity War? Watching Iron Man holding Spider-Man as he fades into nothing, saying he doesn't want to go—tears! There is no denying that Tom Holland and Robert Downey Jr. deliver epic performances during that scene. Try your hand at re-enacting their moment this Halloween with your best bud dressed in Spider-Man and Iron Man costumes to become the Emmy winners of the party.
Black Panther Costumes
Black Panther and Killmonger may not be friends, but they both wore the famous Black Panther suit. (And proceeded to have one of the best fight scenes in the MCU!) If you're looking for a memorable costume to wear with your best guy friend, these Black Panther costumes are sure to get the two of you lots of photo ops. Just make sure to keep it civil at the party, even if you're best frenemies for the night.
Captain America and Winter Soldier Costumes
Has your friendship lasted for decades? Then look at doing Captain America and Winter Soldier as your duo costume this year. These two have literally been friends for decades, even though they have tried to hurt each other. The way Cap stands up to Iron Man to defend Bucky is proof that there is nothing stronger than the bond of friendship to help bring people back from being bad. Both of you will feel super in these Captain America costumes!
Batman and Robin Costumes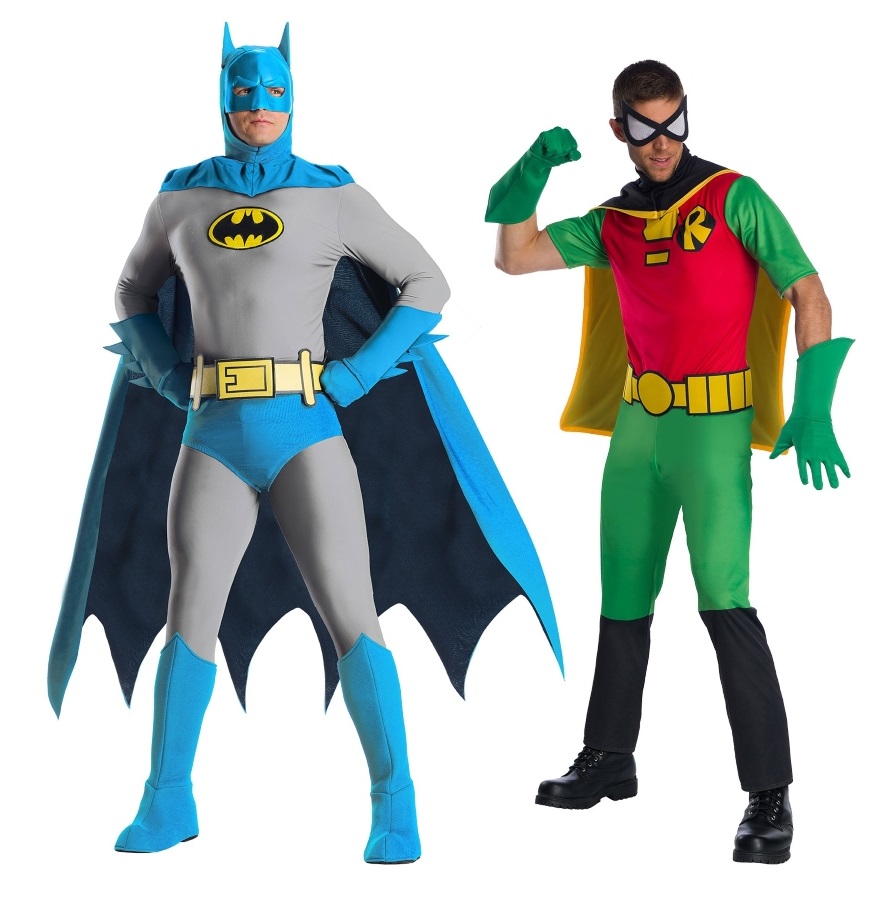 When you think "superhero duo", it's likely that Batman and Robin are the first to come to mind. I mean, they are called the Dynamic Duo, after all! Robin first appeared in the comics in 1940, a year after Batman made his debut. Since then, the Caped Crusaders have gone on many adventures together. So if a superhero costume duo is what you're looking for, then think about the most famous one of them all with these Batman costumes for Halloween.
Game of Thrones Costumes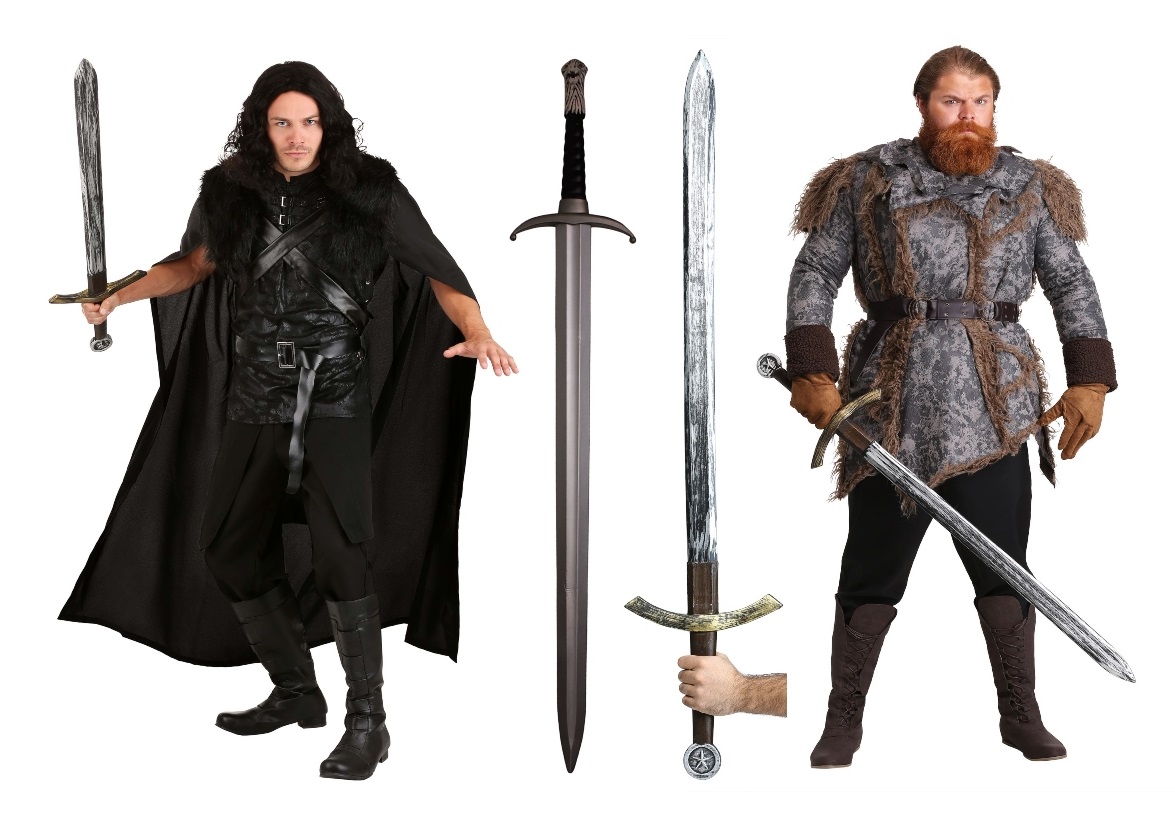 From fighting each other to becoming best friends heading back beyond the wall, Jon and Tormund's relationship is definitely one closely looked at in Game of Thrones. These two had so many adventures and thrilling fights throughout the seasons. Facing off against the White Walkers numerous times and the Battle of the Bastards were some of the show's greatest episodes. So order your Game of Thrones costumes online, make sure to add some swords to the cart, and get your battle on Halloween night!
Super Mario Bros Costumes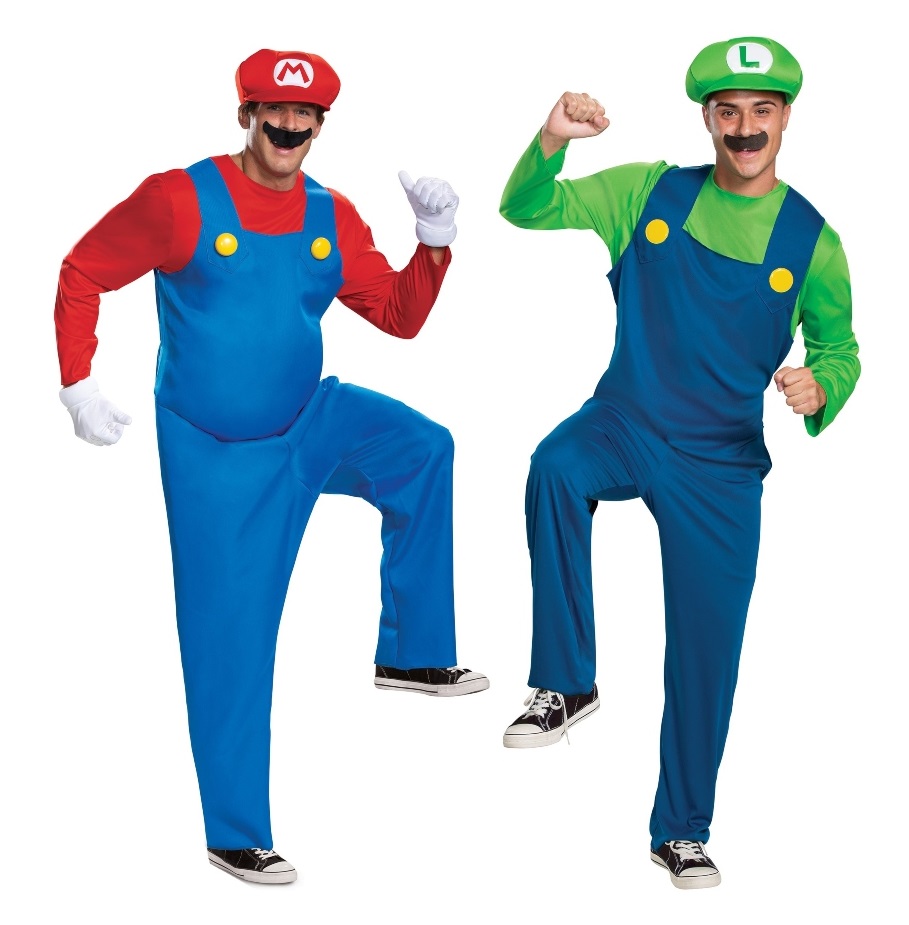 If not for this pair of plumber brothers, the Mushroom Kingdom would probably have problems tying its metaphorical shoelaces. Since the 1980s, the brother duo has been teaming up to save princesses, stomp on Koopas and win go-kart races, which makes one ponder the question of when the Super Mario brothers actually get around to doing any plumbing work. Nintendo has made this classic duo a cinch. This pair of dynamic duo costumes will certainly be fun and comfortable all night long!
Mandalorian Costumes
The Mandalorian absolutely broke us when they introduced Boba Fett to Din Djarin, and frankly, we don't want their relationship to end. Seeing two of our favorite bounty hunters on screen at the same time was nothing short of amazing! If you're looking to pick a pair of Star Wars costumes suited for you and your buddy, we highly recommend these Mandalorian costumes.
It Costumes
For lovers of the creepy and scary, there are the famous It movies to turn to. It: Chapter Two showed us the dark side of Pennywise and Georgie and introduced us to the latest catchphrase, "You lied and I died." Pennywise and Georgie costumes will send chills down the other Halloween partygoers' backs. If just showing up in the It costumes doesn't work, have Georgie remove his arm. That will make them scream!
Aladdin Costumes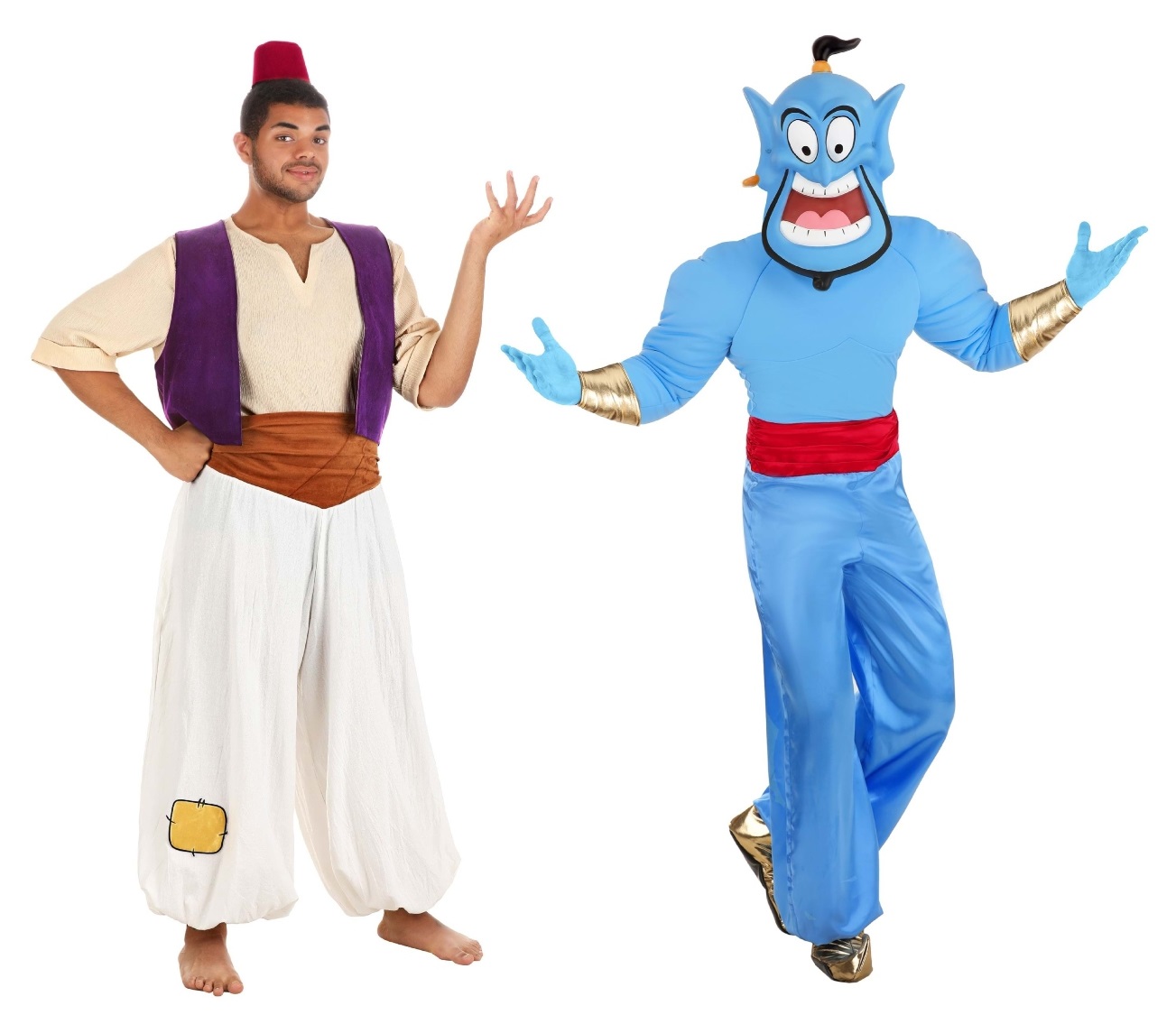 "You ain't never had a friend like me!" Aladdin and Genie have been through thick and thin together, and Aladdin even saw fit to use his last wish to grant Genie freedom. If that's not true friendship, we don't know what is! Join in with Aladdin and Genie costumes as your best bud duo costumes. You can go with the traditional animated ones or the new remade ones, but Genie had better be ready with a few iconic Robin Williams lines just in case.
Coming to America Costumes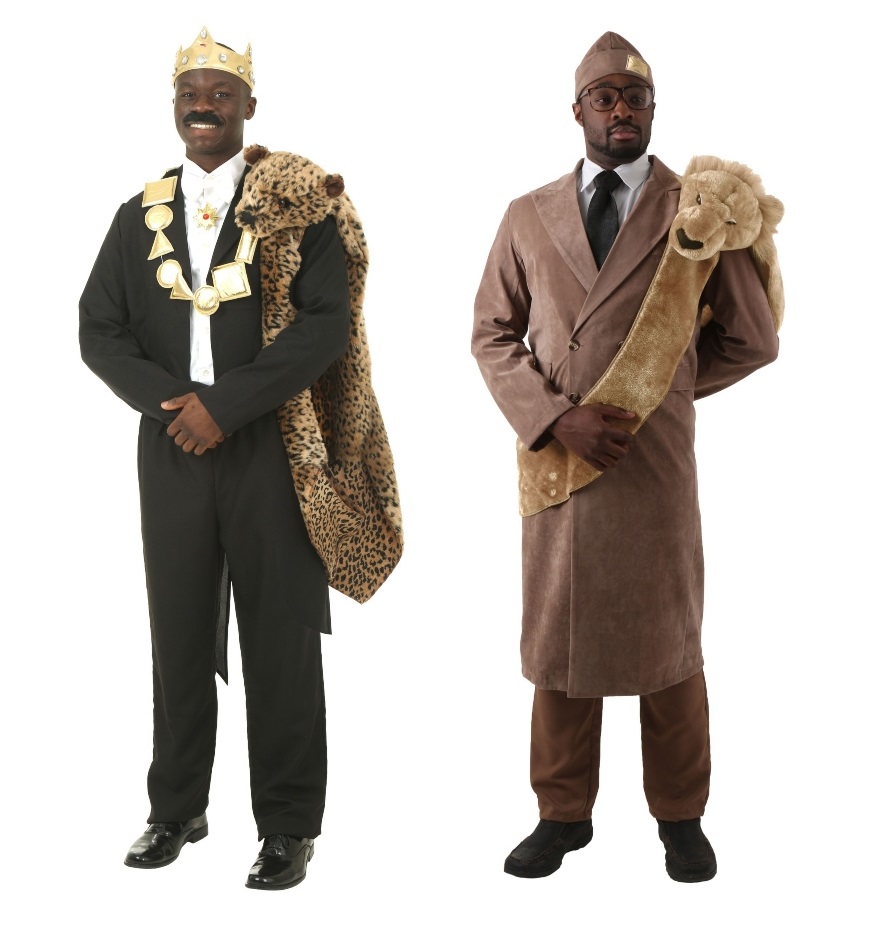 If there's one thing we love, it's a great 80s movie. Akeem heads to New York to find his ideal wife, but without his father's blessing, it turns into a bit of a wild goose chase. Hopefully, you won't lose your friend at the Halloween party and create another sequel in the process, but these Coming to America costumes are great if you're looking to share your favorite one-liners from the movie!
Disney's Frozen Costumes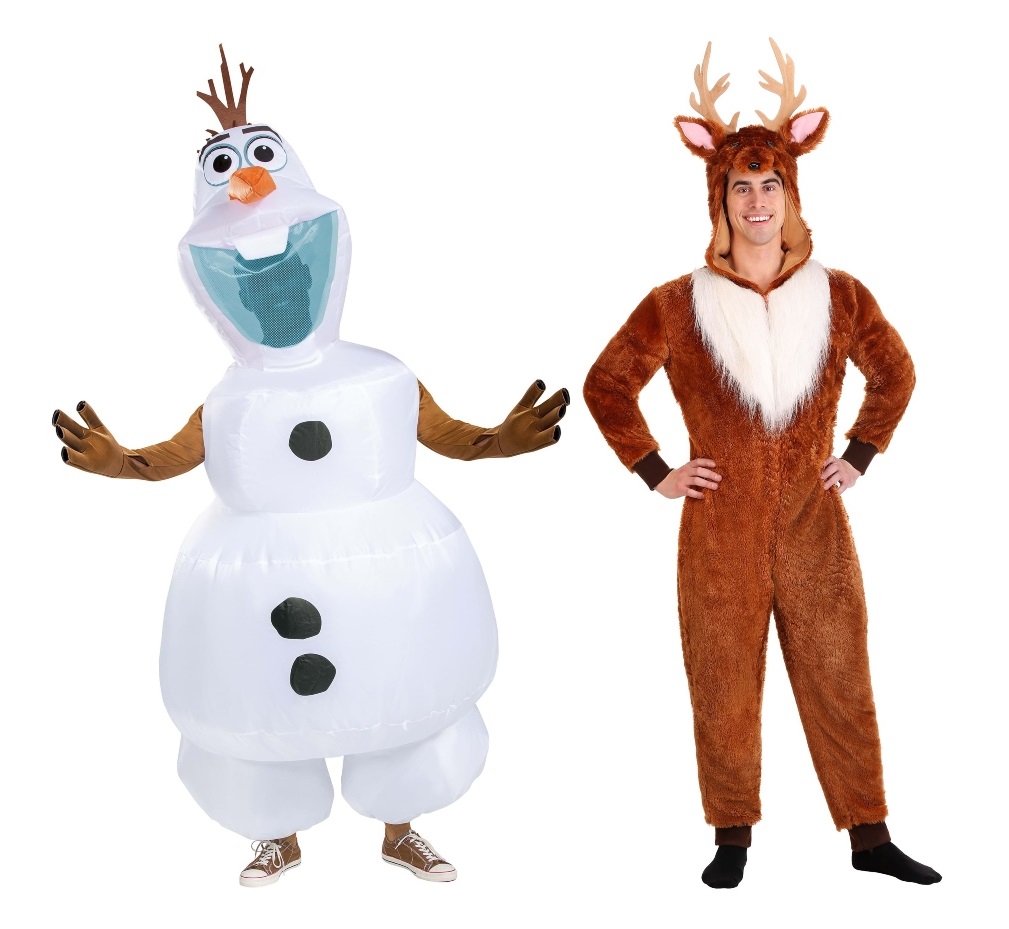 Sven and Olaf may not be an obvious best bud costume choice, but that's why you're reading this guide. To find the duos that most people don't think about! Olaf and Sven have such a lovable friendship that puts them on the map for duo costume ideas. Both of them love their friends and they'd do anything for them, even not eating their favorite snack…we mean snowman nose. If you're looking for something different this year, then this Frozen costume idea is for you.
Star Wars Costumes
Han Solo and Chewbacca are the perfect duo Halloween costume. They fly a spaceship across the galaxy, earning credits, saving princesses and watching each others' backs in the worst of situations. If you and your best bud like shooting first, tearing the arms off of a droid when you lose, or stirring up trouble for the Empire, then this Star Wars costume duo is just right for you.
Back to the Future Costumes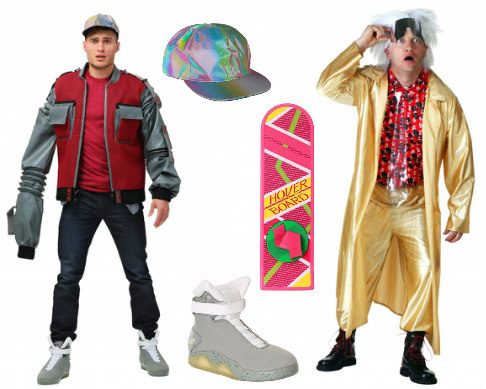 You might not be time-traveling this Halloween, but that doesn't mean you can't pretend. October 21st, 2015 marks the exact date that Doc Brown and Marty McFly traveled to the future. The film's predictions might have been a bit off, but even though we don't have self-drying jackets, actual hoverboards, or flying cars doesn't mean we can't have fun in these Back to the Future costumes!
Harry Potter Costumes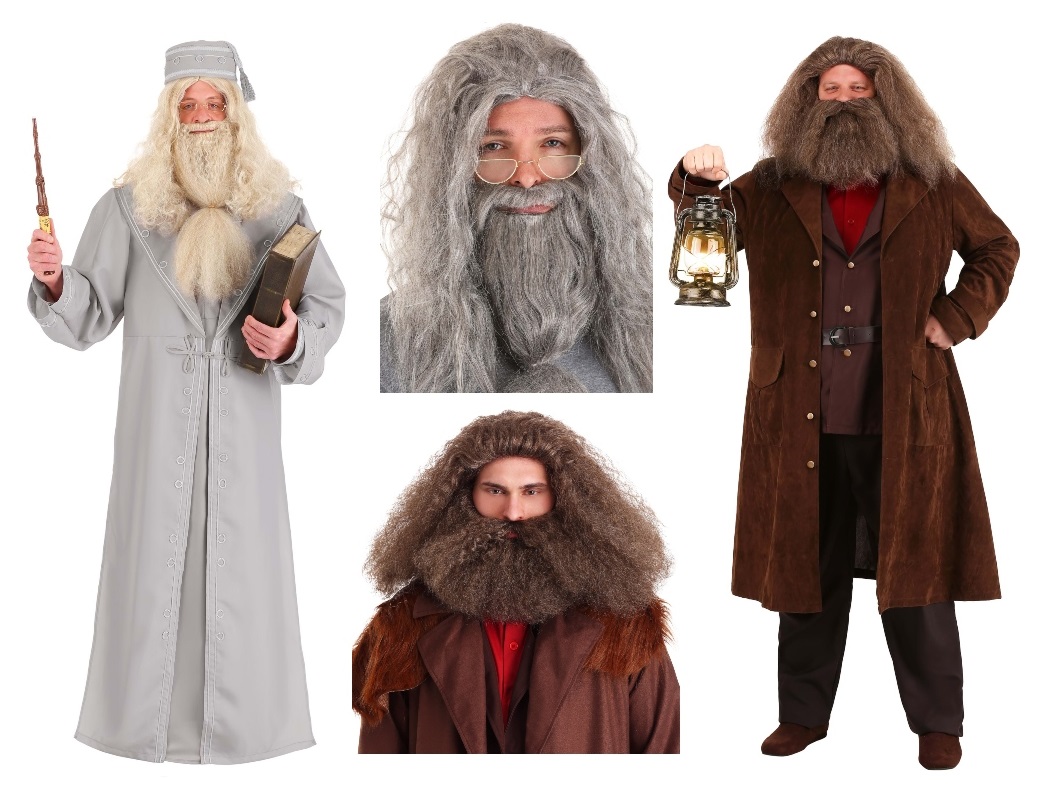 When you think Harry Potter duo costumes, we're sure you think Harry and Ron. Harry may be the chosen one but be unique and go as Hagrid, the loveable gamekeeper, and Dumbledore, the wisest wizard. Harry would be nothing without these two characters in his life. So go ahead and be the leaders they were by fighting Lord Voldermort in style with these exclusive Dumbledore and Hagrid costumes.
Top Gun Costumes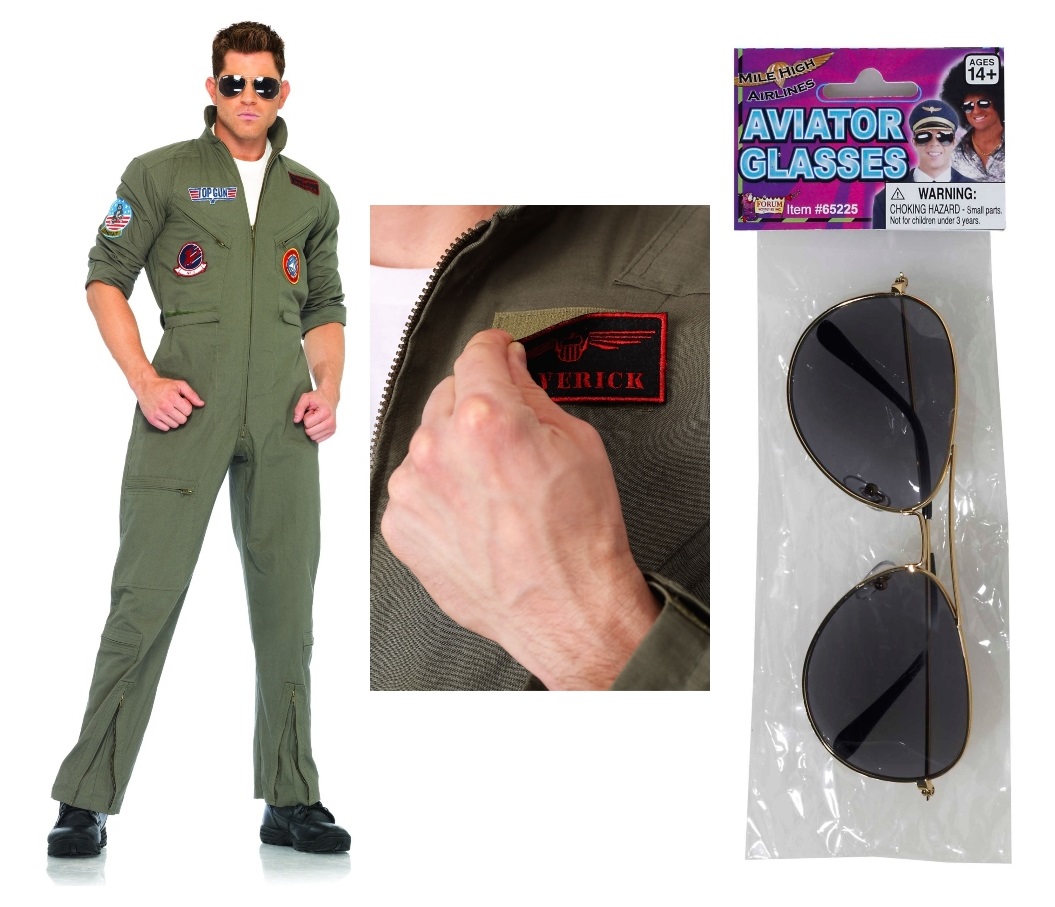 Maverick and Goose quite possibly have the most memorable on-screen bromance of the 1980s. They were buds who did everything together, including flying fighter jets. If you have a buddy who you do everything with, why not make him the Goose to your Maverick this Halloween? The Top Gun costumes even come with both name tags included. Be an inseparable pair with the need for speed! (Top Gun flight school training not required.)
The Emperor's New Groove Costumes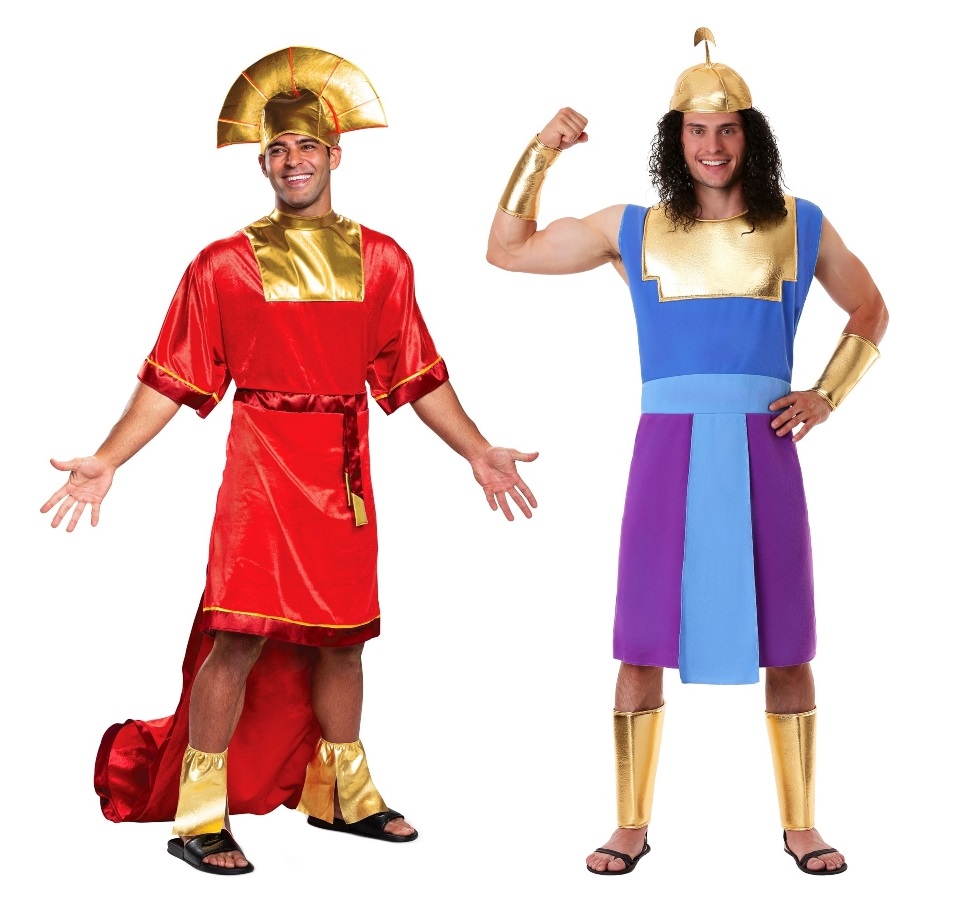 Boom, baby! One of the funniest Disney movies to date, If you're a couple of Disney guys, The Emperor's New Groove costumes absolutely have to be on your to-do list. While Kuzco and Pacha were actually hanging out together for most of the movie, some of our favorite scenes include Kronk and Kuzco. The post-llama drama is simply a classic. "Ugh, he's doing his own theme music? I am so glad I was unconscious for all of this."
Toy Story Costumes
Not all friendships start out the way Buzz and Woody's did. While that's probably a good thing, we have watched them build a bond that will keep them together through thick and thin—dismemberment, being locked in the attic, and fiery garbage pits. No two costumes can define best buds quite like Buzz and Woody. After you get the Toy Story costumes online, hit the Halloween party...but remember to practice Buzz's Spanish mode first!
Godzilla Costumes
These two kaiju have been duking it out for decades, so you and a monster-loving pal will love dressing like the kings of the monsters. (Hopefully, you won't have to fight over who gets to wear what costume!) Whether you're a fan of the original King Kong vs. Godzilla from 1962 or the more recent Godzilla vs. Kong, this Godzilla duo costume is larger than life!
Cookies and Milk Costumes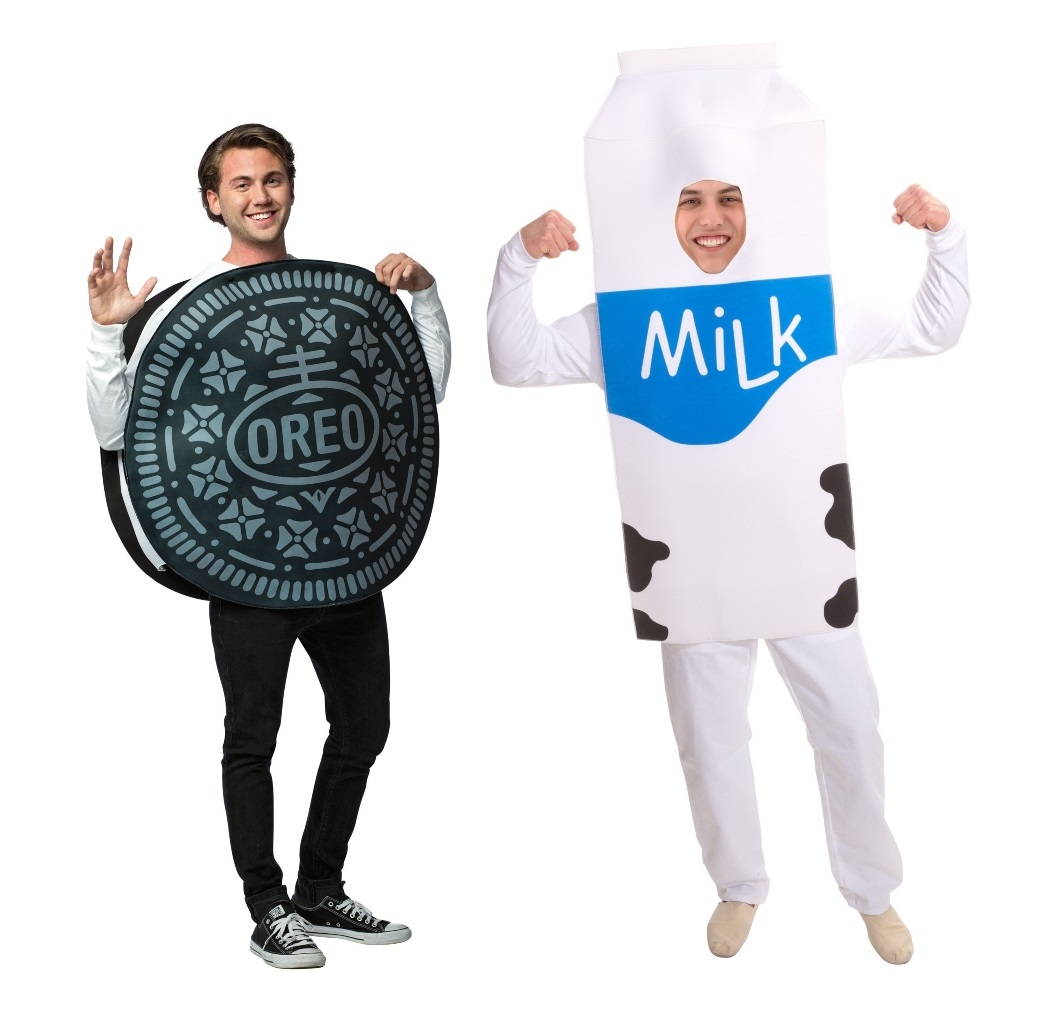 Cookies without milk? That's just crazy! Milk without cookies? Well, that's so… boring. Enjoying one without the other just isn't right. Cookies are meant to be dipped in milk, and if you happen to disagree, then take it up with Santa! This cookies and milk costume doesn't link you and your friend together like the other costumes, but this get-up definitely requires two people. Stay by your friend's side throughout the night and people will start to crave freshly-baked cookies and a refreshing glass of milk. Kids who can't seem to keep their hands out of the cookie jar can also become the mouth-watering combo by wearing the children's version of this costume.
WWE Costumes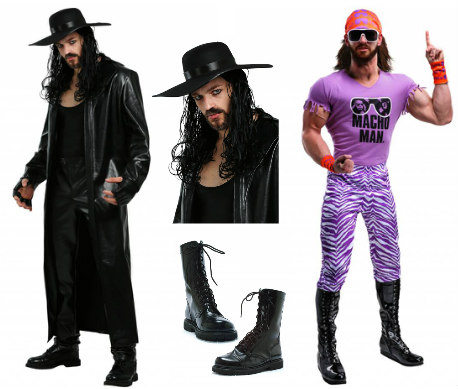 Since wrestling started in the 1950s, it has become a global sports entertainment powerhouse. Did you know that the Undertaker won a total of 21 back-to-back WrestleMania matches? Yep, he did. Did you also know that Macho Man won 29 titles in his 32-year career? These two are hardcore and you and your best bud can be too when you dress up in officially licensed WWE wrestling costumes.
Dumb and Dumber Costumes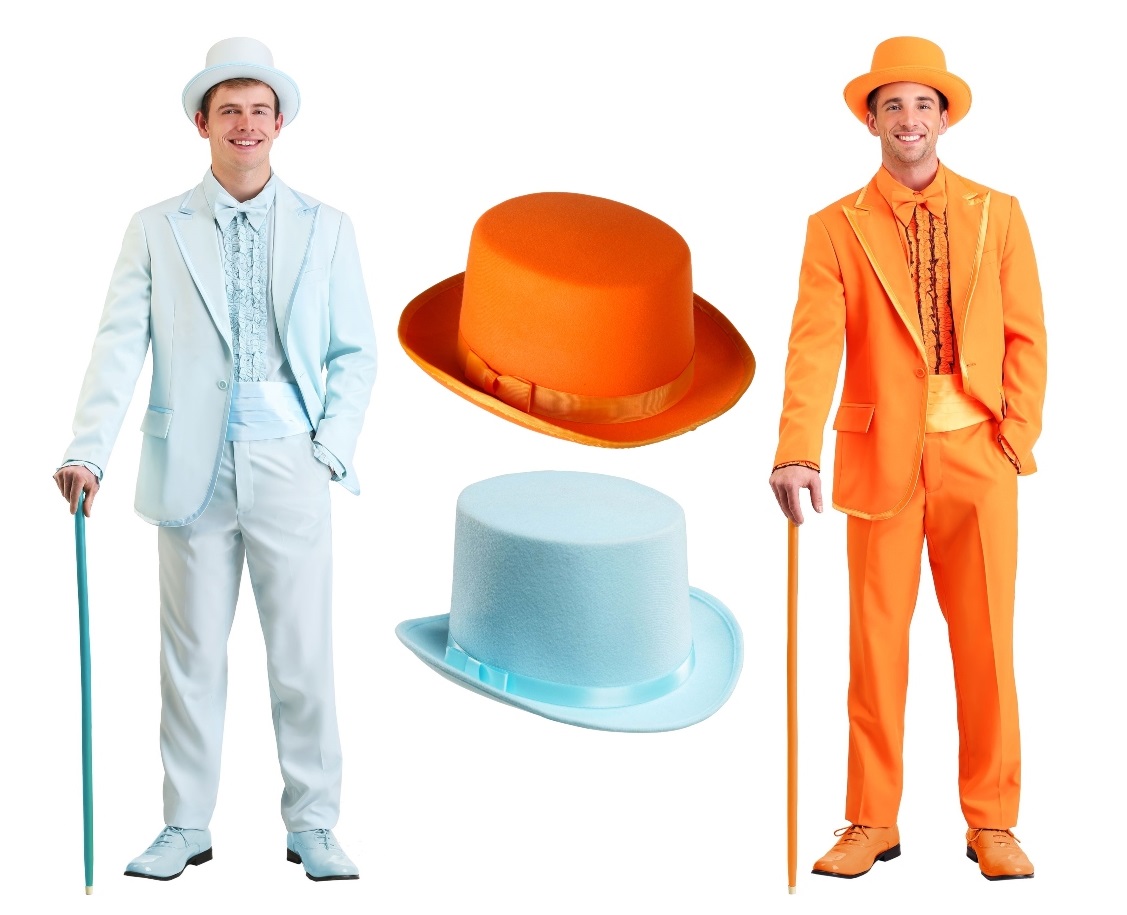 Harry and Lloyd may not win any prizes for being the cleverest of pals, but they certainly know how to have a good time together. Armed with nothing but a dog-shaped van, IQs lower than their age, and a colorful sense of style, these guys took on thugs, rednecks and kidnappers. What's that? You don't have a Shaggin Wagon and you score in the triple digits on IQ? Well, at least you can have crazy orange and blue tuxedo outfits!
The Big Lebowski Costumes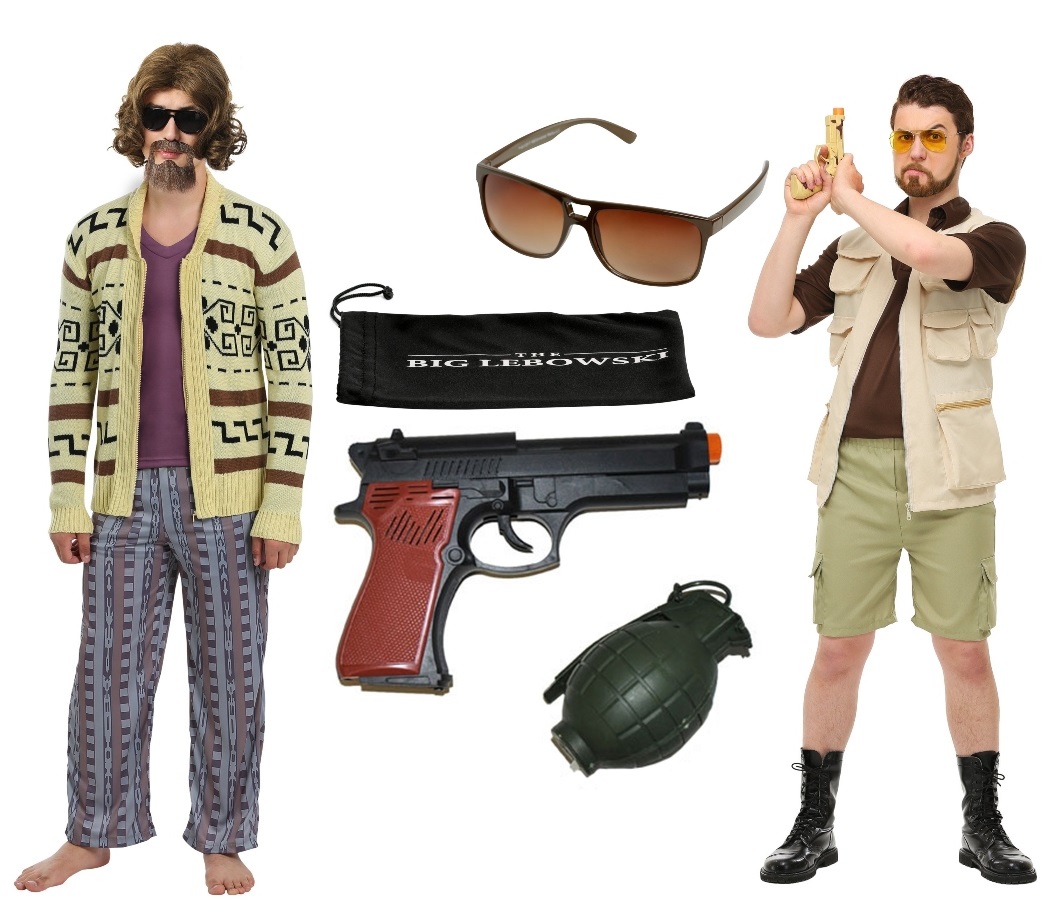 While their friendship may be rocky at best, The Dude and Walter Sobchak connect through bowling. Hopefully, your friendship is more solid than theirs, but there are some really good excuses for best buds to wear The Big Lebowski costumes. They are very comfortable because you can get away with wearing cardigans, bathrobes, button-down shirts and cargo shorts as costumes, and you get to have some of the silliest conversations in cinema. (Not to mention having an excuse for The Dude to down White Russians.) Just make sure that Walter doesn't take the Pomeranian bowling again!
The Incredibles Costumes
Okay, so maybe you're not using going bowling as a cover to perform superhero duties with your best friend, but the two of you are just as inseparable as Frozone and Mr. Incredible. Perfect for Halloween or even a pop culture con, everyone's going to want to hear some of your favorite lines from the movie while you're geared up in your Incredibles costumes!
Karate Kid and Cobra Kai Costumes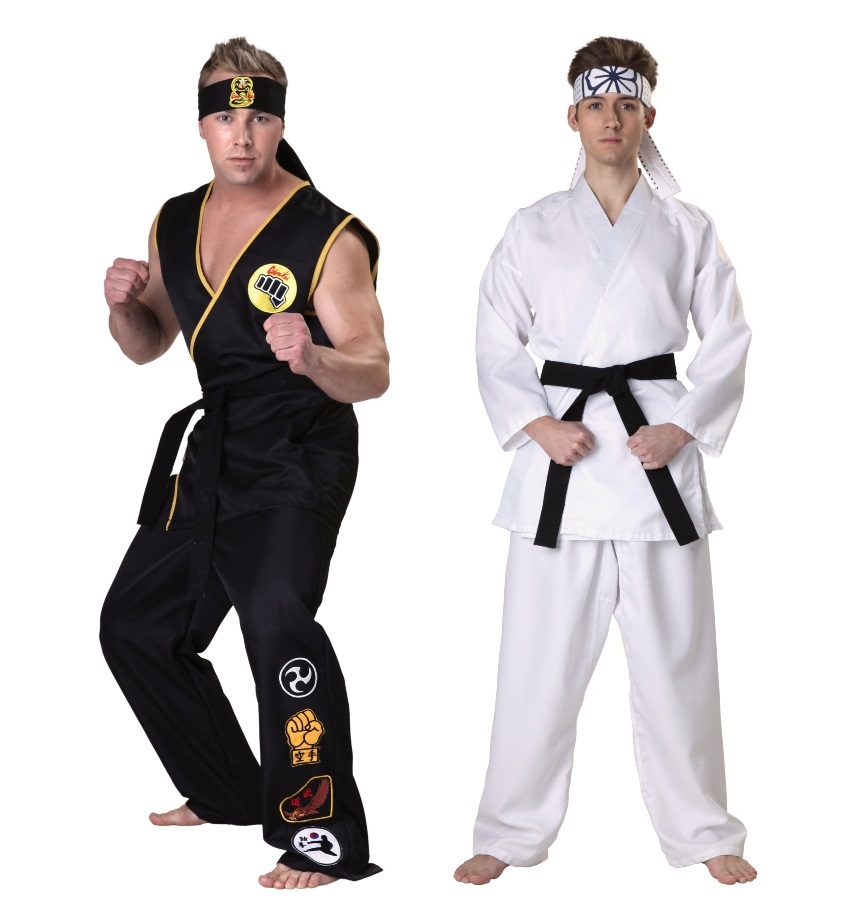 If you're looking for a "friendly rivalry" theme, consider Cobra Kai and The Karate Kid. You can recreate the "sweep the leg" and "crane kick" scenes—but remember, safety first!—and the Halloween dance. Or even Halloween itself! That's right, The Karate Kid and Cobra Kai Halloween costumes are perfect for trick-or-treating with your best friend!
Jay and Silent Bob Costumes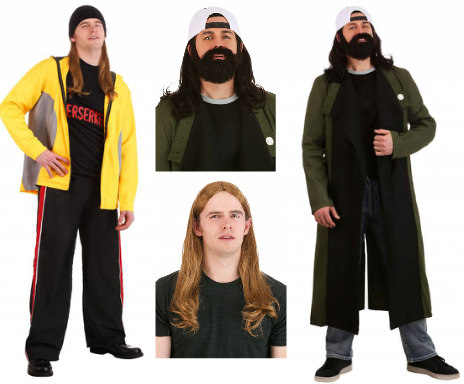 If you and your bud are men of culture, then these Jay and Silent Bob costumes are the perfect way to live out your Halloween bromance. That's right, Jay and Silent Bob are in the hizzouse! Recreate your favorite scenes between the foul-mouthed Jay and mostly-Silent Bob or just, you know, hang outside the Quick Stop all day.
Freddy vs. Jason Costumes
No, horror fans, we didn't forget about Freddy and Jason! After so many Nightmare on Elm Street and Friday the 13th movies, it was high time that things would come to a head, and they did so in a glorious, cheesy fashion. Freddy and Jason clearly aren't best buds, but that doesn't mean that you and your friend can't wear these horror movie costumes for Halloween.
Scooby-Doo Costumes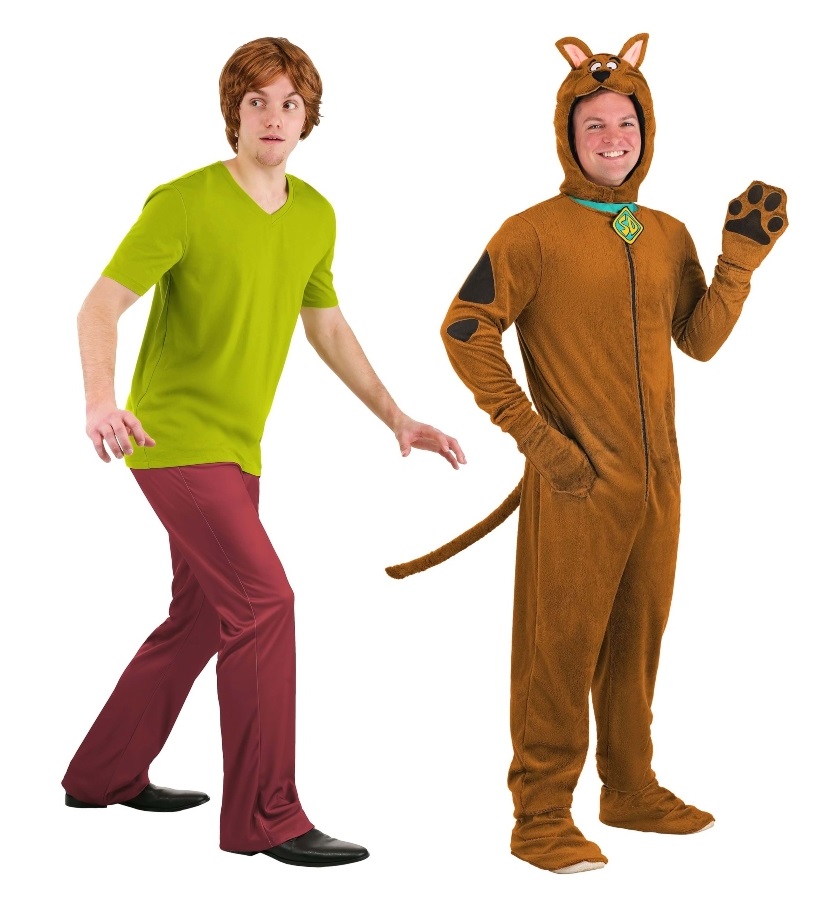 Ruh-roh, Raggy!!! Have we got the perfect nostalgic best bud costume idea for you! Scooby-Doo and Shaggy are notorious for getting into trouble while solving mysteries. If you and your bud love solving mysteries and are afraid of monsters, then "zoinks!" these Scooby-Doo costumes were meant for you two. And yes, we know we said afraid because face it, those two are scaredy cats!
Flintstones Costumes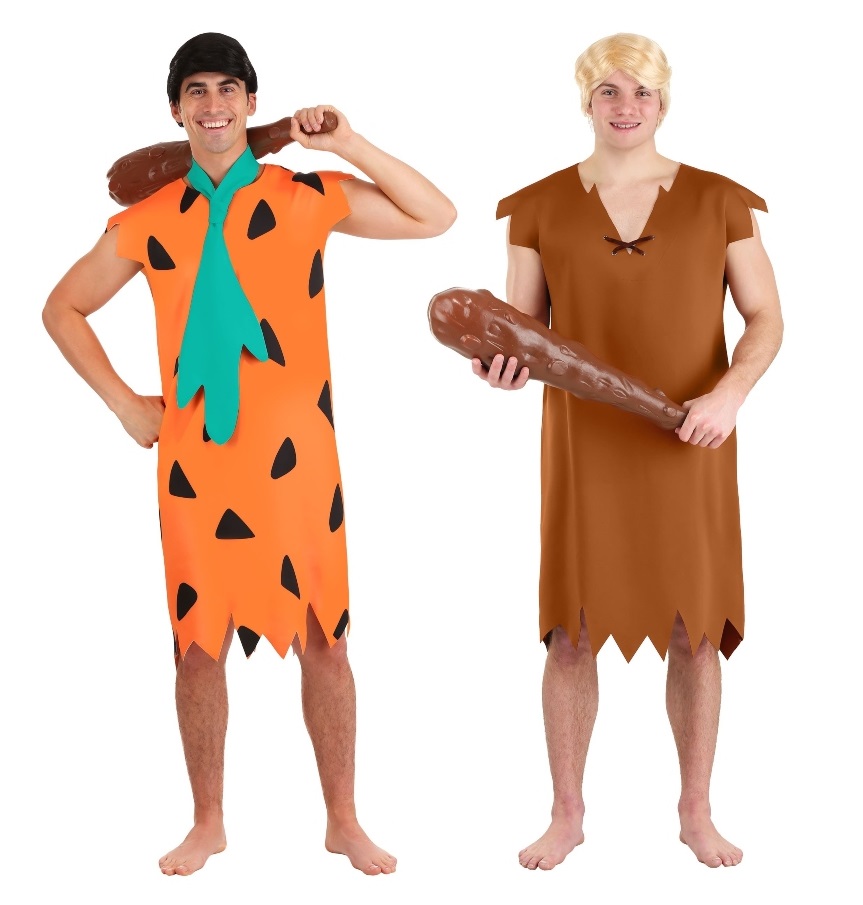 Head back to the stone ages as Fred and Barney with these guys' Flintstones costumes. There really doesn't seem to be too much of a difference. I mean, they bowl and golf and have a dude group, sounds about right nowadays, too. The biggest difference is the car and pedal starting with your feet. But that actually sounds fun and certainly a great way to get a workout in!
Two-Person Camel Costume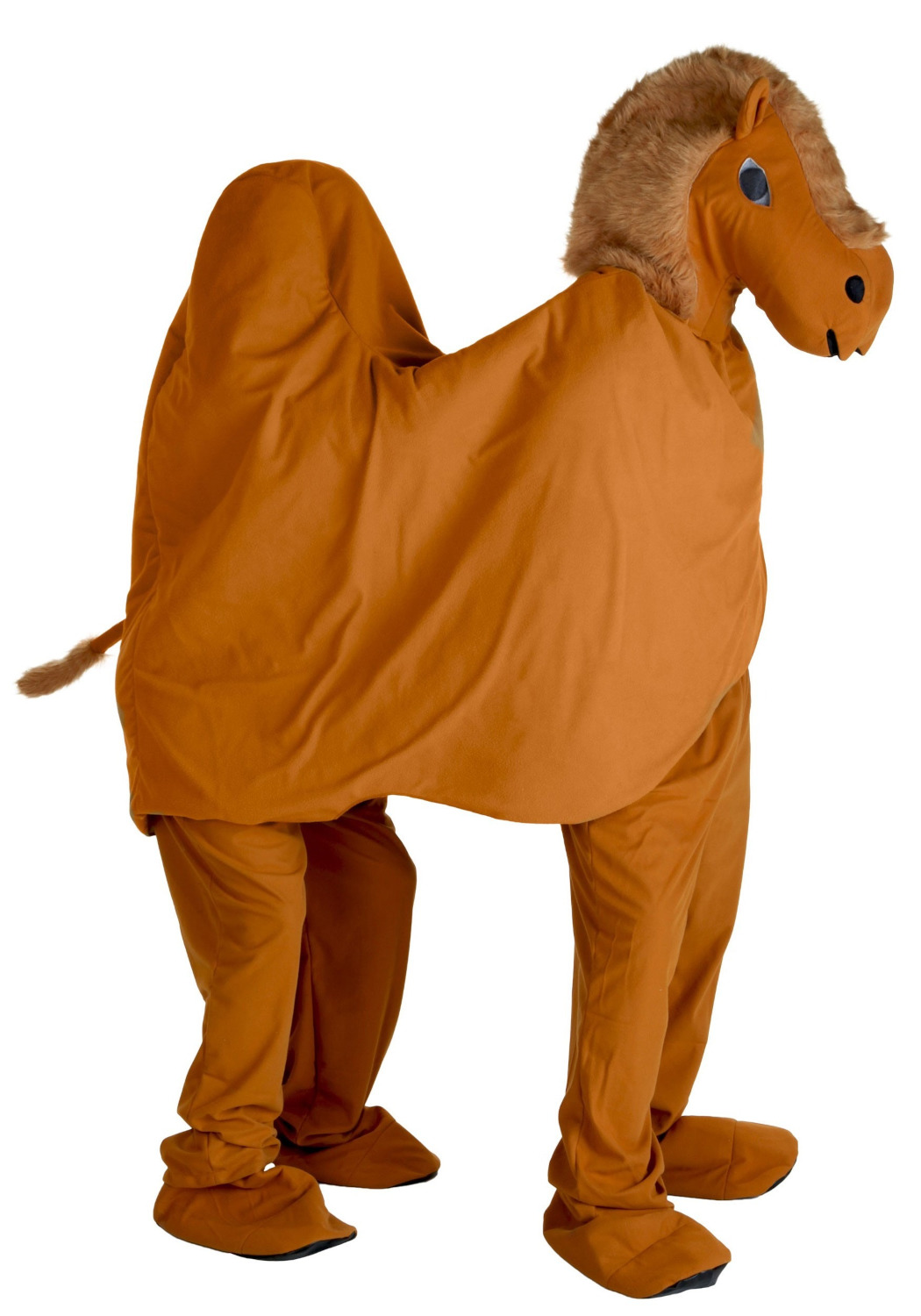 Whether it's Halloween or just another hump day, grab your guy friend and hunker down inside this two-person camel costume. You and your pal will achieve party animal status because who wouldn't want to celebrate with one of these awesome desert dwellers? Although, you'll need to make a very big decision before all the camel-chaos can ensue. Decide which one of you will wear the camel butt. In our opinion, whoever consents to wearing the camel-keister is very lucky because awkward encounters can't spoil your night. Simply crouch down and follow in your friend's footsteps, but make sure your partner in crime agrees to pass you drinks sneakily. After all, camels need to stay hydrated, right?
Breaking Bad Costumes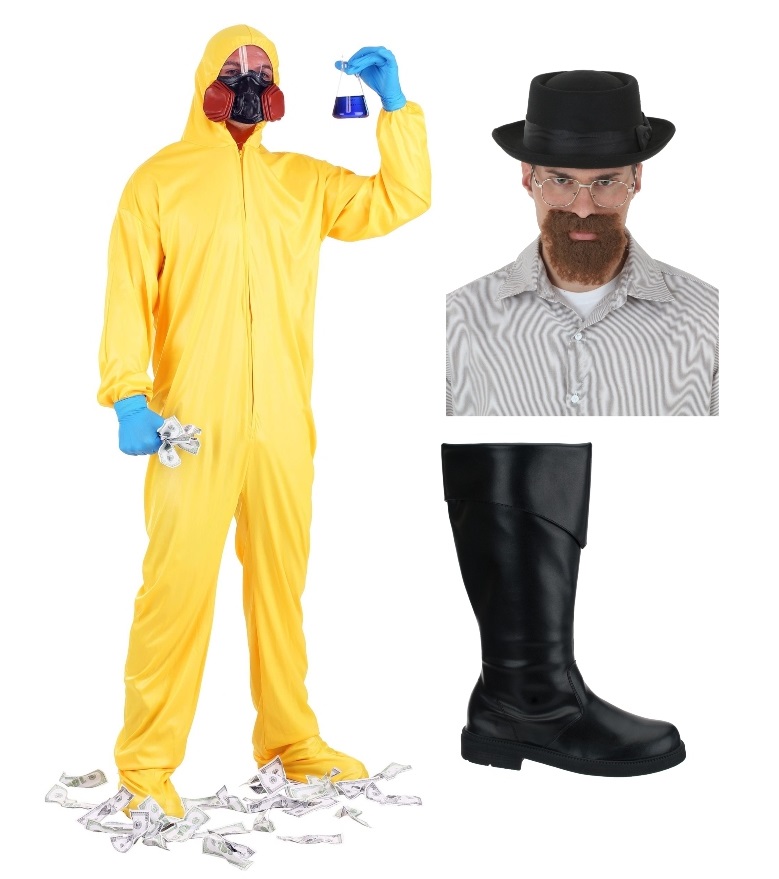 Breaking Bad was one of the most popular shows on television in the last decade. Perhaps it was the crime, living life on the edge, or maybe even the unlikely duo of Walter White and Jesse Pinkman. This show was a hit, albeit a bit of a late bloomer—nevertheless, it was an intriguing drama that fans won't soon forget. Don't forget to accessorize your Breaking Bad costumes with your favorite blue rock candy!
Blues Brothers Costumes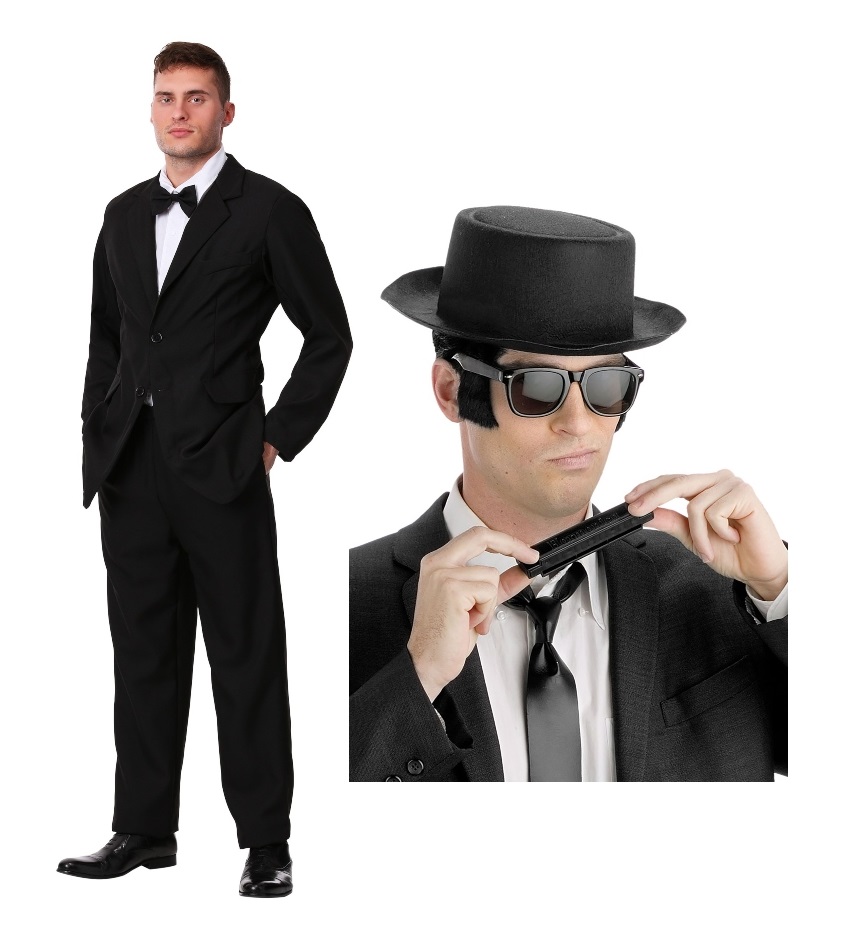 A mission from God? Why not? "Joliet" Jake and Elwood Blues brought the world an assortment of great musicians together for a divine mission in the movie, The Blues Brothers. If ruining Illinois Nazi gatherings, playing for drunken country folks and running from the law doesn't create an unbreakable bond, then nothing will!
SpongeBob SquarePants Costumes
Although SpongeBob Squarepants airs on Nickelodeon and was intended for kids, many adults are still fans of Bikini Bottom! SpongeBob Squarepants and his best friend Patrick Star team up to give Nickelodeon the highest rating the network has ever seen. Even if you don't live in a pineapple under the sea, you and your friend can still wear these pair costumes for Halloween!
Austin Powers Costumes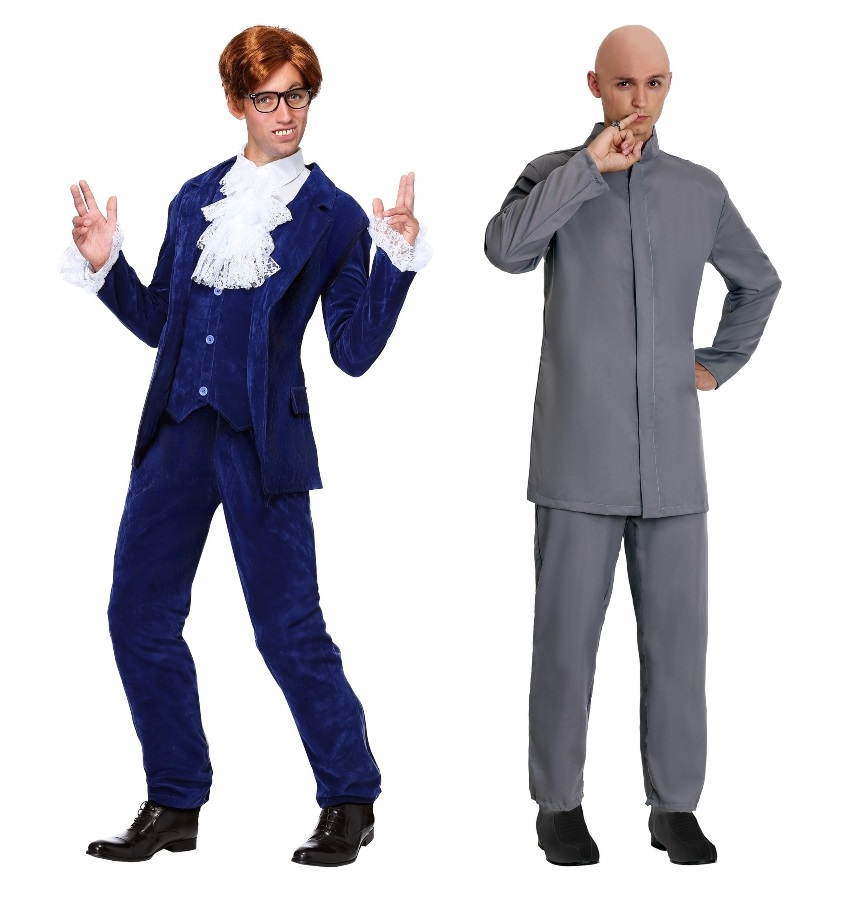 Yeah, baby! Comedy movies are filled to the brim with excellent costume ideas for guys. Rather than trying to pull off an obscure pun or wearing other tasteless funny costumes—you know which ones we're talking about—try out these Austin Powers costumes! Maybe leave the sharks with laser beams attached to their heads at home.
Ketchup and Mustard Costumes
There are tons of costume ideas out there for foodie friends, but it's hard to mess with the classic ketchup and mustard duo. This pair of condiments is sure to be spotted everywhere, from homes and restaurants to tailgating parties and camping outings. There are tons of other great food costume combinations should you be in the market for something else, but these unisex tunics won't fail you.
Grinch Costumes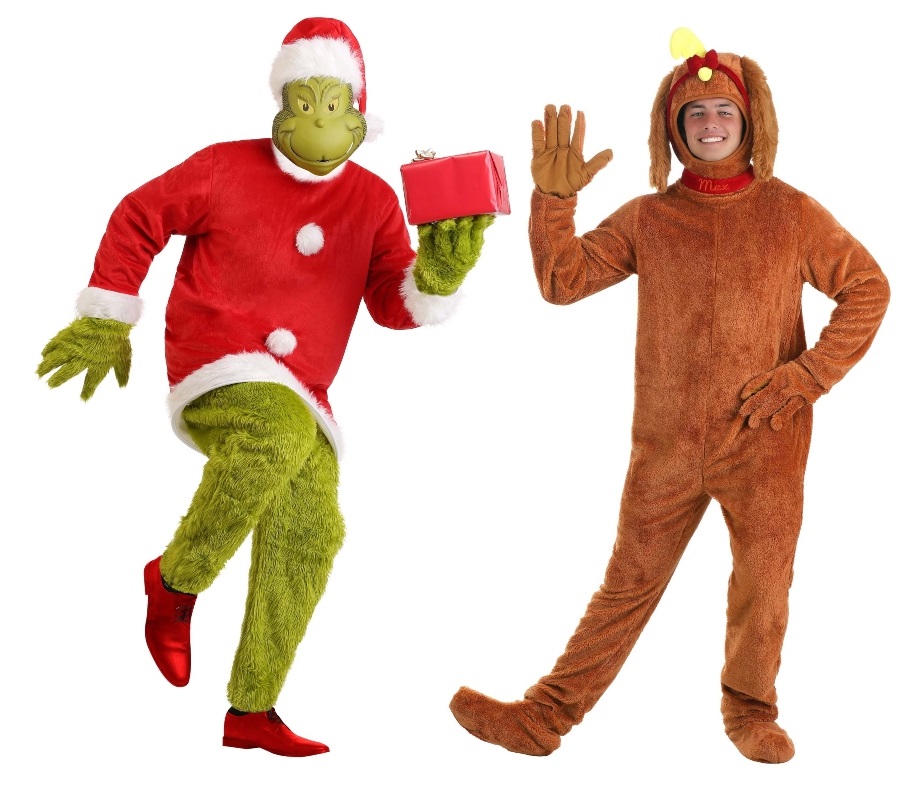 Do you and your best bud participate in holiday hijinks together? A great idea if you want to wear your costumes more than once, be The Grinch and Max for Halloween, and haul it out again for Christmas! These How the Grinch Stole Christmas costumes are perfect for multiple wears, especially if the weather's going to be on the chilly side. You might be a grinch, but everyone will be filled with holiday cheer!
Emoji Costumes
If you're a couple of guys looking for easy costumes to wear so you don't look like party poopers on Halloween, maybe a pair of emoji costumes is just what you need! Fun and silly, these tunic costumes are simple to take on and off, and they won't change how you like to party. (Aren't costumes with zippers on the back some of the most difficult to wear?) Get ready to LOL this Halloween! ;)
Robin Hood Costumes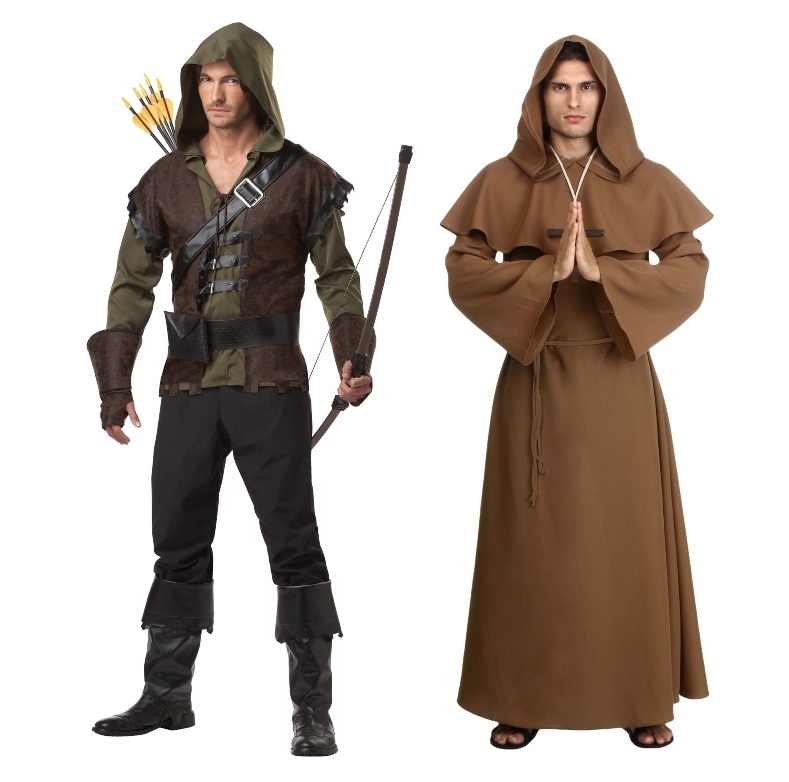 Movie fans and guys who love classic literature will have a blast as Robin Hood and Friar Tuck. These men's character costumes are featured in dozens of movies and TV series, so you're sure to be instantly recognized. Make sure to accessorize your Robin Hood costume with a prop bow and arrow set and a cross necklace for Friar Tuck, and you're ready to take on the Sheriff of Nottingham in no time!
Sesame Street Costumes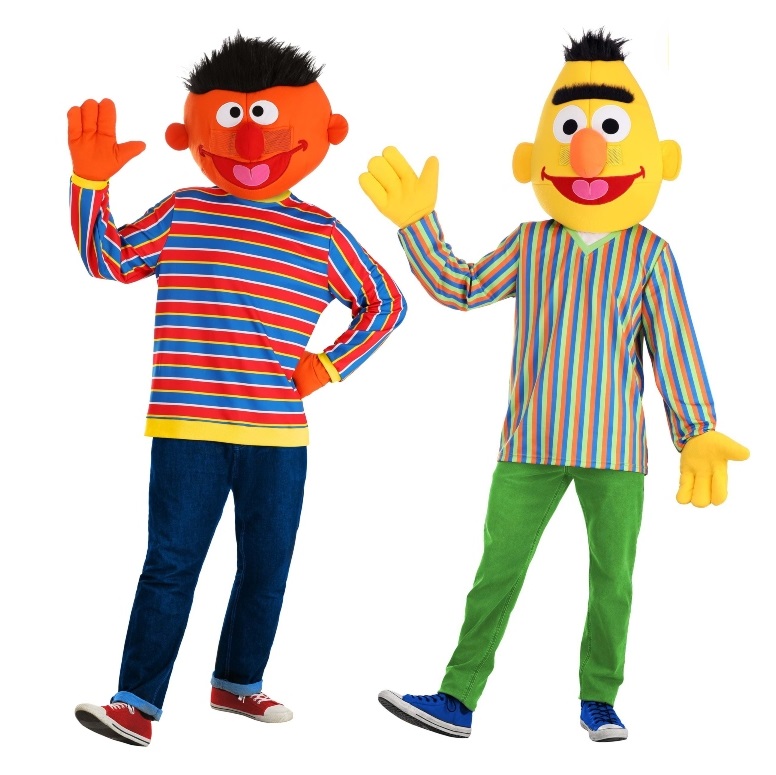 Name a Sesame Street duo more iconic than Bert and Ernie...we'll wait. These two characters have been memed to the moon and back with their silly antics, and if you find that your friendship is a lot like theirs, Bert and Ernie costumes would be perfect for you! Just remember that, if you plan to be in public with kids around, they may stop you to ask for pictures of their favorite TV characters.
Cryptid Costumes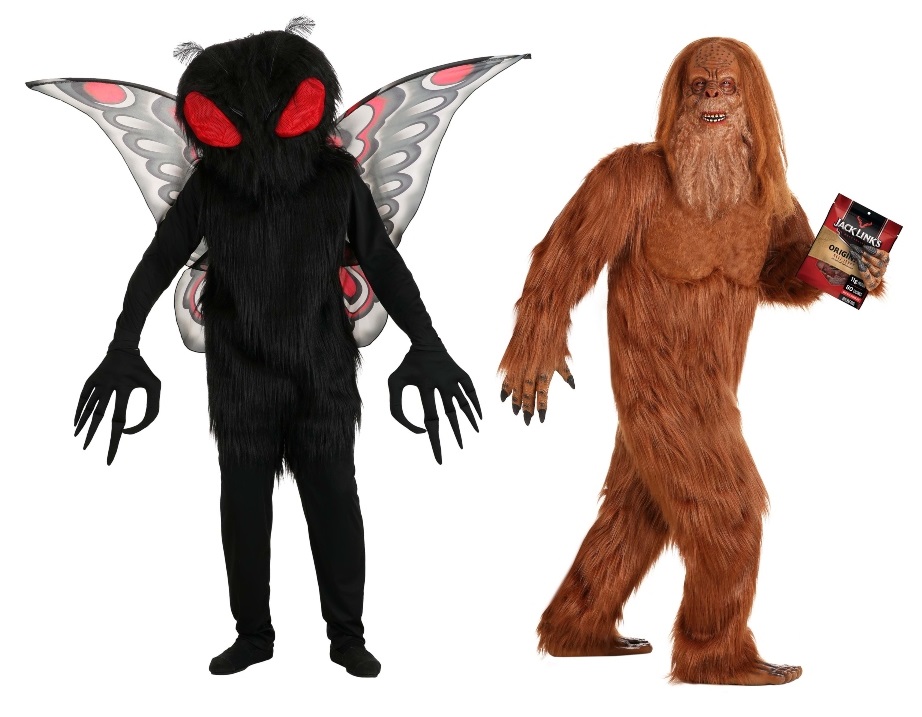 Is your idea of fun waiting in the woods to catch a glimpse of your favorite cryptid creatures? Do you go bigfoot hunting with your friends? If this sounds like a good time for you, you might have fun on Halloween in a pair of cryptid costumes. While Bigfoot is the most iconic of the bunch, there are sure to be some mothman fans out an about on a spooky Halloween night. Happy haunting!
We hope you enjoyed checking out our best duo costumes for guys! If you were hoping to find BFF costumes for ladies, we got those for you too! Whether you're looking to gather at a house party or hit the bars, you first need to buy a pair of best friend costumes. Have you ever dressed up with your bestie? What is your favorite fictional pair of friends? Feel free to let us know in the comment section below!