Stormtrooper Authentic Costume
Product Includes:
Jumpsuit

2 Gloves

Chestpiece/Codpiece

Back piece/ Seat piece

Helmet

2 Shoulder Pieces

2 Arm Pieces

2 Thigh Pieces

2 Shin Pieces

** Note that measurements pertain to stretch jumpsuit.
Product Measurements:
Measured In: Inches

|

Centimeters
Size
Chest
Waist
Inseam
Jumpsuit Length
Torso
Standard
45"
39"
29"
65"
36"
X-Large
53"
49"
30"
68"
40"
Size
Chest
Waist
Inseam
Jumpsuit Length
Torso
Standard
114cm
99cm
74cm
165cm
91cm
X-Large
135cm
124cm
76cm
173cm
102cm
How to take your measurements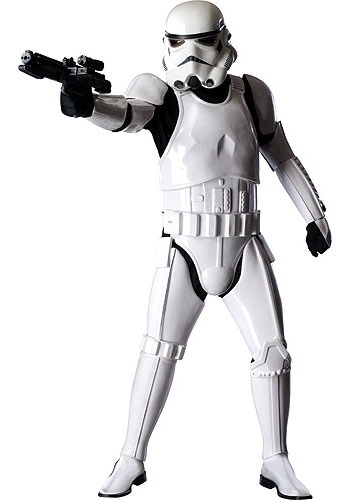 Product Description
When you enlist in the Galactic Empire's Stormtroopers, not only do you get a sweet suit of armor, but you'll also get to travel to exotic locations like the Second Moon of Endor, Hoth and Tatooine. You'll get to use a blaster and feel like a big shot and you might even get to take on important missions for the Empire, like guarding the newest secret space station. The only real risk is that you might become blaster fodder for the Rebel Alliance and the armor that is provided seems to have a slight weakness against rocks and boulders. But hey, no risk, no reward, right? At least the armor makes you look cool while you're getting totally owned by Ewoks.
ATTENTION CUSTOMERS: This product cannot be shipped in its original box to Australia, Canada, Great Britain, Guadeloupe, Israel, Mexico, New Zealand, Russia, Singapore, Italy, Lithuania, Slovenia, South Africa, Taiwan, Thailand or Ukraine.
100% polyester jumpsuit, 100% EVA armor pieces
Officially licensed
Black jumpsuit
Black fabric gloves
Molded chest piece w/ attached codpiece and belt
Molded pair of shin guards
Molded pair of thigh guards w/ padding on interior
Molded arm guards w/ matching gauntlets
Molded shoulder guards attach with Velcro
Molded collector's edition helmet w/ 26" circumference
Foam padding inside helmet for comfort
Full-color instruction set included for wearing
Attention CustomerThis product's dimensions limit the countries that we can ship to. This product cannot be shipped to Albania, Algeria, Angola, Anguilla, Argentina, Armenia, Bahamas, Bahrain, Bangladesh, Barbados, Belarus, Belize, Bermuda, Bhutan, Bolivia, Plurinational State Of, Brunei Darussalam, Chile, India, New Caledonia, Pakistan, Philippines, Samoa or Vanuatu.
Product Reviews For:Stormtrooper Authentic Costume1 Review
Worth the Wait!!!
The first time I saw Star Wars on On TV in the early 80's I sat there wishing I could be an imperial Storm trooper. My dream came true! It was amazing!

This is a VERY well constructed costume. There are a few design flaws, but the costume was for show and not function. I had the jumpsuit modified to have a front zipper. The helmet was/is/and forever will be perfect. It has a small piece inside to show authenticity. It is a molded plaster, so it feels substantial when compared to other costume helmets i have worn.

the price is a bit much as a premium, but this is by far the best costume I have purchased from this site in.
Fit Finder
For additional help: