Full Moon Werewolf Costume
Product Includes:
Shirt w/attached fur

Motion mask (mouth and lips move when yours do)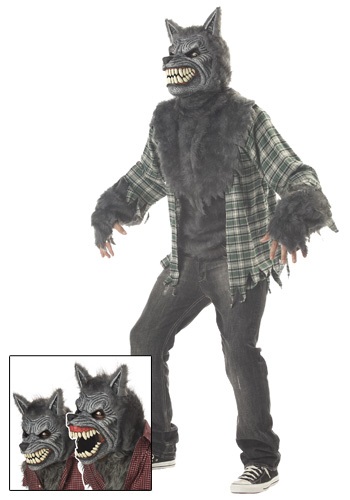 Product Description
Howl at the moon all night long in this full moon werewolf costume! Wear it with your own worn-out jeans and sneakers, and practice your scary howl. Bring the full-moon legend to life in this great costume!
100% polyester interlock knit and faux fur
Pullover shirt has white, black and green plaid print interlock back, upper sleeves and loose front panels
Shirt front and lower sleeves are gray faux fur
Sleeves extend to cover back of hands, with elastic band around palm
Shoulders are padded to give bulky appearance
Mask has faux fur hood covering top, back & sides of head
Mask face has molded foam rubber exterior and plastic interior, eye slits for vision
Foam blocks are included to customize fit, allowing mask jaw to move with your own
Mask held in place by interior Velcro strap
Product Reviews For:Full Moon Werewolf Costume1 Review
Fit Finder
For additional help: