Thing 1 & Thing 2 Costumes Ideas
We all have that cozy storytime memory. You know, your first memory of getting fully engrossed in a book. Perhaps it was at bedtime and your parents scooted into your room with a book in their hands. Maybe it was in kindergarten and your favorite teacher brought in her favorite book to read to the class. It could even be a memory of reading each playful page to your own little ones! The chances are quite high that the story being read in all of those memories was written by the one and only Theodor Seuss "Ted" Geisel. You might know him as Dr. Seuss!
Of course, there's a lot of argument over which Dr. Seuss book is the best! Horton Hears a Who!, How the Grinch Stole Christmas, and The Lorax are all top contenders. But, we think that it's pretty hard to argue against The Cat in the Hat being the best of the bunch. With such a wonderful cast of characters, a whimsical way with words, and colorful illustrations, the book is both fun to read and gorgeous to look at! The Cat, himself, is quite the character, but we've always had a place in our hearts for the mischievous duo known as Thing 1 and Thing 2. The wacky, blue-haired critters tumble and joke like clowns and leave a massive mess in their wake. Something about them appeals to the child in all of us, even as adults! That's why we think dressing up as one of the Dr. Seuss characters is a fun option for readers of all ages.
If you're thinking about wearing a Thing 1 and Thing 2 costume, then you might be wondering how to go about it. Do you want a full-on suit, a pajama-style outfit, or maybe something that's just a little more casual that you can wear around the house during the day! Well, the great news is that this handy Thing 1 and Thing 2 guide will help you figure which outfit is right for you or your young Dr. Seuss fan. Let's get started with some of our favorite costume ideas!
So then, why would you want to be just like the silly duo from The Cat in the Hat? There are many different reasons to dress up as Thing 1 and Thing 2. You might want to head to Halloween as the mischievous pair, or perhaps you want to wear something a little special for Read Across America. Or maybe, you want to share the characters with your kids as you read their favorite story to them just before bedtime! You could even just head out to the grocery store for a little bit of shopping in a silly new way. Each different reason really warrants a different style of costume. Here, we'll take an in-depth look at some options that you can wear, depending on what sort of fan you are or what sort of event you're attending. Let's start with something for adult Dr. Seuss readers who still feel young at heart! These Thing 1 and Thing 2 costumes will definitely have you indulging in some of your childlike wonder.
You're never really too old to fall in love with the magic of Dr. Seuss. The wordplay in them is something that anyone age 1 to 100 can find themselves enamored with. That's why it's pretty common for adults to dress up as characters from the storybooks, whether for a costume party or a cute way to craft a couple's costume for Halloween. Thing 1 and Thing 2 adult costumes are an especially fantastic idea if you're an adult with a bit of a mischievous side. The outfit itself is pretty simple, since the Things wear only a red jumpsuit that looks a little like pajamas. That makes dressing up like them a breeze! These versions of their costumes make it even easier. It's the only thing you need if you want to suit up. Just remember that if you decide to make a big mess, The Cat in the Hat probably won't help you clean it all up before mom gets home!
Thing 1 and Thing 2 Toddler Costumes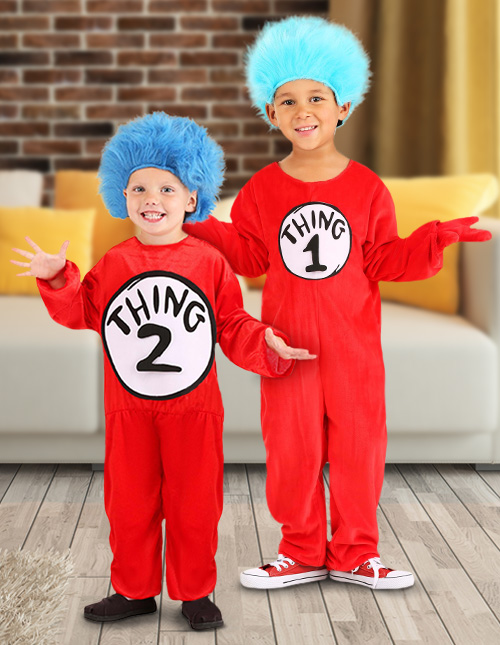 Of course, there are no bigger fans of Dr. Seuss than kids! Just ask any child what their favorite book is and they might rattle off some Dr. Seuss classics. Their pure little hearts just can't get enough of the playful style of Dr. Seuss! For many children, Dr. Seuss is their first experience with books. It's their first taste of reading and can often ignite a passion for stories throughout the rest of their lives. And no character appeals to kids quite like Thing 1 and Thing 2! The little red scamps love getting into trouble and finding new ways to have fun, which is precisely how most toddlers behave. That means your child probably already has a great sense of how to act like a Thing, so all they really need is a cute and cozy costume. Our Thing 1 and Thing 2 toddler costumes are a great way to outfit your toddler!
Thing 1 and Thing 2 Halloween Costumes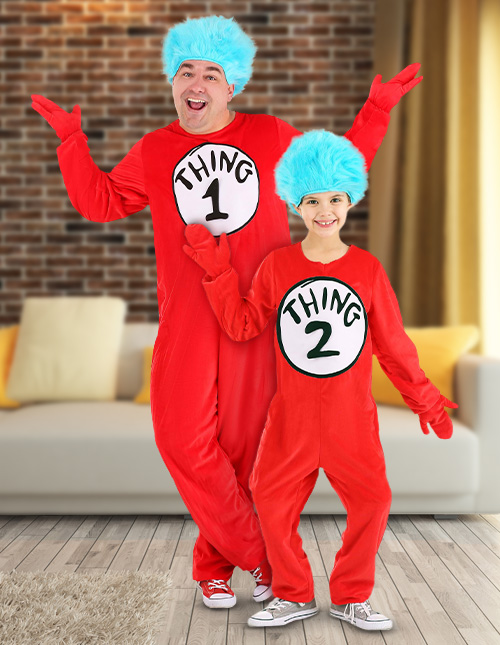 We happen to think that Halloween is the best holiday of them all! Okay, okay, maybe we're a little biased on that, but it really is a magical time of the year that puts up a pretty strong competition with Christmas. Halloween really allows everyone to indulge in their better natures by dressing up as characters they see in themselves. It also lets them follow their wildest imagination to become superheroes, ninjas, or even their favorite storybook character! Thing 1 and Thing 2 Halloween costumes are quite popular among children who love storytime, but they're also a really great family group costume. The Cat in the Hat has many great characters to choose from, so if you want to gear up the whole family, then these adorable costumes are definitely the place to start.
Thing 1 and Thing 2 Apparel and Accessories
Many people like to go all-out when it comes to dressing up as their favorite characters. They'll suit up in full gear from head to toe and wear a jumpsuit. But that's just not for everyone. In fact, we happen to think that sometimes, it's just more fun to piece together your own costume. That's especially true if you have some items in your wardrobe that will work perfectly! If you already have some red pajamas, for example, then maybe you don't want to invest in a full costume. Or perhaps you're the crafty type who wants to make many of their own pieces from scratch. We think that's awesome, and we carry a few Thing 1 and Thing apparel and accessory items to help you make the most out of your own costume-making skills. We'll show you some of our favorite ones to help you get your own creative juices flowing!
Thing 1 and Thing 2 Hats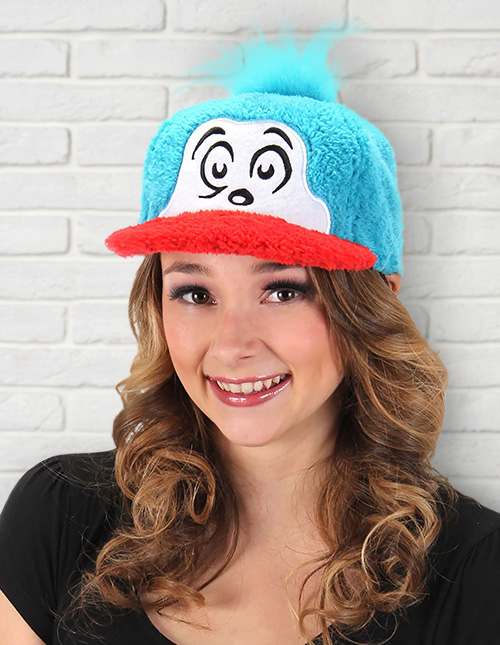 Let's talk hats. It happens to be one of our favorite subjects, and we carry a pretty bonkers selection of costume hats. Everyone knows that hats are the best. You know it. We know it. The Cat in the Hat knows it. Hats can solve a bad hair day in an instant. You can wear a hat to support your favorite sports teams, and you can even wear a hat to top off your casual outfit. You can wear a top hat at a fancy soiree or you can just wear one to be a little wacky every day! Why, you can even wear one to transform into one of the Things with our cozy Thing 1 and Thing 2 hats! With a tuft of light blue on top, it's the easiest way to become some Thing!
Thing 1 and Thing 2 Socks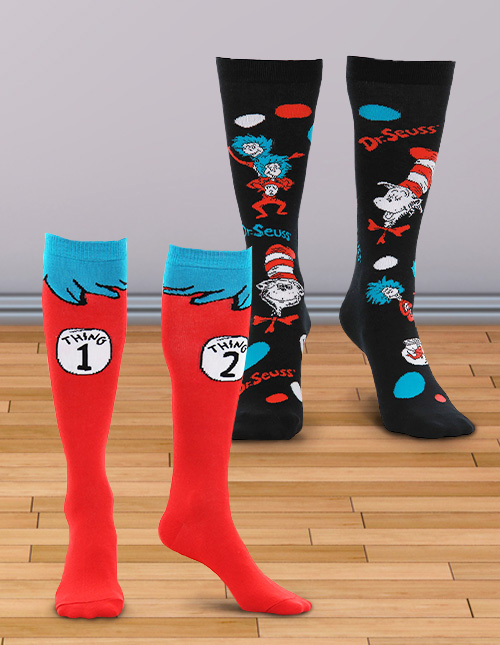 It's pretty hard to top a good hat, but we know one thing that's near as delightful as a good hat, and that happens to be a fresh pair of cozy socks. Can you imagine a brisk day without a pair of comfy stockings to protect your tootsies? We can't. Socks really help keep your feet feeling warm no matter what. In the book, Thing 1 and Thing 2 wear onesies, which are basically just an extended pair of socks that fit over your entire body. If you're not into that, then we suggest starting your Thing transformation with a pair of Thing 1 and Thing 2 socks. Not only are they a great way to cosplay as the goofy characters, but you can also just add them to your regular rotation of daily socks to wear!
Thing 1 and Thing 2 Wigs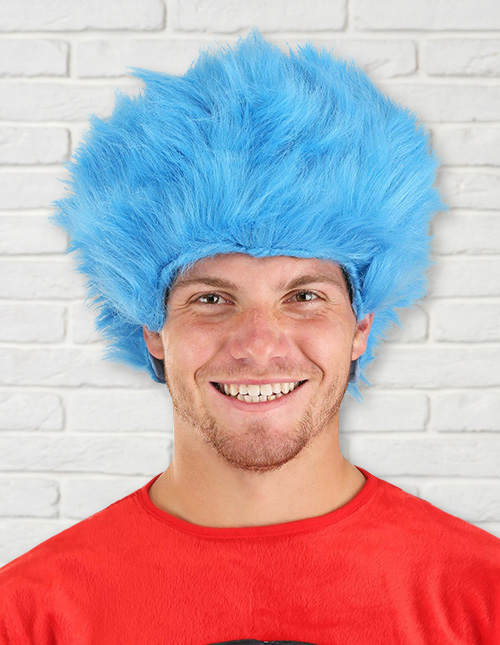 Tired of your very non-blue hair? It's something that used to keep us awake at night on the regular. But the good news is that it's a pretty easy fix! Thing 1 and Thing 2 definitely have a colorful hairstyle and we totally dig it. If you want to look like them, you're going to want to transform your own hair. One way of doing that is to head to the hairdresser for a cut and a dye, but if you're looking for something a little safer and a little less permanent, then all you need is one of our Thing 1 and Thing 2 wigs. They're easy to use and you don't have to change up your everyday hair to get the job done! Make sure to get two if you plan on dressing up in a couples costume!
Thing 1 and Thing 2 Patches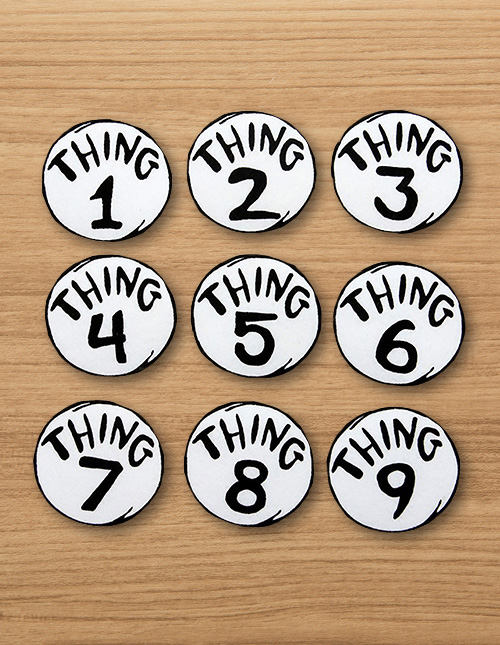 Finally, if you want Thing 1 and Thing 2 costumes made easy, then a patch is your best choice! The "1" and "2" patches on their chest are perhaps the most unique identifying feature of their outfit. Creating a casual Thing look is pretty easy with just a few simple pieces of apparel from your own wardrobe. Got a flashy red t-shirt in your closet that you love? Maybe you have a bright red sweater that would make for the perfect Thing top! All you have to do is add one of these patch kits to your own clothes to become Thing 1 or Thing 2 in the real world. Maybe you could even cause a ruckus before mom gets home. Just make sure you have a plan to clean up the place, because you might not have The Cat in the Hat's help this time around.