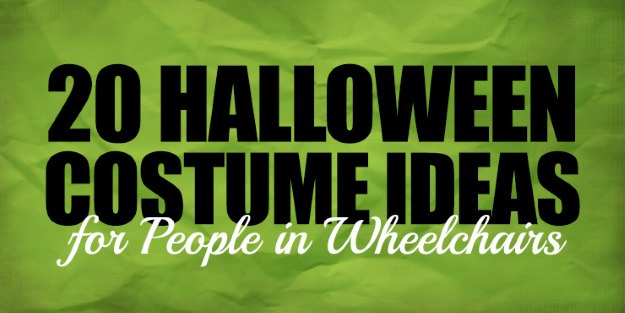 Halloween may have strange and mysterious origins, but it has evolved into a fun night where people can dress up and express themselves however they see fit. It's a holiday of celebration and fun, and it shouldn't be limited to any sex, race, or ability. Those with disabilities that limit movement and require them to use a wheelchair are sometimes forgotten around Halloween season by retailers selling costumes, so many parents have to create their own wheelchair-friendly costumes from scratch. This collaborative process, though, can lead to some tremendously creative finished looks! We've compliled a big list of 20 such looks. Here are 20 of the best and coolest wheelchair-friendly Halloween costumes we have come across on the web. No matter your level of mobility, we are sure you will be inspired by these amazing and creative wheelchair costumes!
1. Queen of Thorns Costume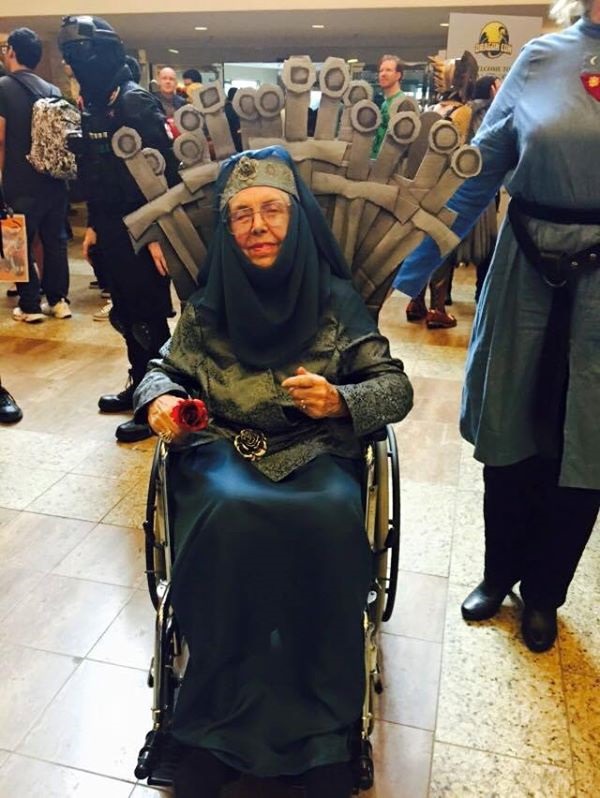 [source]
This beautiful octogenarian graced a recent convention decked out as Lady Olenna Tyrell, aka the Queen of Thorns from the Song of Ice and Fire novels and the Game of Thrones HBO show. A powerful and witty great-grandmother and leader of the Tyrell family, the Queen of Thorns is one silver-tongued elderly woman you don't want to mess with. This wheelchair assisted costume fits the character perfectly and also allows for some fun with the chair as a mock-throne.
2. Disc Jockey Costume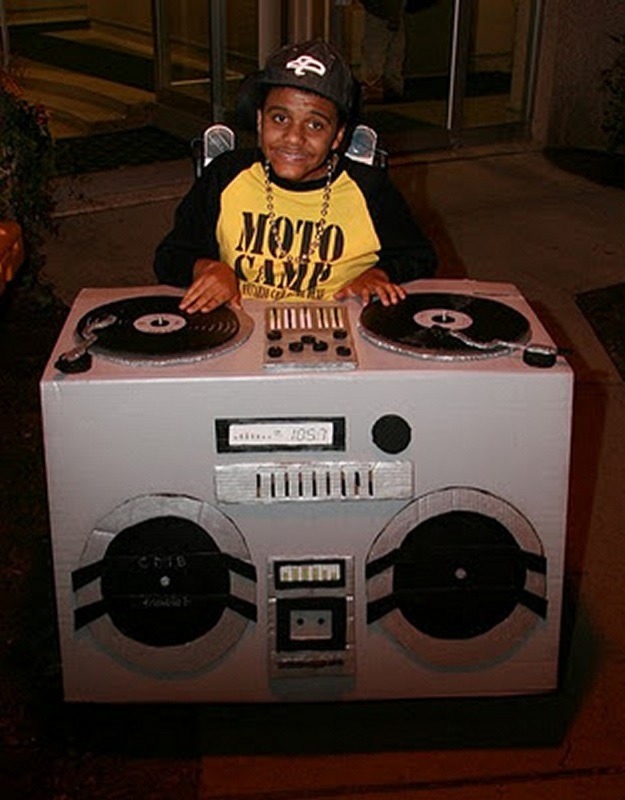 [source]
Some of the most clever costumes are the ones that almost entirely hide the wheelchair. This disc jockey costume is a great example of that. A detailed, 80s inspired DJ desk is used as a prop to cover the seat of the wheelchair, leaving arms free to scratch the decks. This kid even knocked his costume further out of the park with the gold chain.
3. Wrestler Costume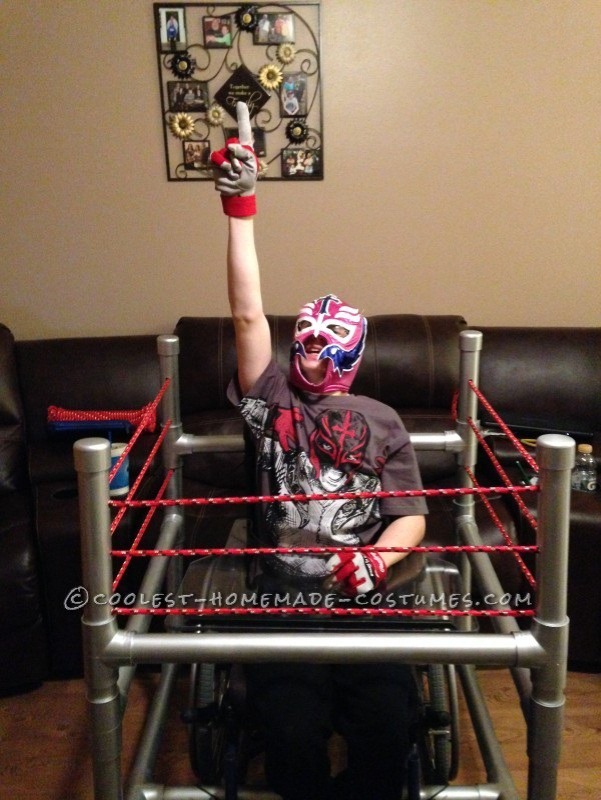 [source]
There is no reason why you can't bring the wrestling ring (and the wrestler) to you. This clever wheelchair costume puts you in the center of the ring as your favorite wrestler. In this case, it's Rey Mysterio, the legendary lucha libre professional wrestler. Anybody can feel like the center of the action with this body-slammin' professional wrestler costume. Our exclusive Nacho Libre costume would be a great start towards creating this look for yourself.
4. Shark Attack Costume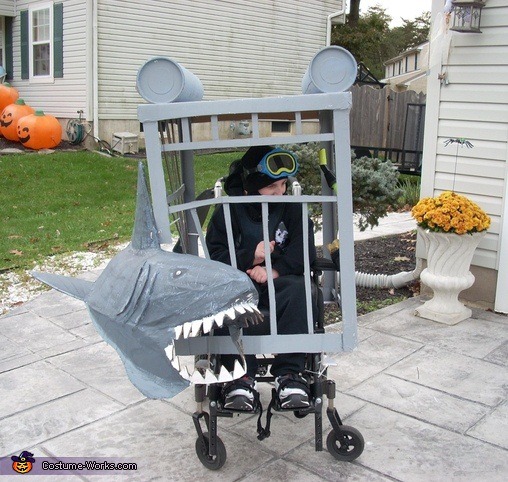 [source]
The fearsome ocean predator is no match for this clever cardboard and paper cage costume. A great two-in-one wheelchair costume, this shark attack costume is a definite hit at any party or neighborhood. The costumer plays the diver, complete with faux-wet suit and goggles, that is getting an up close and personal view of a Great White.
5. Mario Kart Costume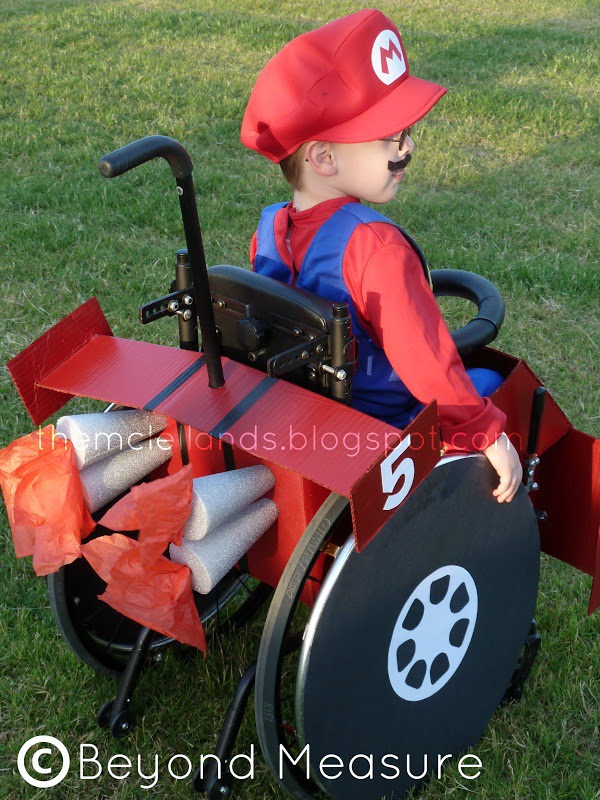 [source]
Turn your wheelchair into a vehicle from the hit Nintendo video game series with this adorable Mario Kart costume. Complete with exhaust flames, giant wheels, and a steering wheel, this Mario Kart wheelchair costume hits all the right notes. Complete the look with a Mario costume and you are on your way to the checkered flag!
6. Darth Vader in a TIE Fighter Costume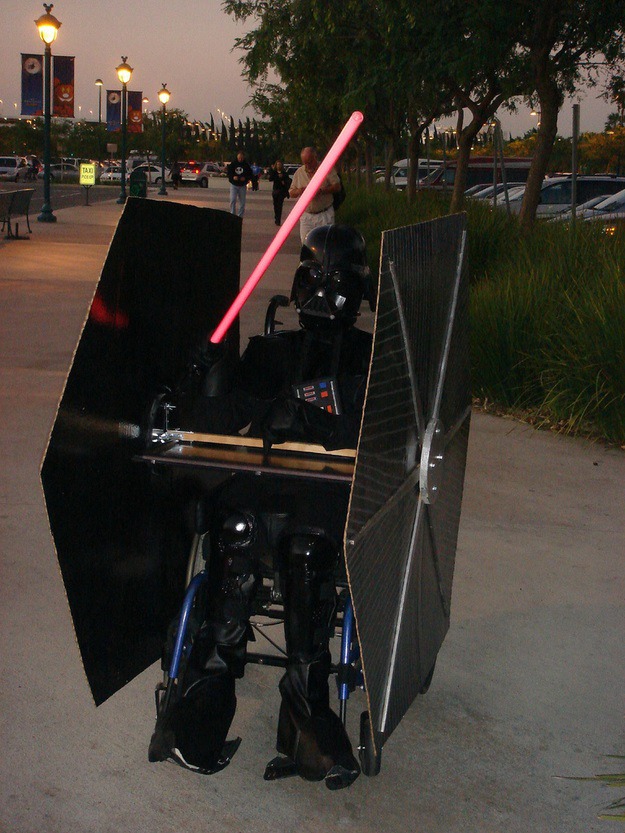 [source]
We are told Darth Vader was a great pilot, but unfortunately we've only seen him take control of a starship once in the original trilogy. This thorough wheelchair costume puts you right in the middle of the TIE cockpit, complete with realistic wings and Vader suit. Relive the Battle of Yavin with this Darth Vader in a TIE fighter wheelchair costume, and maybe, just maybe, you can defeat that pesky Luke Skywalker, and keep him from blowing up the Death Star.
7. Tron Costume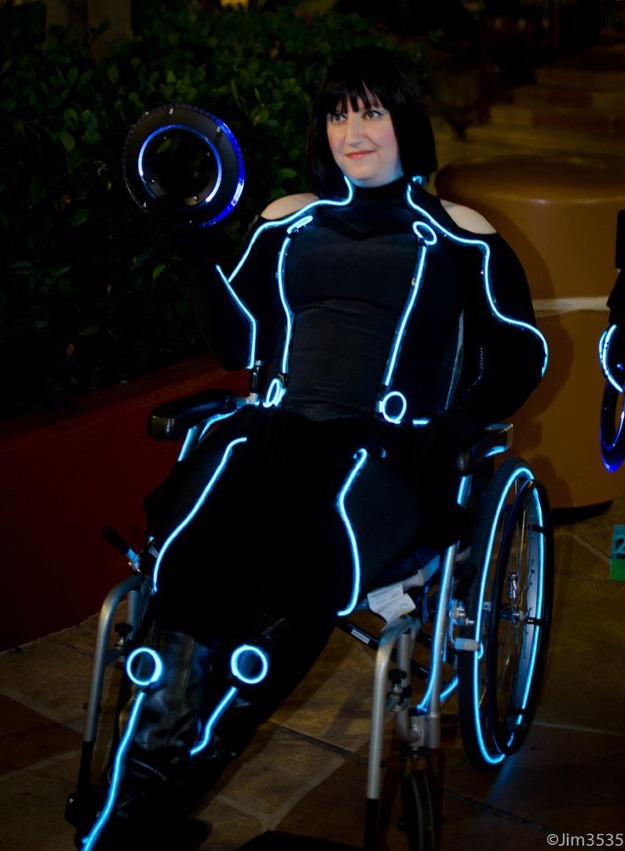 [source]
The neon-lit Tron costume is an instantly recognizable outfit at any party or convention. With sleek LED lights on the all-black suit, you will look truly sci-fi in this Tron wheelchair costume. Personal mobility devices are not out of the question in the science-fiction future, and the wheelchair actually adds more areas to customize with neon lights, making this a great costume for any wheelchair-bound person!
8. Spaceship Costume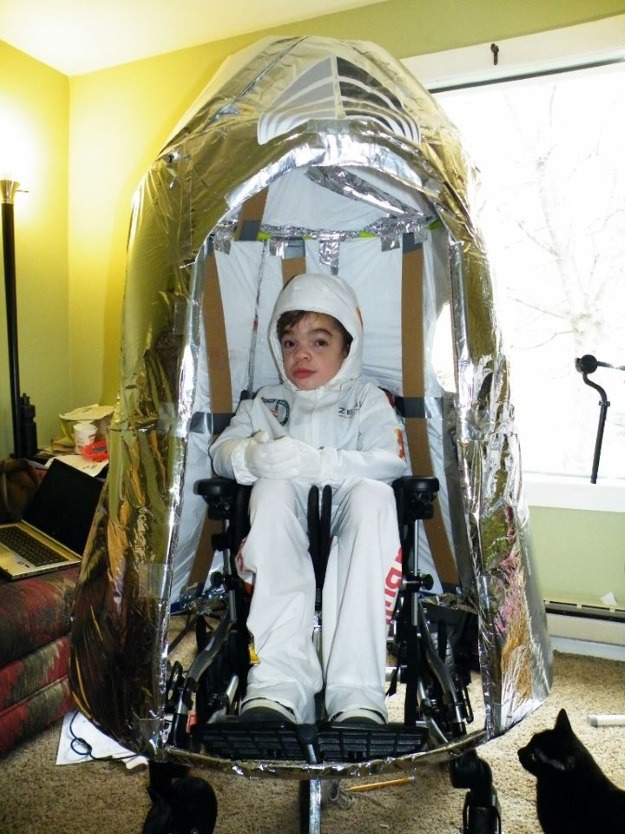 [source]
Launch into the atmosphere of space with this elaborate and beautiful spaceship wheelchair costume. This child's wheelchair was decked out with space shuttle-shaped foil to replicate those used in the Apollo missions. The look is complete with a simple white spacesuit.
9. Alien Costume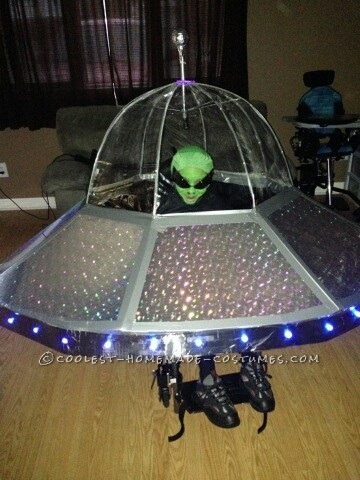 [source]
Go truly out of this world with this alien in UFO wheelchair costume idea. With some cardboard, poster board, LED lights, and a lot of duct tape, you can convert a wheelchair into an unidentified flying object, complete with a little green man inside. Hover around the neighborhood collecting candy and show the Earthlings that you come in peace.
10. Pac-Man Costume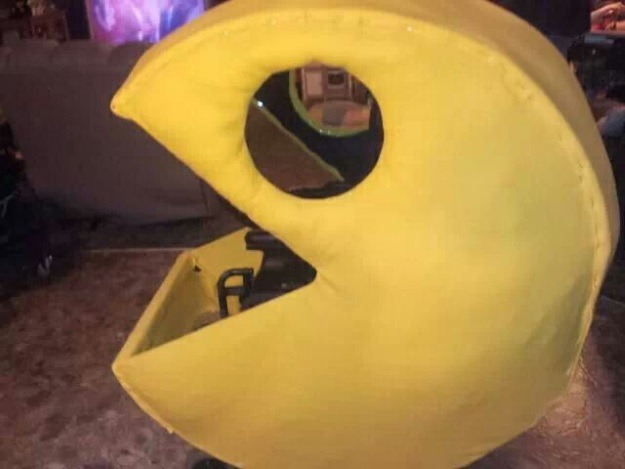 [source]
Gobble up colorful ghosts as the Pac-Man in this adorable wheelchair costume. By itself, it looks cool, but the beauty of this costume really shines when it is smoothly gliding along the ground thanks to the wheels of your personal mobility device.
11. Soul Train Costume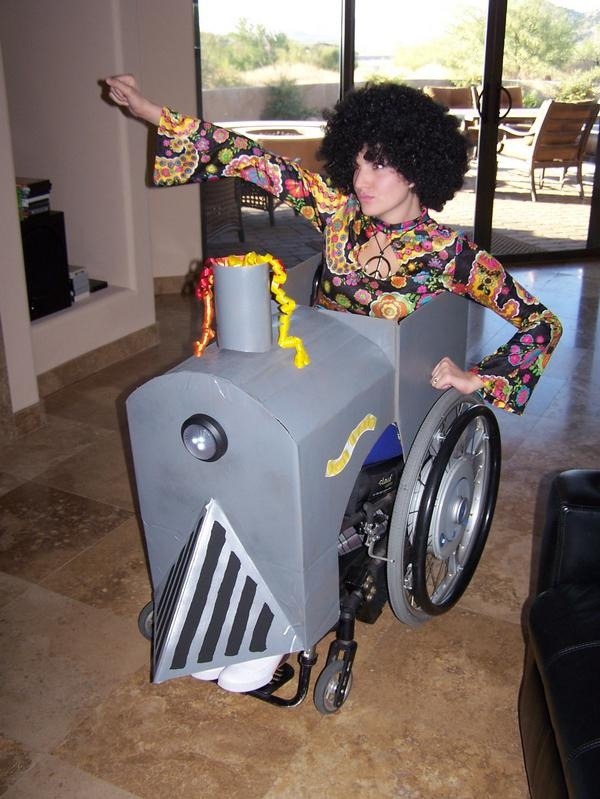 [source]
Combine a locomotive with the spirit of the 70s for this clever Soul Train wheelchair costume. Get down with your bad self in this hand-made costume that will have everybody in your vicinity doing the electric slide. Combining a custom locomotive costume with a 70s inspired outfit, this Soul Train wheelchair costume is dancefloor and railroad ready.
12. Batmobile Costume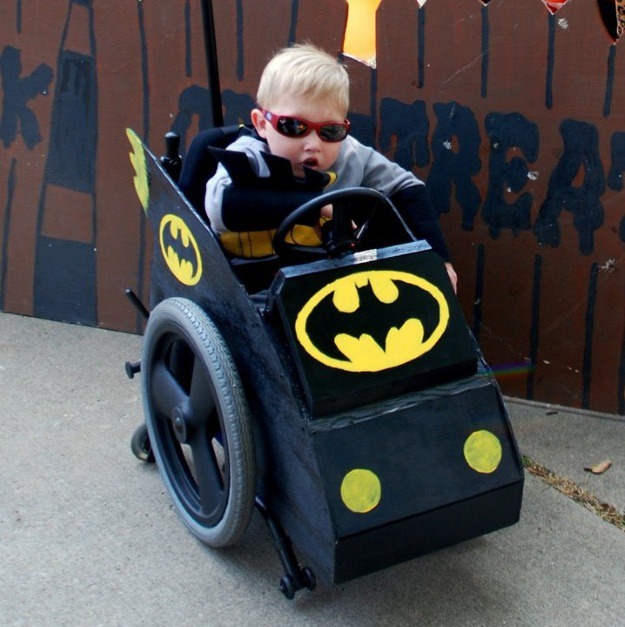 [source]
The caped crusader is nothing without his trusted Batmobile. Turn your wheelchair into the Batmobile with this awesome wheelchair costume idea. A few strategic pieces of cardboard and some painted Batman symbols are all you need to turn your wheelchair into Batman's chariot. This one doesn't have speed boosters or fancy weapons, but it will still be a hit around the neighborhood this Halloween. Don't forget to top off the look with a children's Batman suit!
13. Tank Costume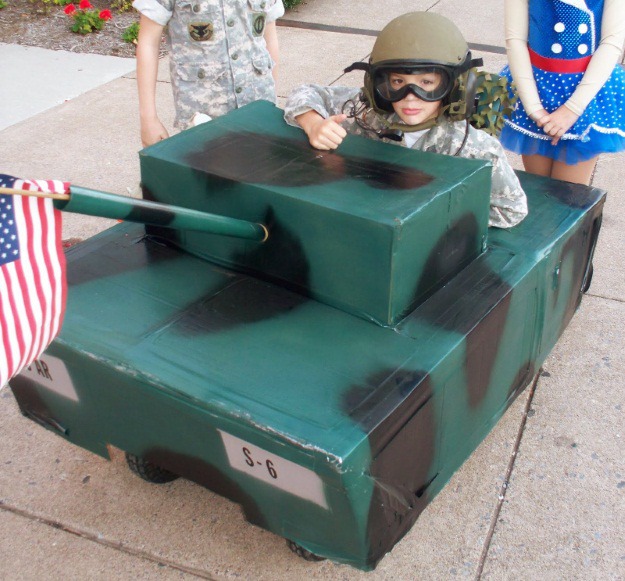 [source]
The workhorse armored vehicle of the military, the tank is a powerful and strong reminder of America's sacrifices in both World War 1 and World War 2. This wheelchair tank costume does a great job of covering up the chair and looking as realistic as possible. According to the original post, this costume was created for the young son of a man being deployed to serve in Iraq. If you're looking to try this look for yourself, click here for a realistic children's army helmet!
14. Pirate Ship Costume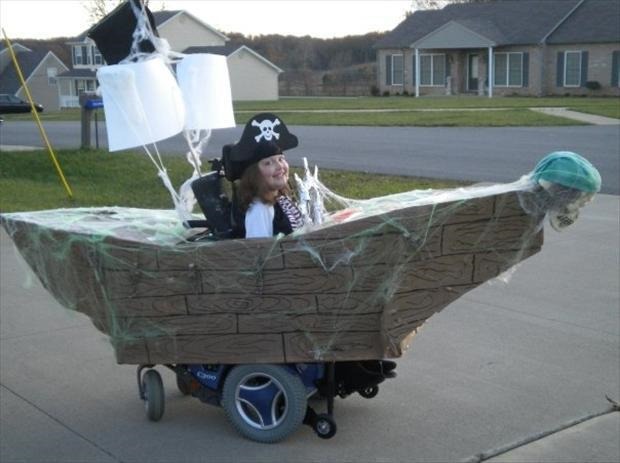 [source]
Pirates are still really popular with kids. One of the most popular children's television shows is Jake and the Neverland Pirates. This pirate ship wheelchair costume is a great idea for the pirate-lover in your life. Complete with skull figurehead at the front of the ship, some spooky cobwebs to show age, and even some makeshift sails, this is one pirate ship you wouldn't want to run into on the open waters.
15. Harley-Davidson Costume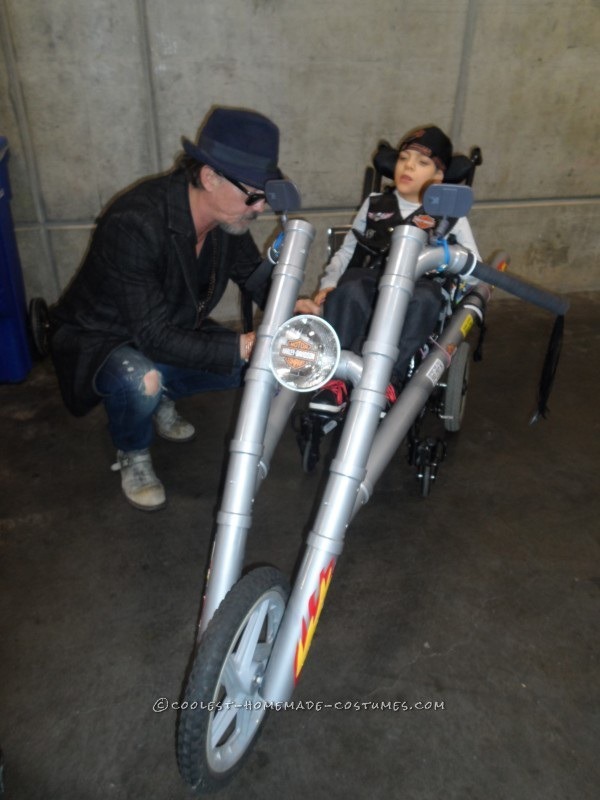 [source]
This mock-Harley-Davidson wheelchair costume is remarkably close to the real thing. Why risk your safety on the busy streets when you can cruise slowly with this awesome costume, outfitted with a front wheel, headlight, and handlebars! Some PVC pipes and spray paint are all you need to turn a wheelchair into a road hog this Halloween. Well, and a black bandana, of course.
16. Hockey Player Costume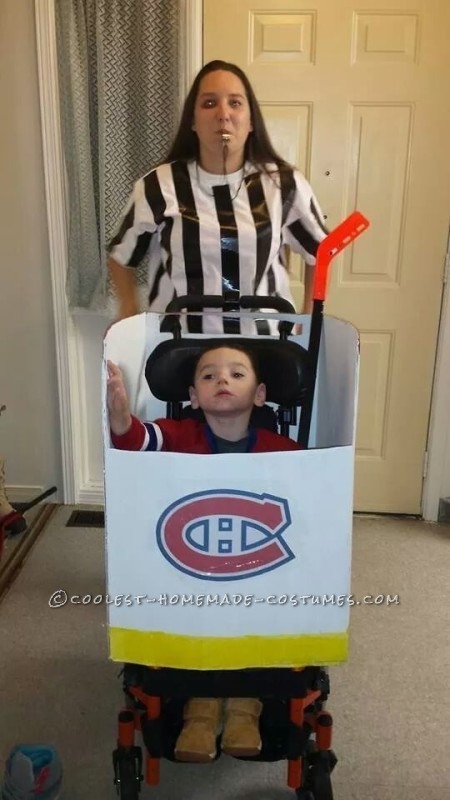 [source]
We're pretty sure sitting in the penalty box has never been this fun. One mother created this unique wheelchair costume for her son to support their favorite team, the Montreal Canadiens. Not only a great wheelchair costume, but this is also a great group costume; the son acts as the penalized hockey player and the parent dresses as the referee.
17. Diner Costume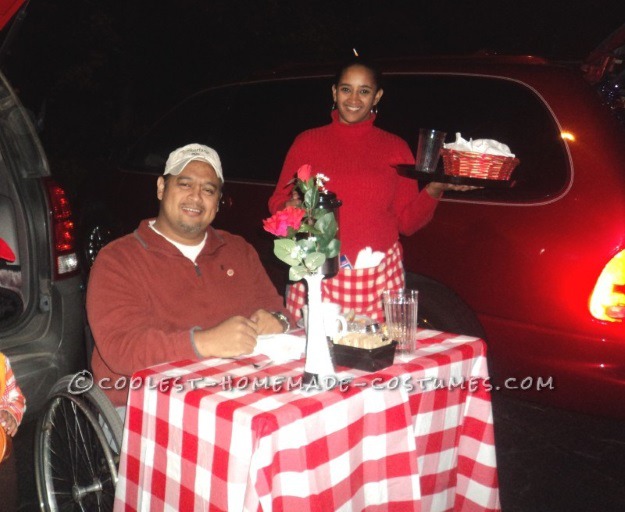 [source]
This is a great adult wheelchair costume, though it might be hard to keep the food on the table. This clever diner and waitress group wheelchair costume features the wheelchair-bound man as the diner, complete with a classy vase with roses, a glass of water, bread, and more. The waitress is wearing an outfit to match the tablecloth and carrying a serving tray.
18. Santa Costume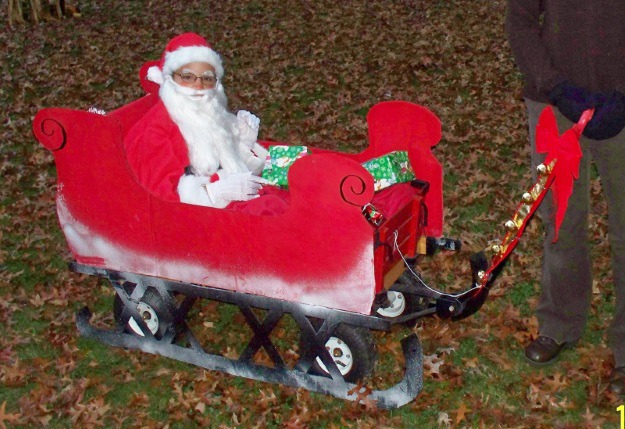 [source]
Dress up as everyone's favorite North Pole grandpa with this awesome Santa wheelchair costume. You may not have Prancer, Dancer, and Rudolph to pull your sleigh, but we're sure a friend or family member can lend a helping hand. This Santa wheelchair costume features the classic red and black sleigh, a long white beard and Santa suit, and plenty of presents. Bring joy to the neighborhood with this Santa wheelchair costume idea.
19. Space Shuttle Costume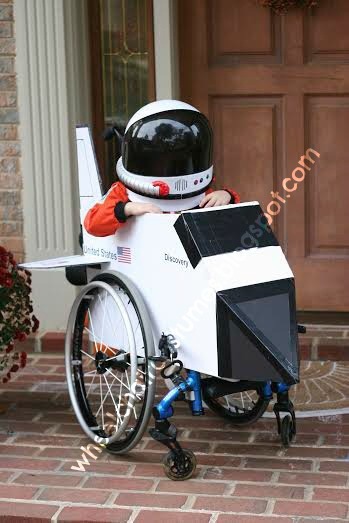 [source]
Zero gravity is overrated anyways. Represent the US shuttle Discovery with this amazing space shuttle wheelchair costume. Some cardboard, tape, and scissors is all you need to create this realistic shuttle to slip over the wheelchair. The little astronaut inside simply needs a replica helmet and the sky's the limit!
20. Zebra Costume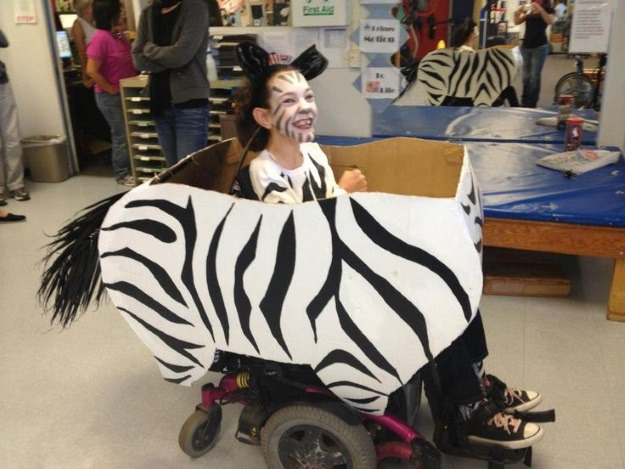 [source]
Animal costumes are the best. And if you can accent that animal costume with your wheelchair, that just makes it better. What better animal to dress yourself and your wheelchair as than the lightning-quick zebra? This costume cleverly uses the human costumer as the head of the zebra, with a cute zebra ear set, and the wheelchair as the zebra's body.
What is your favorite wheelchair costume on our list? Let us know in the comments below, and feel free to share any other great wheelchair costume ideas you've seen! Being in a wheelchair shouldn't restrict the costumer, but instead, inspire them to get creative! The above costumes are just a small example of some of that creativity. At Halloweencostumes.com we have a huge variety of costumes and accessories that can be repurposed to create a unique wheelchair costume. Peruse our site to see what you can create - and you better send us pictures!