Coffee shops have unveiled their pumpkin flavored offerings, mountains of candy corn have overtaken drugstore shelves, and craft stores are all aglitter with orange and black. You know what that means…costume season is officially upon us! Without further ado, here is some insight we're happy to share on the top kids costumes of 2012! Follow these costume trends, and your little ones will surely be the cutest ghouls and boys on the block.
Here is the Noise About the Boys:
Superhero Costumes
Last year we saw a spike in boy's costumes that corresponded to summer superhero blockbusters like "Captain America" and "The Incredible Hulk". This year with the release of "The Avengers", we expect to see plenty costumes of the whole crew. Don't be surprised if you see more than one Thor at your door.

(Batman / Thor / Captain America / The Incredible Hulk / Spider-man)
This summer also marked the release of a new Spider-Man movie and the latest installment in the Batman series, so get ready to see a lot of crime fighting kiddies as Spidey and The Bat.
Tasty Tidbit: Parents love superhero costumes because they're so versatile! They make awesome themed costumes for your family, or for a group of your little tyke's friends.
Angry Birds
Last year these petite peepers were a huge surprise success, and nearly every costume retailer sold out! This year with the popularity of "Angry Birds Space", these looks are sure to fly off shelves once again.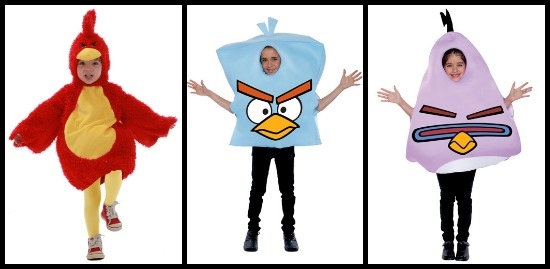 (Toddler Red Grumpy Bird Costume / Child Ice Bomb Bird Costume / Child Lazer Bird Costume)
Tasty Tidbit: "Angry Birds Space" launched new characters including Lazer Bird and Ice Bomb Bird. Be sure and scoop up these guys early as these will be the ones your little boy will be squawking for!
Star Wars
There has been a renewed interest in the Star Wars franchise due to the release of the Saga in 3D. This enthusiasm has been most evident in children and will undoubtedly result in a spike in the popularity of these costumes for boys.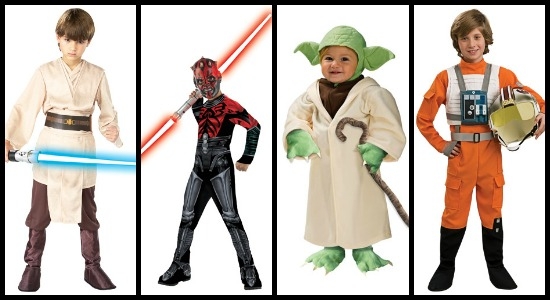 (Deluxe Child Jedi Costume / Child Cone Wars Darth Maul / Yoda Toddler Costume / Child X-Wing Pilot Costume)
Tasty Tidbit: These costumes are a tried and true popular choice. Feel smart you will if you choose a Star Wars look for your boy, since its popularity continues to stand the test of time and this is surely an outfit he'll want to wear again and again.
Boys Will Be Boys
For young boys in the 5-10 age range, classic boy costumes like dinosaurs, ninjas, and dragons will win big. As boys get older and are allowed to start playing video games and watching scary movies, gruesome is the name of the game. Creepy looks like zombies and werewolves will take off with this group.

(Kids Dinosaur Costume / Child Ninja Costume / Child Mario / Kids Skeleton Zombie / Kids Werewolf)
Tasty Tidbit: For the perfect group costume that taps into the pervasive video game nostalgia that has swept the nation this year, dress your boys as Mario and Luigi!
Overall trends to watch for will be muscle chest costumes so your boys can channel their inner superheroes, tunic style fits that allow for easy one piece application and removal, and character pajamas which are warm and comfortable options that can be worn year-round.
Here is the Lowdown for Little Ladies:
Disney Damsels
Disney Princess costumes are consistent hits for girls throughout the year. Come this Halloween season, though, costumes from Brave will be a big hit. Keep a look out for many-a-Merida.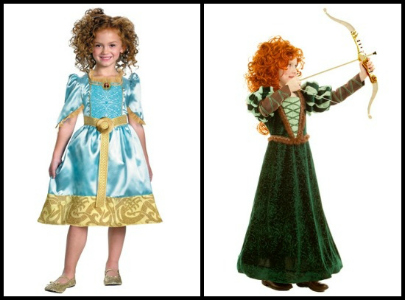 (Girls' Merida Costume / Girl's Courageous Forest Princess Costume)
Tasty Tidbit: Encouraging your children to engage in creative play is something parents are particularly passionate about this year, and dressing your girls as princesses is a great way to help them get into character!
Strawberry Shortcake
Feelings of nostalgia for classic television shows and characters are more elevated than ever, and the Strawberry Shortcake series has been one of the biggest targets! New Strawberry Shortcake styles for toddlers have been added this year, along with new costumes for characters from the show like Blueberry Muffin.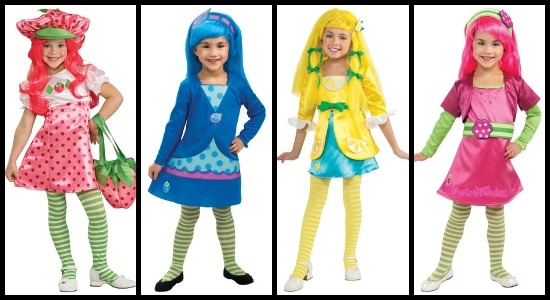 (Strawberry Shortcake Costume / Blueberry Muffin Costume / Lemon Meringue Costume / Raspberry Tart Costume)
Tasty Tidbit: Characters from newer TV series are also getting in on the costume trend action. For a darling look that's cuddly and cute, try dressing your little girl as OLIVIA!
Split Personality
This season's Halloween darling is very diverse in her tastes. On one side of the spectrum, "creepy cute" will be a big style, including costumes like gothic ragdolls and zombies with attitude!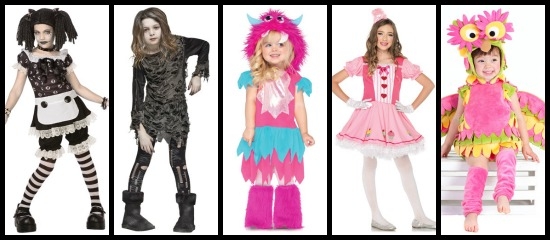 (Tween Gothic Rag Doll / Living Dead Zombie / Sweetheart Monster / Lil Miss Cupcake / Little Colorful Owl)
Tasty tidbit: On the other side of the spectrum, bright and sweet options will be big. This idea will manifest through costumes like colorful cupcakes, cuddly animals, and lovable furry monsters in neon colors.
Whether spooky or light hearted, color is a uniting theme this year. Don't be afraid to create a sassy standout by incorporating neons with other bold hues!
Overall trends to watch for will be tutu/ballerina style skirts layered with leggings or colored tights, sassy looks which feature a hodgepodge of bright hues, and costume kits which include animal hoods gloves and tails, and can be easily paired with a simple dress your little one already has in her closet!