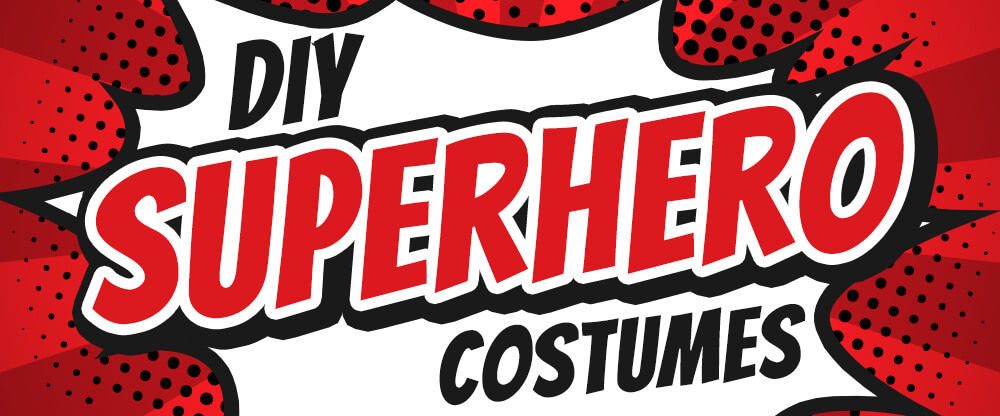 We're a costume maker and retailer and we're proud of the superhero costumes that we carry. But we'll be the first to admit that we don't carry every costume worn by every character. That would be pretty much impossible, because superhero costumes tend to change over time—which is a topic we've covered many times. So what can you do if your favorite superhero design isn't available as an off-the-rack Avengers, X-Men, or Justice League costume? You DIY it.
We're fans (and members) of the DIY community and we love the amazing costumes they've made. So we're here to show you some easy ways you can adapt our own costumes into a superhero costume that isn't readily available. We're planning on updating this article over time so make sure to come back soon!
DIY Professor X Costume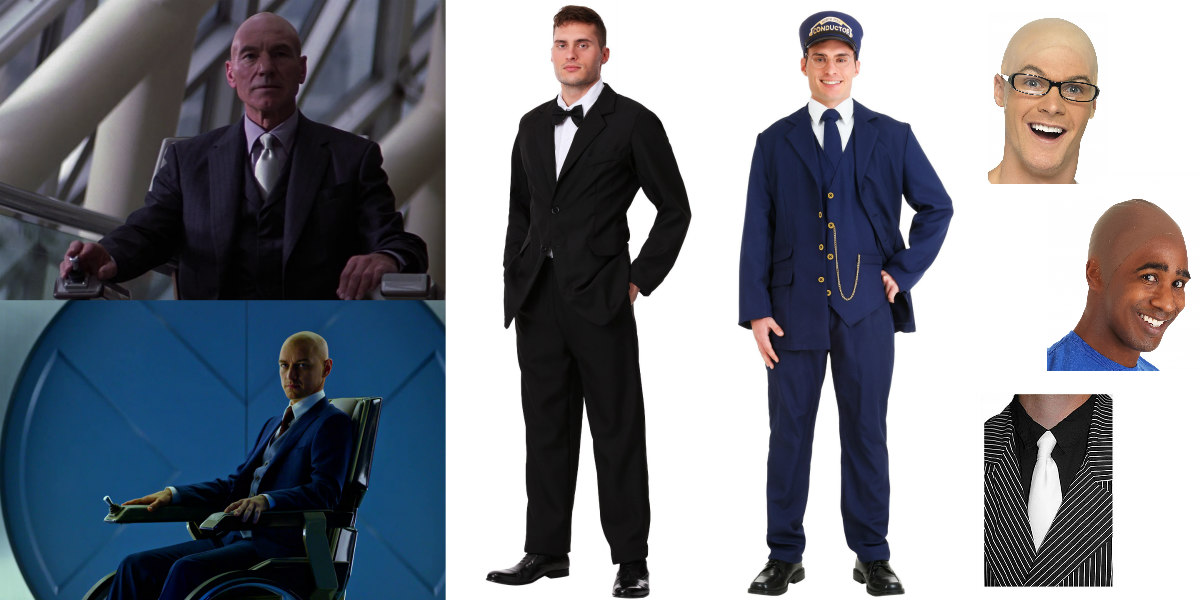 We'll start with the easiest superhero costume DIY because it's just a suit, tie, and possibly a bald cap if you need one. And it's a super classy costume as well, because we're talking about Professor X! Charles Xavier rocks a variety of suits but we're showing off a black suit with a white tie and a blue suit with a dark tie. And remember that you can reuse this costume over and over again because plenty of comic book characters wear suits. Maybe next year you could go as Lex Luthor? Or even pick up a white suit and go as Kingpin. The options are endless!
If you're struggling with the cap, we included some tips for putting on a bald cap in our Deadpool makeup tutorial!
DIY Squirrel Girl Costume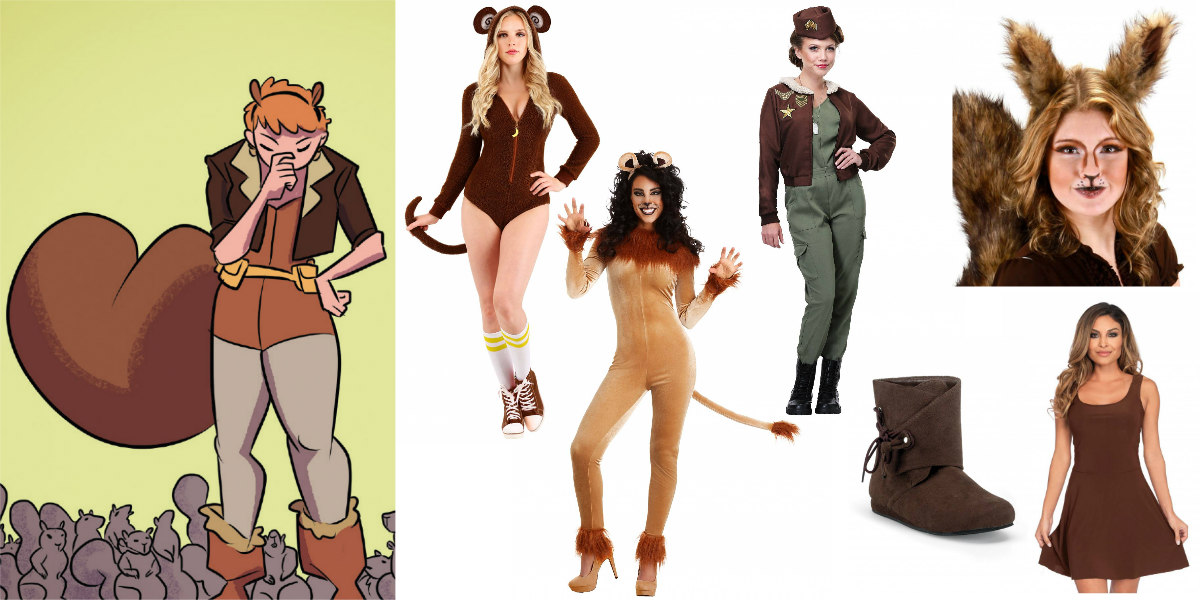 Up next is one of our favorites: Squirrel Girl! You've got plenty of options when it comes to a DIY Squirrel Girl costume, and it's all about layering different tones of brown and tan. The most important parts of this costume are the brown bodysuit, brown bomber jacket, and squirrel ears headband. If you're not a fan of a brown bodysuit, try a brown skater dress instead! You'll also need some tan leggings and furry boots. Those may be tricky to find, so we suggest cutting and hemming our lion costume. (You don't have to be super careful with the cut because it'll be hidden underneath the bodysuit.) The color is close enough and it has faux fur at the heels, which will make just about any boots look furry! Now just add a squirrel tail accessory and you're practically Doreen Green, just without squirrel-proportional powers.
DIY Human Torch Costume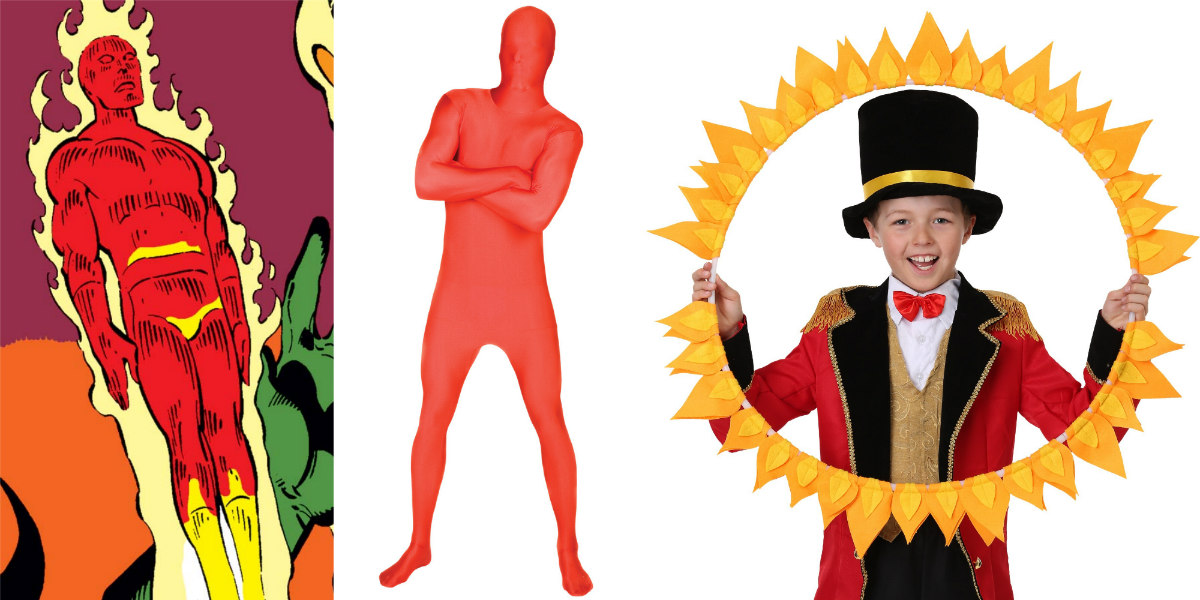 Our DIY Human Torch costume is also fairly straight forward, but it'll take some sewing or gluing and a lot of patience. The goal here is to connect the felt "fire" in a row on the Morphsuit. When you're wearing the costume and facing someone, they'll see a ring of "fire" along the edge of your body, just like how the Human Torch looks in comic books. You'll want to start the first row of "fire" on the back of one hand, run it along the outside of your arm, along your shoulder, along the side of your neck and over one ear, then over your head and down the other side. The second row will start on the inside of your wrist, along the inside of your arm, and down one side of your torso, waist, and leg. Repeat that on the other side. The final row will start on the inside of your ankle, up the inside of your leg, then down the other leg.
When it comes to attaching the "fire" to the Morphsuit, we suggest sewing individual knots every inch or so. Alternatively, you could use beads of a strong glue, like fabric glue, contact cement, or E-6000. We recommend individual knots or beads of glue because they form single attachment points, whereas thread and strings of glue can break as the Morphsuit stretches and shrinks. It also helps to wear the costume and mark out where you'll be attaching the "fire", then remove it for the actual crafting. Of course, you'll probably need multiple rows of "fire" from the Circus Ring of Fire Hoop. Then you can finish off the costume with a "4" on your chest, either drawn with a marker or cut out of a sheet of vinyl or foam and attached with thread or glue.
DIY Zatanna Costume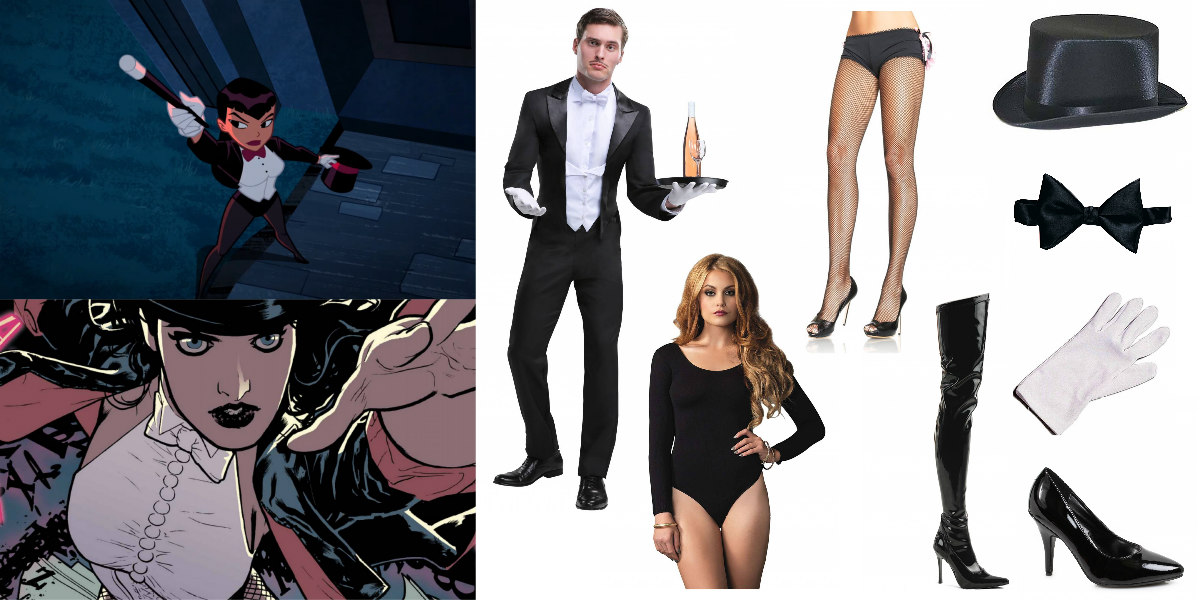 Alright, we're back to an easy tutorial, a DIY Zatanna Costume. The basic costume consists of black fishnet stockings, a black bodysuit, and a black butler jacket. The "tails" on the back of the butler jacket are what really sells the look of a magician's costume. Well, that along with the top hat, bowtie, and white gloves! We're showing a black bowtie here, but you can just as easily go with red or white. You also have a choice between basic high heels—like Zatanna in the Justice League Action animated series—or over-the-knee boots—which is more of a comic book Zatanna look. For accessories, you'll also want a magic wand and a rabbit puppet that you can hide in your top hat. Abra-Zatanna!
Did you find the DIY superhero costume that you're looking for? Or do you have your sight set on a different superhero design? Tell us all about it in the comments. And because this is something of a blog-in-progress, let us know which other costumes you'd like us to cover and we'll see what we can do!