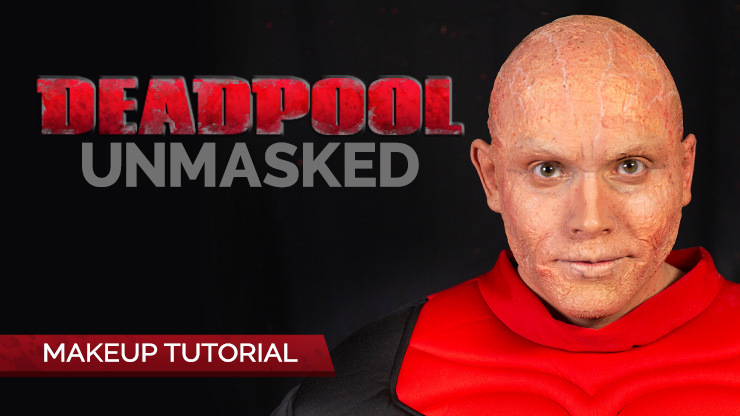 Deadpool is a different kind of superhero. Or would that be a super-anti-hero? Let's go with super-character. Deadpool is larger than life, even when squeezed into that spandex uniform. So if you're planning on cosplaying or trick-or-treating as the Merc with a Mouth, it's okay to be a little extra yourself. Consider ditching the mask and go for that gnarly unmasked look! We'll show you how we did it in this Deadpool Unmasked makeup tutorial!
Deadpool Unmasked Makeup Tutorial Video
This tutorial is not for the faint of heart…or anyone allergic to latex.
Deadpool Unmasked Makeup Tutorial Video Transcript
Today we're going to be doing a look inspired by Deadpool. It's going to be Deadpool unmasked. We're going to start by applying a wig cap. Ok, this is going to end up being a really snug fit, and you're going to end up glueing it down. So, before I apply spirit gum to glue it down, I'm going to use a light colored makup pencil, and I'm going to draw right along the edge of where the bald cap's going to be.
So, after you've got your glue line sort of marked off, then you can go in with some spirit gum. That's just a skin-safe adhesive. To start, I'm just going to take the spirit gum out towards the temple area, um, and we'll start with the forehead and temples and then we'll glue the back, and then we'll do the ears. And, we are going to be going over this bald cap with toilet paper, and liquid latex. So, all of this edge is actually going to be covered up. And then you're going to grab the bald cap up by the edge, tilt your head back, and press it into place.
Ok, so now that the back of the bald cap is secured, I'm going to go one side at a time and just peel back right along your ear, and then you're going to brush your spirit gum to where you've got your spirit gum to where you've got marked off. We're going to end up cutting the excess away, so you really want to give that enough time to sort of dry in place, otherwise it could snap back.
So next, we're just going to cut away the excess. Ok, so now that I've got the ear cut out, I'm actually going to add a little bit more spirit gum to the front. And then, I'll be adding spirit gum right behind the ear as well to glue that down. And then I'm going to just repeat that whole process for the other side.
Ok, so once you've got your bald cap securely glued in place, um, you are going to start taking little bits of toilet paper. You can use paper towel, paper napkins, you know, any sort of um, tissue paper basically, and liquid latex. Ok so first I'm going to, I put the vaseline over my eyebrows, and now I'm just going to put a little piece of toilet paper directly on top of that.
Ok so, after getting your eyebrows covered, then you're just going to go in and you're going to, um, do toilet paper like really, just, all over your face and back onto the bald cap.
Ok. Now that I've got it powdered all over and uh the tackiness has been taken out, I'm just going to go over the whole thing, um, just with a single color, like with a cheapo foundation. So, after I started getting some color splattered on there, I'm not just using that same foundation brush that I had been using before, and I'm just stippling all over, um, the splatter paint area.
Ok so now that I'm happy with sort of, like, the splatter effect that I did and then blending that into my skin, I'm going to go ahead now and go in for some contour and highlighting of some areas. So, I got some highlight and contour both in there as well, and, now I'm going to try to recreate these sort of like white veins that are sort of like appearing all over the skin as well.
Alright, so that is Deadpool unmasked. For this look we used a liquid latex, foam sponges, toilet paper, foundation, assorted makeup brushes, powder brush, foundation brush, eyeshadow brushes, some brightly-colored blush, a rough-bristled paintbrush, some Vaseline, eyeshadow, uh, highlighting contour sticks, spirit gum, some white liner pencil , translucent setting powder, scissors, and some water-activated face paints.
Deadpool Costumes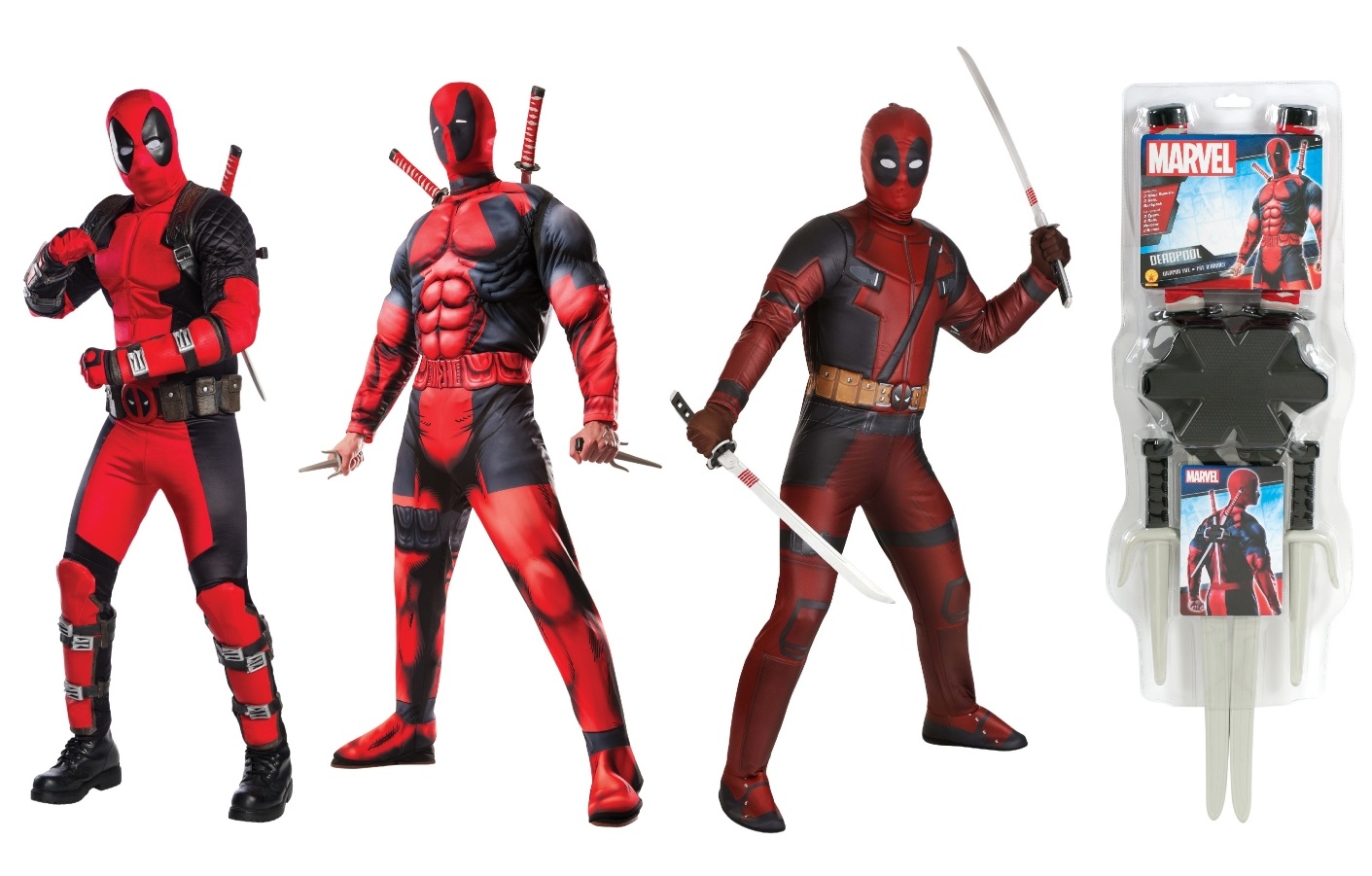 If you're going for the Deadpool "Unmasked" look, you'll still need a costume! And you've got plenty of choices, from costumes based on the Deadpool and Deadpool 2 movies plus his appearance in Marvel Comics. There are also levels in quality, from standard all the way up to a "grand heritage" costume, which is top of the line. If these costumes aren't what you want, take a look through all of our Deadpool costumes. And don't forget the makeup!
The Finished Look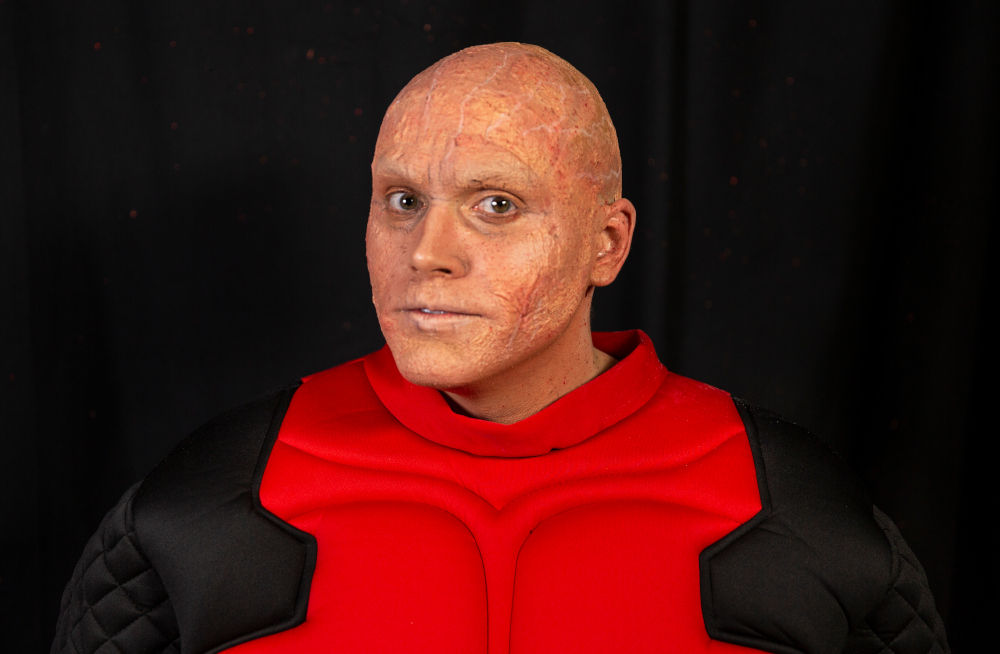 Aaand now we're hungry for avocados. (Sorry.)
Did you find everything you need for the Deadpool Unmasked look? If you followed the tutorial, let us know how it went in the comments!