There's nothing more impressive than a good DIY Halloween costume. With so many cookie-cutter costumes out there, taking the time to make or even assemble something different can make people say "WOW! Why didn't I think of that?" You may still need to buy accessories like shoes, belts and gloves, but it's great to see people wearing a Halloween costume that's exactly what they wanted. Maybe you're a fan of the unidentified alien that was cut from the Mos Eisley cantina scene. Perhaps you wanted to bring your favorite board game character to life, like Ms. Scarlet from Clue. You can even put a unique spin on a classic Halloween costume too! The sky's the limit when you harness the power of your imagination!
For more ideas about celebrating Halloween, check out our "How to Halloween 2020" resource. But without further ado, here are some of our favorite creative Halloween costume DIYs!
1. DIY Harley Quinn Costume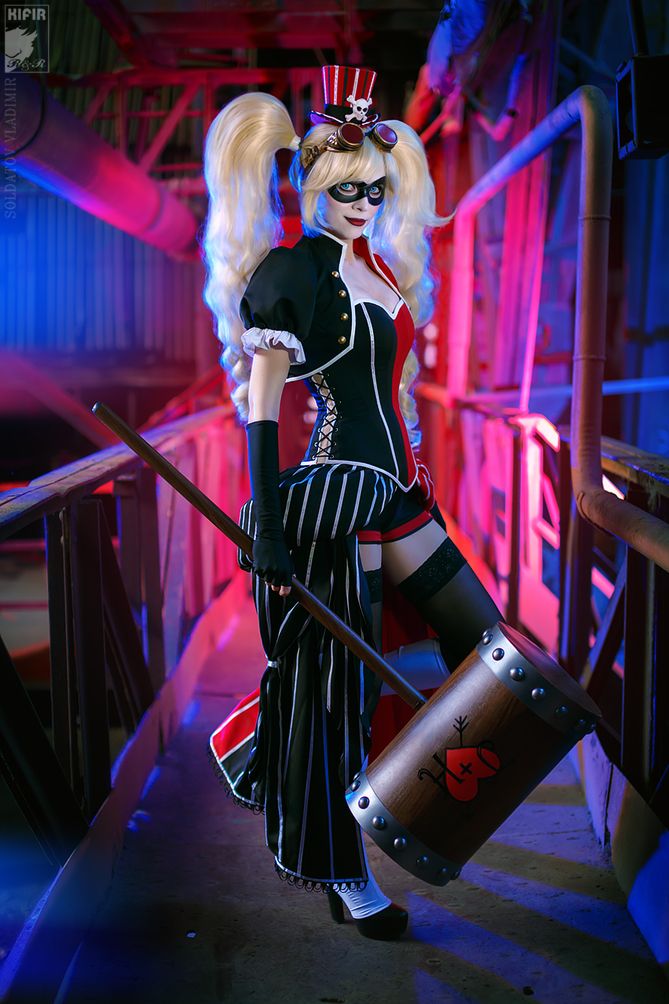 [Source: Ryoko-demon/CBR]
While there are quite a few Harley Quinn costumes on the market, her character has a plethora of other looks. That being said, many cosplayers have taken the key elements of what makes Harley Quinn Harley Quinn, and used them to make original costumes. They use items such as her red and black color scheme, the diamond patterns often featured on her outfits and her two-tone pigtail hair. And, dare we say, the results are amazing!
2. DIY Tigger Costume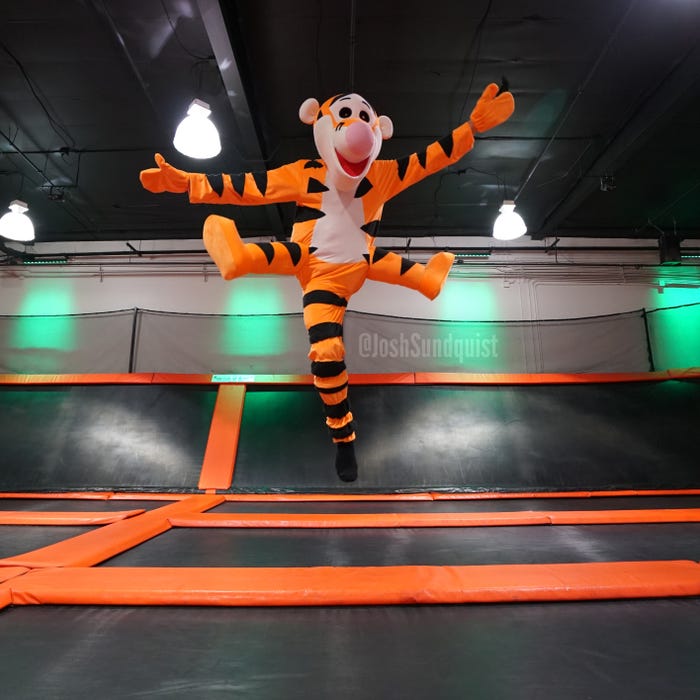 [Source: Josh Sundquist/Insider]
We look forward to seeing Josh Sundquist's new costume every year! After he lost a leg to bone cancer as a child, Josh had to find fun and unique Halloween costume ideas that suit him. Now a Paralympic athlete and Halloween costume guru, he makes some of the most clever one-legged costumes. This Tigger costume from Winnie the Pooh is simply brilliant, from his friendly mascot head to his iconic striped tail!
3. DIY Cactus Halloween Costume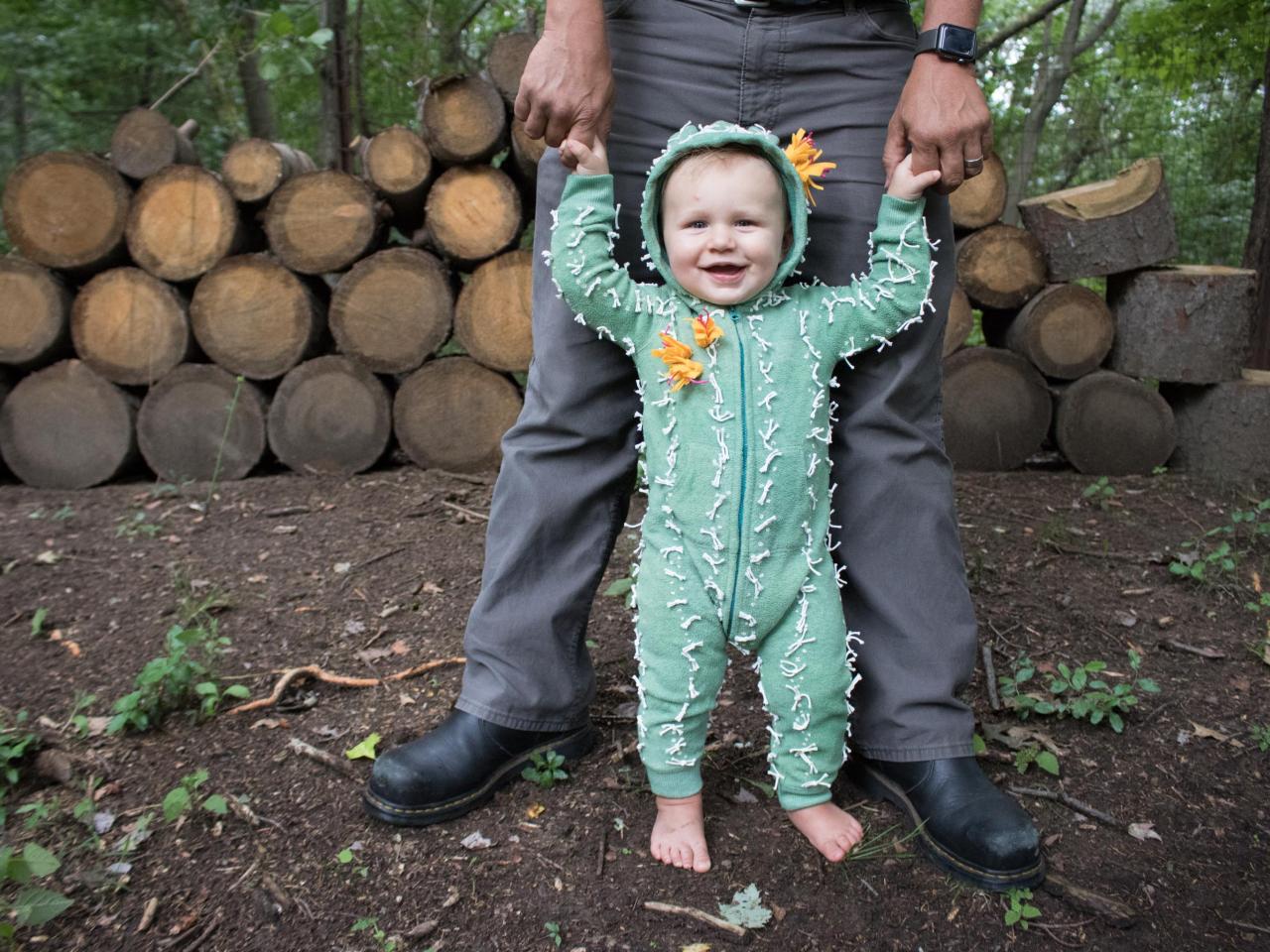 [Source: Emily Fazio/HGTV]
This easy costume DIY is a little time-consuming, but oh so cute! It's also great for every member of the family, from babies and toddlers to kids, teens and adults. By pulling a needle and thread through a green outfit and tying it around some white yarn "spines", you can make a cactus out of jumpsuits, sweaters and dresses. Use felt for some fake flowers and voila! (Or attach some fake flowers if you feel like you're running out of time. We won't tell!) You'll only have to binge through a few episodes on Netflix, but crafts you can do on the couch are some of our favorites.
4. DIY Lisa Frank Costumes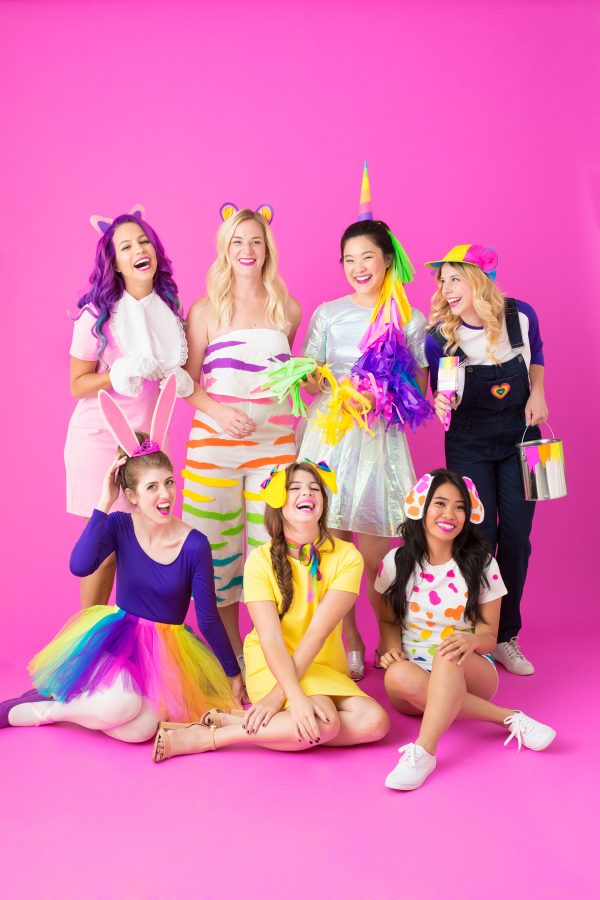 [Source: Jeff Mindell/Studio DIY]
You gotta have it. That's right, we're talking about these Lisa Frank Halloween costumes for 90s and 80s kids. A fun spin on otherwise normal animal costumes, these rainbow outfits bring a pop of color. Depending on which animal you choose, you'll need either a white outfit or something bright and bold—and a whole lot of fabric paint and imagination! Many Lisa Frank-styled animals with patterned fur such as leopards, zebras and dalmatians had rainbow spots and stripes that you'll have to paint on your outfit. Otherwise, look for images of Lisa Frank artwork and find your favorite animal for your 90s costume inspiration!
5. DIY Diablo III Costume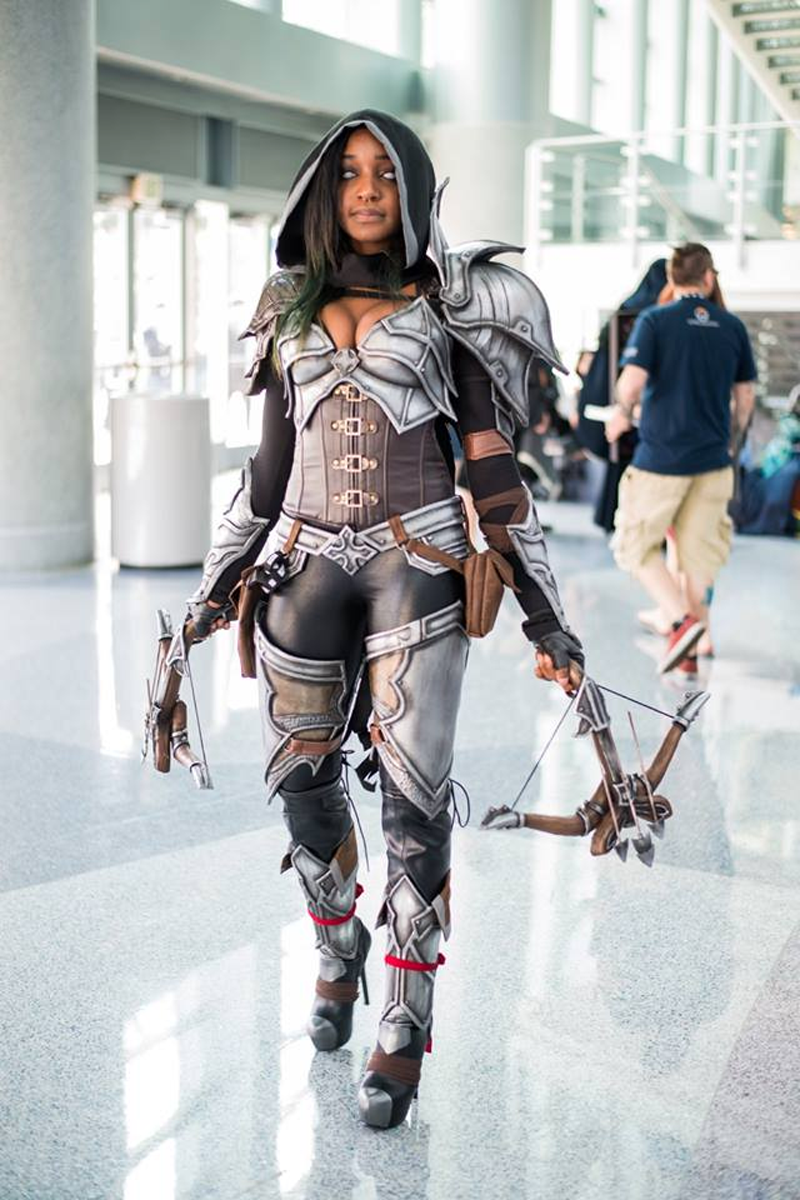 [Source: Davann Srey Photography/io9]
The craftsmanship on cosplay costumes is at times utterly insane, like this demon hunter cosplay from Diablo III. If you're at this level of costume-making, our hats are off to you. The armor bits are often fashioned out of materials like Wonderflex, EVA foam and Worbla if you're willing to give it a shot! Even if you're not looking to dress like this particular character, you could DIY a knight costume or another video game character with the right materials.
6. DIY Banksy Costume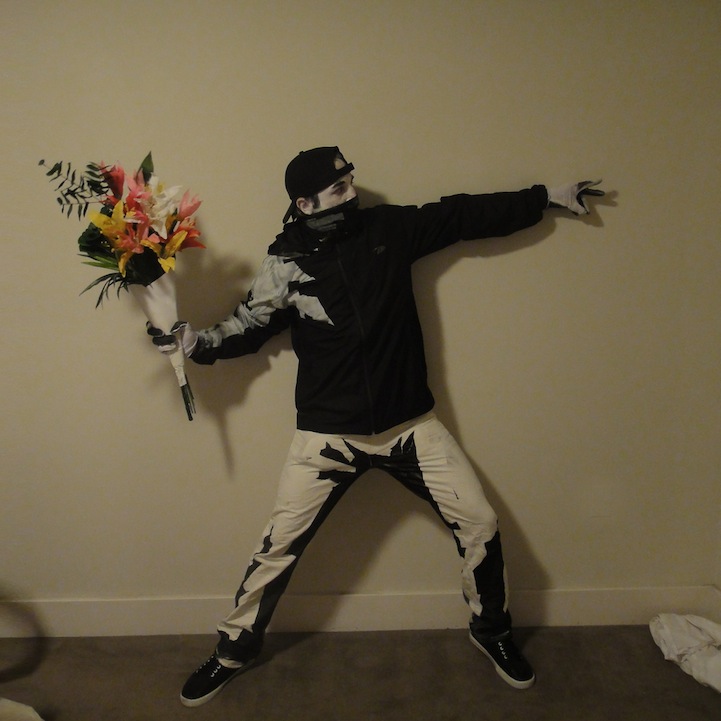 [Source: George Schnakenberg/My Modern Met]
As they say, art imitates life, so why can't life imitate art? Costumes like the Mona Lisa and The Girl With the Pearl Earring are a dime a dozen these days, so show off your creativity and talent by making a Halloween costume based on another work of art! This Banksy costume is a lot of fun, and a pretty easy DIY to pull off. With some black clothes, white fabric paint and black and white Halloween makeup, you can make a statement with this Banksy Flower Bomber costume in no time at all!
7. DIY Google Maps Costume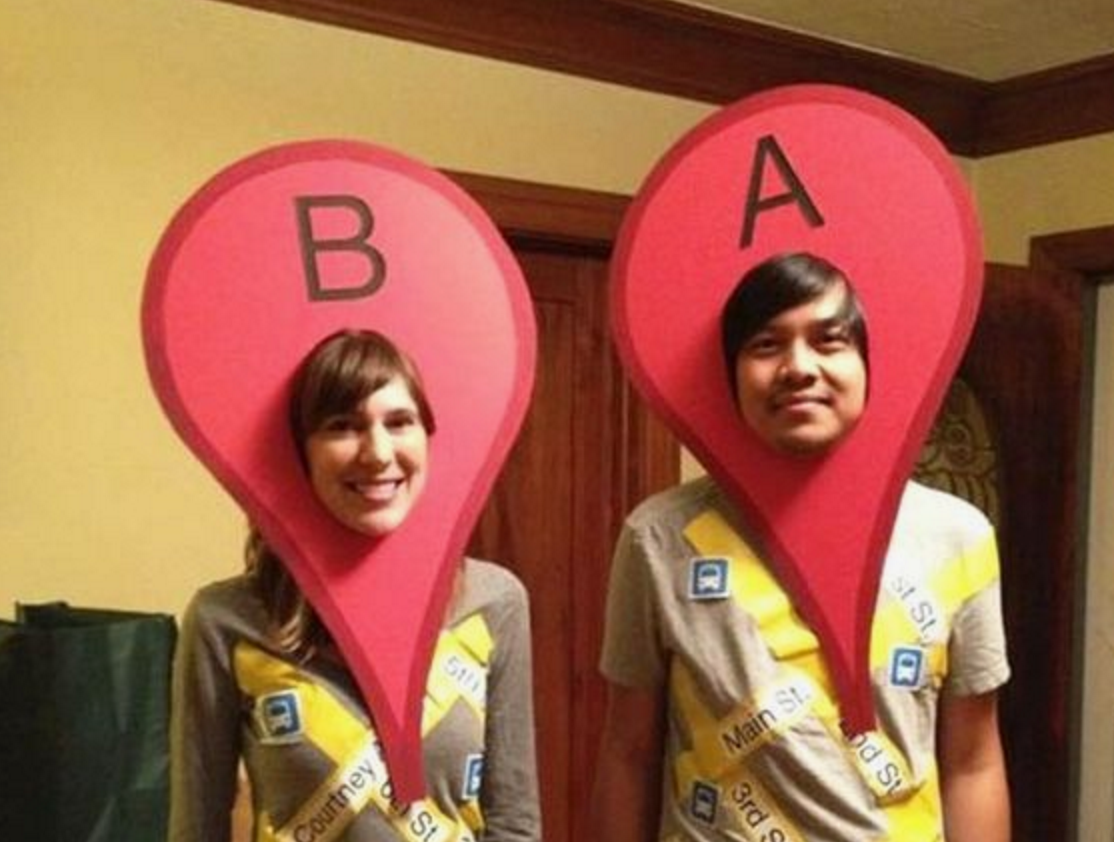 [Source: Zucchini Summer Blog/HelloGiggles]
Simple? Yes. Unexpected? Definitely. Cute? Nailed it! Honestly, we're just disappointed that we didn't think of this unique Halloween costume idea first! It's certainly cute as a couples' costume idea, but could you imagine an entire Google Maps family? With some grey shirts, yellow tape and cardboard map pointers, this is one last-minute DIY costume that won't get you thrown out of the Halloween party for taking the easy way out.
8. DIY Predator Costume (Crochet!)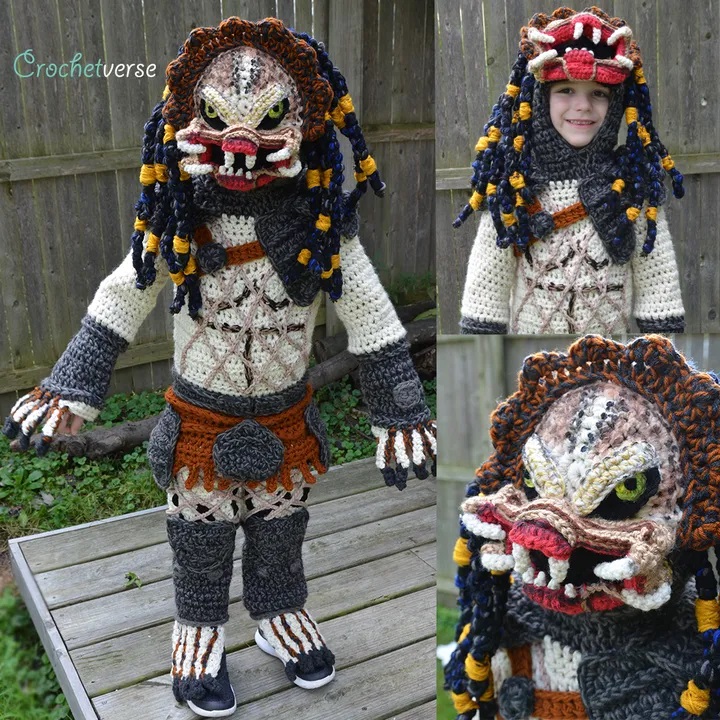 [Source: Stephanie Pokorny/Crochetverse/Huffpost]
If you have amazing crochet skills that are hard to show off, Halloween might be the perfect time for you! Stephanie Pokorny of Crochetverse has crocheted several amazing Halloween costumes for her kids, although one of our favorites is this amazingly detailed Predator costume. We're not entirely sure how to tell you to make this look for yourself, but if you're a crochet master, maybe you can give us a few pointers!
9. DIY Violet Beauregarde Makeup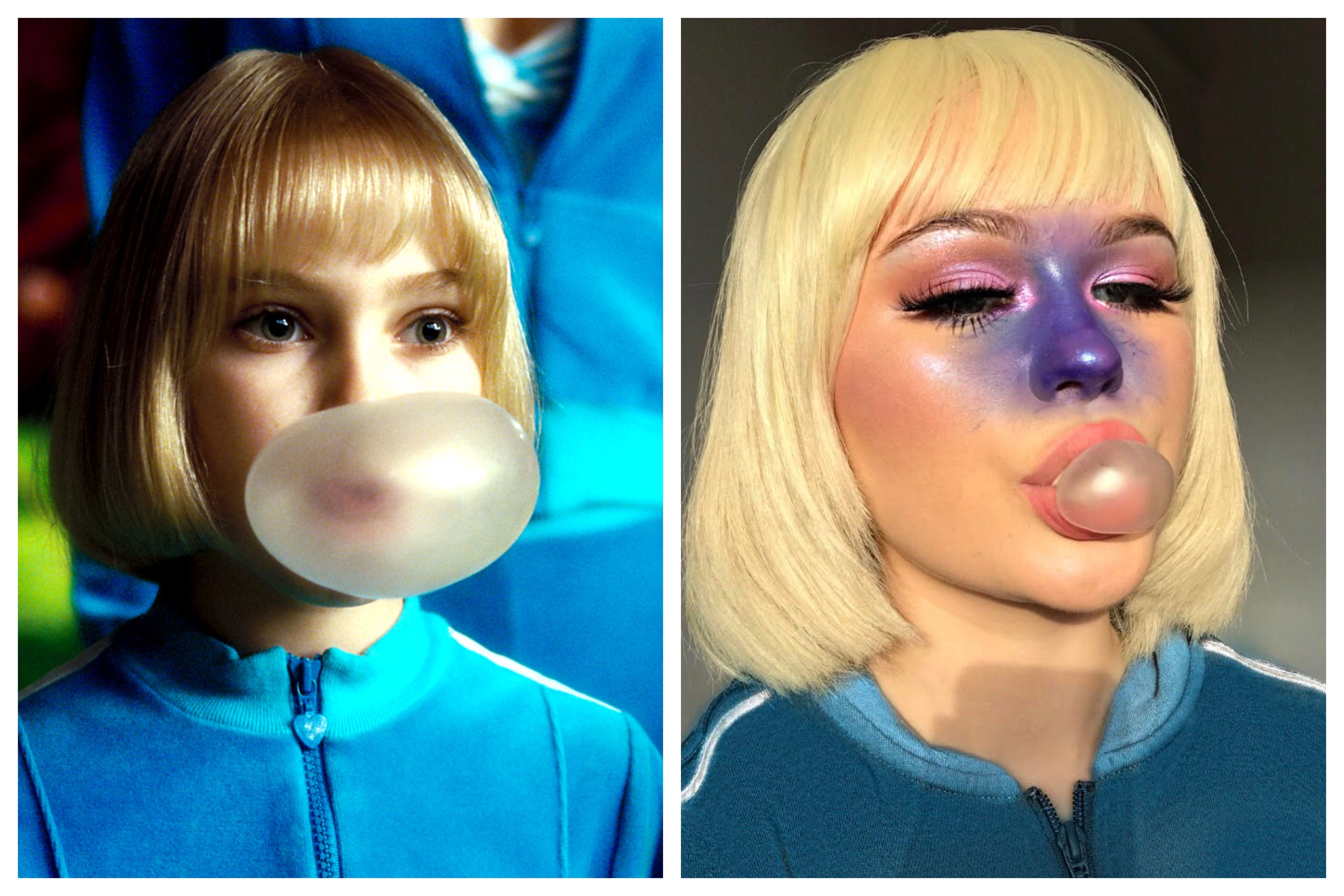 [Source: Warner Bros./Ellie Addis/Teen Vogue]
Sometimes, even the simplest costumes are the best. Admittedly this Charlie and the Chocolate Factory Violet Beauregarde costume is mostly makeup and a blue tracksuit, but it's brilliant! (Seriously, why didn't we think of this?) In the movie, Violet turns well...violet as she tries an experimental new gum from Wonka. He tried to get her to stop chewing but, well, you can say that this spoiled child got her just desserts.
10. DIY Kane Costume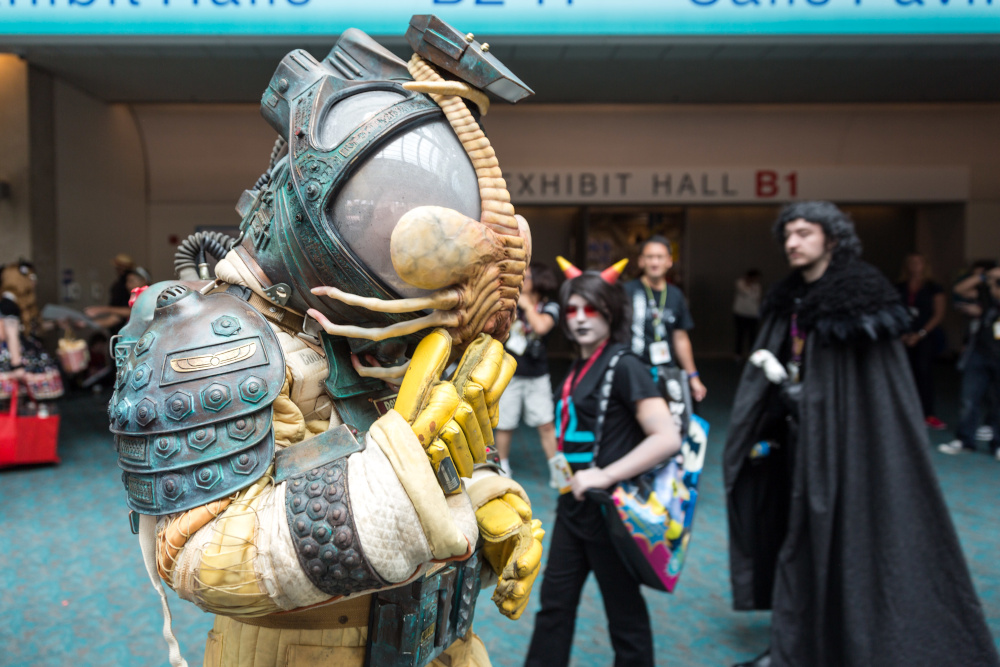 [Source: Norman Chan/Tested/CNBC]
Many of us know Adam Savage from the TV series MythBusters, but did you know that he also rocks the Comic-Con scene? Adam's costume builds are incredibly intricate and just plain awesome, like this Kane spacesuit from Alien. He has gone "in-con-nito" to conventions all across the US, but spotting him in an amazing costume build like this might be tricky!
11. DIY Burrito Costume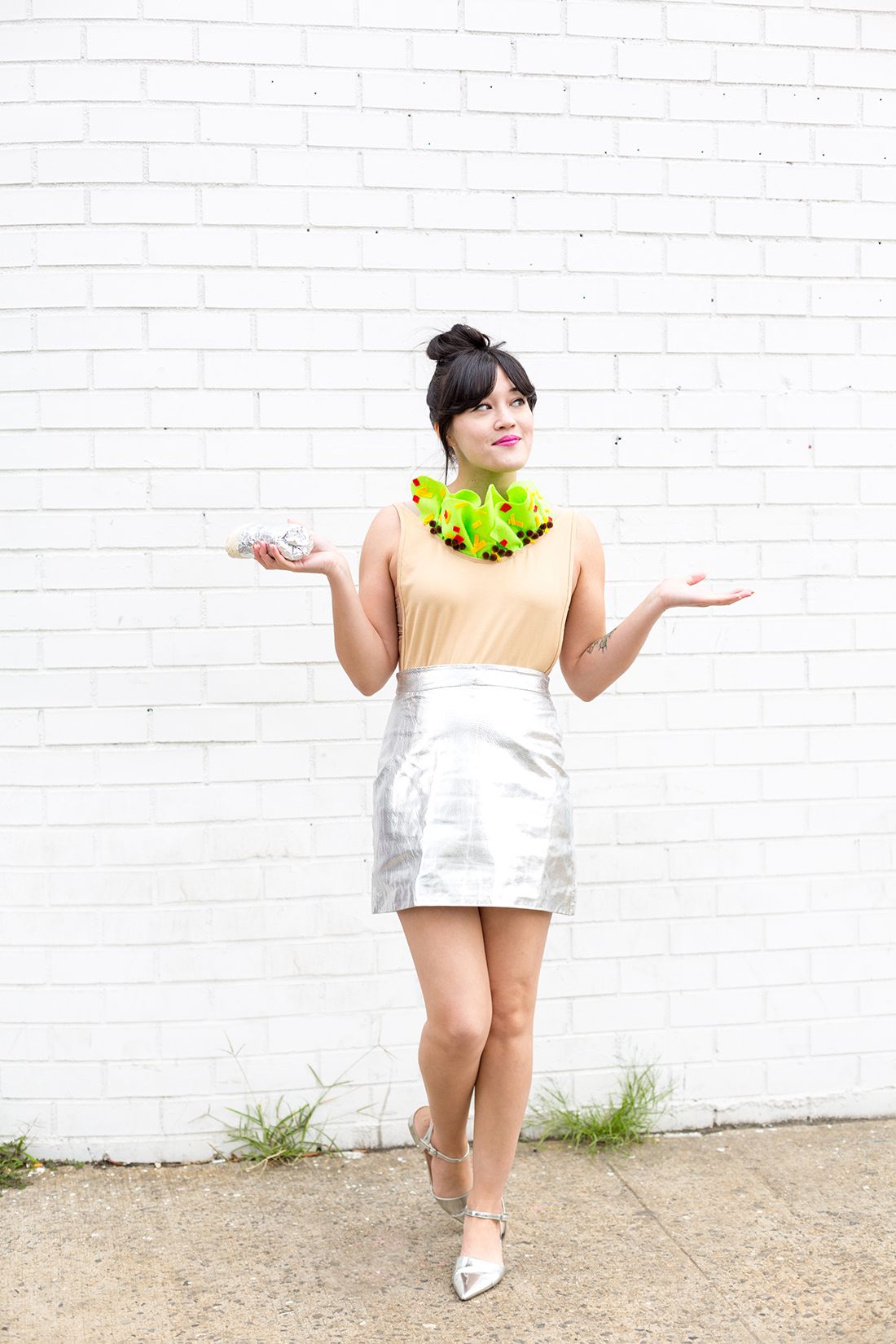 [Source: Aww Sam/OprahMag]
Food costumes are plentiful, but they're even cuter when you can tailor them to your style! A silver skirt paired with a tan tank top is a great start to a chic homemade burrito costume. (Not to mention the shiny silver shoes!) Adding a felt collar with some felt and pop pom lettuce, tomatoes, cheese and meat will ensure that your burrito outfit is unmistakable. And now we have a hankering for Chipotle.
12. DIY Hiccup and Toothless Wheelchair Costume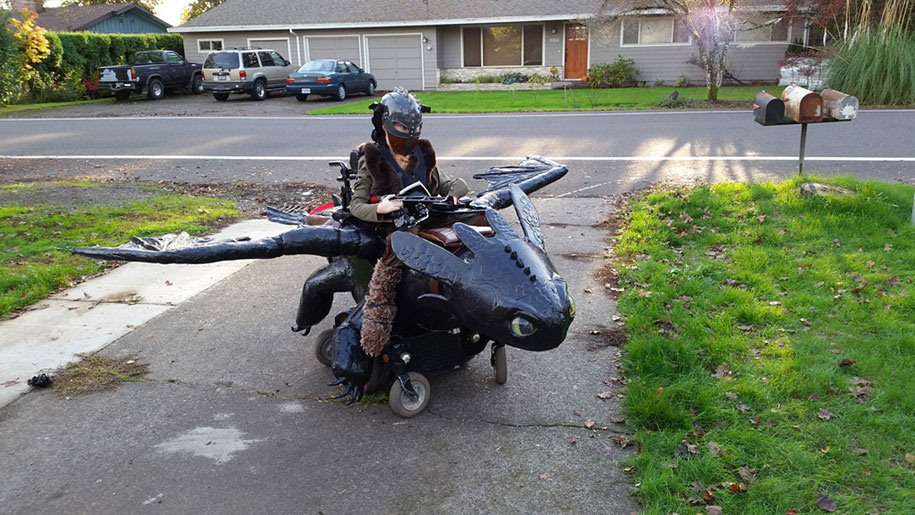 [Source: Ryan Weimer/Demilked]
Can we say that some of the most impressive costume builds we have ever seen have been for wheelchair Halloween costumes? Because they are, if this How to Train Your Dragon costume isn't enough proof for you. We're not entirely sure what materials were used for this build, but if you have the time and the talent, you can make just about anything into a wheelchair costume!
13. DIY Headless Horseman Dog Costume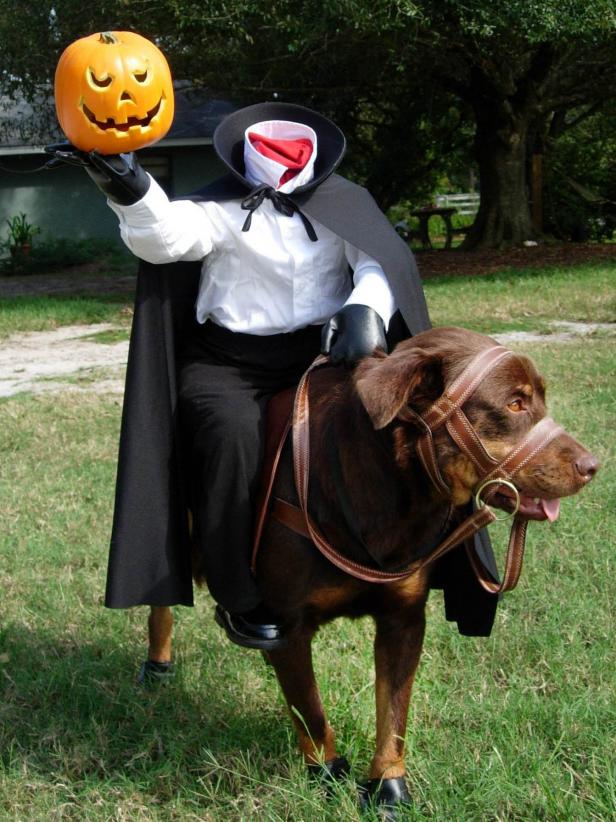 [Source: HGTV]
Most of us never thought we could get upstaged by a pooch, yet here we are! Turning leashes into a harness was a stroke of genius, and the headless horseman on top is simply amazing! Even the pumpkin head is perfect. A ride-on costume like this is perfect for a large dog, but if you can make a mini horseman and find a tiny enough fake pumpkin, go for it!
14. DIY Baby Popcorn and Theater Attendant Costumes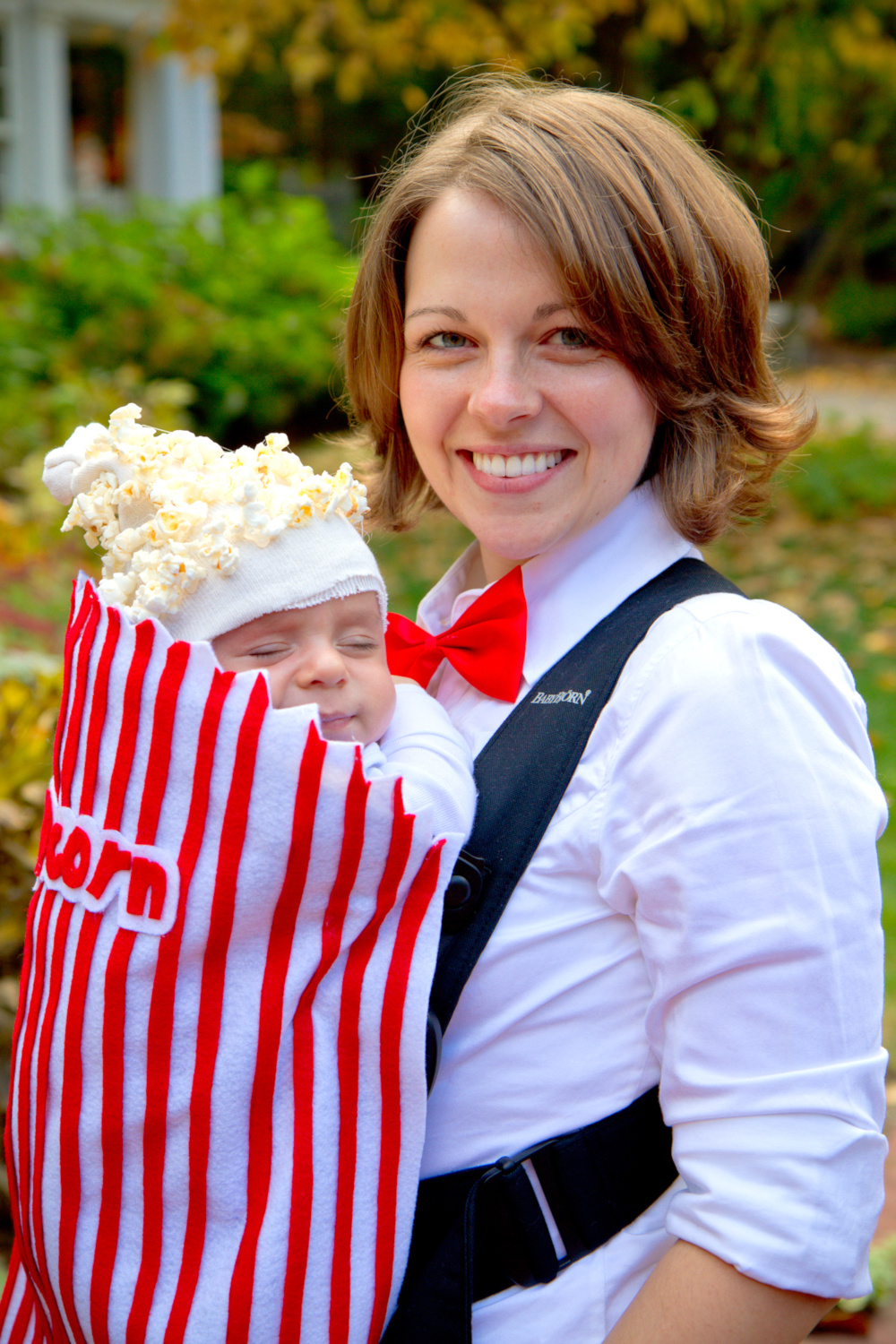 [Source: This Place is Now a Home/Make It & Love It]
You don't always need an expensive costume to wow the crowd—cute and clever Halloween costume ideas are great, too! In order to pull off this theater attendant and popcorn baby costume, all you're going to need is a white dress shirt, a red tie, black pants and shoes and some red and white felt. (And it looks like popcorn, too!) Use the red and white felt to make a popcorn bucket-styled cover to put over your baby carrier. Then don your outfit, dress your baby in white and give them a white hat with some popcorn attached to it. Super-cute and super-easy!
15. DIY Thriller Werewolf Costume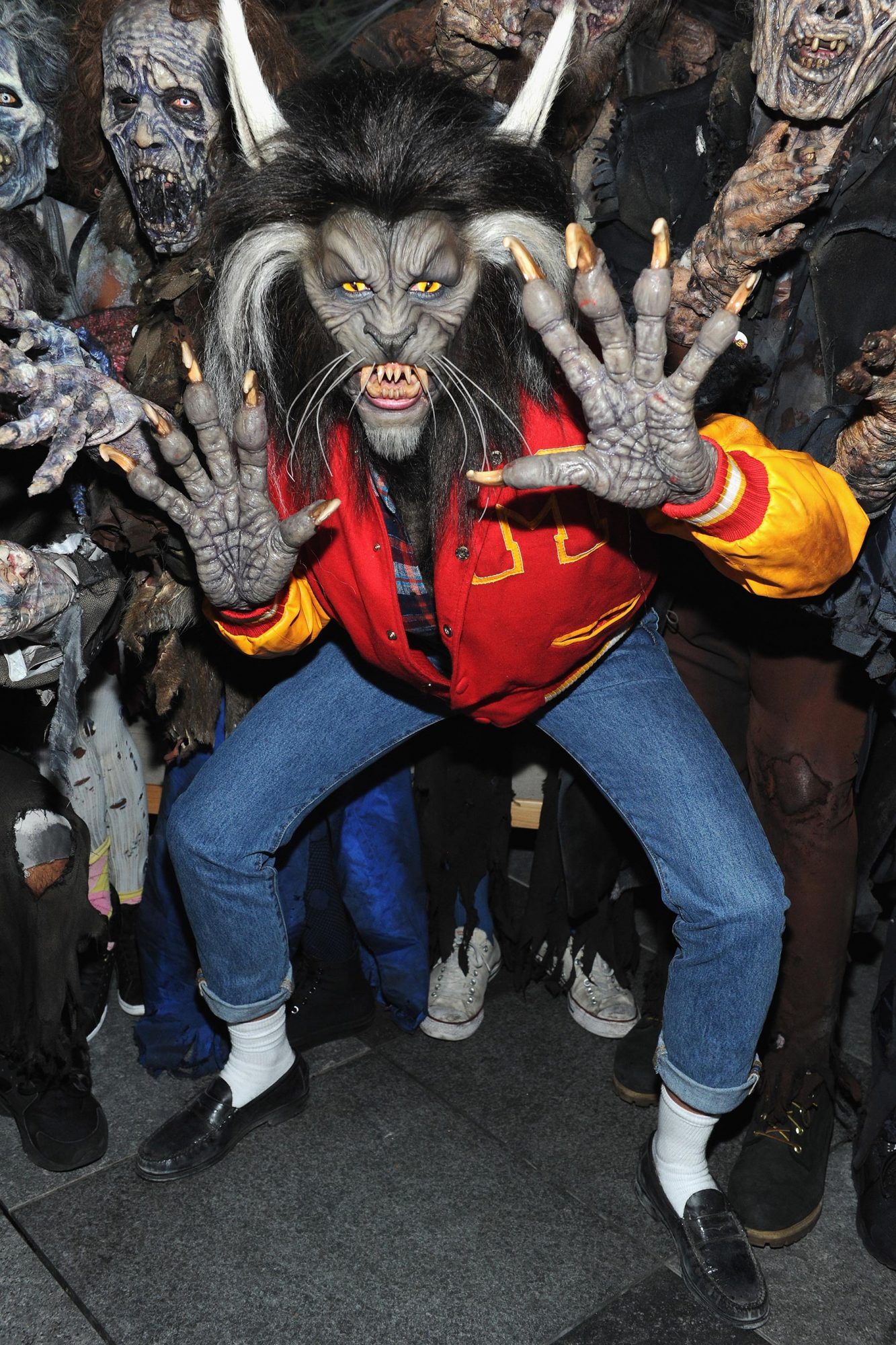 [Source: Craig Barritt/Getty Images/EW]
It would be impossible to have a round-up of our favorite costume ideas without mentioning Heidi Klum. (She's practically the Hollywood queen of Halloween!) Every year she has some of the most intricate and outlandish costumes that, quite honestly, you'd never even realize it was Heidi Klum wearing it. This Thriller-style Michael Jackson costume takes us way back, and she doesn't miss any details from the varsity jacket to the rolled cuffs.
We hope you enjoyed these awesome DIY Halloween costume ideas! Did you have any favorites? What are some of the costumes you have seen that you thought were great? Let us know in the comments below. It's hard to keep track of all the exciting new costume ideas because we keep getting blown away every year!