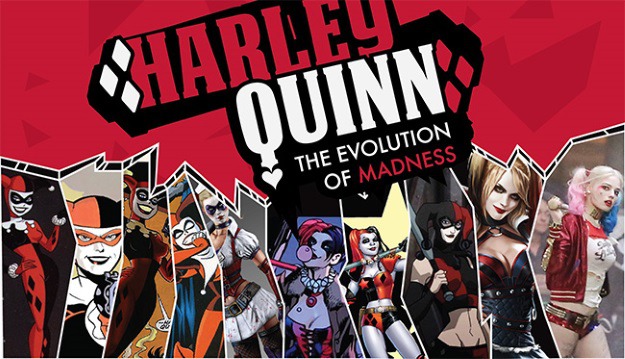 Dr. Harleen Quinzel, better known as Harley Quinn from the DC/Batman Universe, is the posterchild of a classic love story gone way wrong. And with a past that's tangled and disturbing enough to give The Silence of the Lambs a run for its money, there's no wonder why countless cosplayers and comic readers favor this unlikely antihero for their Comic-Con or Halloween costume. An ex-Gotham City University gymnast and ex-Arkham Asylum psychiatric intern turned murderous supervillainess, Harley Quinn hit the scene in the early '90s as an extra (an afterthought, really) on Batman: The Animated Series before evolving into a cautionary tale of what a "wicked attraction" can cost a girl in Gotham.
Sometimes funny, other times rather sad, Harley Quinn's descent into madness is one riddled with makeovers, costume changes, and all around reimaginings that even the most devout comic enthusiasts may have missed along the way. So whether you are following the media frenzy surrounding 2016's Suicide Squad or can't stop playing the critically acclaimed Batman: Arkham Knight, Harley Quinn's sordid past is one trip into madness that fans can't resist and neither can we! Track her beginning in 1992's Batman: The Animated Series to countless appearances in solo comics, video games, and big titles like Suicide Squad, Gotham City Sirens, and the storylines from the New 52, as we follow the corpse riddled path of the Clown Prince of Crime's first lady and puddin' pop, Harley Quinn.

[Click for a larger image}
Embed This Image On Your Site:
Harley Quinn: Evolution of Madness Infographic Transcript
Meet Dr. Harleen Quinzel- Gotham City University gymnast and Arkham Asylum psychiatric intern-turned-supervillain. Seduced into darkness by none other than the Clown Prince of Crime, the story of Harley Quinn is riddled with buffoonish antics, countless re-imaginations, and too many corpses to count. From one-dimensional extra in 1992's Batman: The Animated Series to canonized nemesis, the legend of Harley Quinn grew over two decades and numerous comics, video games, and movies. With Batman: Arkham Knight and Suicide Squad looming on the horizon, let's track the evolution of Harley's slip into madness.
Batman: The Animated Series
1992
An unlikely antihero, Harley Quinn was originally a one-off sidekick in Episode #8 of Batman: The Animated Series, "Joker's Favor". Created by Paul Dini and edited by series' lead artist, Bruce Timm, the Arleen Sorkin-voiced Harley was inspired by a Days of Our Lives dream sequence in which Sorkin appeared as a court jester, Harley's name is a play on the Italian Commedia dell'arte character "Harlequin," adapted to her alter-ego, Harleen Quinzel.
The New Batman Adventures #12
1993
In her comic debut, Harley Quinn battled Barbara Gordon, who dressed as Batgirl for a costume party. Interestingly, the cover art deviated from her appearance in the comic. Sticking near to the original design, the in-page Harley wore a red mask and black-and-red balls on her infamous jester hat.
Mad Love
1994
In the continuity of Batman: The Animated Series, readers got their first look at the origin of Harley Quinn. Winner of the Eisner and Harvey Awards for "Best Single Issue Comic of the Year," it detailed the seduction of Dr. Harleen Quinzel by the Joker, who manipulated and turned her to crime with a story of abuse and neglected as a child. A fan favorite that was later adapted into an episode of The New Batman Adventures, here we got to see her cork gun in all it's glory.
Batman: Harley Quinn
1999
As part of the No Man's Land event- the miniseries Batman: Harley Quinn detailed the meeting of Poison Ivy and Harley Quinn after the Joker fired Harley in a rocket that crash-landed in a city park; homicidal boyfriends tend to demonstrate their emotions in interesting ways.
Harley Quinn #1
2000
Harley Quinn #1 marked the beginning of a 38-issue series delving into Harley's college years. Created by Karl Kesel, Terry Dodson, and Rachel Dodson among others, the comic ran from December 2000 to January 2004 and the costume stuck very near to the established canon.
Gotham Girls
2002
A joint creation by Warner Bros, Animation, DC Comics, and Noodle Soup Productions, Arleen Sorkin voiced Harley Quinn for 25 episodes of this Flash-animated series. The show lasted for three seasons and chronicled the females of Gotham City in more "cartoony" short series. That same year, five issues of a limited series comic set in the DC Animated Universe were published to complement the web series.
Birds of Prey
2002
Played by actor Mia Sara, Dr. Harleen Quinzel appeared in 13 episodes of Birds of Prey from 2002-2003. The WB show only lasted one season and followed the story of Helena, the love child of Batman and Catwoman in the form of "The Huntress" years after Batman left the city. One sweater worn during the series references Harley's neck ruff with black diamond cutouts.
The Batman
2004
With long, skinny features and entirely blank eyes, we saw a return to more cartoony features in The Batman animated series. Other changes to the costume included black and red balls on a larger exaggerated and back-flowing hat, boots that matched each respective legging, and the removal of diamonds on her arms and legs. The fingerless gloves and dangly neck rudd with two points rather than three also marked noticeable changes.
Batman: The Brave and the Bold
2008
In a style reminiscent of a silent film star, Harley Quinn was depicted in Batman: The Brave and the Bold as a fair-skinned, platinum blonde with a beauty mark, dressed in all black with pearls.
LEGO Batman: The Videogame
2008
Even before The Lego Movie popularized a brick version of Batman on a mass scale, Harley Quinn made an appearance in Lego Batman: The Videogame.
Gotham City Sirens
2009
Paul Dini was back at it in 2009 with Gotham City Sirens, and for the most part, Harley's costume possessed all the normal earmarks. In Issue #23 however, a disturbing variant was introduced on the cover art in which Harley was depicted with the Joker's green eyes and menacing rictus.
Batman: Arkham Asylum
2009
Marking the most drastic and revealing costume change to date, Harley Quinn donned hospital attire in Matman: Arkham Asylum. With purple and red color scheme, a corset cinched down tight and fishnet stockings and nods to jester symbolism were removed entirely to reinvent her look. Not exactly up to code!
The New 52- Suicide Squad
2011
Harley Quinn's costume began to vary wildly in the 2010s. Virtually everything about the costume changed, and variants sprung up. The modernized, skimpy getup relied on makeup, hair dye, a corset, daisy dukes, leggings, and sneakers to do the work of the time-tested costume. With a blue and red color scheme, it took on a new character altogether- including one version with daisy dukes and flannel.
Batman: Arkham City
2011
In Batman: Arkham City, the black and red color scheme was reimagined into a form-fitting leather jumpsuit and red-and-black dipped pigtails. In the DLC epilogue, Harley Quinn's Revenge, a costume variant emerged of a Harley in mourning after the death of her Mr. J (oh, spoilers by the way) with black leather, black hair and black veil with maroon highlights.
The New 52- Harley Quinn
2013
Written by Amanda Conner and Jimmy Palmiotti and illustrated by Chad Hardin, the primary costume from Harley Quinn in The New 52 ditched the mask for dark eye makeup, the hat for dyed pigtails, and the boots for none other than Harley Quinn-themed roller derby skates. A veritable playground for artists, alternate plays on her hammer and wardrobe appeared frequently.
Video Game Appearances
2013
In 2013, Harley Quinn appeared in numerous videogames in many forms and costumes. In Injustice: Gods Among Us, unlockable costumes abounded beyond her base appearance, including Insurgency, Arkham City, Classic, and Ame-Comi variants. The Scribblenauts costume is modeled after the Suicide Squad Harley. Finally, the Batman: Arkham Origins Harley is in fact Dr. Harleen Quinzel in her white lab coat, glasses, and redshirt.
Batman: Assault On Arkham
2014
With an exposed midriff, black neck ruff, a hat that covers the entire forehead to the mask, combat boots, a single right arm sleeve, and fingerless left-hand glove, Batman: Assault on Arkham stood close to the original costume while at once changing nearly every aspect of it.
Infinite Crisis
2015
The multiplayer, online battle arena Infinite Crisis added many new looks and weapons to the mix. Beyond the standard Harley Quinn with her oversized mallet, the Ant Lucia-designed pinup-inspired "Bamobshell" and holiday-themed variant "Candy Cane" costumes gave players multiple options to choose from.
Batman: Arkham Knight
2015
With the long-anticipated Batman: Arkham Knight, Harley is looking as sultry as ever, wearing what looks like a French maid's skirt in an all-around reimagined look that combines the old with the new-mashing jester iconography into a modern aesthetic.
Suicide Squad
2016
When images leaked from the set of 2016's Suicide Squad, Margot Robbie's Harley Quinn made the front page of nearly every major entertainment site on the web. With a red and blue color scheme, tattoos, red lips, batter's glove, and baseball bat, the costume seemed to simultaneously be sampling previous incarnations of the character and inventing a new look altogether. Rumors swirling around online say she will wear multiple costumes throughout the film.
Notable Variants
Thrill Killer '62
Hyena Harley
Goddess Harley
Azzarello Variant
Emperor Joker Harley
"Derivative" and "Ick"
Sources: Vulture.com, IMDb.com, Batman.wikia.com, DCComics.com, DCwikia.com, ComicVine.com, GameFaqs.com, Harley-Quinn.com
As we mentioned, Harley Quinn is a very popular costume choice when it comes to cons and annual Halloween celebrations. If you're looking for a way to stand out, yet still be "in with the Quinn crowd," try making a DIY Hammer accessory to accompany your look (tutorial HERE), or dressing as the 2016 Suicide Squad version of Harley (tutorial HERE). For our complete selection of ready-to-wear Harley costumes, SHOP HERE!
Infographic Design Credit: Jacob Kuddes
Infographic Writing Credit: Marlon Heimerl