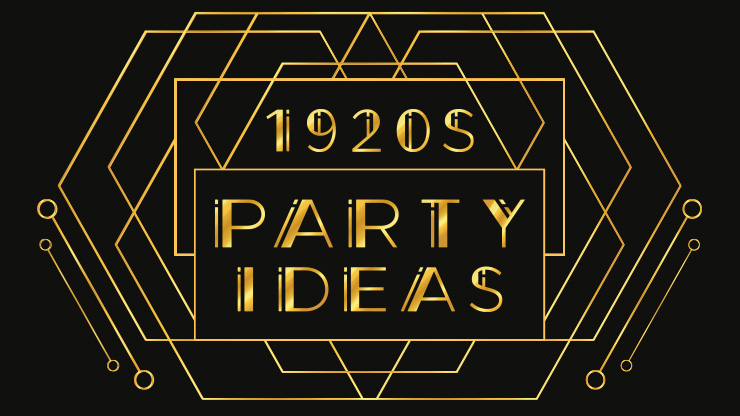 Are you ready to party like it's 1920? Gatsby parties and flapper parties are all the rage, and we'll show you why. The 1920s was an era of glitz and glam, progress and counterculture. Decade-themed parties are very popular, especially around New Year's Eve, and a 1920s party is a great way to bring in the new year with a bang. The ever-popular speakeasy theme is certainly directed towards an adult audience, so you can Charleston the night away into the new year while the kids are in bed. If we've piqued your interest in this great adult party idea, keep reading for more 1920s party ideas.
1920s Party Decorations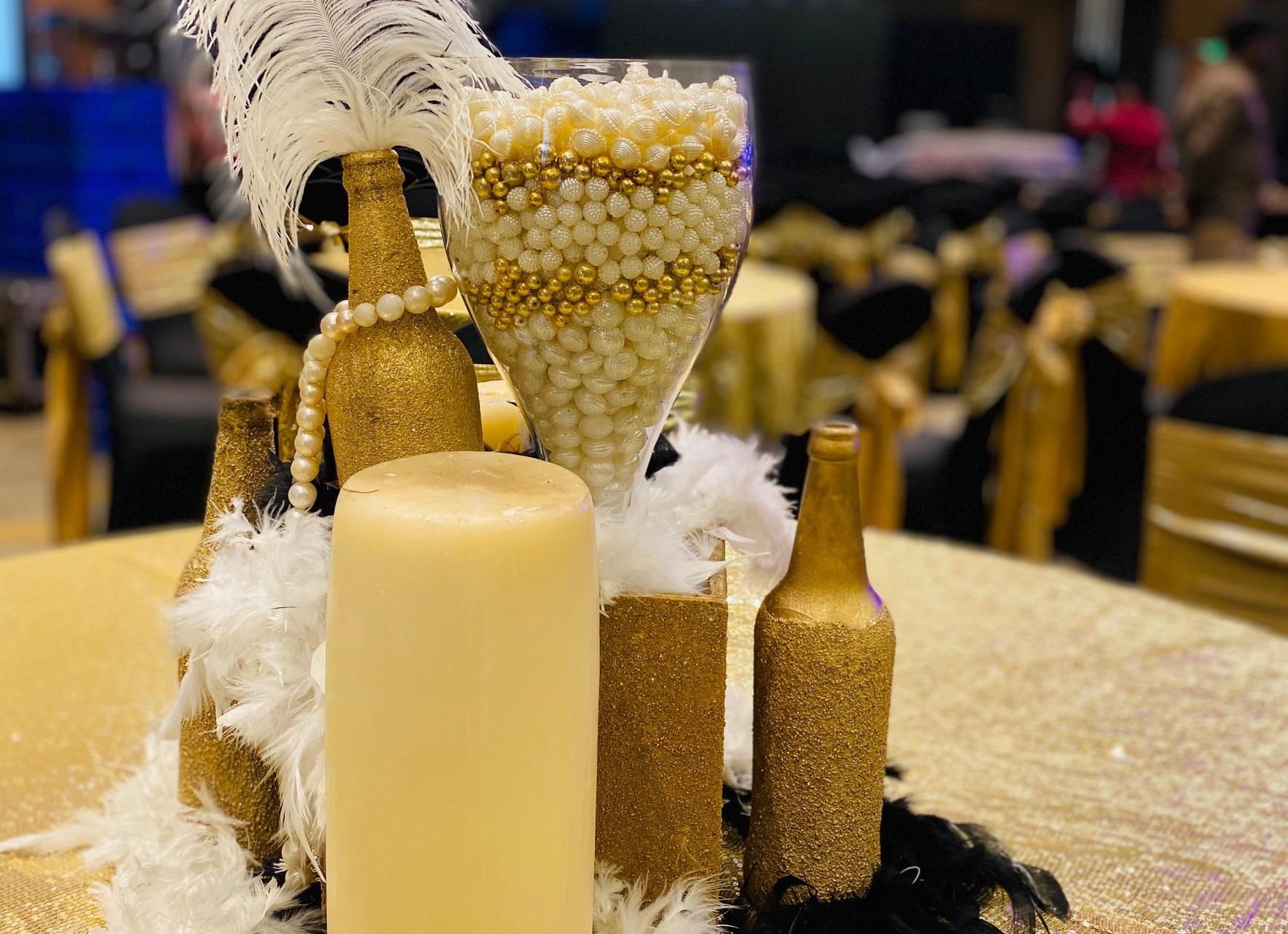 [Source: Mysty and Bella Designs/lover.ly.com]
During the 1920s, films were black and white and most were silent as well. Classics like Metropolis, The Cabinet of Dr. Caligari and Sherlock Jr. graced the silver screen. While you may or may not have an easy time locating these movies on Blu-Ray, you can take in their art deco aesthetic when choosing your flapper party decorations. Signs with letters should be big and bold, and designs were often geometric in nature. If you're more of a fan of the silent film look, you can also use black signs with white or gold letters and a typical silent film border. Also, decorate using a variety of items that are black, gold and white. Balloons, pearl strands, napkins, plates, silverware, big white ostrich feathers and other party decorations and accessories will look great when they're all color-coordinated!
1920s Party Dress Ideas
1920s Costumes for Women
If you're planning on attending a swanky 1920s shindig, flapper costumes will naturally come to mind. There are quite a few flapper costumes for women to choose from, whether you're looking for fringe and beadwork or lace. You can even find a few movie character costumes from the era, including the infamous Roxie Hart from Chicago, or Daisy Buchanon from The Great Gatsby. Perhaps you feel more comfortable in pants—and that's okay! We have some women's gangster costumes that are sure to be plenty of fun, and they will keep your legs warm on chilly nights.
1920s Costumes for Men
Gentlemen, you don't need to let the ladies have all the costume party fun. Look like a smooth criminal with our vast array of gangster costumes, or be a dapper cat. You can even have a little fun dressing as one of the most famous silent film comedians with a Charlie Chaplin costume! Men's suits in the 1920s also had quite a few color choices, from white and black to gray along with some other colors, and they also played with pinstripes and thicker stripes. Don't be afraid to add an appropriate hat to match your wardrobe, whether you're looking for fedoras, flat straw hats or a bowler hat for Charlie!
1920s Party Food Ideas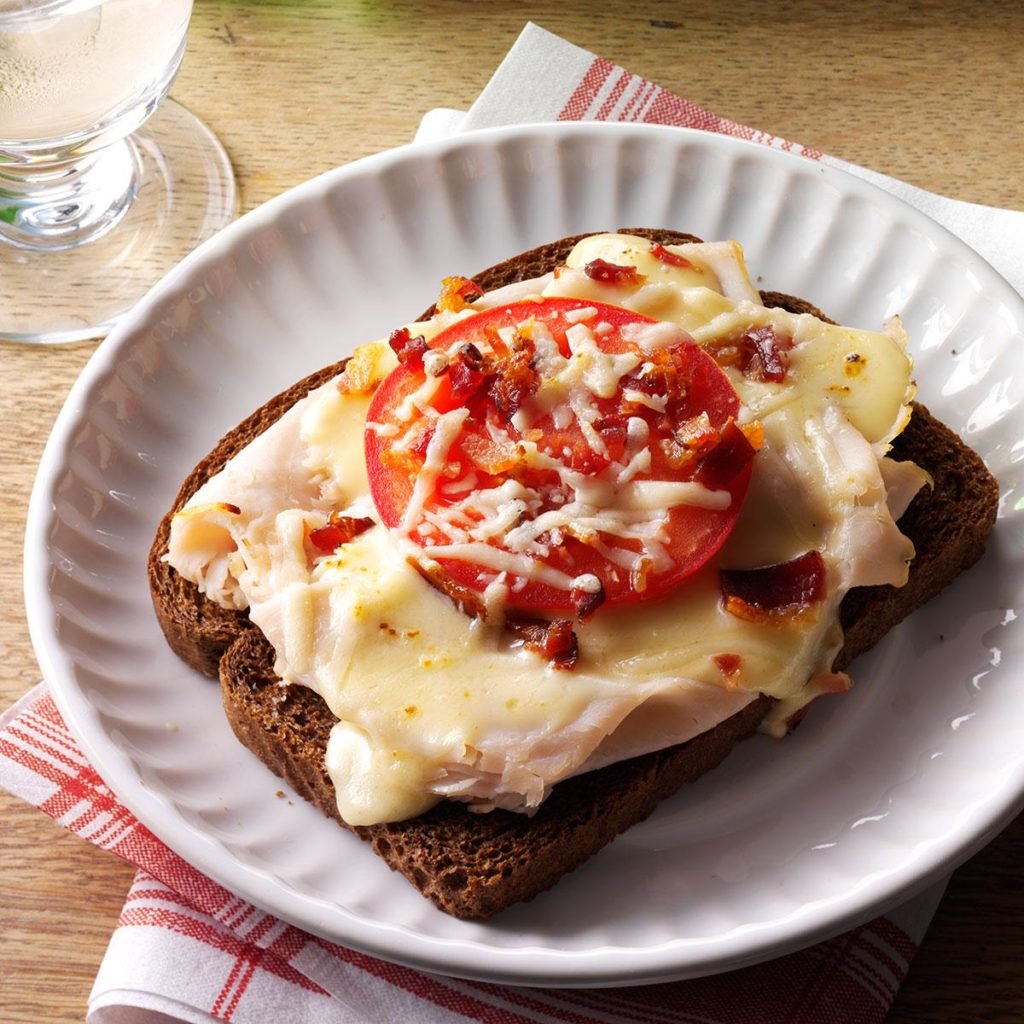 [Source: Taste of Home]
The 1920s was a time of prosperity, so get ready for a round of hearty foods. (Not necessarily healthy foods, mind you! And you may need to make compromises for vegan and vegetarian guests.) Not only were Americans just coming around to Italian food, but they were also absolutely addicted to ham, they slathered foods in sauce and you could find quite a few weird Jell-O recipes. (Trust us on the Jell-O—that's a rabbit hole for another day!) If you like the look of the sandwich image that we found, it's called the "hot brown". Invented by chefs at the Brown Hotel in 1926 in Louisville, it's peak 1920s cuisine!
1920s Party Favors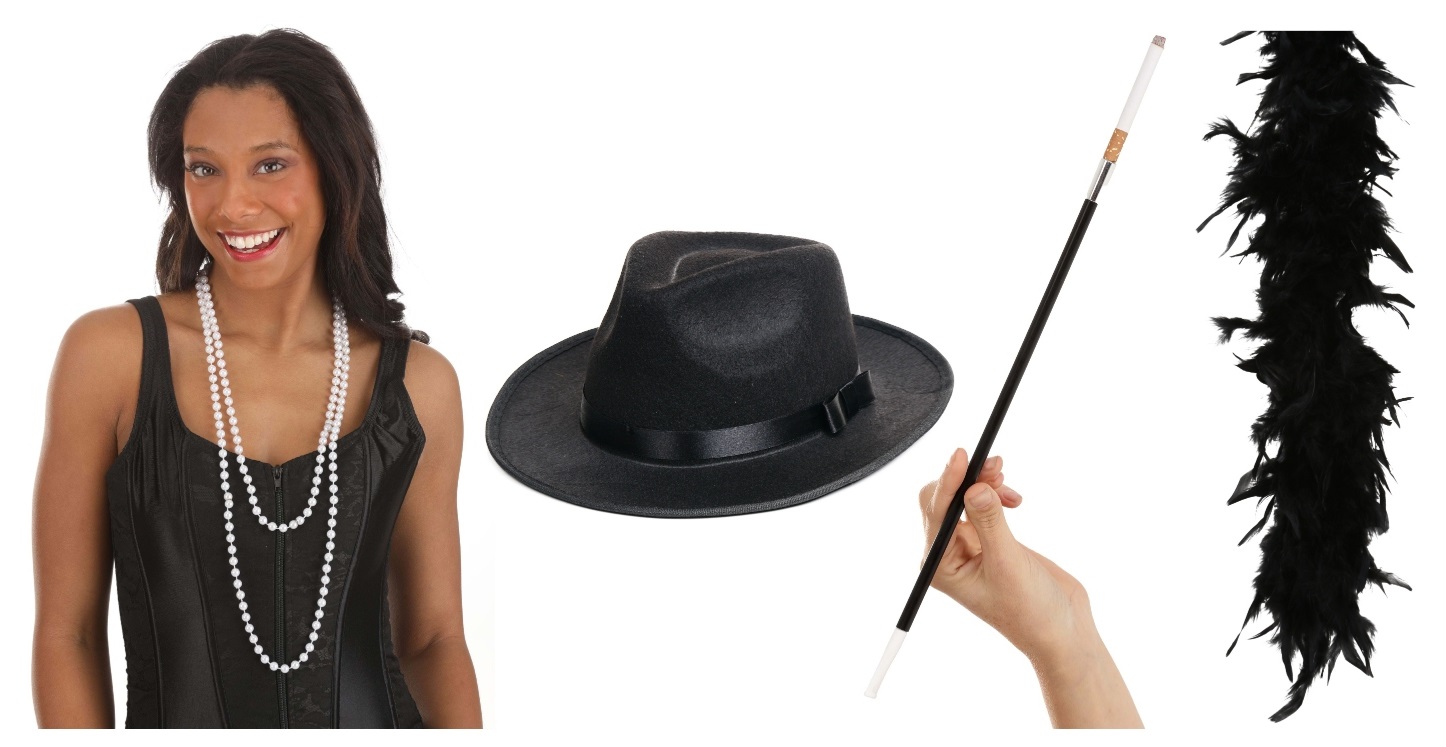 Send your party guests home with some inexpensive 1920s party favors. Whether you choose to put their gifts inside a fedora or a small gift bag, cheap party favors like beaded necklaces, feather boas and cigarette holders are always welcome. Add some black and gold tissue paper or confetti and some black and gold foil-wrapped chocolates or caramels, and you have a cute little party gift for each guest!
1920s Party Invitations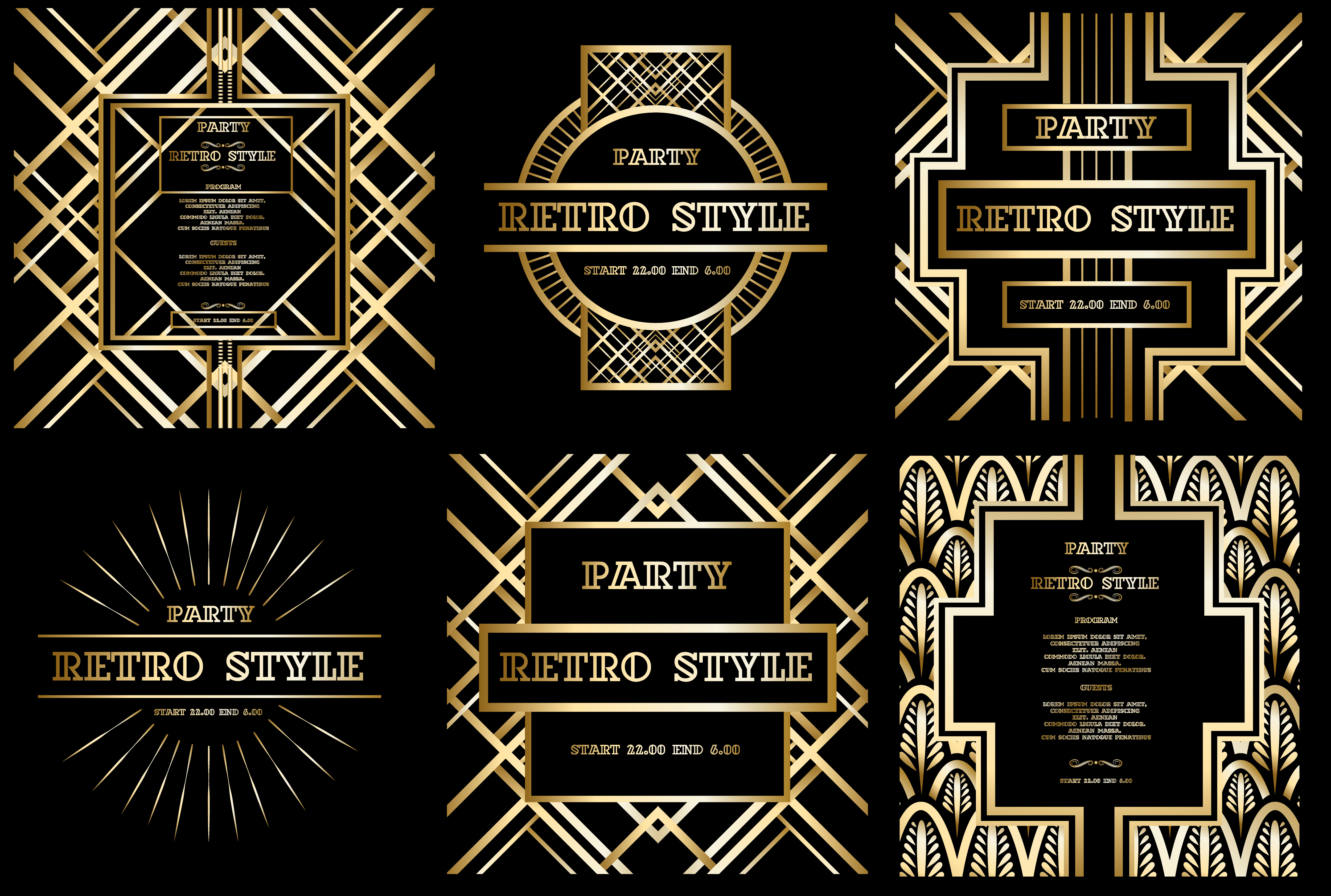 Do you remember what we said earlier about decorating using black, gold and white? Your party invitations will absolutely shine with gold accents on black paper. (If you really want to go all out, get the gold parts done in gold foil!) Use art deco-style geometric lines and shapes as a frame, and pick a retro font that matches well. Whether you choose to make your own 1920s party invitations or have them designed for you, guests will certainly be excited to receive an invite to your decade-themed party!
1920s Party Games and Activities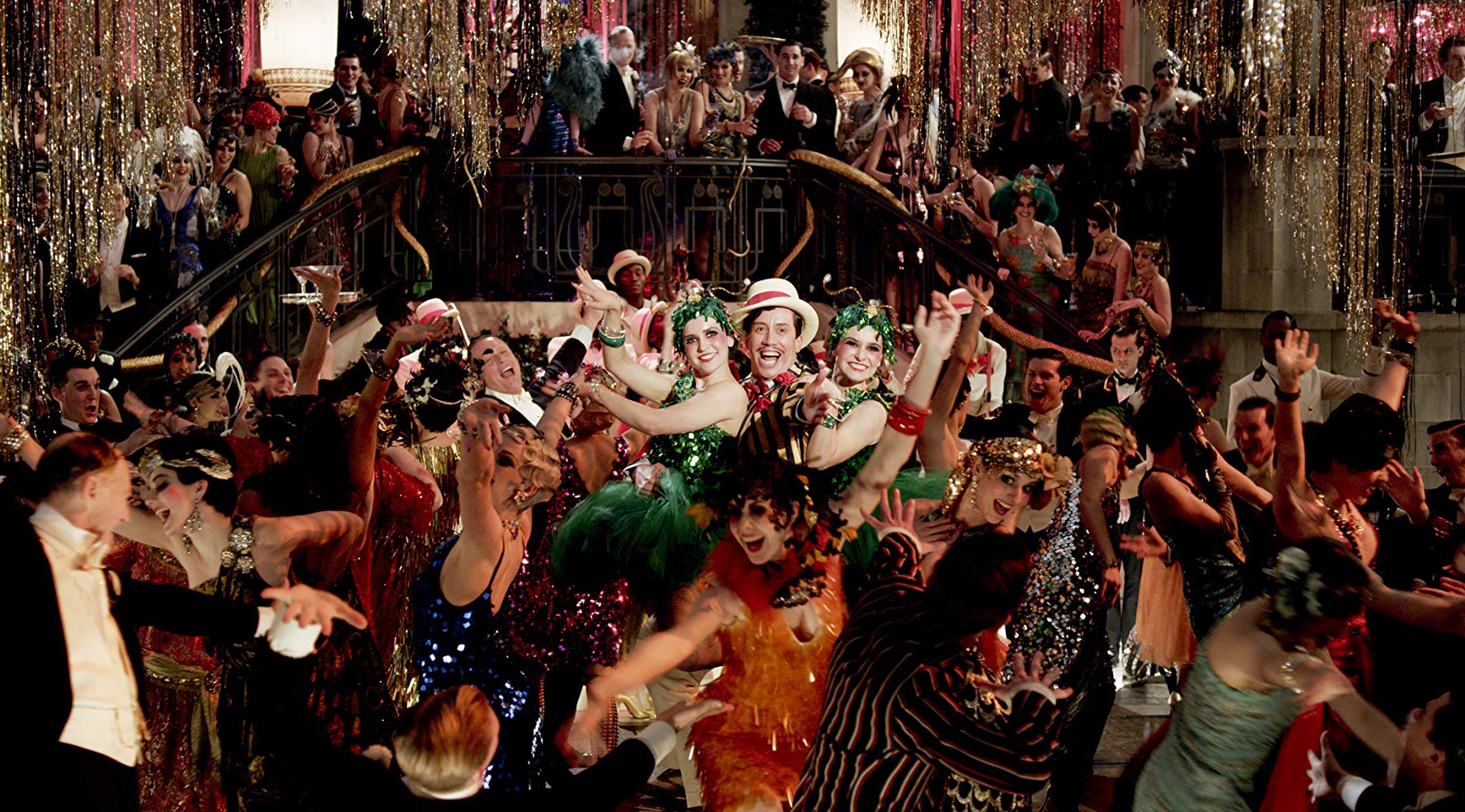 [Source: Warner Bros./IMDB]
Anyone who can book a live show or a 1920s-themed murder mystery show should have no problem with entertainment for the night. However, if you're not made of cash like Jay Gatsby, we do have some other party activities for you and your guests! One simple idea is to provide quick and easy games at select tables where guests can mingle. Leave packs of cards and instructions for simple card games like Kings in the Corner, Go Fish, Old Maid and War. Crosswords were also making their way into newspapers, so crossword puzzle pages are another easy party activity. If you're looking for some more involved 1920s games, Mahjong and Chess were popular games in the 1920s.
1920s Music and Dance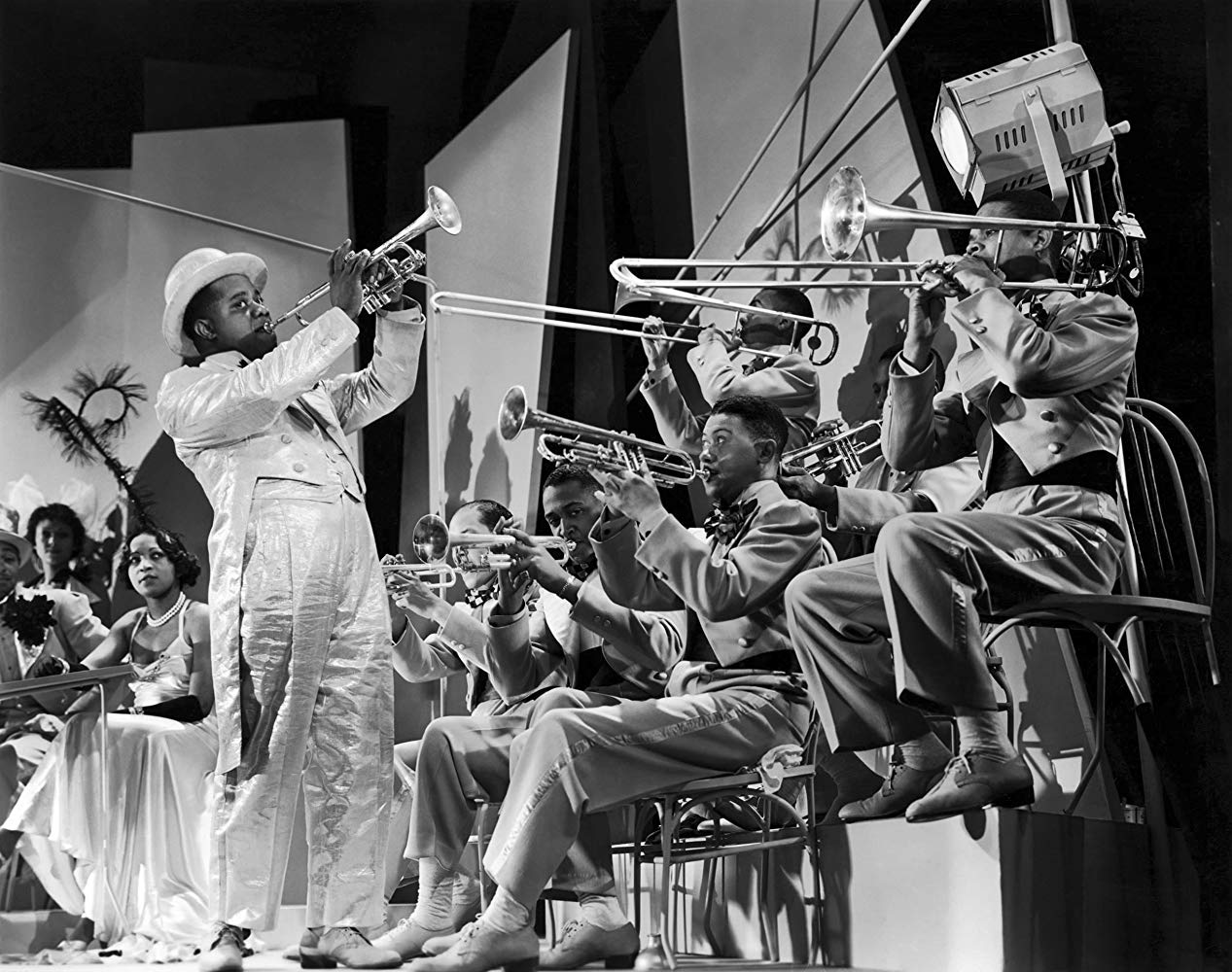 [Source: Emanuel Cohen Productions/IMDb]
Let there be jazz! The 1920s was part of the period known as the Jazz Age, so you can't go wrong making a playlist filled with greats like Louis Armstrong, Count Basie and Duke Ellington. Don't be afraid to mix in some blues either—your guests won't want to miss tunes by artists like Bessie Smith or Lonnie Johnson. Some of their best and most popular songs include tunes like "West End Blues", "There'll be a Hot Time in the Old Town Tonight" and "It Don't Mean a Thing (If It Ain't Got That Swing)". If you know that your party guests really like to dig their heels into the dance floor, you can add some fun to the night by finding dance tutorials and teaching everyone how to do 1920s dances like the Charleston and the Lindy Hop.
We hope that these ideas helped you with your 1920s party planning! What are you looking forward to the most? Are you excited to wear flapper costumes and other 1920s outfits to a roaring 2020s party? Did the party food ideas make you want to get your oven started? Let us know in the comments below! Also, we'd love to hear your own Gatsby party tips. These themed parties are plenty popular (and we're especially looking forward to celebrating 1920s style in the 2020s), so additional ideas are always welcome!