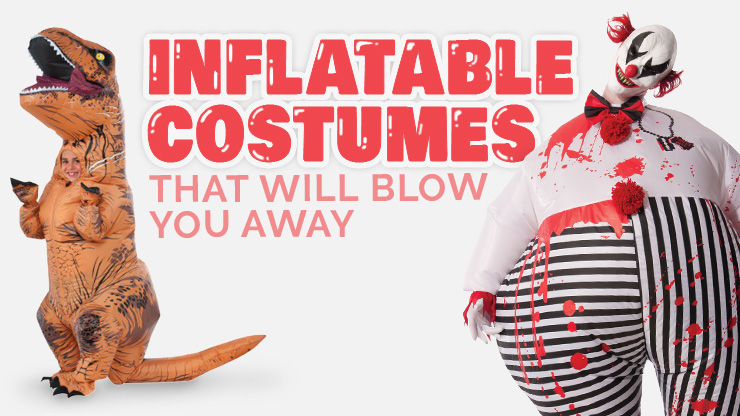 Everyone loves a good funny costume! We're totally digging inflatable costumes after the first inflatable dinosaur costume went viral on YouTube. Even though it has been a few years since the inflatable t-rex costume starred in a viral Ninja Warrior YouTube video, the popularity of blow up costumes has increasing exponentially! What makes inflatable Halloween costumes so popular? Is it the bounce when someone walks? Is it the fact that they don't quite look realistic? We'll let you decide when you see our costume ideas in this funny inflatable costume guide!
Funny Inflatable Costumes for Kids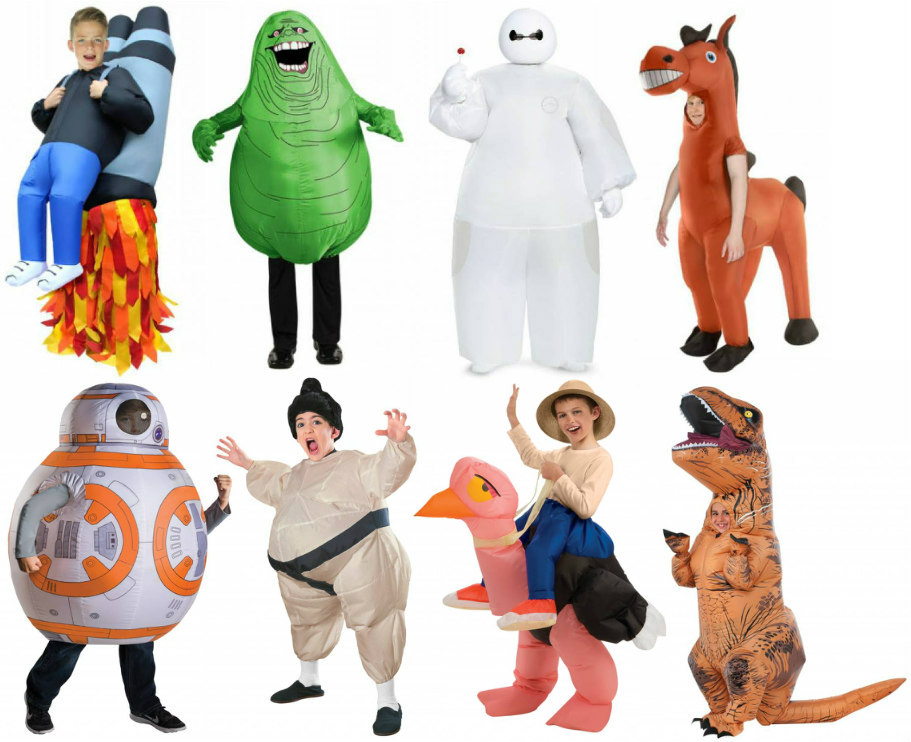 Most of the media surrounding inflatable costumes has been about adults wearing them, but they actually have some inflatable costumes for kids, too! If you are looking for an inflatable costume for your child, they can be some of their favorite characters such as Baymax or BB-8. (Frankly, both translate to an inflatable Halloween costume very well!) There are also some unlicensed inflatable costume options such as the classic inflatable sumo wrestler and a goofy ride-on ostrich.
Inflatable Animal Costumes for the Extra Goofy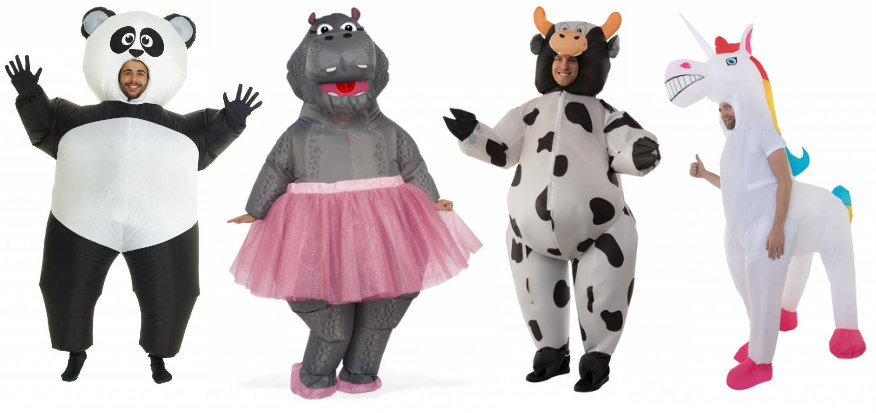 There are also a wide variety of inflatable adult costumes! (Let's not get into semantics about the adult inflatable unicorn costume. It is what it is!) Animal costumes are easily recognizable and often silly. While the cow jumpsuit is a classic, the inflatable cow costume is also incredibly goofy! You're bound to get a laugh if you take an inflatable panda costume or an inflatable unicorn costume onto the Halloween party dance floor! There are endless ways to enjoy your funny inflatable costume whether you're partying with friends or trying to perform a social media stunt.
Try These Silly Inflatable Riding Costumes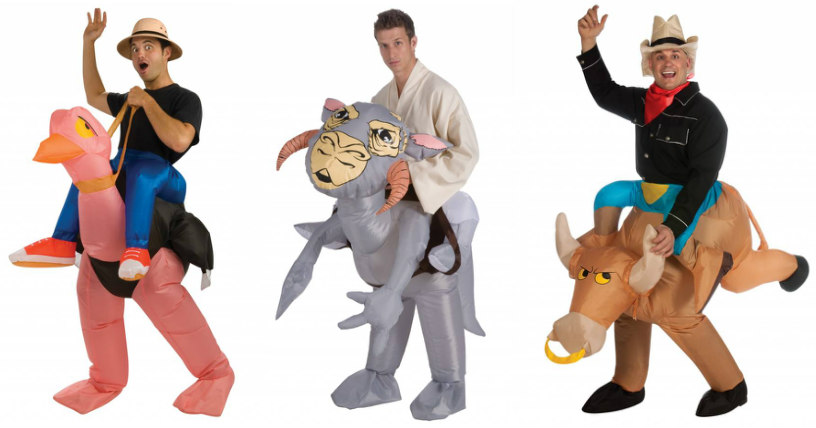 If you thought those blow-up animal costumes were goofy, these adult inflatable riding costumes are sure to crack a smile on some of your most serious friends. You can also add to the silliness with additional accessories such as a pith helmet for the ostrich costume or a cowboy lasso for the riding bull costume. (Kudos to anyone that dresses like Hoth Han or Luke with the riding tauntaun costume!)
Inflatable Dinosaur Costumes We Love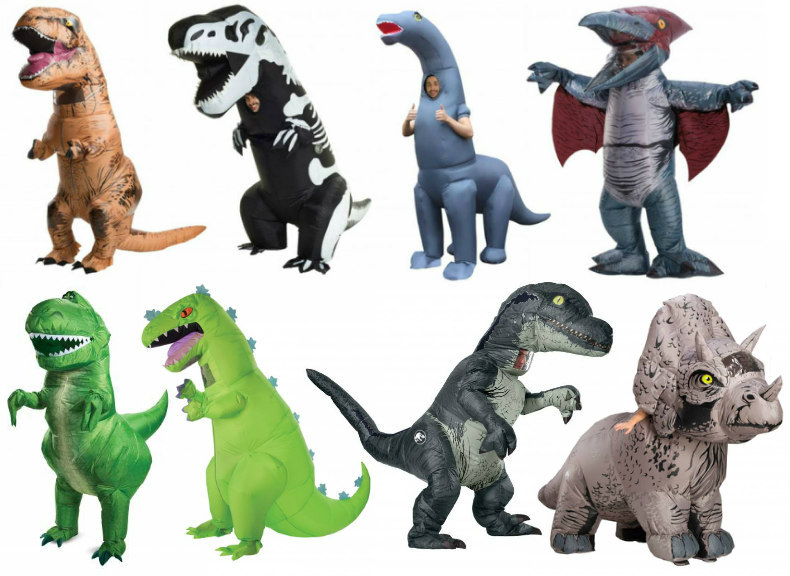 Inflatable dinosaur costumes are like Oreos: you can't have just one! The t-rex inflatable costume was so popular that now there are several licensed Jurassic World inflatable costumes! There are also a couple other famous dinosaurs such as an inflatable Reptar costume and an inflatable Rex costume featuring the friendly dino toy from Toy Story. If you're still digging for more dinosaurs, you can try a few other unlicensed inflatable dinosaur costumes.
Fan-Favorite Licensed Inflatable Costumes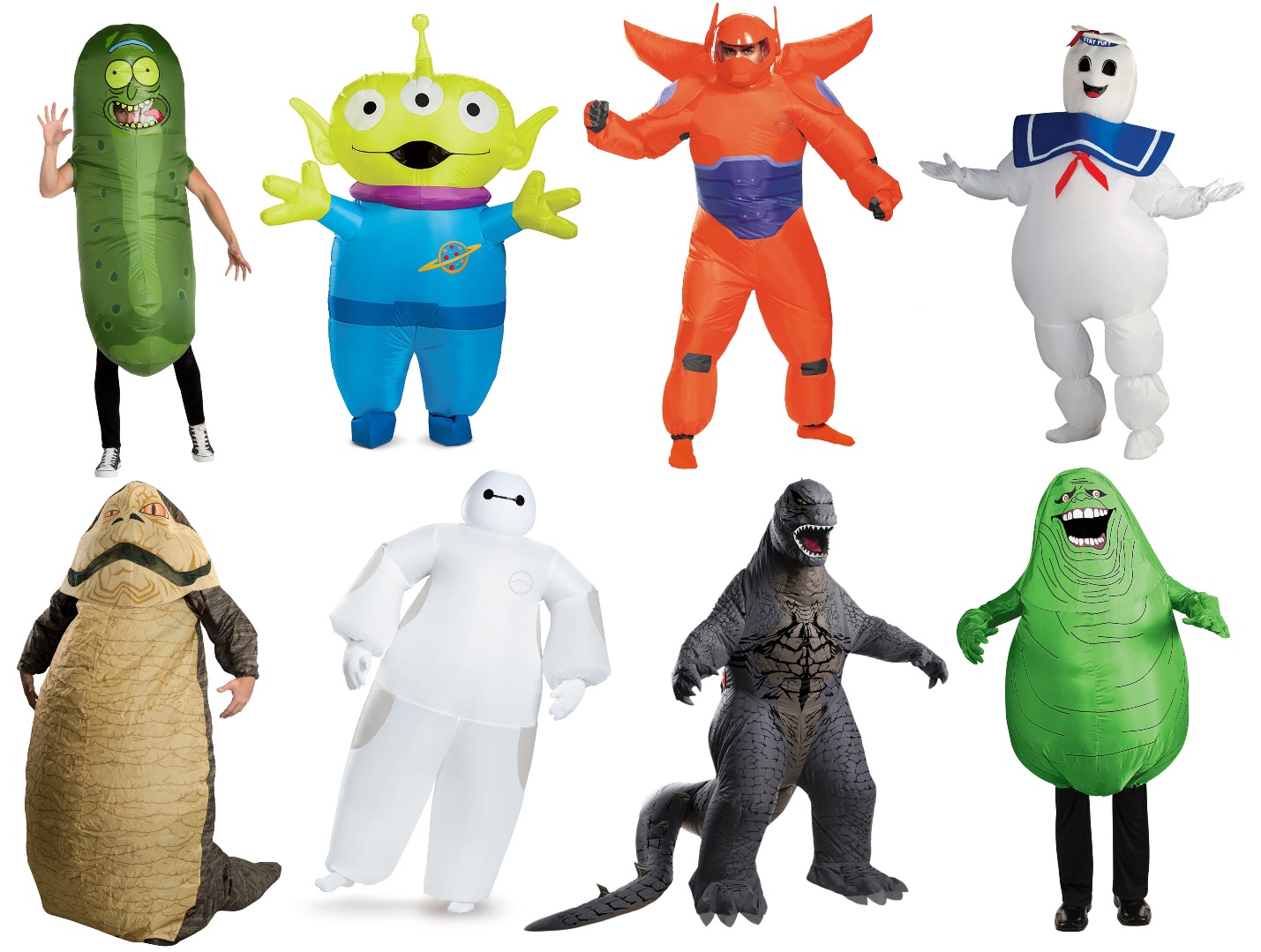 What a plethora of licensed inflatable costumes! There are so many characters that lend themselves well to inflatables, such as the Stay Puft Marshmallow Man from Ghostbusters or Patrick Star from SpongeBob SquarePants. An inflatable Godzilla costume would also make a great addition to any Halloween costume party! (Should you spot any pterodactyls, make sure it's not Rodan so you keep the city of Tokyo safe!)
Goofy Inflatable Pick-Me-Up costumes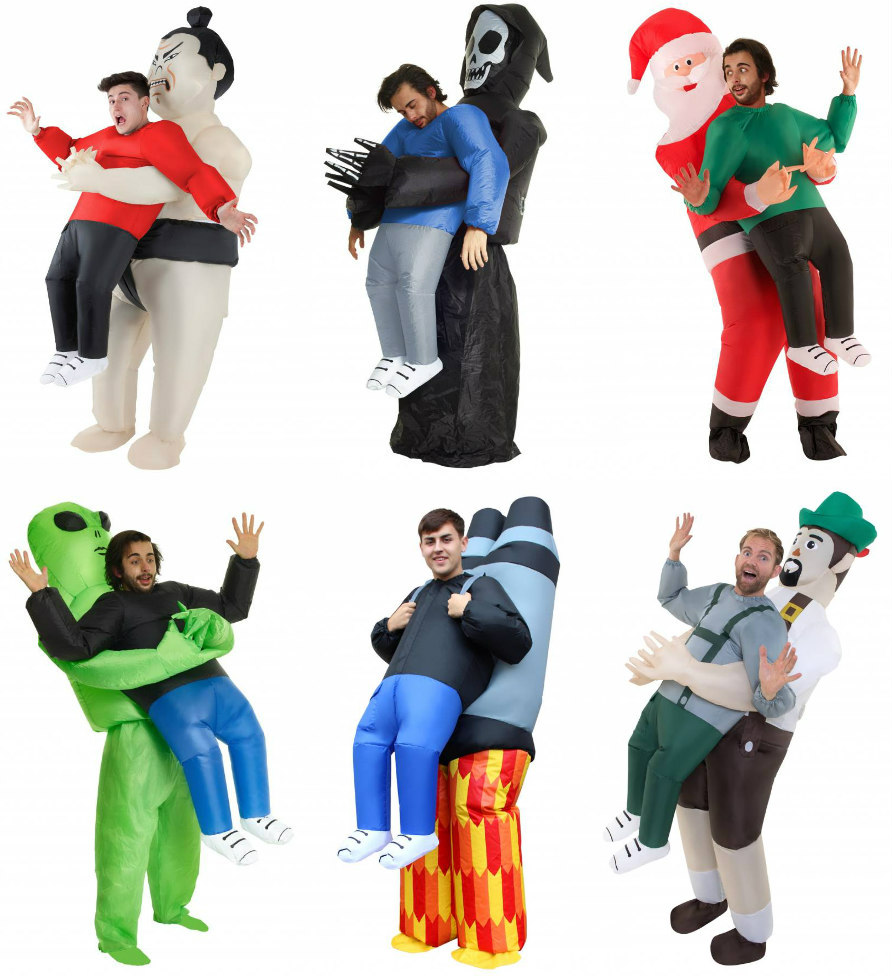 If you are one of those people that likes optical illusion costumes but you're also torn about wanting to wear silly costumes, now you can get the best of both worlds! (The jetpack costume happens to be one of our favorites!) This selection of funny costumes will surely get a chuckle out of your buds, especially if you decide to hit the dance floor at a Halloween party.
Other Stand-Out Inflatable Costumes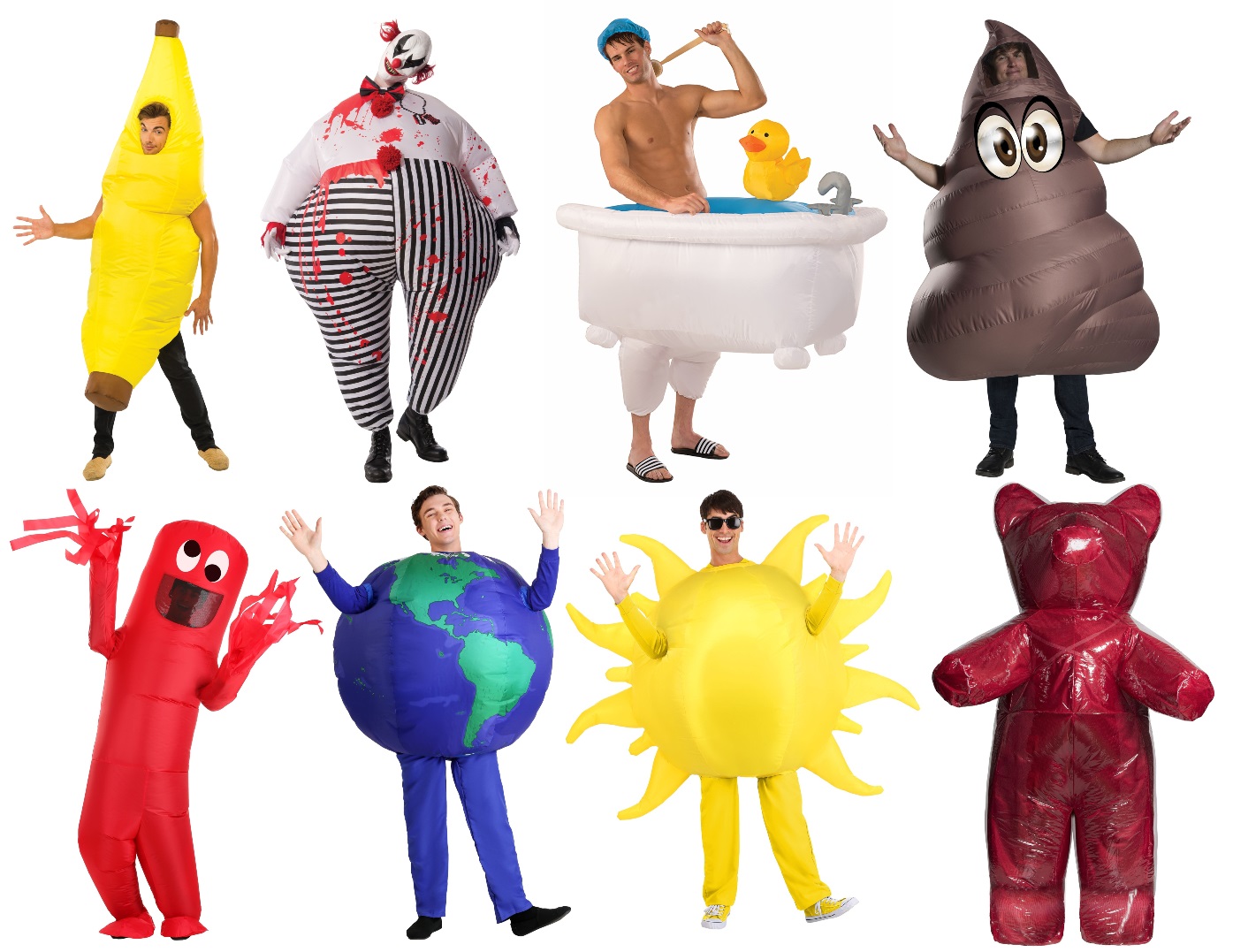 If you thought there couldn't possibly be any more inflatable costumes, you thought wrong! Halloween classics such as a banana or a creepy clown also make great blow-up costumes! Other costumes such as the inflatable bathtub costume and the poop emoji costume are certain to get a laugh. (Maybe there should be inflatable costumes for everything! They're ridiculous and we love them!)
Inflatable Costume Props for Silly Costumes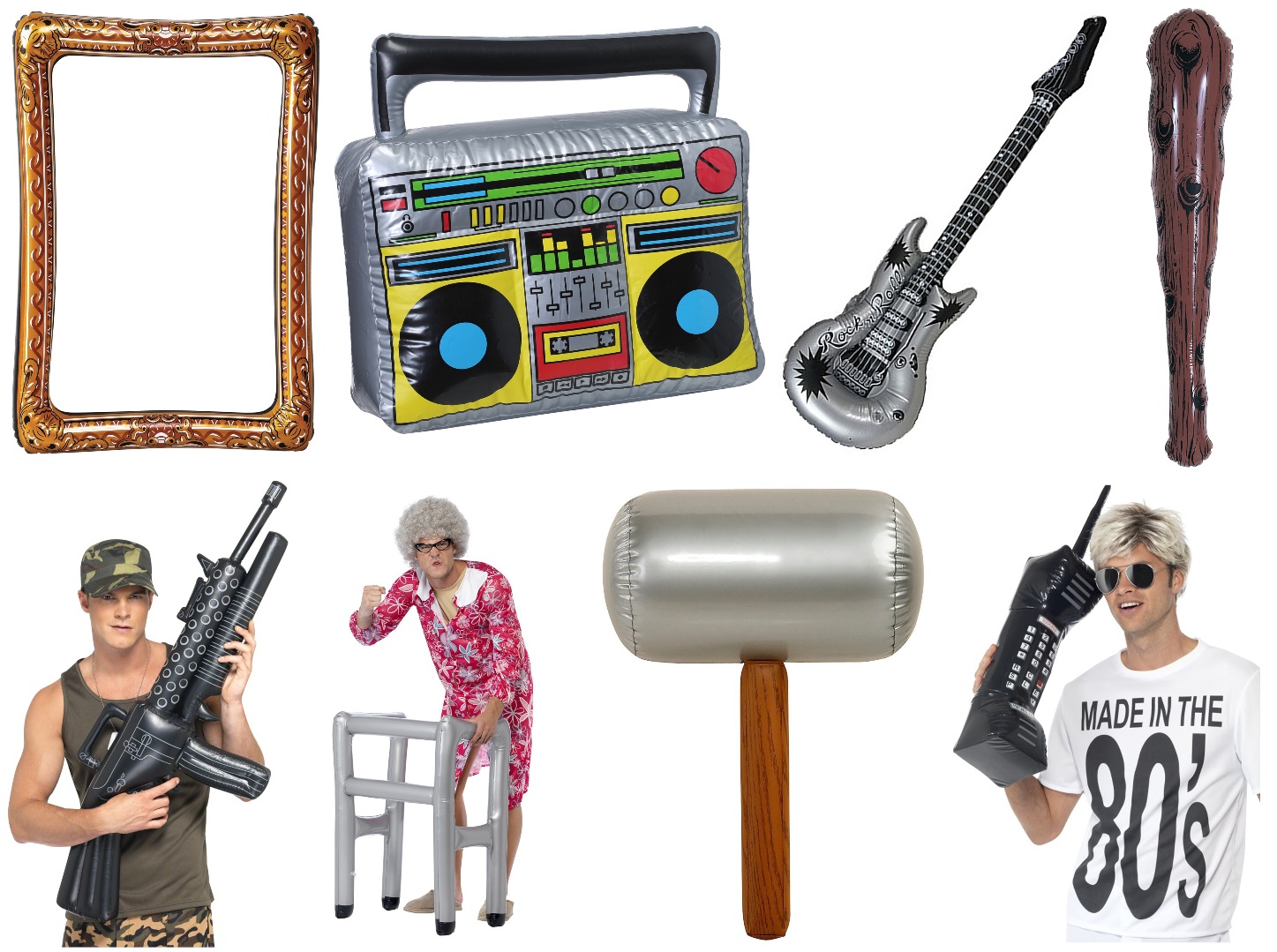 Inflatable costumes are a lot of fun, but even if you're not planning on wearing an inflatable costume you can add to the fun with some silly costume props! The best part about inflatable prop items is that they are light, kid-friendly and they stand out. You can also deflate them and fold them up to store in your purse or pocket if you only wanted to have the prop for pictures. (Then you can have both hands free once again whether you're out partying or taking your kid trick-or-treating!)
We hope that you found reading this blog an enlightening experience because there are probably more options for inflatable costumes than you realized! Whether you wish to go all-out in a full body inflatable costume or keep it simple with an inflatable Halloween prop, you are bound to put smiles on peoples' faces. We hope you enjoy dressing in silly costumes, because it's hard to find something funnier than an inflatable costume. (Check out this video about inflatable costumes and you'll see why they're awesome!) Are you planning on wearing a goofy Halloween costume this year? Did you want to wear an inflatable Halloween costume? If you found yourself answering yes to any of these questions, you may want to take a gander at the rest of these inflatable costume ideas!