For many people, Halloween is a family affair. And dogs are generally considered to be part of the family! Putting your dog or cat in a costume used to be considered ridiculous, but the Internet has changed everything! Now folks from all over the world can't wait to embrace dogs in costumes. (It's hard to deny that dogs in costumes are really cute.) Whether you want to get a dog costume for Halloween or another annual event, there are so many choices and styles to consider. Do you want a cosplay dog costume? What about a silly dog costume? Keep reading to find the best dog costume for your furry friend!
Funny Dog Costumes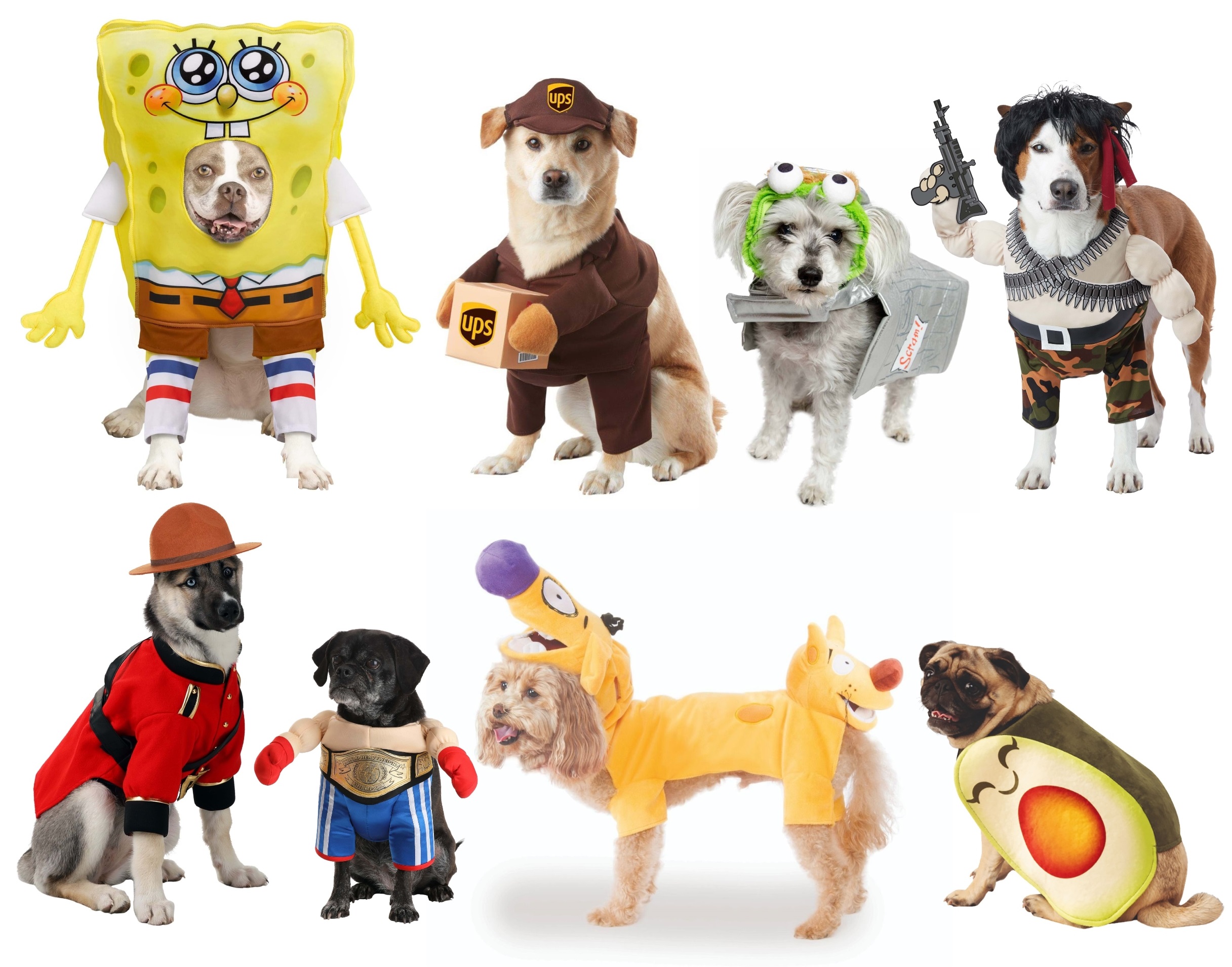 Dogs tend to look silly no matter the costume, but certain costumes are just plain funnier than others. If the thought of a muscular dog outfit like Rambo or a champion boxer costume with mini boxing gloves gives you the giggle fits, it's obviously going to be a winner. We dig it, and you can bet your pupper will love a funny dog costume, too! Famous dog character costumes like CatDog? Yes, please! Just make sure you have your camera ready when your pet comes rushing into the room wearing a funny pet costume because you know your guests will be laughing up a storm.
Disney Dog Costumes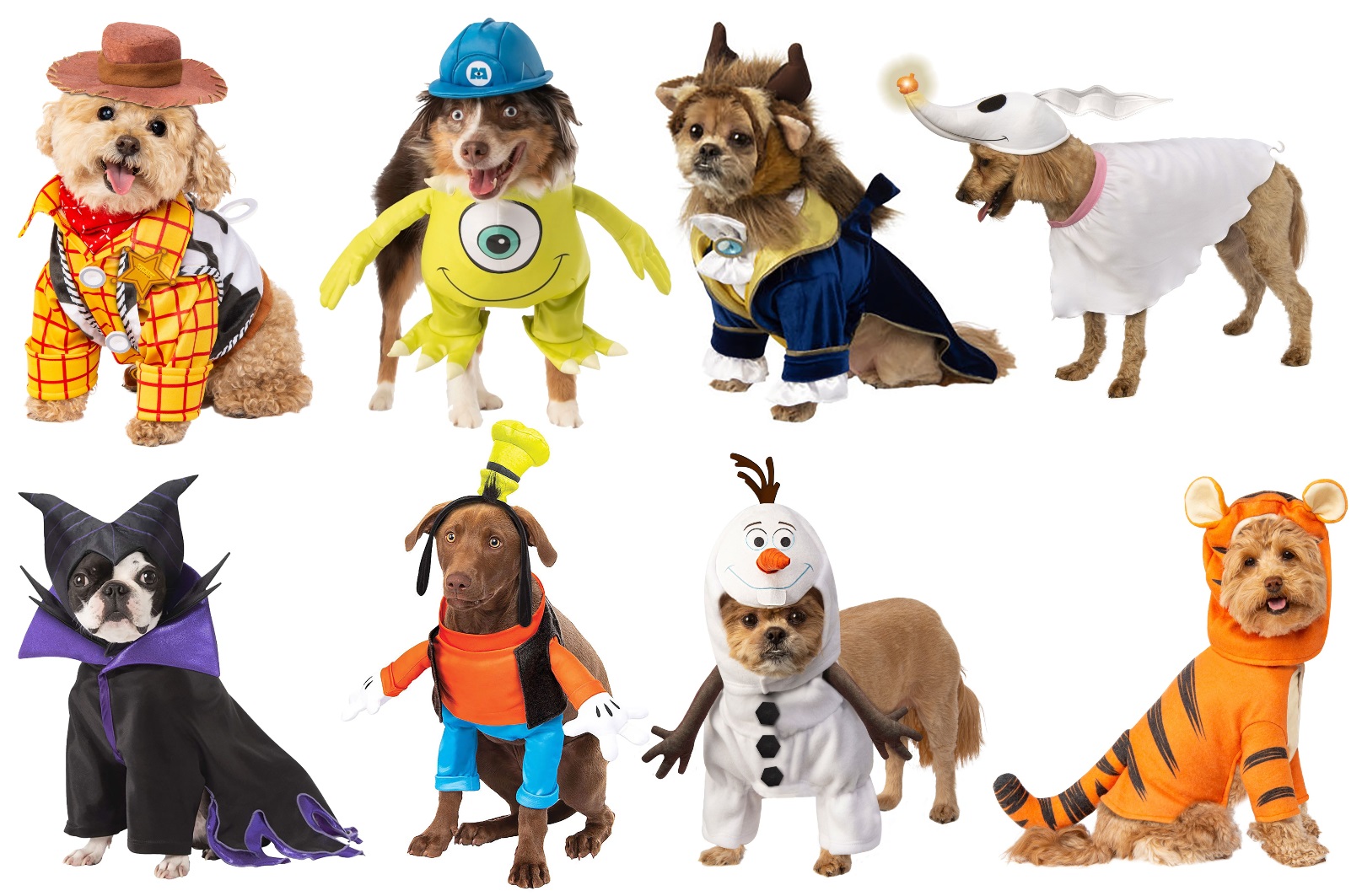 Disney costumes are great on their own, but dogs in Disney costumes take the cake. You can pair your Disney wardrobe with these Disney dog costumes to bring your dreams to life! How cute would Elsa be with a little dog Olaf at her side? What about the towering Sulley with his best pal Mike? You could say that the paw-sibilities with these dog Disney costumes are endless!
Star Wars Dog Costumes

You'll have the cutest pet in the galaxy when they wear one of these Star Wars dog costumes. Dress as Luke or Leia, and you will always be secure with your pet C-3PO companion at your side. Of course, you could turn the tables and let your dog give you the orders in an Ewok costume while you live that Stormtrooper life. There are so many dog costume ideas to pair with your Halloween outfit that will make people want to stop you on the street for pictures. This is the way!
Scary Dog Costumes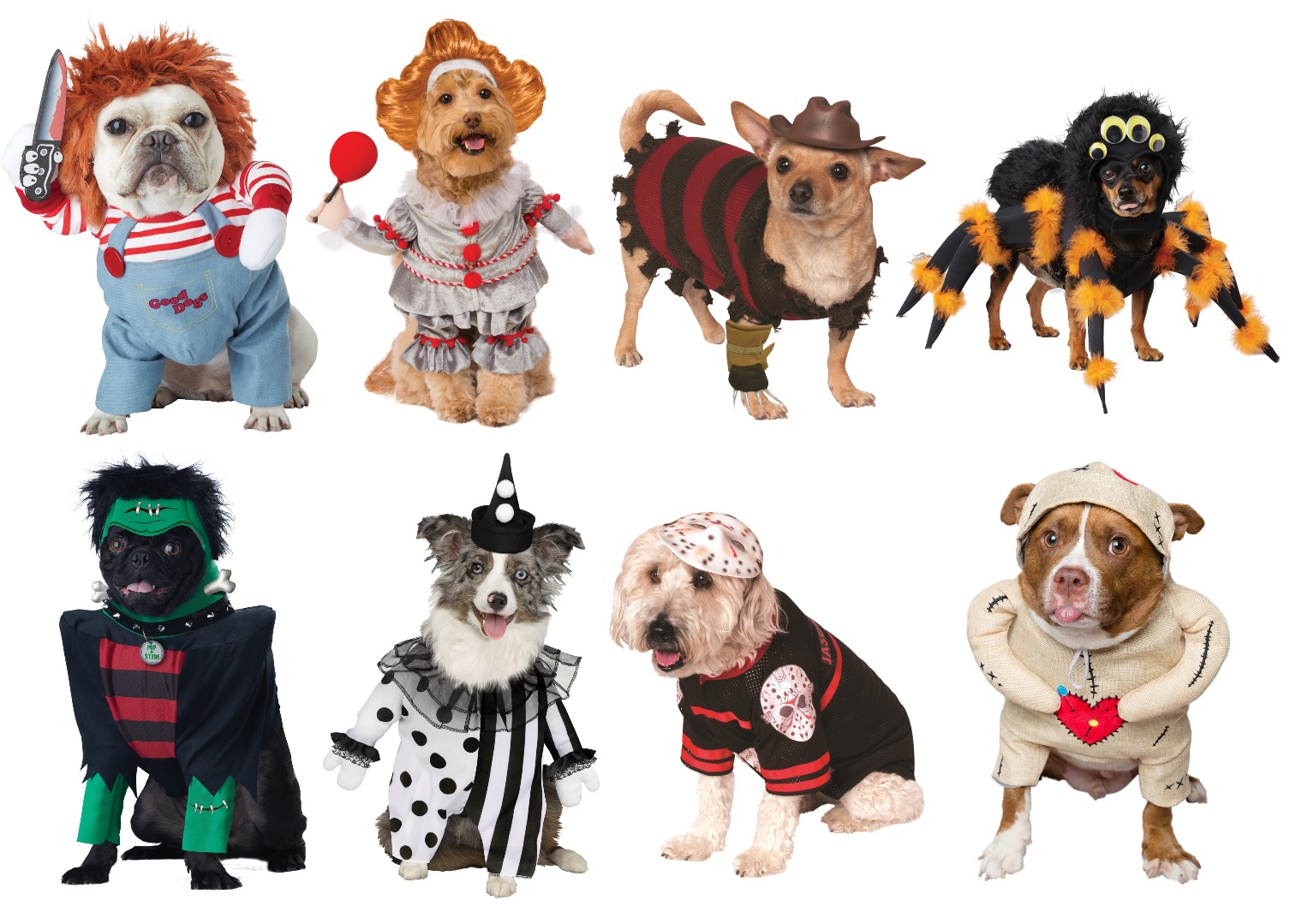 We hesitate to use the word "scary" to describe these pet costumes. Let's be honest. Dogs in horror movie costumes are so cute! Would you be afraid of a dog dressed as Chucky? (Maybe if they come chasing you down to steal your snacks, but watching their little arms wagging back and forth is hardly horrific.) What about a Pennywise dog costume? That doggie demon is an adorable shapeshifter! Of course, we do have to admit there is such a thing as a scary dog costume. Let your pet climb into a giant spider dog costume, and you will surely get a few shrieks! (That's one bug that'll chew on your shoe instead of getting squashed by it!)
Superhero Dog Costumes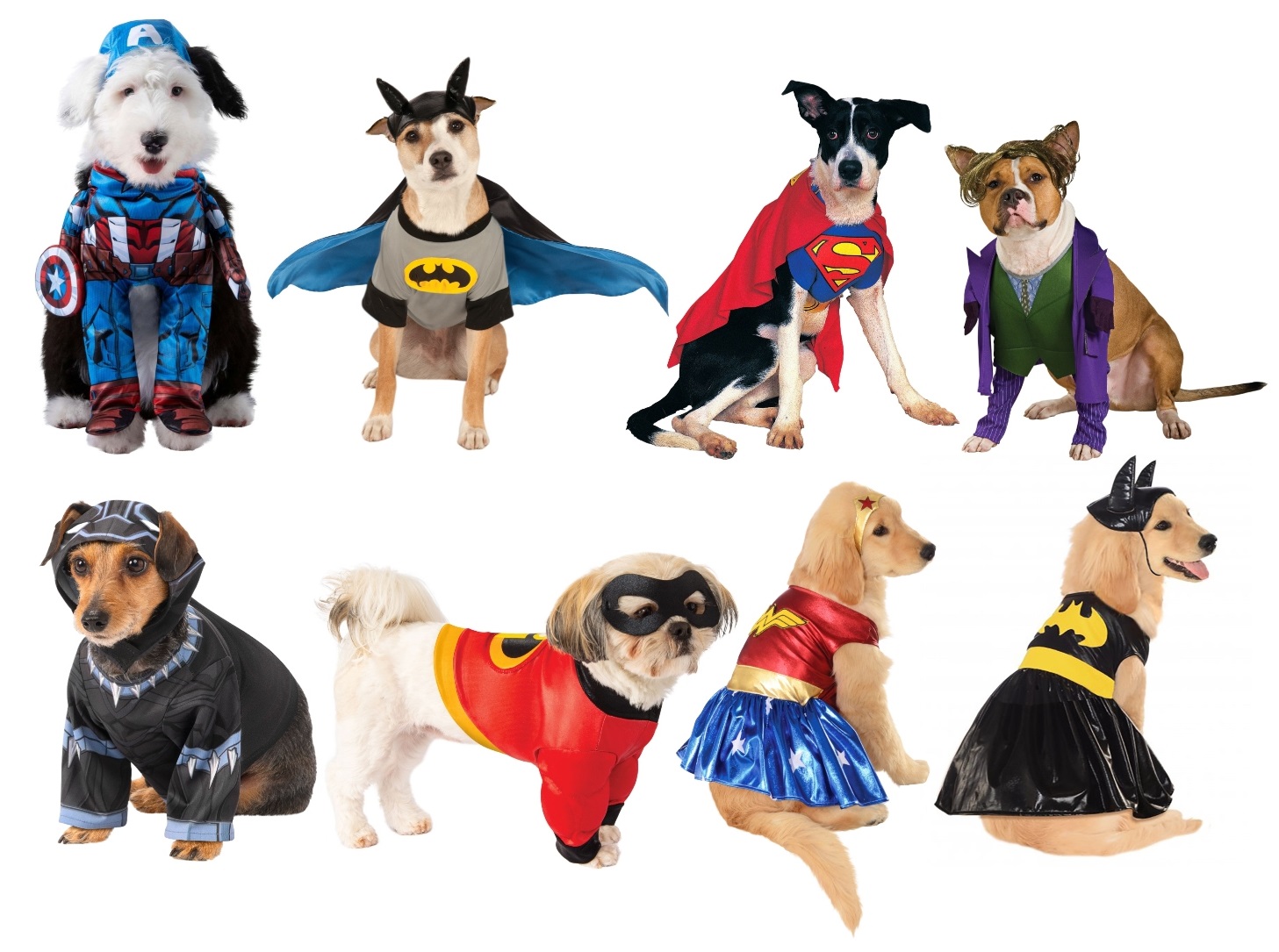 We already know that our furry friends are the real heroes in our lives. That's why it makes perfect sense to suit them up in a dog costume that shows how marvelous they are! Dive right into the comic books with some excellent superhero dog costumes that will get their tails wagging. Who knows? You might discover that Wakanda's original Black Panther might have been more closely related to your four-legged friend than we first thought!
Food Dog Costumes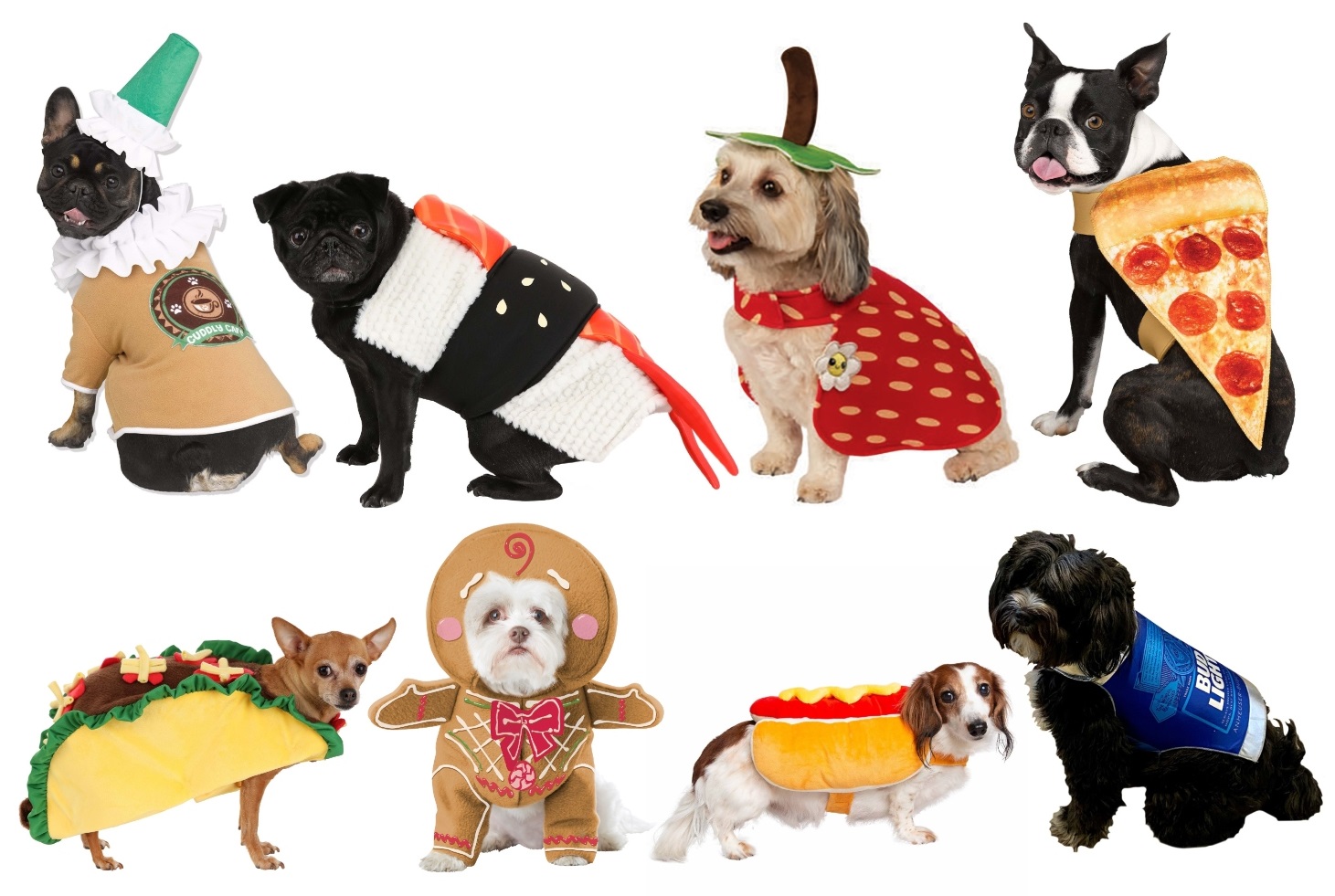 They're so cute; we could just eat them up! Dogs make any costume look good, including these adorable food costumes for dogs. Tacos, pizza slices, and hot dogs are all pretty standard for dog Halloween costumes. (Especially if you have a dachshund or chihuahua!) However, we love more unusual offerings too. Your roly-poly pupper will be so cute as a sushi roll, or what about a frappupccino? We're sure we'd shriek with joy if a gingerbread dog came running towards us with their little costume arms flapping in the air!
Animal Dog Costumes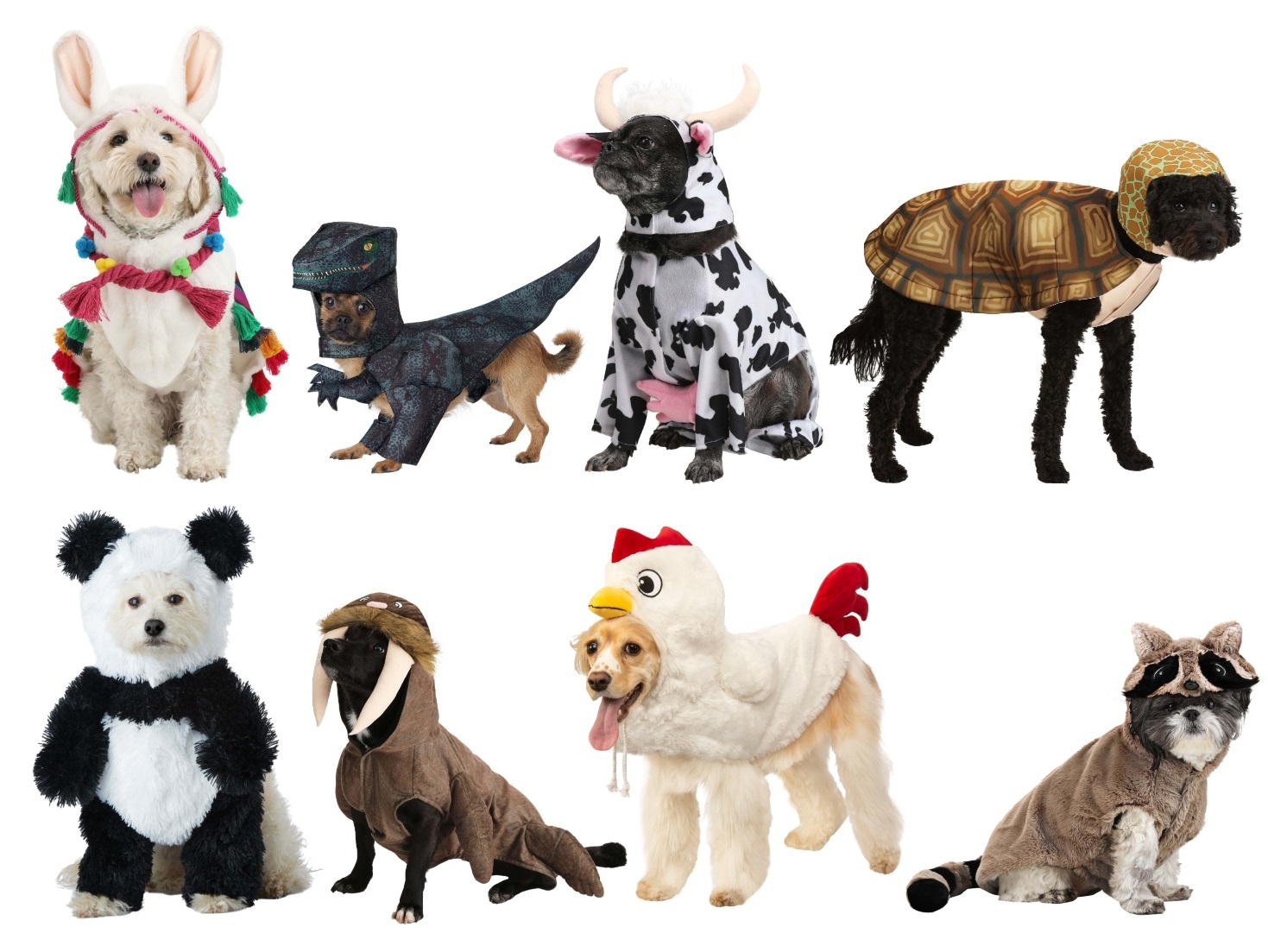 Nature is full of weird animals. Some of them look just like other animals, and others look like somebody took a whole bunch of different critters and mixed and matched their parts! There's the platypus, the maned wolf, and even the cassowary...to name a few. But the fun doesn't have to stop there. If you're a fan of weird nature, perhaps you'd consider an animal costume to turn your dog into a new odd species. Bumbledog? Pupasaurus? Whatever pet Halloween costume you choose is bound to give people a good chuckle.
Dog Headpiece Costumes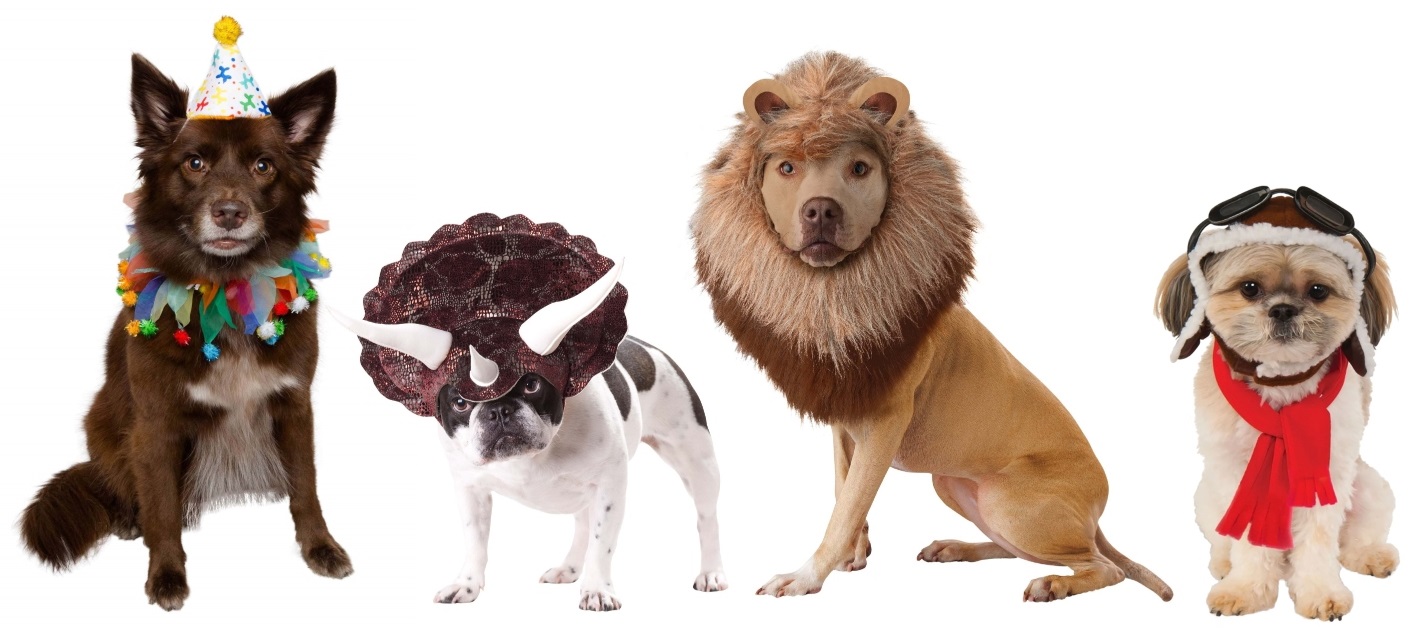 Maybe you have a big dog that's difficult to get into a pet costume with sleeves. Or perhaps you have a shy dog who's not the biggest costume fan. Fortunately, there are easy pet costumes for any animal that come in the form of these headpiece costumes for dogs. All you'll need to do is strap these dog hoods over your animal's head and under their neck, and you'll have an easy dog costume in a snap! These may (or may not) take your pet some time to get used to, so always let your dog try their costume out before the big event!
Dog Costume Accessories

While you're looking for easy dog costumes, one extra strap will give your animal wings! (Maybe even literally.) Another simple Halloween costume for dogs is a pair of wings or similar harness-style pet outfits. If your dog wears a harness on walks, there's a good chance you can get them to wear one of these Halloween outfits without a fuss. As always, measure your pet and double-check the size chart for the perfect fit.
We hope you found the perfect dog costume to pair with your pooch! There are so many Halloween dog costumes that sometimes it's hard to know where to start. Are you planning on dressing up your dog for a puppy costume event? You'll need to check our size charts, compare them to your furry friend, and then find the perfect character or critter to transform your four-legged friend into a costumed companion. Were you hoping to create the perfect duo costume with your dog? While we have tons of pet costumes available online, we also have plenty of adult Halloween costumes and costumes for kids to make a matching set!