For many people, Halloween is a family affair. And pets are generally considered to be part of the family! Putting your dog in a costume used to be considered ridiculous, but people are starting to embrace pets in costumes. (It's hard to deny that dogs in costumes are really cute!) Whether you want to get a dog costume for Halloween or for another annual event, there are so many choices and styles to consider. Do you want a cosplay dog costume? What about a silly dog costume? Keep reading to find the best pet costume for you and your furry friend!
Funny Dog Costumes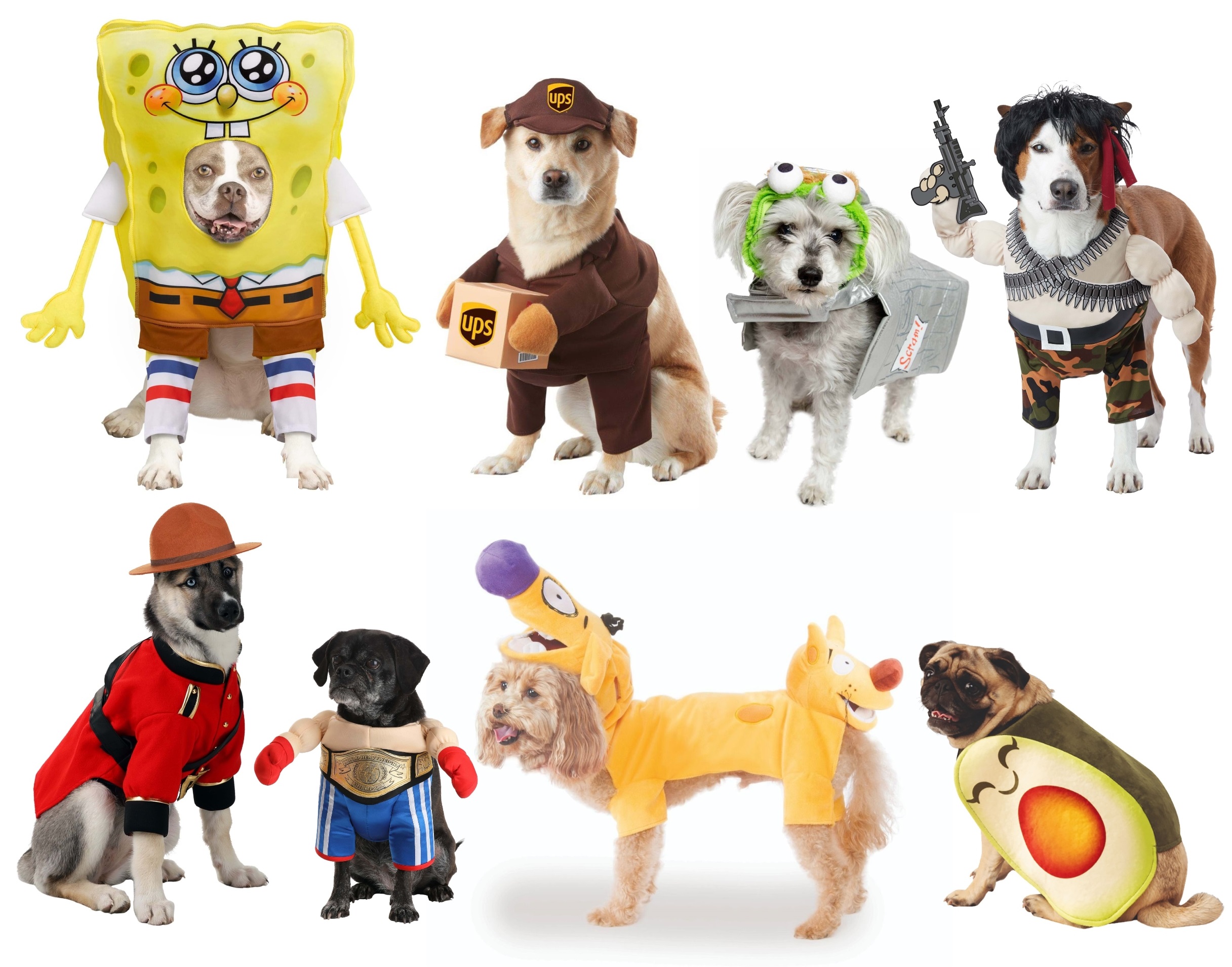 Pets tend to look silly no matter the costume, but certain costumes are just plain funnier than others. An optical illusion dog costume where it looks like two dogs are carrying something? We dig it! Famous dog character costumes like CatDog and Bruiser? Yes, please! If the thought of a muscular dog outfit like Rambo or an 80s workout costume gives you the giggle fits, it's obviously going to be a winner.
Scary Dog Costumes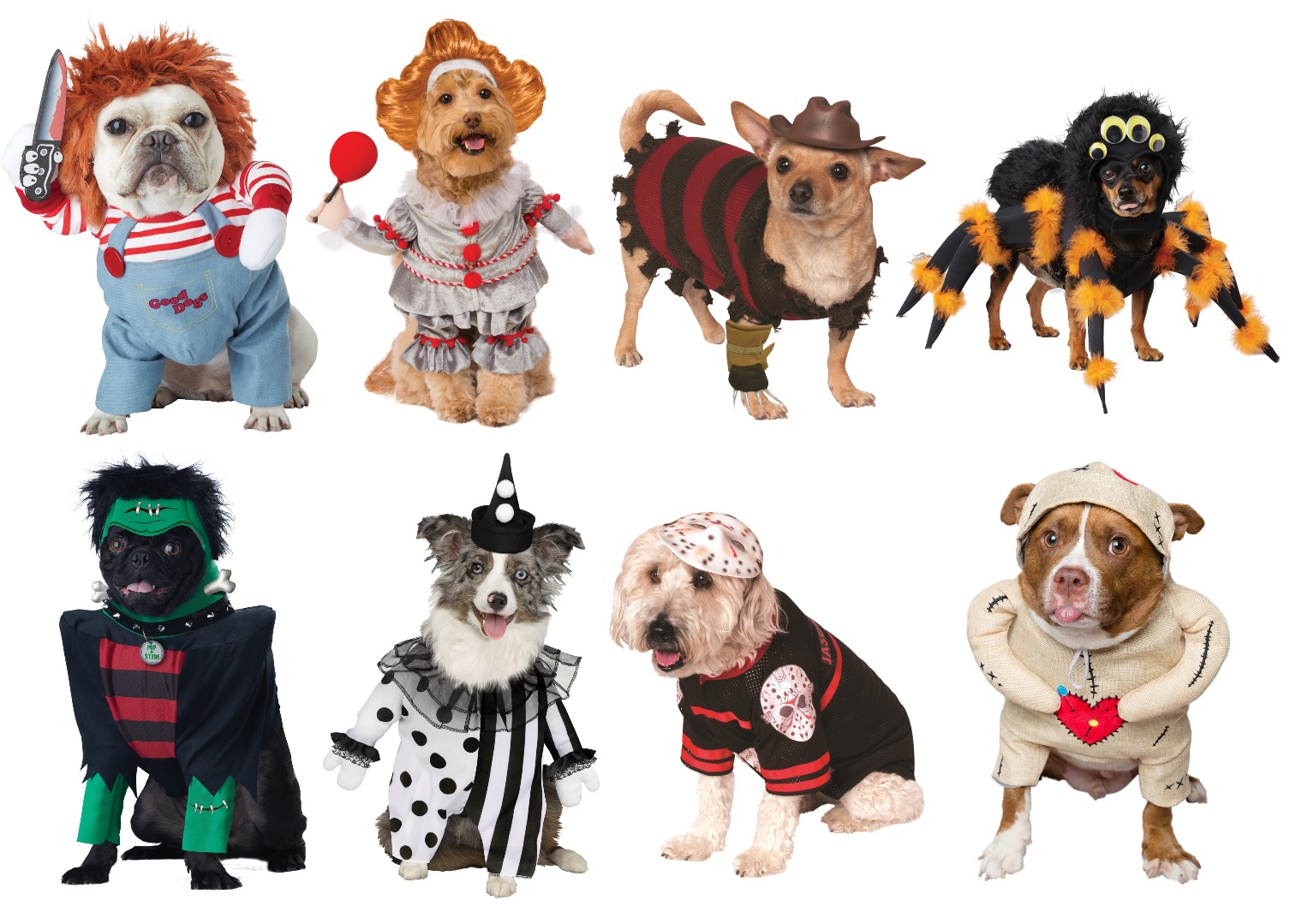 We hesitate to use the word "scary" to describe these pet costumes, because dogs in horror movie costumes are so cute! Would you be afraid of a dog dressed as Chucky? What about a Pennywise dog outfit? Honestly, the scariest dog costume is probably the giant spider because most of us freak out when they're bigger than a quarter. (Good luck finding a shoe big enough to squash that!)
Disney Dog Costumes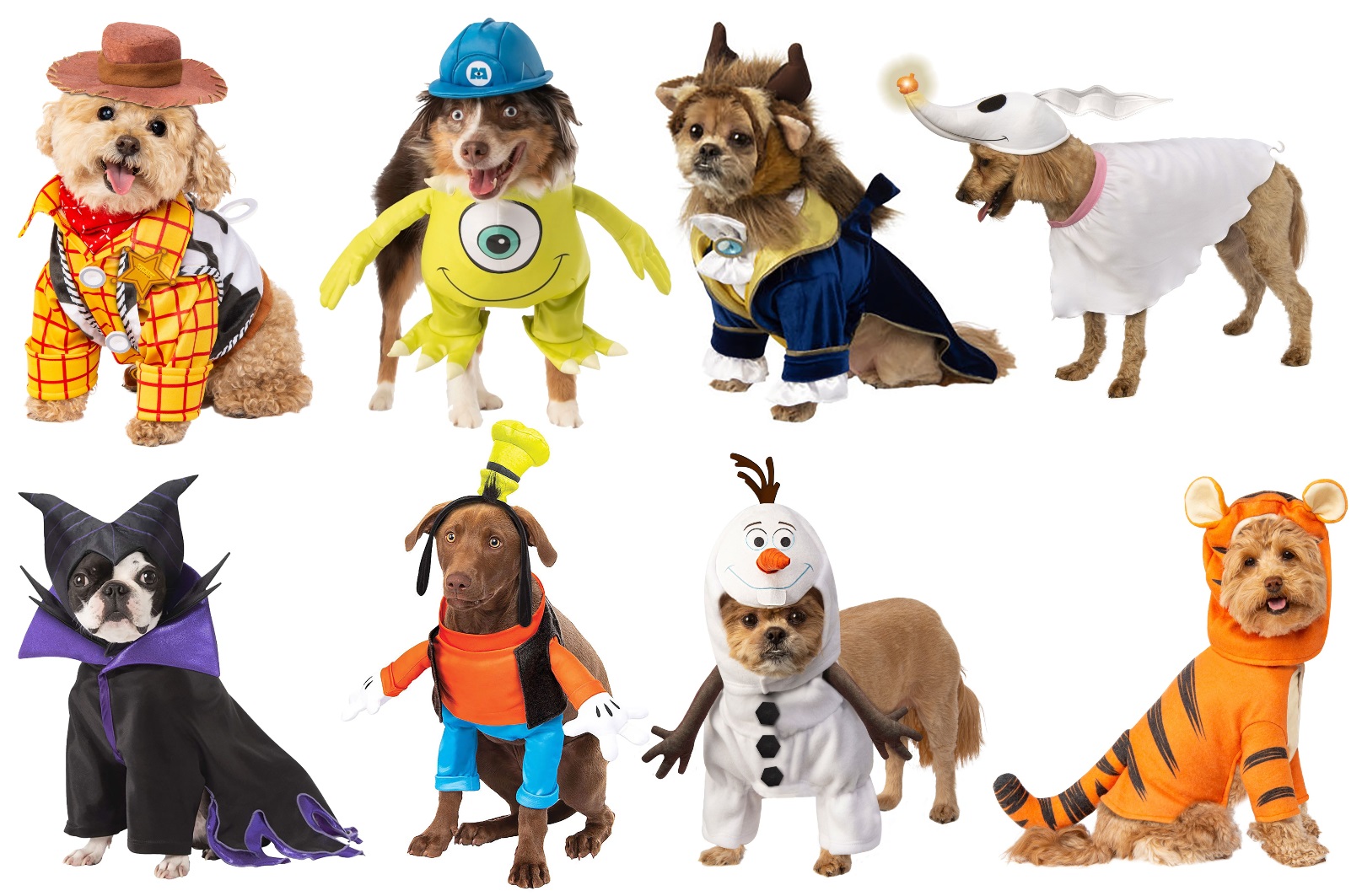 Disney costumes are great on their own, but dogs in Disney costumes take the cake. These were made to be worn with a person in a matching Disney character costume! How cute would Elsa be with a little dog Olaf at her side? What about the towering Sulley with his best pal Mike? You could say that the pawsibilities with these puppy costumes are endless!
Star Wars Dog Costumes

You'll have the cutest pet in the galaxy when they wear one of these Star Wars pet costumes. If you ask us, the AT-AT and Bantha rider outfits were made to be large dog costumes! Dress as Luke with your R2-D2 dog at your side, or wait for orders from Darth Vader while dressed in a Stormtrooper costume. There are so many dog costume ideas to pair with your own Halloween outfit that will make people want to stop you on the street for pictures. This is the way.
Animal Dog Costumes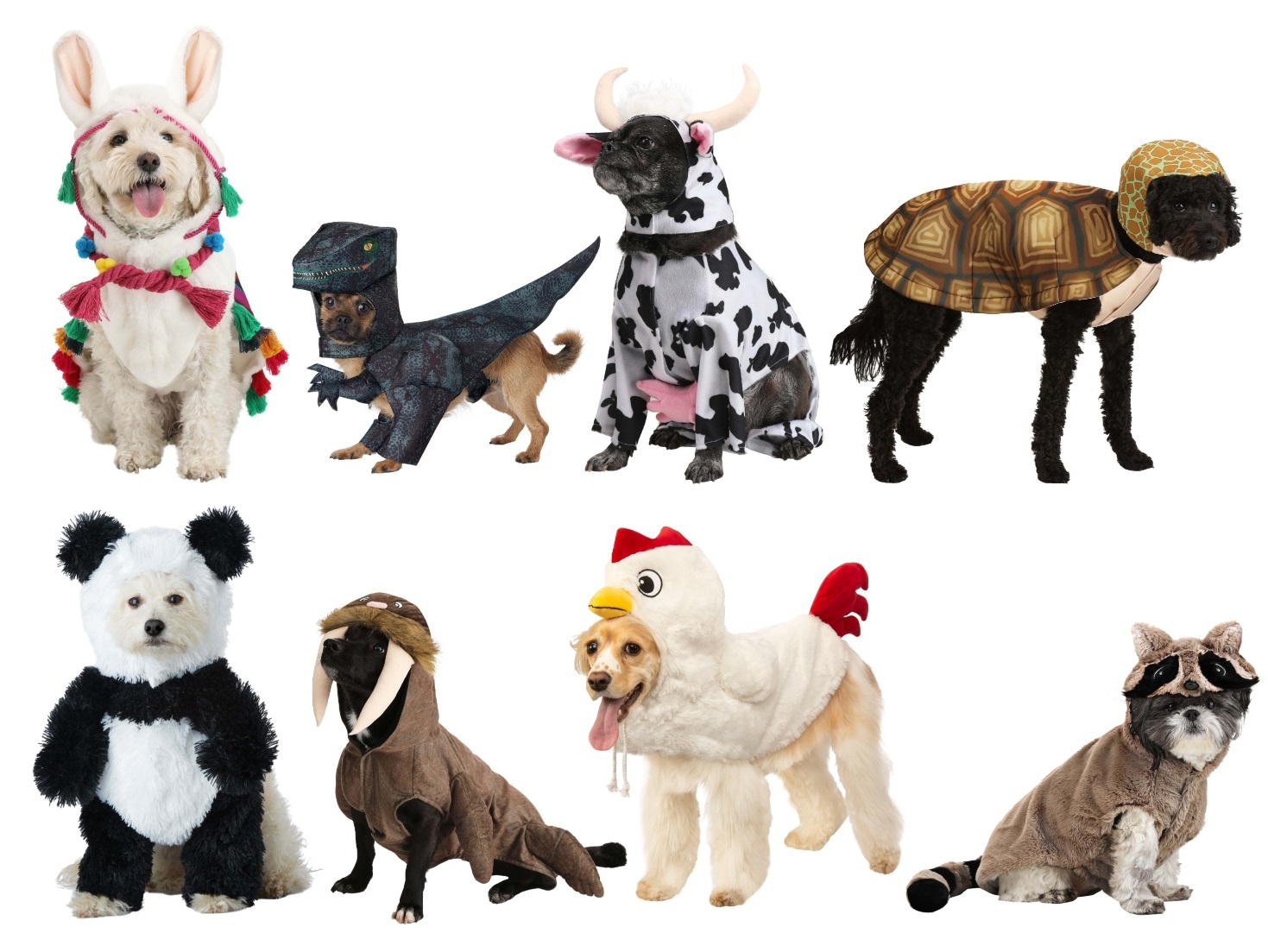 Nature is full of weird animals that look like someone took a few creatures apart and put them back together. There's the platypus, the maned wolf and even the cassowary, to name a few. If you're a fan of weird nature, perhaps you'd consider an animal costume to turn your dog into a new weird species. Bumbledog? Pupasaurus? Whatever dog Halloween costume you choose is bound to give people a good chuckle.
Headpiece Dog Costumes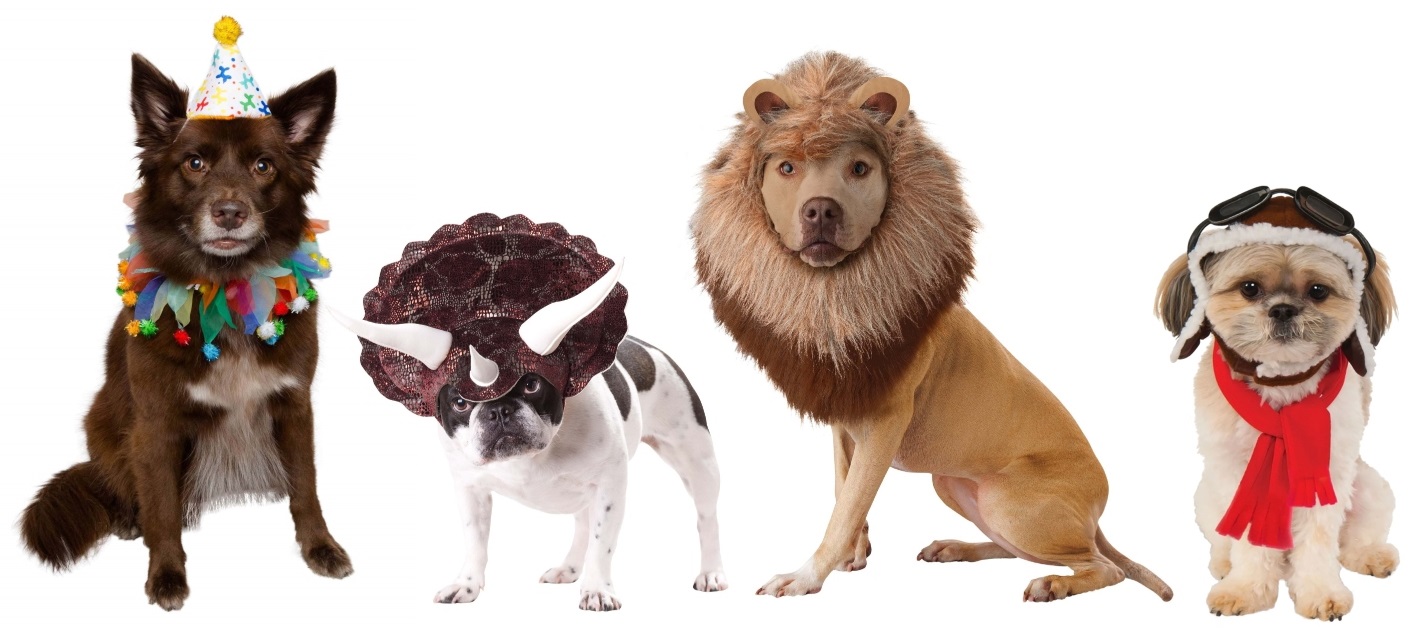 Maybe you have a big dog that's difficult to get into a pet costume with sleeves, or it's your pet's first time experiencing costumes. Easy dog costumes for first-timers are usually dog hats or wings, and we'll share a few of the headpiece items here. Lion mane dog costumes are very pupular, especially if you have a tan or brown-colored dog. (They almost look like a little lion!) Other dog hats like the aviator and elf may use straps to keep the headpiece on your dog. These may (or may not) take your dog some time to get used to, so always let your pet try their costume out before the big event!
Dog Wings and Pet Costume Accessories

Another simple Halloween costume for dogs is a pair of wings or any other similar harness-style pet outfit. If your pet wears a harness on walks, there's a good chance you can get them to wear one of these Halloween outfits. (You might even be able to turn some of these into cat costumes, too—those black bat wings would be so cute on a mini panther!) As always, make sure to measure your pet and double-check the size chart to get the perfect fit.
Pet and Owner Costumes
Anyone looking for silly matching costumes will love these Halloween costume kits for pets and pet owners. Show that you go together like pumpkin spice lattes or confuse everyone by swapping the cat and the human around. After all, what pet owner wouldn't want to wear a silly matching outfit with their furry friend? These owner and cat costumes may also fit small dogs as well, so don't let those cool cats have all the fun!
We hope you found the perfect pet costume to pair with your pooch! There are so many Halloween dog costumes that sometimes it's hard to know where to start. Are you planning on dressing up your dog for a puppy costume event? Were you hoping to create the perfect duo costume with your pet? While we do have tons of dog costumes available online, we also have plenty of adult Halloween costumes to make a matching set!