Wonder Woman is seen by many as the most iconic female superhero in the world. And she has an iconic costume to match! After a record-breaking solo film and spectacular appearances in Batman v Superman and Justice League, we're now looking forward to seeing how her costume changes in Wonder Woman 1984. Of course, Wonder Woman's costume evolved even before the DC Extended Universe films, meaning that fans of all ages have a variety of interpretations to choose from. Check out some of these stunning Wonder Woman costume options!
Adult Wonder Woman Costumes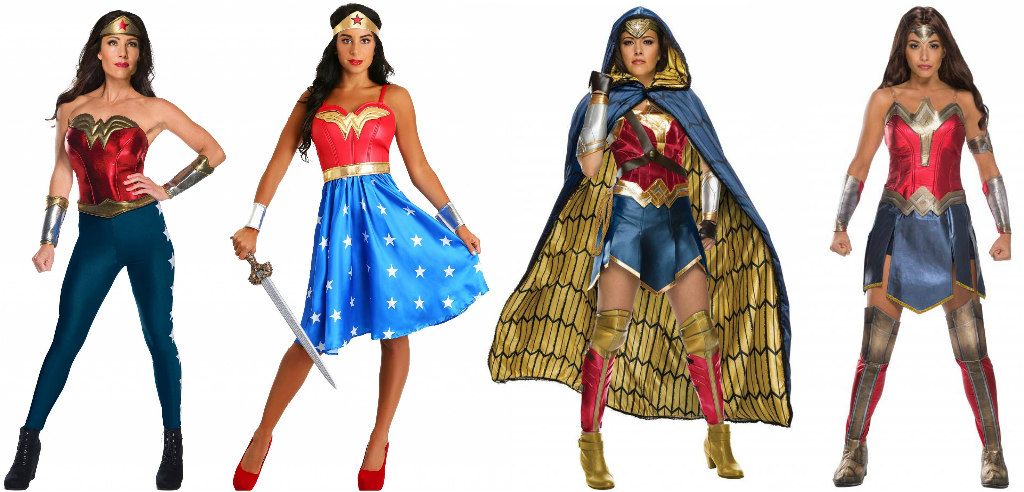 Whether you're dressing up for a costume party on Halloween or hitting up a comic book convention, wearing a Wonder Woman costume is a great choice. The classic look is instantly recognizable and can be worn in many ways. You can even add a classic comic book look to your costume with some pop art makeup. Another option is to get a couple more people to dress as Batman and Superman for a fun group costume!
Kids' and Teens' Wonder Woman Costumes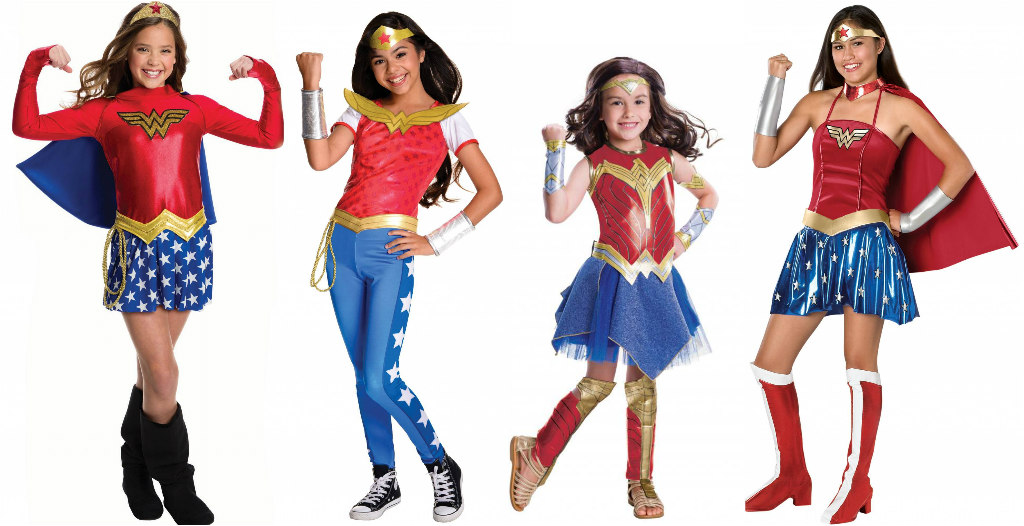 Wonder Woman is an inspiration to people of all ages, and of course that includes kids and teens! Aside from her role in the DC Extended Universe films, Wonder Woman is a huge part of the DC Super Hero Girls web series. A Wonder Woman costume is great for anyone who likes to play dress-up and save the world, or just wants to show off their fandom to their besties.
Wonder Woman Accessories

When dressing up as Wonder Woman, several accessories are essential for pulling the look together. Red, white, and blue are typically part of any Wonder Woman costume, but you can't forget about the gold! Pieces like the gold tiara and bracelets accentuate the costume and make it look exciting. Other pieces that are required for the perfect Wonder Woman costume are a pair of boots and red cape.
Wonder Woman Weapons

Along with her indestructible bracelets, Wonder Woman's most notable weapon is her golden Lasso of Truth. Anyone caught in its grasp is forced not only to be honest, but to obey Wonder Woman's commands. Being the skilled combatant that she is, Wonder Woman can wield a sword and shield with the best of them. Equip your Wonder Woman costume with battle gear and prepare to kick some butt!
Wonder Woman Apparel

If you're a fan of Diana Prince and want to show that off, you can always throw on apparel with the gold W logo on it. You can rock a sweater featuring Wonder Woman's costume look or some fun blue and red tights. Even a caped shirt costume is great for demonstrating your superhero skills around the house, or when you just want to take it easy!
Well, Wonder Woman fans, what is your favorite Diana Prince look? How are you planning on showing off your Wonder Woman fandom? Be sure to go in full costume if you're dressing up for an event, but if you're looking for something to more subtle for everyday wear, you'll be sure to find something super! Check out our full collection of Wonder Woman costumes if you feel like dressing up as DC Comics' most notable superheroine and be sure to check out Wonder Woman 1984 this year!