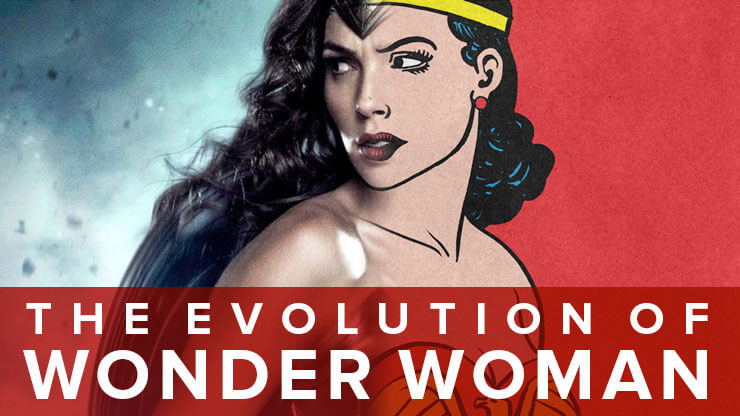 With Gal Gadot taking to the silver screen in 2016 as Wonder Woman in Batman v Superman: Dawn of Justice, it's safe to say the Amazing Amazonian is going to have a big year. With her own standalone feature slated for 2017, we might even be entering a new golden era of Wonder Woman. But before we plunge into brand new Wonder Woman cinematic adventures, we thought it'd be a good idea to revisit her look over the years throughout comics, TV, and pop culture. From her first comic book appearance in All Star Comics #8 in 1941, right up to the modern era with New 52, the animated DC Super Hero Girls shorts, and her upcoming appearance in the new movie, we've compiled each of her costumes here in this comprehensive infographic. Take a gander and brush up on some of her classic, vintage, and modern costumes!
Click Image for Larger View

Embed This Image On Your Site:
The Evolution of Wonder Woman Transcript
Everyone knows what Wonder Woman looks like. Her costume is instantly recognizable...so much so, in fact, that few actually realize how many times it's changed. This is a summary of every costume Diana Prince has worn as Wonder Woman in the comics and in wider culture (excluding alternative universes and canceled projects).
1941: The Golden Age
Wonder Woman's costume was designed by H.G. Peter with input from writer William Moulton Marston and publisher M.C. Gaines. Patriotic superheroes were a big trend at the time (Captain America appeared this same year), so they outfitted her in stars and stripes, and a bald eagle on her chest.
1942: The Golden Age II
What earlier appeared to be a skirt was actually culottes: wide-legged shorts worn by female athletes. These gradually transformed into skin-tight shorts. It may sound funny by today's standards, but the comic ended up on a major banned book list due to her being "not sufficiently dressed".
1949: The Golden Age III
Peter's initial sketch had Wonder Woman in Greek-inspired sandals with leg straps and heels, but Marston preferred boots. Two years after Marston's death, the sandals suddenly appeared in the comics, sans heels, and with separate leg straps. Her shorts gradually decreased in length.
1959: The Silver Age
Peter died in 1958 after a sixteen-year run on the book. Ross Andru became the new lead artist, remaining so for nine years. Within a year, the sandals were swapped for pumps, and the previously detailed eagle perched on her belt—already simplified after Marston's death—became even simpler.
1969: The Silver Age II
Under Andru, her shorts slowly turned into briefs. The red boots returned near the end of his run (sans white stripe), but the reunion wouldn't last long. Three years later, Wonder Woman gave up her superpowers and costume in favor of martial arts combat and mod-inspired civilian clothing.
1972: The Bronze Age
Gloria Steinem, founder of the feminist magazine Ms., campaigned to get her childhood hero's powers and costume restored. The costume returned with minor tweaks: she was given a gold belt, blue bracelets, chunky heels, wavy hair, and hi-cut briefs. This look was the basis for her design in Super Friends.
1974: TV Movie
The Wonder Woman made-for-TV movie presented a Wonder Woman who lacked powers, similar to the "mod" era comics, but contained a few differences. The biggest difference (aside from Cathy Lee Crosby from being blonde) was the costume designed by Bill Thomas, a dramatic departure from what had come before.
1975: TV Show
When the TV movie wasn't the hit ABC had hoped, they went in a new direction closer to the '40s comics—so much closer, in fact, it even took place during the '40s. Lynda Carter wore a Donfeld design, featuring his interpretation of the original perched eagle, stars scattered in a pop art style and—for the first time—silver bracelets.
1977: TV Show II
ABC opted against renewing for a second season. When the series moved to CBS, the character also moved into the present. Donfeld updated the eagle to resemble the skinny eagle of the comics, and he also cut her briefs shorter. The white striped boots not only carried over into the present day, but also into the comics.
1982: The Bronze Age II
Promoted to DC Comics President, Jeanette Kahn commissioned a new Wonder Woman chest emblem by graphic designer Milton Glaser, who also designed the DC Comics logo that was in use from 1977 to 2005. Variations on the stacked "WW" logo have been central to every costume since.
1987: Post-Crisis
The DC Universe was rebooted after Crisis on Infinite Earths. George Pérez added a second point to Wonder Woman's belt and tiara, and dramatically lengthened her hair. Her blue bracelets became silver bracers and, most notably, the heels on her boots disappeared and never returned in the comics.
1994: Post-Crisis II
In the '90s Wonder Woman became one of the lower-selling books. As a result, Mike Deodato Jr. was given plenty of creative freedom, and he gradually cut her top lower and her briefs higher. He went so far as to give her a thong, noting: "Every time the bikini was smaller, the sales get higher".
1995: Post-Crisis III
Rather than give up being Wonder Woman after being stripped of her tiara, she simply changed her outfit and kept on going. "Everybody disliked that costume, myself included, but it was asked for at the time", said designer Brian Bolland. "I just wanted to draw her in the original uniform."
1995: Post-Crisis IV
John Byrne went back to the classic look, but made a few modifications of his own. He increased the size of her bracers, tiara, bikini, and belt, enlarging the latter into a full abdominal covering. The chest emblem became more angular, while the bikini was pared down to an easier-to-draw two stars.
1998: Post-Crisis V
After Byrne's run, the costume reverted further back to a post-crisis look, but with a bikini cut and wavy curls. Cover artist Adam Hughes depicted Wonder Woman's chest emblem as a single solid shape without etched details and, controversially, made her boots look loose and saggy.
2006: Post-Infinite Crisis
In a throwback to the original chest emblem, Terry Dodson transformed the stacked "WW" into an eagle. He also added a stacked "WW" belt reminiscent of Bolland's design and gave her lower-cut briefs. This was worn first by Donna Troy, but was given to Diana when she returned to the role.
2010: All New
Designed by Jim Lee with input from writer J. Michael Strazynski, the decision to put her in leggings was surprisingly controversial. Even a few feminists disliked the change, among them Gloria Steinen: "...jeans give us the idea that only pants can be powerful—tell that to Greek warriors and sumo wrestlers".
2011: New 52
Jim Lee went back to the drawing board, with tweaks by Cully Hamner and Cliff Chiang. The result was closer to the classic look, but more angular and intricate, and with a darker color scheme. Early promo images showed the costume with leggings, but they were redrawn at the last minute to briefs.
2015: New 52 II
Designed by David Finch with input from wife and writer Meredith Finch, the intent was to represent Diana's succession from princess to queen, as well as to bring her costume more in line with what her Justice League teammates were wearing. It only lasted as long as Bolland's before being reverted.
2015: Super Hero Girls
This line of action figures and "action dolls", supported by a web series, TV specials, and graphic novels, is targeted at a young female demographic that's long been starving for superheroes. Jenn Rahardjanoto may be the first woman to have redesigned Wonder Woman for DC.
2016: Batman V Superman
For Wonder Woman's live-action big-screen debut, portrayed by Gal Gadot, designer Michael Wilkinson looked at the long history of her costume and reinterpreted it in the style of Greek armor. The result has drawn comparisons to Xena: Warrior Princess, whose armor shared similar influences.
Sources: The Art of Brian Bolland, CBR, DC Comics, Klein Letters, Newsarama, Purse Pundit, The Secret History of Wonder Woman
So which Wonder Woman costume is your favorite? Do you prefer her classic look, or some of the more interesting ones? We'd love to know, leave us a comment below! We're really excited for this strong female role to be injected into the DC Superhero movie universe. If you're as excited as we are, be sure to check out our wide selection of Wonder Woman costumes. We also have a variety of t-shirts, bathrobes, dresses, and accessories if you'd like to inject some Diana Prince fashion into your everyday style. Make sure you're ready for a Wonder Woman resurgence with some of our fabulous looks!
Design Credit: Kate Willaert