Man in a Gorilla Cage Costume
Product Includes:
Gorilla Suit w/ Head, Hands, and Feet

Cage Pieces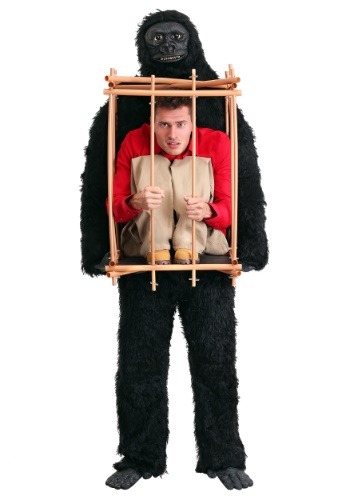 Product Description
Well, it was bound to happen one day. Those lousy apes are so smart! But just remember to stay calm! Kicking and screaming isn't going to get you anywhere (unless you think you can take on a 200 lb ape). The good news is that gorillas are herbivores. The bad news is your body may be never found again.
100% polyester faux fur
Gorilla jumpsuit is covered in black faux fur
Fastens w/ Velcro
Attached mask, hands and feet also covered in faux fur
Opening at waist
Cage measures 26 1/2'' tall and secures to suit with pegs
Instructive booklet with pictures is included
For best results stuff costume
Costume is not recommend for persons over 6'5'' or over 240 lbs.
Please note: costume does not include the person's shirt, pants, or boots
Product Reviews For:Man in a Gorilla Cage Costume2 Total Reviews
---
First Place!!
This was a real challenge to put together just right for me. I am 6'1 at 220 pounds so it was a tight fit. I had to modify the cage a bit and fortify all the joints with twine so it was sturdy. I also changed the top part so I could stand upright inside the cage. I attended a Fireman's masquerade dance of 450 people and won first place! I was treated like a Rock star all night. People wanting their picture with me, so many compliments.
Fit Finder
For additional help: