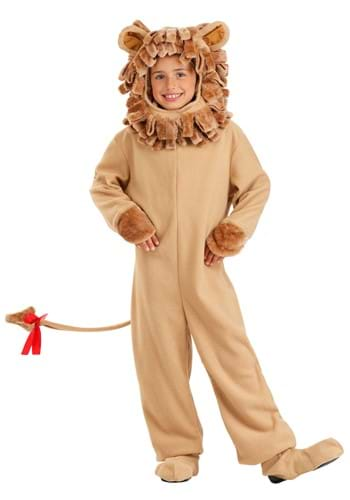 Bodysuit w/ attached mitts and tail

Shoe covers

Headpiece
Turn your child into the perfect traveling companion for your trip to Oz! The child lion costume includes a tan polyester fleece jumpsuit that zips up in the back and features a velcro snap at the back of the neck. The wrists and ankles feature elastic bands to keep the costume fitting securely, while the wrists feature mitts that hang loosely off of the sleeves. A lion's tail dangles down in back and even features a red ribbon at the end. The shoe covers are made of a matching polyester fleece and fit over your child's shoes. An elastic band around the ankles and under the foot hold them in place. The final piece to this lion costume is the matching fleece headpiece. A Velcro snap in the back makes getting it on and off easy. It features a large opening for your child's face and is surrounded by strips of extra soft faux fur that makes up the mane. To top it all off, two big cat ears poke out from the sides! He'll be ready to show you just how courageous he can be when you take him along with you to see the Wizard of Oz!
Child Lion Costume
Product # FUN1209
There are no reviews for this item.Be the first to write a review!