Ugly Halloween Sweater Ideas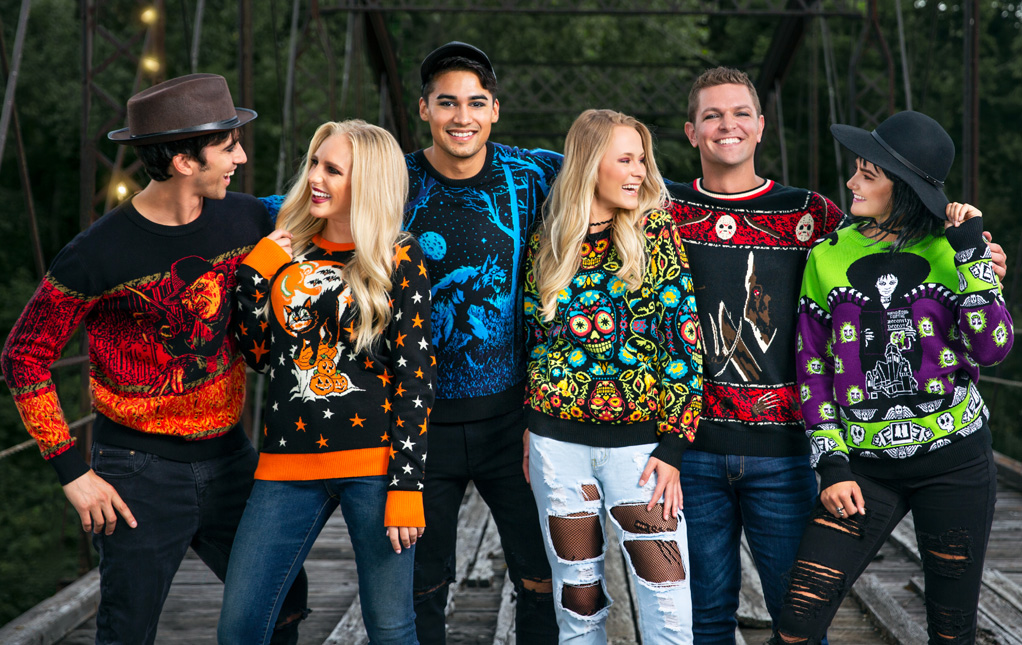 We consider ourselves Halloween experts here at HalloweenCostumes.com. That's why our catalog includes everything from the most popular costumes of the year to original Made By Us designs to ensure you have options that address every need or desire. You'll also find that we have Halloween Sweaters! For those times you can't gofull monster at work or want a quick way to get festive for trick-or-treating, our exclusive sweater collection has you covered. Whether you plan to wear one of our spooky pullovers for your friend's trendy ugly sweater party or you want a piece in your wardrobe that can be worn all autumn long, we can't wait to see how you put it to use. Not sure which to pick? We recommend all of them! But read on to see some of the styles we have to offer to get your new favorite Halloween outfit put together!
Halloween Sweaters for Adults
It seems like kids get to have the most fun when it comes to their wardrobe on Halloween. We're not bothered by it—traditionally, those costumes keep kids safe from ghosts and goblins (or so the lore says). But we don't think adults should be left out in the cold. Sure, we have costumes for you, but unless work encourages daily dress-up themes, you probably only get to wear that fabulous superhero getup once on Halloween night. So we present to you our Halloween sweaters—the stylish and festive way to incorporate Halloween into your everyday wardrobe while observing dress code!
Women's Halloween Sweaters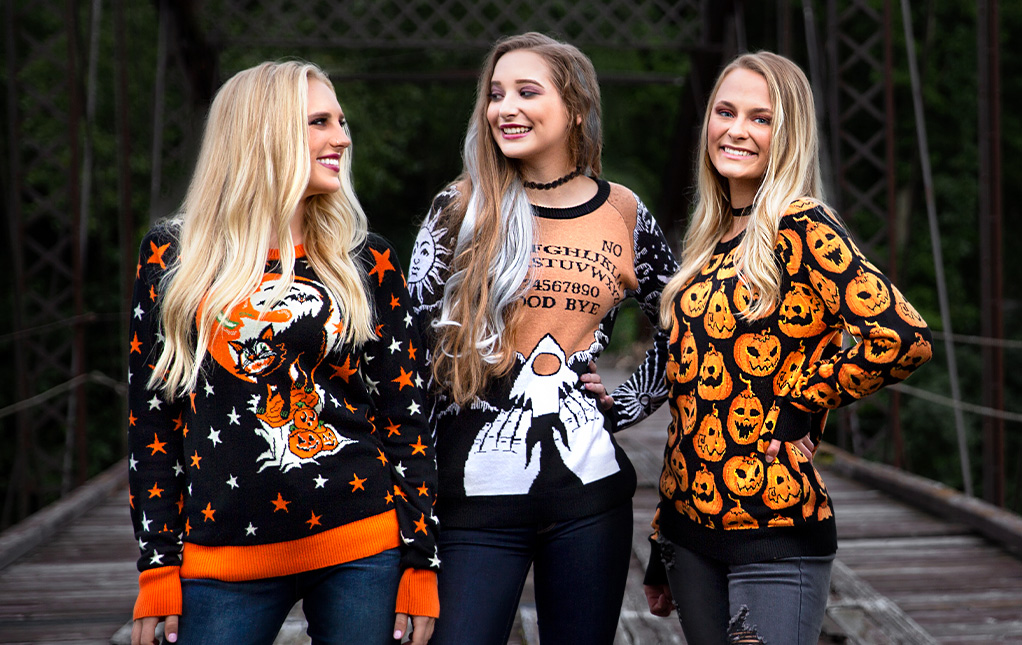 Let's face it, there are few things more fun than getting a new outfit for an event or holiday gathering. Whether it means updating a favorite look with a unique purse or putting together something from scratch, you can't help but get excited by the idea. Luckily, with our catalog of Made By Us sweaters, Halloween doesn't suffer at the hands of a limited selection. You can pair your pumpkin-patterned pullover with loud leggings from us. Or you can give your Ouija board sweater an extra magical vibe with our other bewitching accessories. No matter what the occasion calls for, your stylish Halloween look begins here!
Men's Halloween Sweaters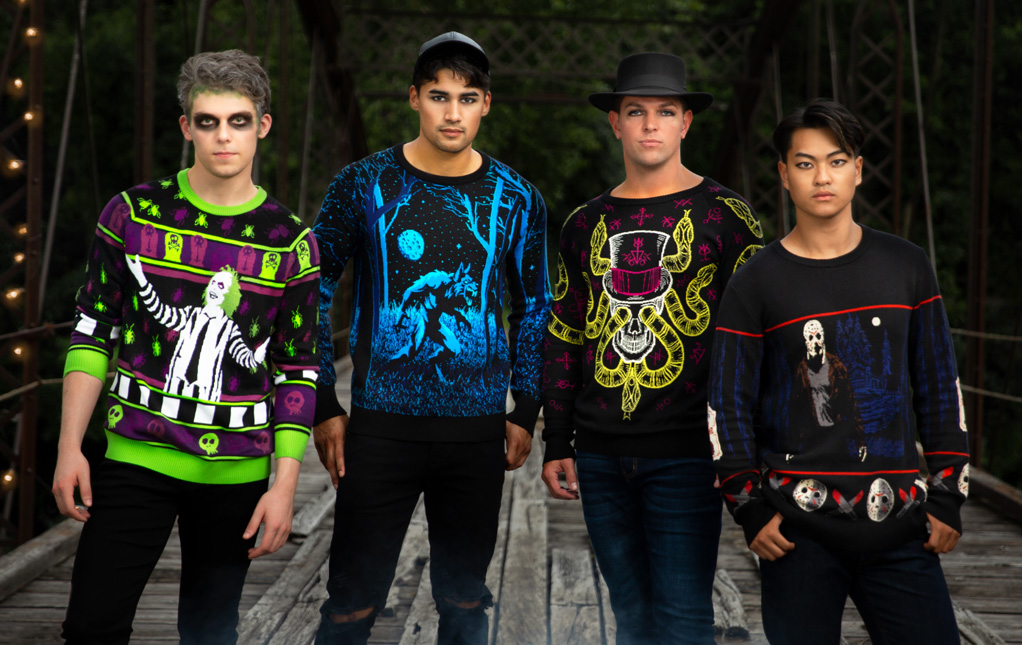 You have a well-coordinated image to protect. And even though you want to get over-the-top festive with your Halloween wardrobe, you don't love the standard box store options. Don't worry, we can help you stick to your style while enjoying Halloween's exuberant fashion! Simply pick one of our scary Halloween sweaters that matches your partner's elaborate character costume. Create a mysteriously powerful look with our voodoo priest sweater and dark eye makeup. Or keep it simple with any of our available spooky season sweaters that promise to keep you comfortable while looking your best!
Halloween Sweater Dresses for Women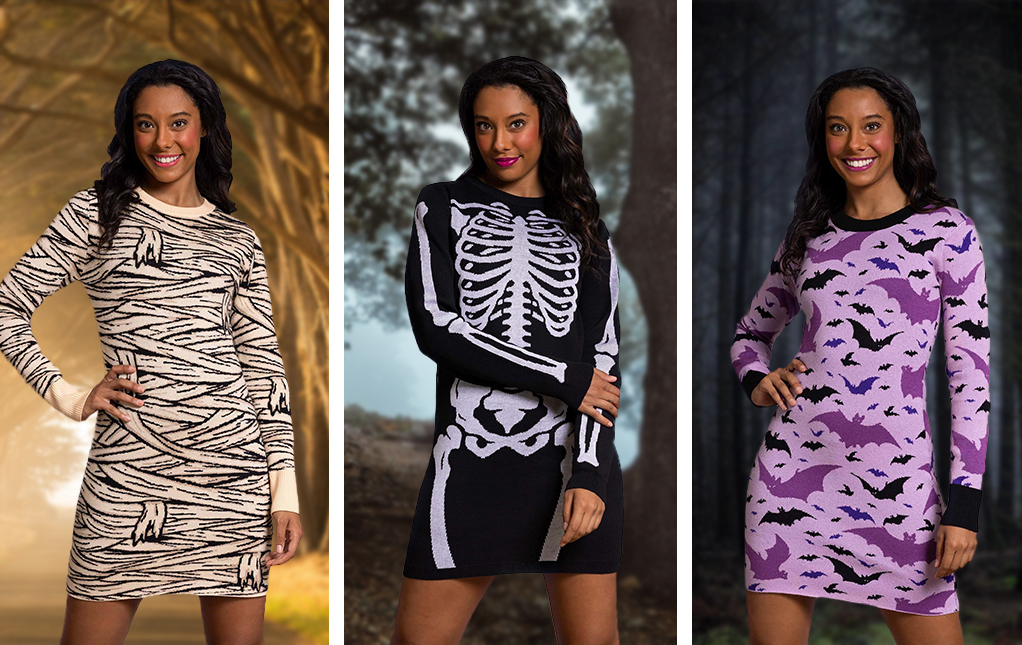 Everyone knows that the sweater is the perfect outfit for nearly any season. But what if you want to upgrade your wardrobe in a really wondrous way? Whether you are already in the know or are about to be surprised, let us introduce you to the Holiday Sweater Dress!
Building on our popular sweater styles, we offer a series of cozy, fashionable, and spirited sweaters that are long enough that you can pair with leggings or wear them on their own! From our whimsical mummy graphic sweater dress to a skeleton sweater dress that'll keep you warm no matter when you wear it, these are unique options for Halloween or all year long!
Scary Halloween Sweaters
We would all love to waltz into the office or open our front door to trick-or-treaters while wearing a totally terrifying Halloween costume. But most of us don't want to make children run in fear or get shrieked at by co-workers while sitting at our desks. If that sounds like you, we once again have you covered with our Halloween sweaters. With everything from creepy movie characters to the original ghosts and ghouls, our festive knit sweaters allow you to enjoy something scary without scaring those around you. And since they're made for comfort and style, these bad boys easily go between Halloween daytime and nighttime wear with the simple addition of costume accessories!
Nightmare on Elm Street Sweaters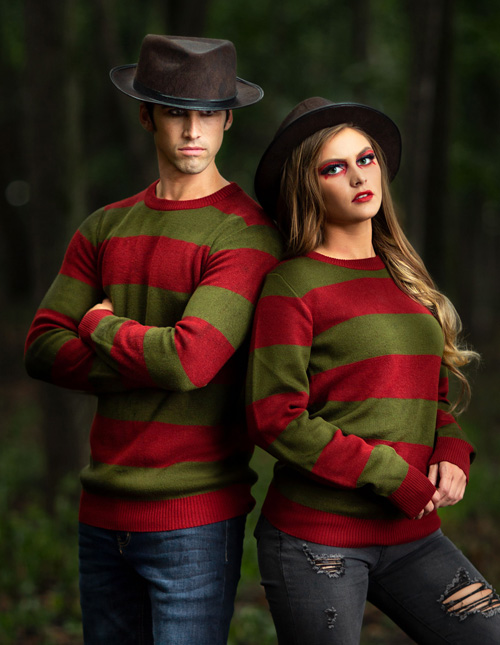 If you're tapping into the darker side of Halloween but don't want to hassle with an entire costume, you can't go wrong with our Nightmare on Elm Street sweater designs! Choose to look as devil-may-care as Freddy acts with our bright and hellish Freddy sweater. It makes a perfect cozy layer for your scary movie marathon! Or throw on that iconic striped sweater on Halloween morning to confidently go about your day-to-day activity. Then add the right hat, a solid pair of gloves, and maybe a good ring of black eyeliner to turn your daytime look into an easy DIY costume!
Friday the 13th Sweaters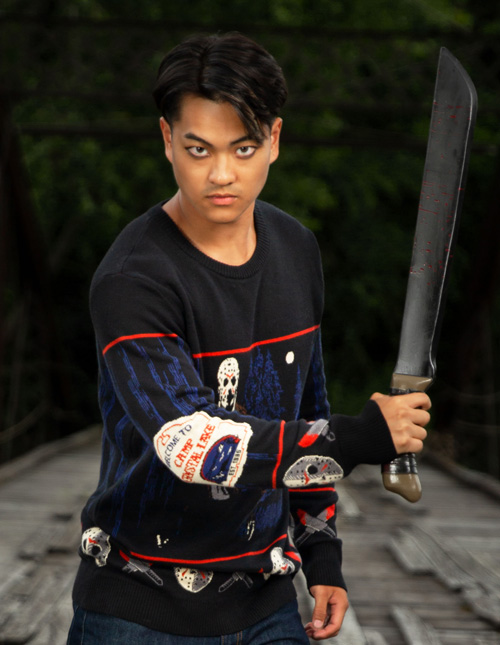 Alright, Jason may have gotten into more mischief on a Friday than on Halloween, but that's what makes our Friday the 13th Sweaters so perfect for your spooky wardrobe! With each featuring an image of Jason and the muted colors of an eerie night, these officially licensed exclusives give you the freedom to celebrate your favorite horror movie any time of year! Keep warm, despite the chills running down your spine, whenever you wear one of these versatile sweaters. Or keep your Halloween costume simple with a sweater, scary mask, and a prop blade from our toy weapons selection. However you choose to use the macabre stylings of Jason Voorhees, we're here to help!
Skeleton Sweaters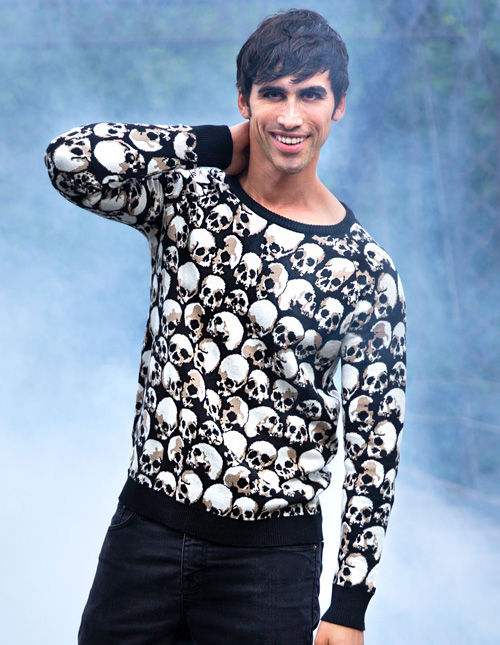 Are you hoping to stick with a classic scary look this Halloween? Maybe you're not a big fan of ghosts or other monsters that go bump in the night? Give our skeleton sweaters a try! From an all-over skull print to a charming combo of familiar sweater detailing mixed with some rattling bones, there's a style for everyone! Attend your family Halloween party in our traditional 20th century-inspired skeleton sweater. Or turn this bold option into a cozy skeleton costume with bare-bone accessories from our selection. With just the right mixture of macabre imagery and casual fashion, these sweaters are ready for every spooky season event!
Cthulhu Sweaters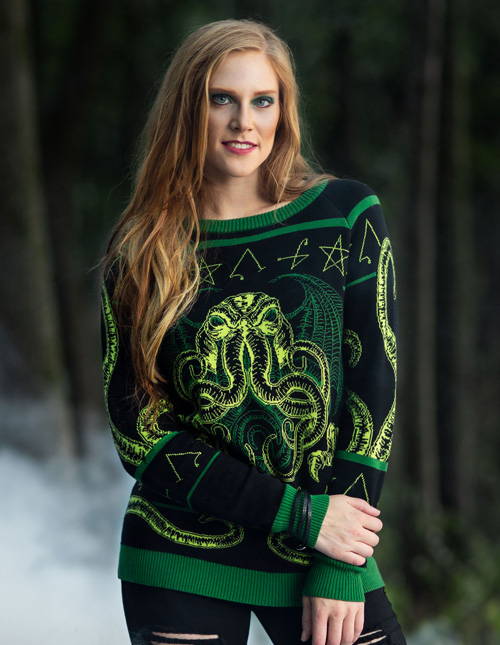 Not everyone appreciates the depths of the ocean. Sure, they're aware of the variety of sea creatures that live there, but everyone focuses on clownfish and mermaids. Lurking further in the murky fathoms, small fries like angler fish wait for prey. Your personal favorite (and ours) is the forbidding Cthulhu—that creepy tentacled monster given life by H.P. Lovecraft is easily the dampest character to belong in the Halloween fun! Give the mysterious beast a place in your festivities with our Cthulhu sweaters. Because whether you're heading to a haunted Atlantis-themed party or just love the big guy, these sweaters are a must-have!
Movie Monster Sweaters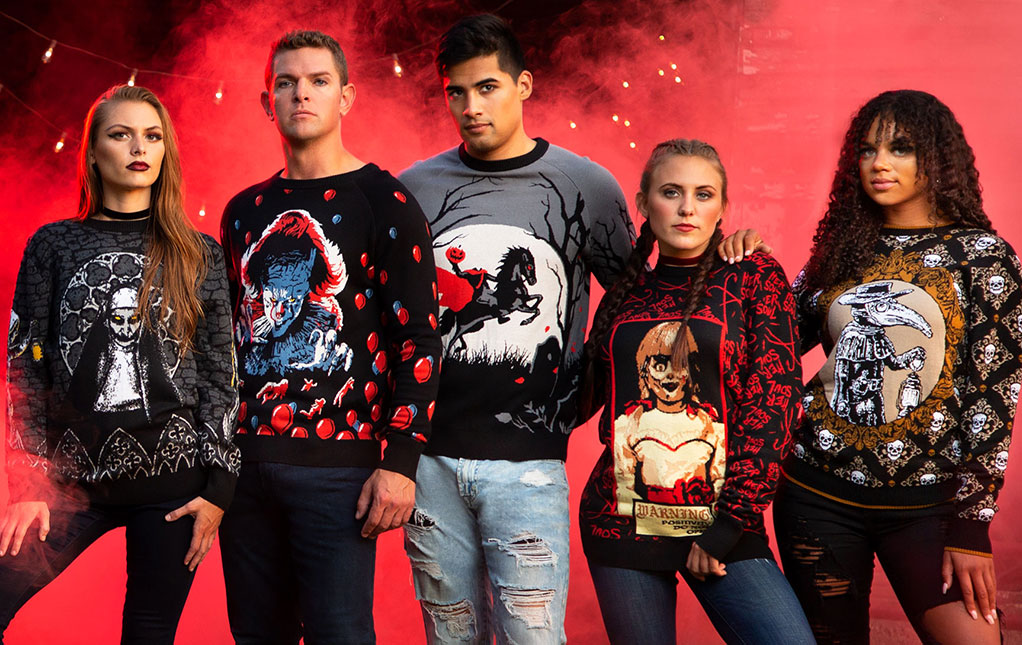 When it comes to choosing a Halloween look to replicate, the classics are hard to beat. But we're not talking about ghosts or scarecrows. We're talking about the original screen terrors! Movie monsters that paved the way for all other Frankensteins and vampires with their iconic makeup and outfits. You love them, we love them, our sweaters love them. Honestly, check these spooky cozy threads out! With werewolves, witches, and all your favorite frightening friends, we have the seasonal sweater to make your holiday feel extra spirited. Keep reading to learn a bit about two options that we find especially spellbinding!
Werewolf Sweaters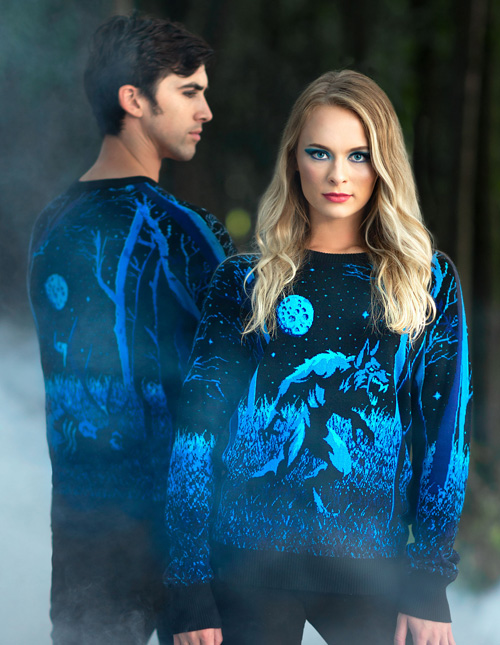 You won't be the only one howling at the moon this Halloween when you add this unique werewolf pullover to your wardrobe! The vibrant blue and black design is the perfect clothing option for day or night. You'll be able to disguise your wild side through the workday while receiving plenty of compliments on the stylish top. Then, when the time arrives, either slip right into a werewolf costume or keep the sweater on for a modern twist on the wolfish character. Just pair your casual look with animal accessories that make every transformation quick and painless!
Witch Sweaters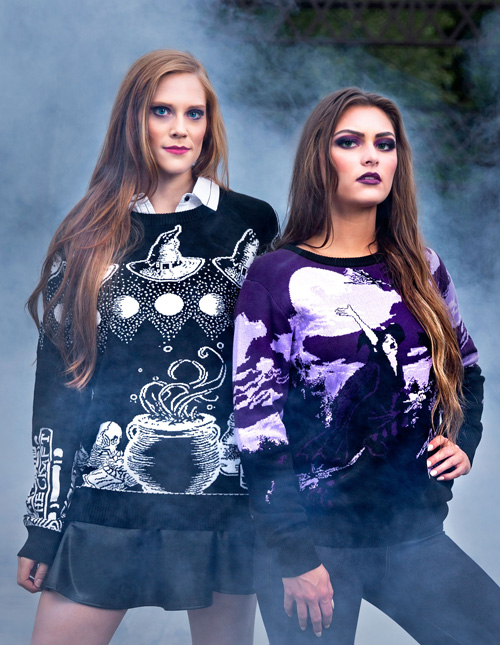 Cast a spell all season long with our magical witch sweaters! Before you reveal your true powers with a stunning witch ensemble, keep your family and friends bewitched by your style with these two favorites. Pair either with a Hogwarts uniform for your friend's Harry Potter-themed party. Or dress yourself up for a night of trick-or-treating with the kids in a witch's hat and treat bag to match. No matter what you're brewing in your cauldron prop—candy, punch, or just some fog—our enchanting witch sweaters are sure to work their magic on all your Halloween fun!
Funny Halloween Sweaters
Since the first joke was told, funny has been in the eye of the beholder—or would that be the ear of the be-listener? Either way, our idea of funny comes down to what makes you smile, even when it comes to our Halloween sweaters. So if you're looking for a silly addition for your spooky season wardrobe, go no further! We've got options that you'll find humor in because they're "ugly" and some that'll make you giggle because of the iconic characters they depict. Be inspired to share a laugh with your friends and family at the next costume party with just these exclusive pullovers or by adding a few clownish accessories, like rubber noses and giant wigs!
Ugly Halloween Sweaters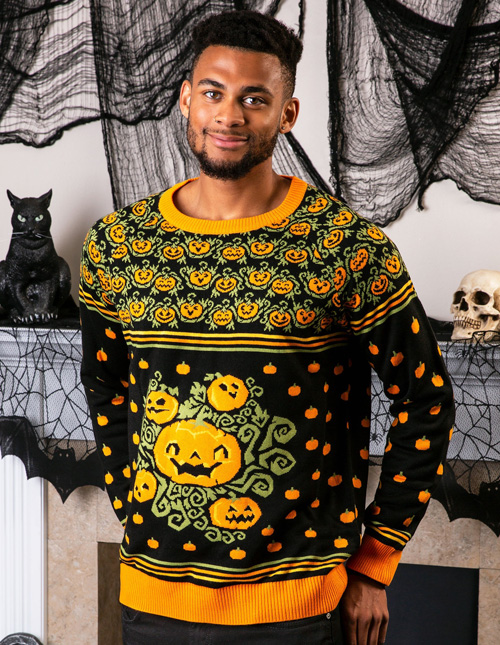 You may be wondering why we would refer to any of our original Made By Us Halloween sweaters as ugly. It's not a very nice thing to say. But we take it as a compliment. Ugly sweaters are in, after all, and we're always working to give the people what they want. So laugh along with us in some of our favorites! Take this pumpkin patch design, it's an explosion of color and charming jack-o-lantern grins—a quintessential ugly sweater. Then if you really want to up the ugly for your sweater party, add a few wild pieces of costume jewelry. Or better yet, some oozy special effects makeup!
Beetlejuice Sweaters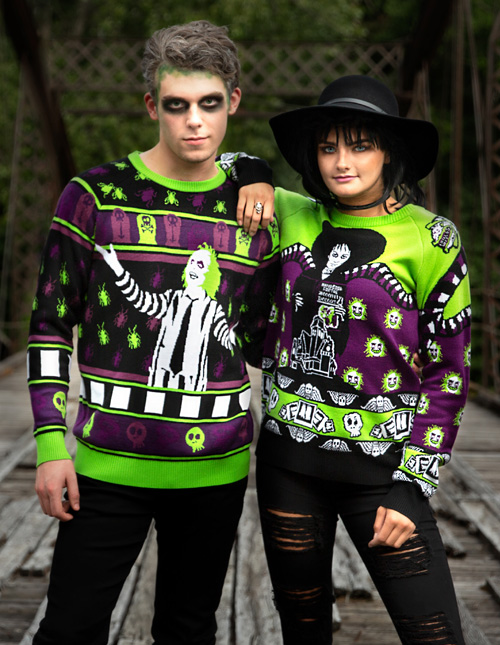 You've probably noticed, we're not comic geniuses. Though we do like to crack a dad joke or pun as often as possible, we know when to let the professionals take over. And while he may not be everyone's favorite standup, Beetlejuice definitely enjoys a comfortable corner of the dark comedy market—and he's a perfect Halloween character! Celebrate his antics with our officially licensed Beetlejuice sweater designs. Whether you're enjoying the cult classic film or showing off Lydia's iconic visage, these colorful sweaters serve as the perfect stand-in before you throw on that full bio-exorcist costume!
Cute Halloween Sweaters
We've all seen how down-right, positively, stinkin' adorable Halloween can be. But typically, that designation has been left for the kiddos to enjoy alone in their huggable animal costumes. But with our cute Halloween sweater designs—from black cats to happy pumpkins—and with sizes for every toddler, child, teen, and adult, the entire family can enjoy the sweet side of the holiday's style! So get ready to snap more candids and seasonal selfies than ever before when you shop our selection—we can't wait to see how charming your autumn becomes!
Pumpkin Sweaters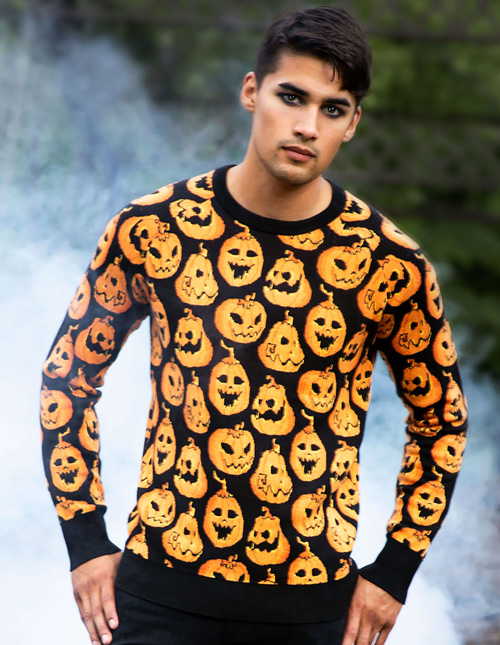 Don't just go to the pumpkin patch this year, become the pumpkin patch! With either of our playful jack-o-lantern designs, you'll be ready for that photo-op with the farm's biggest pumpkin. Plus, these festive sweaters are ready to make a statement all season long. Wear it casually or make it your Halloween costume with accessories from our selection. We know you'll be ready for the fun whether you're off to win the award for Best in Show at the harvest festival or just handing out candy to trick-or-treaters!
Halloween Cat Sweaters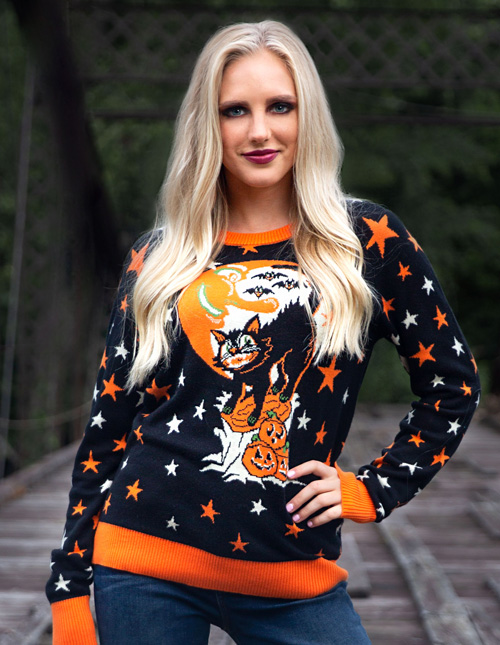 You're already aware that cats win the internet with their cute toe-beans and often naughty antics. So if you're a cat person yourself or just trying to be naughty like them, you can't go wrong with a Halloween cat sweater from our selection! With a spooky cute black cat on your chest, you'll be ready to spread the feline love from sunup to sundown when you change into your purr-fect kitty costume. (Sorry, we had to!)
Kids Halloween Sweaters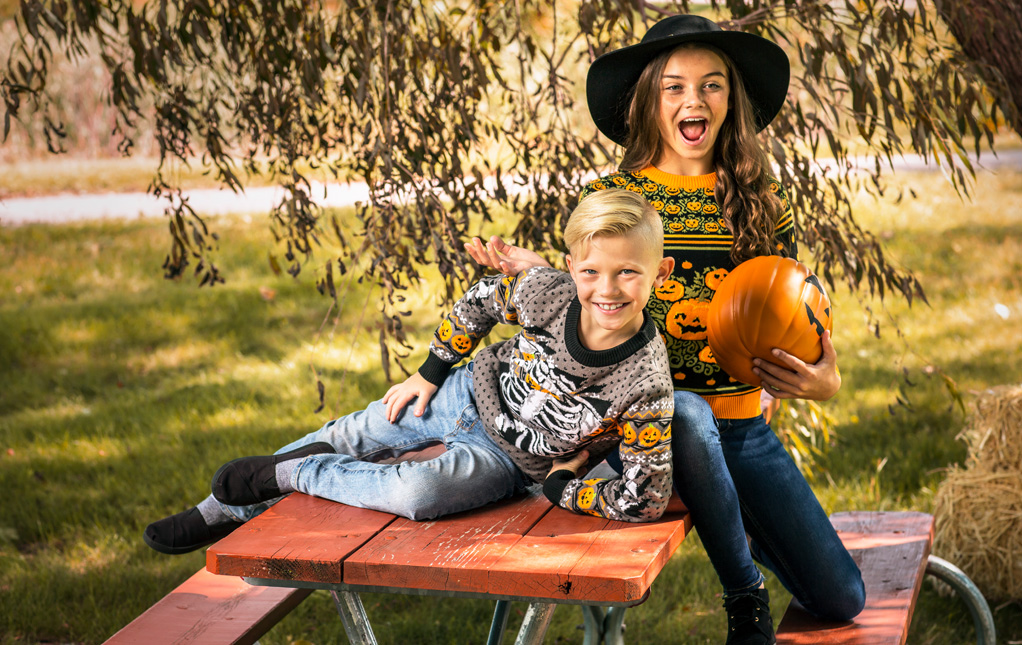 Don't worry, we're not taking all of the cute-cred from the kids. We still want them involved in every heartwarming photo and sweet elementary school Halloween parade. This is why some of our favorite sweater designs come in kids' sizes as small as 3T! Plan your family photo session around you and your kiddos' coordinated sweaters. Then match with your loved ones at our group costumes tool where you'll find all the Halloween costume ideas you and yours will love!