Michael Myers Halloween Costumes
They claim that evil never truly dies: it is either rejected by hell, or perhaps some other mysterious curse or magical secret that keeps it going. That certainly seems true for many of the supernaturally-charged slashers out there populating our favorite scary movies. Whether they're rising up like the undead, conjured back by wicked witches, or are seemingly immune to getting slain in the first place, you can trust that the sinister breathing and silent stares of these maniacs will keep everyone on pins and needles! Perhaps that's why these Halloween Michael Myers costumes are so perfect. They keep coming back, year after year, always with a few new details that are bound to have you grinning with glee. Fortunately, masks can help you look like a catatonic psychopath while you enjoy Halloween in the way only Michael Myers can... by creeping your family out!
Adult Michael Myers Coveralls
Sometimes a simple disguise is the best way to go, don't you think? Well, Michael Myers seems to. Is it out of convenience that he always runs into an unfortunate worker wearing a uniform? There's got to be something in there that helps him move around with ninja-like stealth while causing a certain end to anyone who gets in his way! Whether it is intent, accident, or strange work of Samhain fate, a pair of coveralls is the perfect start to a Michael Myers Halloween costume. Get ready to make this Halloween one to remember.
Michael Myers Costume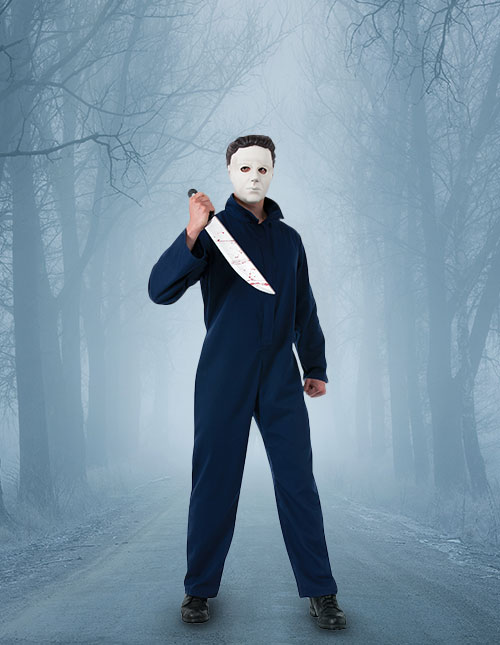 Give some honor to the fallen mechanic that helped to make Michael Myer's look exactly what it became. Of course, unless you're paying attention to the extended films, there isn't a whole lot to know about Christopher Hastings. But if you're stalking the streets on Samhain as Michael Myers, you probably aren't going to be too concerned with who the mechanic was... just that he helped you get out of your clothing from the psychiatric ward! Be prepared to confront all sorts of antagonists when you stride into your neighborhood as "The Shape" in a classic combo of navy blue coveralls and the twisted mask of Michael Myers. Show those other slashers who the real invincible evil is and make everyone forget all about Freddy!
Michael Myers Halloween II Costume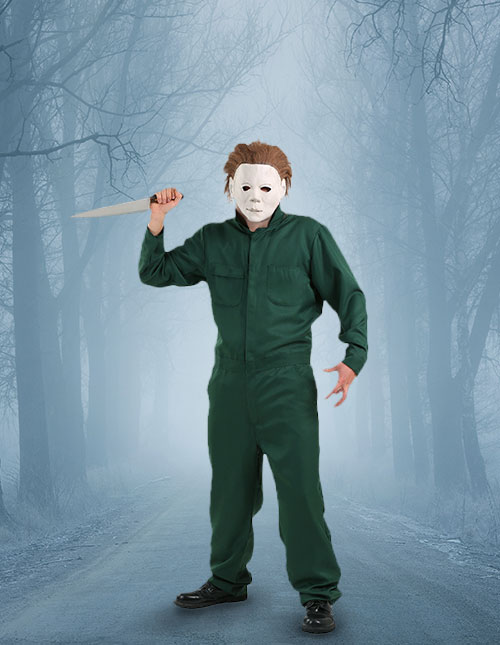 Perhaps you're more interested in showing how a slightly disheveled Michael manages to keep at his evil task despite being stabbed, shot, and chucked out a window! Sneak away from your targets to get right back on track. The night has gone on, though, and that blue filter isn't as crucial anymore. Time to reveal the truth! Those coveralls were actually green the whole time!? Well, this will make it fun for your friends and family as they try to correctly identify that you're Michael Myers from Halloween II... at least until they remember what Myers does with his friends and family, anyway. We recommend just chasing them around. After all, once Myers has no family left, he doesn't have much of a reason to keep haunting, does he?
Michael Myers Costumes for Kids
A particularly creepy way that you might go to really enjoy your Samhain is to start where it all began. Little Michael Myers was just six when he started his journey into darkness. That might sound a tad intimidating as the parent, but fortunately you're protected by the magic of replica. All of the spooky atmosphere with none of the actual danger! With all that said, your little tyke could make a great reminder of the beginning of the Halloween series, because when your kids are on the hunt for Halloween costumes, Michael Myers is a terrifyingly perfect way to go. Show them that there are way better freaky holidays than Friday the 13th and its mascot slasher, Jason! These Michael Myers kid costumes are perfect for some killer kidding around!
Michael Myers Child Costume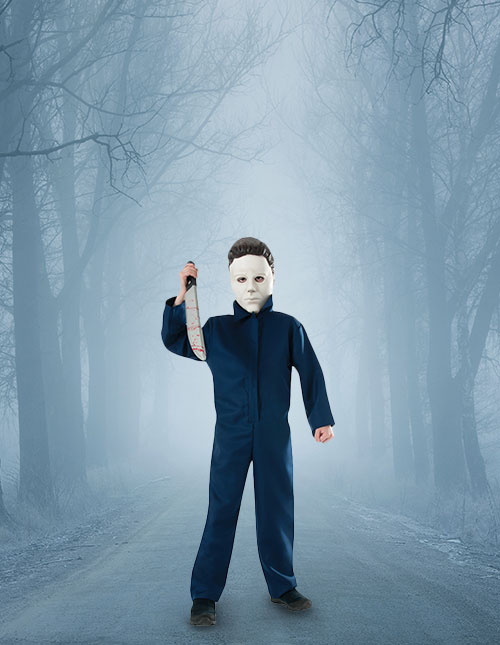 Let your fresh-faced killer start out the adventure with the iconic look from the first film. They're young enough that they might think a mask based on Star Trek's Captain Kirk is spooky as is, but when the latex mask is given that white-as-death look, phew! That's something really out of this world! Just remind your kiddo that, while Michael Myers was practically invincible and evil to the core, this version of Halloween is just for pretend. Safety standards are still in place! That means no sneaking in bushes, breathing heavy, and leaping out at high schoolers with toy weapons. Those older kids have plenty on their minds without having to run screaming from a tiny murderer in a mask... no matter how much fun it would be to watch them do it!
Rob Zombie Michael Myers Costume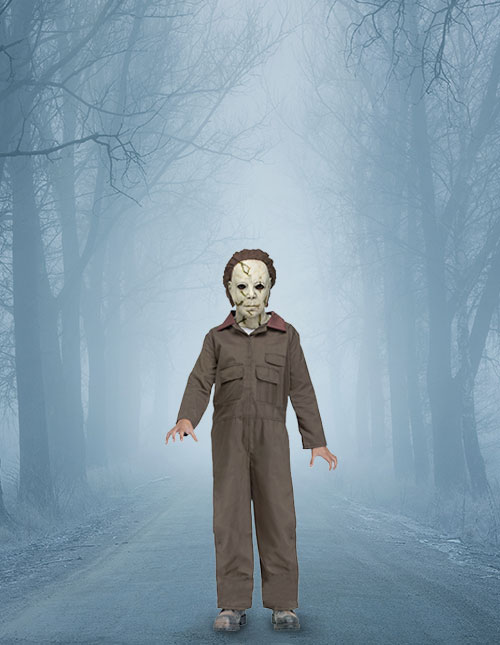 After freaking out a few folks from the neighborhood, your tyke might find that they're a tad tuckered out. Totally reasonable for a miniature Michael that hasn't quite grown into the whole invulnerability thing. That's where a more tattered look for Myers is perfect! The mask is a bit cracked. A fresh new take on the service uniform. If you're looking for a real authentic bit of horrific fun, you can't go wrong with Rob Zombie's take on kiddo Michael Myers! Talk about a look that was raised from the dead! After all that Myers went through, who can say that this guy isn't a zombie, himself? Perhaps your kiddo can be the one to solve the puzzle once and for all!
Halloween Quotes
Whichever frightening look you wear, whichever accessories will transform you from reasonable regular to supernatural slasher, you also have to come equipped with the right bits of daunting dialogue! Even if you don't have the films committed to memory, we can help you get into the spirit with some select quotes. Sure, Michael might not have much to say, but that doesn't mean that you can't take the warnings to heart for when Myers comes to call!
Brackett: "It's Halloween; everyone's entitled to one good scare."
Dr. Loomis: "I spent eight years trying to reach him, and then another seven trying to keep him locked up, because I realized what was living behind that boy's eyes was purely and simply... evil."
Dr. Loomis: "Death has come to your little town, Sheriff."
Laurie: "Was that the Boogeyman?"
Dr. Loomis: "As a matter of fact, that was."
Dr. Loomis: "We're not talking about any ordinary prisoner! We are talking about evil on two legs."
Laurie: "There's nothing to be scared of."
Tommy: "Are you sure? How?"
Laurie: "I killed him."
Tommy: "But, you can't kill the Boogeyman!"
Dr. Loomis: "He came home!"
Michael: *heavy breathing*