Dr. Seuss Character Costumes
The world of Seuss is a wild and colorful one. He didn't care about the rules of reason. In The Cat in the Hat, he thought nothing of turning the monotony of a rainy day into a wild and colorful adventure. Sure, Sally and Conrad might have been hoping for something different to keep them occupied but they could have never guessed what kind of rowdy visitor would show up at their door.
It's no wonder that kids and adults alike want to dress as Dr. Seuss's outlandish creatures: they are vibrant, unique, and they often misbehave. It's not too bad to get in touch with your mischievous side if kids are learning to love to read at the same time! Exploring the stories that the good Dr. created gives children their first glimpse at where they can end up when their nose is in a book. And we're not just talking about Oh, the Places You'll Go. Most of his stories contain intriguing winding roads, wild trees that curl and flower in unpredictable ways, and houses that look like they were molded from clay. Once kids see Seuss's worlds come to life in their classrooms or at a birthday party they just might wonder what other magic could hide within the pages of a book!
So, throw on one of these costumes and get into character. You simply can't remain serious when you're wearing bright stripes and dressed as a cat! The world that Dr. Seuss created is just as interesting and imagination-stimulating as when he published Horton Hears a Who! in the fifties. Now, if only he had written a book about getting library books back on time, because it won't be long until these kids are flocking to the shelves to read themselves into a fresh adventure!
Whether you're a teacher celebrating World Book Day or you're putting together some quick and easy Dr. Seuss costumes for a Seussian birthday party, the costumes you see below will bring Seuss's characters to life! Maybe you're taking on the Lorax's mission of speaking for the trees. Or perhaps you're highlighting how much fun a rainy day can be with the simple Cat in the Hat accessory kit. No matter which look you're going for, your day is sure to be full of rhyming fun! Now, let's see if you can talk in verse for the whole day. Just kidding, we wouldn't want you to start sprouting Seussian eyebrows and balancing fishbowls and clocks. Didn't you know that's what happens when you rhyme too much?
Lorax Costume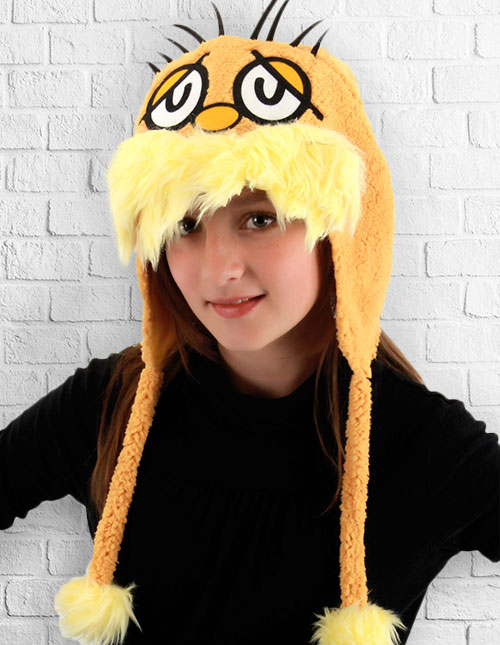 The Lorax is a treasured character of tree-huggers everywhere and an important part of the Seussian repertoire. After all, who doesn't love the trees and all they do for us? The Lorax reminds us to protect our natural resources, even if the fluffy trees are the key to getting rich. Money doesn't produce oxygen or give us shade. And no matter how high those stacks go, money is not nearly as picturesque as a forest of Truffula trees. The message of The Lorax is as relevant today as it was in the seventies when Seuss published it. It's not any wonder why people love representing the little yellow fellow in costume. While it's great to break out for Arbor Day, Earth Day, not to mention Seuss events, this Lorax hoodie hat doesn't need to be reserved for special reading events or Halloween. You can rock this look whenever the weather is chilly. The trees always need a spokesperson, after all!
Cat in the Hat Costume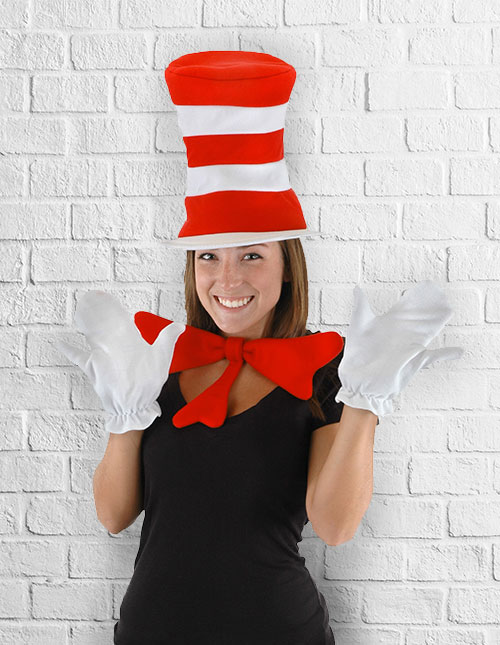 Whether the weather is too rainy or too hot, when kids are stuck inside, it's important to keep morale high. No matter where you live, there will always be times when kids can't play outside for one reason or another. As we all know, the Cat in the Hat is one of the best cheerleaders out there! So, the next time the kids in your classroom are feeling down, lighten the cloudy atmosphere with this Cat in the Hat accessory kit. The lightweight hat and gloves with the wild bowtie can be thrown on in a matter of seconds, making it perfect for representing your local library in a parade or some impromptu dress up when you sense your charges are feeling a little bored.
Dr. Seuss Character Costumes for Adults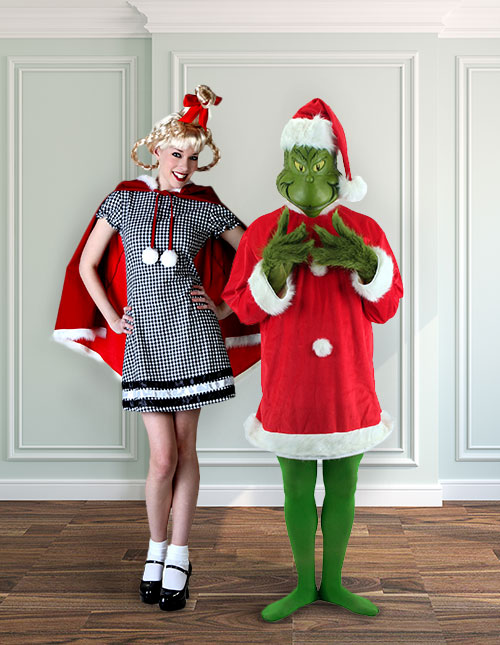 Christmas. You either love it or you hate it. Just kidding. There's just one verdant hairy fella that owns Christmas hatred on a level us normal haired folks simply can't compete with. So we all might as well love the holidays, right? The best way to celebrate the giving nature of Christmas? Holiday-themed costumes of course! Show up at a holiday party as the avant-garde-haired Christmas girl that communicated the true spirit of Christmas and you'll have people holding hands and singing songs in no time. Want to challenge the Christmas hoopla? Stir people up with your grumpy attitude and head out into the world as The Grinch. Or combine the costumes to make on of the cutest family costumes on record! We can't promise folks will quiet down with their merry making when you're showing up as the Grinch but they just might try turn that epic frown upside down with an extra Christmas cookie or two. Getting people to give you extra sweets is always a good thing, right? Sure beats the glass that the Grinch typically noms on in his cave!
Dr. Seuss Costumes for Kids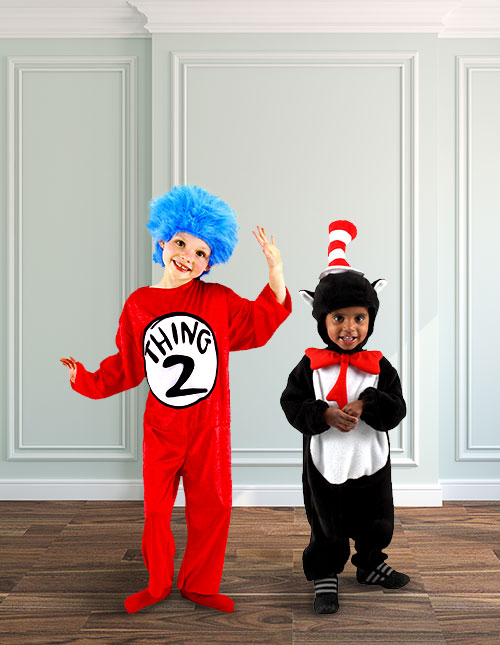 Sometimes it's difficult to tell whether Dr. Seuss wrote his books for kids or adults. All his storylines are fun for people of all ages, which is great when you're reading Green Eggs and Ham for the hundredth time. So if your kids are diving into Seuss, it won't be long until they're reading books on their own while wearing the red-and-white striped tall hat. Whether you're dressing up your kiddos for Halloween or a themed party, the Cat in the Hat costume will always be a hit! Dressing up the whole family? Make things really wild with Thing 1 and Thing 2 costumes. When your children are dressing up as Seuss, you might as well let loose with a classic! Plus, we think kids in red jumpsuits with electric blue hair will be sure-fire Instagram magic. Not that it matters or anything….
Dr. Seuss Costume Ideas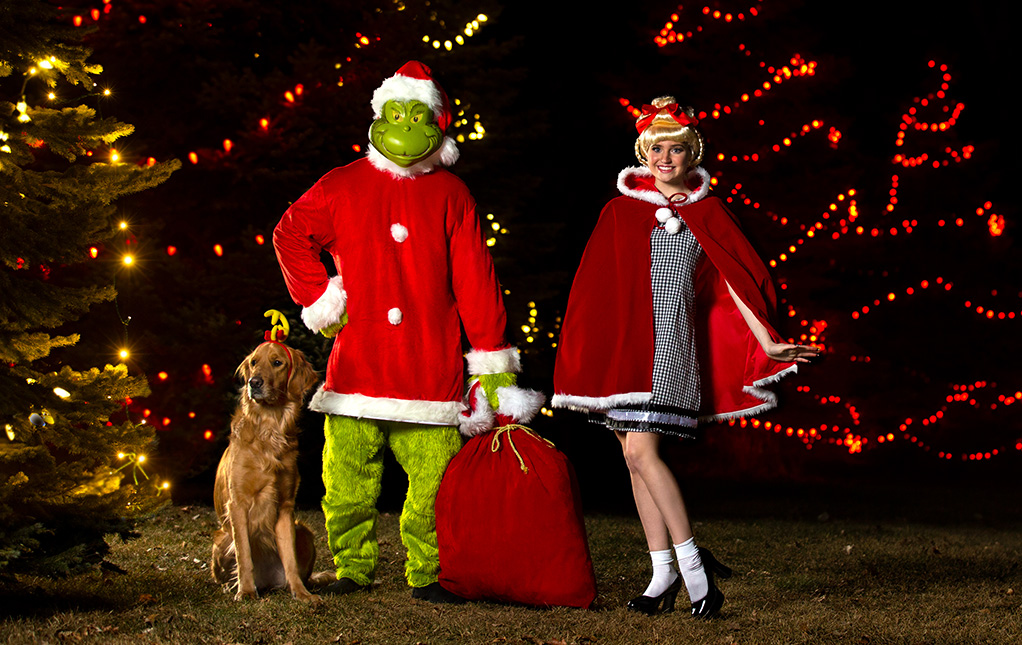 And so we've come to the end of the page.
We hope our rhyming hasn't sent you into a rage.
And as is evident, we know little of beat.
Doing this whole thing in rhyme would be a true feat.
So like when you're looking for a prescription concoctor,
When you're looking for rhymes, leave it to the doctor.
We do, however, know a lot about dress up,
And while our looks might be hard to mess up,
You might want to check out this make-up tutorial,
When we go beyond costumes it's called extraterritorial.
Phew, okay, that's the last of our stanzas. We do think you should check out this video, though, 'cause the Grinch-like transformation is pretty amazing. Whether you're marching in a parade, hosting a Whoville-themed Christmas party, or you're planning the best Read Across America party your school district has ever seen, we hope that you've been inspired by this page. And you're not limited to the featured looks on this page either! Like Dr. Seuss you can think outside the box. An elephant can easily become the open-hearted Horton. Pair a cozy fox costume with some blue socks and you know what character you get. And hey, if you like your costume, let us know. Leave us a review. And if you really, really like it, send us over some green eggs and ham. We really like it, Sam I Am!
Dr. Seuss Outfits for Teachers
Dr. Seuss is the ultimate jumping off point for so many learning opportunities! He's got books that teach the basics like reading and math. Then he covers the more complicated shades of life like the importance of peace in The Butter Battle Book or the danger of trying to keep up with the cool kids when he writes about the Sneetches with their star-bellied fashion trends. You know that better than all of us, you've seen the endless lesson plans out there!
So when you have a Seuss celebration you're not only celebrating silly rhymes and wild creatures, you're tapping into some seriously rich learning territory! So, jump in you must. Don't go half way. Hmm, we almost feel a rhyme scheme coming on at last. But not yet, keep reading. It'll happen sooner or later. (This is a Seuss page, after all!) Below you'll find all sorts of funny costumes that are easy to keep behind your desk for a rainy day when students might need a little colorful inspiration to wake them up and keep them focused.
Simple Dr. Seuss Costumes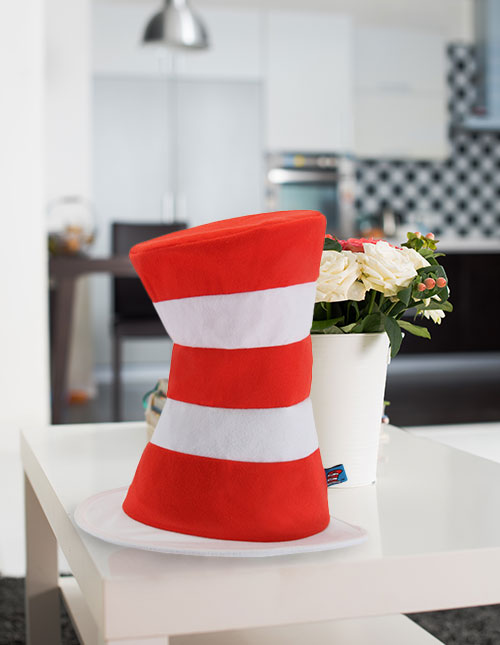 The Cat in the Hat is a great place to start when you're getting students into Dr. Seuss. They probably already knew that rhyming could be fun but did they know they could read about mayhem while learning about verse? So, get those boys and girls into storytelling when you pop this cartoonish red-and-white striped top hat on your head.
Homework is a lot more fun when you are dressed in stripes! No bored kids yawning, chewing gum, when wild things drum and pipe on pipes. ABCs of times gone by have been nap inducing, but you never know what kids might learn when you are Dr. Seussing!
Wow, so those are the rhymes you've been waiting for? Hmm, that's an interesting past time. Honestly, we probably should have come up with something better. Something that you could recite in class, leaving those old classic Seuss books behind. We are literary experts, after all. No, we're just joshing around, we know you're here for our variety of Seussian looks! And hey, if you click around on these products you're sure to come upon some top-notch rhyming copy sooner or later.
Dr. Seuss Thing 1 & 2 Costumes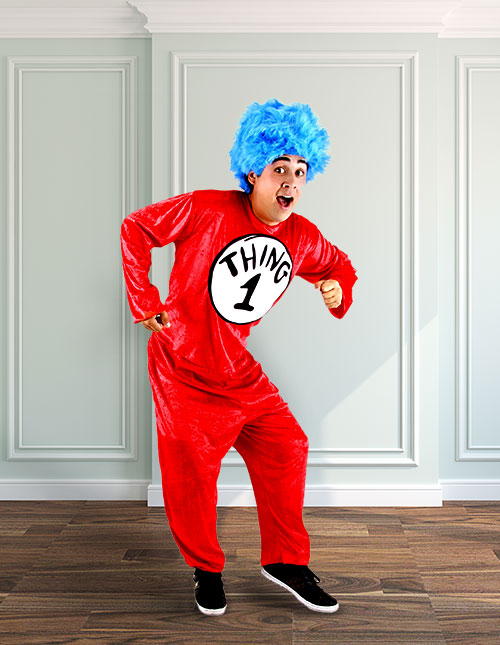 The kids in your class probably don't need any tutoring when it comes to causing mischief. Still, sometimes the adults in school need a little help getting onto their level. That's really what dressing up as Thing 1 and Thing 2 is all about. So, get ready to let loose and go a little nutty. Maybe you're flying kites (outside only!) on the last day of school, maybe you're amping your kids up at a pep rally, or maybe you're simply peddling books at the quarterly book fair. No matter the reason, once Thing 1 and Thing 2 are out of their box, you never know what kind of magic will happen! One last piece of advice? Don't embrace the mess. Because, unfortunately, we have yet to invent Dr. Seuss's Dynamic Industrial Renovating Tractormajigger or any other general cleaner-upper machine. We got to get on our designers about fixing that issue…
Dr. Suess Dress Up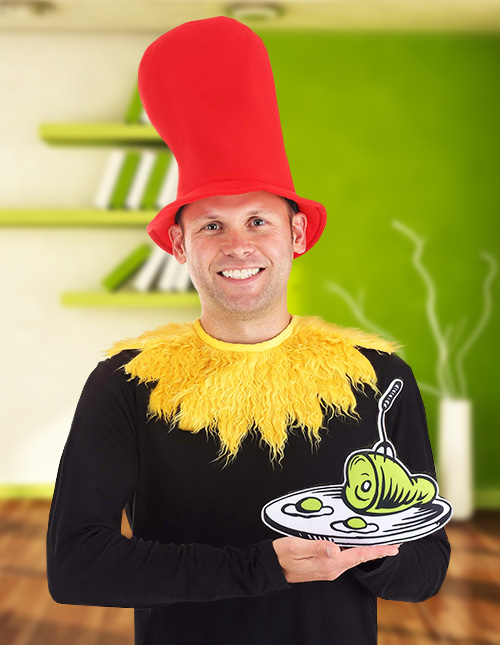 Breathe some life into reading with dress-up kits that are easily exceeding. Expectations for quiet time are better forgotten, with Sam I Am accessories that make storytime feel spot on. With just pieces in place of full costumes, you'll see even more freedom in your day-to-day play. And we're sure once you and yours have found one each, there will be no stopping the fun you can add to the toybox with accessory kits bought here with a click! So spend the day trying new things with Sam and his green eggs. Or bring all your favorite Dr. Seuss characters along to join the new characters you think up in your head!
Grinch Hat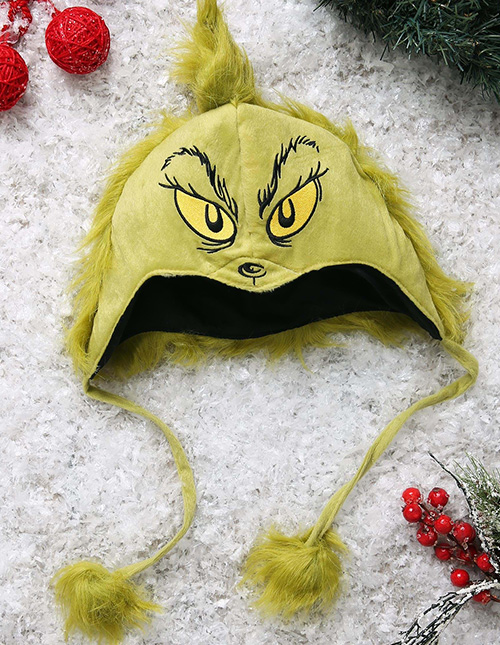 He's so full of whimsy and moxie galore that the Cat in the Hat will inspire you to do so much more! Don't stop your noble hunt for fun because you've found the Cat and Thing 1. Give his buddies from Seuss a good looking too! From Grinchy hats to a full Whoville ensemble, there are outfits, accessories, and costumes for all. Show you're hip to that silly cat's games by bringing along friends for Halloween, school days, and well-spent weekends. And while the Cat in the Hat loves to throw a good time, without a few characters from his author's wild mind, there's only so much that Cat and two Things can think up. So check out our other Seuss-y outfits to see what's what!