Devil Costume Accessories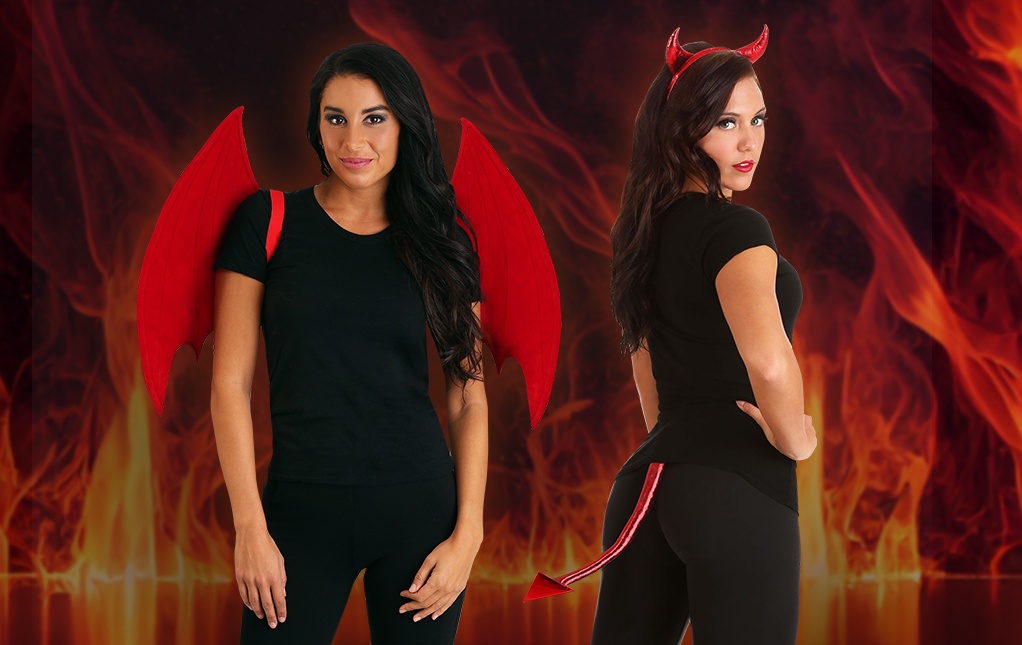 Before delving into the depths of our devil costume selection, let's test the waters with devil accessories. The advantages of a costume accessory collection are seemingly endless—you may feel like you've made a deal at the crossroads. But we promise it's simply versatility at play! From playtimes and office-appropriate Halloween costumes to increasing the impact of a full ensemble, we've got the essential devil costume accessories!
Devil Horns
Want an easy Halloween costume? Got a sassy red jumpsuit that'd make a perfect devil costume with the right accessories? Whether handing out candy, accompanying the kiddos around the neighborhood, or dressing up your favorite red outfit for the spooky season, devil horns are your must-have accessory! Choose classic red plastic horns or gothic flower crowns with realistic horns to easily transform any style!
Devil Wings
Devil wings may not be the first accessory you consider. But our wing selection promises to help everything from classic devil ensembles to fallen angel costume ideas take flight! A set of red wings is an easy choice to lift your devilish style and can lend themselves nicely to dragon, steampunk, and anime costumes. Polish your devil duds with a set of scarlet wings. Or let our feathered, webbed, and metallic options inspire DIY deviled eggs and original characters!
Devil Masks
A simple layer of red base paint and dedicated makeup kits, keep devil makeup pretty easy. But whether you don't trust your make-up skills, don't want to use products on a kiddo's cheeks, or hate the idea of cleaning up, we recommend a mask. Especially when looking to go with a more elaborate look, our devilish masks have you covered. Summon everything from intricate masquerade styles to realistic demon masks even the Prince of Darkness would covet!
Devil Pitchforks
Every ruler has a scepter or staff. No king or queen commands a charge without one. So, pitchforks are a must with any devil costume! Little hellions are ready to lead trick-or-treating legions with a plastic devil pitchfork, while the same lightweight accessory packs a nostalgic and playful punch in devilish adult costumes. Of course, something more elaborate like our exclusive underworld pitchfork might suit your fiery character even better!