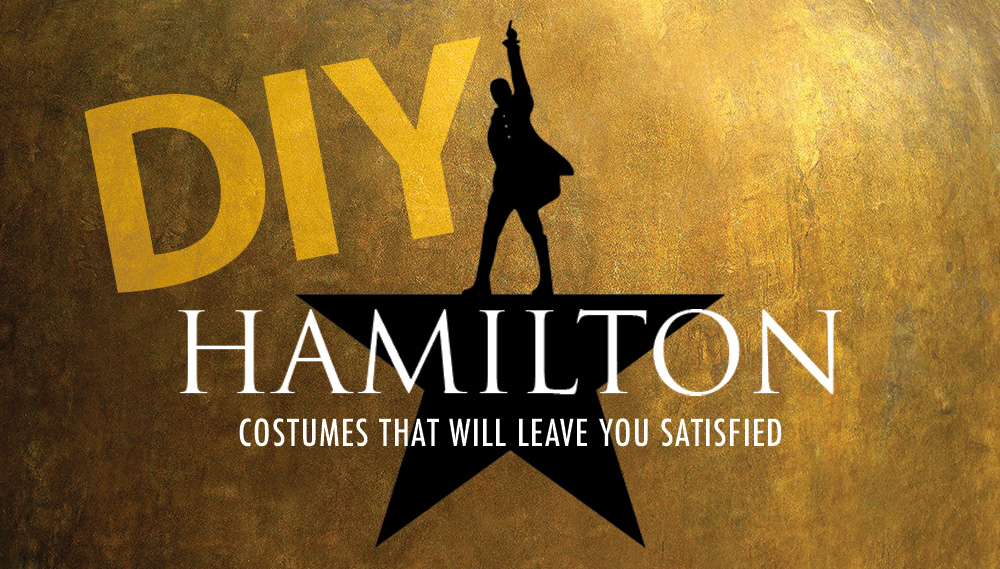 After debuting in early 2015 off-Broadway and transferring to Broadway in August 2015, the hit musical won 11 Tony Awards, a Pulitzer Prize, a Grammy Award, and received an invitation to the White House to perform for President Obama in 2016. It has continued to dazzle audiences on Broadway in Chicago, London, and San Francisco, even going as far as stages for international audiences! We hope these extra productions will bring the ticket price down from the over $1,000 it had been fetching. In the meantime, though, here are some costume guides to help you bring the musical to your hometown for Halloween. Creating Hamilton Halloween costumes will require a bit of ingenuity. Our DIY costume guide draws from a number of other seemingly unrelated offerings, combining Halloween costumes you'll never think could go together. The end result will be something truly unique. Now do Lin-Manuel Miranda proud and start crafting your Hamilton cosplay! There are a million Broadway costumes we haven't made, but just you wait...
Aaron Burr Halloween Costume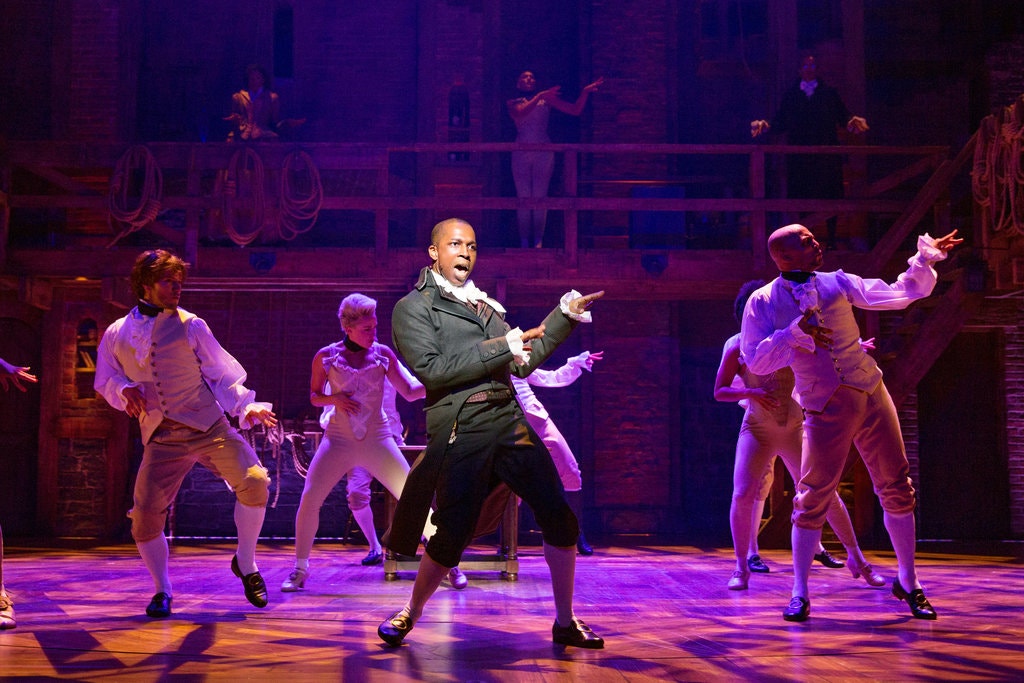 [Source: Sara Krulwich/The New York Times]
If you are looking to DIY your own Broadway Halloween costumes, Hamilton is a great place to start! The narrator and antagonist of our story, Aaron Burr, is the one who shot and killed our title character Alexander Hamilton (spoiler alert for those of you who slept through US History in school). The story takes place over three decades and Aaron Burr is in most scenes, changing stage costumes throughout. His most memorable scene and the basis for this Hamilton costume guide comes mid-way through Act II in the show-stopping "Room Where it Happens." For a truly authentic costume, you'll need to get a bald cap to mirror Leslie Odom Jr's glorious bald head.
DIY Aaron Burr Costume Essentials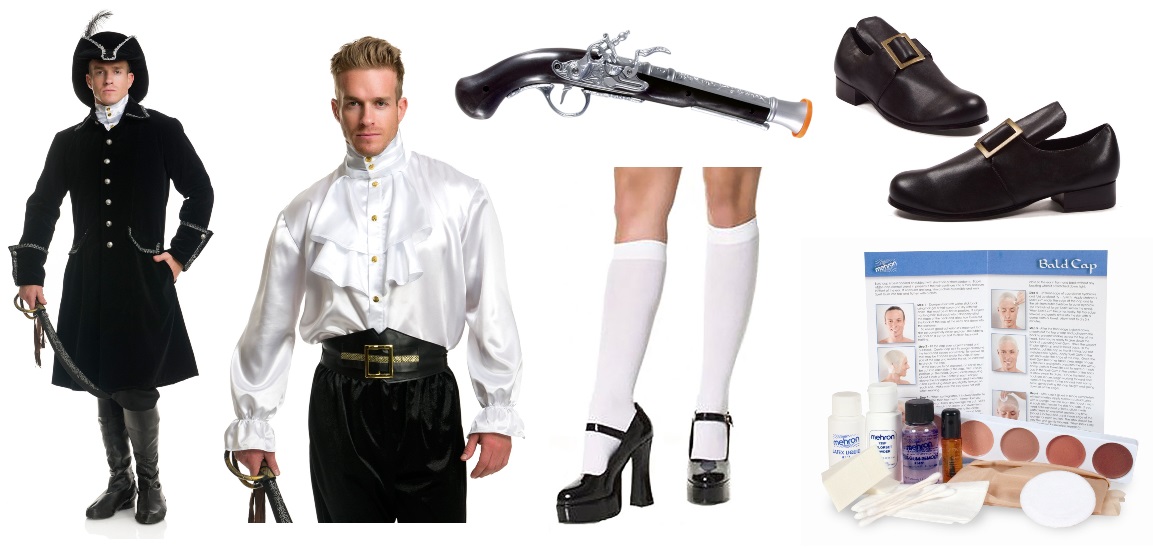 Don't forget to practice your best jazz hands for when Odom Jr's Aaron Burr goes off the reservation at the end of "The Room Where It Happens." Tick-BOOM!
King George III Halloween Costume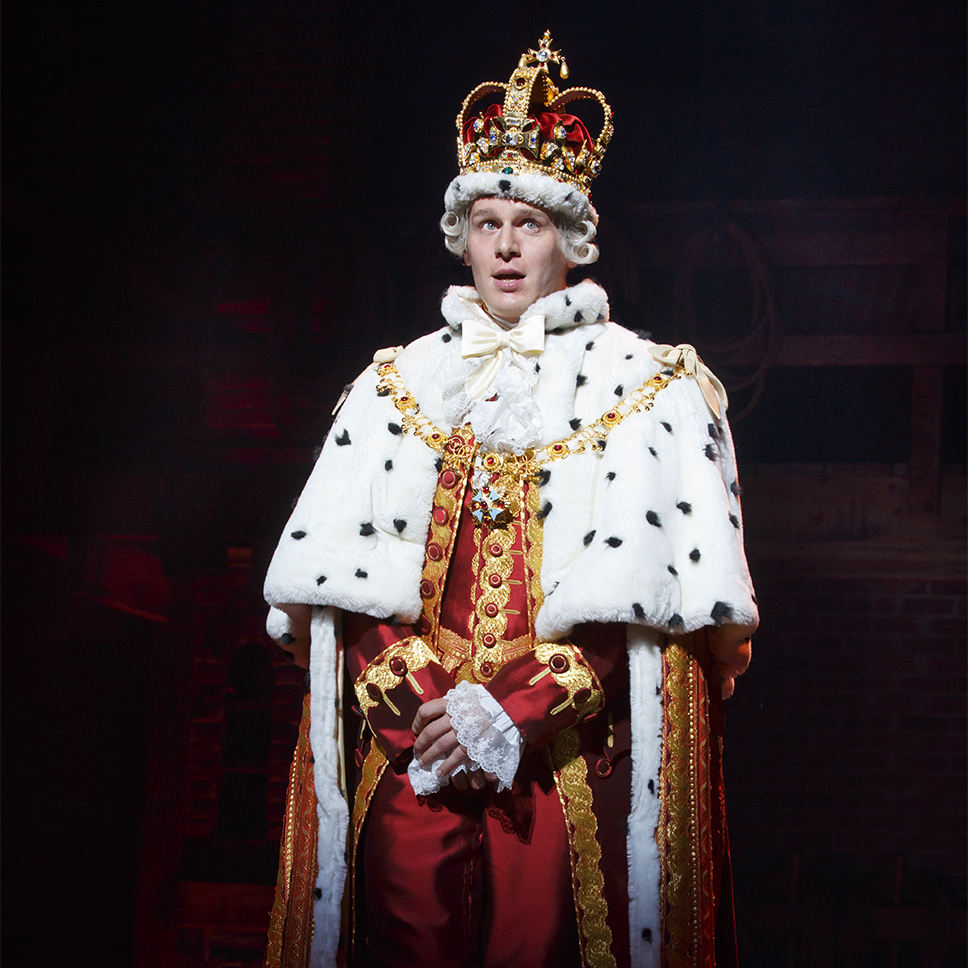 [Source: Joan Marcus/The Hollywood Reporter]
King George III of England is a peculiar character. He has fewer scenes than anyone in the musical, his character has no dialogue with any of the main characters, and yet he is amongst the most memorable of any of the characters in the musical. His songs are all soliloquies to the audience regarding his feelings about the American Revolution from England. They're sung in the style of Brit-pop and are hilariously delivered with a huge crown upon his head. Jonathan Groff's interpretation of this character involved him gracefully walking on stage without moving much of his upper body at all. He revealed in interviews this was in order to keep the massive crown on his head. So make sure to wear the crown with pride as part of this Hamilton costume, and if anyone laughs, send a fully armed battalion to remind them of your love.
DIY King George III Costume Essentials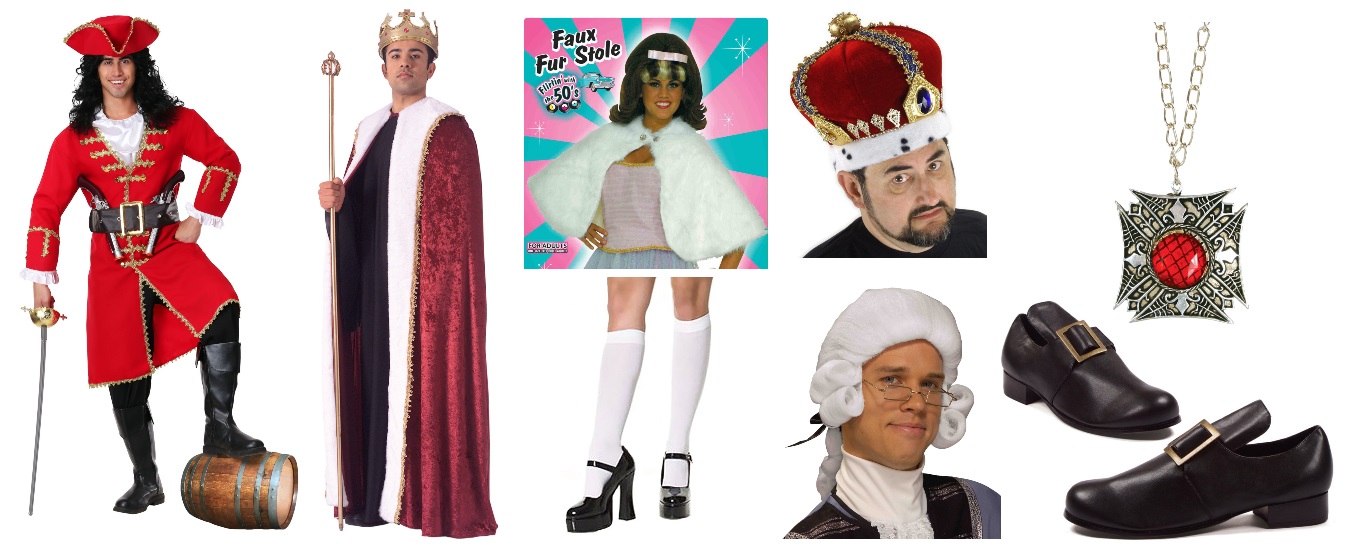 Keep it classy as the "king" of pop.
Thomas Jefferson Halloween Costume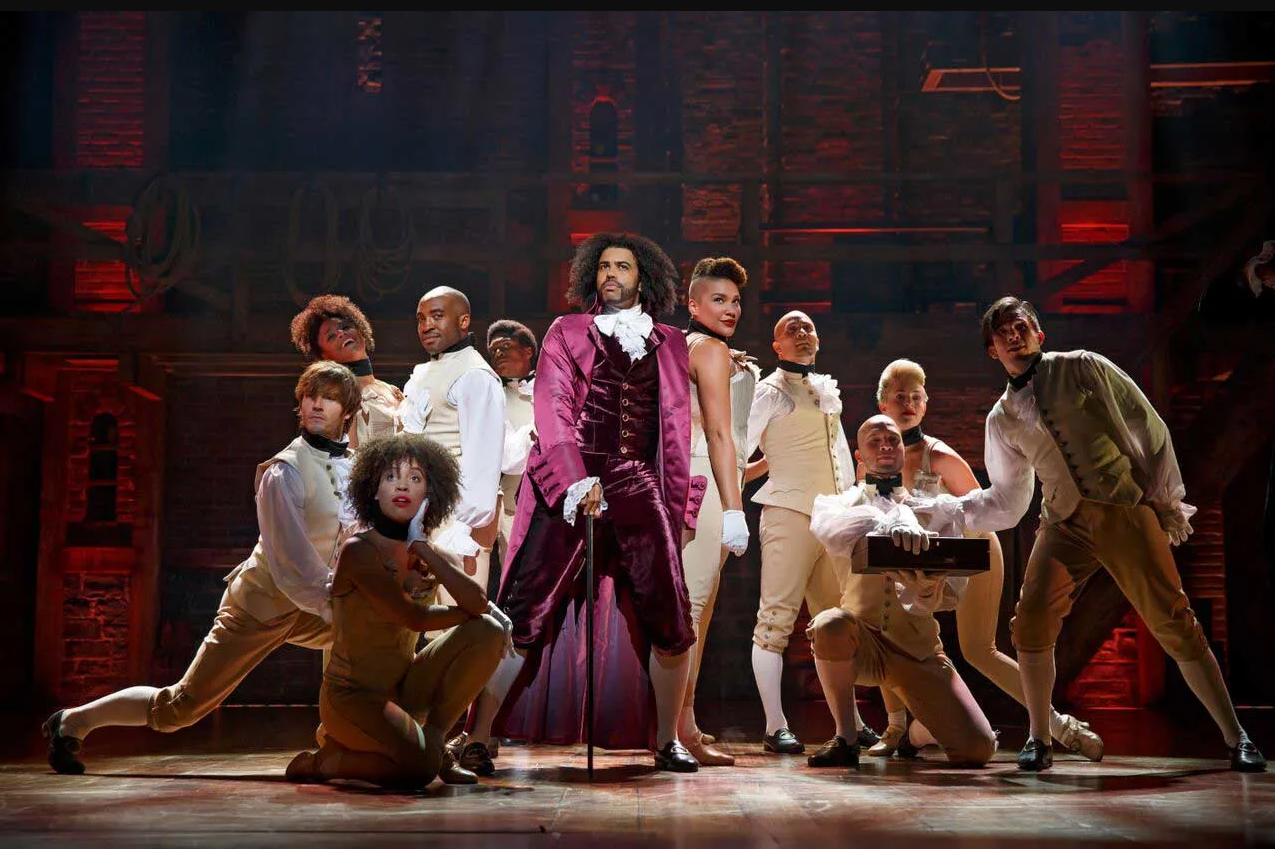 [Source: Joan Marcus/The Nation]
While Aaron Burr plays the tragic villian role in Hamilton, Thomas Jefferson is the straight-up villain. Returning from France at the start of Act II, Thomas Jefferson is portrayed as an arrogant, elitist hypocrite who battles our hero, Alexander Hamilton, and is one of the catalysts for Hamilton's political downfall. A bit different than you might remember from history class, eh? His garish Broadway costumes are some of the best in the musical, taking one part colonial-wear and matching it with a dash of Prince. Daveed Diggs' hair is a costume piece unto itself, and a wig is an essential part of any Daveed Diggs Thomas Jefferson costume if you aren't blessed with luscious locks. Make sure to style it just right—it's what Thomas Jefferson would have wanted.
DIY Thomas Jefferson Costume Essentials
You simply must meet Thomas. Thomas!
George Washington Halloween Costume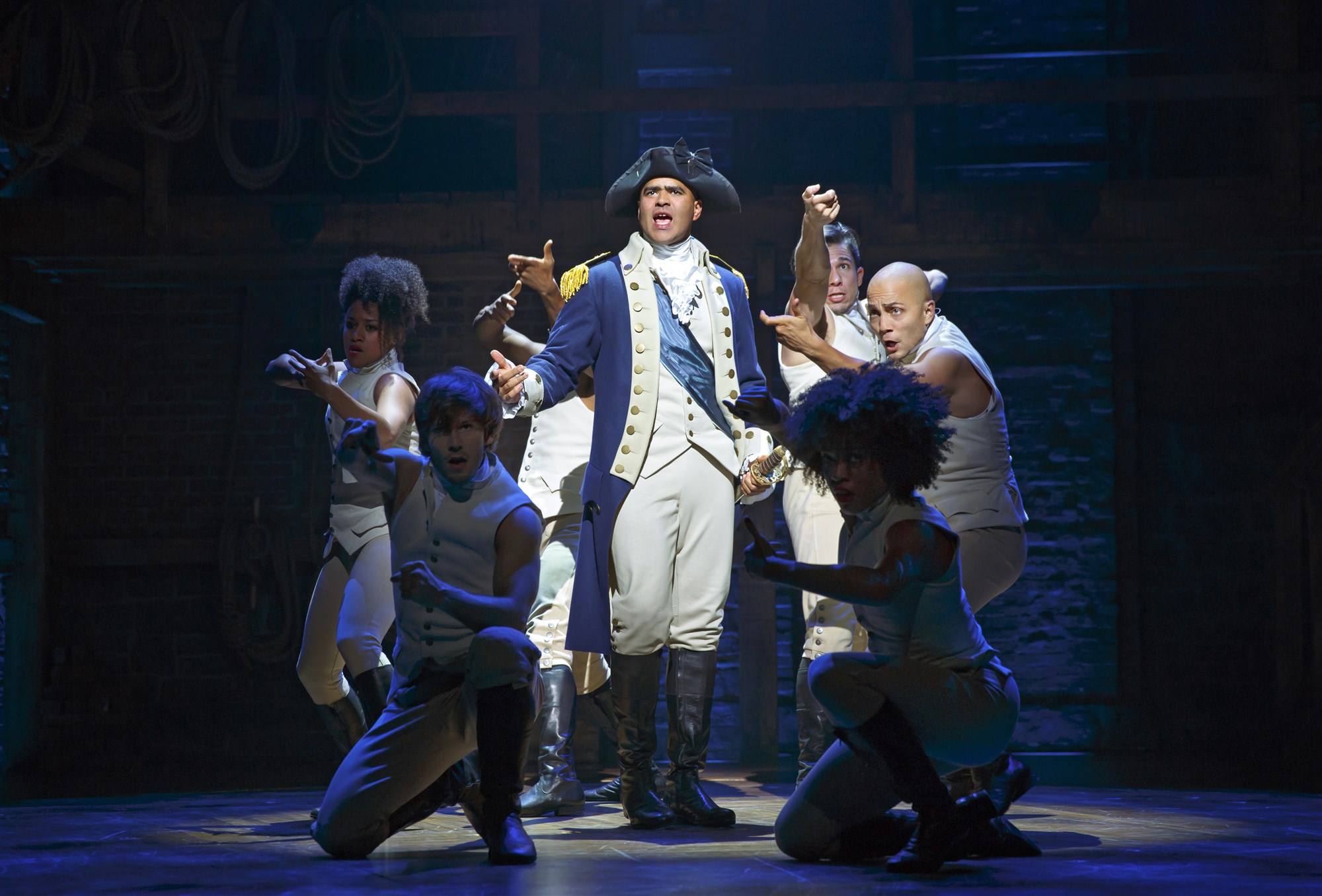 [Source: Joan Marcus/NBC News]
George Washington is one of the most venerated characters in American history, so it's no surprise that we already stock a George Washington costume. This will serve as the base-plate for most of our remaining Act I character costumes. Act I characters are all soldiers in the Continental Army, so their uniforms are similar to General Washington's. Lose the hat and powdered wig though—Hamilton mixes our traditional perception of these characters with some modern touches. In this case, it's a bit more of a rustic version than the standard Washington tricorn hat. Don't forget the proudly bald head of Christopher Jackson. Finally, add a sash to your Hamilton George Washington costume (which befits an officer of Washington's stature).
DIY George Washington Costume Essentials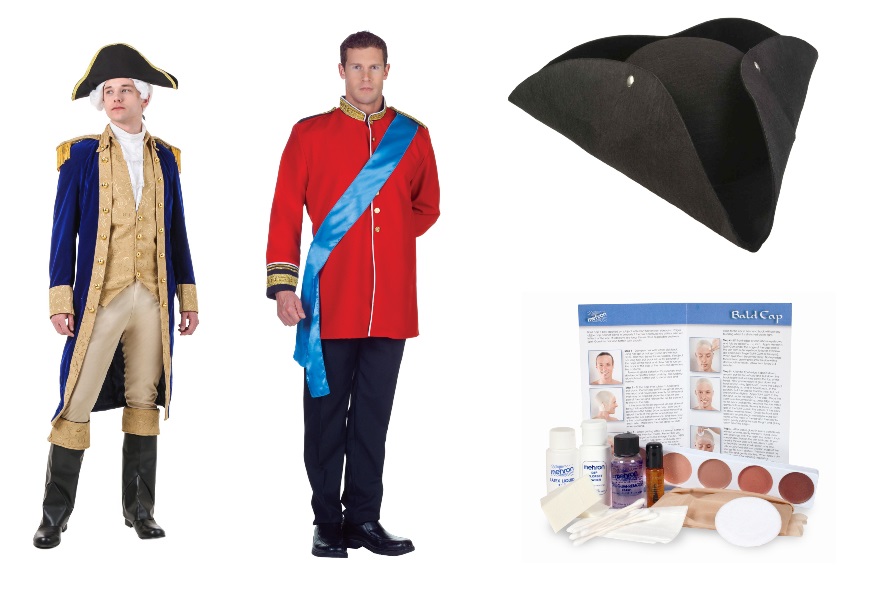 Dying is easy, young man. Living is harder.
Marquis de Lafayette Halloween Costume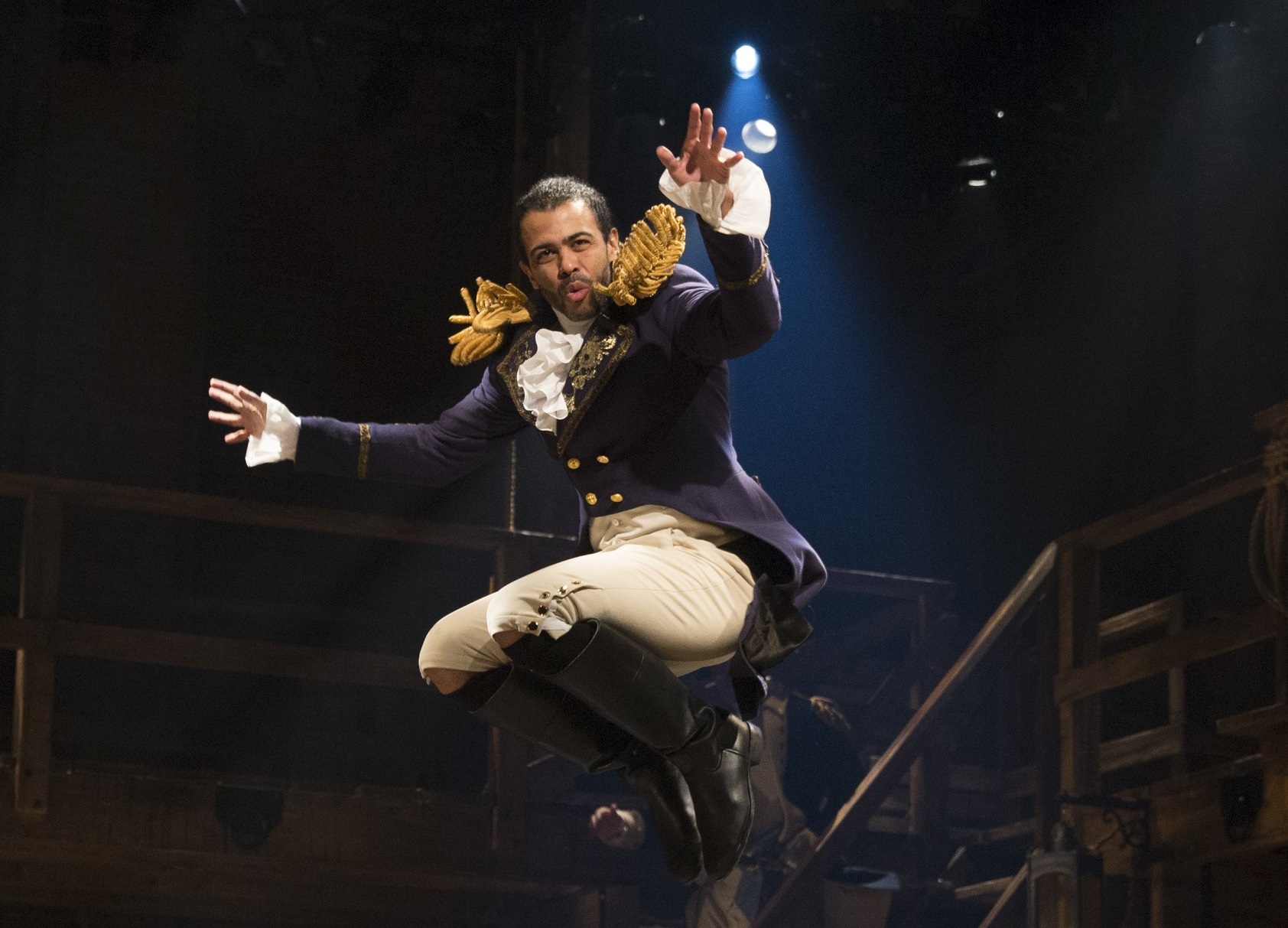 [Source: Joan Marcus/Fandom.com]
Marquis de Lafayette was the secret weapon of the American Revolution, providing guns and ships to the Continental Army. Everyone give it up for America's favorite fighting Frenchman! If you are looking for Hamilton cosplay ideas, take a dash of the Napoleon costume to match with this Frenchman's uniform, then add the sword and sheath. Attached to the belt, these tools tell us how powerful Lafayette was. You'll be looking sharp in your Marquis de Lafayette Hamilton costume! Who played Lafayette in Hamilton? Lafayette was portrayed by Daveed Diggs, who gave us two of Hamilton's most memorable characters. (In Act II, Diggs lets down his hair and transforms into the aforementioned Thomas Jefferson)
DIY Marquis de Lafayette Costume Essentials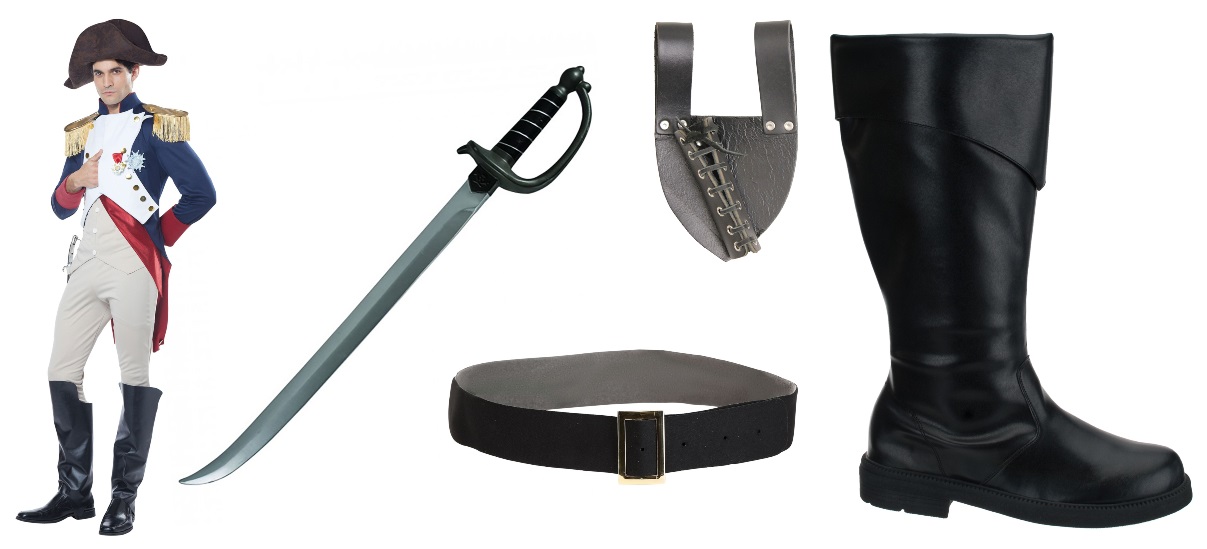 Immigrants: We get the job done.
Alexander Hamilton Halloween Costume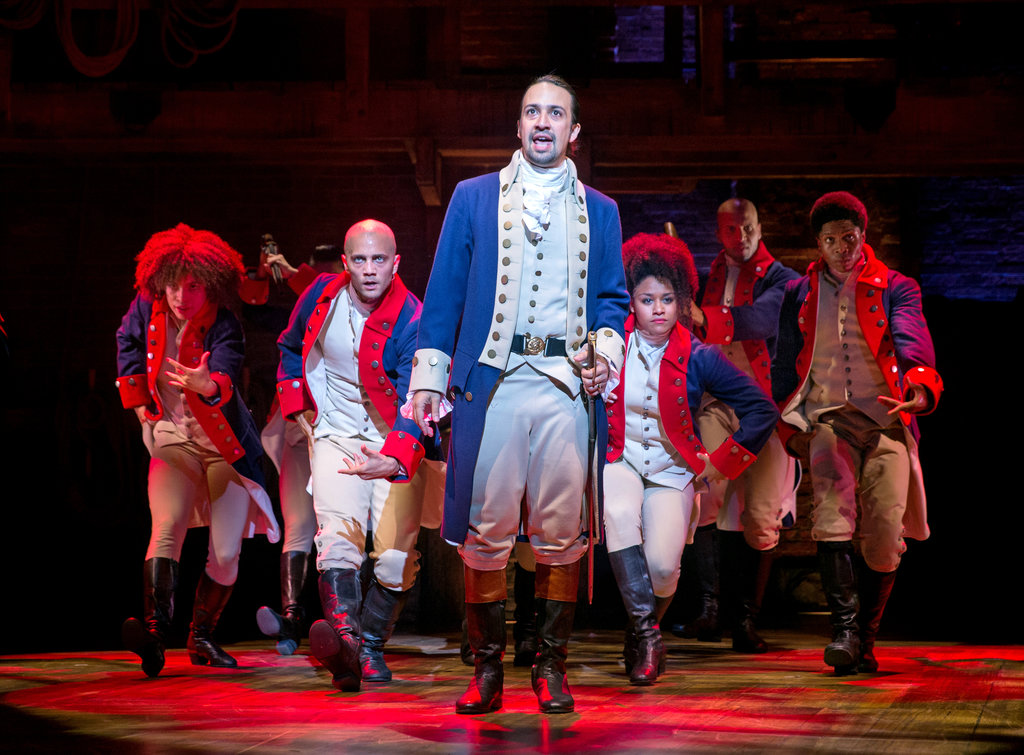 [Source: Sara Krulwich/The New York Times]
Finally, we reach our title character. The Alexander Hamilton costume is fairly easy—just take the Washington costume, ditch the hat and wig, and work on perfecting the follicle stylings of Lin-Manuel Miranda. To play this role, Miranda grew out his long, dark hair, but we'll make it easier on you and suggest a wig. All you need to do is pull it back into a ponytail and trim it up a bit. Don't forget the goatee to complete your Hamilton outfit!
DIY Alexander Hamilton Costume Essentials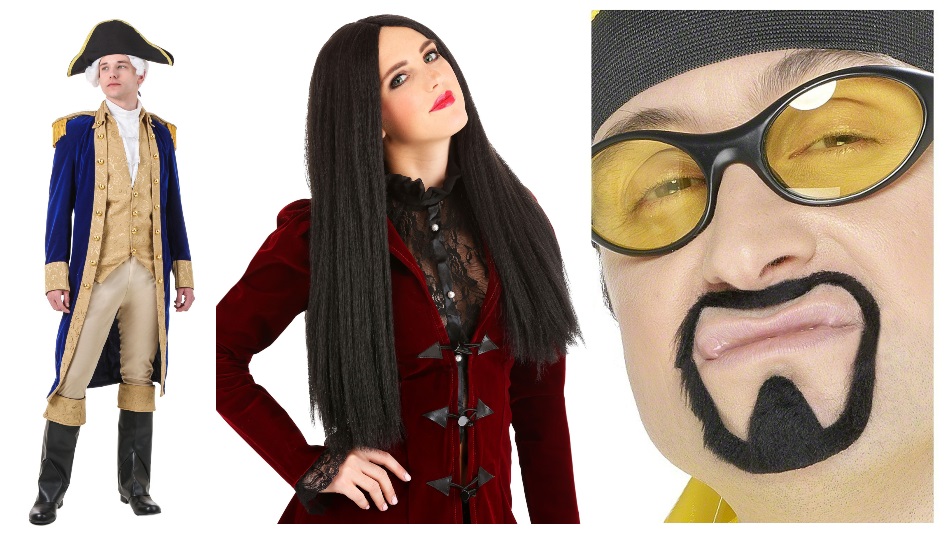 I'm young, scrappy and hungry, and I'm not throwing away my shot.
Hercules Mulligan Halloween Costume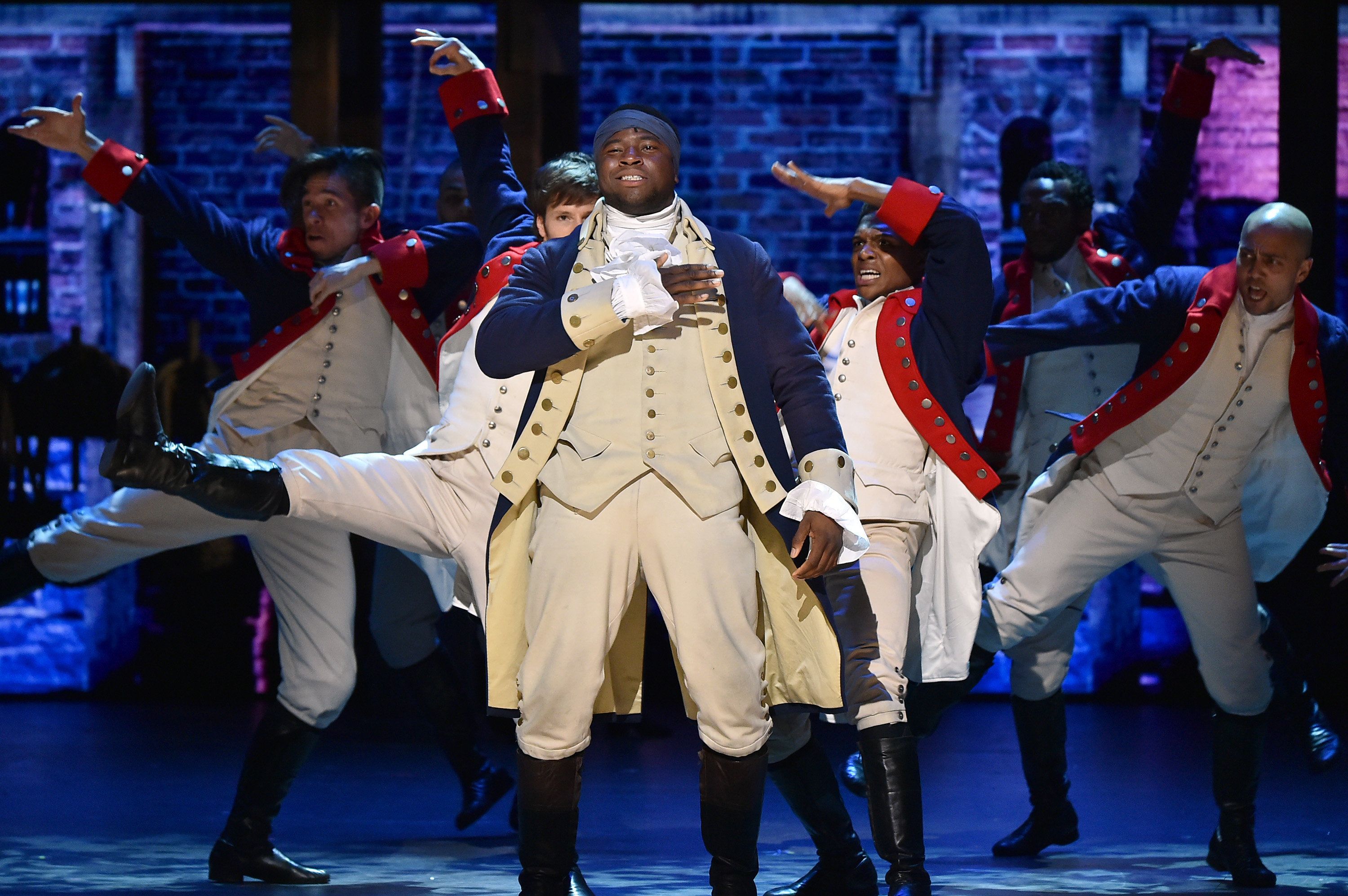 [Source: Theo Wargo/Getty Images/HuffPost]
The tailor spying on the British government gets a little flair with a George Washington coat paired with a black beanie. This rough-and-tumble friend of Alexander Hamilton is portrayed by Okieriete Onaodowan as a Busta Rhymes-esque rapper, so your costume will need to do as he did and ditch the old hat and wig for a black stocking cap.
DIY Hercules Mulligan Costume Essentials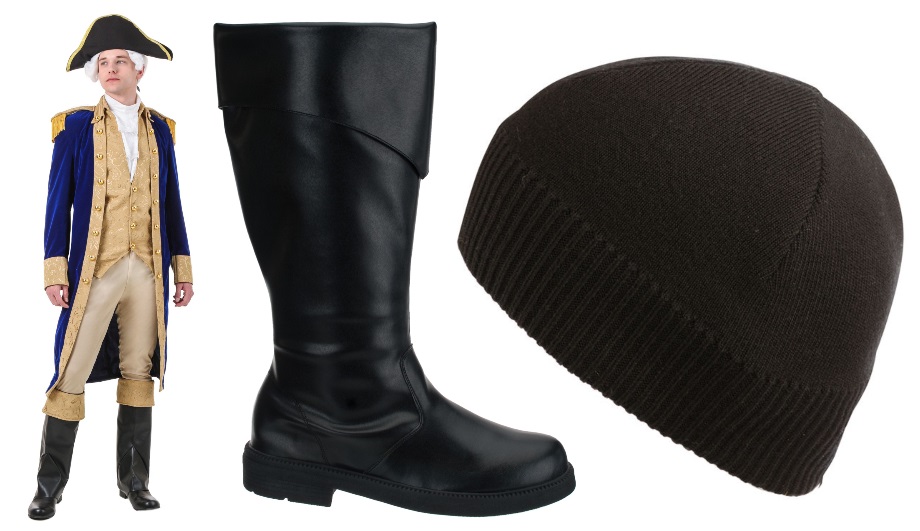 I'm runnin' with the Sons of Liberty and I am lovin' it!
John Laurens Halloween Costume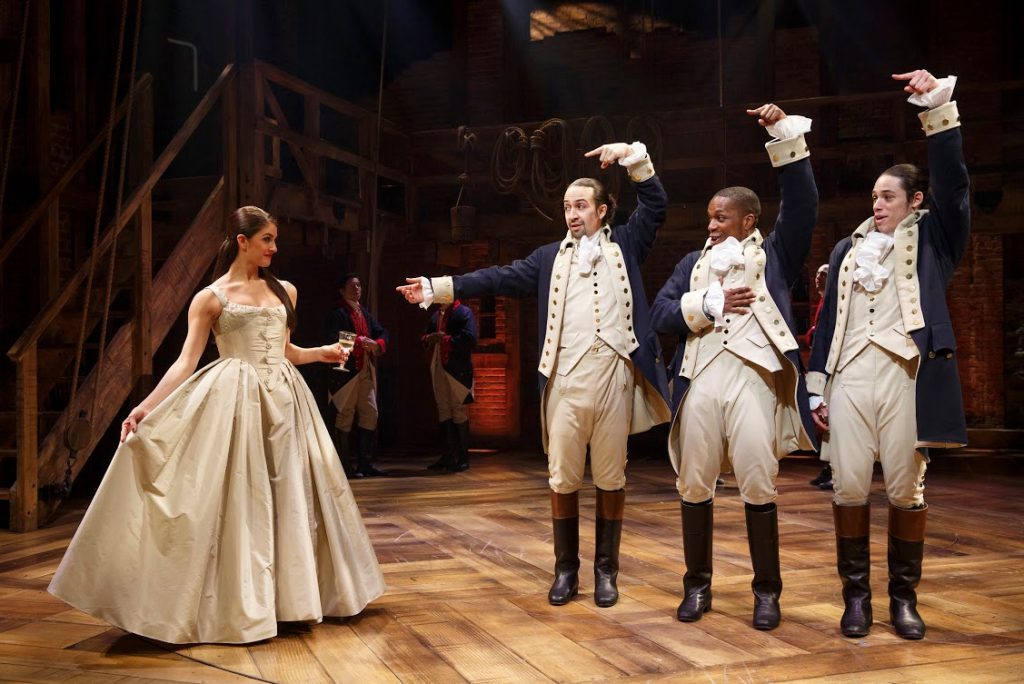 [Source: Joan Marcus/The Guardian]
A y-yo y-yo yo what time is it? Time to break out the John Laurens costume. Take the George Washington costume, lose the hat and wig, then buy a new wig to match Anthony Ramos' flowing hair. Slick down the curls on top, tie it back and boom—you'll be ready for two pints of Sam Adams (now get to work on three).
DIY John Laurens Costume Essentials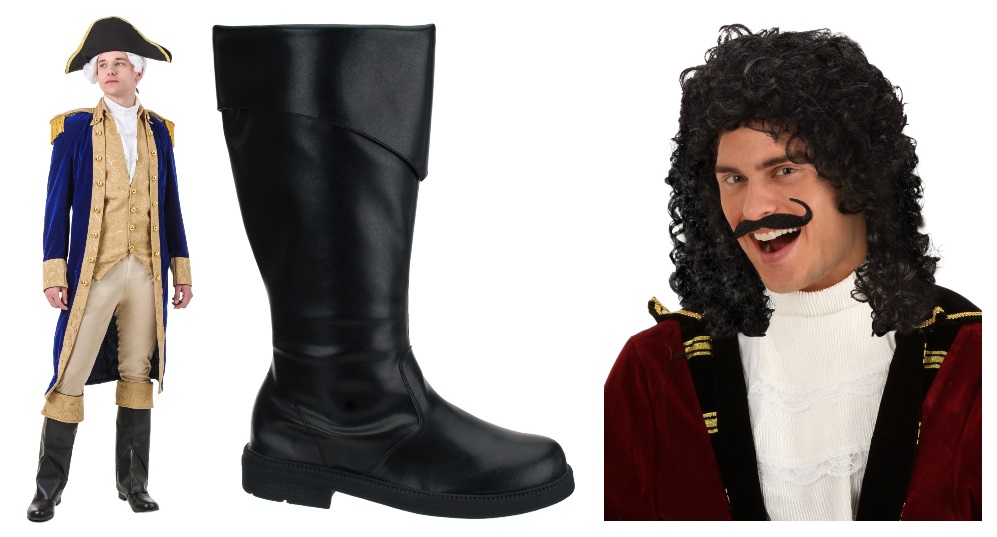 Award Statue
For a little extra flair, why not grab 11 of these to carry around as part of your Hamilton costume for the night? Your arms might get a little tired of carrying around one Tony Award for each win Hamilton scored in the last ceremony, but just ask Lin-Manuel if that's a problem for him.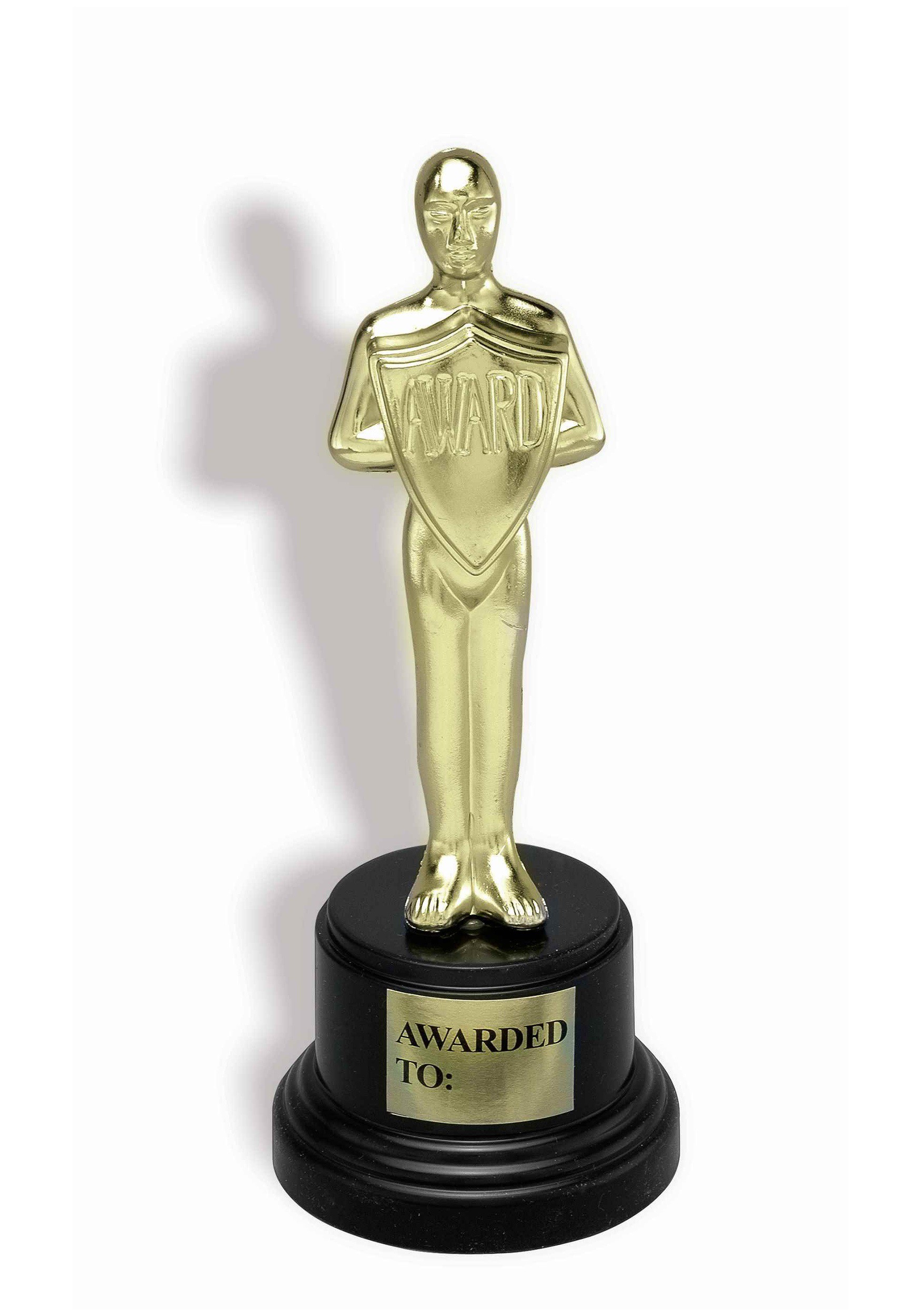 Schuyler Sisters Halloween Costume Inspiration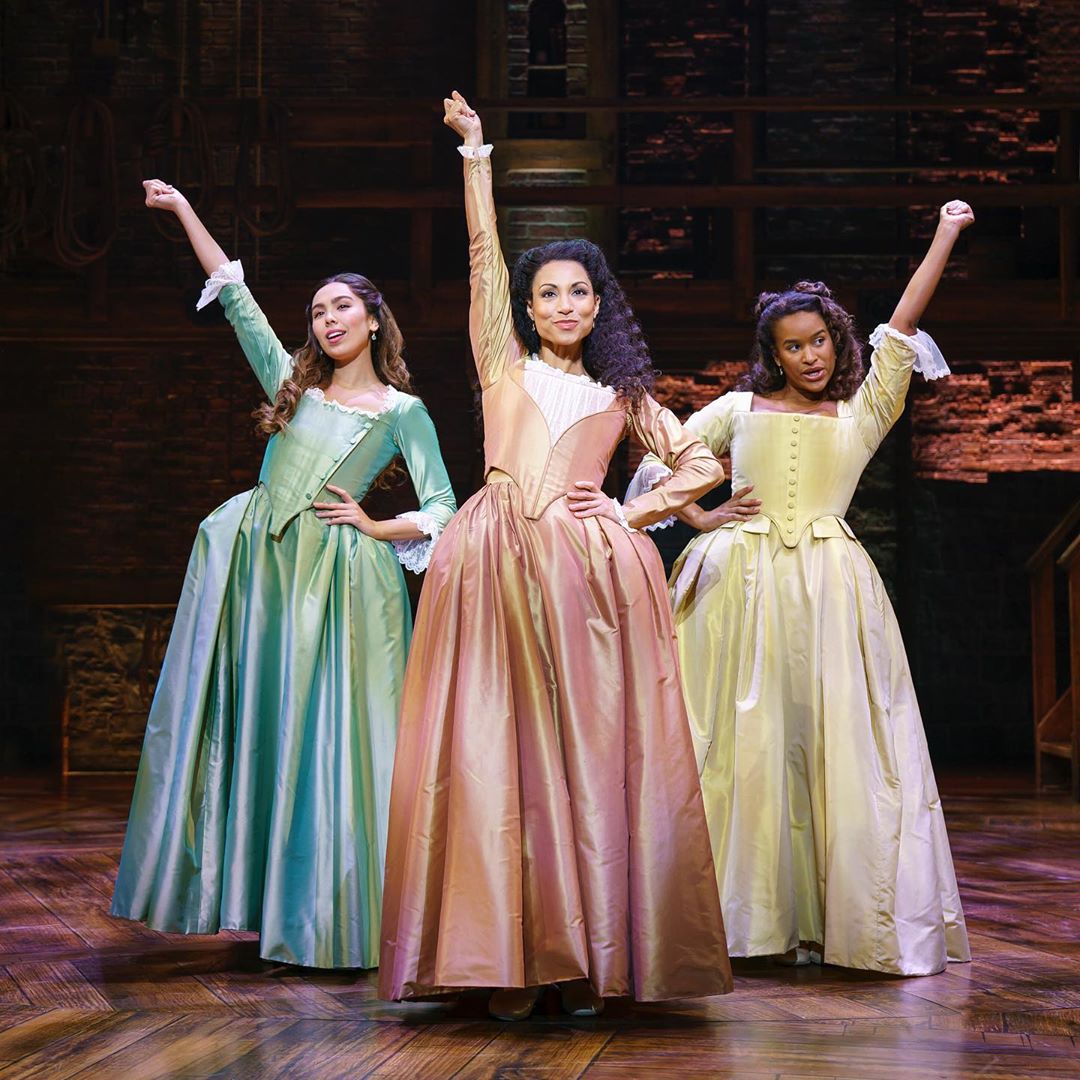 [Source: Instagram]
Women's Historical Costume Dresses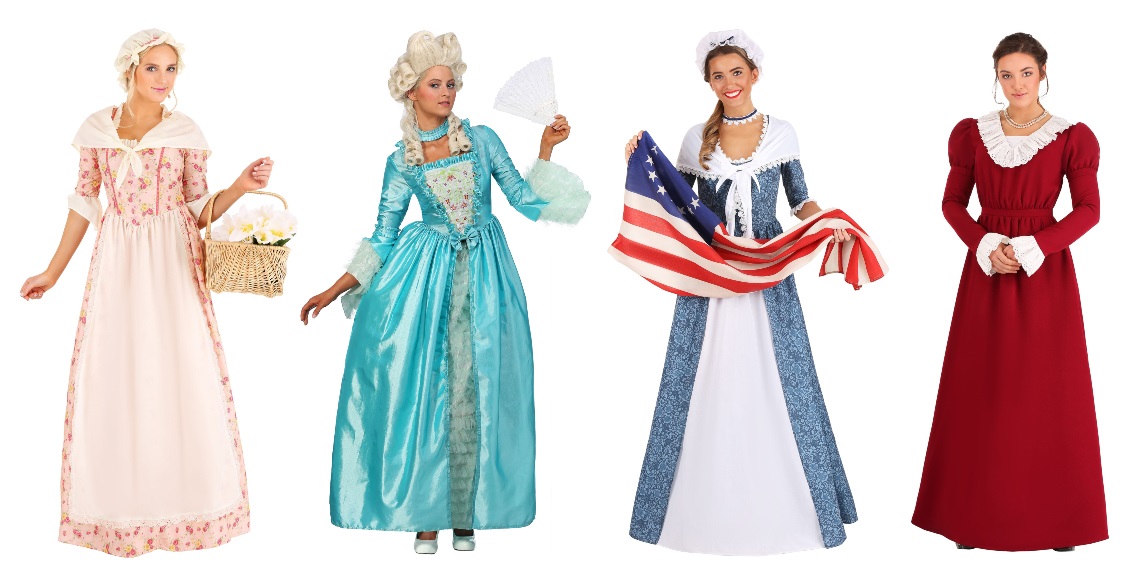 While these dresses aren't exactly stage-accurate replicas of the women's Hamilton dresses, we do have a few ladies' historical costumes that look close or are from a similar era in history. The Schuyler sisters—Elizabeth, Angelica and Peggy tend to wear pastel-colored dresses in cream, pink and blue. Then there's Maria Reynolds, and she wears a bold red dress. However you decide to pull off your Hamilton women's costume, there's one thing you must never forget. Work!
We hope you have tons of ideas for pulling off your own DIY Hamilton musical costumes. If there are other characters, extras or other costume accessories that you're looking for, you can always check out our historical costumes. Who is your favorite Hamilton character? What about your favorite song? You're more than welcome to proclaim your love for Hamilton in the comments! As always, we'll keep an eye out for the best Hamilton costume ideas.