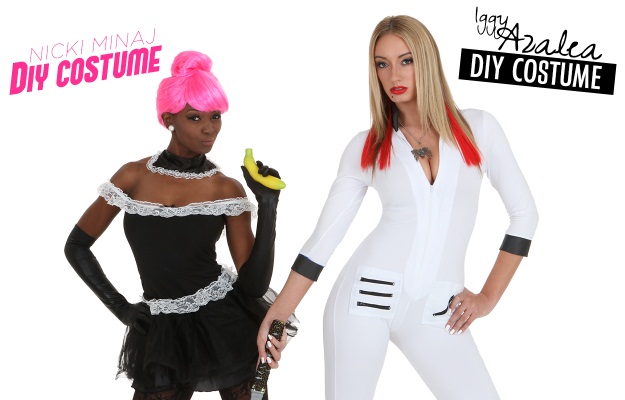 Are you "little in the middle but you got much back?" Lucky you: many of 2014's most popular Halloween costumes are...to quote Meghan Trainor...ALL ABOUT THAT BASS! Miley's boney bum may have been the twerking costume trend of 2013, but this year pop culture salutes bigger bottoms. No two starlets embrace their kickin' curves quite like female rappers Nicki Minaj and Iggy Azalea, so if you've got a beauty of a booty then we've got the DIY costume for you! Here are 4 different ways to dress to impress, just like Nicki and Iggy this Halloween.
Look 1 of 4: Nicki Minaj Anaconda Costume DIY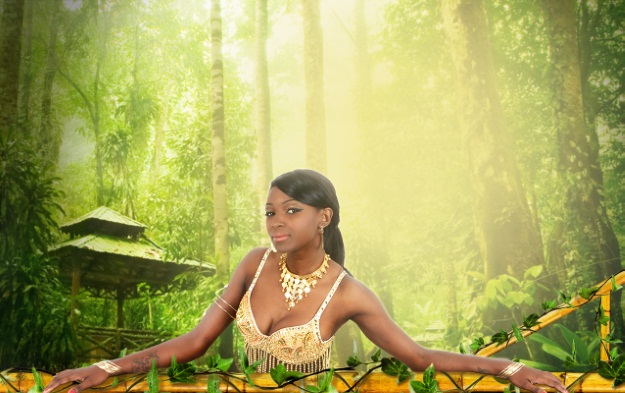 This first look is bold in gold. It's the first costume we see Nicki wearing in her music video for Anaconda, a video which by the way has over 260 million views! We love how the look is at once both sexy and regal. (Well, as regal as one can be when shaking off one's booty, that is.) If you want to be "dressed to kill" this year and you've got sass to spare, then give this ensemble a try.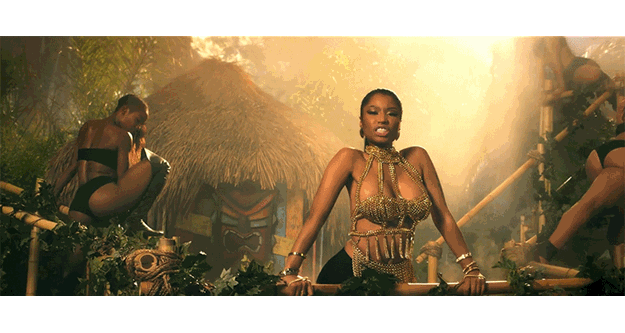 We're talking THAT level of sass. If and only if you can bring it, you may continue on!
The Finished Look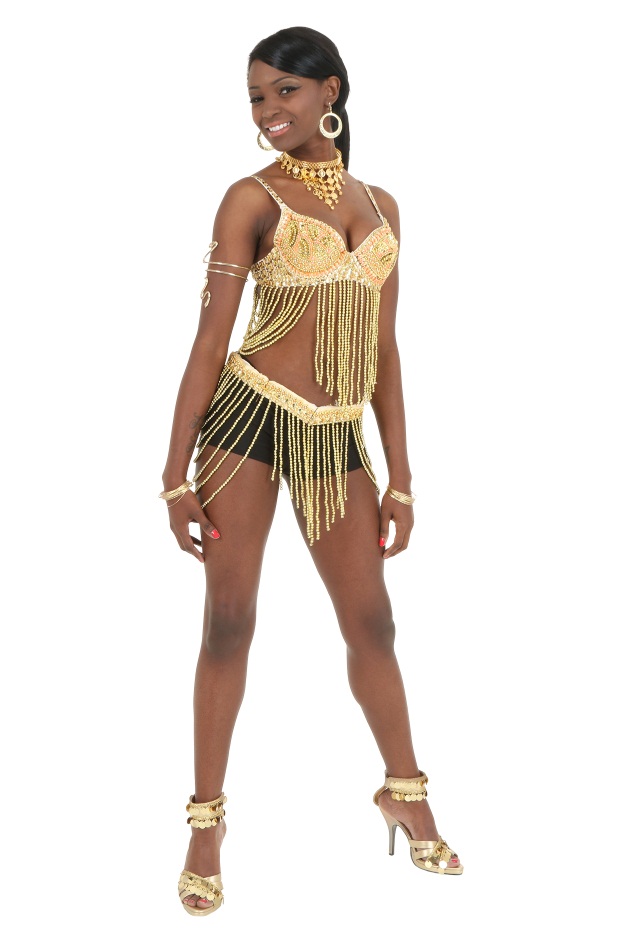 My anaconda don't, my anaconda don't...you know the rest!

Products Used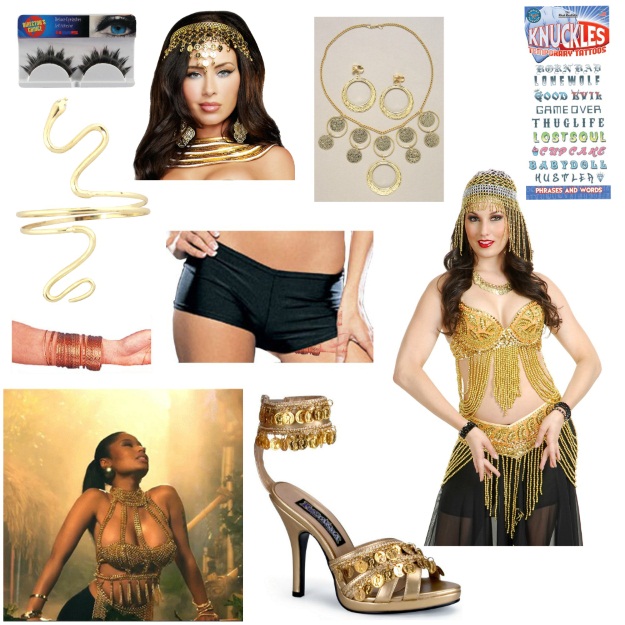 Black Hot Pants Gold Strappy Shoes Anaconda Arm Cuff
Gold Bangles Gold Earrings Temporary Tattoos
Everything is pretty straightforward once you have your hands on basically all the gold things you can find. The few aspects of this costume that may have you asking, "how'd they do that?" are:
The neck piece: We used our gold Bellydance headpiece (pictured above) as a necklace. Attach the ends with a jump ring for maximum stability!
The Belt: The belt that comes in the bra/belt set is rather thick and has multicolored beads along the top portion. We wanted to stick with ONLY gold, so we literally just took a pair of scissors and cut the thing in half. Super easy, and it looks more like the video.
The Tattoos: Nicki has a bold line of Chinese characters down her arm. Since Halloween costumes live and die by the details, you can use our temporary knuckle tattoos and arrange them vertically along your forearm! We chose "Born Bad."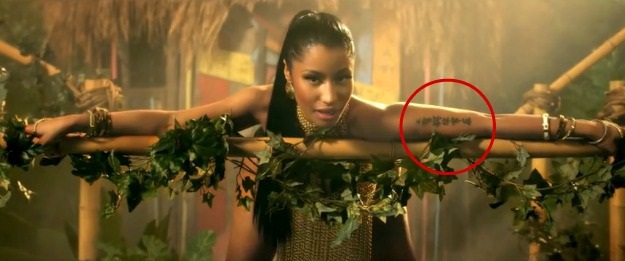 Beauty Close-Up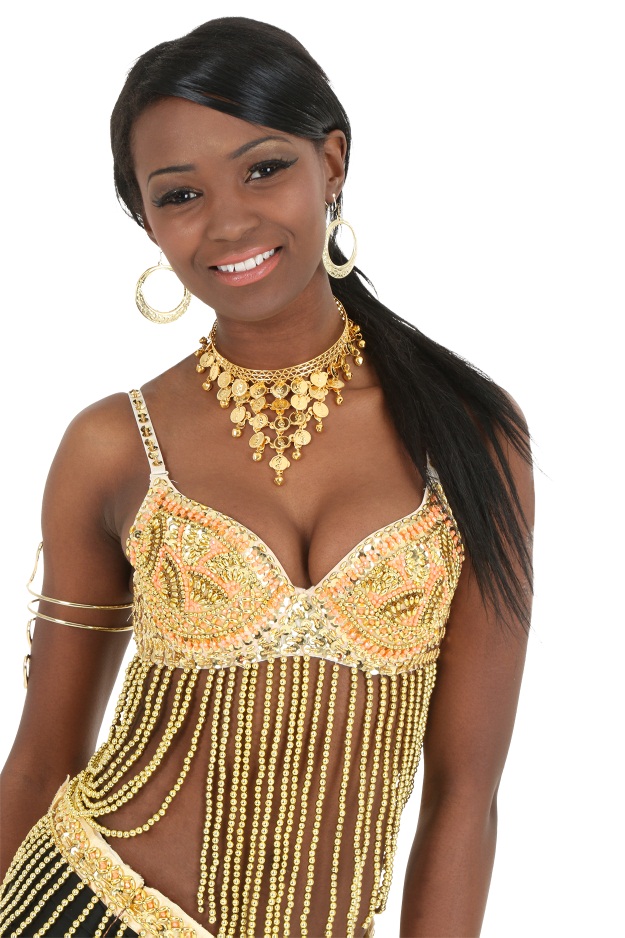 It should come as no surprise that we used gold tones in this makeup. We began with a gold-tinted iridescent primer and topped that with more gold shimmer. A winged eyeliner is key, and so are defined brows. Nicki sports a slicked-back ponytail in this outfit, so we followed suit.
Booty Close-Up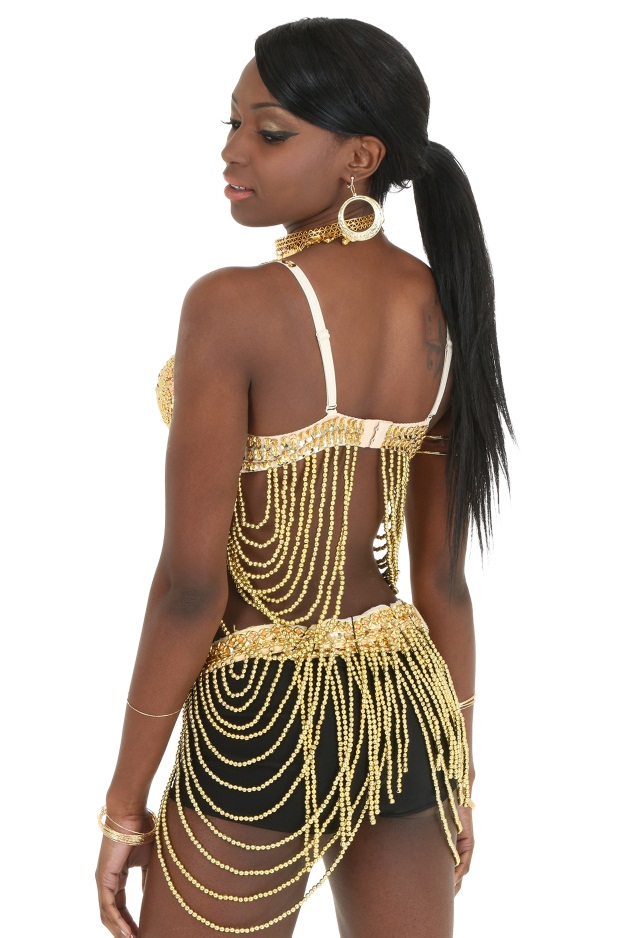 "Oh, my gosh, look at, look at, her, butt."

Look 2 of 4: Nicki Minaj French Maid Costume DIY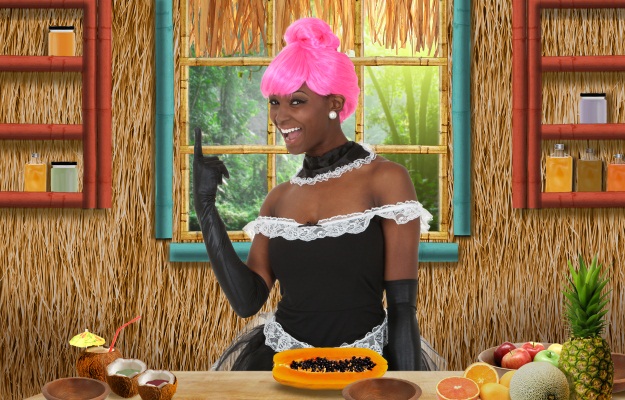 Nicki's gold costume is great, but when an opportunity to rock a neon wig comes along you can't just let it pass you by! Nicki's french maid costume (also from the Anaconda video) equates to life handing you a neon wig opportunity on a silver platter. Besides bubblegum pink hair you'll also need a few maid accessories, patterned tights, and...a fruit prop? Yes! A fruit prop!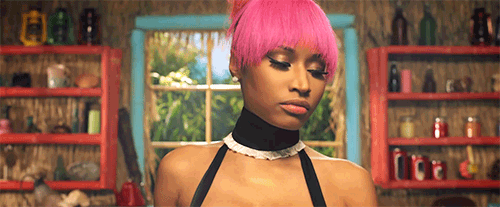 Just be sure to keep track of your prop all night. Do not follow Nicki's example above.
The Finished Look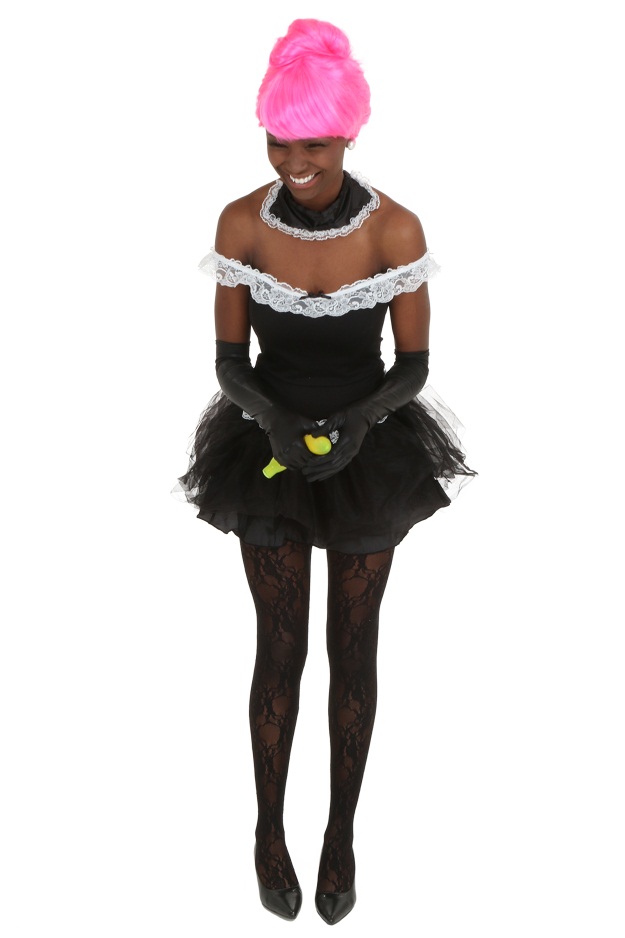 It's impossible not to have fun in this outfit!
Banana: Necessary. Can of whipped cream: Optional.
Products Used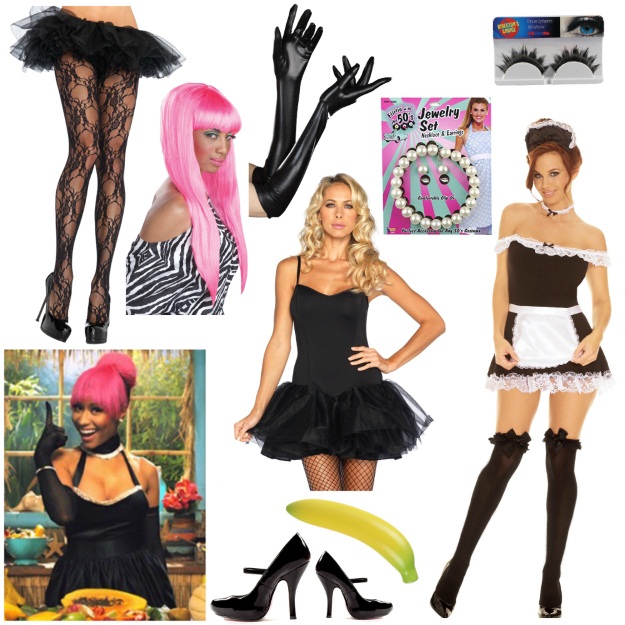 French Maid Costume Black Bodysuit Black Tutu Patterned Tights
Styleable Pink Wig Long Black Gloves Black Heels
Pearl Earrings Banana Flask Prop False Eyelashes
The costume in the video features a full tutu style skirt. To get this effect we layered our sexy french maid costume on TOP of our black tutu dress. +1 for being brilliant! This particular maid costume includes a headpiece which just so happens to look exactly like Nicki's collar. We changed the neck PIECE into a neckLACE by sliding the satin material off of its plastic headband base onto a chain.
Beauty/Booty Close-Up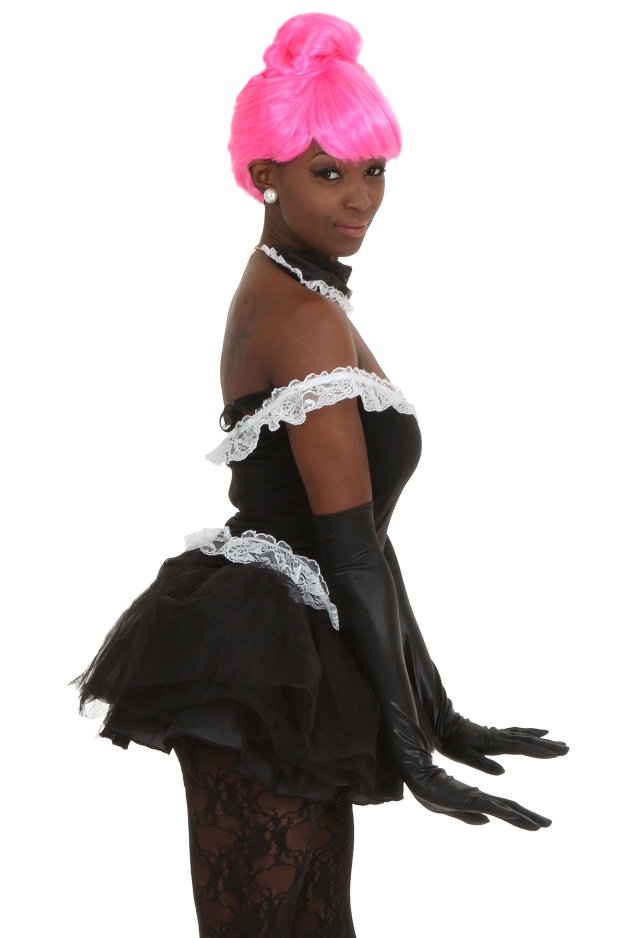 Isn't it fitting that in a post about buns, your hair will be styled in a bun as well?
Look 3 of 4: Iggy Azalea Black Widow Costume DIY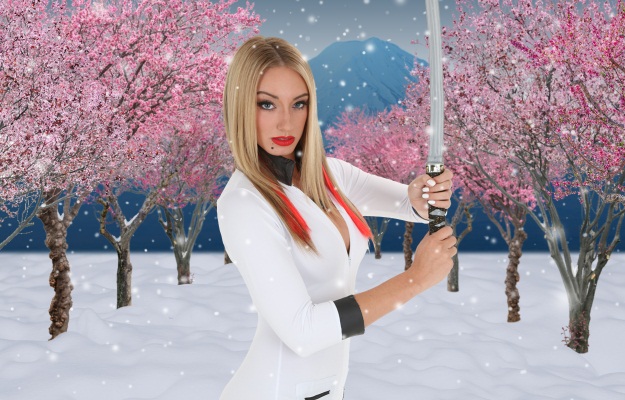 Time to switch gears to another curvalicious rap diva: Iggy Azalea! Can her music videos BE any more fun? We may be biased since most them feature elaborate costumes, butttt we're pretty sure we're not alone in putting Iggy and her stand-out silhouette on a pedestal. For this first look, we recreated her white bodysuit homage to Kill Bill, as seen in the music video for Black Widow.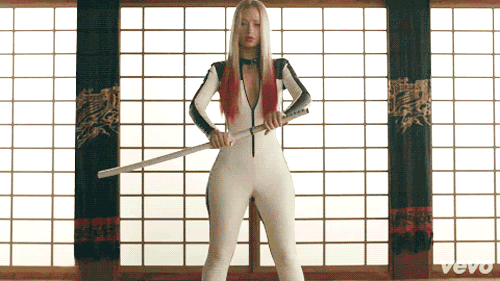 Watch out, Nicki! Iggy's video has 100 million views and climbing. She means business!
The Finished Look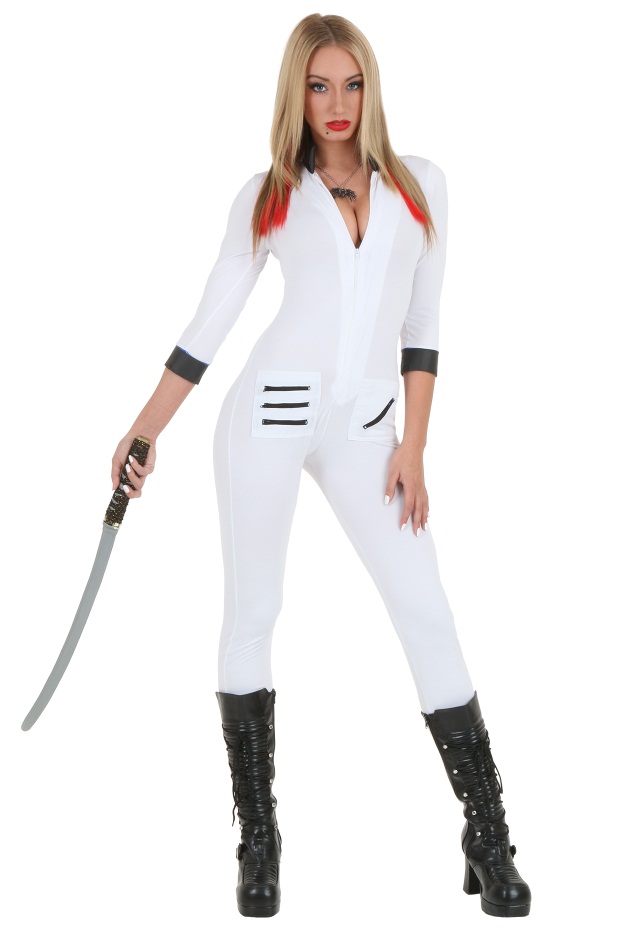 Don't get "cheeky" with this gal or she'll show you what's really crazy!
Products Used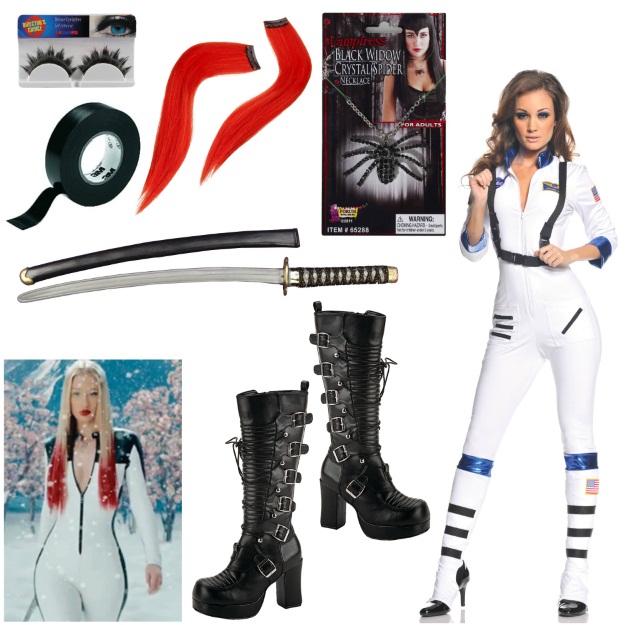 White Astronaut Jumpsuit Combat Boots
Can you believe that all that's needed to transform an astronaut into a sexy Samurai warrior is a roll of electrical tape?? No joke, we just covered metallic blue sections with black tape, and lo and behold a rap diva was born. Add to that a few red clip-in hair extensions, combat boots, a black widow necklace, and swag, and you'll be equipped to bring anyone to their knees.
Beauty Close-Up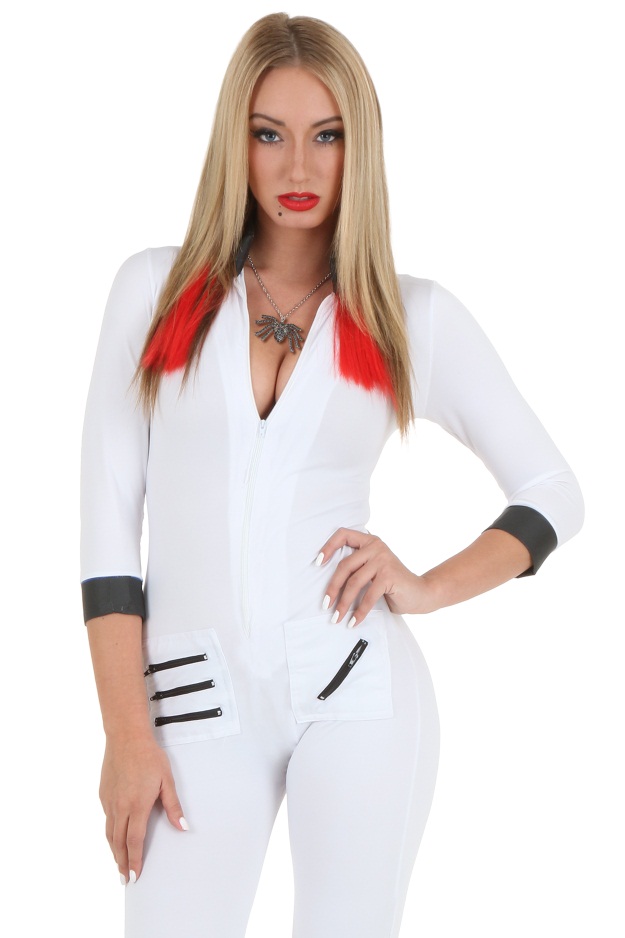 You can't very well be Iggy without those signature beauty marks! We made them practically pop off our model's face, by using black liquid eyeliner. Iggy is known for her bold lip shades, so we went with a red that matched the hair extensions. The rest of her makeup is clean, featuring accentuated brows and thick lashes. Part your hair right down the middle, and tangle anyone you darn please in your widow's web.
Booty Close-Up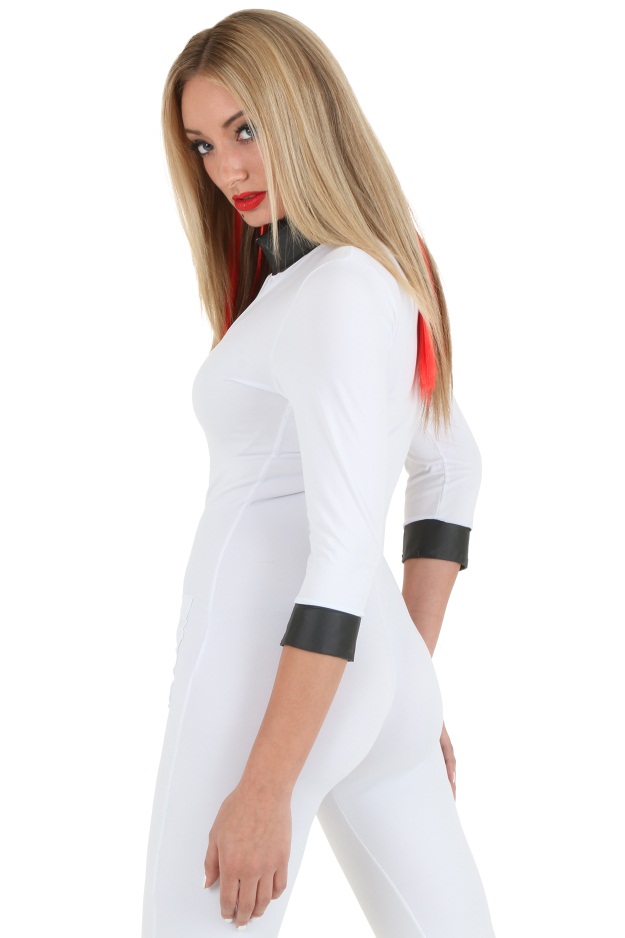 Jumpsuits are the perfect tooshie-accentuating tools to inspire fatal attractions on Halloween night.
Look 4 of 4: Iggy Azalea Fancy Costume DIY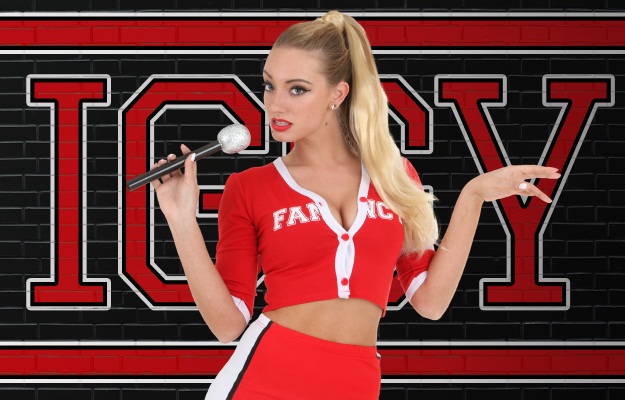 Fancy was a 2014 chart-topping tune and we LOVED the fantasy cheerleader look Iggy sported when she performed it at the 2014 Billboard music awards. In fact, we kept on turnin' it up! If you like to live Halloween night in the fast lane, then give this fancy little look a try.
The Finished Look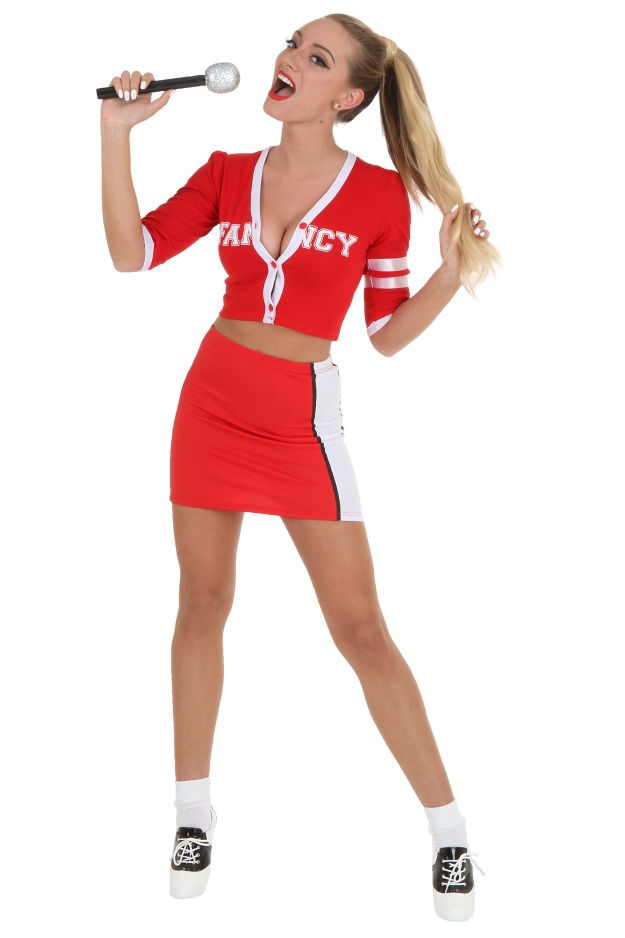 Would this costume give you a free pass to trash a hotel room and get drunk on the mini bar??
Products Used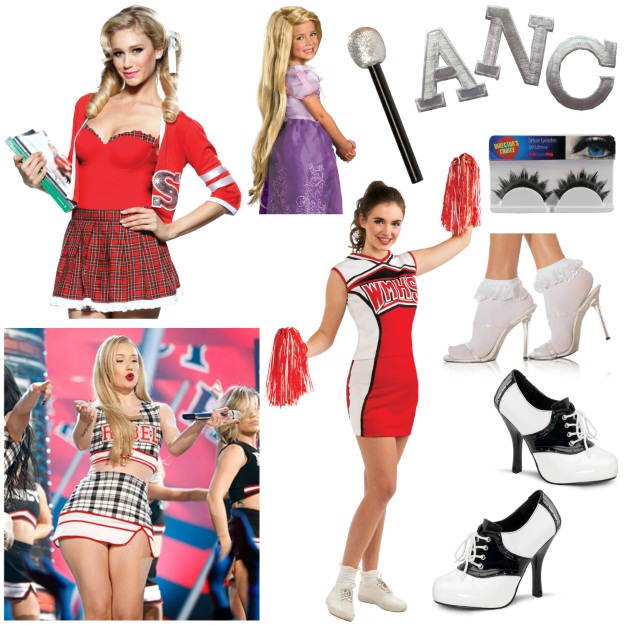 School Girl Costumes Cheerleader Costumes Heeled Saddle Shoes
Cheerleader Ankle Socks Blonde Wig [Used As Extensions] Microphone
False Eyelashes White Iron-On Letters
This costume is so spot-on that we got the whole world askin' how we do that? Well, it's a DIY, so we'll tell you! Pair the skirt from our Glee Cheerios costume with the letter sweater from our school girl costume and you'll be well on your way to Iggy perfection. Here's how to make the preppy cropped sweater:
Use a seam-ripper to take off the "S"
Buy a pack of white iron-on letters from the craft store, and set aside the letters F-A-N-C-Y
Cut the "N" in half so that both sweater halves are balanced, and adhere them across the top of the sweater
Besides being famous for her show-stopping sugar shaker, Iggy is also known for her beautiful blonde hair, which is often styled in a high slicked back pony. We achieved our sexy pony by slicing and dicing a Rapunzel wig and clipping it into our model's natural hair with bobby pins.
Beauty Close-Up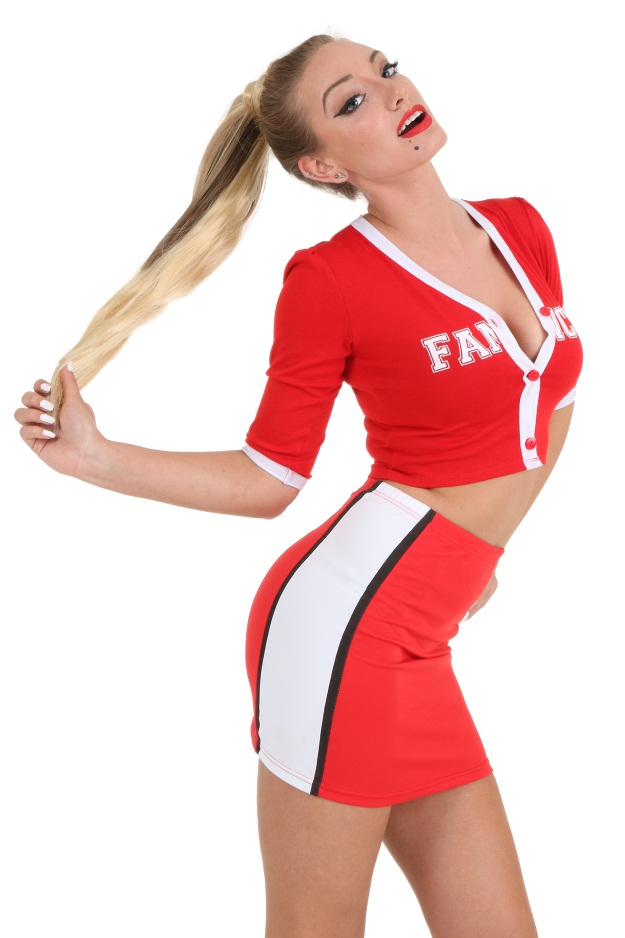 People will be talking about your awesome costume from L.A. to Tokyo!
Booty Close-Up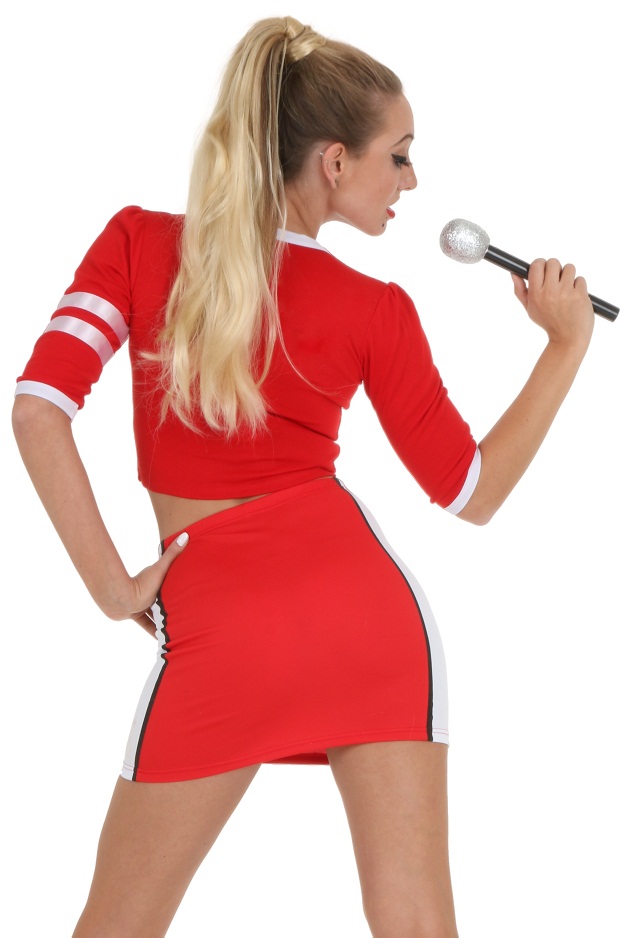 "I'm so fancy. Can you taste this gold?"
[What does gold taste like??]
So - who wins in our bootylicious rap diva DIY battle?! Does Nicki have more buns hun? Or is Iggy's booty more biggie? (Wait! Those are lyrics from a WHOLE different music video DIY.) Let us know which rapper's look you would enjoy wearing (or flirting with!) more this year.