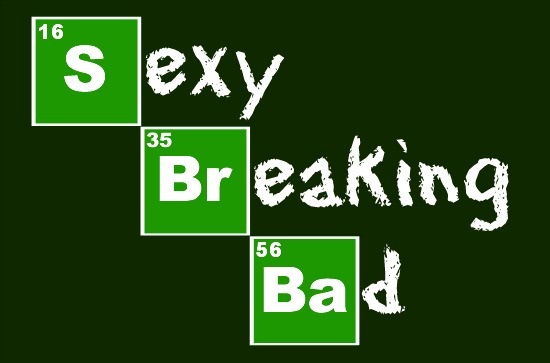 Besides a one Miss Miley Cyrus, Walter White and Uncle Si are undoubtedly two of the most in-demand costumes of Halloween 2013. But why should the men folk have all the fun?? We put a sexy female spin on the leading characters from Breaking Bad and Duck Dynasty with a few simple DIY steps. You can easily recreate these looks for yourselves and we'll show you how. Bring on the sexy!!
Sexy Breaking Bad Costume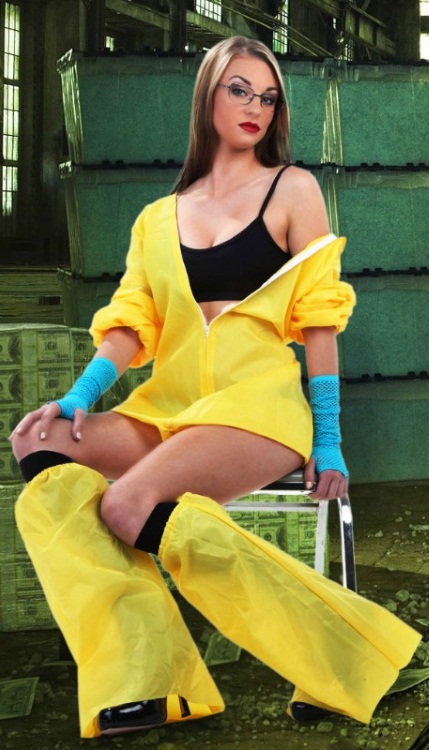 You'll definitely want to answer the door when this version of
"The One Who Knocks" comes trick-or-treating
Full Length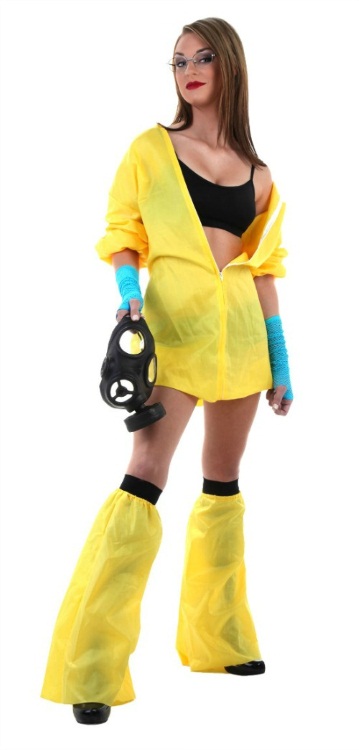 First Step: Sexy Walter White
Second Step: Las Pollas Hermanas??
Products Used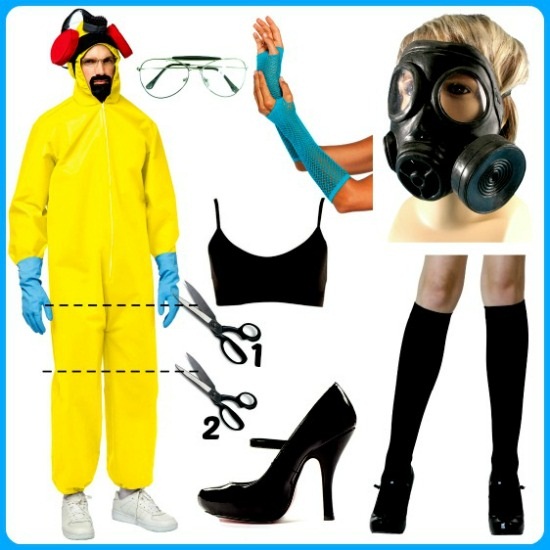 Breaking Bad Jumpsuit Blue Fishnet Gloves Gas Mask
Black Knee-High Stockings Black Heels
Achieving this look is surprisingly straight-forward - right down to the yellow boot covers!
The dress was made by simply cutting off the bottom portion of the jumpsuit just below the zipper. (First dotted line pictured above.)
You may cut where you please to achieve the desired length.
To create the boot covers cut off both legs of the yellow pants (along the second dotted line above), and flip them upside down. There is already built-in elastic so it's really that easy!
All you have left to do is see what "chemistry" you can brew up on Halloween night, and in this hot "breaking bad girl" look you'll surely have no trouble at all.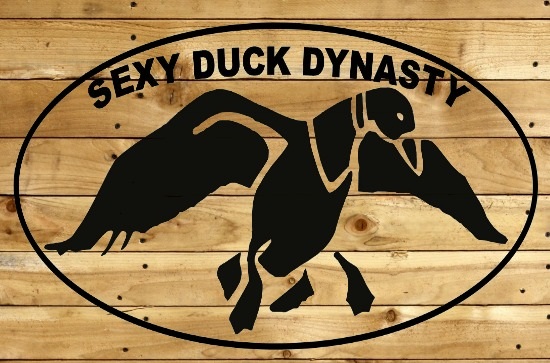 Sexy Duck Dynasty Costume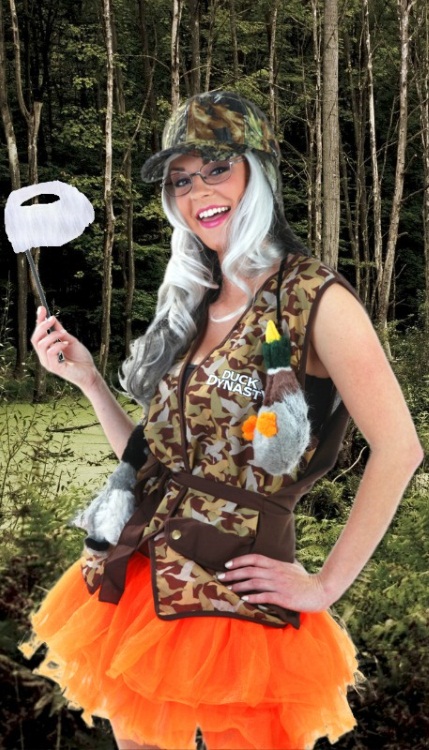 You may need to pour a glass of sweet tea to
cool off after spotting this clever costume
Full Length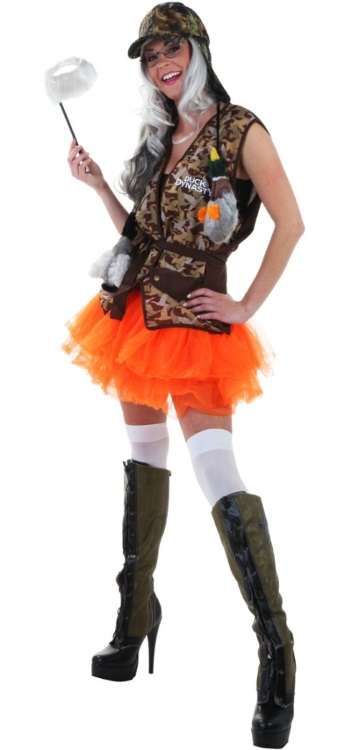 People will be vying for the chance to join your Dynasty in this outfit
Products Used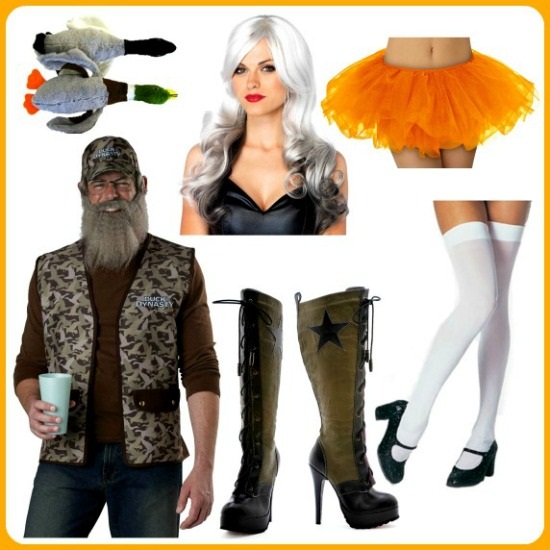 Grey Wigs Blaze Orange Tutu White Thigh-High Stockings
Our officially licensed Uncle Si costume is extra awesome, since it already includes a hat and glasses, both of which we put to good use in creating this look. The vest has an attached adjustable strap which you can tie in front to create the main portion of this costume. Almost done!
Sub out the included facial hair for our two-toned white and grey wig, to make your style extra scintillating.
Add a blaze orange tutu for a hunting culture-inspired girly detail!
Layer in some over-the-knee stockings in white, to tie in the white color of the wig.
Drive your ducky point home with some fake ducks! We found these at a pet shop (yes, they squeak).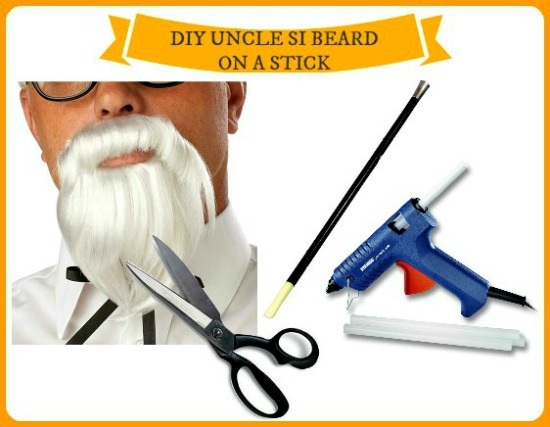 White Moustache Black Cigarette Holder Prop
Uncle Si's signature beard is...well...signature. Since we subbed in a white wig, we wanted to have a white beard to match. Of course having a perma-beard on Halloween is not one of the most sexy things for a young lady, so we put it on a stick! That way you can hold it to your face for pictures, and take it down to sip on a cocktail witih ease. To make one of these cutie-patootie props for yourself:
Trim our White Moustache set to the desired length.
Hot glue one side of the trimmed facial hair to our black cigarette holder prop, or another suitable black stick.
Couples Costume Idea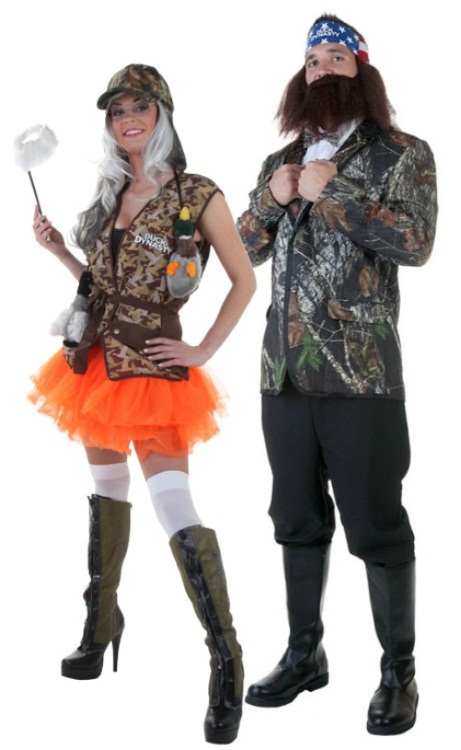 This post is all about the ladies, but no need to exclude your
man when he can look this great! DIY Willie instructions HERE
Characters from Breaking Bad and Duck Dynasty are already "hot" this year, but both of these sexy female looks are "hot, hot, hotter!" Go get 'em gals.