From his first book, "And to Think That I saw it on Mulberry Street", to his best sellers, including "The Cat in the Hat" and "Green Eggs and Ham", Dr. Seuss created books, rhymes and characters that continue to be cherished by generations. Read Across America (RAA) is an annual reading program that encourages every child to celebrate and enjoy reading. From coast to coast more than 45 million readers participate in the nation's largest reading event (http://www.nea.org). This year marks the sixteenth year the National Education Association has organized this program. Read Across America Day is celebrated on or near March 2nd; the birthday of beloved children's author Dr. Seuss. This year, RAA will take place on Friday March 1st.
This year's theme is "Grab your Hat and Read with the Cat." Throughout the country schools, libraries and community centers will bring together children, teens, parents and book-lovers alike for celebrations, book fairs and even pajama parties. You can participate by volunteering to read at any of the venues mentioned above, or by hosting your own Dr. Seuss party on Saturday, his actual birthday! There are many "Seuss-gesstions" on the web to help you create a wonderful Seuss experience; keep reading to find all kinds of inspiration! Here are just a few of our favorites:
Read Across America Decor
Create fun and unique decorations by wrapping small cardboard boxes in red wrapping paper and glue Dr. Seuss images to the outsides. Then stuff some coordinating feather boas inside to create a whimsical feel.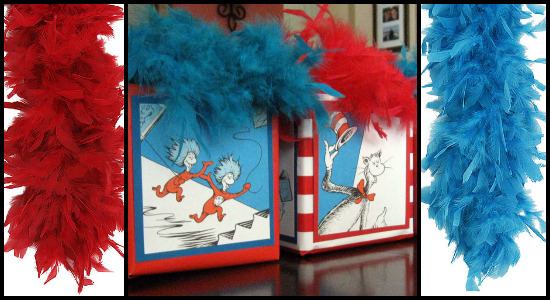 Red Feathered Boa | image source | Blue Feathered Boa
Fun and easy décor is the way to go. These festive paper pom-poms can be made in any color and the edges can be trimmed to create different shapes. A great project to get the kids involved in!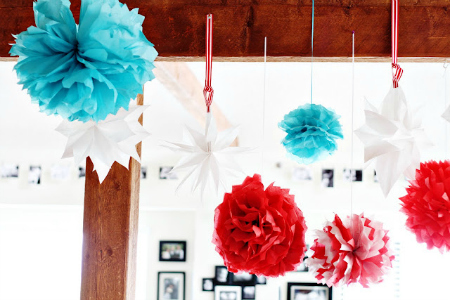 Snacks
Snacks are always important. Skewer alternating strawberry and bananas slices for a distinct "Cat in the Hat" look that is also healthy.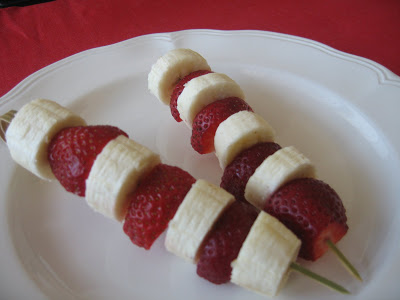 (source)
Cupcakes (the not-so-healthy option) with turquoise frosting to match Thing 1 and Thing 2's hair! (Link for freebie toppers below).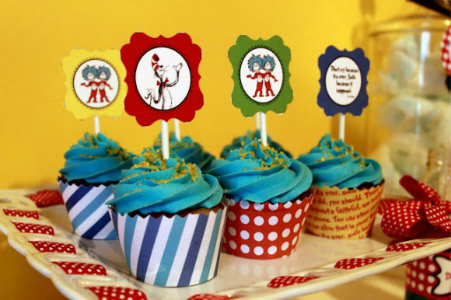 (source)
Outfits
Dress the part!Show your enthusiasm and passion for books by dressing up. Anything turquoise, red and white will convey a fun Dr. Seuss theme.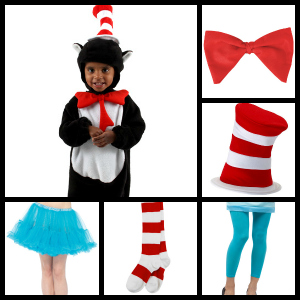 Crafts
And what is a party without crafts? There are many fun and inexpensive crafts available. This is a great free poster. Throw them into a plain white picture frame from the dollar store; cheap and super cute! They make great hostess or house warming gifts, too (just maybe splurge for a nicer frame!)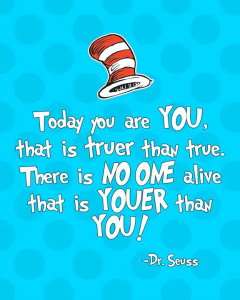 (source)
These are wonderful little freebie cupcake (or sandwich, meatball, brownies, muffins, steak…okay, I think you've got it) toppers! They can also be another fun craft to do before the party with the kiddos. Cut out coordinating colors of cardstock the same shape and size as the printables (or you can buy handy-dandy shape punchers like in the cupcake picture). Then sandwich a toothpick between the cardstock and cute little picture and glue together(just make sure enough of the toothpick is sticking out). Then stick on top of any cupcake for an easy personalized decoration.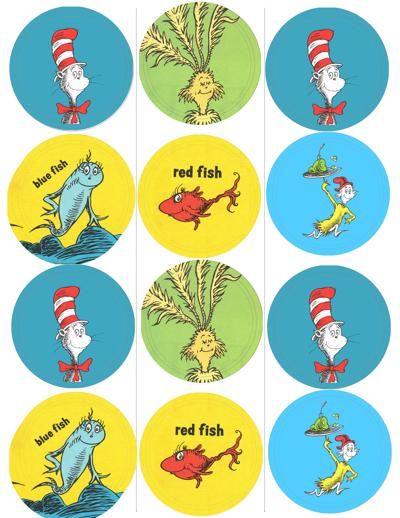 (source)