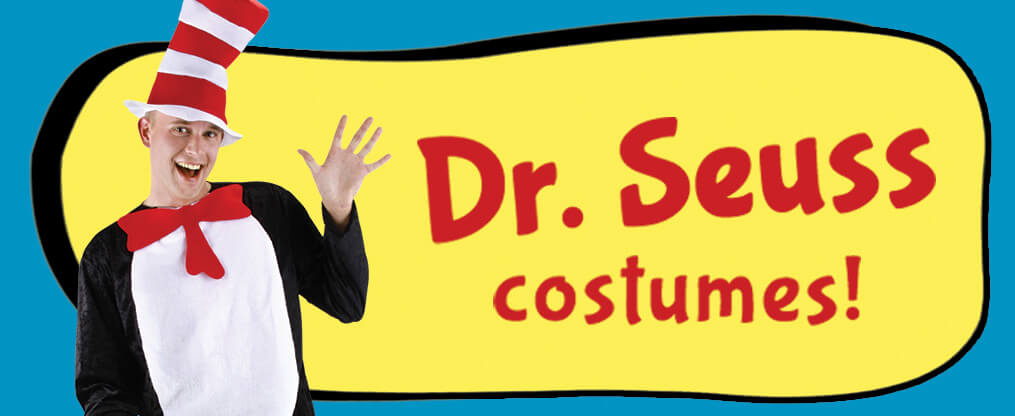 Dr. Seuss costumes are the very bestest of costumes! They're perfect for Halloween parties, rhyming parties, and party parties! But what's that? You're in need of fun storybook character costumes to celebrate Hats Off to Reading, Read Across America, or World Book Day? Then check out these great Dr. Seuss costumes for kids and adults. And of course, we wrote them in the musical, Seussical style that everyone loves! So without further ado, we are happy to present our most Seussical costumes.
The Cat in the Hat Costumes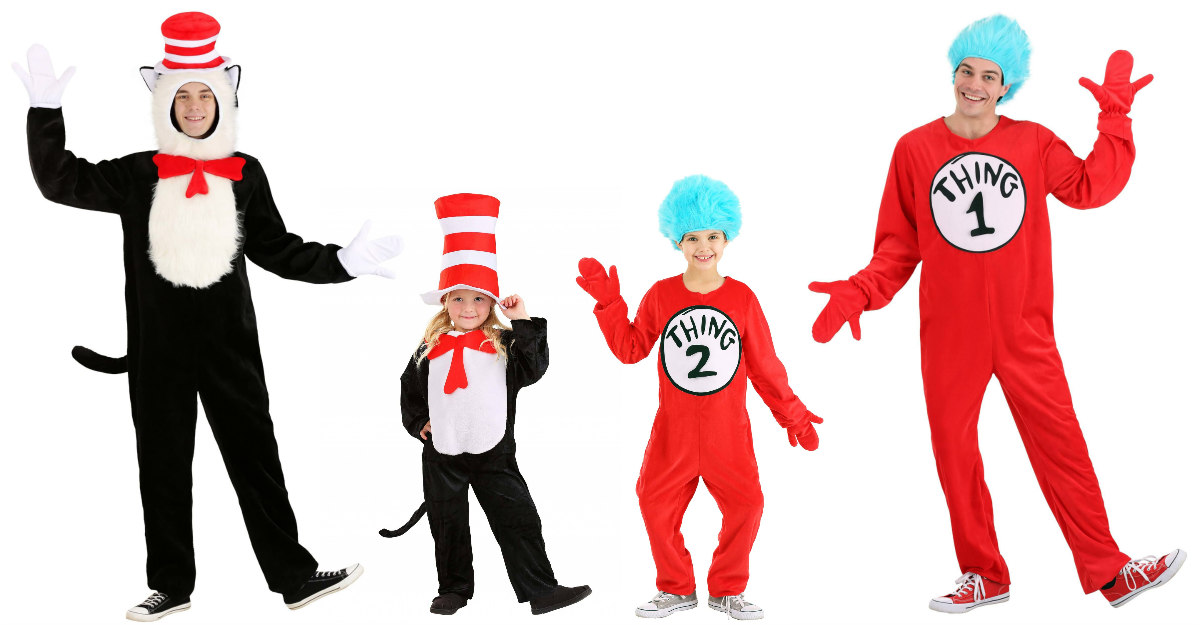 The Cat in the Hat, with Thing 1 and Thing 2,
I'd be willing to bet might be perfect for you!
With a bump and a jump, you can play all the day,
Read books, make new friends and get carried away!
These Dr. Seuss costumes are classics for sure,
So keep them for Halloween—they're not too obscure.
Read books to your kids dressed as Cat in the Hat.
While we're not your kids, we're sure they'll like that!
Horton Hears a Who Costumes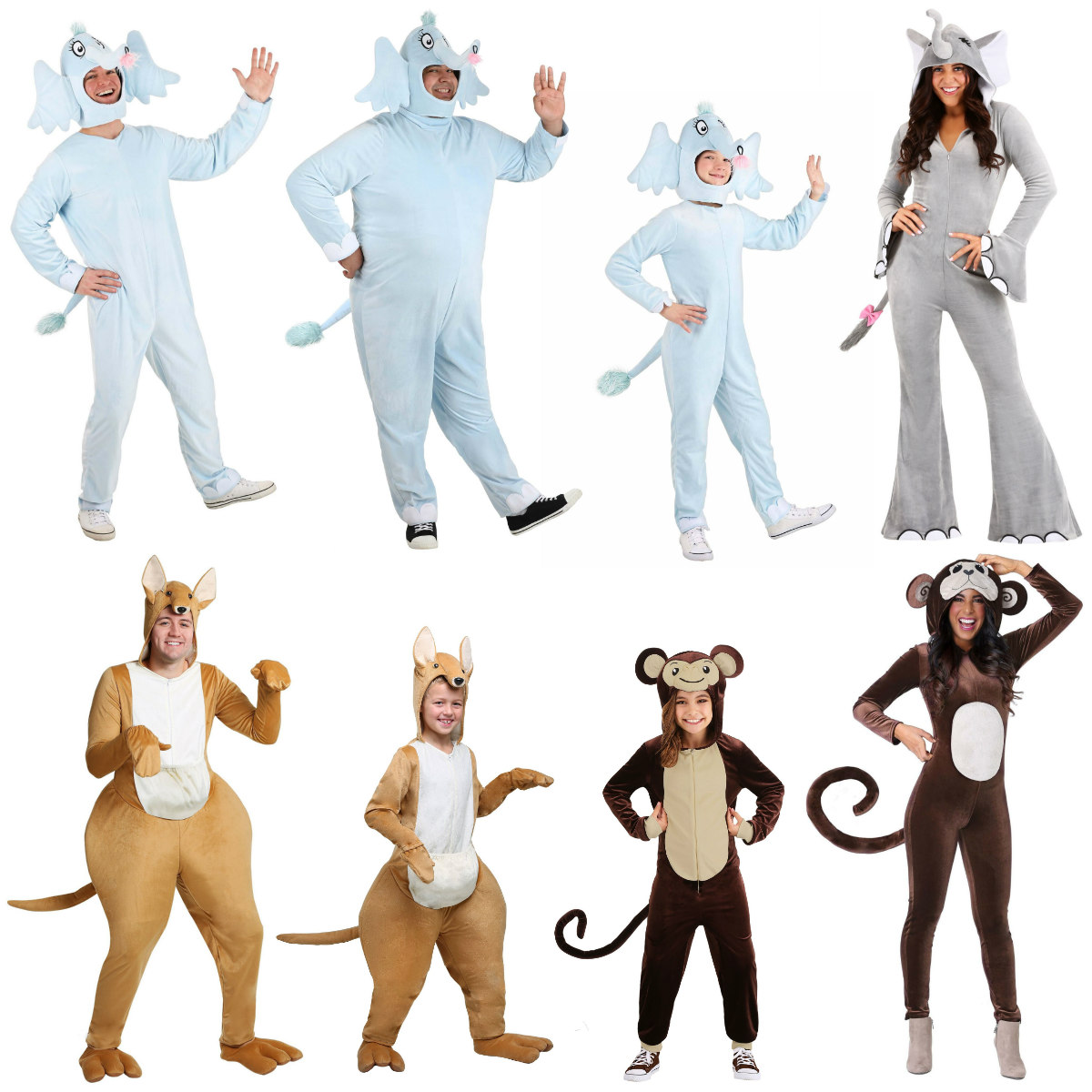 When you dress as Horton, the one who hears Whos,
We can assure you your day will not be a snooze!
As you wander about in your elephant ears,
There's really no telling what Whos you might hear.
This kangaroo costume looks just like a Who,
So go as a pair—it's better with two!
We only ask you remember, when you go out today,
That for those who like books, you'll sure make their day.
How the Grinch Stole Christmas! Costumes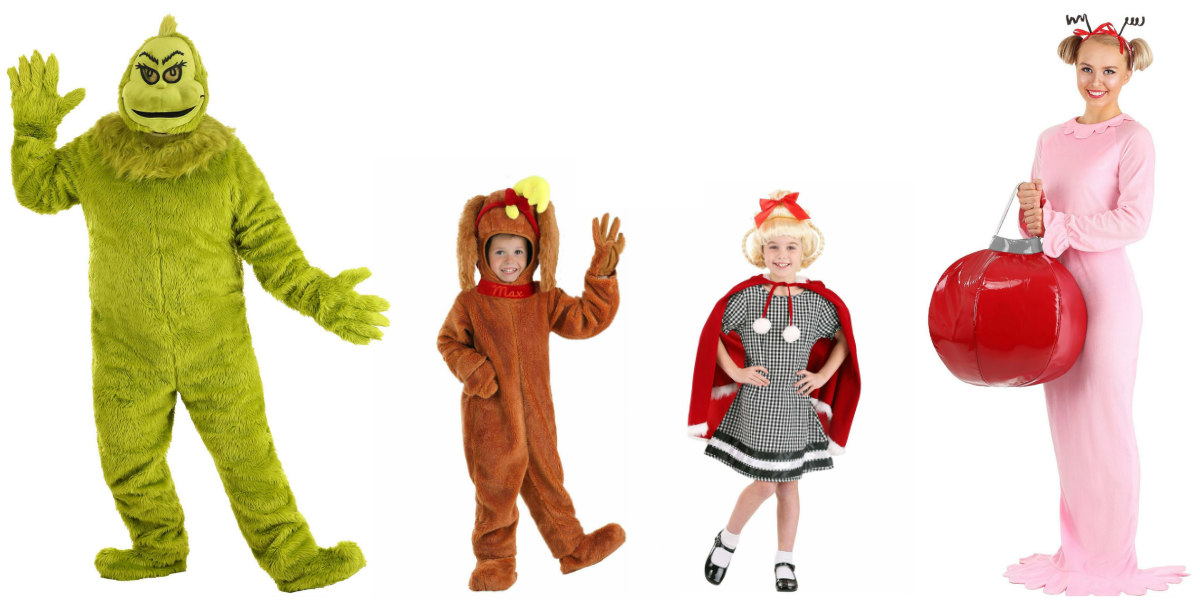 The Grinch might be mean, but a good outfit he makes,
So dress up and read books, and eat little cakes.
Hats Off to Reading is a time to have fun,
Don book character costumes and read, little one.
As the spirit of Christmas made his heart grow three sizes,
Your heart will be full after reading and prizes.
Play games, have fun and bring some books home,
For reading with your kids beats reading alone.
Fox in Socks Costumes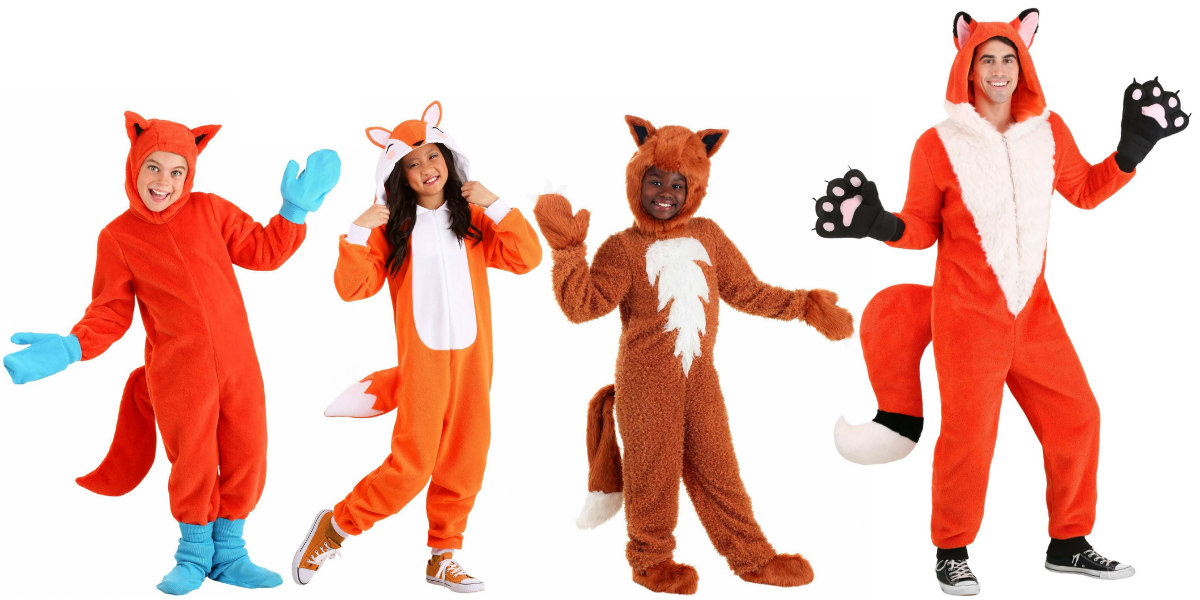 The Fox in Socks is a favorite Seuss book,
So give this Seuss costume idea a look.
This one requires vision, so bear with me,
As I explain just what it is that I want you to see!
For those who enjoy costumes and do DIY,
You'll love this socks fox, so give it a try.
We know exactly what this sockless fox needs,
It's a pair of blue socks, all the way up to his knees!
Green Eggs and Ham Costumes
If Green Eggs and Ham is your favorite book
These Dr. Seuss costumes might be worth a look!
We have some suggestions from our friend Sam-I-Am
Like this costume kit of Green Eggs and Ham!
He's sure that you'll like it, so buy it and see:
Our Green Eggs and Ham costumes are real quality!
Just don't try to eat these Green Eggs and Ham.
"You would not like them!" says Sam-I-Am.
More Dr. Seuss Costumes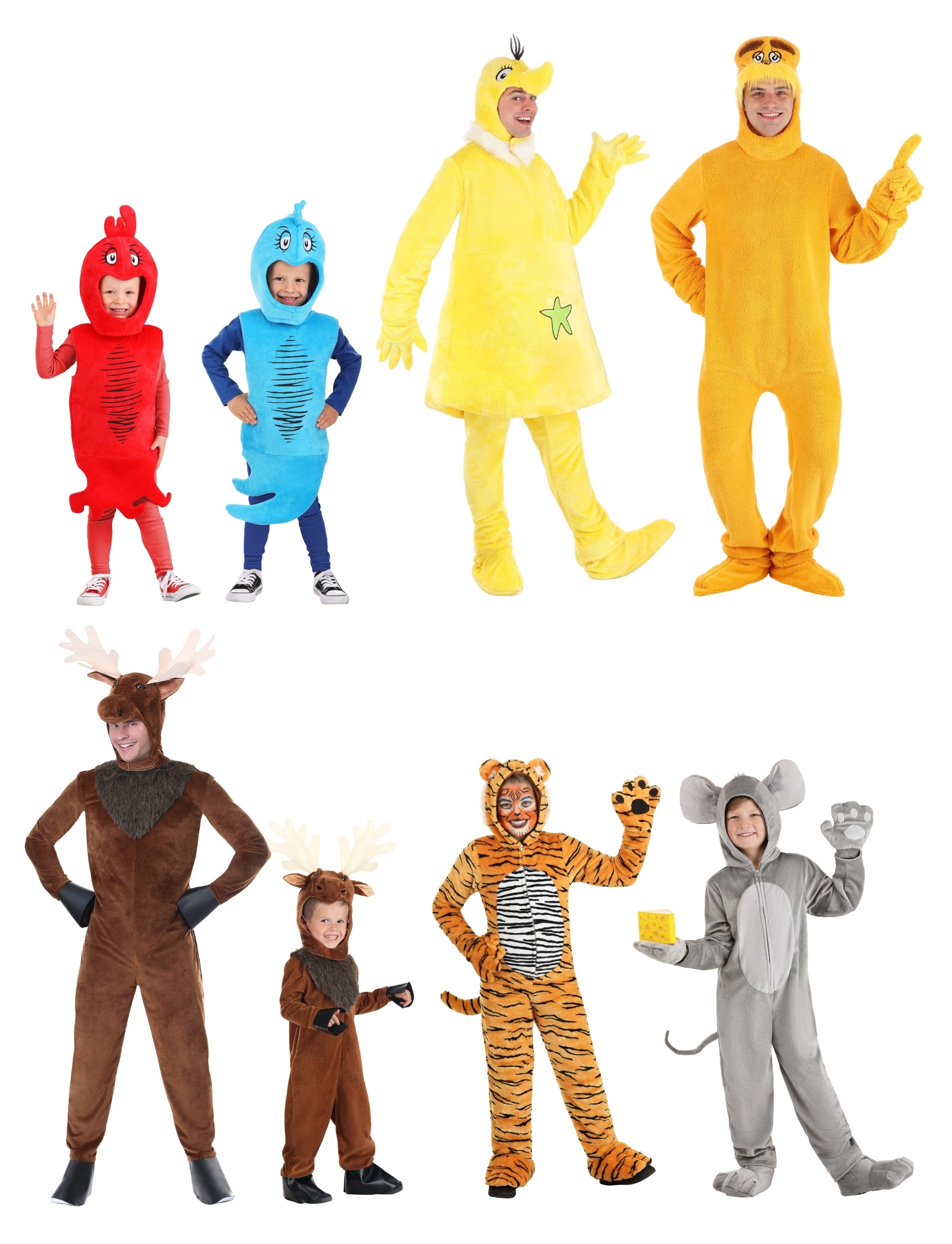 If you love Dr. Seuss and his fun storybooks,
Then you know there are quite a few character looks.
You'll find mice that give tours inside peoples' homes
And fish that can count all your fingers and toes.
There are daredevil cats that lick tigers, we hear,
And a kind-hearted moose—he's really a dear.
These Dr. Seuss costumes for kids and adults
Will please one and all. They get good results!
Dr. Seuss Accessories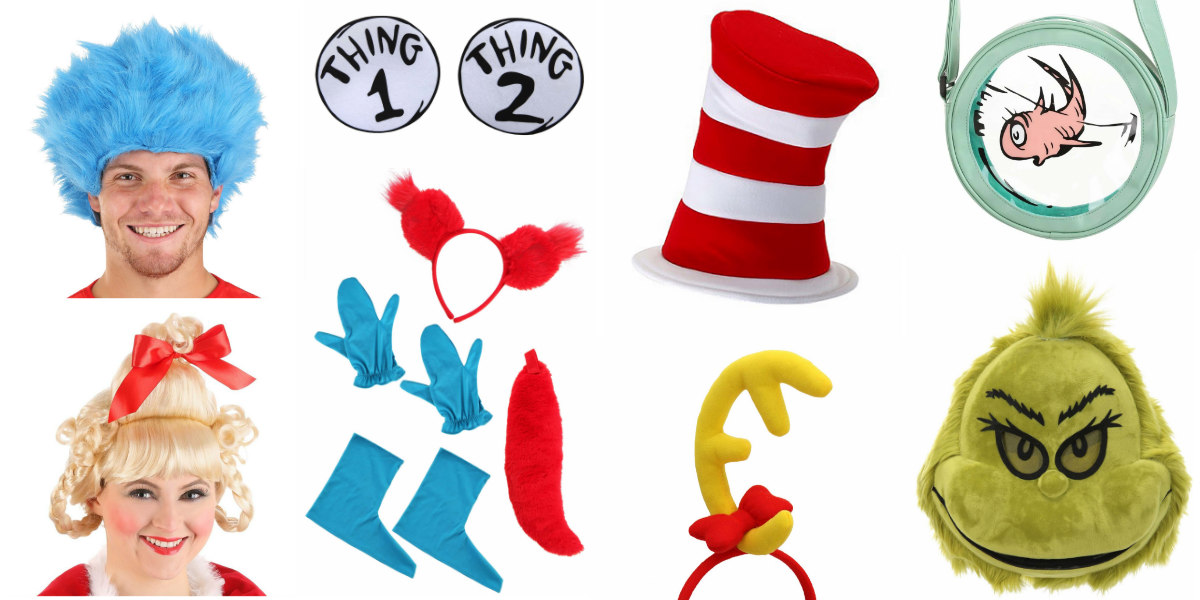 What if you're shy but you want to blend in?
Try these accessories out for a spin.
Book character dress-up is easy and fun.
You're sure to put smiles upon everyone!
Don a hat or a mask, a beard or a wig,
Get into character and do a small jig.
Pick up a book and to the kids read aloud,
These a-Seuss-ories sure do make us proud!
We hope you enjoyed our Seussical endeavor! And we hope you had fun seeing all of our Dr. Seuss costume ideas! We are confident that any of the storybook and fairytale costumes on HalloweenCostumes.com will be huge crowd favorites for reading events, too. Thank you for taking a look, and don't forget to pick up a book!