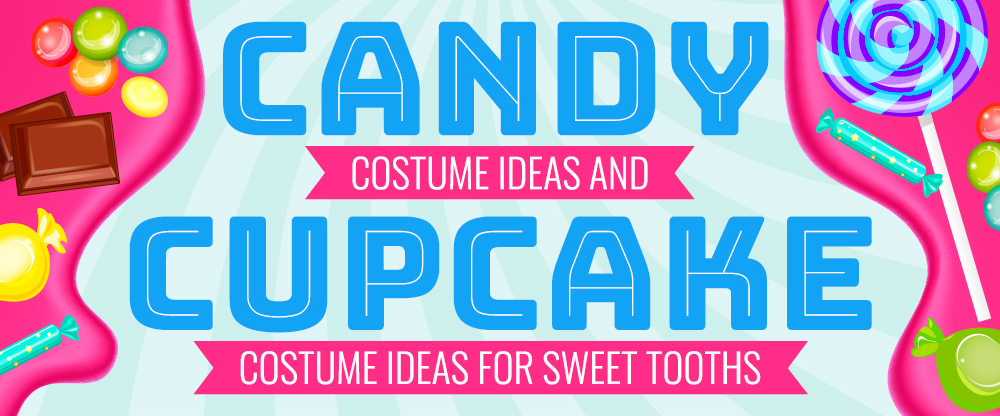 Looking for a costume that shows off your sweet tooth this Halloween? Are you fond of candy, or are there some other tasty treats that you crave? Candy costumes are great for families and friends looking for a group costume theme that's friendly for all ages. You can find plenty of candy costume ideas for kids and adults along with tweens and babies, so there's something there for everyone. Try one of these candy-inspired costumes that are a treat on the eyes and the pocketbook!
Candy Costumes for Kids
If you are looking for kids' candy costume ideas, check out these sweet costumes that are sure to make your little one sweeter than ever! Opt for something comfortable and warm that will keep your kid warm on All Hallow's Eve. If your child loves chocolate treats, try out this super easy Tootsie Roll costume that just slips over your kid's clothes. If tootsie rolls aren't your child's style, there are plenty of other candy Halloween costumes to sate their appetite.
Candy Costumes for Women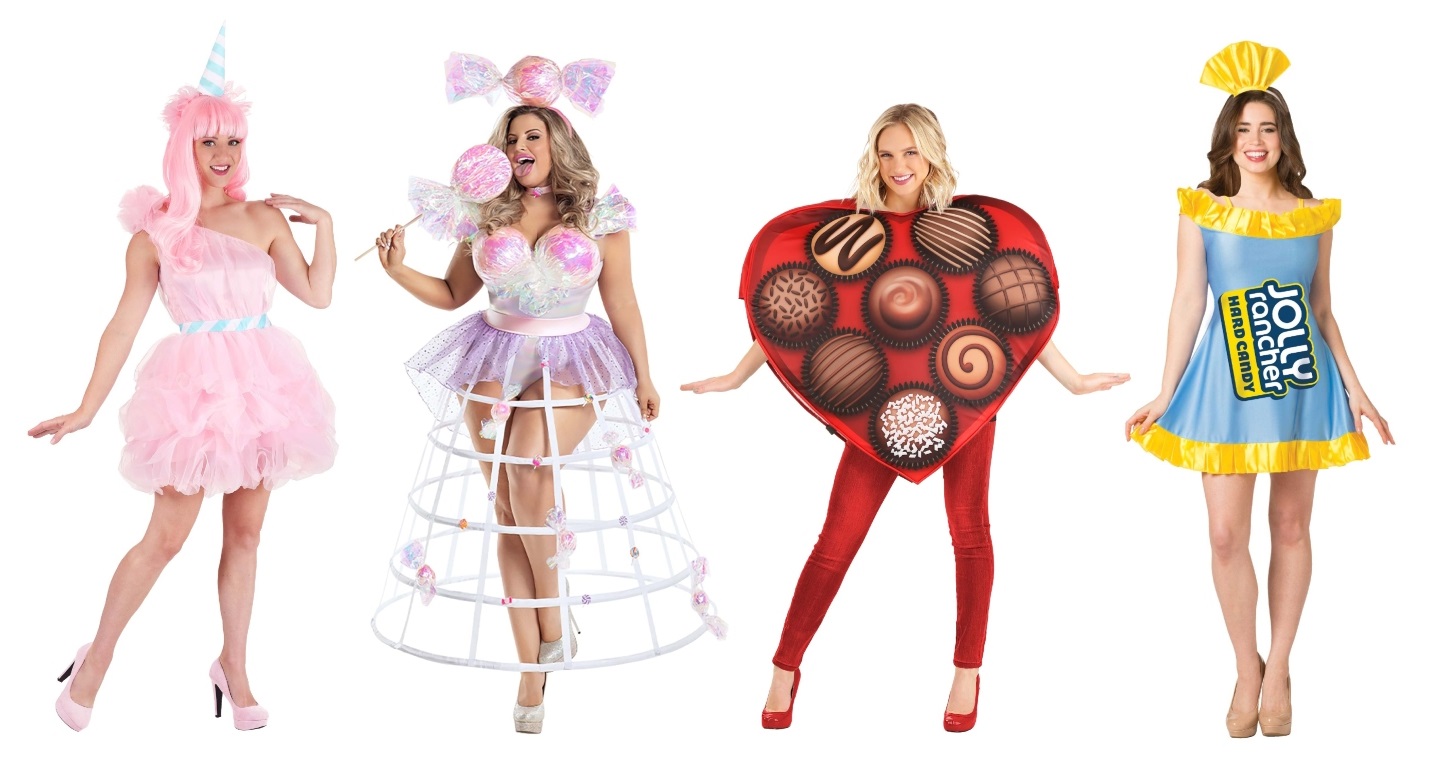 If you want a quick and easy costume idea this Halloween that will still impress at a party or event, try a candy outfit or a tunic dress. These dresses are comfortable and cute for your candy-inspired Halloween costume needs! If you are looking for a more elaborate women's costume beyond the tunic dress, try out a candy-inspired dress with matching accessories. The influx of M&M commercials and other candies around Halloween is sure to inspire your costume! These cute candy wrapper dresses can also come in other colors and flavors, so you can easily have a women's group costume with a pack of Jolly Ranchers.
Candy Costumes for Men and Unisex Candy Costumes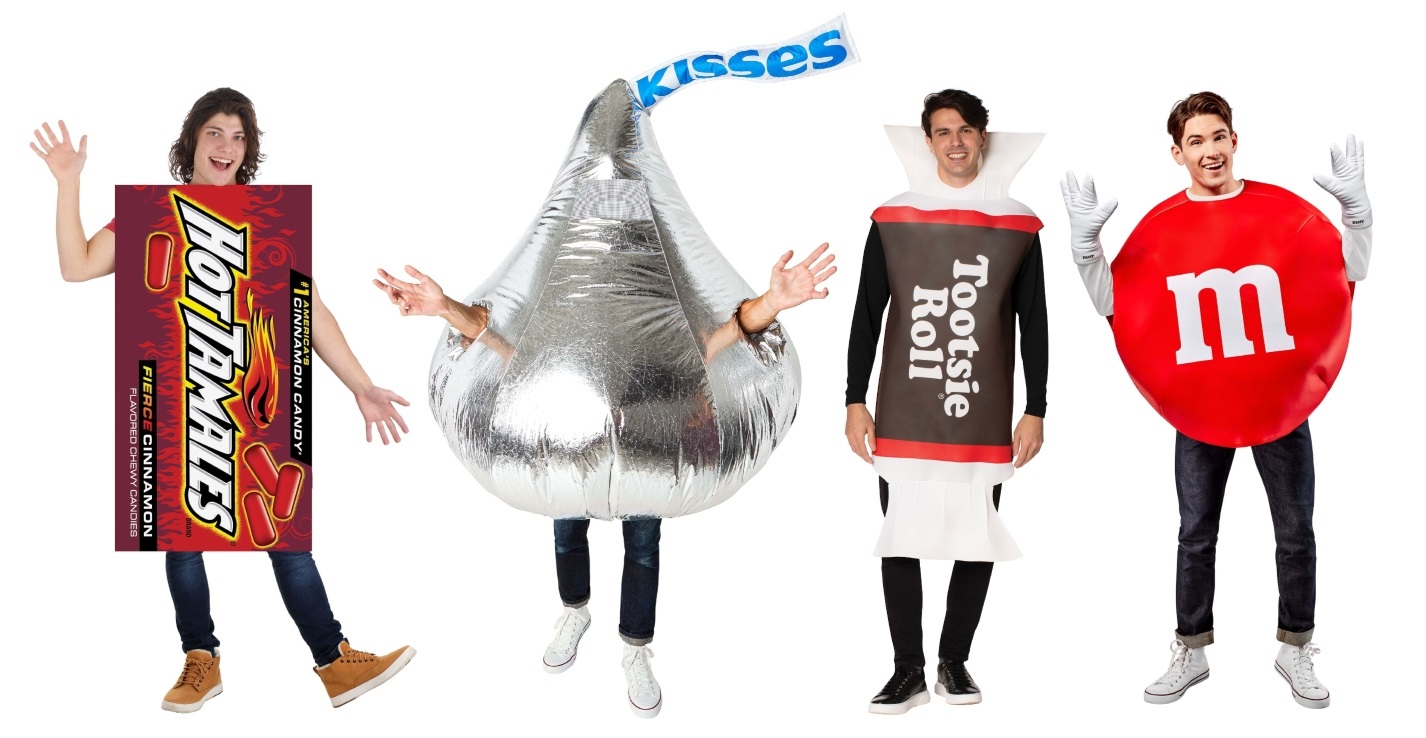 There are plenty of other candy costumes for adults so that men can get in on the fun too! Also, women that don't want to wear sexy candy costume dresses can easily don one of these outfits as well. The box outfits are especially easy to wear and will fit a variety of people, making them perfect for charity runs, office parties or other events where you might need to get a group of people in matching costumes. If you're particularly fond of inflatable costumes like the now-infamous t-rex, there's also an inflatable gummy bear costume perfect for costume shenanigans.
Holiday Candy Costumes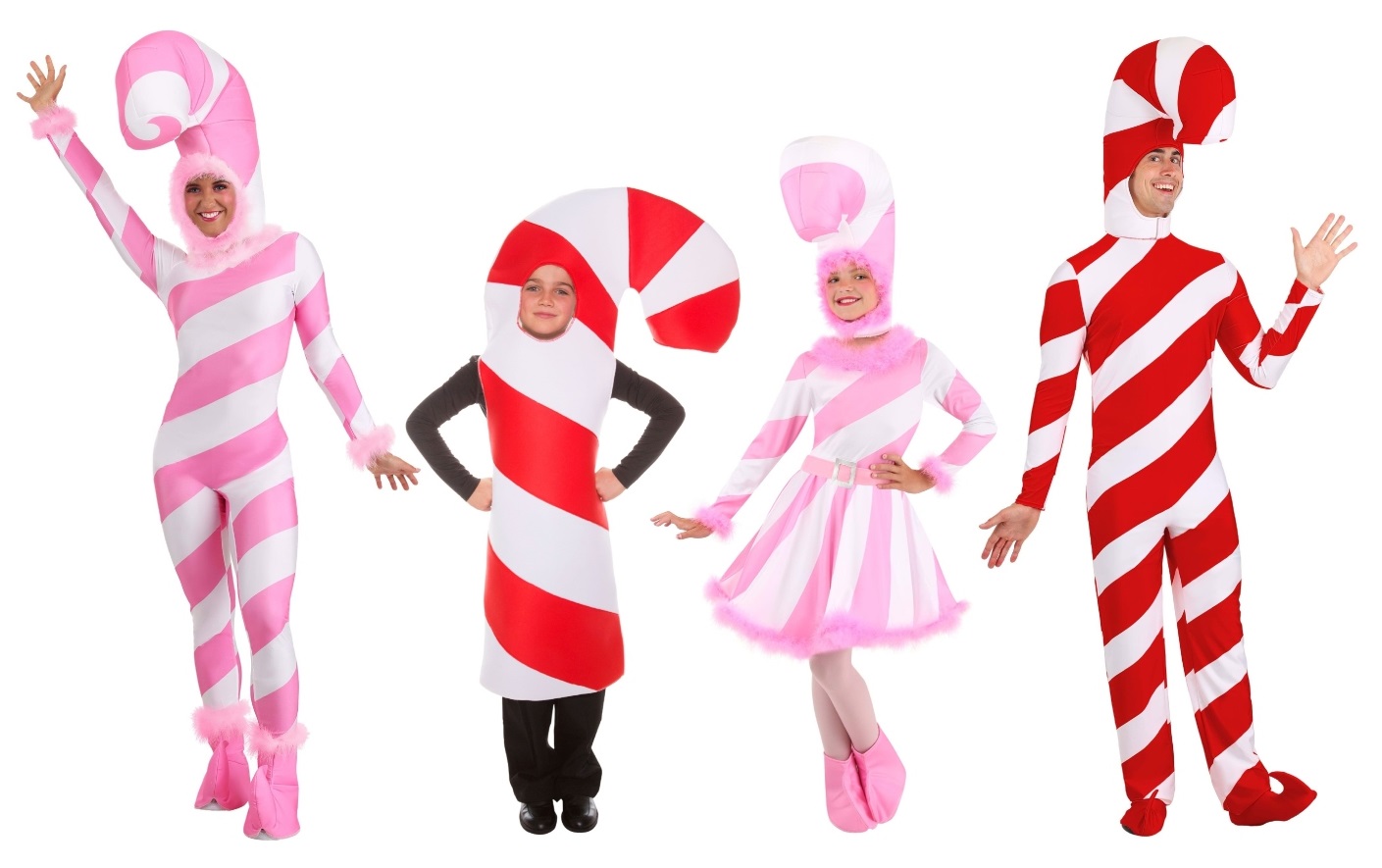 The holidays are a time to get together with family, watch your favorite holiday movies and break out the holiday candy! Candy canes are synonymous with Christmas, as are chocolate bunnies for Easter and conversation hearts on Valentine's Day. Of course, specialty candy like this requires special holiday candy costumes! The best party about wearing candy cane costumes for Halloween is that you can use them again in a couple of months for Christmas!
Cupcake Costumes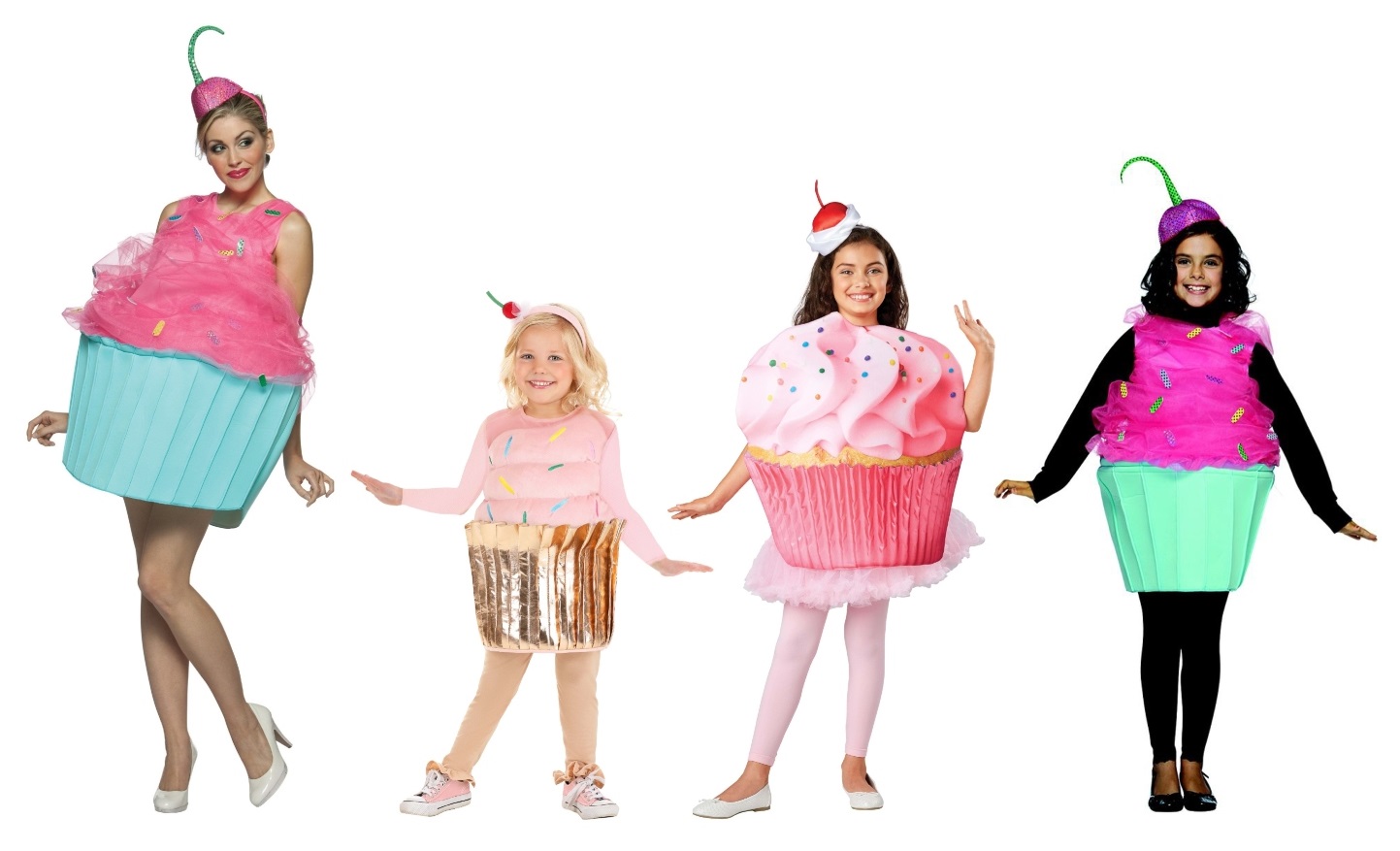 Cupcakes are trendy this year for every occasion, and Halloween is the perfect time to test out this trend. If you have a little girl, all you need is a cute cupcake costume and you will have yourself an even cuter cupcake. If you want to have mom and daughter matching costumes, pick yourself up a matching cupcake costume for women and kids.
Cookie Costumes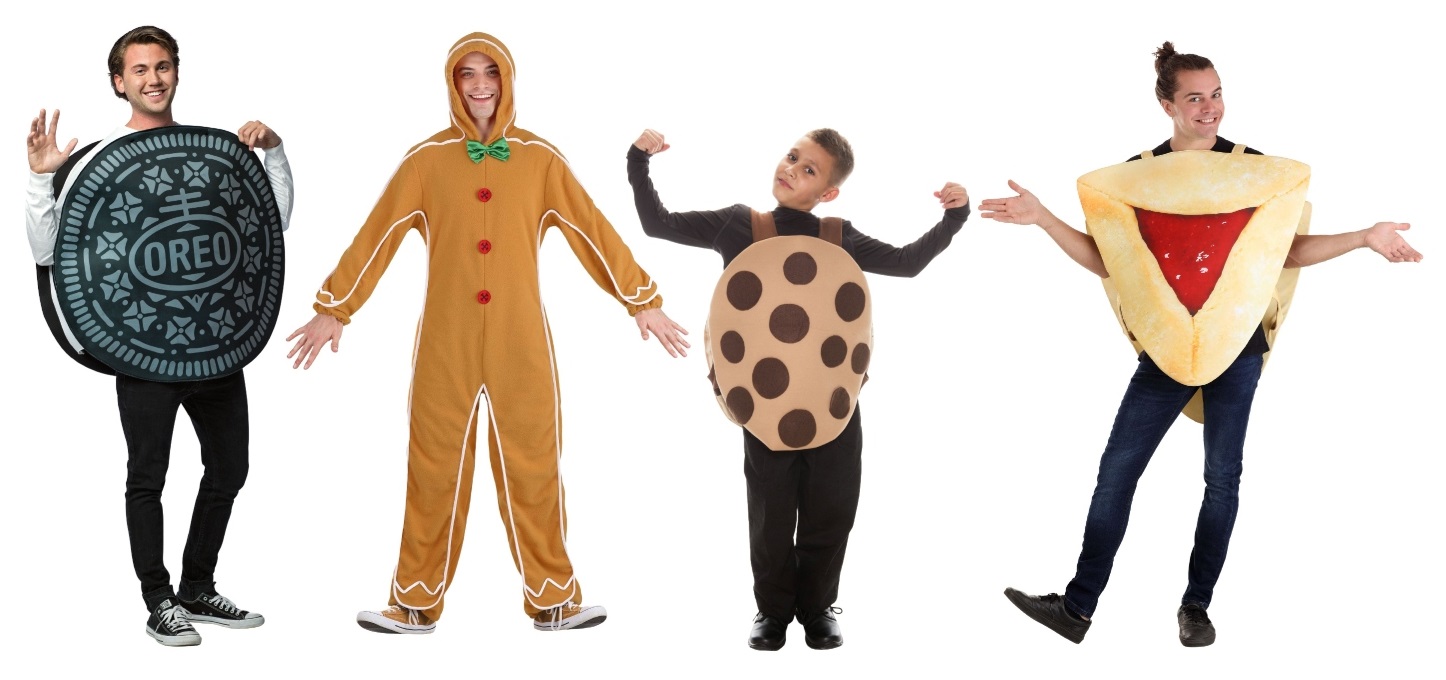 It's really hard to pick favorites, but in our humble opinion, cookie costumes are the best couples' costume ideas if you've got a wicked sweet tooth. You can pair up as cookies and milk or the two halves of an oreo. (Just don't get into a fight about who gets the cream half!) Mix it up with a holiday cookie outfit or check out some kids' cookie costumes. There's no wrong way to make this group costume idea for families, couples or friends!
Ice Cream Costumes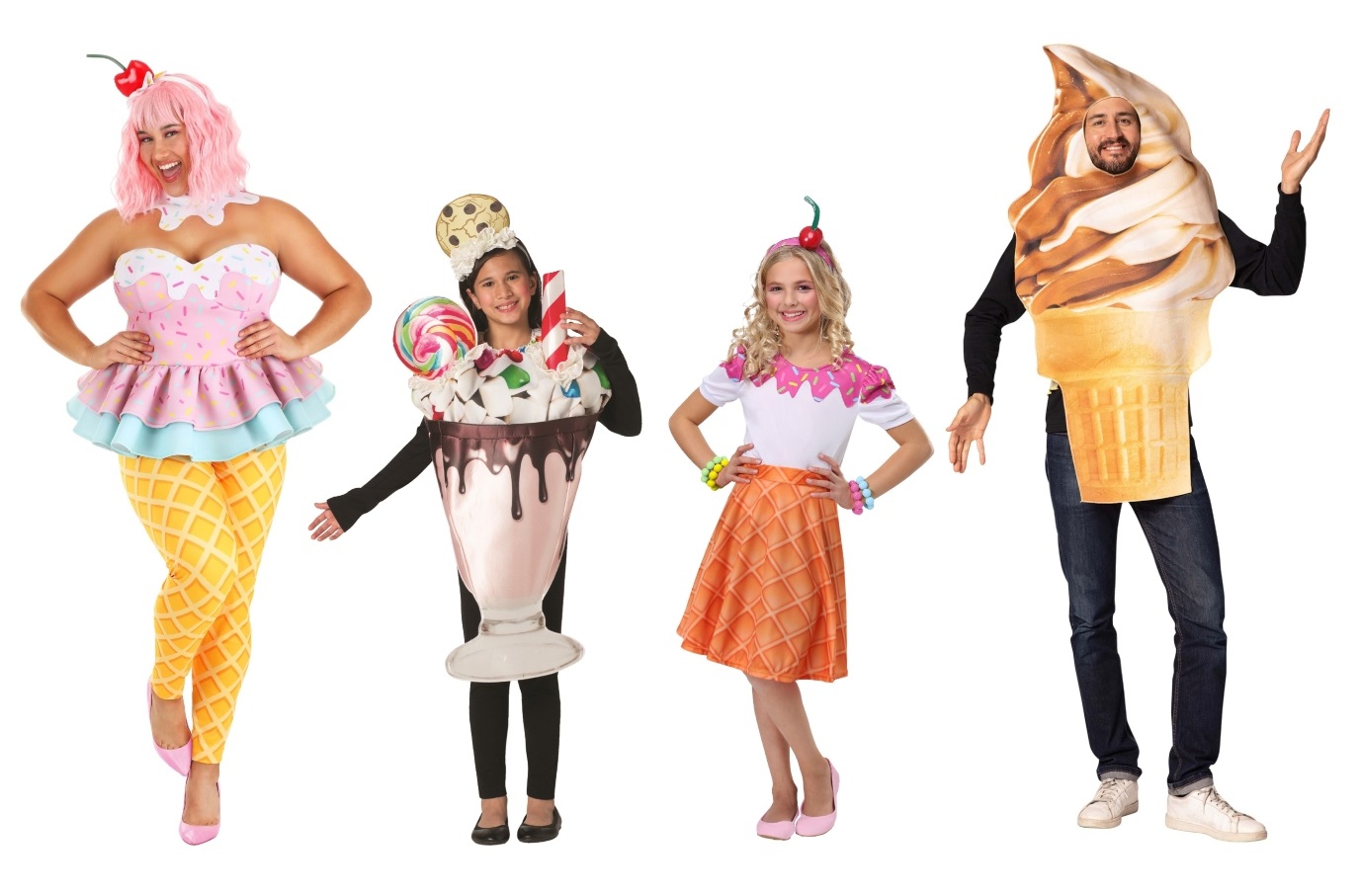 Our favorite summer treat is such an adorable costume idea, and there are so many ways to wear it! You have the classic ice cream cone with a yummy waffle cone handle or milkshakes in tall, frosted glasses. There's even a classic bomb pop outfit perfect for the 4th of July! There's no wrong way to dress up as your favorite ice cream treat.
Donut Costumes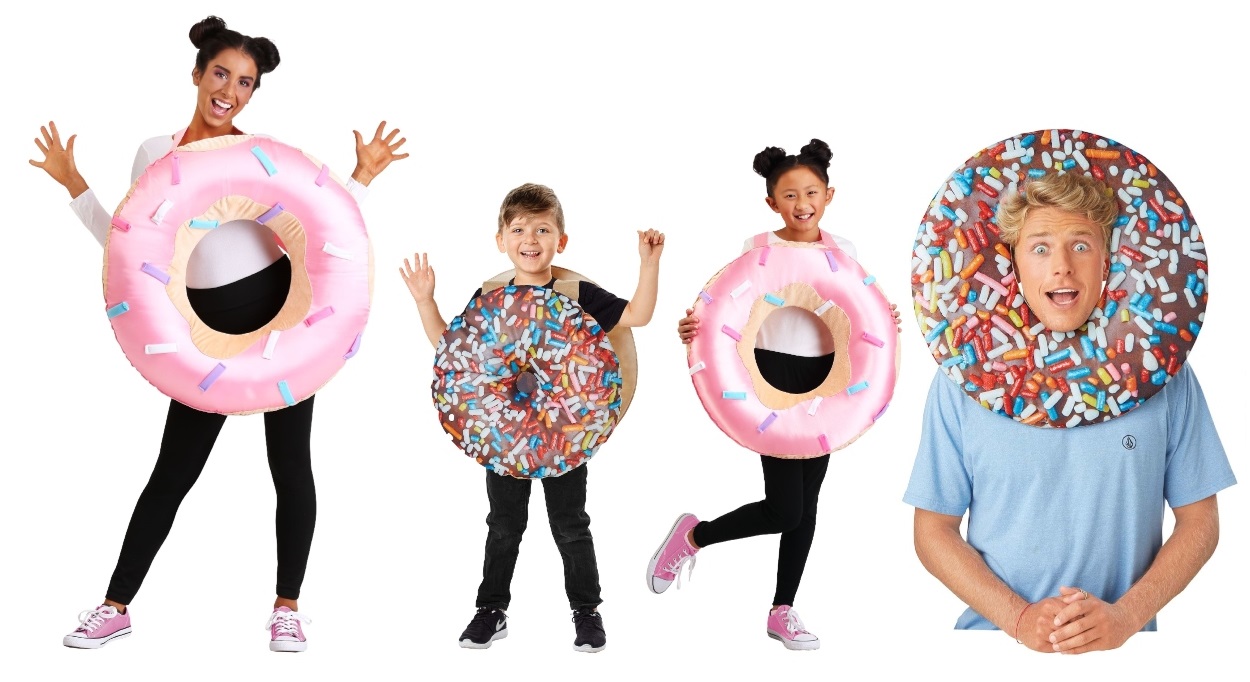 Donut go anywhere— we know that was a terrible joke, but we have even more dessert costume ideas! One of our favorite breakfast desserts next to toaster strudels, donuts are by far the better costume idea. You can have different colored frosting and sprinkles, and girls have the option to put their hair in buns to go with their donut costume. It's super cute!
Other Dessert Costumes
Is coffee a dessert? We'd like to argue that it is if it's full of cream and sugar! If you're looking for some other sweet dessert costume ideas, it doesn't hurt to think a little outside the box. Chocolate-covered strawberries? Check. Campfire s'mores? Double-check! You can even find costumes of your favorite international desserts like macarons! Comme c'est mignon.
Charlie and the Chocolate Factory Costumes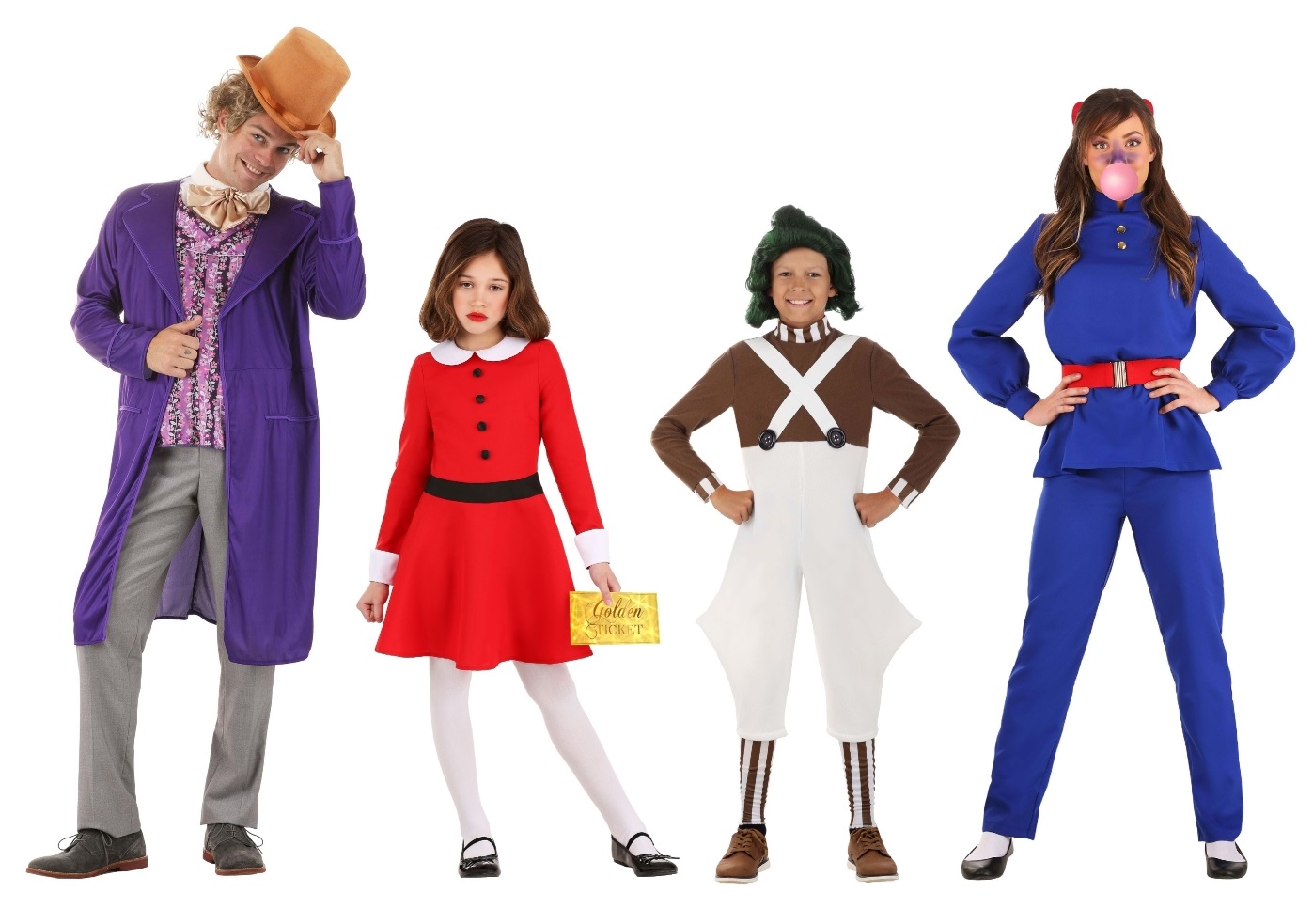 It's hard to talk about candy costumes without the infamous candy man himself, Willy Wonka! Probably one of the most clever family costume ideas if you're still trying to make it about candy, you can add Oompa Loompa costumes, blueberries, candy and of course Wonka himself! (Just make sure to leave out the weird boat ride that traumatized our childhoods.)
Candy-Colored Wigs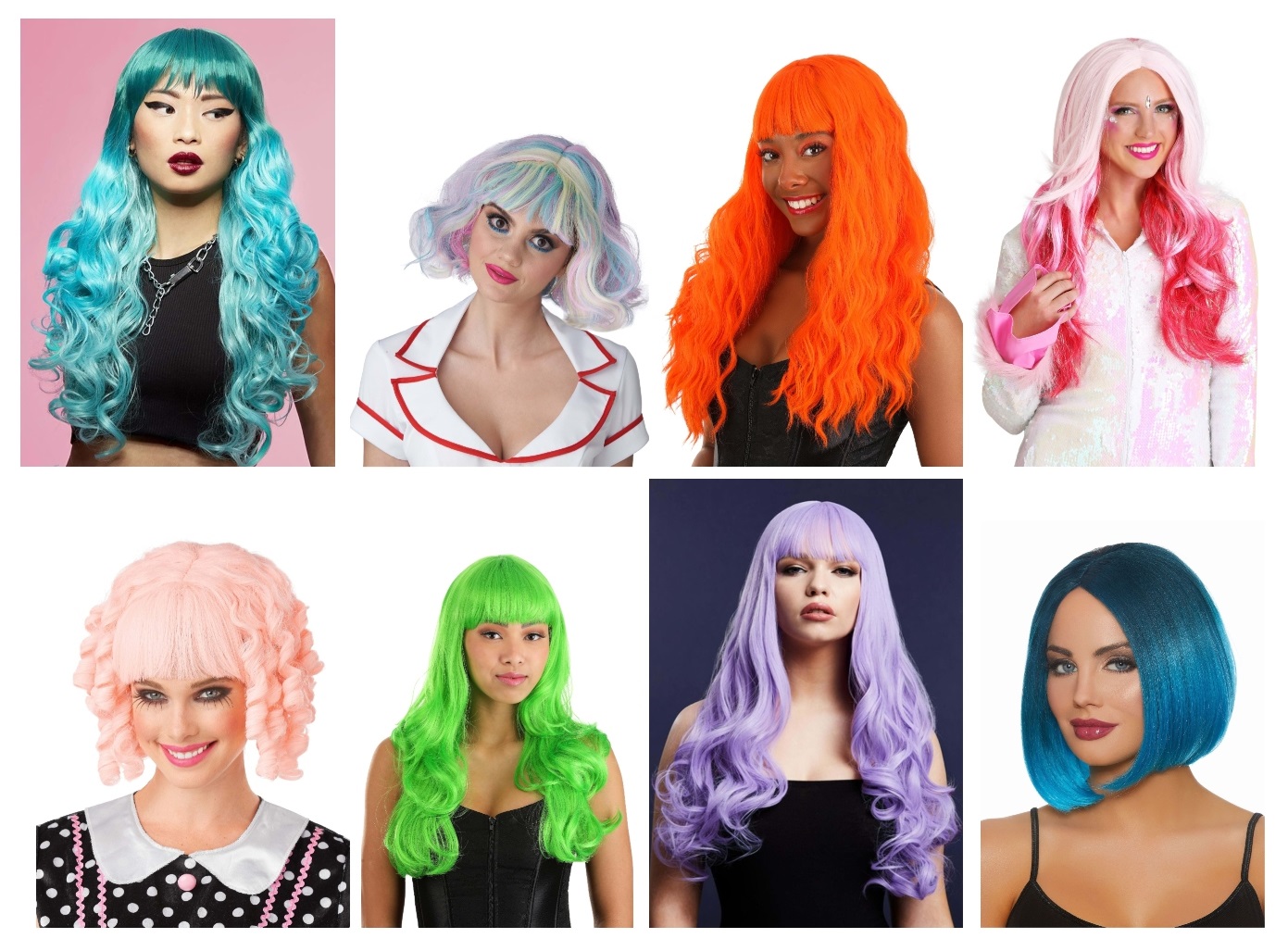 If you are looking to spice up your costumes, whether a tunic dress or women's costume, add a candy-colored wig to match your costume dress. Try out these fun and sexy wigs! We have tons of multicolor wigs and pastel hair along with bright colored wigs to suit all of your candy costume needs. It might be just the pop of color that you need!
Colorful Costume Accessories for Candy Costumes
Candy tends to be bright and colorful. If you're scratching your head about what accessories to wear with your Halloween candy costumes, we have a few ideas for you! Bright shoes, bold leggings and colorful accessories and hair bows can help to add that "wow factor" that you're looking for. If you want something more practical such as a purse or a carrying bag that matches your costume's aesthetic, you might want to try some fun food-themed fanny packs for bringing your essentials along.
Any of these sweet costumes would be great for Halloween this year. Do you have a favorite candy? What about another treat or dessert? Let us know in the comments in case you feel like we need even more dessert costumes! Your sweet tooth is sure to thank you! (Maybe not your dentist.)