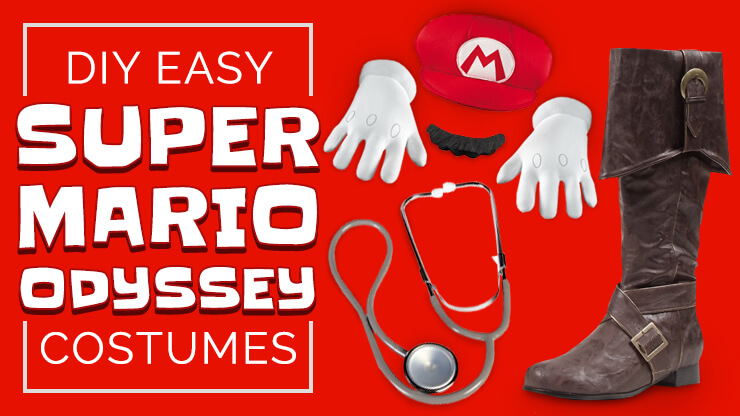 Mario is one of Nintendo's most beloved characters. Over the years, he has been included in numerous games, and you're bound to see a handful of Mario costumes for Halloween and at many conventions. In one of the newest Mario games for the Nintendo Switch, Super Mario Odyssey, one of the most fun aspects of the game is the array of unlockable Mario costumes. Not only does Mario have the ability to wear other character outfits from the Mario games, but he has a variety of additional outfits, many of which had small appearances in other games. If you're looking for some fun Comic-Con cosplay ideas or you want to get more use out of a Mario costume that you already own, we're going to show you how to assemble some Super Mario Odyssey Mario outfits.
The Essential Item You'll Need for All of These Costumes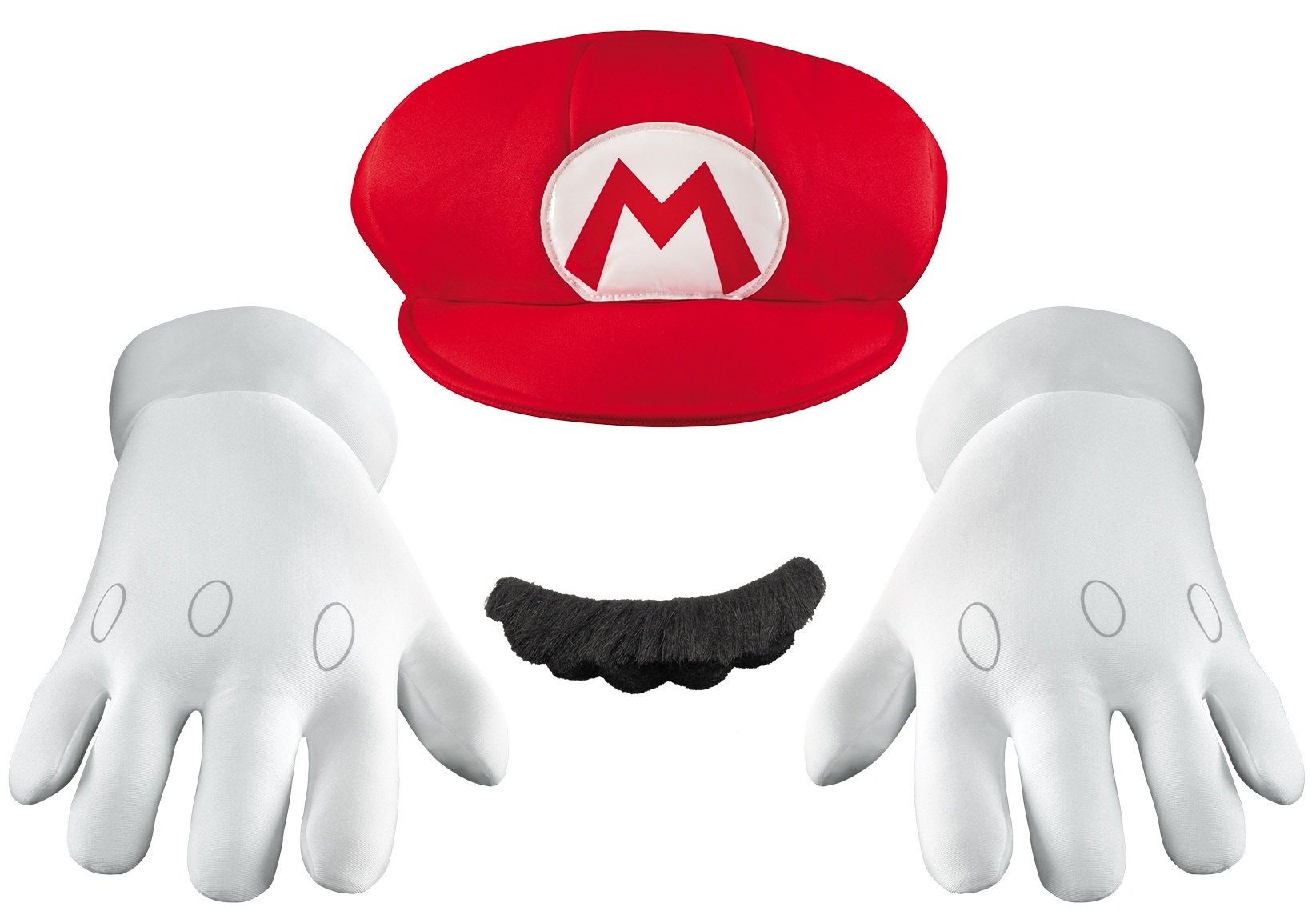 If you don't have an old Mario costume to swipe your accessories from, you'll need to get the very basics. Mario's classic mustache and gloves are included in many of these costumes. (Actually, the mustache is in all of them!) That being the case, we're not going to mention the basic Mario accessories on each of the Mario outfits because we'll start to sound like a broken record. No one wants that, so just pick up one of these accessory kits and you're set.
Doctor Mario Costume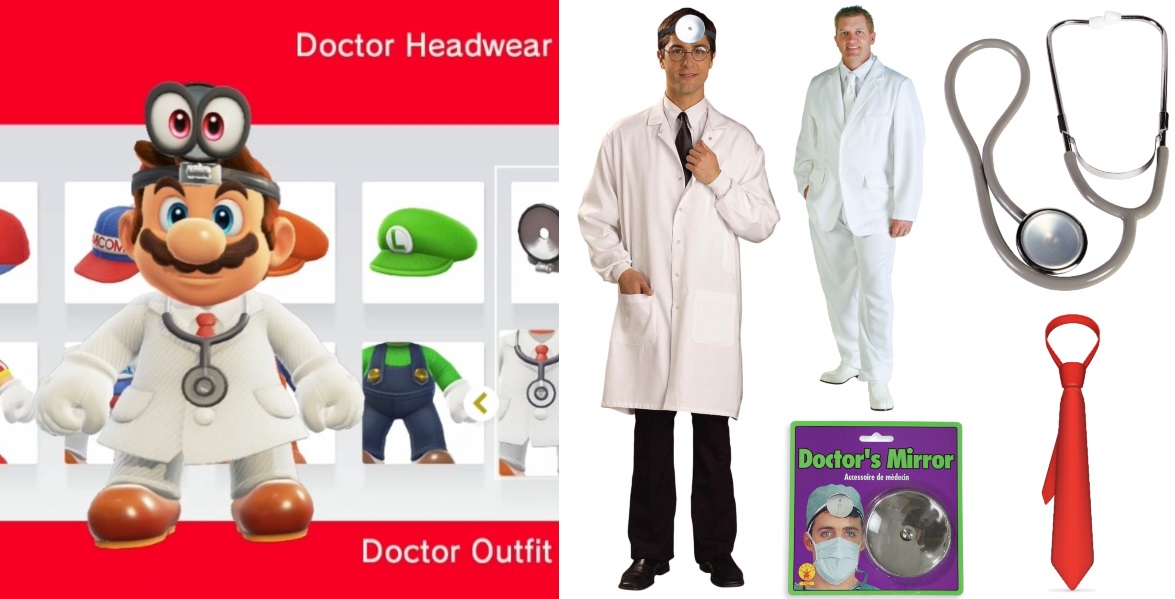 In order to assemble your Mario doctor outfit, you're going to need a white lab coat, white pants, a stethoscope prop, a doctor's mirror and a red necktie. Mario can wear the look with or without Cappy's eyes, but if you really want to add them to your costume, you may want to get a Mario Cappy hat so you can take the eyes off and glue them to the doctor head mirror. (This tip about the Cappy hat applies to the rest of these Mario costumes too!)
Space Suit Mario Costume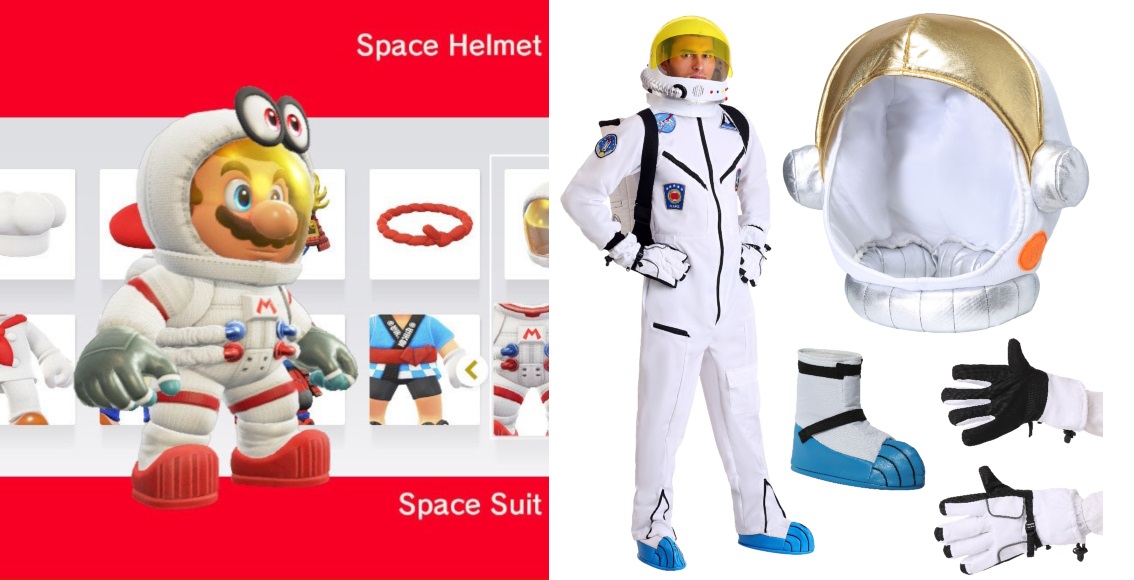 Astronauts have always been a favorite Halloween costume, and Mario certainly looks smashing in his outfit. In order to create Mario's space suit outfit, you're going to need a white astronaut suit along with an astronaut helmet, gloves and boots. You may want to use some red and silver fabric paint to have the proper colors on Mario's astronaut costume. Just be careful if you decide to eat in costume because you're head-to-toe in white!
Hakama Mario Costume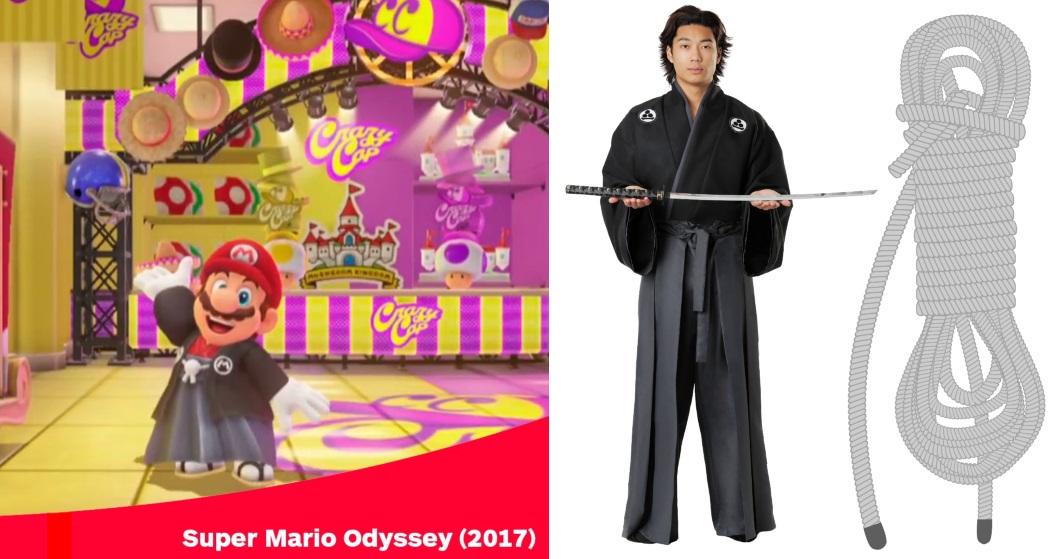 The hakama is a traditional piece of Japanese clothing, so it should come as no surprise that Mario gets his own unique pair in Super Mario Odyssey. (If you look closely at the top, those white circles have a special Mario "M" inside them!) This classic kimono set costume is very close in comparison. Pair this costume with Mario accessories and get a length of white rope for the belt, and you'll have Mario's hakama costume in no time. If you really want the Ms on the top, you can easily make your own with printable iron-on fabric.
Black Suit Mario Costume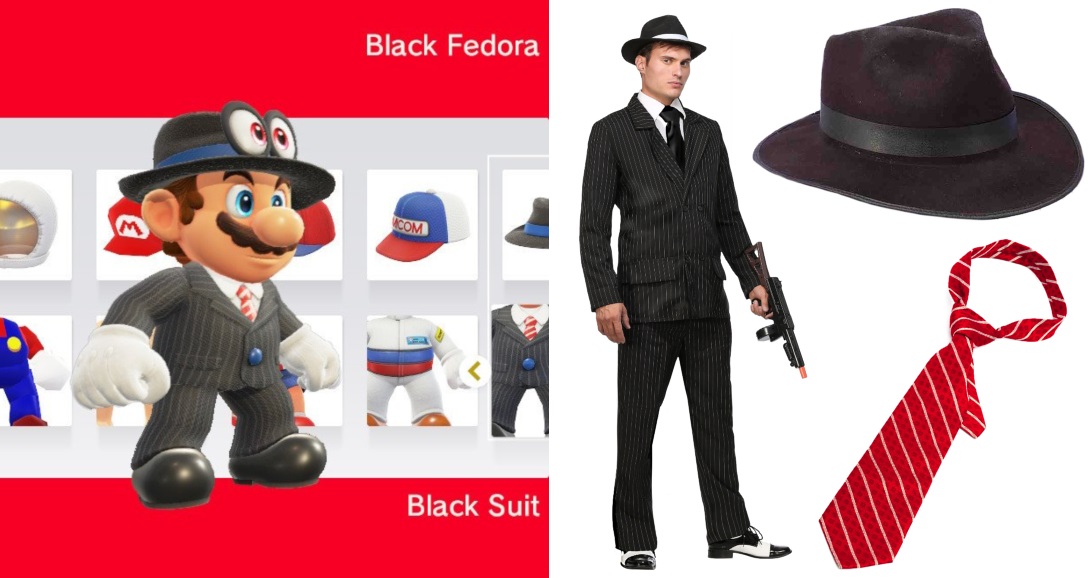 If you're a fan of the roaring 20s, you'll certainly love Mario's black suit outfit. Make sure that you get a black pinstripe gangster costume, a fedora, white undershirt and a red-and-white striped tie to pair with your other Mario accessories. If you want the blue band around the hat just like Mario's fedora, you can get a spool of wide navy satin ribbon to glue over the black hat band.
Pirate Mario Costume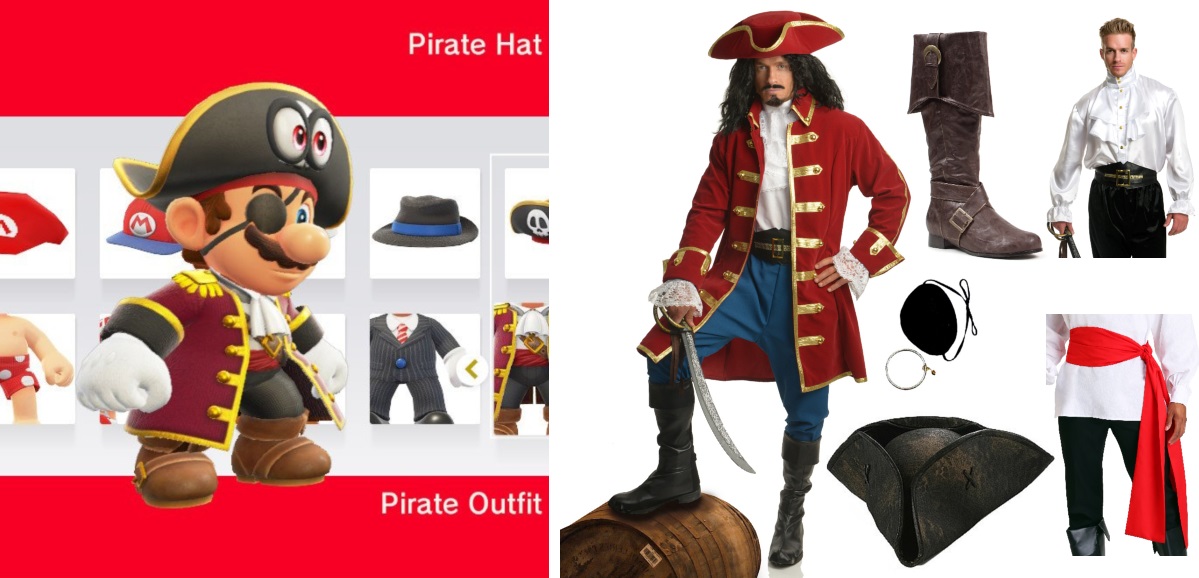 Mario's pirate outfit requires a few more pieces than some of his other Super Mario Odyssey costumes, but you can absolutely mix, match and reuse your costume later. This is a great costume idea for Comic-Con that you can easily repurpose for Halloween as a regular pirate, or perhaps as a Seinfeld puffy shirt costume. You're going to need a red pirate coat, ruffled pirate shirt, eyepatch, black pirate hat, black pants, red waist sash and a pair of brown pirate boots to complete this look.
Cowboy Mario Costume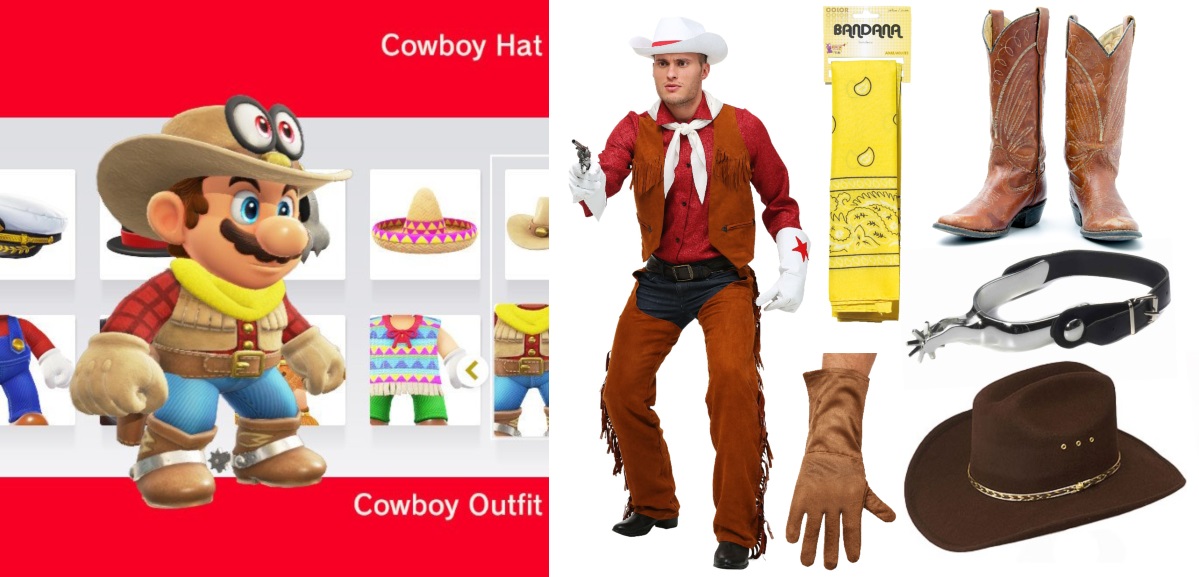 Like the pirate, this Mario costume idea translates well between Halloween and conventions. You're going to need a red shirt, brown fringed vest, yellow bandana, brown gloves, brown boots, spurs, a pair of jeans, a brown belt and a brown cowboy hat. The cowboy costume that we recommend using already has the shirt and the vest, and you can always use the full costume with the chaps for other occasions. (Bonus!)
Sailor Mario Costume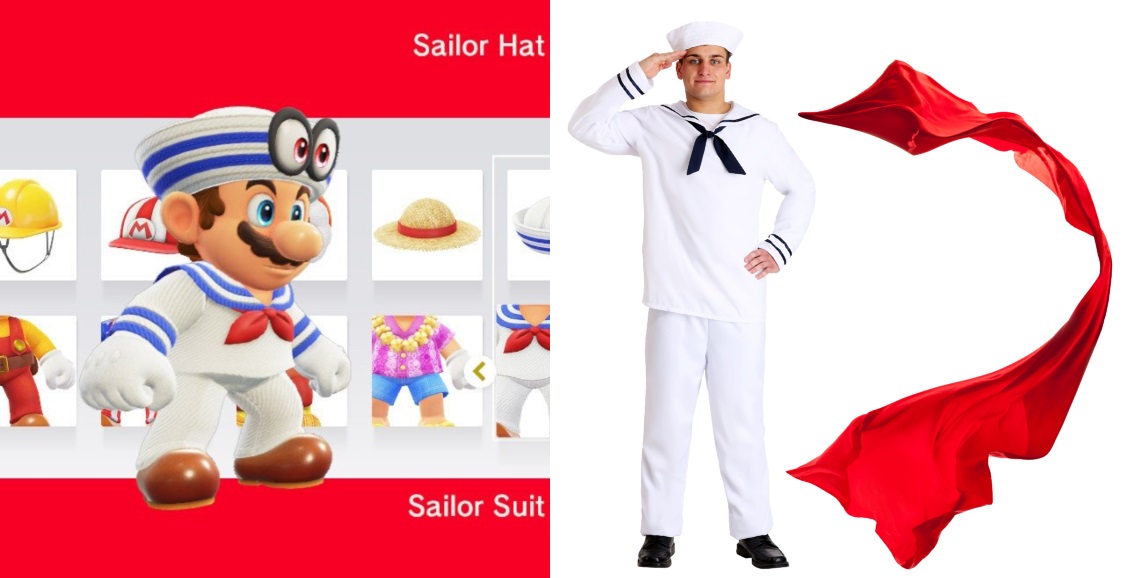 Sailor suit Mario is arguably one of the easiest skins to DIY. This sailor costume is already very similar, and by adding some more blue accent trim with ribbon and changing the neck scarf with a bit of red fabric, you'll look just like Mario's sailor skin. Seeing as this costume is rather plain compared to some of Mario's other skins, you can always add the Cappy eyes to your sailor hat for more interest.
Explorer Mario Costume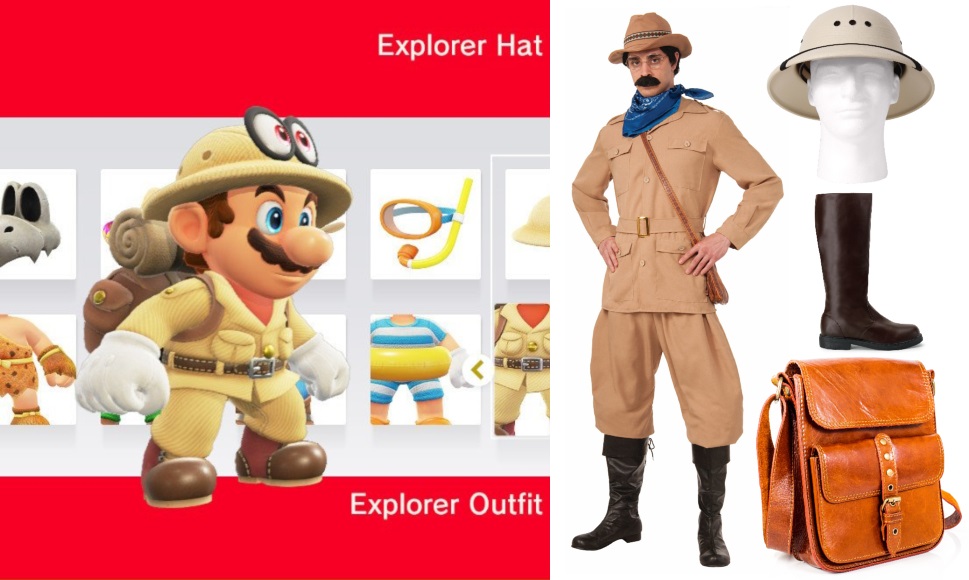 Mario looks more than prepared to go on adventures in this explorer outfit. This Teddy Roosevelt costume works well enough as the base, and with some added accessories, you'll be ready to go to any convention or Halloween party! You may want to wear a darker brown belt with this costume, along with a safari pith hat, brown boots and a brown backpack.
White Tuxedo Mario Costume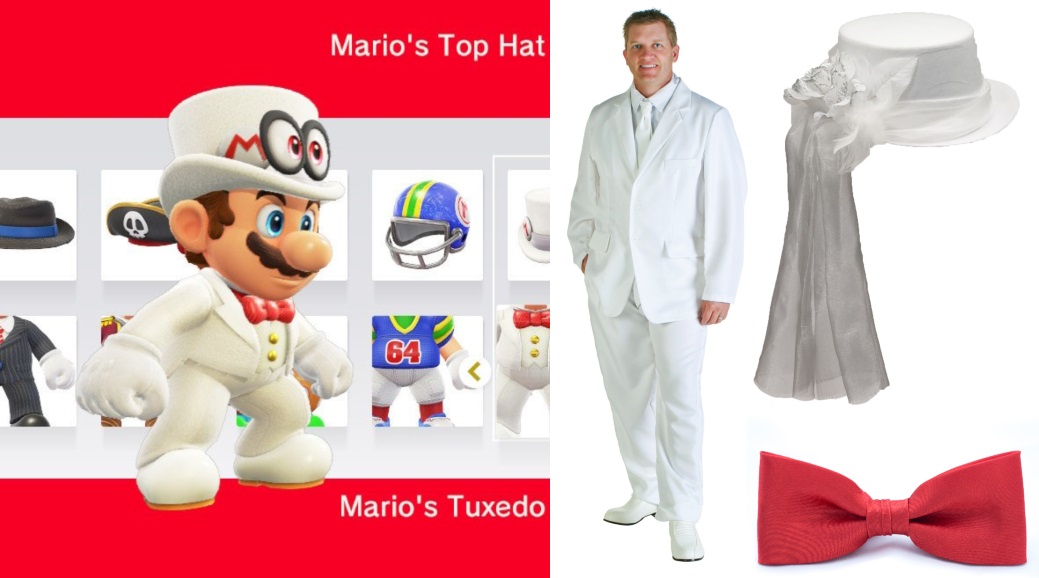 If you want to dress in a Mario costume with class, Mario's white tuxedo outfit is the one for you! Get a white suit and pair it with a red bow tie to complete the look. While the white hat we found has tulle and flowers on it, remove those and you should be ready to go. This costume is also very similar to Bowser's tuxedo, so if you can scrounge up some purple accessories to pair with the white tux, add some Bowser accessories and you have two ways to wear this costume!
Santa Mario Costume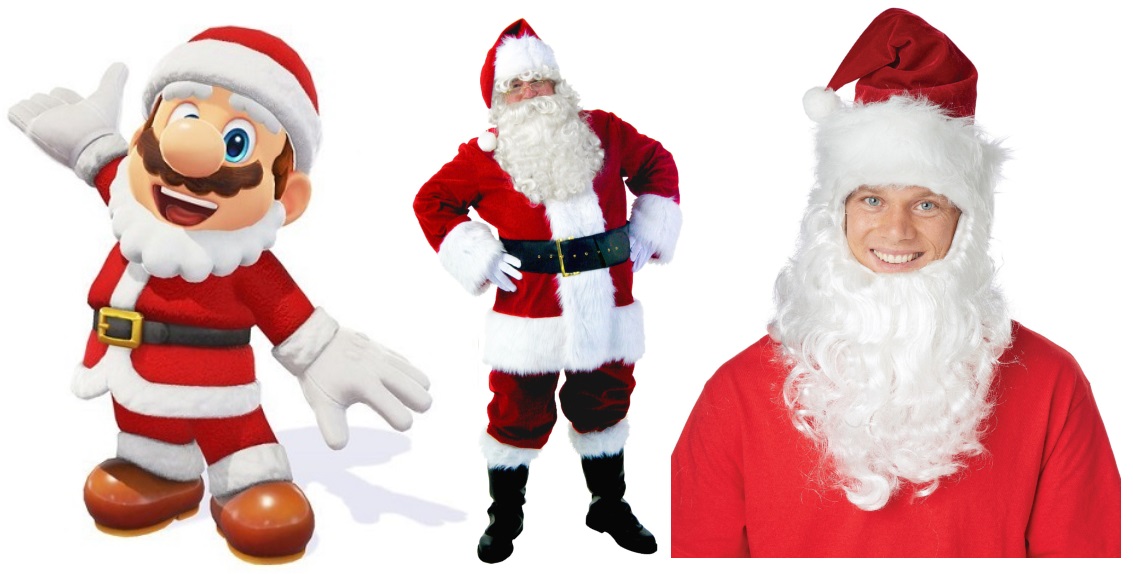 Mario in a Santa suit is another one of those costumes that you could potentially repurpose for several occasions. Wear this costume to comic con and Halloween as-is, and you still can use it as a traditional Santa costume for Christmas. The Santa outfit already comes with a hat, but you might want to swap it out for this more accurate Santa attached beard and hat set.
We hope you enjoyed these Mario cosplay ideas! Do you have a favorite Mario character? Do you have a favorite Super Mario Odyssey skin? Would you consider wearing one of these Mario costumes to a convention or for Halloween? Feel free to share your opinions and ideas with us in the comments! Have fun, no matter what Mario outfit you choose! If you want to add more Nintendo characters to your Mario Odyssey cast, check out these Mario Bros. costumes so you can add characters like Peach and Luigi to your group costume.