So you want to be a rock star for Halloween? We get it, we really do. Rock stars live interesting lives, both on stage and off. They get to fly around the world in private jets, perform in front of tens of thousands of adoring fans, and probably sleep in beds made of cash or something. If this is your dream gig, then make it happen! Get yourself a rock star Halloween costume and live it up, no talent required. Let's take a tour through the best we have to offer!
Rock Star Costumes
Imagine this: screaming fans, massive amplifiers, fog machines, laser lights, and the spotlight is on you. That's right, you're front and center on the stage, in the middle of an epic guitar solo or belting out those high notes. It's like some cheesy movie with Mark Wahlberg or maybe Jack Black, and that's okay. We're talking about musical legends here, larger-than-life personalities, guitar gods and space oddities and funk superstars. Take your pick and we'll help make it happen.
Here's an example of the sheer variety of rock star Halloween costumes available today. You've got the whole rock era covered, from the Fab Four to Freddie Mercury and even Devo! Then there are exclusive costumes from disco mainstays The Village People. Or if you're big into pop and hip-hop, you can find all kinds of pop divas, idol, and rapper costumes! If they can sell out a stadium tour, then chances are there's a costume!
Elvis Costumes
So you're looking for king costumes. Sure, that's easy as pie. Or peanut butter and banana sandwiches. But if you're looking to be the King of Rock and Roll, then look no further. You can get the iconic Elvis jumpsuit for men, women, adults, kids, even babies! Or if jumpsuits aren't your thing, how about the Elvis Presley's gold lamé suit? And if you can't pull off the trademark Elvis hair naturally, there are Elvis wigs, big Elvis wigs, and even bigger Elvis wigs! When it comes to Elvis, bigger is always better!
KISS Costumes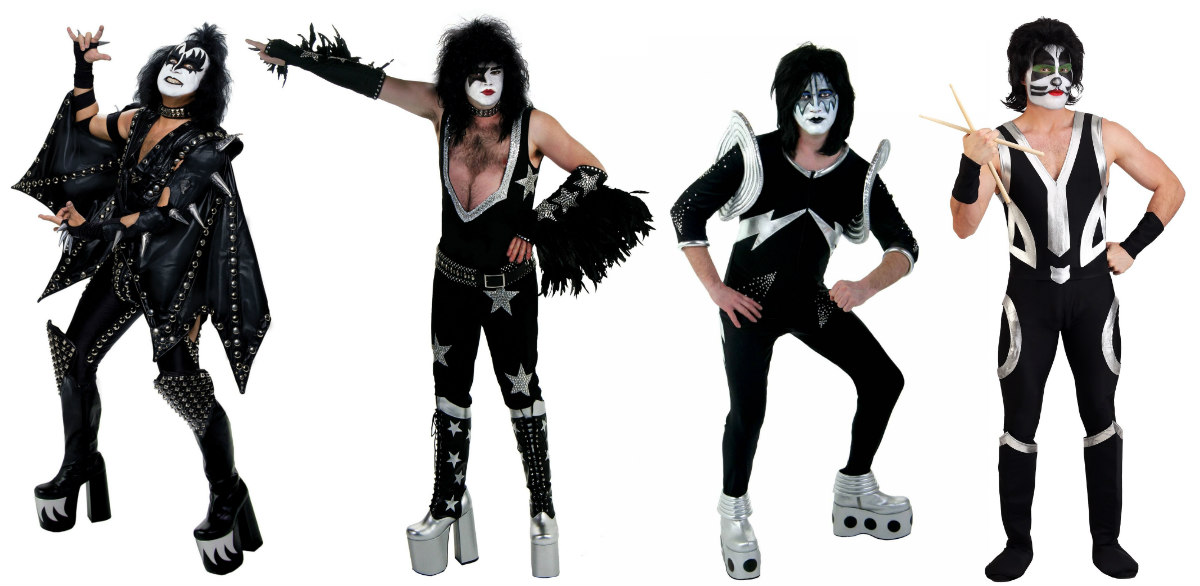 KISS Costumes (left to right): Gene Simmons costume and The Demon wig, Paul Stanley costume and Starchild wig, Spaceman costume and wig, Catman costume and wig.
If you want to rock and roll all nite and party every day in a KISS Halloween costume, then you're in luck. You can find exclusive costumes of The Demon, The Starchild, The Spaceman, and The Catman, plus wigs for all four band members. If you've got some musical talent, you could even put together your own KISS tribute band with these costumes. As far as rock star Halloween costume ideas go, it's solid gold!
Now that you've picked out your KISS costume, it's time to look at the accessories. Consider upgrading your Demon costume with an exclusive Gene Simmons silicone mask. Or grab some blood capsules or makeup barrier spray to take any costume to the next level. You could even have fun with the concept and get Catman sunglasses or an official KISS fire hat!
Michael Jackson Costumes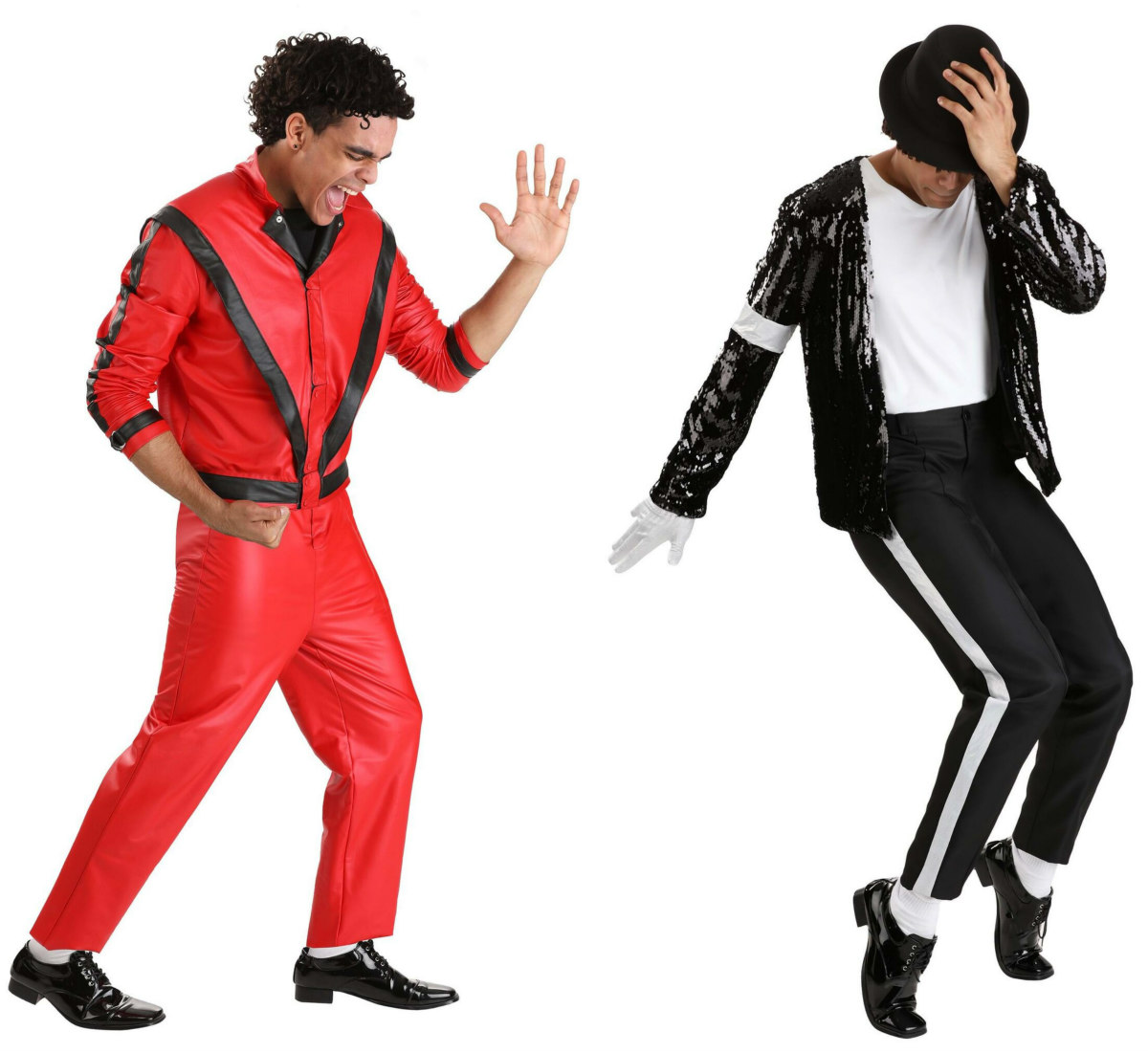 Shop all Michael Jackson costumes
Maybe the King of Pop is more your speed! There are Michael Jackson costumes and jackets for all of his most iconic eras, from "Beat It" to "Thriller" to "Bad". Plus you can get accessories like sequined gloves and black or white hats to finish the ensemble. Many of these costumes and accessories are available for men and women, adults and kids, too! Just learn to Moonwalk while you're trick-or-treating and you'll be rolling in candy!
Rock Star Accessories
As an encore, let's take a look at accessories. Sometimes the right hat or mask or wig is enough to complete the transformation into a rock and roll star. So whether you're dressing as 80s hard rockers, modern metal musicians, or pop idols, use accessories to top it off!
What did you think? Are you going to rock out this Halloween? Tell us all about your rock star plans in the comments below! And take a look at our huge variety of rock star and music video costumes, including our exclusive rock star costumes.