Wheelchair Costumes
Wheelchair covers are a perfect way to upgrade a costume experience. They're made of stiff, decorated fabric so they are durable when you're on the go but they can also transform your wheelchair into a vehicle! That means you can stay comfy in your regular mode of transportation while incorporating it into your look. You're actually elevating the costume to the next tier. Who wouldn't want to rush their way into the fun by riding in style with a matching car, ship, or even an animal? It might seem intimidating to put together, but they're easy, adaptive costume covers thanks to plastic piping and simple-to-follow instructions. Take a look at a few of our wheelchair costume options!
Cinderella Wheelchair Halloween Carriage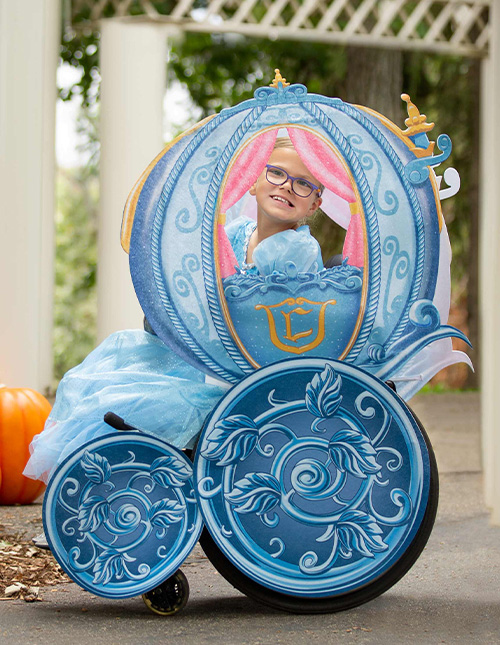 When the Fairy Godmother shows up to help Disney's Cinderella head off to the ball, she doesn't just send her on her own! Of course, a beautiful dress helps, but riding in style is what really makes a gal feel great! A little magic offers up a beautiful coach that makes any girl feel fully blessed! With a Disney Cinderella Wheelchair Coach costume, your princess has the same magical night.
Disney & Pixar Buzz Lightyear Wheelchair Cover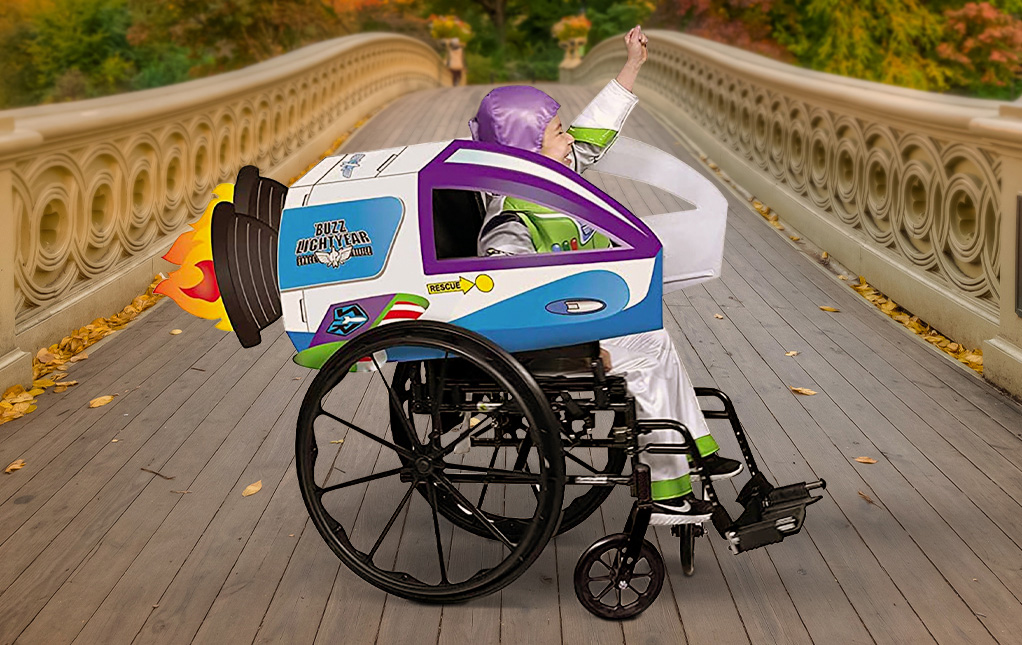 The classic claim from Buzz Lightyear doesn't say 'to the end of the walk and no further.' No! We're talking about seeing everything in the stars! How is a Space Ranger going to tackle exploring the galaxy and encountering all sorts of alien toys if they aren't blasting off into space? When your little Lightyear hops into a Disney and Pixar Buzz Lightyear Spaceship Wheelchair costume, they can!
Disney & Pixar The Incredibles Wheelchair Cover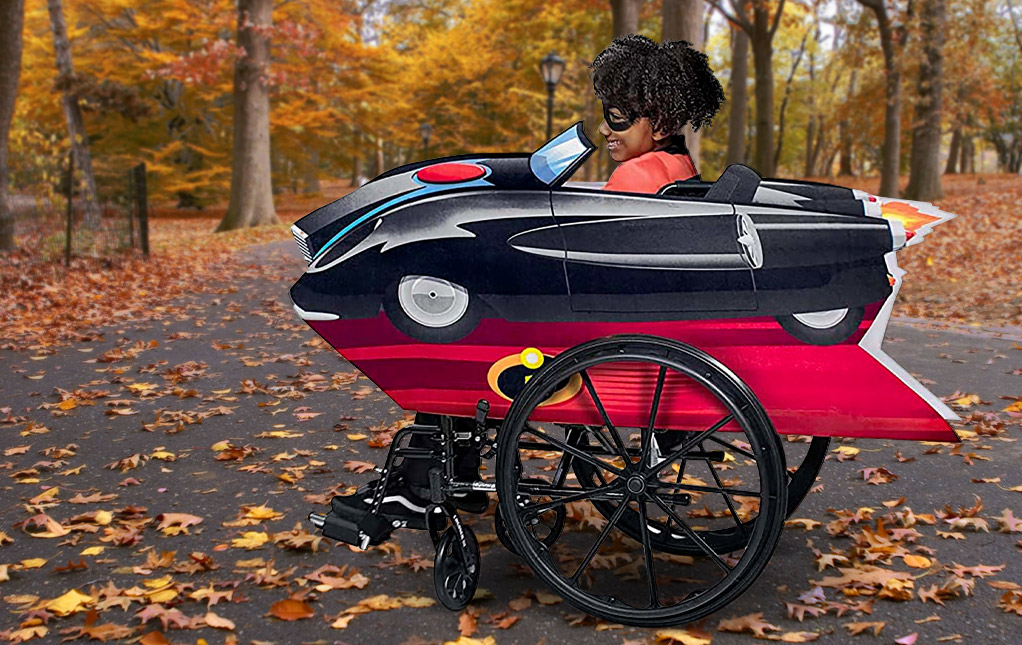 Supers might be able to fly, skate, or even teleport from one place to another. But that doesn't stop them from all wanting to have the coolest transportation. Every team has some kind of vehicle that bears their team insignia and the Incredibles are no different! Dash off to adventure in a Disney and Pixar The Incredibles Wheelchair Cover costume for the next super mission!
Batmobile Wheelchair Costume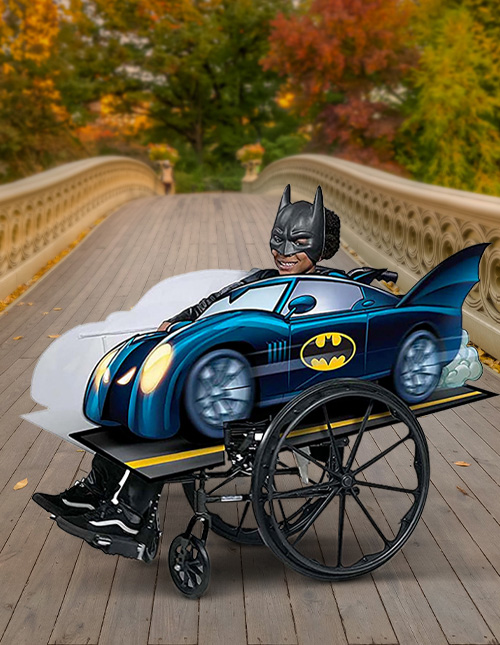 Nobody can even think about Batman without considering all of his amazing utilities. Just like a knight has their shining steed, you can be sure that the world's greatest detective always has the Batmobile nearby! When your genius of the Justice League is off to solve the case, be sure they have their Batmobile Wheelchair costume to stay ahead of the baddies!
Trolls Wheelchair Decoration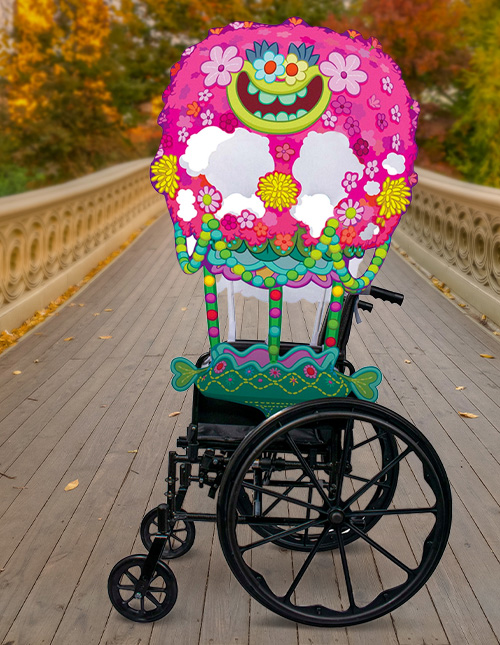 Does your tyke ever feel as peppy as Poppy? Do they want to head on a great adventure to every corner of the world to discover the best music they could ever hear? Well, that kind of World Tour is going to require a pretty stellar mode of travel! Help your princess of pop feel on top of the world with Poppy's Air Balloon Wheelchair costume and you'll be Number One!
Adaptive Costume FAQ
The word "adaptive" isn't always the most obvious term! Figuring out what it means and, more importantly, how it makes a costume accessible shouldn't be tough. That's why we're trying to answer a few questions straight away so you know what to expect from these costumes, can find the right costume for everyone, and know how to get in and out of them, too! Check out these FAQs so you're starting out ahead of the accessible costume game!
What are some wheelchair costume ideas?
Wheelchair costumes can turn a wheelchair into a vehicle. It can be a perfect fit for a character known for zooming down the road. Combining a costume with a superhero wheelchair costume is more than just accessible—it completes the character!
How to make a wheelchair costume:
Wheelchair costumes are made with stiff felt and supportive plastic piping. Dowels connect together and the heavy-duty fabric fastens with hook and loop strips or fabric ties. That keeps all the wheelchair mechanisms accessible while transforming the appearance in a snap.
What are universal and adaptive Halloween costumes?
Accessible costumes are designed to make wearing a costume easy and fun for everyone. This includes people in wheelchairs, folks with sensitive skin, or those with medical devices that need to be easily accessed. They have many adaptive features other costumes may lack.
They may feature overlapping fabric or magnets instead of zippers. They can have generous cuts so you can wear your more familiar street clothes underneath or have soft linings to ensure comfort. Open backs and midsection pockets can make it easy to help someone else in or out of a costume while also providing covert and accessibility options for medical equipment!
How to make custom Halloween costumes with a walker:
The key to accessible costumes for people in leg braces are flexible openings! Costume pants may feature larger leg bottoms with hook and loop straps or overlapping fabric so a brace fits comfortably under the costume. This prevents a constricting feel and can even allow a costume to be put on with the leg brace already in place.