Halloween Outdoor Decorations
Looking to let your Halloween spirit out of its haunted house? Let howling ghosts, cackling witches, and even crawling zombies breathe the fresh air with outdoor Halloween decorations!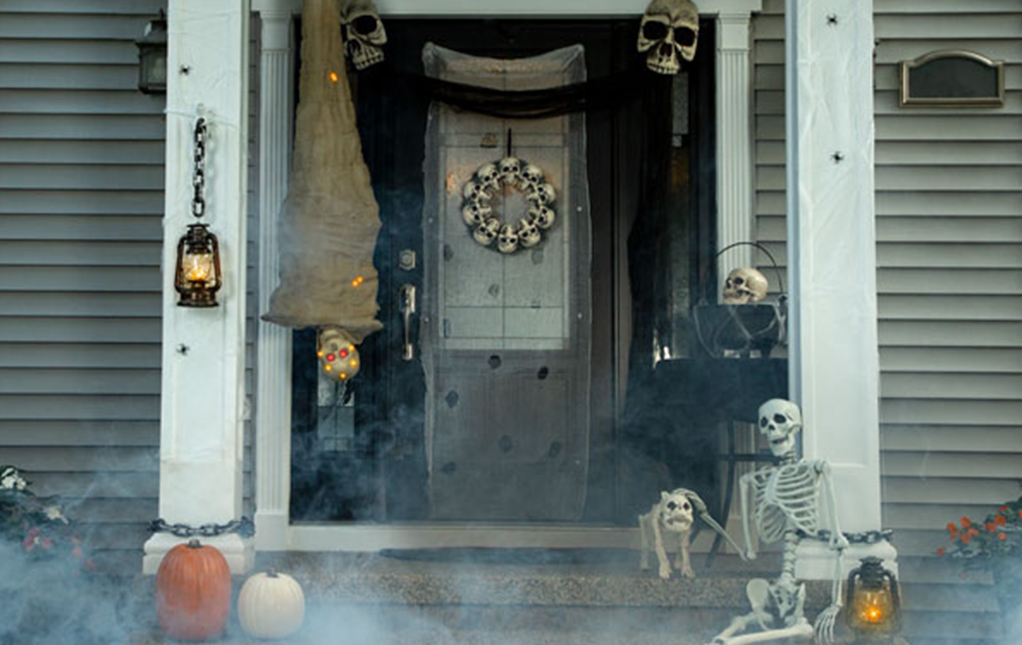 Graveyard displays look perfectly eerie in the natural light of dusk but could seem a bit lifeless under artificial lamps. Reapers stand taller, a little less grim even when free to lurk behind trees instead of shadowy corners. And for something truly eye-catching that's sure to elevate Halloween decorations, outdoor inflatables can't be beaten or kept comfortably inside! Luckily, our selection has all that and more!
So, shop with us! After reading this quick collection of outdoor Halloween decoration ideas, you're sure to know where to find everything needed to get your home's exterior to match its festive interior!
Outdoor Halloween Décor
There's a whole world of outdoor Halloween décor ideas available. So, there's no reason for one front porch to look identical to another—even in an HOA that prefers classic and simple stylings! Make classic look unique with our pumpkins and wreaths! Go modern, even break the mold, with Halloween archways, string lights, and door décor that'll impress every neighbor! Or find a different way to breathe life into a yellowed fall lawn with the following outdoor decorations!
Halloween Yard Decorations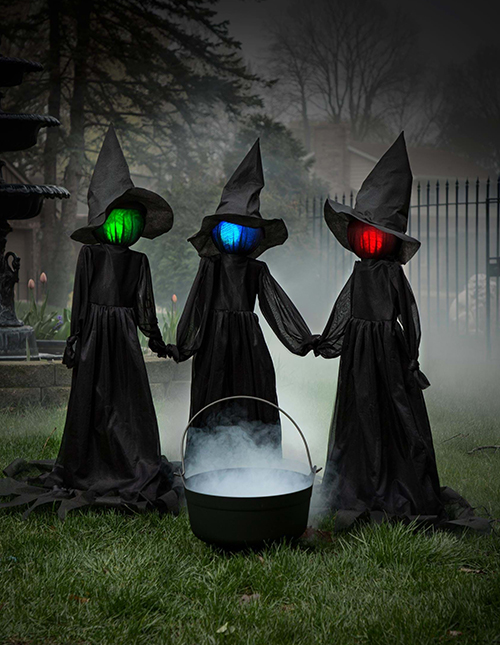 Halloween outdoor décor doesn't need to stay close to the door, and our selection of yard decorations have us brewing up lots of magical ideas to cast the fun far and wide! Step away from the light of the porch and into an eerie witches' wood when you try one of our favorite ideas! Our exclusive circle of witches has a colorful glow emanating from under pointed hats. Paired with a separately sold cauldron, fog machine, or black cat you're sure to feel the enchantment!
Halloween Window Decorations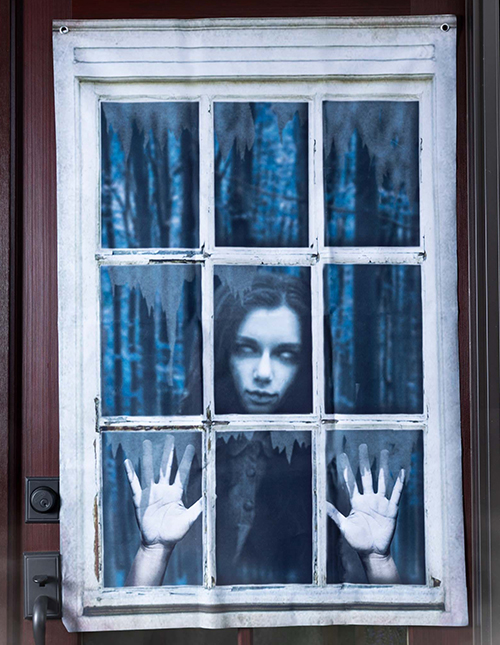 Seen close-up or at a distance, windows can have a huge impact on holiday displays! Candles shining in December offer a cozy comfort to the neighborhood. But at Halloween, shadowy figures and silly crashing ghosts make more appropriate choices. Send shivers down your back when you frame this ghoulish curtain in the window! Though hung inside attic panes and living room windows, our window décor ensures your home is spooky season-ready from the outside looking in!
Outdoor Inflatable Halloween Decorations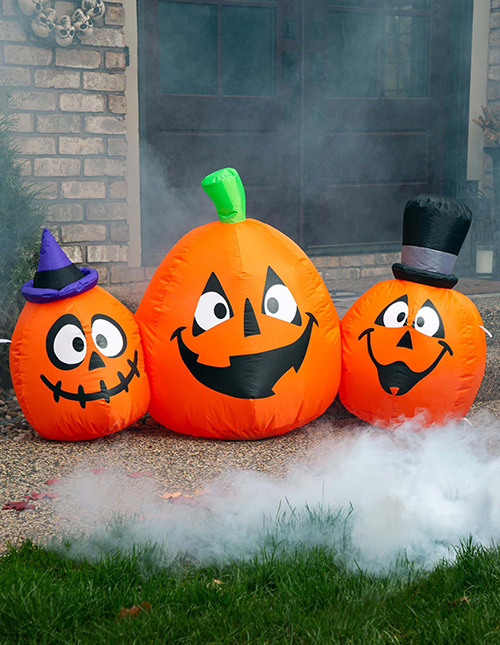 Whether you go big or go home, want a quick decorating solution, or can't decide between kid-friendly and terrifying, our outdoor Halloween inflatables have you covered! Go classic and for the kids with this crowd-pleasing inflatable pumpkin patch. Trade grinning gourds for the grim glow of a haunted forest. Or welcome party guests and trick-or-treaters with their candy bags to a Halloween bash they'll never forget when a 9-foot clown mouth swallows them whole!
Outdoor Hanging Halloween Decorations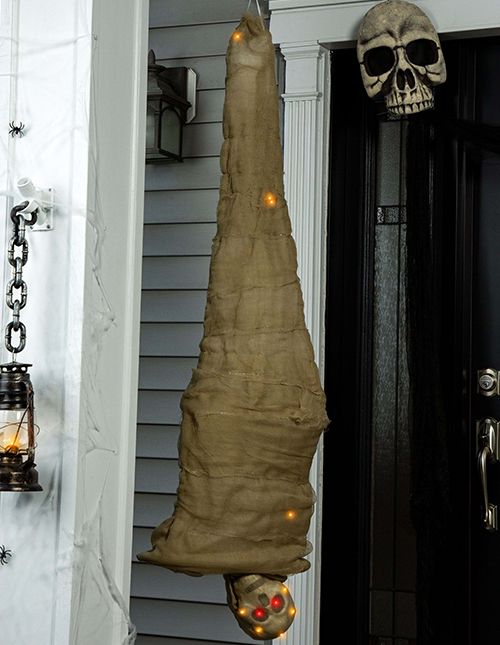 It's likely unless you have spooky-kooky clings stuck to windows, your outdoor décor draws eyes to your lawn. Turn attention upward with our wide range of hanging Halloween decorations! Imagine our animated hanging mummy dangling from branches and roofs. From a distance, it's immediate intrigue. Then with a sudden tilt of its head, a light show shrieks and laughs carry gazes from the goofy ghoul to draped garlands, seasonal signs, and so much more!
Scary Outdoor Halloween Decorations
Jack-o-lanterns and inflatable unicorn skeletons ensure yards meet kid-friendly décor standards. But sometimes it's more inspiring to explore Halloween's darker side. Toss out cheerful combos of orange, green, and purple! Open your mind to the frighteningly fun possibilities of grey, black, and red offer! Then, if that's the path you want to take, you're ready to get spooky starting with a look at our scary décor that promises to give home and yard an enter-if-you-dare air!
Outdoor Halloween Projectors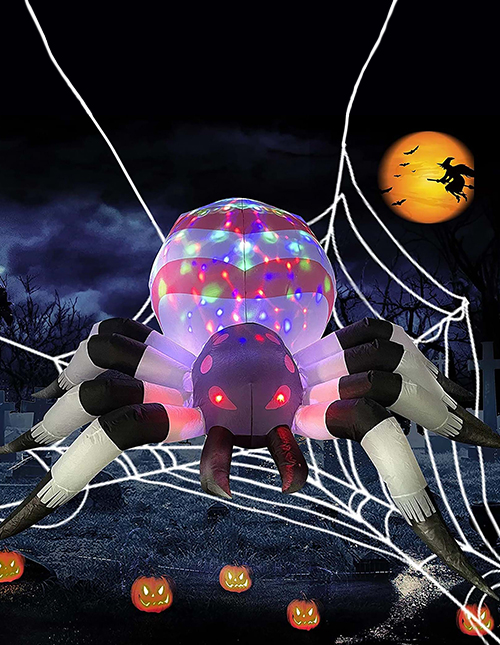 There's something downright chilling about shadowy shapes. Whether cast across sidewalks or crawling down walls even your shadow can frighten. Ensure that a skin-prickle feeling is present in your Halloween decorating when you add projected shadows! This ample arachnid guarantees to attract or alarm with its glowing eyes and abdomen casting sinister sparkles on your lawn. Prefer something more eye-catching? Shop our full projector lineup for even brighter ideas!
Outdoor Animated Halloween Decorations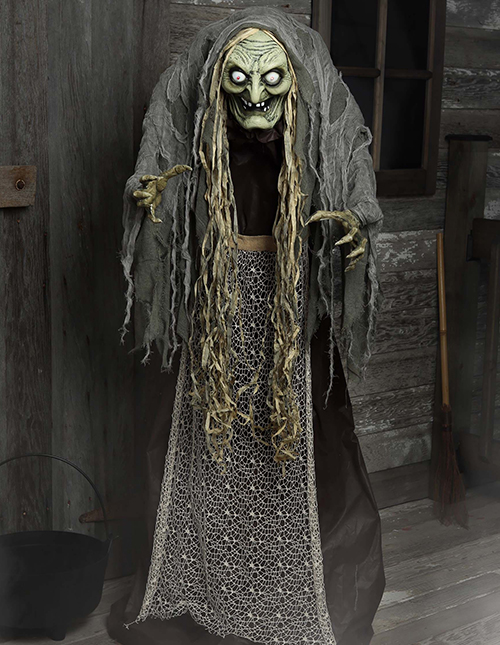 Unexpected movement is a great way to startle. But the should-be-still dolly riding a rocking horse in the spare room probably won't catch the same attention outside. She's just too short to be seen over the porch rails! Luckily, life-sized characters like our hunched hag exist! So, employ the gruesome granny to help hand out treats on October 31! Or explore our full Halloween animatronics selection for something more or less sinister that'll bring your big idea to life!