Mime Halloween Costumes
Yes, that's a pirate standing in front of a mime. But we're trying to make a point. Mime costumes are SIMPLE. Better yet, they're versatile! And isn't that something we could all use a little more of? We sure think so, especially when it comes to Halloween costumes. And whether you're going to re-wear the exclusive look you picked out of our selection, turn it into something new, or hang it in the closet to live out the rest of its days, we're here to make sure you get the most out of the experience. Today, starting with mimes!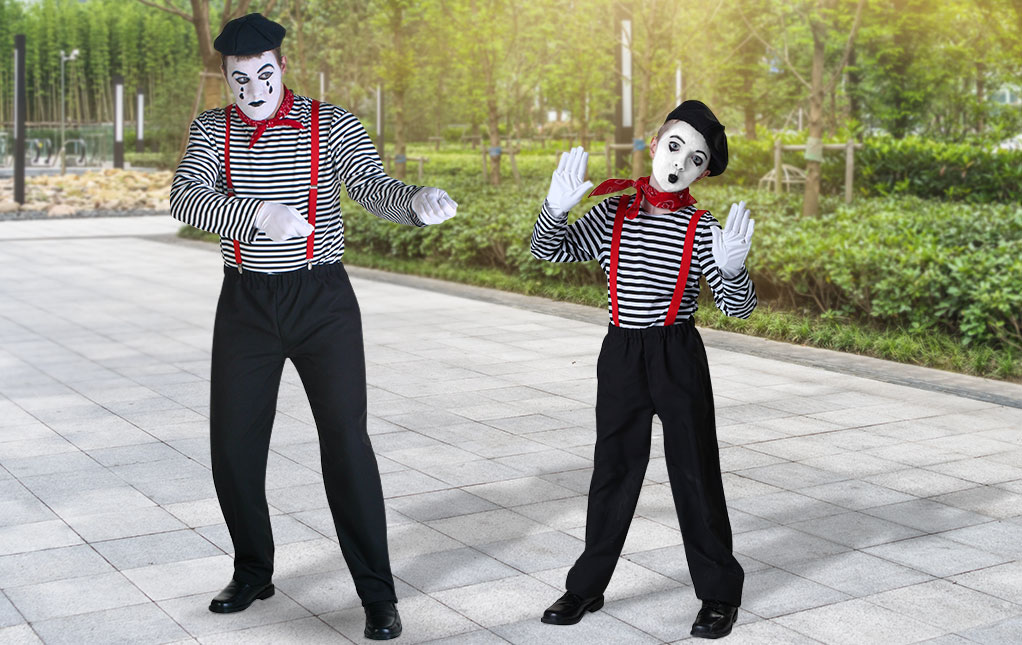 When you add this easy-to-wear striped shirt to your cart, your mime Halloween costume is somewhere between 33% and 50% ready-to-go! How much easier can it get? Well, we know some ways, but let's stay on task.
If you get bored pretending to fish your friends into a dance at the Halloween party, all you have to do is switch accessories. All your mime accessories swapped out for pirate gear and maybe a toy sword and you quickly become something like the swashbuckling pirate above. Keeping with the mime base and playing with our wide selection of accessories, you can even create an entirely new character. We know there are still some that not even our genius designers have imagined. Now, on with the show! We can't wait any longer for you to read about our other quick-mime solutions!
Mime Outfit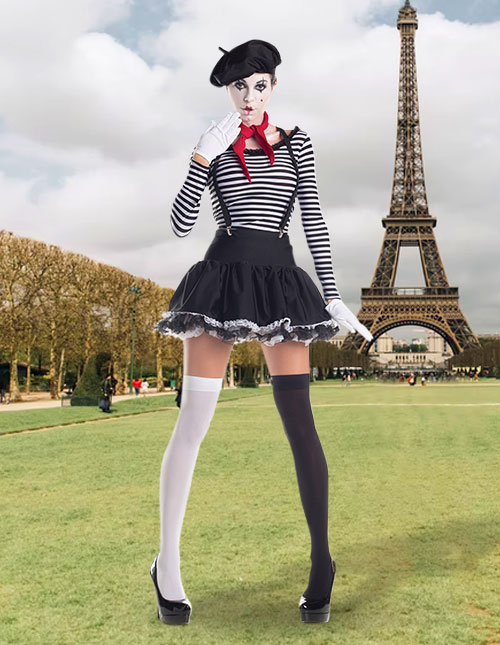 So, we've already discussed the versatility of a mime outfit, but you're probably wondering how to put one together. Or you may just want to know if we've already done it for you. The answer to that is, of course, we have! That's kind of our gig—mimes mimic audience members and HalloweenCostumes.com offers complete ensembles. But here's the thing: while this mesmerizing mime outfit is sure to entertain and get you ready for your pantomime debut, understanding the pieces will help you decide which option is right for you. It may also inspire other fabulous mime costumes worthy of Harlequin and his companions.
Let's break it down. Obviously, you've got your black and white striped shirt—a classic! To complete the base of the costume, black bottoms are standard. Whether that's a black skirt like the look above, a black tutu, or black pants, you're good to move on to accessorizing. Choose a hat for some pizzazz. Again, black is a great choice, but feel free to experiment with pops of color. As long as your costume cap can be utilized for both fashion and prop, it's perfect! Full costumes will also include suspenders and maybe a pair of tights, depending on the type of bottoms. As always, go wild with your accessorizing! After all, Harlequin—one of the original mime characters—was nothing short of colorful!
Sexy Mime Costume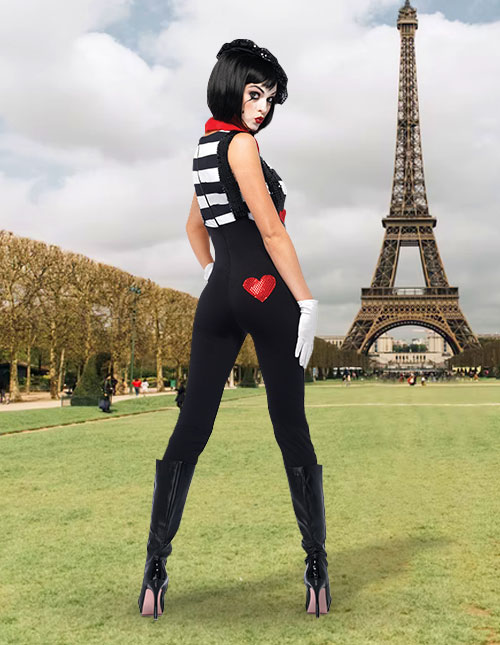 Maybe pantomime doesn't sound sexy to everyone. But consider this: anything can be sexy with the right amount of confidence and styling involved. Just look at this flirty mime! They're wearing the heck out of that black, white, and red jumpsuit. The addition of a heart and sequins? Just the right about of glitz and sass to really boost the appeal of the costume. But of course, there's more!
Once you have this marvelous mime costume in your possession, or you've built your own alluring mime ensemble with a curve-hugging bodysuit and scintillating pair of gloves and maybe a kerchief, you have a whole new way to use your mime talents! Those gloves? A prop! Just imagine slowing removing them, one finger at a time. The mystery of what's coming next—what's the kerchief for—is sure to spark interest. Meanwhile, your well-planned outfit either adds to the mystery with a good amount of coverage or gets your intended audience excited. Best of all, though? You feel like a million bucks! You've got the moves, the steady confidence, and the costume to carry this uncommon sexy vibe with impressive strength—a must for every sultry costume and character. So, if you're thinking mimes could use a boost, take that classic mime outfit and serve it up hot!
What is Pantomime FAQ
So now that your mind is hopefully teeming with mime costume ideas, it's time to dive into a bit of the history of pantomime. Because, really, what is it? Are mimes just grey-scale clowns? How long have they existed? Why do they even exist? And now that you have your costume picked, how do you put it together? We'll cover all of that! After all, we don't want you to just walk into the costume party looking like a mime. We want you to feel like the character and perhaps have a new reason for selecting the unique costume. Plus, if anyone should be a pest about your choice then, you have plenty of ways to change their opinion on just how super cool mimes are—because they are super cool! We said it before, we're here to make sure you have the best costume experience possible. And that means we're prepared to arm you with more than costume weapons and a hat perfect for miming moves. So let's get into it!
Why was Mime invented?
Mime came about for entertainment in the 16th century. However, miming got its start as Italy's Commedia dell-arte, which existed to tell stories with an ensemble cast. These performances were popular in royal halls, for the likes of kings, and during the holidays.
How did pantomime start?
Pantomime can be traced to a few places, Commedia dell-arte, being most recognized. As audiences grew, so did mime troupes which traveled Europe to tell their stories. Outside of Italy, new cultures and minds altered the ancient art into the modern entertainment we know today!
What do Mime Artists wear?
Today, mimes wear black and white outfits with various accessories like suspenders, hats, and scarves. White face makeup with black liners is a big piece of the look as well. However, at the start, bolder colors and styles brought mime characters like Harlequin and Pierrot to life!
Why do Mimes wear black and white?
So, why black and white? It's simple: black and white are easy to see at a distance. Front row audience members could see characters without trouble. But spectators at the back could still understand the silent stories thanks to the uncomplicated costumes.
Why do Mimes wear makeup?
This ties in with the color choice. Just like an actor in a modern stage production would wear eyeliner and heavy blush to make their face more visible under bright lights, black and white face makeup make expressions clearer, even from far away.
How to put on Mime makeup?
To get your mime makeup right, you need a solid white foundation with black eyeliner, darkened lips, and optional blush and contour. Simple is great! But feel free to experiment with outlines like a tear to add to your story. So long as it's readable, your mime is done right!
Cute Mime Costume Ideas
Simple mime costumes, sexy mime costumes, and versatile mime costumes, we've discussed them all. So what about cute mime costumes? It's not hard to imagine a kiddo rocking the black and white ensemble and busting out a few indiscernible moves. Toddlers love to demonstrate elaborate "tricks" that are all the same anyway; put them in costume and they're all the more excited about it. And while the standard two-tone color palette can trend toward sophisticated, it doesn't have to be too grown up. So, let's address how to make your mime Halloween costume cute!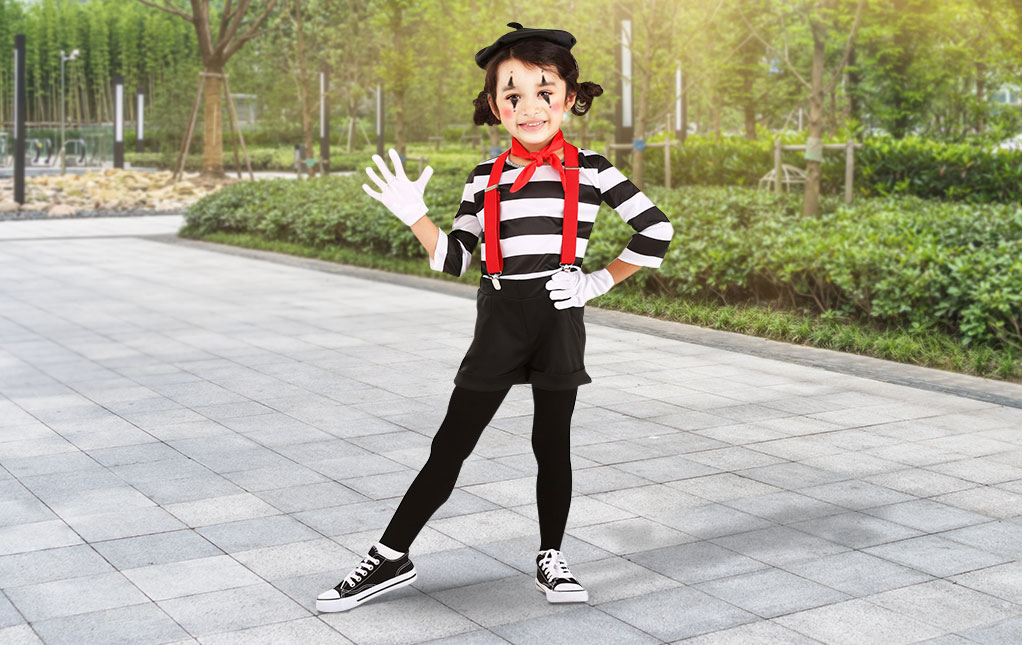 Whether you're putting together an entire company of mimes to entertain the neighborhood on your trick-or-treat route, or you're just not interested in a basic look, we've got some tips to giving pantomime fashion a sweet update! A simple addition to any mime costume is a rosy cheek—easily done with blush or Halloween face makeup. You can also consider a tutu in place of black slacks or a playful wig complemented with bows or tiny hats! For already put-together costumed cuties, follow through to the two sections below—they're some of our favorite ideas!
French Mime Costume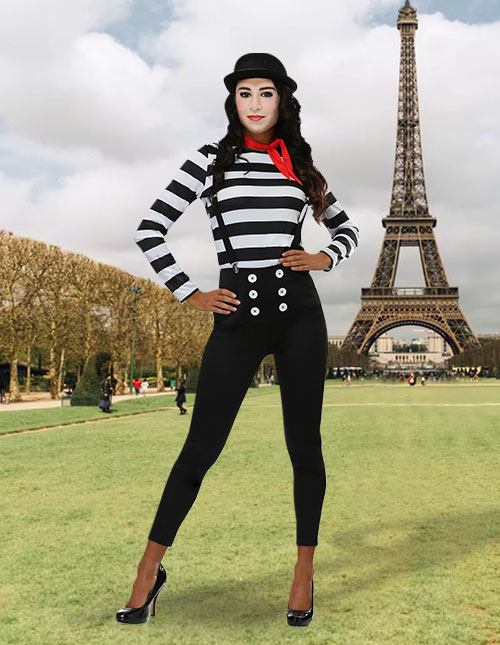 When you think of mimes, your mind may immediately race to France. That makes sense! When the art form first traveled to France in the 16th century, it really took off. The original style of pantomime took on a whole new look and theatre when it arrived in Paris—it's thanks to Jean Gaspard Deburau that that white face makeup and a new black and white outfit became standard. And, if you ask us, some of the fashion choices are simply cute! Deburau's take on the original Pierrot character made him more charming and lovable than ever—thanks in part to his oversized white outfit and easy-to-read face makeup, a look that's been dubbed quintessentially French.
With a French mime costume then, quirky accessories and makeup are a must-have. You can start with our available costumes, like the one pictured here, or get a little cheeky with a French maid costume. Paired with the right bowler or beret hat and maybe a little scarf and there's no other way to put it, the combo is sweet! Even better, it's customized to your idea of cute. Stick with the already composed look from our clever designers or switch out the included accessories. Try a different color scarf—there's something about a light blue or yellow that's super endearing. A darling pair of costume shoes could also boost the winning look—might we suggest pink or sparkles? So long as you're sticking to the delightful standard Deburau created, you're sure to have a classically cute French mime look!
Kids Mime Halloween Costume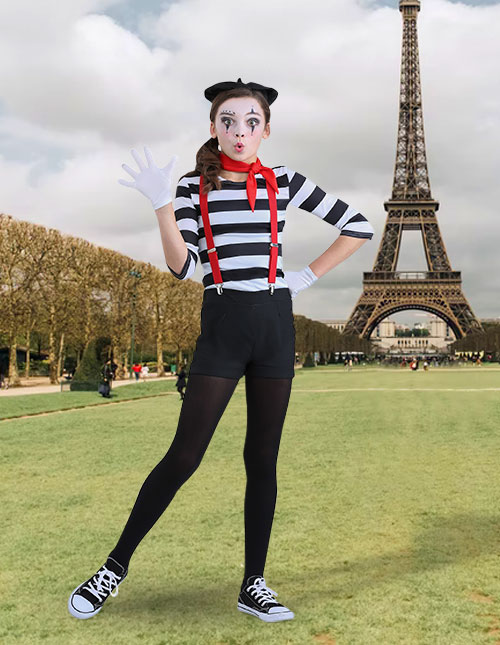 There's not much extra that needs to be done to make a child look downright adorable as a mime. Their full cheeks and big eyes have that pretty much covered! Of course, we took steps to make the costume that fits them too. This means all a kiddo needs to do to make their mime Halloween costume as lovable as the bunny they were last year is to put it on! Don't worry though, we're not going to leave you with just that. We've got plenty of ideas and products to take "sweet little one" to "unbearably adorable!"
Speaking of unbearable, why not combine characters? Mime and a teddy bear costume? Performing bears have been around as long, if not longer than mimes. Not only would that make a costume too cute for words, but it would be historical. Among all the other precious kids' costume ideas, tiny historical figures can definitely make hearts melt. If putting two looks together isn't quite what you're looking for, there's always letting your child run wild with the costume. Instead of black or white tights, patterned or colored tights can brighten up their look. And though a bigger color palette mixed with flashy designs may be closer to a clown costume, kids are going for fun over accuracy and that's easily achieved in a bright and bold mime ensemble!