Miles Morales Halloween Costumes
Miles Morales was just a typical teen from Brooklyn, NY. Well, normal may not be the best word. He is a brilliant kid who was smart enough to get into a prestigious charter school. Miles had big tights to fill when he debuted in Marvel Comics. It was 2011, and his universe's Peter Parker was no longer operating. Luckily, Miles was a quick learner, and after a few stumbles, he found his spider-like stride.
Still, Miles had the tough job of taking over for Spider-Man and learning the position on the fly. It's good that his dad is a cop and his mother is a nurse, as he's no stranger to helping people. He also has some great friends who are always willing to give a helping hand. So, if you are a fan of the newest spider on the block, be like Miles this holiday season with an officially licensed Miles Morales Halloween Costume.
Adult Miles Morales Costumes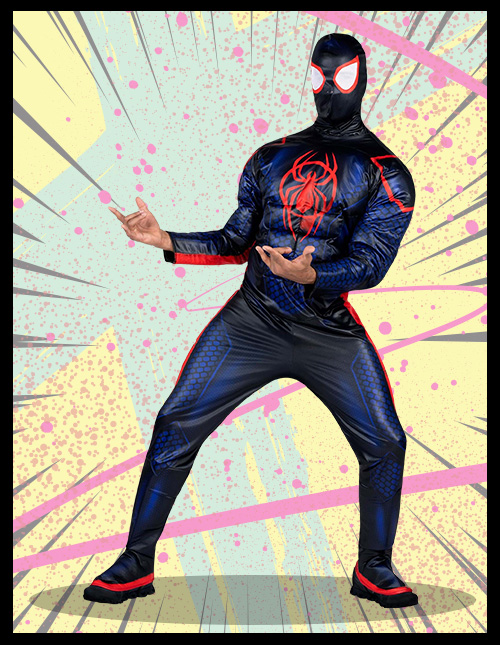 Hey adults! Are you looking for a superhero costume to rock? It feels like there are millions of options for you to choose from. If you ran your Thor or Captain America costumes to the ground, try the high-flying spider route in an Adult Miles Morales Costume. Whether rocking it solo or pairing it with a Spider-Gwen costume for a couple's look, this adult costume is a solid choice. Show some love to the BK Spider-Man with an Adult Miles Morales Costume.
Toddler Miles Morales Costumes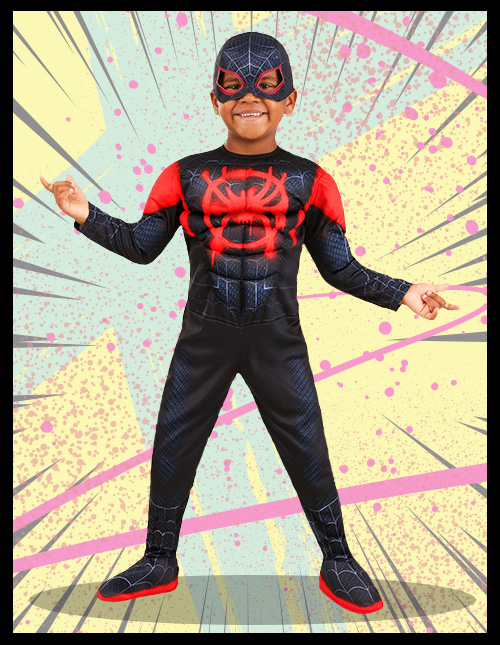 Ever watched Spider-Man and His Amazing Friends? What a great cartoon! Just imagine Peter, Gwen, and Miles saving the day in digestible enough bites for toddlers. They don't do many ABCs, but your kid will definitely learn the 1s and 2s of superhero work. They'll have plenty of time to understand that other stuff. If you are looking for toddler costumes and want to start your kid off on the right foot, web-swing over to this Toddler Miles Morales Costume.
Kid Miles Morales Costumes
Like most spider-people in the Marvel universe, Miles Morales started his superhero career as a kid. Technically, he's a teen, but the same difference—he's crazy inexperienced and headstrong. Like most kids, he tends to leap first and ask questions later. Thank goodness he has his camouflage! We think Miles is an excellent character for kids to emulate. Though we can't grant them spider-powers, we'll do the next best thing and provide a Kid Miles Morales Costume.
Miles Morales Onesies
Are pajamas onesies, or are onesies pajamas? Which came first? Another inquiry: do Miles and Peter constantly wear their hero outfits under their apparel? That must get hot. Sorry, those questions were bothering us like the Venom suit did Peter. We suggest our standard Miles Morales costumes if you're here for a spider suit you can wear under your clothes. If you want something cool to wear around the house, try an officially licensed Miles Morales Onesie.
Miles Morales Accessories
Spider-Man is known for his extraordinary abilities. No, we're speaking of Miles, not Peter Parker. It'd be hard to confuse the two, as they are both named Spider-Man. Luckily, Miles has a way cooler suit. Sorry, Peter, we must admit it. We're unsure if the hoodie, the color scheme, or the unique take on the spider symbol makes a Miles Morales Halloween Costume stand out from the rest of the spider family.
But Miles isn't only known for his incredible style. He is also a genius who is no stranger to using high-tech superhero gadgets. Take his web shooters. Yeah, the original design is based on Peter's schematics, but Miles had to make some tweaks to account for his bio-electric abilities. So be like Miles, have the tools you need to compliment your superhero outfit, and pick up our Miles Morales Accessories.
Miles Morales Masks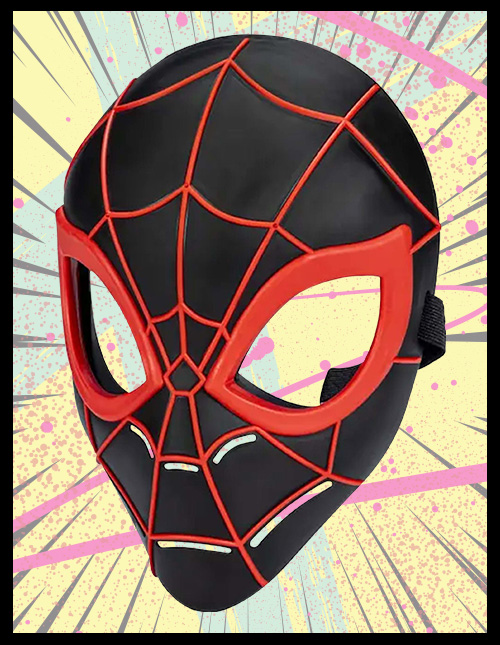 Even with a mask, keeping your secret identity can be hard work. Just ask Spider-Man or Miles Morales. Throughout the entirety of their superhero careers, they spent half of the time simply trying to keep the bad guys from figuring out who they were. Miles is a little better at this than most, as he can camouflage himself, but he's still just a teen trying to figure out this whole hero thing. So, keep your identity secret at the next cosplay convention with a Miles Morales Mask.
Miles Morales Gloves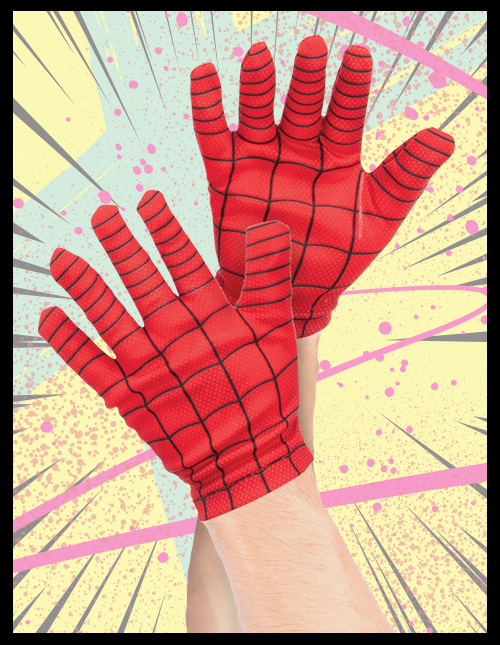 Gloves are essential in hero work. Ask anyone from Batman to the Avengers. You wouldn't want to mess up your manicure while punching out a villain or getting a hangnail while diffusing a bomb. Spider-Men must be particularly careful as they always use their hands for something. Luckily, you just must worry about if gloves look great with Halloween costumes! Ensure your fingers are ready to save the day with some officially licensed Miles Morales Gloves.