Freddy Krueger Halloween Costumes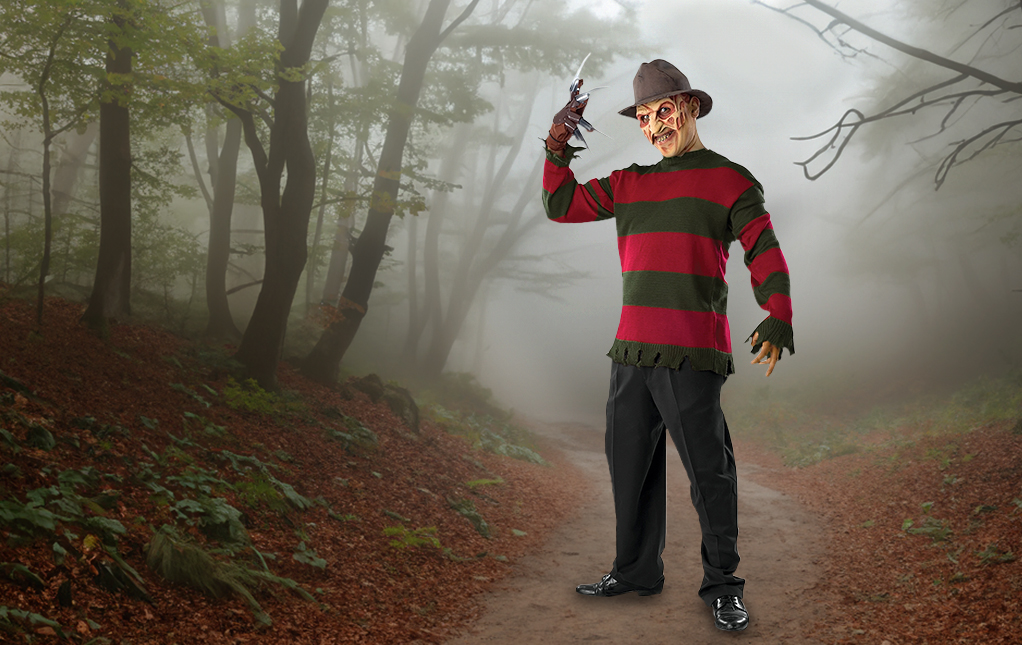 Been having dreams about some guy in a dirty red and green sweater? Freddy Krueger has that effect on people, or at least the combination of his sweater, scarred face, fedora, and sharp glove does. The image sticks in the mind like a recurring dream, whether you're a fan or fearful. And either way, it's time to wake up and put Freddy's frightening fashion to good use as a Halloween costume!
This deluxe adult Freddy costume features the basics needed to chase a Krueger costume dream. But in our selection, you'll find kids' sizes to help young horror fans enjoy the iconic scary costume, pet costumes for turning your favorite furball into Elm Street's greatest villain, and many more surprises mixed among the expected striped sweater and accessories!
Take a peek at some of our favorites, detailed below—we've broken down costumes and casual apparel to help fans celebrate A Nightmare on Elm Street no matter the occasion. Once armed with the knowledge you seek, it's time to shop. Just, whatever you do, don't fall asleep because click one and two, then a Freddy costume is coming for you!
Kid's Freddy Krueger Costumes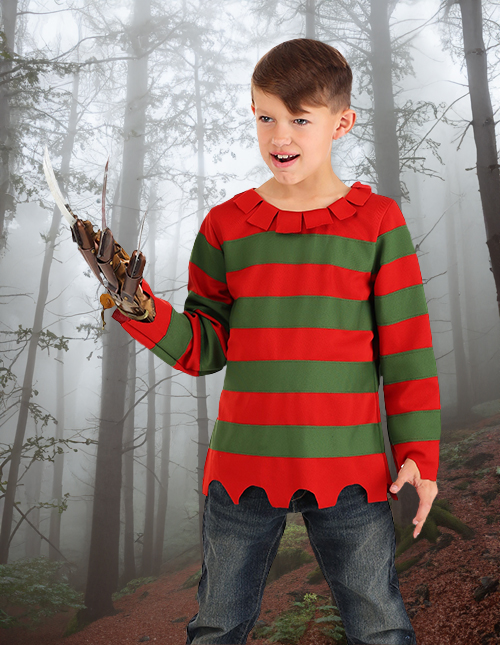 We know exactly why kids love scary costumes. They want to freak out their friends and family! And an animal costume or delightful Disney ensemble isn't going to do that. But whether they've seen all of A Nightmare on Elm Street or not, kids know Freddy Krueger (or any of his horror movie compadres) will!
Our exclusive Kid's nightmare sweater costume will get them dressed like the Halloween demon of their dreams! Intentional distressing and a hint of playfulness combine in this Made By Us costume. Young fans are sure to feel fierce in classic red-and-green stripes while the unique collar and hem ensure trick-or-treat sweetness isn't tossed out completely.
Pair the kid's Krueger style with a Freddy mask to boost the frights. And shop our candy bucket selection to ensure your little scary movie fan has a solid grip on Halloween's spooky-sweet balance!
Freddy Krueger Adult Costumes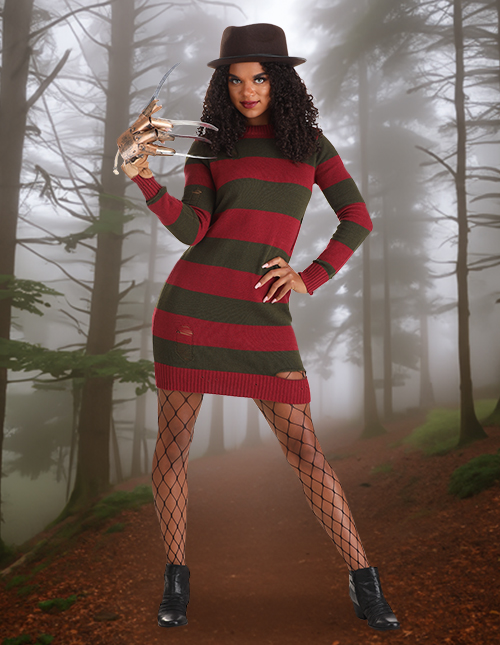 When you think about it, Freddy Krueger's signature look really is what costume dreams are made of. It's easy, recognizable, and customizable. And our selection of Freddy costumes ensures that's true no matter which available style you choose. Even if you're looking for a modern and, dare we say it, sleek update to the classic sweater outfit!
Pair any of our available adult Freddy costume sweaters with a Freddy Krueger glove, brown hat, and your favorite pants and you've got Halloween covered. Or rework the character to fit your style with a Miss Krueger costume!
Whether you sport gore-geous special effects makeup with this exclusive Freddy Krueger dress costume (available in plus size) or let it do the most without every Krueger detail, the effect is sure to leave you feeling too excited to ever sleep again! Make Freddy's fashion nightmare extra dreamy with fishnets, boots, or press-on nails in place of gloves from our selections!
Freddy Krueger Apparel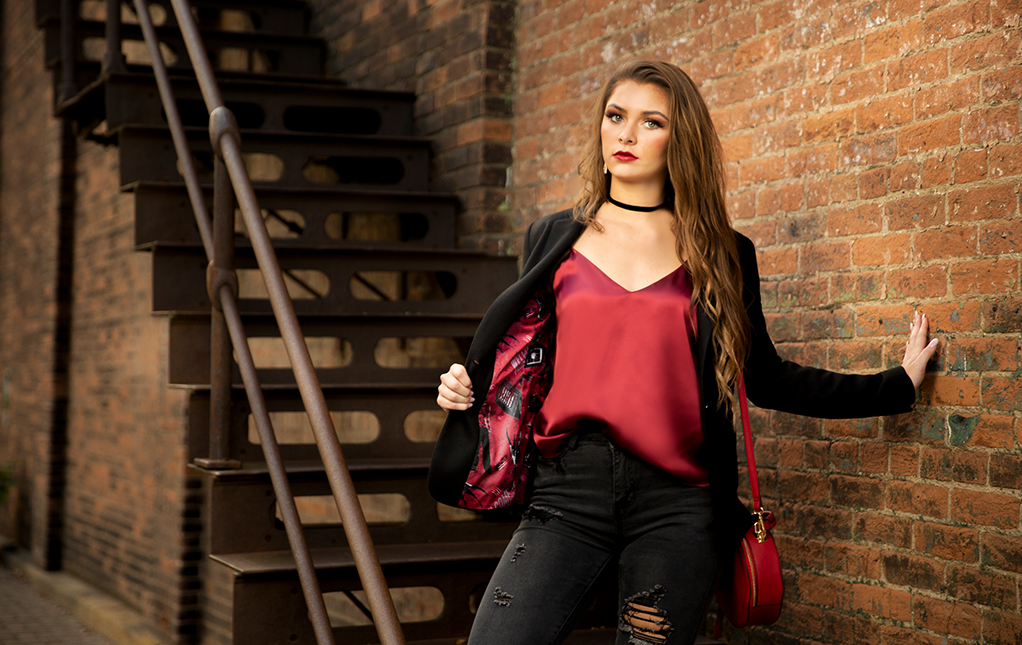 Dreaming of celebrating Freddy Krueger without dressing to match the chilling figure? Halloween apparel is your new best friend! And our selection gets fans looking sharp without slipping on the glove. Bring the boogeyman to work when you summon our exclusive Nightmare on Elm Street women's blazer for your professional wardrobe. Or go casual with apparel options detailed below! Then accessorize all your new favorites and familiar ensembles with subtler nods to Freddy Krueger. From killer kicks to pet supplies that complement sneaky Krueger homages, we've got the Nightmare solutions you seek!
Freddy Krueger Sweaters
Freddy Krueger's dirty red and green sweater is unforgettable. But it's far from the only sweater option fans have, especially when shopping our cozy collection. Get wrapped up in the Nightmare franchise starting with this exclusive Freddy Halloween sweater. Or unite friends over Freddy vs. Jason with sweaters celebrating the haunting characters together and separately. Designed by the Made By Us crew and crafted with care, these and all our exclusive pullovers will have you coming back time and again—just like Freddy!
Nightmare on Elm Street Shirts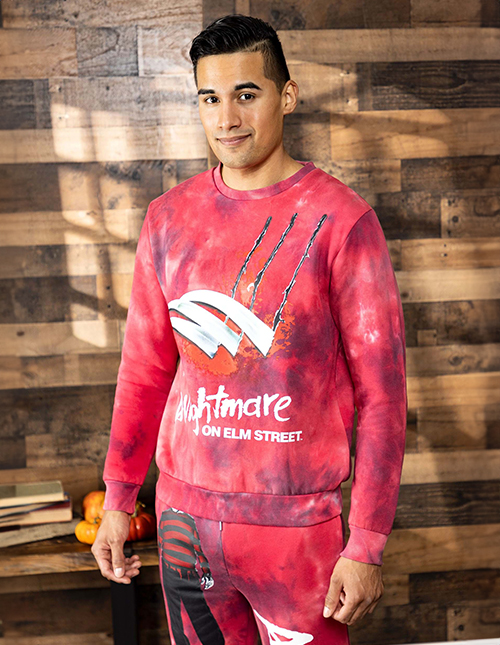 Hoping for Freddy Krueger clothing that'll ease you into blissful slumber or day-to-day fun even better than the warm embrace of our sweaters? A Nightmare on Elm Street-themed shirt or sweatshirt is sure to do the trick! This killer tie-dye Nightmare on Elm Street sweatshirt from Cakeworthy is cool, casual, and even lets you level up the comfy with matching sweatpants! Cuddling up for movie nights or dressing for simple strolls down the street, our available Freddy apparel delivers the dream to your door!
Freddy Krueger Makeup for Women
If you're opting not to wear a mask with your Freddy costume then you are going to need a pretty sick Freddy Krueger makeup application. First, apply primer all over the face.  Swipe red eye shadow onto the creases of the eyelid. Pack black shadow onto tops of eyelids to create a graphic red and black eye effect. Blend them together, add black eyeliner (top and bottom), and smudge the same red shadow underneath both eyes. Now, it's time for the gruesome burn marks! Draw burn mark shapes all over the face with a light eyeliner pencil and color them in with a pink shadow or blush. Define outer edges of your fake wounds by blending a slightly darker hue of blush or shadow into the wounds. Do this again, focusing on the outer edges of the burn marks with an even darker shadow or blush. This creates dimension. Then use a fluffing brush to diffuse the edges of the wounds and blend them into your skin. Take various shades of concealer and draw random lines on your skin to make a melted skin effect. Apply pink hued shadow all over your face for just the right effect. Our model wears a "rotted" tooth enamel on her teeth for a creepy effect, so feel free to do the same. Then, just top your look off with a fedora and you'll be officially ready to start hanging out on Elm Street!