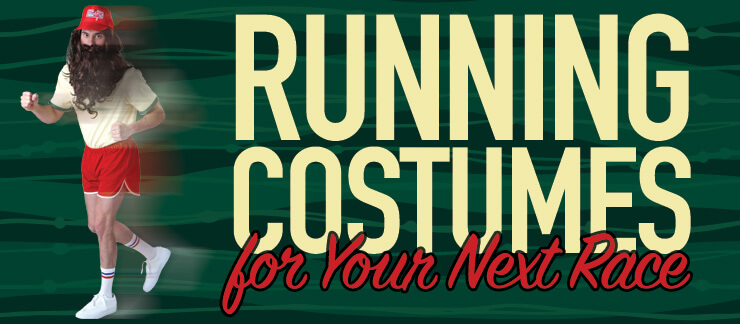 You did it! You finally signed up for a 5K, and you're feeling awesome. Well, truthfully, you have a lot of nervous energy building up about it … but still, you're mostly just stoked! A good pair of sneakers is integral, of course, but you've undoubtedly checked out pictures from previous races – people go all out for these events! (They aren't classified as "fun runs" for nothing.) However, how do you know what to wear for each race? If you're new to the running scene (or just need a refresher course), here's our official guide to dressing up for your next 5K race.
Color Run Costumes


White Morphsuit Rainbow Wig White Tutu Colorful Socks
What is it? Nicknamed "The Happiest 5K on the Planet," The Color Run is all about healthiness and community. At each kilometer checkpoint, you will be doused from head to toe in different colors.
What should you wear? You definitely want to wear all white to this race (just be sure to leave valuable clothing at home – the color will not come out in the wash), but it's also the perfect opportunity to infuse your favorite color into the look with accessories. The terrain is not extreme and there are lots of photo ops along the way – especially if you partake in one of their night races. Therefore, leis, boas, and sunglasses seldom get in the way. Rain or shine, it's hard to have a bad day at this race, so don't be afraid to let your outfit reflect your personality.
Warrior Dash Costumes


Spartan Warrior Costume Roman Helmet Spartan Warrior Cape
What is it? The Warrior Dash encourages you to "leave your normal weekend in the mud." Racers will conquer 12 obstacles and venture through lots of mud-caked terrain, all in an effort to become a member of "Warrior Nation" (the organization also donates money to St. Jude Children's Hospital).
What should you wear? Anything you wear here will get ruined … including your shoes (the event even has a sneaker recycling station at the finish line). You can try to get the mud out of your clothing, but even the strongest detergents have a tough time. Still, this threat has not deterred Spartans, gladiators, and pretty much any other character with a loincloth or kilt – their getups reign supreme on these grounds. Not sure if you want to get that intimate with the mud? Try rocking a helmet or cape. Our only pro-tip is to keep it simple because you've got Goliath to contend with.
Turkey Trot Costumes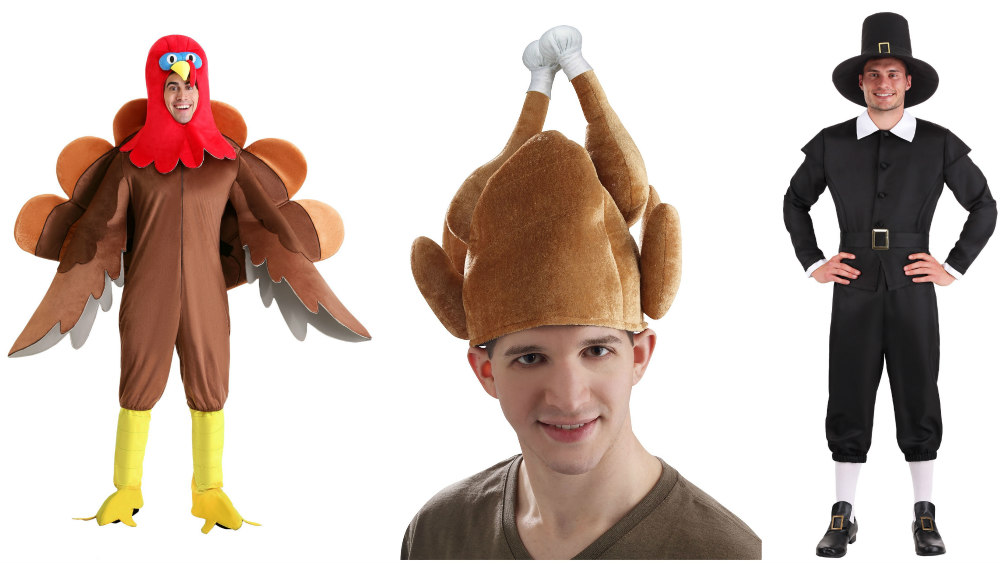 Turkey Costume Turkey Hat Pilgrim Man
What is it? After a big turkey dinner, do you feel like you've got too much wobble in your gobble? Turkey Trots offer the opportunity to get up off the couch, burn those extra holiday calories, and get active with your whole family (even Fido is invited).
What should you wear? Who's ready to shake a tail feather? As you might expect, Thanksgiving costumes are the most popular guises in this race. Turkey t-shirts are often paired with silly hats to offer the most freedom of movement in your stride, but you haven't lived until you've seen a woman in a pilgrim dress kick in the nitrous toward the finish line. Bonus points are always awarded to those who go full turkey, and we think you're just the runner for the job. This complete fleece number is a perennial favorite.
Jingle Bell Run
Costumes

Elf Hat Plush Santa Hat Ugly Christmas Sweaters
What is it? Support the Arthritis Foundation's research and get into the holiday spirit with runners from all across the United States.
What should you wear? Run, run, Rudolph! But first things first: You will need to tie jingle bells to your shoes. It's tradition, and it sounds super festive as everyone runs by (though, to be honest, you WILL hear bells for a few days afterwards). Ugly Christmas sweaters, striped socks, Santa hats, glitter antlers – anything goes! Just leave your elf shoes at home. Athletic shoes are the footwear of choice for any runner that doesn't reside at the North Pole.
Dirty Girl
Costumes

Pink Shutter Shades Pink Adult Wigs
Neon Pink Footless Tights Hot Pink Leg Warmers Pink Tutu
What is it? The "World's Largest Women Only Mud Run" has taken the world by storm! 3.1 miles is filled to the brim with 14 course obstacles that empower women to fight their way to the finish line. Breast and ovarian cancer fundraising is an optional opportunity.
What should you wear? The key here is to "think pink!" Yes, you will be making your way through the mud and muck, but Dirty Girls finish with flair. Tutus, tiaras, boas, glitter lashes, sweat bands, bandanas, wigs, wings, and pretty much anything else that screams "femininity" will be worn by participants. Find a few items that you can add to your post-race ensemble (pops of pink look great next to dirt IRL and in photos).
5K Group Costume Ideas

Ninja Turtle Costumes Green Tutu Hawaiian Accessory Kit Gorilla Costume
For most fun run participants, the goal is not to "WIN!" the race, but rather have a good time with a bunch of their pals (and maybe raise some money for a good cause). Sure, you'll still see uber-competitors in the lineup, but it's perfectly acceptable (and encouraged!) to just enjoy the company of your nearest and dearest – regardless of their skill level. A popular (and really, our favorite) way to show team solidarity is by wearing matching disguises. For example, we love tutu-ed Ninja Turtles for a fearless foursome or the Avengers for even larger teams. Three blind mice (see how they run!), bumblebees, hula girls, Waldo and Wenda, Minions, Thing 1 & Thing 2 (and 3, 4, 5, etc.), and the 3 Little Pigs (as well as one big, bad wolf, if you wish) – there are so many theme possibilities that the real issue may be having to choose just one.

Costume T-Shirts Tutus Gorilla Costumes
Hawaiian Costumes Ninja Turtles Costumes
5K Dos and Don'ts
DO

try on your running Halloween costumes before race day.

This will allow you to give it a whirl around the block and see what works and what doesn't. If something bunches or rides up, now is the time to switch it out. You don't want to be uncomfortable during the event.

DON'T

forget that functionality is fun (and important)! We love boas too, but if you're doing multiple challenges or obstacles, they may become a hindrance.

DO

arrive early to the race. Give yourself plenty of time to suit up, warm up, and drink up (the first rule of running is to s

t

ay hydrated)! You'll also feel less pressure to cram everything in – pictures, mingling with fellow competitors, etc. Keep stress low on this milestone day.

DON'T

bring

multiple props or cumbersome items that someone will have to hold all day. Towels, water bottles,

and snacks

–

your cheering section will have plenty of other items in tow.

DO

fully immerse yourself in the experience. Fun Runs go all out to maintain the integrity of their themes.

DON'T

be afraid

to get a little silly! This is a giant achievement that you will remember forever – why not

make it extraordinary

?
Is this your first 5K? What motivated you to sign up? Are you participating with a group of pals or are you running solo? What are you going to wear on race day? Let us know in the comments, and show off your event style by uploading the best picture from the day!