Decorating for Halloween can feel overwhelming at times. What theme should I pick? Which decorations make sense together? We're here to help take the stress out of Halloween decorating with some awesome décor bundle ideas! While everything may not come as a Halloween decoration set, you can create your own by pairing similarly-themed decorations. Zombie hands and torsos work wonderfully grouped with tombstones; the same can be said for witches and black cats. Follow along as we show you some Halloween décor hacks that will have your home looking haunted in no time!
Halloween Graveyard Decoration Bundle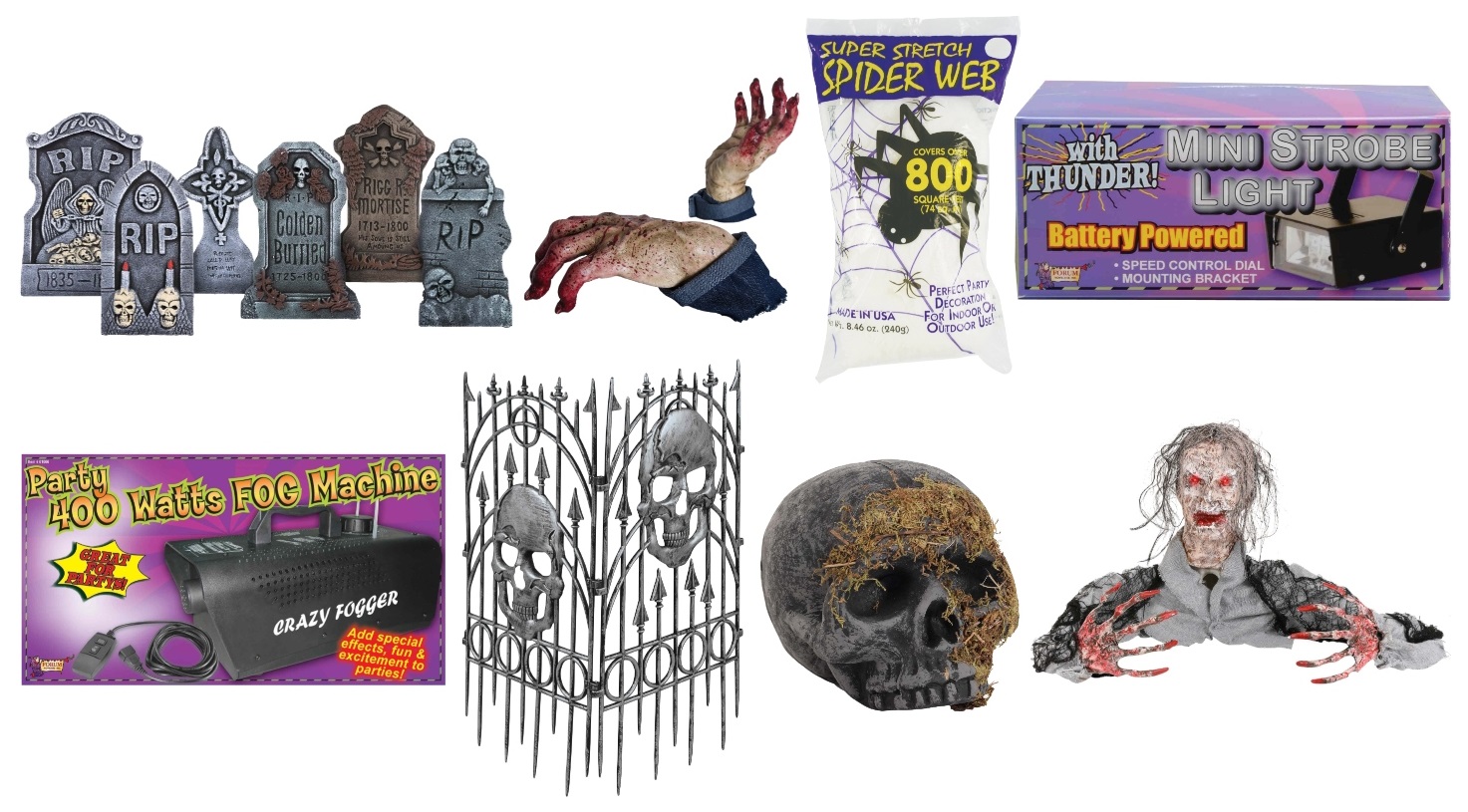 The Halloween graveyard is probably one of the most popular ways to decorate your yard for October. Tombstones, skeleton pieces, spider webs, and other decorations are some of the most affordable options, and they're relatively compact and easy to store. However, you can add flair to this basic decorating scheme by pairing fog machines and lights for spooky nighttime set-ups. Also, add faux fencing and zombie animatronics to bring "life" to your graveyard decorations. If you're feeling especially adventurous, add an animatronic grim reaper decoration as your graveyard's focal point and guardian.
Vintage Halloween Decoration Bundle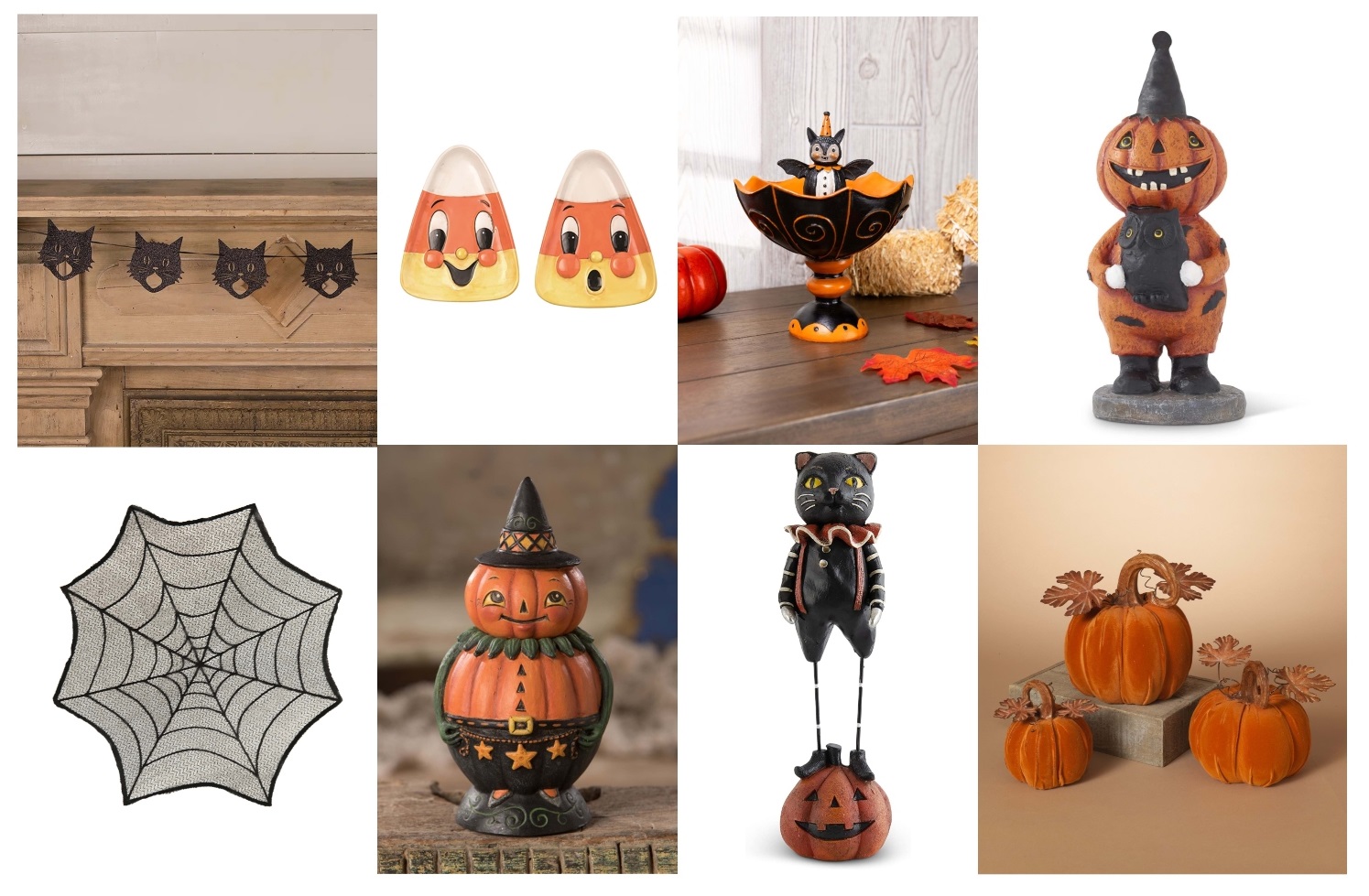 Cue the "Spooky, Scary Skeletons" and fill your home with delightful vintage Halloween decorations! These vintage-look décor items are incredibly cute and stylized. Set up a scene with candles, candy, and fall leaves, and your home will look Pinterest-ready in no time. We highly recommend using these Halloween vintage decorations on a coffee table, mantel, bookshelf, or another highly-visible area of your home near living spaces where you can enjoy them all October long!
Halloween Spider Decoration Bundle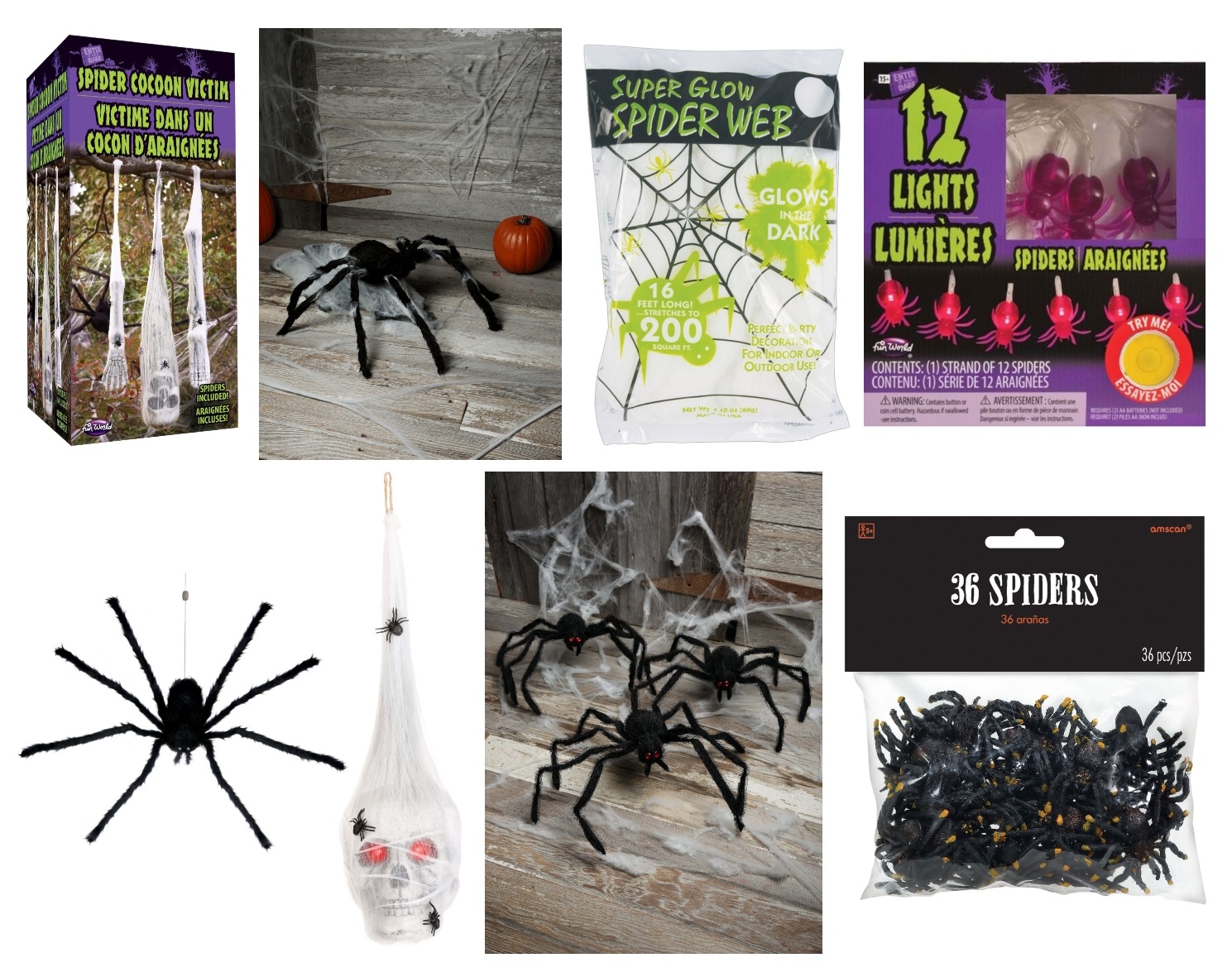 Someone call the Orkin man because we have a serious spider infestation! Spider decorations work well both inside and outside, making it one of the most versatile Halloween décor themes. While you could get a pack of pull-apart spider webs and a set of small spiders in a bag, you can go beyond the basics by adding animatronics and spider decorations of various sizes. Hang spider cocoon sacks in your trees or along the walkway to your home to make it extra spooky for trick-or-treaters, with spiderwebs in covered porch areas that protect it from the weather. (Trust us—picking spider webs out of trees and bushes that have been soaked with rain gets pretty tedious.) When they think they're in the clear, an animatronic spider can jump out or drop down for a final fright before retrieving their candy prize!
Aesthetic Fall Decoration Bundle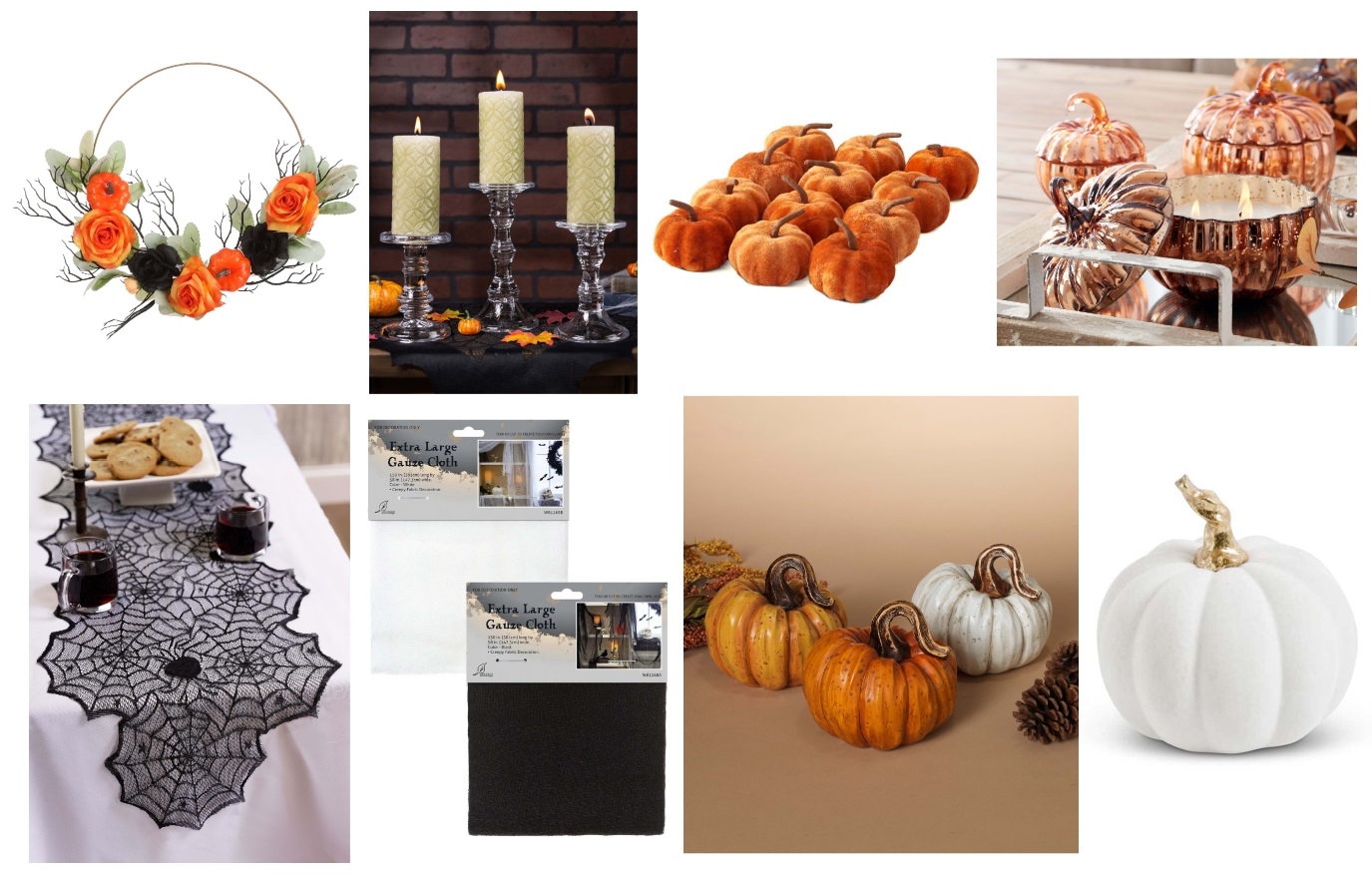 Do you like things to look spooky but not too spooky? Maybe you like to leave fall decorations out through Halloween and Thanksgiving with minimal swapping. This fall décor bundle is for you! Keep it heavy on the pumpkins, with a Halloween-themed table runner that you can swap out for Thanksgiving. Mix it up with candles at different heights and some cloths to set the mood. You can always spruce it up with leave, pine cones, and branches!
Halloween Circus Decoration Bundle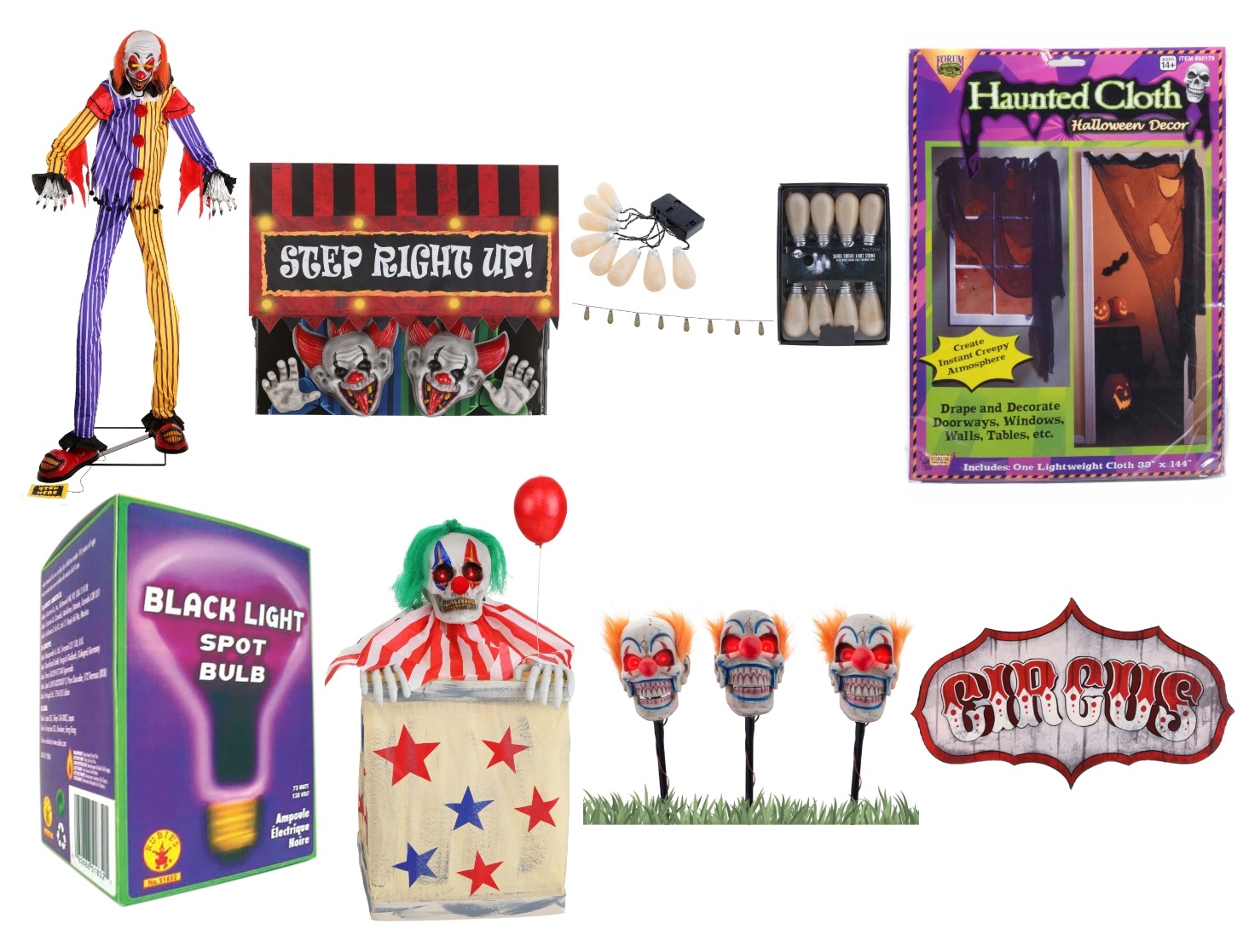 Set up your own carn-evil with these scary circus decorations for Halloween! Scary clowns have long been some of the most sought-after Halloween decorations. However, there are plenty of other smaller decorations that are key to having a cohesive theme. A few evil clown decorations of various sizes are nice to have, and don't forget spooky circus signs! We also love these flickering lightbulbs to keep the carnival running all night long, and a black light spotlight will make it feel like an entirely different scene as it lights up the white clown faces. You're sure to have one of the most popular lawns in town!
Halloween Haunted House Decoration Bundle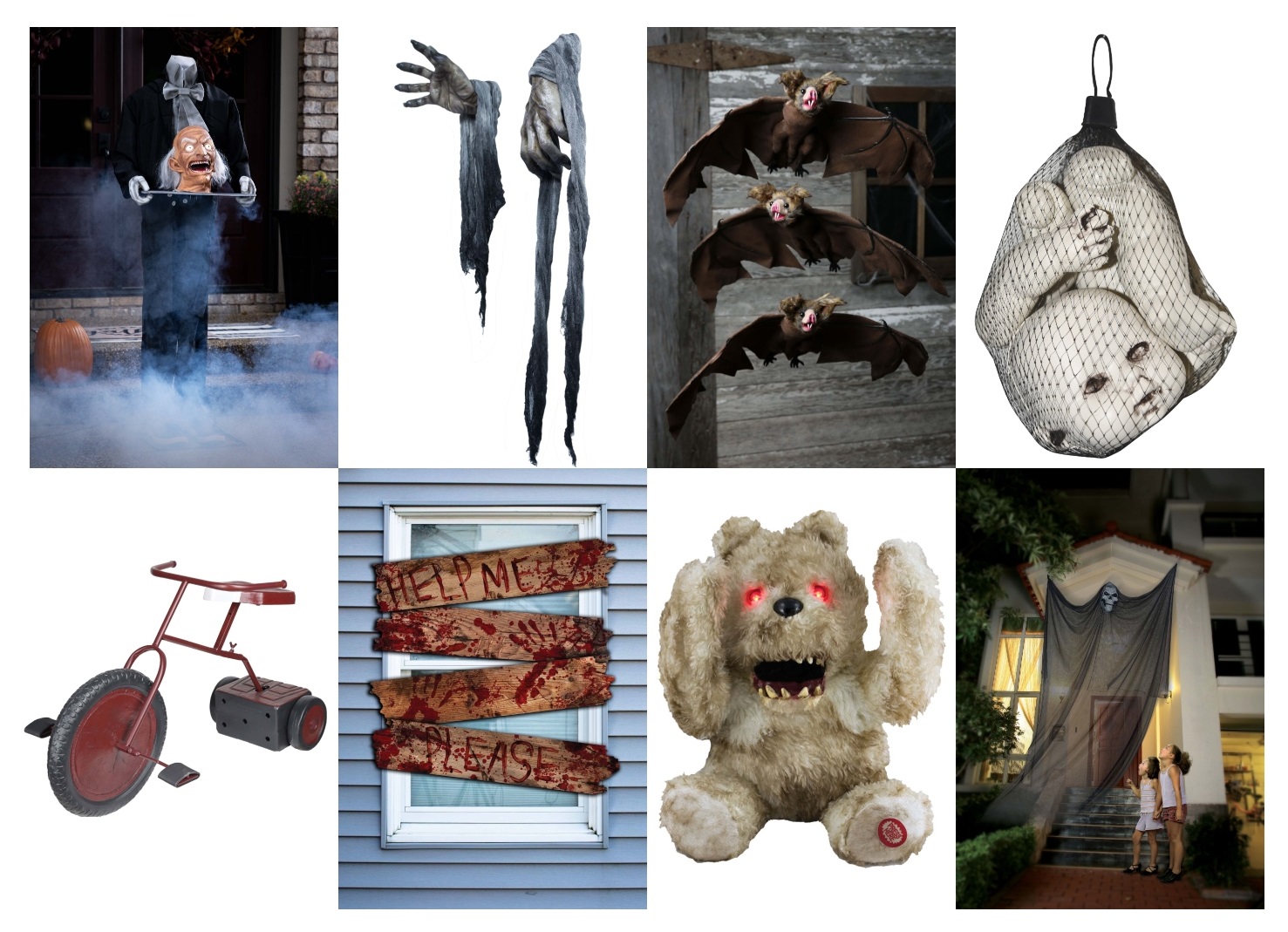 There are multiple ways to turn your home into a haunted house, but we'll take a closer look at outdoor Halloween decorating here. Spider webs and fog machines go a long way to creating a base layer of spookiness. We also love these haunted window boards and bats to make your house feel like a vacant home. A creepy animatronic butler beckons trick-or-treaters up to your door, and another specter or a pair of ghost hands reaching through the wall gives you a glimpse of some of the residents. However, a haunted house isn't complete without hints of a few ghost children. Place abandoned children's toys like this animatronic tricycle or haunted bear around your porch or lawn, and disassembled doll body parts make things extra unsettling. Sometimes, the scariest ghosts are the ones that you can't see!
Halloween Witch Decoration Bundle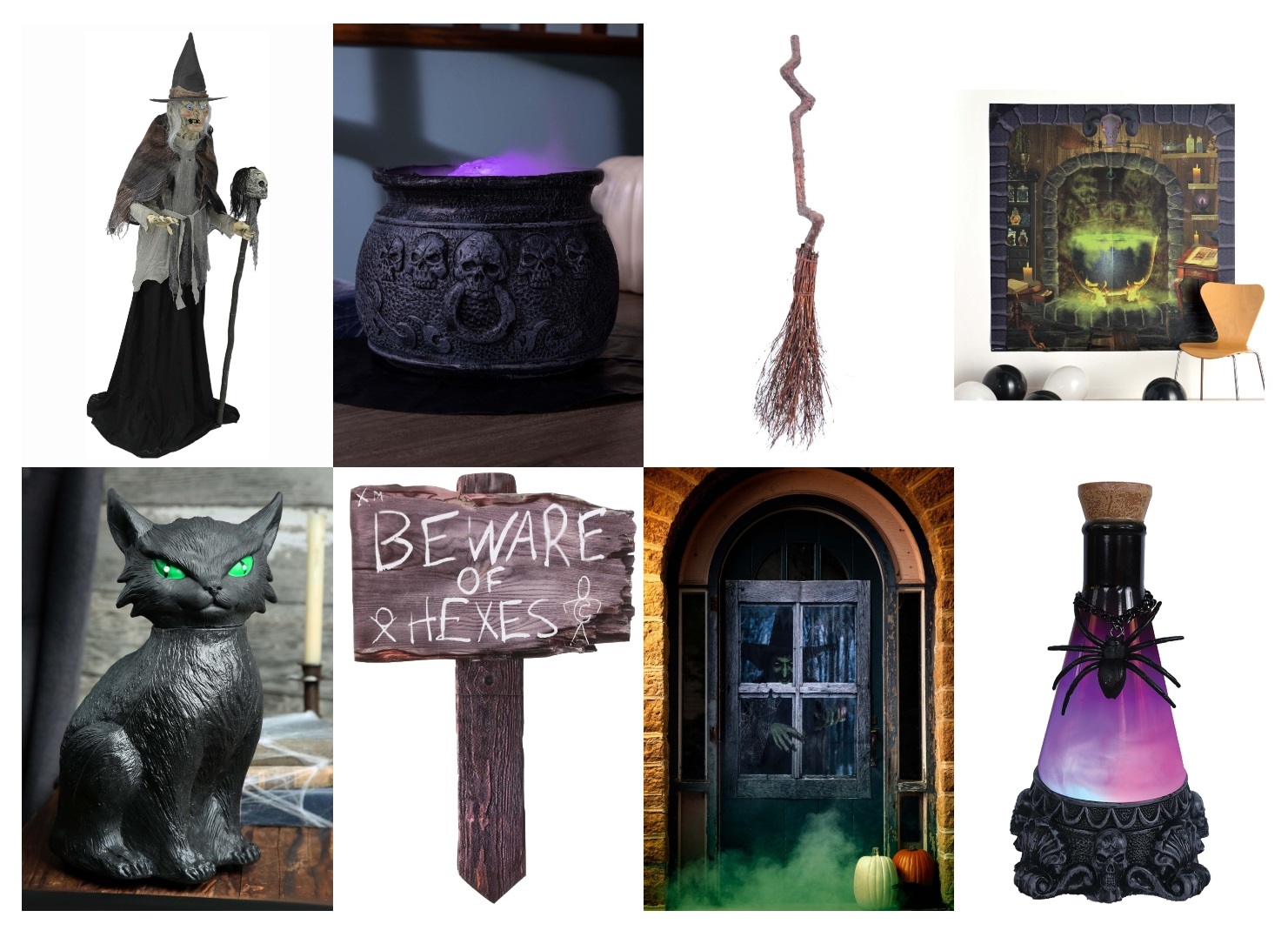 Witch costumes and decorations are trendy for Halloween. With these Halloween witch decorations, your home will feel like a witch's coven in no time. Warn potential strangers of the danger of approaching your home with a sign, and include a black cat and a broom leaning in a corner to tie the theme together. Of course, every witch needs a cauldron and a few potion bottles, and you can't forget the witch herself! You can also up the ante by adding multiple animatronic witch decorations. May we suggest three? After all, witches famously come in triplets.
Halloween Scary Decoration Bundle
The neighbors will question you and your decorating sensibilities, but you will have the scariest lawn in town. Evoke memories of The Texas Chainsaw Massacre with bloody hanging hooks, body bags, and even an animatronic chainsaw waiting for its owner to return. If you can stomach it, there's always more room for assorted fake body parts! Bloody boarded windows and a chop shop sign will make for an extremely unsettling entryway. Of course, what scary lawn is complete without a few body bags and caution tape? This is one Halloween scene your neighbors won't forget!
Halloween Monster Decoration Bundle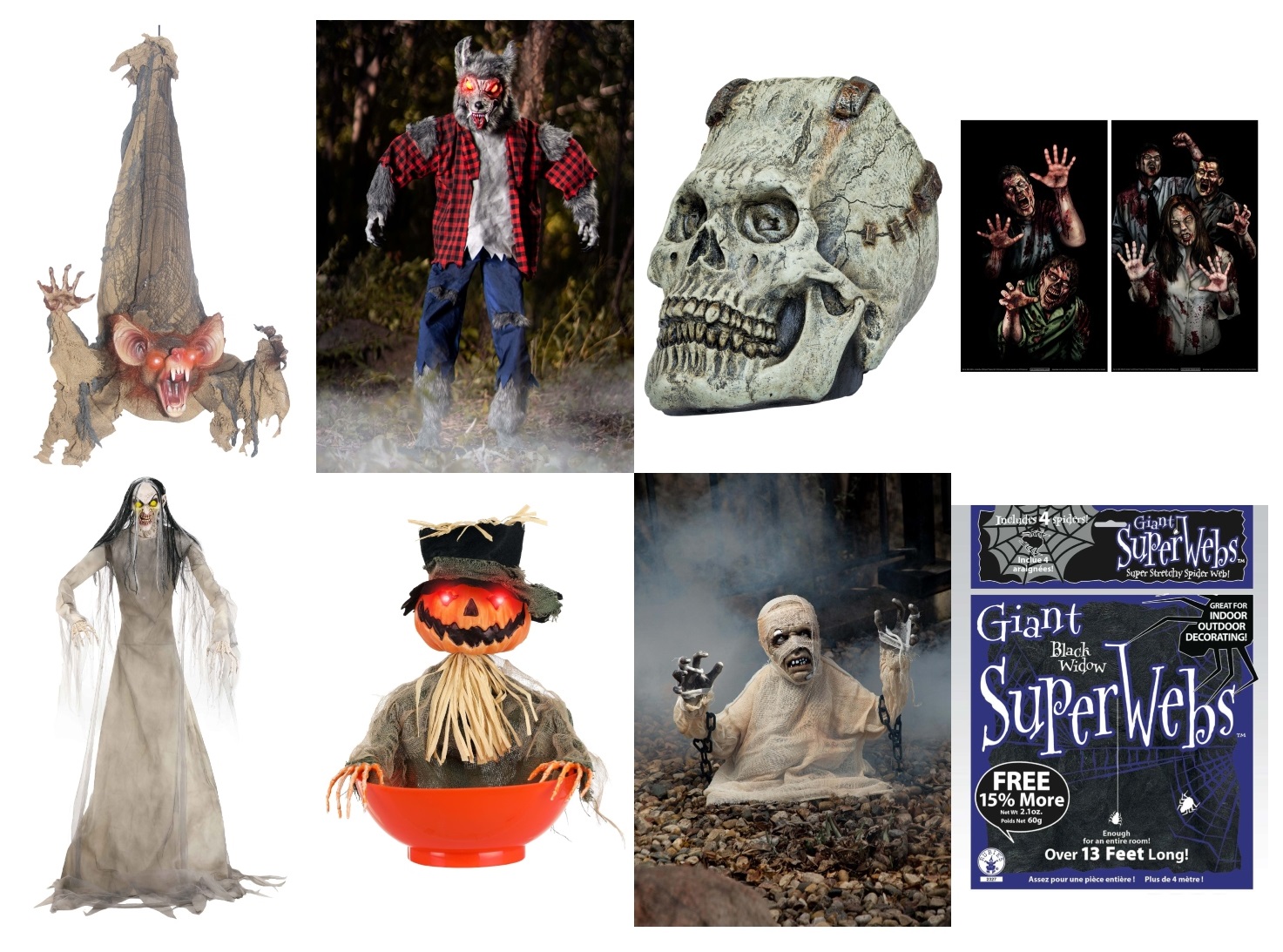 It's time to monster mash your yard with these classic Halloween creatures! Werewolves, zombies, vampires, ghosts, mummies, and more are all invited to invade your lawn. Mix it up by including a few standing animatronics, groundbreaker props, scary hanging decorations, and even a monster candy bowl. Approaching trick-or-treaters may feel like they stepped into The Monster Squad! We hope your Halloween playlist is prepared and ready to entertain the neighborhood. You're here to spread all the Halloween vibes, and we respect that.
Halloween Indoor Decorations Bundle
When it comes to indoor Halloween decorations, you tend to want things that are smaller or have places where they are meant to be. (Such as a Halloween table runner for your table or a small ghost instead of a large yard decoration.) Pull-apart spider webs work very well inside, where you don't have to worry about them making a mess in the elements, and LED candles are also kept safe. Maybe you want a statement wreath or even a Halloween tree! This Halloween decor bundle idea is straightforward and traditional, but don't be shy if you want to try something else. Maybe vintage Halloween decorations are more your vibe, or you prefer a pastel color palette. There are so many Halloween decorations for inside your home that you'll find plenty to work with!
Get out there and get ready to decorate! Do you have a favorite theme for your Halloween decorating? Are you hoping to change things up this year? We'd love to hear from you in the comments! Also, don't be afraid to snoop at the rest of our Halloween decorations online. There are simply too many for us to mention them all here!