UPDATED: August 21, 2020
Makeup is what can take your Halloween costume from yawn-inducing to award-winning. We believe that makeup is just as essential as a wand is to a Harry Potter costume or an eye patch is to a Jack Sparrow get-up; without these accessories, the outfit would be alright, but with them, the costume is enchanting. Not sure how to get the look you want? Don't fear! We've found the top 25 best makeup tutorial videos, from super-sweet to super-sick, and we're going to share with you! Check out these Halloween makeup videos, in no particular order:
LADY GAGA SKELETON FROM "BORN THIS WAY"
DIFFICULTY: HARD
Lady Gaga's many makeup looks could have a "Top 25" list of their own, but we narrowed it down to her spookiest one to kick off our guide. Inspired by Rick Genest, the model who is actually tattooed to look like a skeleton, Gaga donned this stunning look in her video for "Born This Way." We especially like YouTube user eRaness's tutorial, because he shows you how to create the look while half of his face is already completed – so you can keep in mind what the end result is supposed to look like. If you want to be a Little Monster, this one is for you!
SUGAR SKULL
DIFFICULTY: EASY
For an easy look that will leave everyone at your next costume party completely mesmerized, this beautiful makeup design emulates a sugar skull, a traditional image used for art and decoration for Mexico's Dios de los Muertos holiday. What's great is this tutorial isn't for seasoned makeup artists only. Follow along for a great Day of the Dead look!
VOLDEMORT
DIFFICULTY: SUPER HARDCORE
Ok, so, Harry Potter is always a popular choice, we all know it. Grab a little eyeliner, scratch a lightning bolt on your forehead, and you're good to go, right? Maybe – if you want to look like everyone else. In this video, KlairedelysArt shows you the step-by-step process on how to achieve You-Know-Who's look, bald head and snake-nose included. We like how she also incorporates latex masks, bald caps, and other special effects items to look just like the Dark Lord. If you are feeling particularly adventurous (and maybe a little bit evil) this guide is for you.
ICE QUEEN
DIFFICULTY: MEDIUM
This ice queen look is perfect if you plan on dressing as winter fairy or ice princess, or even like Elsa. We have admit that we're a sucker for white eye makeup, and MissJessicaHarlow sure rocks it. The extra eyeliner wings above and below the lashes set this apart from other icy eye looks, and the mix of blue and silvery-whites gives her design a frosty appearance– it reminds of the White Witch from The Chronicles of Narnia or even a professional ballerina. We like this tutorial because the artist gives incredibly clear voice-over instructions about what she's doing , specifically which makeup and which brushes she is using as she uses them.
BURNT FACE
DIFFICULTY: EASY.
Some may think scorched skin would be a difficult look to achieve and would require a lot of special effects product, like latex and wax. Boy, is that wrong! xBeingNEONx uses toilet paper, a glue stick, fake blood, and common makeup that you probably already have (foundation, eye shadow, and concealer). This video is a really fun example on how to use what's at your fingertips to the fullest.
<p.
EXPOSED TEETH
DIFFICULTY: MEDIUM/HARD.
Warning - this tutorial might gross you out... but that makes it perfect for Halloween! This one is great, but Petrilude has a ton of awesome scary makeup guides that aren't too impossible. The videos he posts usually call for regular makeup and a few extras that you might not have lying around, such fake skin and spirit gum. One really creative idea in this video: to form the teeth, he files and clips fake nails to position on his face. Try this video tutorial if you're a beginner looking to attempt some makeup special effects.
GOUGED FACE
DIFFICULTY: MEDIUM/HARD.
PickOnTheBully's gouged face guide can serve as a base for more detailed, gruesome looks – he suggests adding a dangling eyeball! The products you need for this one include liquid latex, fake blood, spirit gum, bruise-colored makeup, powder, toilet paper, and a piece of plastic to fit over your eye for protection. This look is great for those who really want to scare fellow party-goers or visiting trick-or-treaters (just maybe have someone else on hand to answer the door when toddlers approach, unless you want to be responsible for their life-long nightmares).
HOT WAX
DIFFICULTY: HARD.
Remember when we said the exposed face video might gross you out? Goldiestarling's tutorial is probably the goriest Halloween look on this list, which is great if you want to scare the absolute crap out of your friends (or enemies). We've never thought to ourselves, "What would it look like if we had a bucket of hot wax poured over our head?" but now we know the answer. This tutorial basically involves creating different drip-shaped prosthetics out of liquid latex and attaching them to the face in multiple layers. The startle-level of this look is high – definitely a good fit for a haunted house or hayride.
QUEEN OF HEARTS
DIFFICULTY: MEDIUM.
Finally, a simple (read: lazy) makeup tutorial that looks high quality. Kandeejohnson pays close attention to detail in this Queen of Hearts tutorial, which results in an incredibly professional outcome. She explains how to completely cover your face with white makeup, as well as how to flatten your eyebrows so they are invisible under the face paint. The makeup isn't all that difficult to do, and there are only a few steps involved. This just takes a lot of time and patience. Kandee gets really into her character while speaking, so it's an extra fun watch!
KYOSHI WARRIOR
DIFFICULTY: MEDIUM.
Are you dressing up for Halloween as a ninja or samurai warrior? Cool, then you should check out this tutorial. This guide, which seems more like a movie than a homemade YouTube video, shows you exactly what to do from drawing a concept picture through costuming. Audfaced's video doesn't just look professional, it's incredibly practical– each step is explained perfectly.
OLD WOMAN
DIFFICULTY: MEDIUM.
This one shows you how to look like an elderly woman, and we suppose it could be used in the same way for an old man. She doesn't have specific instructions, but danalajeunesse uses a time lapse to show her process for adding all the wrinkle lines. The key is to squish your face as you go and trace where your natural lines lay. This one is important to watch from start to finish.
PSYCHO DOLL
DIFFICULTY: MEDIUM.
In this tutorial for psycho doll makeup, the artist uses one of my favorite techniques: white makeup under the lashes to create the illusion of an unnaturally large eye. It looks so cool and it's not too hard to do if you can follow along. LetzMakeup goes a step further by creating "cracks" on her face to look like a broken doll. We think that if you go for this one, adding some blood to your scalp would create an extra creepy broken doll effect!
WOOD NYMPH
DIFFICULTY: MEDIUM.
This makeup tutorial is for people who are dressing up for Halloween as forest fairies or wood nymphs. It would also work for Cosplaying elves (LotR!) or video game characters. MissChievous' incredibly cute look uses a lot of greens and golds. The detail that sets this guide apart from others is the use of watercolor paints. The artist flicks the watercolor onto her skin to give a speckled, non-human tone. The makeup doesn't seem too hard to put on, but it does call for some products that you might not have already (unless you have children or paints left over from your BSC-inspired kid kits.)
SCARY VAMPIRE
DIFFICULTY: MEDIUM/HARD.
This vampire look is less Edward and a little more Angel. The vampires from Buffy the Vampire Slayer had distinct looks that kept you aware that they were actually scary monsters, not just handsome and lusty creatures, waiting to sweep you away. This tutorial by MakeupByRenRen shows you how to use a foam face piece to get a scrunched-up forehead effect, as well as how to apply makeup on and around it to create the dramatic look. You should also probably rewatch every single season of Buffy and Angel for good measure.
AVATAR
DIFFICULTY: MEDIUM.
The blue-tinted alien species from Avatar is an ambitious costume. The makeup itself isn't too hard; it's just tedious! Once you resign yourself to the fact you'll be completely blue, you'll be fine. The video shows each step that dope2111 takes to complete the look and the instructions are nice and clear. Also great for fans of cutoffs and Arrested Development.
ZOMBIE
DIFFICULTY: MEDIUM.
We liked Petrilude's videos so much that we had to put him on here twice! This zombie makeup looks nasty, which is AWESOME. There are no prosthetics involved in this look and the finished product shows someone who is deeply infected and, well, decaying. In the video, the artist mostly uses basic foundation, eye shadow and colored cream, with a little blood gel to emulate the undead. The artist also explains how to use certain colored drops that are safe to put in your eye. Perfect, wonderful, and GROSS!
THE JOKER
DIFFICULTY: EASY.
Here is another tutorial from Kandee, the artist who created the Queen of Hearts look from earlier in the list. In this video she does the now-classic Joker look from The Dark Knight. She achieves that Chelsea grin with scar putty. She also shows you how she did her hair as well as how to remove everything after you're done, which is always good. BONUS: you get a few impressions thrown in there, too!
SCARY CLOWN
DIFFICULTY: EXPERT.
If you are an expert makeup artist looking for inspiration, you must check out this YouTube user! The looks that anaarthur81 creates are stunning, and, if you have the ambition to try these designs, you'll definitely be the best looking person at your Halloween party. We chose to include the scary clown tutorial, despite our intense coulrophobia, (fear of clowns!), because we know that a lot of people would love to look like this on Halloween. In this video, the artist shows how to apply the makeup, as well as how to create the appearance of a clown wig using your own hair and a bald cap. NOTE: this is a show, not tell, style of video, so don't expect any specific instructions. If you aren't an expert makeup artist, you can watch the video, appreciate anaarthur81's talents, and lament the fact that you don't have her artistic abilities. Plus it is scary. Really, really scary.
FREDDY KRUEGER
DIFFICULTY: MEDIUM/HARD.
In this video on how to look like Freddy Krueger, BonyBFX gives very specific and clear instructions. He shows you how to create a bald cap that will replicate the burns on Freddy's head, step-by-step. You might not be the only Freddy this Halloween, but you can be the best one. Be prepared for a lot of work, though – the video says that this look took a total of 7 hours to complete!
LEOPARD PRINT LIPS
DIFFICULTY: EASY/MEDIUM.
This look could be considered a great accessory to a costume – it would be perfect for animal theme or matched with outfits of 80s pop stars. Hot pink lipstick is a no-brainer when you're recreating the 80s, but add leopard print and you've like totally got it. Monroemisfitsmakeup's short little video has nice visual aids – this effect may be a little tricky at first, but after some practice, you'll get the hang of it.
DEAD SEXY VAMPIRE
DIFFICULTY: MEDIUM.
For fans of the True Blood-style vampire, this look features the seductive and sexy side of the mythical creature. Pplcallmefish shows you how to create incredibly dramatic and smoky eyes – which, if you toned down a little, would be great for going out on a non-Halloween night, too! This guide uses only regular, non-costume, makeup, like eye shadow, blush, lipstick and lip gloss. This is a great go-to look for those who are tight on money and/or time, but still want to vamp it up.
MUMMY NAILS
DIFFICULTY: EASY.
This quick and fun tutorial is for the people who want to show their Halloween spirit (hee!) without going as far as wearing a costume (boo!). Dying4chocolate's video has a handful of steps to modify plain acrylic nails to look like cute mummy faces! All you need is nail polish (white, black and gold), a dotting tool (Quick tip: use a toothpick), and fake nails.
RAGDOLL
DIFFICULTY: MEDIUM.
If you liked the psycho doll look, but don't necessarily want to look so demented, bebexo's look is a perfect fit for any Raggedy Ann costume look. The makeup artist shows how to do your makeup to look like a sweet doll that's not so scary. Another element that is used in this tutorial is circle lenses, which are cosmetic contacts that are used to make your eyes look wider and more doll-like. The sweet look would be fun for dance recitals, too.
POISON IVY
DIFFICULTY: MEDIUM.
Last but not least, here is a video explaining how to look like Poison Ivy, the sexy villianess from the Batman series. The unique part of this look is the eyebrow – MissJessicaHarlow uses eye shadow and glitter to create a feathery effect.
UPDATE: In the years since this post was published, we've gotten quite a selection of different types of costume makeup. We have basic packs of face paint, but we also have some kits that are intended for special effects and more professional-quality makeup looks. Take a look at what we have that can help you achieve the looks in these videos!
Basic Halloween Makeup Kits
These basic makeup kits are perfect if you just need a little makeup to do some simple looks. They include all the colors you need to achieve a specific look, like silver for the Tin Man and kitty cat orange for a lion.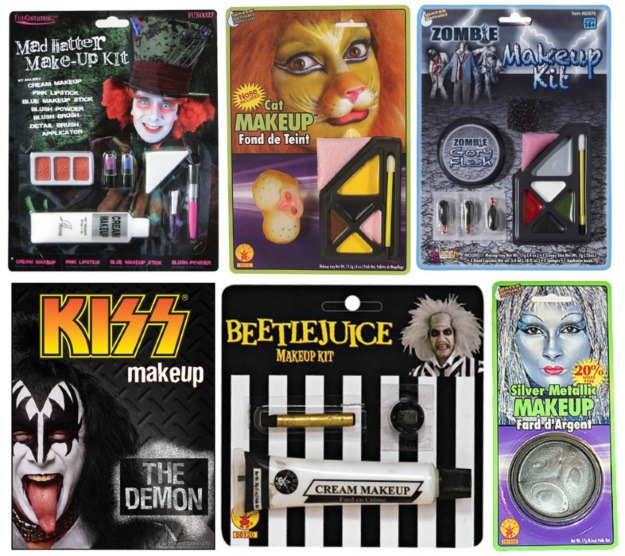 Mad Hatter Eyebrows Lion Face Makeup Gory Zombie Makeup Kit
KISS Makeup Kit Beetlejuice Makeup Kit
Prosthetic Makeup Kits
Another type of special effect makeup you can use for Halloween looks involves prosthetics. These packs come with an application transfer that you adhere to yourself with spirit gum – they definitely save a lot of time in the makeup chair! A tip is to still add skin-tone makeup around the edges of the prosthetics so they look more realistically part of your body.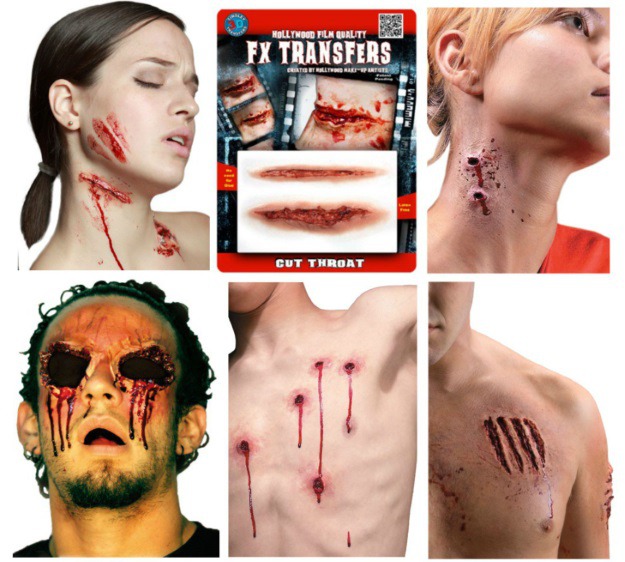 Special Effects Makeup and Prosthetics
Cut Throat FX Transfer Vampire Bite Makeup Set
Dark Light Eyes Application Bullet Wound Prosthetics
Mehron Makeup Kits
The last type of makeup kit we'll show you is the most professional quality. This makeup is the brand Mehron and is used for more advanced makeup special effects. These kits come with great instructions and everything you need to achieve these looks, including brushes and sponges.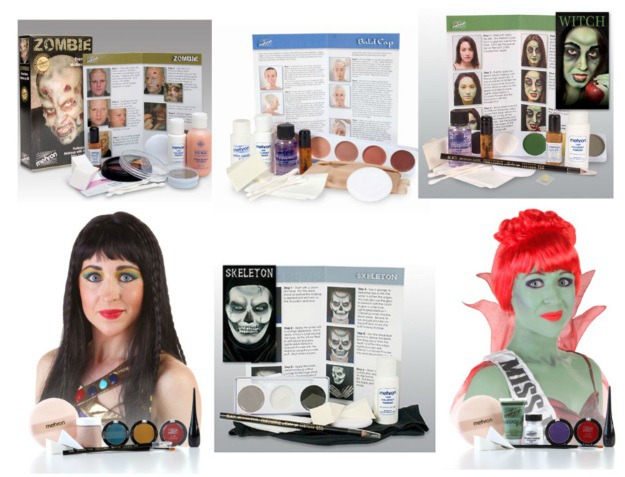 Zombie Makeup Kit Bald Cap Kit Witch Makeup Kit
Cleopatra Face Jewelry Kit Skeleton Makeup Kit
There you have it! You should have some solid inspiration for Halloween night or your next costume party. Got favorites that we didn't list? Let us know! Send in pictures of your makeup, too - we'd love to see what you've come up with.
We couldn't resist all the makeup fun, so we made some videos of our own. Check out our tutorials over on our YouTube channel!